Half ponytails are cute and comfortable for everyday hair styling. Anyone who's ever worn their hair past their shoulders, grown out their bangs, or dealt with the heavy hang of thick hair knows the value of the half ponytail.
You don't always want to wear your hair up, at least not all the way. You're not into a full bun, braid, or pony. Why not just divide and conquer, then? Pull of easy elegance or funky edge, depending on the way you pull your ponytail.
Cute Half Ponytails for Women
The juggernaut of '90s nostalgia shows no signs of slowing, particularly since half ponytails are aboard the comeback train. Some of the throwback trends making their way back into fashion are questionable, at best.
At first glance, you might be skeptical of the half pony, as well. Don't be. This is one look you should be glad to see again. Wearing your hair half-up is convenient, cute, and if you start now, you'll still be ahead of the trend.
1. Half Up Half Down Curly Hairstyle for Short Hair
A curly half up half down ponytail clears your forehead and enlighten your face. Use jam to define your ringlets and tie the hairstyle with a satin scrunchie to get a glammy hairdo.
2. Curly Half Ponytail with Ribbon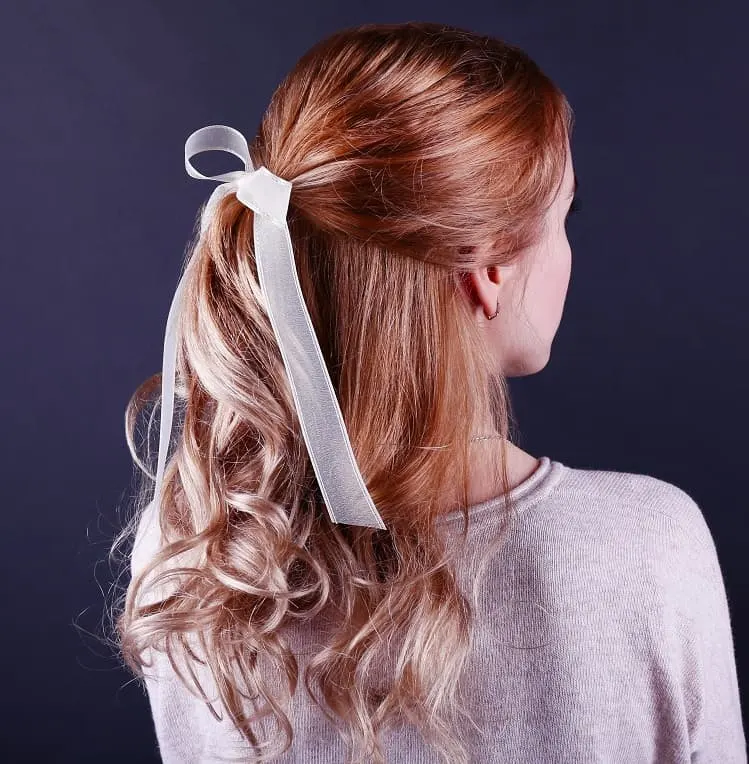 You don't need to pay thousands of dollars for a hairstylist visit when you can obtain a gorgeous hairdo at your home with minimal effort. Curl your ends and tie the top hair in the back, with a ribbon, and you just saved some money!
3. Wavy Half Ponytail
Some girls love fancy, intricate hairstyles and if you are not one of them, this half-up ponytail that you'll wear on one side is your best friend. Tie the pony on top of your head using a scrunchie and pull off a strand from your band and let it carelessly fall on the forehead. Messy but sexy!
4. Half Ponytail for Long Straight Hair
Just by having an ombre, your hair will get a particular glow that any girl wants. It provides that natural touch and a half up half down hairstyle with a ponytail will totally flatter straight hair. Don't mind the small bumps; even so, your hair will have a gorgeous lovely romantic touch.
5. Half Ponytail for Black Women
Use a weave to build a half up half down ponytail that won't pass unnoticed, especially if your natural hair is short and unruly. The transformation will be so precious and you'll find in this hairstyle idea a new revolutionary way to arrange your locks.
6. Half Ponytail for Bob Haircut
You'd be tempted to think that a half up short ponytail is dull and ineffective. Look at this gorgeous hairdo! It's far from being dull, and by the contrary, we guarantee that it will turn heads no matter where you're going.
7. Two Half Ponytails
Two half-up ponytails placed on both sides of the head look so youthful, especially if you go for a pink unicorn wig. Make sure you choose a quality product that you can easily style, straighten and curl just as you want. Also, don't forget that you need to use special washing products, even for Remy hair wigs.
8. Half Up Ponytail Bun
Never heard of ponytail buns? Well, it's about time! They are a gorgeous combo that can flatter all girls who love simple, casual, youthful looks. When you are on the run and out of ideas, you'll find in this hairstyle the best solution to all your bad hair days.
9. Geometry and Fractions
The sharp part that creates this half ponytail could probably be measured with a compass since it's so concise.
Two tight braids lead to a bun, although I believe we're looking at some filler hair, here—I don't know, something about that bun is off. Her hair isn't quite the right texture to pull of this style, but the right head of hair would slay it.
10. Side Part
Half ponytails come in every conceivable configuration. Take sweet Selena Gomez here. She's parted her hair in the middle, pulled back two sections of hair, and secured them at the back of her head. Still, counts as a half pony.
11. Top Knot
A top knot is a convenient, stylish way to keep long hair out of your face without wearing it up entirely. It will also lighten the load of a thick, heavy thatch of hair.
12. A Casual Mess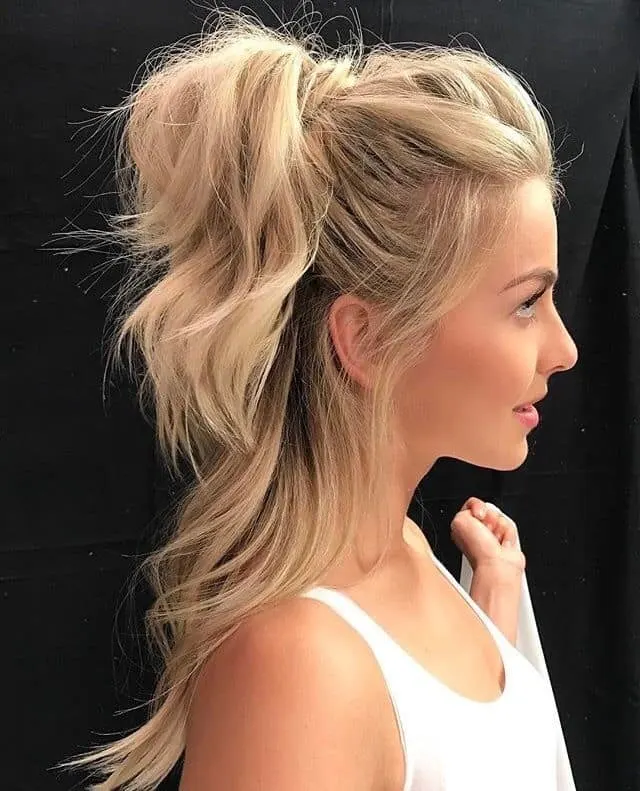 Throwing your hair up into a half ponytail is effortless. It's something you can do when you're running late in the morning or if you just don't feel like washing your hair.
Because any half-up coiffure tends to look elegant by default, you can twist half your hair into a casual, messy ponytail and still show off with your head held high as if you spend hours on your artful arrangement.
13. Braided Back
Instead of simply fastening two hanks of hair behind your head, try braiding them to form a half ponytail. Braid the pieces from your temple to the back of your skull, then fasten them together and brush out the tail.
14. High and Bumped
Any woman who's ever grown out her bangs knows this semi-pony. The thing is, it's hella cute. It's also ideal for second, third, or fourth-day hair. Always keep a hair tie with you in case your roots get a little greasy. Separate a relatively small section of hair close to your forehead, and remember to pull it tight after you wind it.
15. Sky High
Let your half pony sit up high on the crown of your head. It creates an eye-catching shape, creates even more, fullness, and it makes it easier to style the rest of your hair. There's nothing like curling your hair when half of it is up and out of the way.
16. Double Half Buns
Is anyone else getting Sailor Moon vibes? Just me? I'll take it one step further: I'm getting Boho Sailor Moon Vibes. The tousled and twisted double buns are beyond precious on their own but add the random fishtail braid, and this becomes a hairstyle you want to claim as your very own.
17. Tease, Please
Craving to lift and increase the volume? Grab your curling iron and your teasing comb, lovelies. Well, you can also curl your hair with a straightener, rollers, or your blow dryer and a round brush, but you know what I mean. You need curls, particular if you don't have any natural waves, and then you need to tease them until they beg you to stop.
18. The Bump
Not too long ago, the bump was a ubiquitous addition to any hairdo. Hair up, hair down, hair braided, curled or straightened, that bump of the volume was always there. It's been a while since I've seen one, but now I wonder where they went.
19. Half Bun
Who says you have to stick to a ponytail? If you like the way it looks, twist your half pony into a messy bun. It's … well, it's a look. Maybe not a lewk, though. What's the verdict—do you like it? I kind of hate it.
20. Buns and Braids
You know that half buns are adorable. You know a statement braid makes the look even better. Well, why not wear your hair half up with double buns and double braids? The yellow hue is something else, too. You don't have to take it that far, though.
21. Bun Done Right
This. This is how you wear a half bun. A top knot is more stylish, more sophisticated, and more visually appealing than the thing on the back of Ms. Mara's head. The twist of this woman's bun is flawless—as are her curls, her eyebrows, her contour, her highlighter, and those lips. Like, damn, girl.
22. Curly Cornrows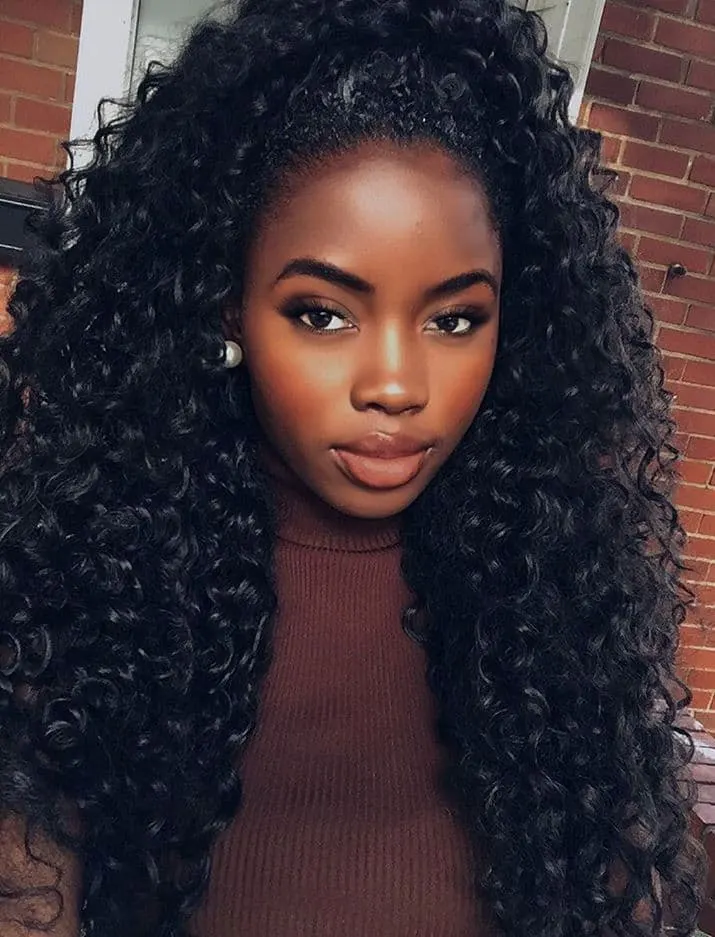 You've seen this before, but I got no shame in my game. I love this look. Her curls are life and so are those subtle braids. Let's take a moment to appreciate the whole picture because it's top-to-bottom perfection.
23. Pulled Back Bun
No reason to get complicated. A half-updo is just as stunning as a full one, even if you keep it simple. Pull back two sections of hair, tie them into a ponytail, and then twist them into a not-quite-perfect bun.
24. With a Bow
How precious is this? It's such an easy addition, such a simple thing to do. Yet, for something that takes up a few seconds, I guarantee you'll get stopped dozens of times by people complimenting your charming accessory.
25. Puffy Ponytail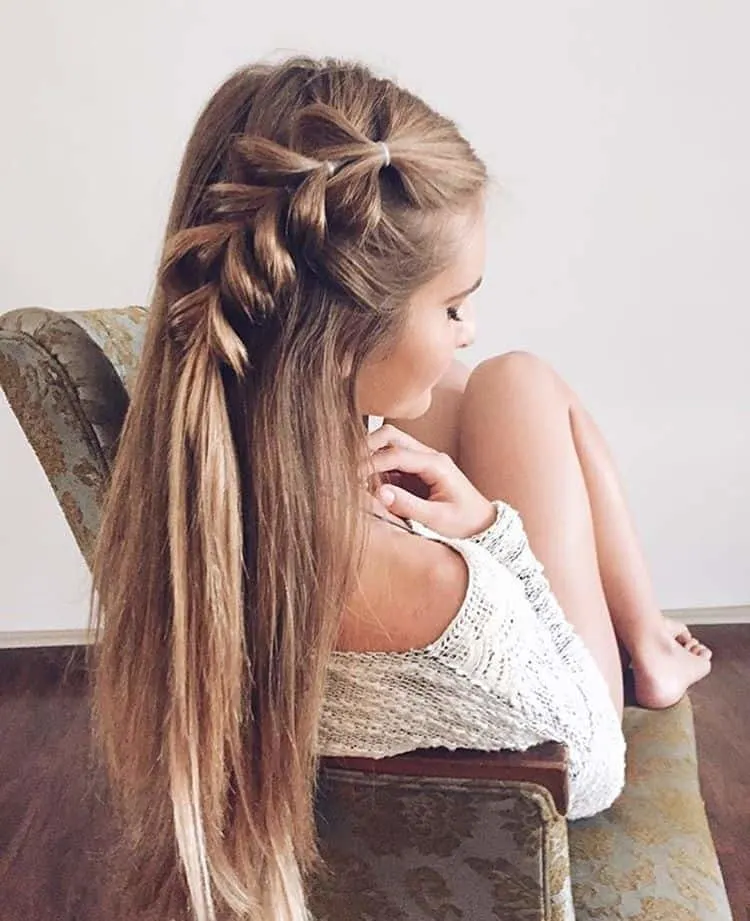 The puffy half ponytail hairstyle—how pretty! The puffy ponytail looks like a braid, but there's no plaiting involved. It's more of a tucking technique, so it's easier to accomplish by yourself. It's also gorgeous AF.
26. Faking It
No, this isn't a fake ponytail. However, only a small section of hair is pulled back and it's fastened high on the crown. That creates volume that may not have been there before, plus it gives the illusion of extra lushness and cute layers.
27. Stunning Spiral
This is by far my favorite half ponytail style. It is exquisite on another level. It's out of this world. It's not really complicated—create a simple braid and then form the spiral pattern, using bobby pins to very carefully hold it in place—but it appears magical, and as if it takes hours.
28. High and Parted
All right, this is adorable. Who remembers doing this when they were younger? You pulled your half pony as high and as tight as it could go, then took half of your ponytail in each hand and tugged it a little harder. Why was that so cute? Why is it still?
29. Twisted Bun
A twisted top knot is a terrific go-to. It's kind of odd to see Ariana without two buns, though. Huh.
30. Twisted and Split
Leave it to Kylie, right? Give her props, she has a lot going on with her half ponytail. She reminds me of something…
Anyway, half ponytails are fashionable little lifesavers. You can hide oily roots, create volume and thickness, or simply keep your hair off your forehead and out of your eyes. Do you think everyone can wear their hair half-up and half-down, or should some folks avoid it?