Women love teased hair because this backcombing technique provides so much volume. And let's face it, most of us crave a rich voluminous mane. For those who struggle with fine or thin hair, this is an everyday practice.
However, there are numerous situations when teasing hair is helpful, and we're going to discover them all below.
So, let's take it step by step and discover what teasing really is. Its name doesn't give too much information. If the technique used is done right, your hair will get the volume it never had. And it's all happening with a common device like a comb.
What is Teased Hair?
Teasing is a backcombing technique. All the action happens a few inches above the roots. Using a fine-tooth comb, you just simply comb the hair towards your scalp. This procedure will create a puffy tangly section that provides all the volume you need.
In other words, It's known as the method of bunching the roots together so that height and volume are achieved. It's typically done with a comb or a brush and is how many women with thin hair achieve rather voluminous looks without the addition of hair clips or weaves.
Typically, it's damaging because the hair is being forced to tangle which oftentimes leads to breakage so teasing the hair should not be a regular routine.
How to Tease Hair for Volume
First of all, before you start ratting your hair, you need to make sure you have all the right products. So, get yourself a simple rattail, and a hair pick comb. If you want more glow, a texture spray will do the job.
In the and, to set the whole hairdo, use a fixing spray for volume. After all, that's what we're aiming for, right?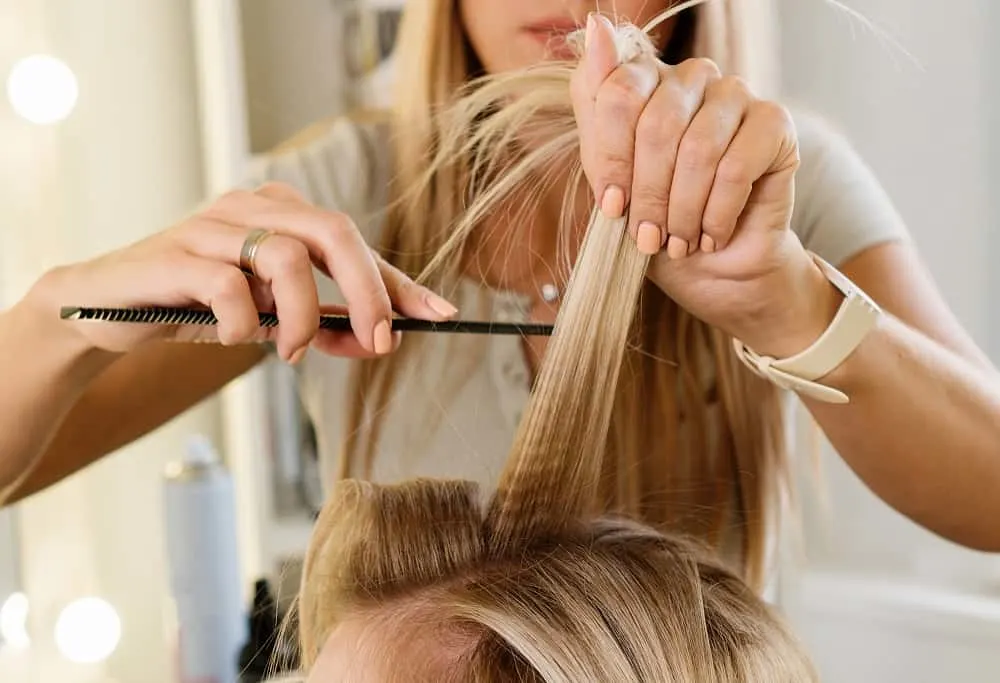 However, if you want to straighten, curl or wave the hair, make sure you apply the heat before teasing your hair. Style it just the way you wish to and start following these steps for flawless teased hair.
Step 1: Once you have all the right products on your display, it's time to do the hairstyle. First of all, use texture spray. It will provide some hold and, of course, texture. Make sure you insist on the parts you want to rattle.
Step 2: Teasing looks best on a two days hair. But if your hair is freshly washed and blow-dried, the texture spray will give you the needed grip. Part the hair in small even sections.
Step 3: One by one, start with the forehead piece and place the comb 3-4 inches above the roots. Backcomb that strand two or three times and you will immediately see that height. Put that hairpiece away and repeat the technique for the rest of the strands.
Step 4: Set this voluminous hair with hairspray. Apply it mostly at the roots.
Step 5: Now remember that hair pick comb? Use it to gently arrange and comb the whole construct to ensure the hairstyle doesn't look tangled.
Watch the following tutorial to learn how to tease hair for volume.
How to Tease Hair without Damaging It?
On the other hand, certain hairdressers have the opposite opinion. They consider that if you follow a few steps, your hair will be just fine. So, their recommendation is to dry your hair entirely before teasing.
When your mane is wet, it becomes weaker, so it's prone to damage and breakage. Combing the hair thoroughly before the rattle is also necessary.
This is also an important tool in the teasing process, so make sure you get one before starting. It's not at all expensive, and you can find it almost anywhere.
So, the best way to make sure you are not damaging your hair is to gently use this technique and make sure you have all the proper tools.
Related: Why Tease Hair For Balayage?
Tease Hair for A Ponytail
Ponytails and teased hair make such a great team. You can go from a fine dull hair to a rich mane in just a few moments. And we all know a great look can boost your self-esteem so much.
So, to make sure you nail this one, here's what you'll need to do. Grab all your tools and section the top. Maintain the rest of your hair away, pinned into a low bun, in the nape area. Section the top again and do the steps presented above.
Gather all the hair in a gorgeous ponytail and style it just the way you want. You can curl it, straighten it and even add a faux pony. This way, you will achieve so much volume for both the top and ponytail.
How to Untangle Teased Hair?
Starting from the ends, easily comb your hair. As it starts to detangle, go up, section by section. We do not recommend washing teased hair without previously combing it. When your hair is tangled and wet, there are more chances of breakage and snapping.
Watch the video to know how to remove tease yourself.
Pro Tips for Teasing Your Hair
Use root lifting powder beforehand.
Use a rattail comb to part and tease.
Use a flexible hold hairspray so that the hair isn't too stiff.
Beautiful Teased Hair Ideas
You can come up with various unique hairstyles by teasing your hair. Below are 12 great teased styles to draw inspiration from:
Headwear is definitely in this year, and with good reason. This awesome army green headband compliments the height that she achieve with her tease so well.
2. Short Asymmetrical Teased Bob
Adding height to your bob will not only set it apart from the rest, but it will also give you the height you desire, taking this style to a whole new level.
If you love your half up, half down styles, try teasing your roots before installing your ponytail. You'll be surprised and pleased with the amount of height you receive.
4. Teased Hair with Side Braid
Nothing accentuates a teased style more than a beautiful side braid. Braids not only dress up the look, but they also draw attention to exactly how high your hair is.
5. Teased Ponytail
This teased ponytail is elegantly executed, featuring soft curls and a side bang. Perfectly pumped, this teased ponytail can clearly be rocked at any occasion.
6. Messy Tease With Headscarf
If you're on the lookout for a carefree teased look, try this teased style with a headscarf. This style is perfect for a lazy day on the beach or out by the pool.
7. Big and Bold
If you're a fan of wearing your straight hair as big and bold as possible, try this awesome teased look. The impressive amount of volume will surely leave others envious of your big hair.
8. Teased Roots w/ Soft Curls
Jessica Simpson has always rocked big, beautiful hair and it definitely suits her personality. Get this look by teasing the roots and then curling the hair softly.
9. Teased Hair with Bun
Teased buns are very popular in wedding hairstyles, including this teased chignon bun. Not only is this style big, but it's still slick and put together without being overbearing.
10. Teased and Pulled Back
A more subtle tease gives this pulled back style the flavor it needs to take it to the next level. This popular teased hiar takes this style from drab to fab every time.
11. Teased Bob
This is another subtle tease, but it is still pretty apparent. The hair is teased at the top to give this asymmetrical bob the volume it needs so that it is not flat.
12. Teased Curls
Big curls are always in style and making the style even bigger by teasing the roots makes this look the most desirable of all.
In order to achieve this look, set the hair on rollers and tease the roots once the hair is set. This will leave you with big hair that is sure to turn heads.
Some more teased hair ideas:
Conclusions
If you need to achieve more volume, teasing your hair might be the best technique. Before you start creating this hairstyle, make sure you have all the tools you need.
Once you are done, you want your hairdo to look flawless, so make sure you remove all bumps and tangles with a special comb with a wide tooth.
FAQs on Teasing Hair
Can I tease hair with a regular comb?
It is not impossible, but it's definitely not the best method. We highly recommend you buying a special ratting comb that also comes with a pointy end.

You'll use the comb to create the teasing and the other part to section the hair just as needed.
Can teasing cause damage to my hair?
If done right, with proper tools, yes, this technique is safe. However, experts tend to argue a lot about this practice. It happens because the hair cuticles are oriented downwards.

When you choose to backcomb the hair, going the opposite direction, this technique might strip the cuticle cells from hair fiber.

Some experts say that you can actually see the removed cuticles once you place a hair under the microscope. Therefore, many don't recommend this way of getting volume at all.
How to get the '80s teased hair look?
If you are more into retro or rock and roll looks, you might consider getting a haircut first. A pixie haircut or a shag will give you better chances of achieving the hairstyle you want.