Most folks prefer to have a hair stylist color their hair at the salon, but now, more people want to try dyeing their hair at home. When you find the perfect color but want a bit of contrast, learning how to dilute hair dye might be the best idea.
In DIY hair dyeing, one of two things can happen. If you're lucky, you'll end up with a fascinating mane bursting with color or a full head of fried hair. Yikes! Want to learn how to dilute hair dye? Avoid the common pitfalls a rookie could make by following the steps and tips detailed in this comprehensive read.
Why Dilute Your Hair Dye?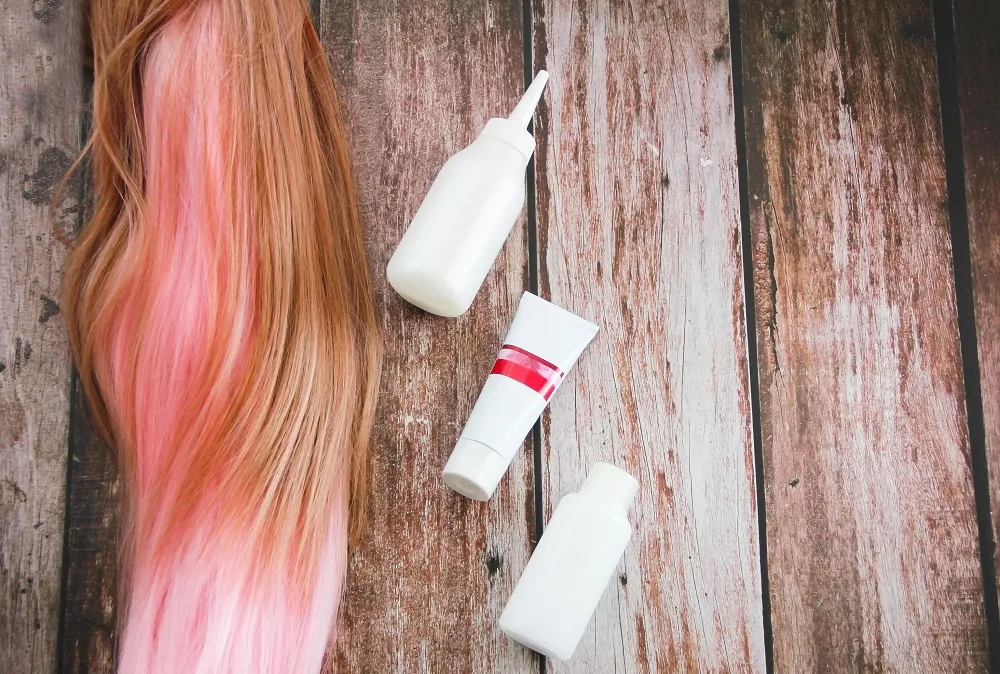 There's no shortage of colors you'd want to try on your hair. However, many are on a quest to appear unique by putting on a hair color no one else has.
Diluting hair dye can yield distinct pastel shades that will turn people's heads and ignite questions everywhere you go. It's a great idea to dilute permanent hair dye because:
Undiluted hair dye can overwhelm your hair as it penetrates deep into the hair follicle, leading to damage.
Using diluted dye on your hair is a test to see how a color looks on you. If it complements your style, you keep it. If not, it's easy to color your hair with a different shade without needing to wash the previous color off.
Permanent dye grows out with the hair. It fades a bit but doesn't wash off. Diluting dye means that it's easier to wash off. Plus, you can try out different hair colors without waiting for the old hair dye to fade away.
Diluted hair dye doesn't dry out your hair. Therefore, your hair health isn't compromised, and there's no breakage.
Instead of using a toner to give your hair that distinct ashy appearance, diluted hair dye is an even better alternative that yields mind-blowing results.
Step up your game by trying DIY dye dilution techniques for lasting impressions on people. Even more, your hair stands to benefit as it appears bulkier, shinier, and healthier!
Is Diluting Hair Dye Safe?
Diluting hair dye is safe. Using diluted hair dye is an opportunity to discover how your scalp and hair react to permanent dye and semi-permanent hair dye. Think of it as a patch test. People who aren't allergic to a hair dye from one brand may react differently to another.
Diluting hair dye doesn't alter hair structure. Instead, it leaves your skin and hair intact, yet the color lasts a little longer without the brassiness.
Simple Methods for Diluting Hair Dye at Home
A hot discussion exists regarding what you can and can't use to dilute your hair dye. To put an end to it, below is what expert hair stylists choose to use to get fantastic results.
Method 1: Diluting Hair Dye with Shampoo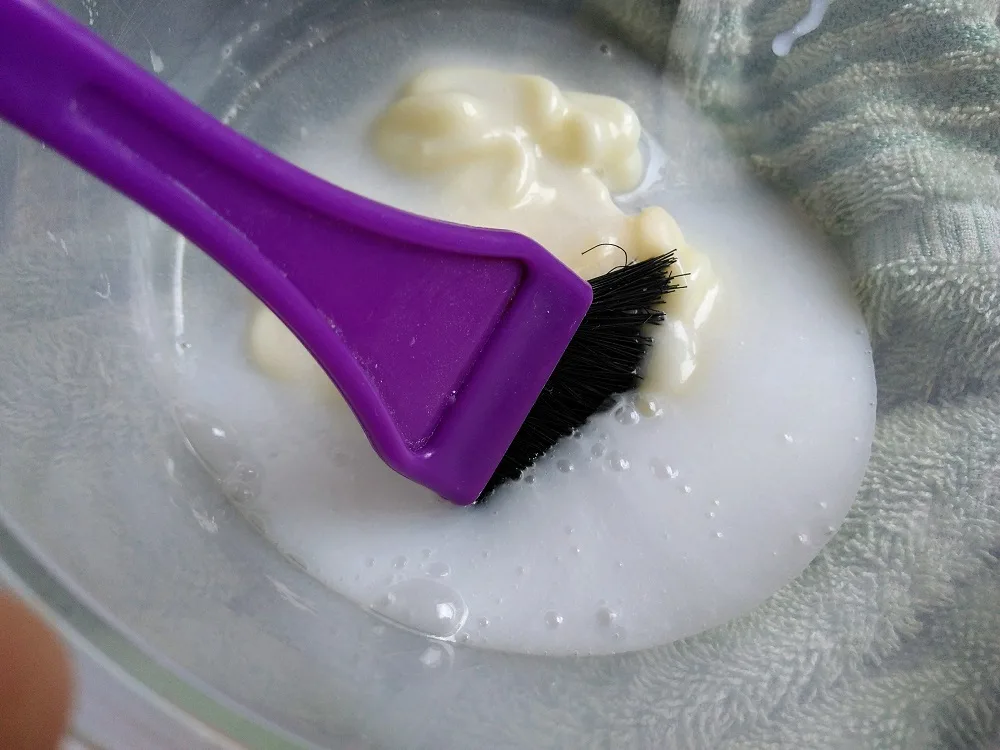 Mixing hair dye with shampoo is the most popular diluting method hairdressers use. You probably already have plenty of shampoo at home. But is any shampoo ok to use to dilute hair dye? Not really.
Toning shampoo is best. Toning shampoos come in different semi-permanent colors and are specially made to use on colored hair. You'll find hair coloring kits in supply stores with three toning shampoo colors: red, platinum ash, aIf, and golden blonde.
Toning shampoos are relatively expensive. Since you're diluting shampoo and hair dye at home, keeping your expenses low is vital by using what you already have or buying only what's necessary.
Did you know you can make toning shampoo at home instead? To make a DIY toner, you need the following:
Half a bottle of regular shampoo
Half a tube of hair dye
A clean, empty container or bottle
Follow the steps below before applying the diluted color to your roots or ends.
Take the empty bottle and fill it halfway up with white shampoo
Add half a tube of hair dye
Shake the bottle thoroughly until the dye with shampoo mixture blends well
Use your fingers to apply the semi-permanent hair dye mixture like you'd apply ordinary shampoo to your hair. Allow it to sit for no more than 15 minutes, and wash your hair. Avoid using toning shampoo daily and instead, use normal white shampoo.
Consider using toning shampoo again only when the hair color starts to fade. If your hair feels dry after using toning shampoo, use a deep conditioner to help restore moisture and make your hair softer.
Method 2: Diluting Hair Dye With Conditioner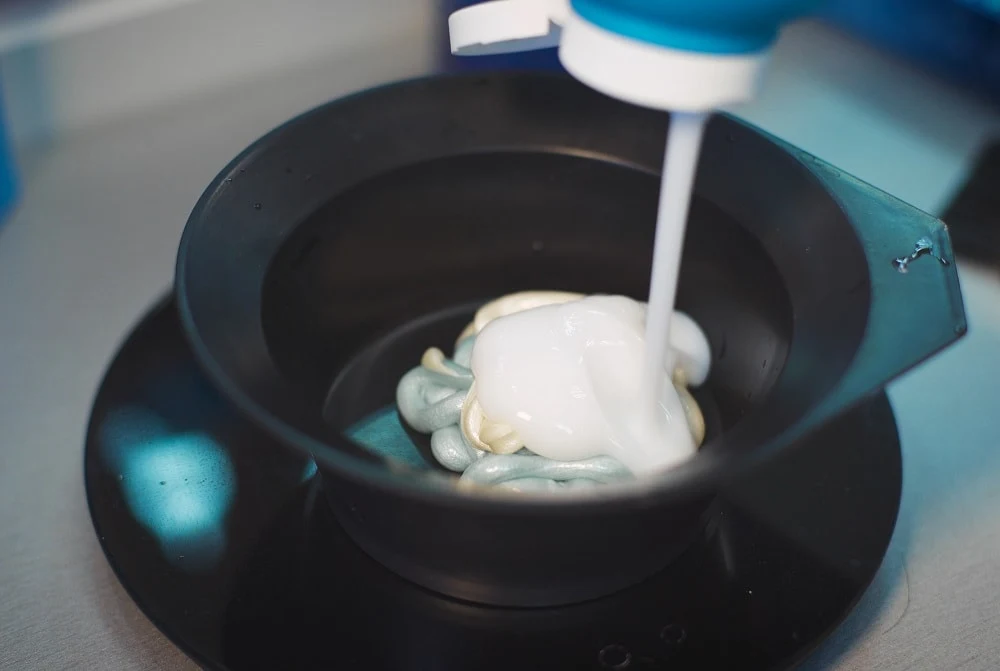 Also known as a color rinse, this method is excellent when you already have color on your hair. If your hair needs a boost because it's dry and ashy, diluting hair dye with conditioner is the best method.
Diluting hair dye with conditioner is a color rinse that, unlike a toning shampoo, can introduce a new color to your hair strands. Color rinses help restore luster and color vibrancy.
To dilute hair dye with conditioner, you need the following:
Three tablespoons of standard white conditioner (only a small amount will do)
Half a tube of hair dye
A clean, empty container
Follow the steps below before applying the diluted hair dye with conditioner to your roots or ends.
Add hair conditioner and dye into a plastic container and use a soft-bristled brush to mix
Use the same brush or your fingers to apply the mixture to your hair
Allow the color rinse to sit for about 20 minutes, and wash the diluted hair dye off with cold water
Diluted hair dye with conditioner is perfect for hair that has suffered overexposure to UV rays, hard water, and SLS shampoos. This method is favorable because it doesn't damage or dry your hair, as with regular dye.
Method 3: Diluting Hair Dye With Hydrogen Peroxide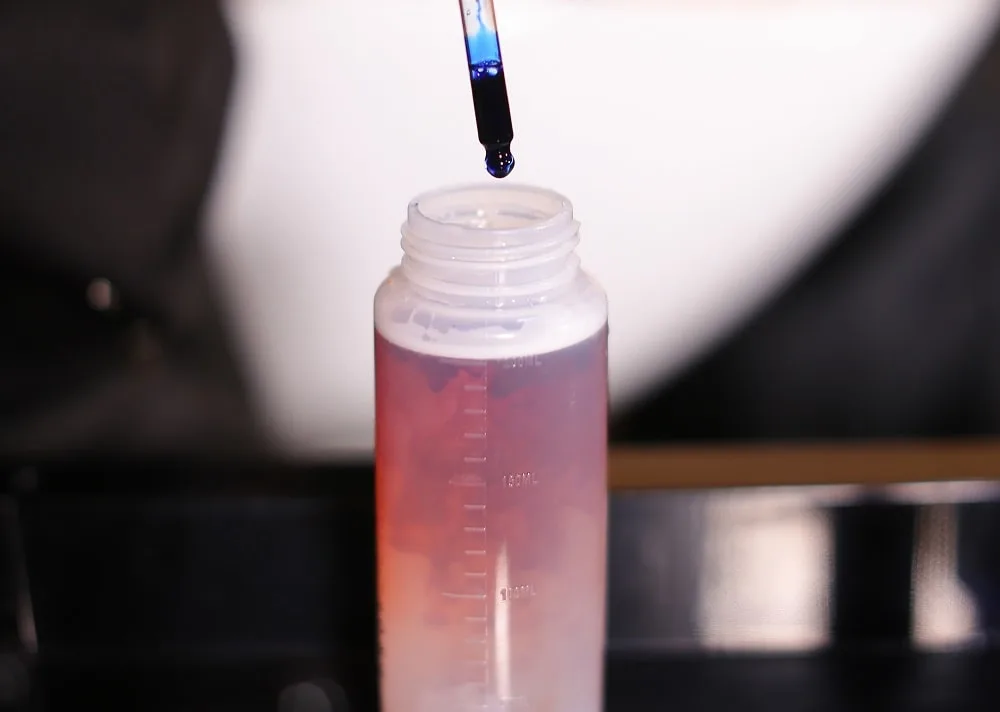 Using methods one or two will give you semi-permanent results. However, diluting hair dye with Hydrogen Peroxide is the only method that gives you permanent results.
Do you want to change your natural hair color? If you already have color on or want to drastically alter your violet hair color, diluting hair dye with Hydrogen Peroxide is a non-aggressive method to get the desired color.
To make a diluted hair dye with Hydrogen Peroxide, you need the following:
One part professional-grade hair dye
Two parts Hydrogen Peroxide
A clean, empty container
Follow the steps below before applying the diluted hair dye to your hair:
Mix the Hydrogen Peroxide thoroughly with your box dye in a plastic bowl until smooth.
Use a soft-bristled brush to apply the mixture throughout your hair
Let it sit for about 30 minutes, and rinse it off with lukewarm or cold water
Hydrogen Peroxide is the developing agent in most over-the-counter hair coloring kits.
Methods To Avoid When Diluting Hair Dye
If you're new to DIY hair coloring, there's a good chance you might mess things up by diluting hair dye with the wrong solvent. Below are methods to avoid when diluting hair dye:
Avoid Diluting Hair Dye with Thermal Oil
It seems straightforward to avoid mixing hair dye with thermal oil, considering its low viscosity and how greasy your hair gets. If your hair is too greasy, it creates a barrier that coats the hair shafts keeping the dye from penetrating the cortex.
Adding thermal oil to hair that's already dry risks more breakage because hair oil does not moisturize hair, as water-based hair products do. In a nutshell, diluting hair dye with thermal oil does little to nothing to color hair.
Too Much or Too Little of an Ingredient
It takes the right product proportions to create the perfect hair coloring solution. The correct measurements to dilute hair dye should be precise to achieve the best results.
Say, for example, you're using hydrogen peroxide to dilute hair dye. It's the right mixing agent, but if you use too much Hydrogen Peroxide, you risk burning your scalp and possibly damaging your hair. Follow the measurements listed above to avoid wasting time and hair dye.
Avoid Diluting Hair Dye with Water
Water seems like the obvious diluting agent to use because, heck! Everyone uses water to dilute everything! From paint, juice, watercolor, you name it. You're trying to color your hair at home, so there's no harm in using water to dilute dye, right?
Wrong. Water doesn't lighten or dilute the color of hair dye. Unlike regular paint, the structure of most hair dyes is different. When mixed in a plastic container, water and hair dye will not react on a chemical/molecular level. Therefore, mixing water with hair dye is like mixing water and oil—there's no effect.
Tips for Achieving Better Results
Ever wonder why two people who use the same dye and have the same hair type and color end up with two completely different results? Some tricks you can use when dyeing your hair to create a flawless outcome include:
Do Patch Test
A patch test is the only way to determine how your hair and scalp react to the hair dye mixture you just made.
The dye mixture can accidentally leak and come into direct contact with bare skin. Therefore, a patch test is the safest way to avoid a potentially severe allergic reaction.
If you're using a hair care product and discover redness and swelling on your scalp during the patch test, quickly rinse it and discard the mixture.
Use a Toothbrush to Create Highlights
A toothbrush is useful if you want a more precise, alluring result. Hairdressers use a toothbrush to create highlights because it gives them more control over where the hair will be lighter.
Plus, you achieve a more even effect with a toothbrush.
Use Oil to Dilute Hair Dye if You Have Dry Hair
Organic hair oils like jojoba, coconut, olive, almond, castor, argan, marula, grapeseed, and avocado are excellent for dry hair. Consider using pure natural oil to dilute hair dye if you have dry hair.
Hair Repairing Treatment for Optimum Hair Health
Coloring or bleaching your hair continuously can compromise its health. You can't use standard hair treatment to develop or dilute hair dye. Instead, use repairing hair treatment. Repairing treatment has protective abilities that cushion dyed hair from different side effects.
Therefore, using this special treatment after washing, oiling, and dyeing your hair shaft works together to promote health. Making it a routine to use repairing hair treatment every few weeks makes your hair fluffier, longer, and shinier.
Final Thoughts
A hair dye kit is the first thing that comes to mind if you want to color your hair. However, if you're a bit picky, you may want to try creating a different shade at home.
Learning how to dilute hair dye is no easy feat. A lot of work goes into achieving that elusive pop of color your hair needs. Each diluting method highlighted above guarantees different results. Therefore, it takes practice and experience to get it right.
Above is everything you need to know about diluting hair dye, plus tips on what to avoid to boost your chance of achieving the best results.
FAQs
Can diluting hair dye help keep my hair healthier?
Diluting hair dye can keep your hair healthy. While hair dye cannot inhibit growth, color-treated hair can suffer damage due to continuous dyeing and over-processing.
Can I mix hair dye with bleach?
You can mix hair dye with bleach only if you want a lighter shade. However, it's not recommended for you to do this on your own because it takes several steps to successfully apply bleach and hair dye simultaneously. It's an intricate dyeing process that you may be inexperienced in doing at home.