Violet is bold and looks excellent on pixies, bobs, and long, curly locks. Get violet hair color inspiration from celebrities, runway shows, and everyday people who have embraced this eye-catching hue.
Stunning Violet Hair Color Ideas
If you want to make a bold statement with your hair, violet might be the perfect color. Below are 30 different violet hair color ideas to suit every style, skin tone, and personality out there.
Whether you want a full head of vibrant violet or just a touch of purple to accentuate your natural hair color, there's a look on this list for you
1. Dark Red and Violet
Prefer a red tint on a blunt bob? Mixing dark red and violet hair adds a subtle dimension to a style that can use some depth. Then, focus on the lighter-colored red hue around your face to brighten your appearance.
2. Violet Balayage on Long Hair
Balayage highlights provide the perfect way to add depth to dark violet hair. This technique lets you focus brighter, lighter color on the scalp and around your face and deepens color down the length of your hair.
3. Pink Violet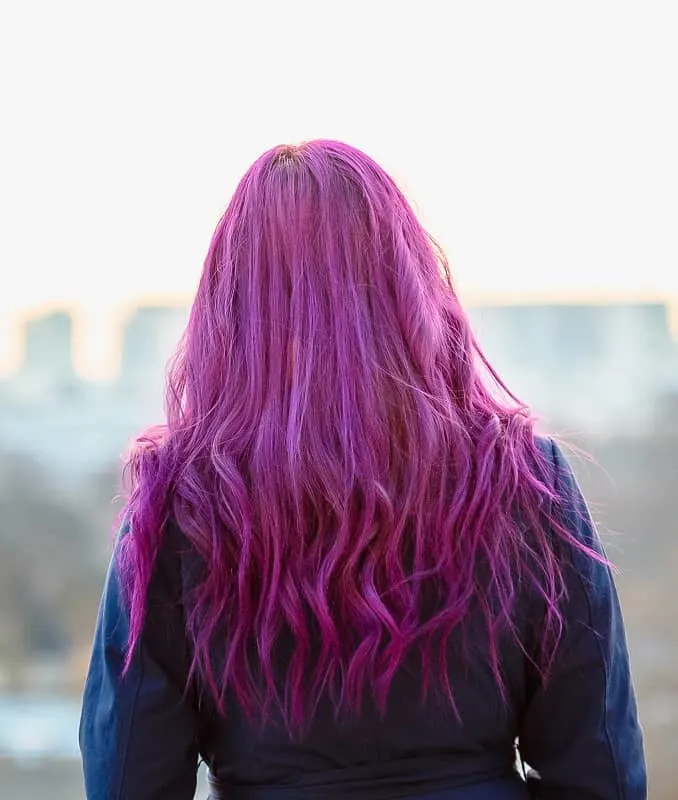 Fortunately, violet hair color comes in many different hues and creative iterations. This light violet hair looks punches up the pink in this vibrant color and looks great on short and long hair alike.
4. Violet For Brown Hair
Turning your hair to a bright new hue is complicated if your hair is dark. Instead, try violet brown hair with darker tones to match your skin tone, eyebrows, and overall features best.
Related: Can You Dye Violet Over Green Hair?
5. Electric Pixie
With a pixie cut, violet purple hair is so fun. Create an ombre effect and dye the hair closest to the scalp in a lighter, slightly pink shade. This will give your cute style edgy, elevated flair.
6. Plum for Black Hair
Even if you're used to your natural, dark locks, you can incorporate a purple color that suits your needs. Ask your stylist for violet-black hair to give you a sexy pop of color without going too bright.
7. Bold Violet
Show off your most powerful you with deep violet hair. Add exceptional tone to your overall hairstyle by leaving an inch or two of your naturally dark roots. When styling, add loose ringlets and create some height at the forehead.
8. Crimson Violet Ombre
Create a gorgeous raspberry chocolate look that is good enough to eat! Violet ombre hair is the perfect way to focus a pop of purple color onto the bottom half of your locks. This color combo is ideal for brunettes.
9. Blue and Violet Blend
Don't be afraid to be bold and add bright blue to your purple style. Creating violet and blue hair is about focusing blue on the under and bottom portion of your hair and letting purple locks bring out that gorgeous flush of the cheeks.
10. Icy Blue and Violet Pastel
Bring out your inner Elsa with delicious blue, violet, and blonde hair. But, before adding shades of pink, purple, light and dark blue to your locks, get your blonde to nice, icy platinum to create the best blend overall.
11. Bright Violet Dreadlocks
Dreadlocks are a very expressive form of personal style, so why not let your light violet hair color on dreadlocks do the talking? Combine a light purple with an equally bright baby pink color that pairs well with platinum blonde locks.
12. Deep Burgundy Violet
If you want purple locks, but your skin has yellow undertones, go for a cool tone. For example, Burgundy violet hair will complement your look and sexy vibe.
13. Ultra Violet Bob
Tousled bobs are on-trend, but ultraviolet hair will make you stand out. A true, icy blue-violet like this one will illuminate your face and make your eyes sparkle and pop. Give hair a few bends and a quick tousle.
14. Smoky Violet
Like smoky lavender, this violet gray hair looks fantastic on dark or pale skin with yellow undertones. Whether your hair is long and straight or short and curly, this cool tone is trendy yet undoubtedly bold.
15. Pastel Highlights
All-over color can be dull. Add some variety to your pastel violet hair by incorporating subtle streaks of blue and light blonde for depth and a little bit of fun. A blonde streak at the front of the forehead will ground your look.
16. Dusty Violet
Calling all dark brunettes and black-haired beauties! This dusty violet hair will set your look apart from all the rest and provide subtle, sexy boldness that traditional hair colors simply can't. Ask your stylist to use balayage to blend the hue onto your natural tresses organically.
17. Hint of Plum for Light Brown Eyes
Going slightly pink with your violet plum hair contrasts with light brown eyes like a charm. Try a sweet, face-framing bob or a medium-length cut with choppy, sexy layers.
18. Dark Violet for Curly Hair
Violet color takes to curly hair just as well as straight locks. This violet curly hair look is perfect for babes with a naturally darker color that can show through as beautiful highlights.
19. Colorful Violet Pixie
Create gorgeous short violet hair highlights in a rainbow of other colors. We love how the hair over the ears picks up a purple-pink hue while vibrant blues and greens play out over the rest of this pixie cut.
20. Violet Ombre Hair for Dark Skin
Are you looking for a suitable violet hair color for black girls that will wow the world? Electric purple ombre is playful yet grounded as you mix a deeper purple with your natural hair. This look takes a fun color and makes it sophisticated if done right.
21. Sweet Violet Pink
Even violet and pink hair want to be pretty in pink! So give pink locks violet undertones and drastically darken your hair in certain areas according to where the light hits for a special, highly photogenic look.
22. True Violet Balayage
Balayage highlights guarantee that even though your violet hair isn't natural, it will certainly look like it! This violet balayage hair ensures that your look will grow out well together without any harsh lines of demarcation.
23. Violet Mermaid Hair
Create the irresistible violet mermaid hair you've always wanted. Add in pink tones alongside vibrant blues for a unique, tonal look that will make it look like you've just come from the sea.
24. Short Violet Pixie
It's often easier to try out fun colors when sporting a pixie crop. This short violet hair is beautifully bright, but feel free to take on any violet variation that you choose to suit your skin tone and personality.
25. Violet Tri-Color Tresses
Try a more unusual combination with violet-blue and pink hair. Darker colors often look best at the root, so start with a deep burgundy hue that fades into teal, then finally a light lavender violet color.
26. Midnight Violet Black
This color is jaw-dropping! The black dye beautifully transits into those fabulous dark violet hues. If you have long hair, give your locks more volume with some well-defined waves that will gorgeously fall on your back.
27. Violet Highlights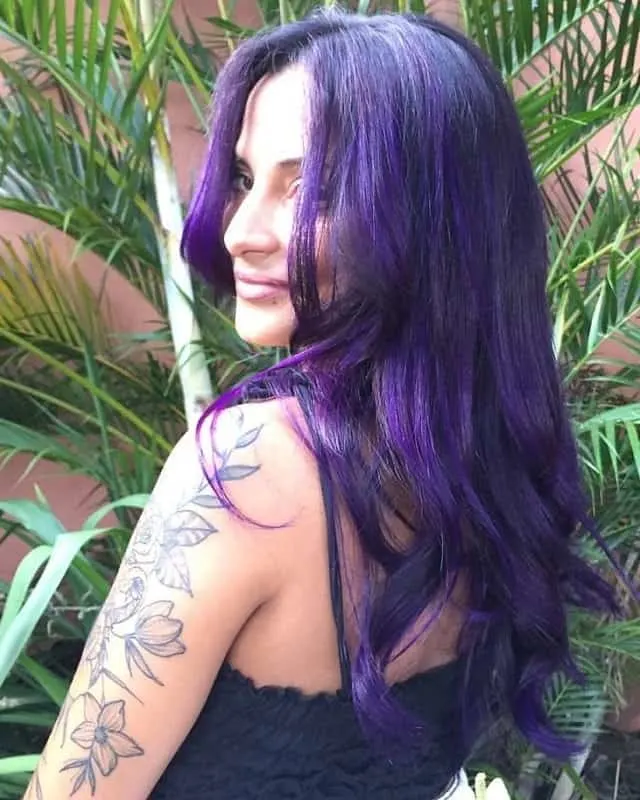 Create a black hair base and use an electric overt violet shade to make your fabulous hair shine. Those highlights will make your hair stand out in any crowd, and those easy waves will give your hair more dimension.
28. Red Violet Highlights
Get yourself a long pixie cut and create a black base color that will later beautifully blend with your thin red-violet highlights. Then, create some waves for your bangs and top hair to make those gorgeous violet hues stand out.
29. Violet Balayage
A long bob hairstyle with bangs is ideal if you want a modern hairstyle. Choose an electric violet color and create a stunning ombre. Keep your bangs black, just above your eyebrows, and make waves for the rest of the hair.
30. Dark Violet Black Hair
A dark violet electric hair is so outstanding that everyone who sees your hair will feel the urge to compliment it. Create an ombre that starts close to your black roots and leaves your bangs long.
There are many ways to sport a violet 'do that is true to your vision and how you carry yourself. Go light, dark, or colorfully bold and create the violet hairstyle that you've always wanted.