Embrace your gorgeous natural hair and opt for a hairstyle that adds value to your coils using a hair sponge. Forget about straightening irons, braids, or chemical relaxers, and start investing your money in products that make your curls shine, look healthier, and with more bounce.
There are all sorts of sponges available on the market that will help you style your hair without damaging it. These products are the best for the money, don't cost a fortune, and are so easy to use.
How to Get Sponge Curls for Men
There are a few simple steps to getting sponge curls for men. Let's take a look.
Preparation
Sponge curl-ready hair should be an inch long minimum, clean, and moisturized. Don't forget to detangle! Because it shouldn't be too wet, don't style your hair right after showering. Wait a few hours before starting.
If your hair gets too dry, you can pull out a trusty spray bottle and give it a spritz. Once your hair is damp, add a quarter-sized dollop of men's curl cream. Now you're ready to style.
Styling
There are different sponge brushes that will give you curls in various shapes and sizes. Pick the one you like best.
Start at the crown, and use your curl sponge brush in a circular motion all over your head for about five minutes, repeating the motion on areas that aren't taking shape.
Finalizing
By the end of this process, you'll be mostly done, but there may be a few stubborn parts that aren't as defined as others. Use your fingers for these. Add more curl cream if you feel it's necessary.
Aftercare
This is a pretty low-maintenance style. Wash your hair weekly and restyle as needed.
Hair Sponge – Before and After Photos
If you want to see the difference, we have prepared ten sponge curls before & after photos to convince you to use this simple product more often. Please scroll down to see how it can transform your hair.
1. High Top Hairstyle with Glasses
First of all, if you want fabulous sponge curls, you need to find a haircut that suits you. Maintain a high top and go for a high bald fade for the sides and back. This way, you will highlight the area where you'll use the sponge to build those fantastic twirls.
2. Mohawk with Side Design
On African American hair, mohawks can look messy and not in the right way. These before and after photos will show you how different your hair can look after using a sponge. First, define the mohawk with a hard part and create two lines on both sides of the head.
3. Textured Coils
When we're talking about sponge curls, you can make them as well-defined as possible. Define your beard and make your curls look perfectly tight by applying pressure when rubbing the sponge on your coils.
4. Sandy Blonde Mohawk
When you dye your hair in this sandy creamy blonde color, make sure you use quality products because a regular hair dye might make your hair look brittle and coarse. Go for a taper on the sides and use the sponge for the top.
5. Short Haircut with Bald Fade
To obtain that incredible shine, combine moisturizers with oils and apply them before you start using the sponge. You will create that perfect fluffy aspect, and you'll probably have to say no every time a girl wants to run her hand through your hair.
6. Curly Box Cut with Side Part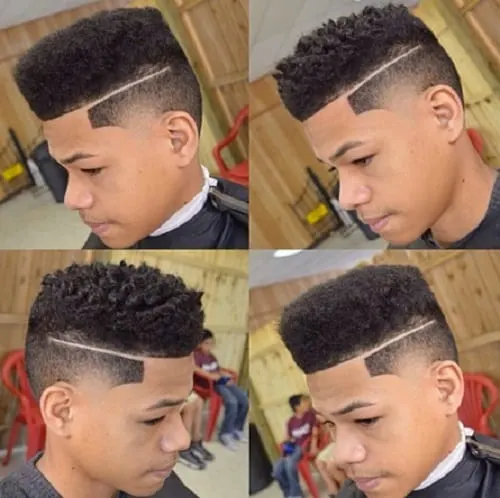 You can transform this box haircut into an ultra-modern hairdo with just a few dollars. The sponge is not expensive at all, and it does such an excellent job for your hair. Style a hard part that will create a disconnection between those short areas and the well-defined long curls from the top.
7. Mohawk for Little Boy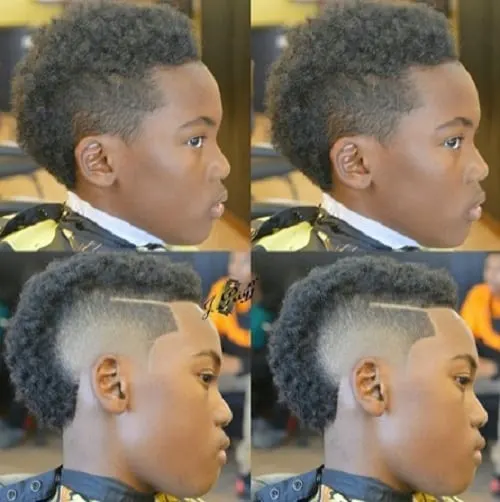 You can style sponge curls on both men and little guys, and even women love this technique. And what's not to adore about it? It takes you just a couple of minutes to define your curls, and the result is entirely marvelous.
8. Sponge Curls with Curved Razor Design
To create this impressive look, you need to choose a bald temple fade. Maintain a high top and style a curved razored line in the center. Us the sponge to obtain a puffy effect on your twirls.
9. Brown Ombre for Sponge Curls
One of the best things about this sponge is adapting it to your needs and hair type. If you apply pressure while rubbing it, you will obtain tighter twirls. To get that spectacular hairdo for your son, frame the top and back curls with a taper fade.
10. High Fade for Curly Hair
If you choose a bald fade for the back and a higher top, your hair will look impressive. The hairstyle will make your face look slimmer, and you will look fabulously groomed.
Sponge curls can make quite a difference and improve the way your twirls look. It's effortless to use, and it's not an expensive product. You will only need a good haircut base, and it will take you just a few minutes to look sexy and neat. Try it on!