Finding the perfect box haircut may be a challenge especially if you aren't sure of the different styles trending. Box-shaped haircuts have been trending since the 90s and are still as relevant today.
Trendy Box Haircuts for Men
Our list of men's box haircut includes versatility of hairstyles which are easy to maintain and style. Here we have handpicked 25 stylish box haircuts for men that will surely inspire you:
1. High Top Fade Box Cut
By the shape of this haircut, you can tell easily that it's a box haircut.  It's also called the "box fade". This style has been trending since the 90s. You may even remember Will Smith rocking it in The Fresh Prince of Belair. As you can see the back and sides of the hair is faded. Then, the top portion is shaped into the "box". Your hair has to reach a certain length to achieve a high top. In order to maintain the haircut, you would need to keep the bottom half always faded. As well as, the high-top hairs are kept tamed which can be achieved through "patting".
2. Afro Fade Haircut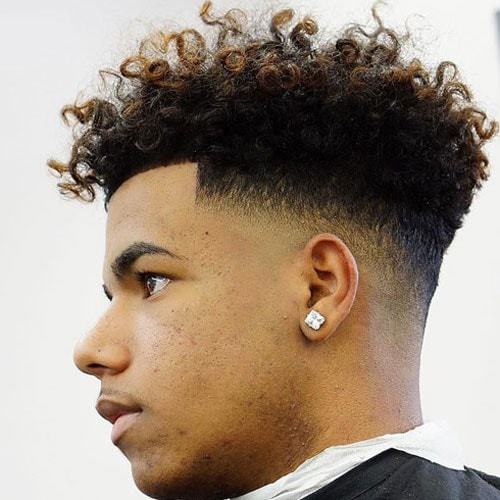 This box cut is similar to the high-top fade cut, however, your curls or natural texture is prominent. Similarly, the back and sides of the lower section of your hair are faded. Then, the top portion is shaped into a box, but the ends of your hair are curly or textured. If you want to show off your curls or a new color without comprising the box shape, then this hairstyle is perfect for you. In addition, it requires less maintenance because the top portion does not need to be tamed.  Lastly, it is called the "messy cousin" of the high-top fade.
3. Line-Up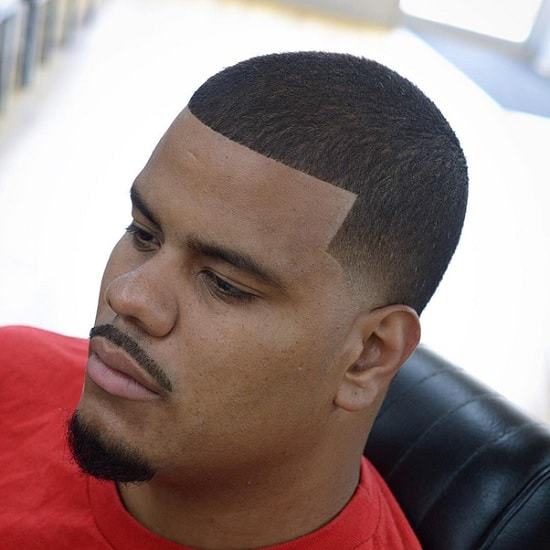 Yes, a line-up is an example of a box haircut that you could rock. If you always like to look sharp, then this haircut is perfect for you. For this style, your barber shaves the hair near your forehead to create the box shape. Depending on your barber the box cut will be done to frame your face. The haircut gives the illusion of a box cut. As well as, it accentuates your other features such as a chiseled jawline.
Flat Top Haircuts for Men That'll Never Go Out Of Fashion
4. Box Pompadour
Although this style is mostly worn by men with smoothy/silky textured hair, it can be worn by the kinkier or curly textures. The hair at the top would look like a box from the frontal view. However, from the side, you are able to see the pompadour. For this style, the hair is curved downwards towards the middle of his hair. You can add gel or mousse for your hair to look smooth or sleek. It's a very high maintenance haircut since your pompadour would need to be tamed every day.
5. Frohawk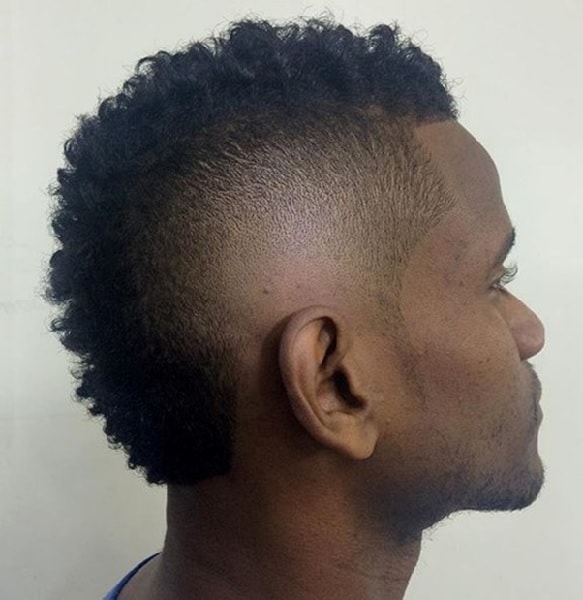 The frohawk is an unconventional box cut. The frohawk is shaped into a box at the front and gets narrower and shorter towards the back of your hair. This haircut is perfect for textured and curly hair. The Frohawk can be styled in various ways depending on your preference, for example adding color.  As well as, the mohawk is a high maintenance hairstyle. The frohawk has to be moisturized and prominent. In addition, the sides need to be kept low all the time.
Read these articles too:
6. Geometric Box Cut
The geometric box was a popular 60s style. There is no reason that you can't bring back the look, do a shorter version, or be inspired by it. The look emphasizes the thicknesses of your hair. As well as, the strong angles are similar to the sharp angles of a box, hence the name geometric box. In addition, you can add part lines to create the box shape. If you're going to sport this hairstyle, ensure that it is done by a professional barber that knows exactly what you want.
7. High Box Cut with Deep Side Part
This haircut is similar to the high-top fade box cut. The difference is the deep side part. You would have the part on your good side or both sides. As well as, you can have the deep side part thin, normal or wide, depending on what you like. This hairstyle is very high maintenance. You may have to visit the barber on a regular basis to keep your fade fresh, as well as the deep side part.
8. Short Box Haircut
Very similar to the high box cut, however, the box height is reduced. Your barber should cut and frame the short box cut to frame your face very well. This cut is low maintenance because there is less hair to work with. In addition, you can add a deep side part if you want to look flyer.
The Best Comb Over Fades for 2022
9.
box haircut for white guy
10.
juice box haircut
11.
12.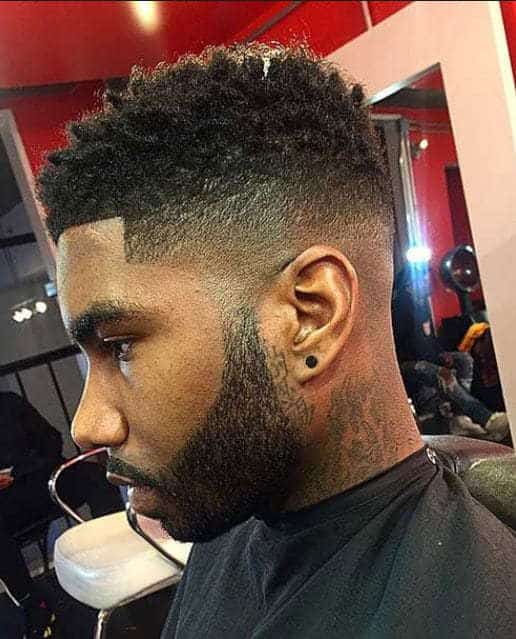 13.
14.
15.
16.
17.
18.
19.
20.
21.
22.
23.
24.
25.
All these effortless box haircuts will freshen up your look with a touch of style. Hurry up and go to your nearest salon and ask your barber to transform your look.