Nowadays, men have a huge variety of haircuts to choose from, but there's one particular high bald fade hairstyle that's become very trendy lately.
High Bald Fade Hairstyles
These are the most popular high bald fade haircut for men. Have a look and get one as your next look.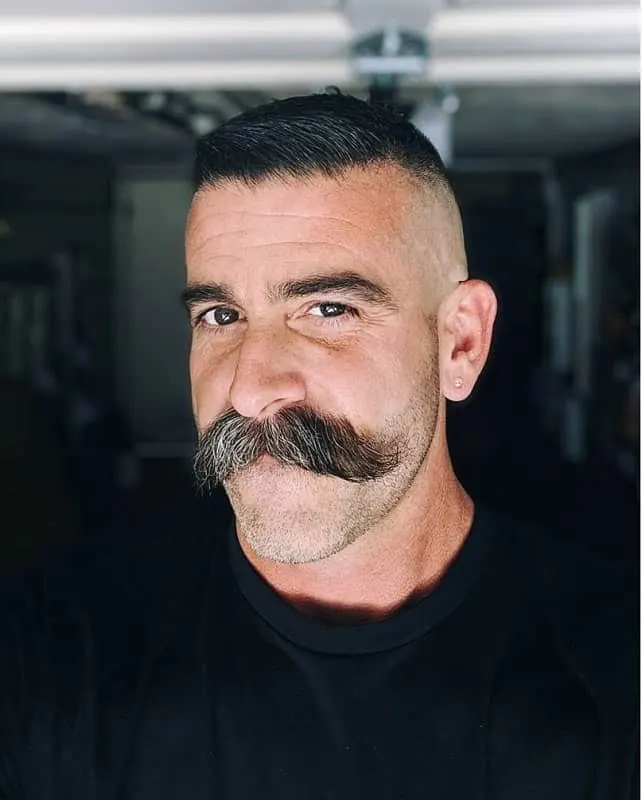 This is a classic example of high and tight bald fade hairstyle. Very, very short fade on the sides that go all the way up past the ears, and just enough hair on the top part of your hair for you to comb.
To style it this exact same way, make sure to help yourself with a little bit of hair gel and a blow dryer, then simply comb it to either side of your head and you are done! The walrus mustache made this haircut so classic.
Classic Fade Haircut Ideas for Men
2. Drop Fade with Short Afro
A great way to play around with such a short afro haircut is to leave the top part of your hair long enough that you can actually grow a mini afro. Luckily for you doing this is pretty easy, and all you have to do is not touch the top part, but continuing to fade out the sides and the back.
To give some texture and volume to your afro make sure to give some extra form to your natural curls with the help of hair moisturizer and an afro comb to really style it.
If you already have long hair, then try fading out the sides and the back part of your head (ask your barber to do this) but leave the top as long as it currently is.
Then, to style it, straight it out with a blow dryer + flat iron and push it to the back. if you want this hairstyle with a high bald fade to hold on throughout the day make sure to apply either hair gel or hair spray.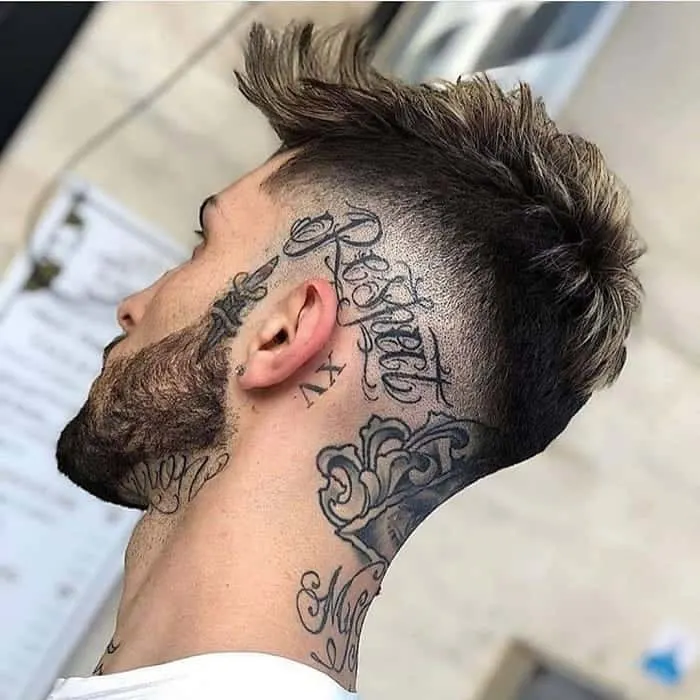 Like we just said, this high cut bald fade hairstyle is really all about playing around with the top part of your hair since the rest is so short. We recommend you to cut down your hair first and then simply bleach just the tips of the top part.
Once you bleach them you can either tone them down with purple shampoo or apply an actual hair dye. Style with some hair gel and push them upwards and you're done!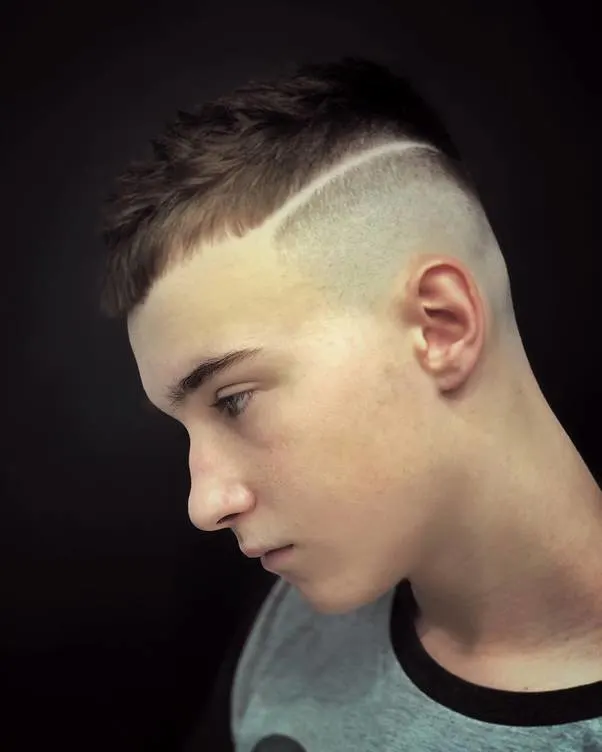 Baby bangs aren't a usual hairstyle on men, but when done right they can look incredible. Let the high top bald fade get almost to the top of your hair and then ask your barber to let the rest of your hair untouched. Ask them to cut the front part short enough to give you baby bangs.
To mimic this caesar hairstyle you have to make sure the top part isn't as long as in the previous hairstyles, then simply style your hair pushing it to the front part of your head to fall right on top of your bangs.
If you want to take this hairstyle to a whole new level you can always bleach your hair and then dye it icy blonde for a more 'rebel' look. However, make sure to ask your barber to really take the high bald fade way past your ear.
Last, but not least, style your hair to the front of your head instead of the back and, with some hair gel, mess the top part just a little it for a messy look.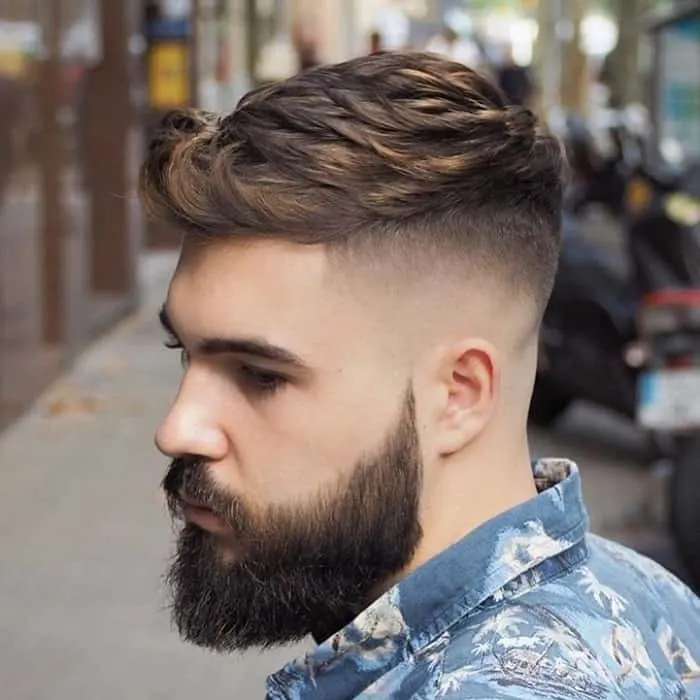 We recommend you to let your hair grow long enough before you go the barber and ask them for a high bald fade haircut, this way, you'll be able to actually get the soft highlights done during the same appointment.
You can leave the top part as long as you want, but to mimic this hairstyle correctly, make sure ONLY the top center part is long, and as you go to the back it starts to get shorter and high fade away.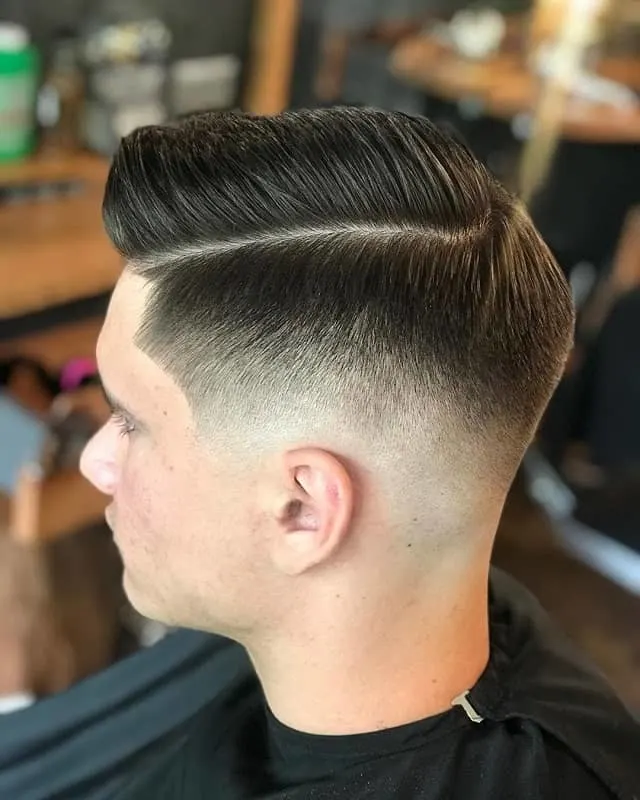 This is a much more classic bald cut high fade comb over hairstyle for you to try. First, part your hair slightly off the middle to one side and comb the rest of your hair to the opposite side.
You can help yourself with some hair gel, a round comb, and a blow dryer to get your hair to fall into a 'wave' like hairstyle. Last, but not least, apply hair spray to make sure it will last you throughout the day.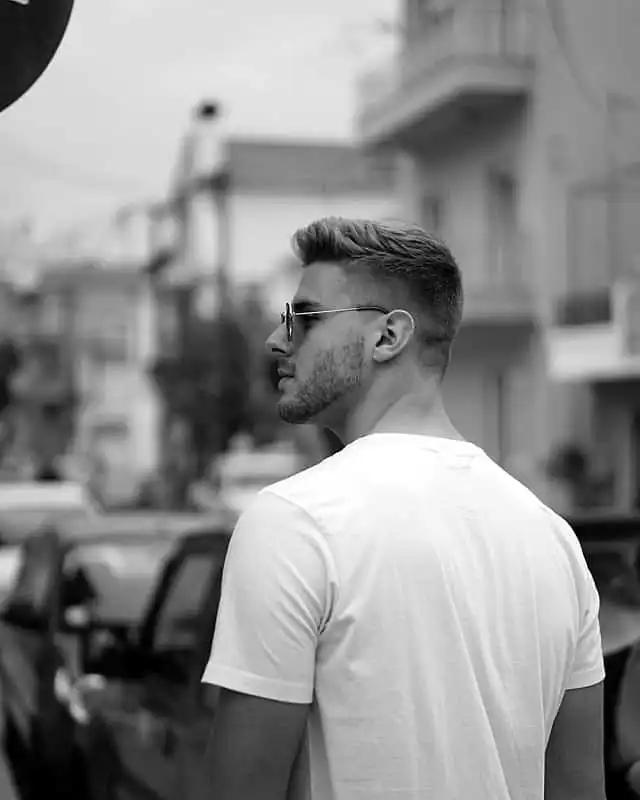 If you don't have long hair, don't worry. Once you've asked your barber to fade out the sides and back parts of your hair, you can simply style the top part with your fingers and a round comb. Make sure to push the top front part upwards to create the same style that's on this picture.
This is a great option for anyone who has short hair and wants to play around with this bald high fade haircut. Once you've faded away from your sides and back part, make sure to put on a weave overnight or a couple of hours throughout the day. Remember, how marked your waves come out will entirely depend on how tight you put your weave.
If you have long, curly hair and you already went for the high cut bald fade you can ask your barber to give you twists -or short dreadlocks, if you want to- on the top part of your hair. However, make sure you can still see the contrast between the top and bottom part!
12. Messy Top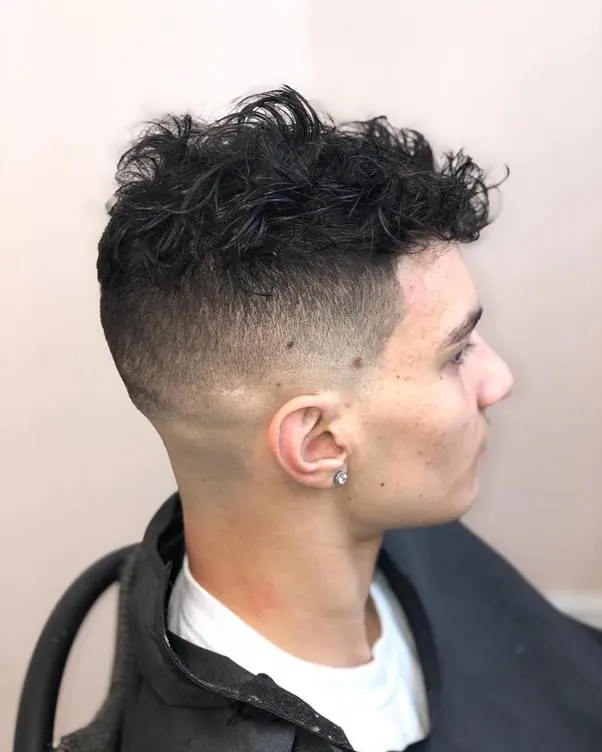 Last, but not least, you can leave the top part of your hair long enough that you can, later on, turn it into a messy hairstyle. To style, this high blad fade simply washes your hair, apply some hair gel and push your hair up and down with your own hands to create texture. To top it all off-dry it out with a blow dryer and you're done!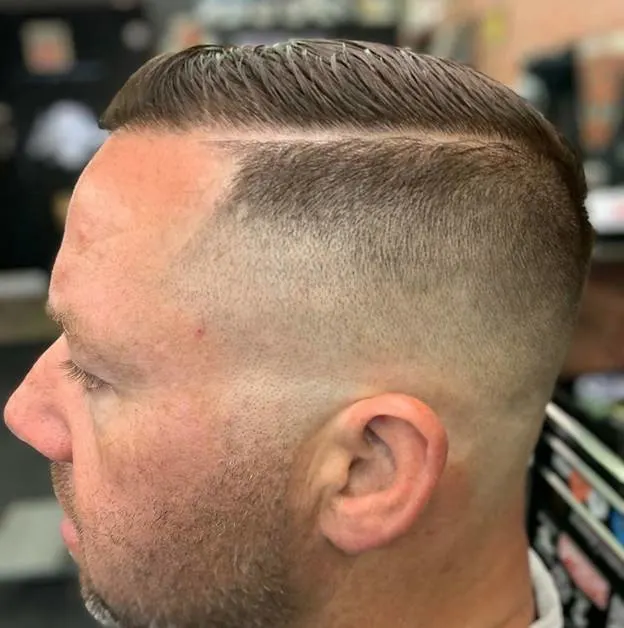 The side parting is rather impressive in this bald high fade haircut. It creates an absolutely nuanced styling that introduces a military-like look. It offers a bold and rugged look that can be appropriate for just about any occasion from board meets to beer parties.
14. Bald Fade With Beard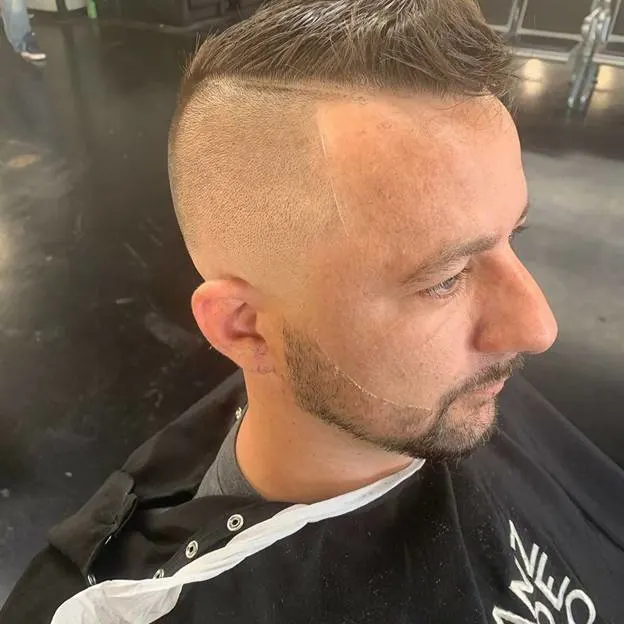 Often, the high bald fade is the most dependable option when you want to play on contrasts. Be it the varying length or the variety of textures or even the variation in look.
The brushed back works brilliantly with the bald fade to achieve this end and offer a rugged, stylish look that is hard to ignore. The beard to enhances the rugged charm of this type of hairstyling.
15. Side Swept Quiff with Beard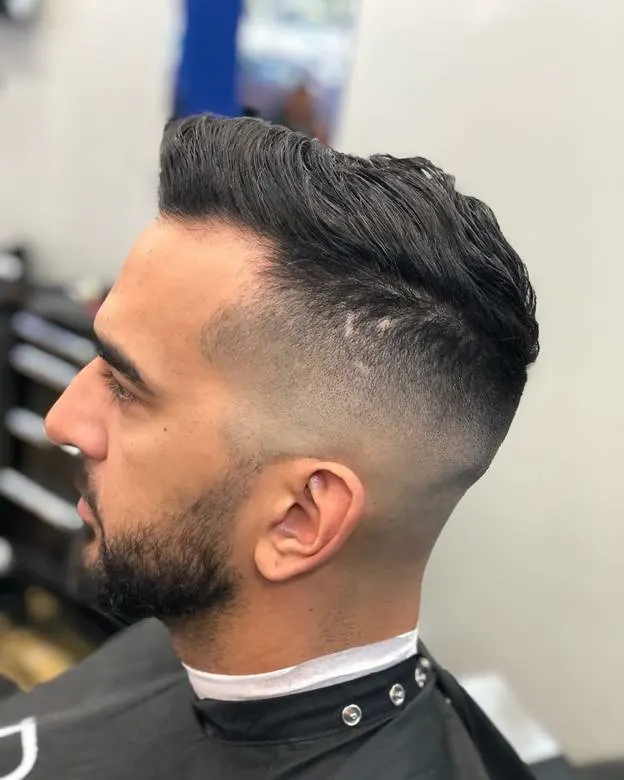 The quiff teams really well with the high cut bald fade in this haircut. In many ways, it is a play of some brilliant contrasts and brings out a subtle, sleek and stylish touch to the hairdo. The stubble also adds to the overall look and enhances the rugged appeal.
If there is one way you can make the spikes stand out, it has got to be this high fade haircut. It does not just create an illusion of volume and sleek styling but also offers a striking contrast. The full beard also adds to the charm and appeal of this haircut.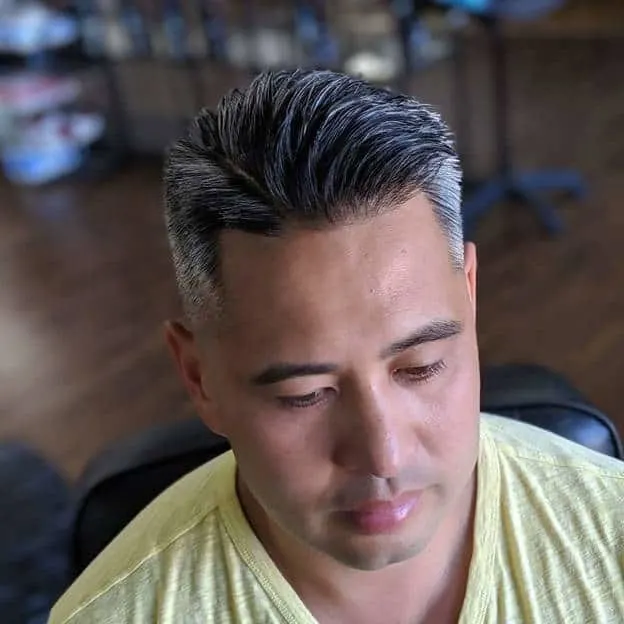 The high & bald fade and a side part are no doubt a winning combination but imagine spicing it up with salt and pepper undertones. Well, the whole tone and tenor of the styling changes. It is no longer a short and stunning option, it becomes a sleeker, sophisticated and mature hairdo and inevitably garners respect for you.
If you want a little variation in your hairstyle, but don't want to veer too much from the conventional styles, this is a decidedly winning option for you.
This form of the high bald faded haircut is both attractive and subtle and creates a distinctive impression. It is a kind of style that you will not forget in a hurry and always look up to someone sporting it.
19. Wet Look
The hairstyle has been often used with skin fades to highlight the contrasts. The wavy combed over top offsets the skin fade on the sides. But this is a kind of bald fade that needs precise blending, and you have to be very sure about yourself to carry this look with panache.
20. Textured Spiky Hair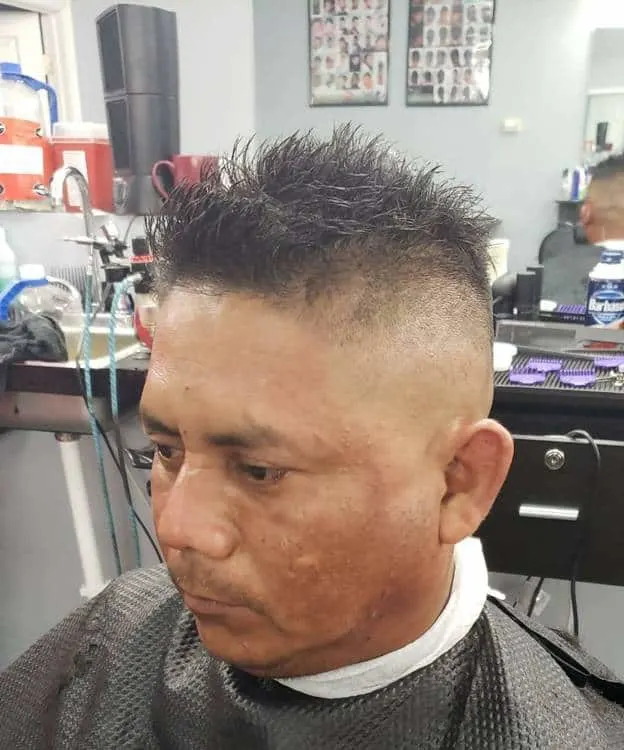 Here again, you see a high fade that plays with contrasting textures to create a lasting, impressionable and stunning bald style for people across age groups. The textured spikes can also be adapted to individual preferences in terms of length and degree of intensity.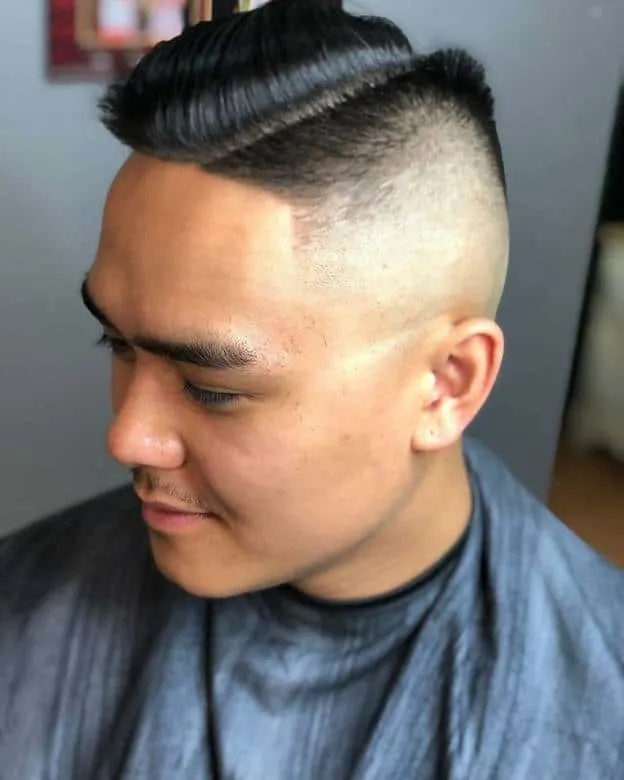 From conventional to edgy, this high bald fade hairstyle with a hard parting is all about getting eyeballs wherever you go. The stiff styling gives a striking edge to this haircut.
Ever imagined the role that a little bit of salt and pepper combination can play? Well, this well-combed top along with the high bald fade drives home exactly this fact in a striking and stylish way. It is all about a simple and conventional cut that is styled fashionably.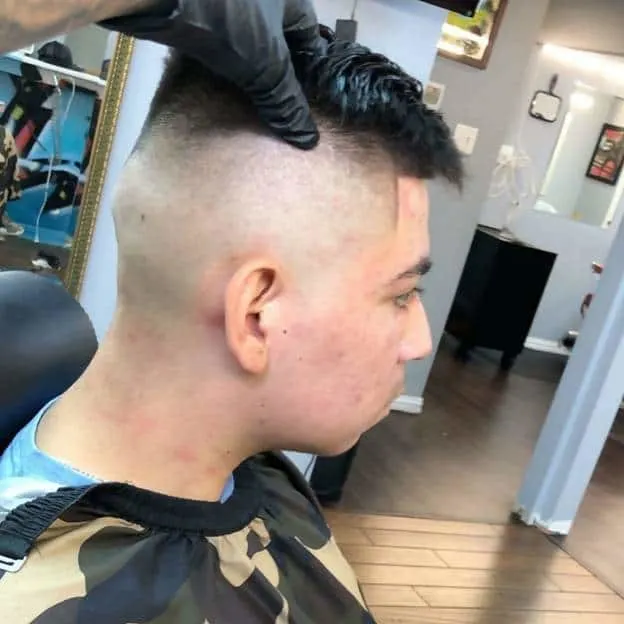 The interesting bit about this high cut skin fade is undeniably the textured quiff. It creates a distinctly definitive look and in many ways offers the much-needed contrast when teamed with the fade overall.
The varying degrees of length and texture make a stunning combination and bring out the creative genius of this kind of styling. It is also a versatile cut that can easily adapt to any place or occasion.
24. Cornrow with High Temp Fade
A cornrow for men never disappoints in terms of the styling edge that it offers to you. When combined with this high faded temple here, it makes an absolutely classic styling that manages to create the oomph factor.
Once done, this is a relatively low maintenance style that does not require a lot of attention or care. But at the same time, it is the type of style that guarantees admiration wherever you may go.
This high bald fade style takes the play of contrasts to a whole new level. The golden curls offset the jet black bottom of the plateau top and bring in the sense of stunning styling.
26. Long Top with Skin Fade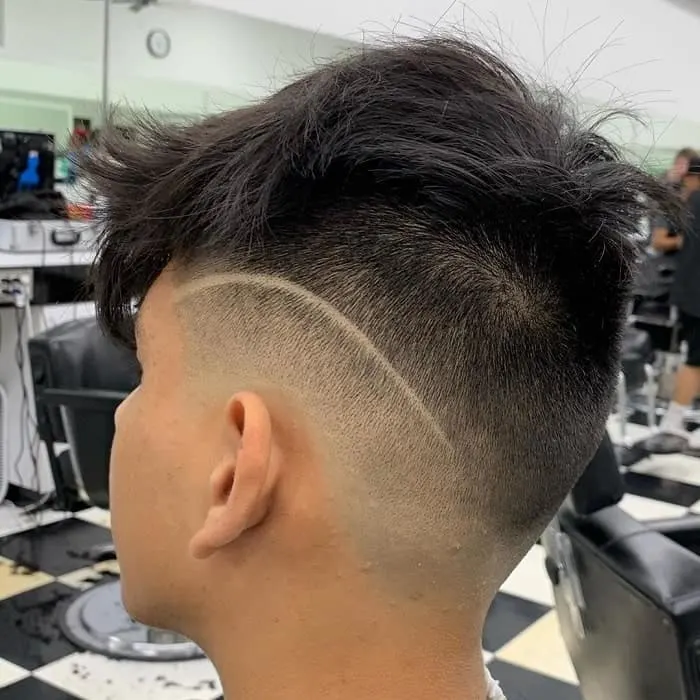 This long top style is very popular among men all around the world. It really suits on long or medium hair. Beautifully trimmed and styles faux hawk with skin fade looks really attractive.
The sides fades can be medium to low tapered with different designs. This bald fade high hairstyle will look great on teenage boys. It makes your appearance look quite cool and extremely attractive.
27. Afro Crew Cut with Bald Fade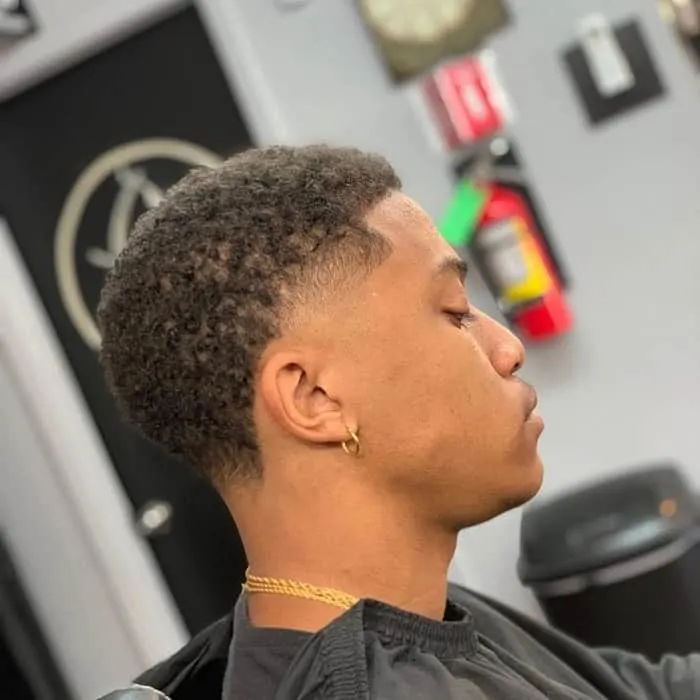 This haircut is really popular among black men. With a perfect afro crew cut with short twists with bald fade looks really wild. It is a very comfortable haircut and can be worn to any type of event. It gives a very casual look but with a fancy dress code, it will hot. It makes your face look sharp and neat. It is a popular choice for teenagers as well as adult men.
28. Butch Cut with Lined High Fade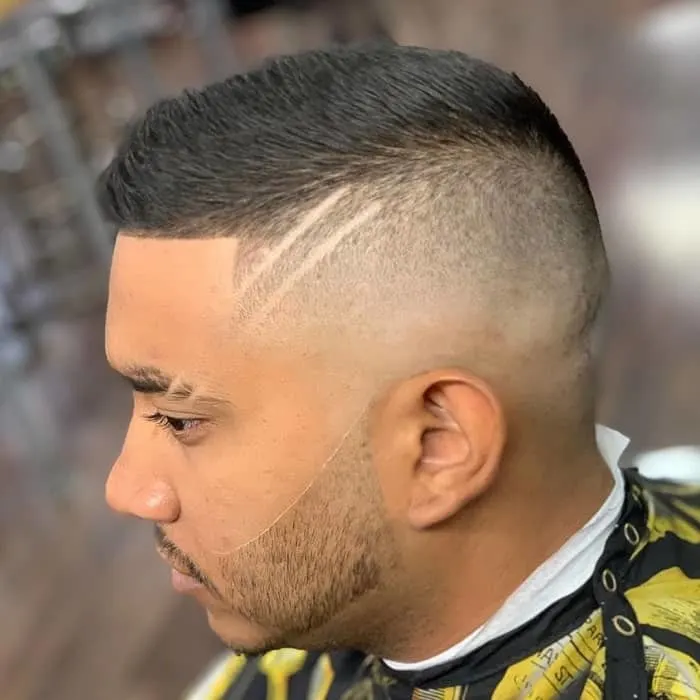 A typical settled down styled hair with a high fade side part is a chic style. The forehead looks clean and sharp. The sides can be blended with an artistic razor blade design.
With both sides high tapered this hairstyle looks kinda hot. With a light beard, this hairstyle can be your style statement.
29. Medium Curls with High Fade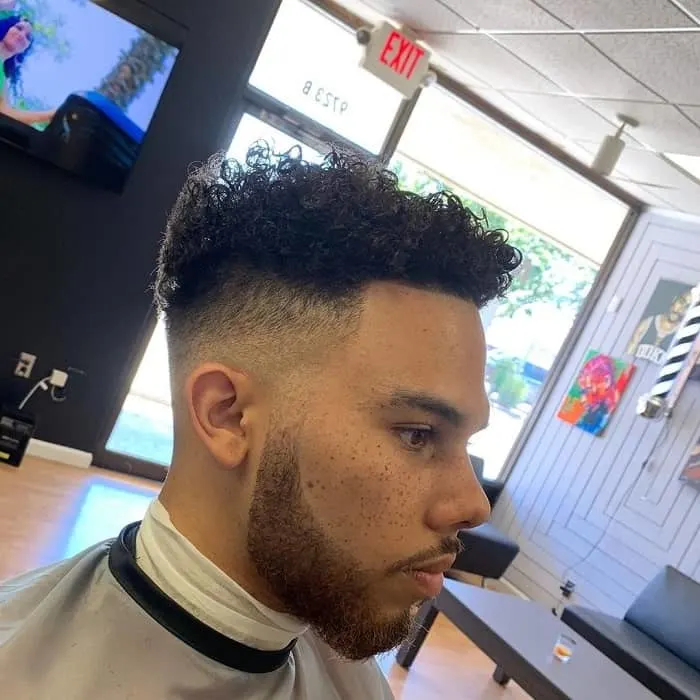 Curls are always a chick magnet. Well, medium curls with a high fade is an innovation to the plain curls haircut. It is trending all over the world and boys love this iconic style.
It really gives a neat look to the curls and side fades look stylish. This high bald fade design is perfect for teenagers.
30. Line Haircut with High Bald Fade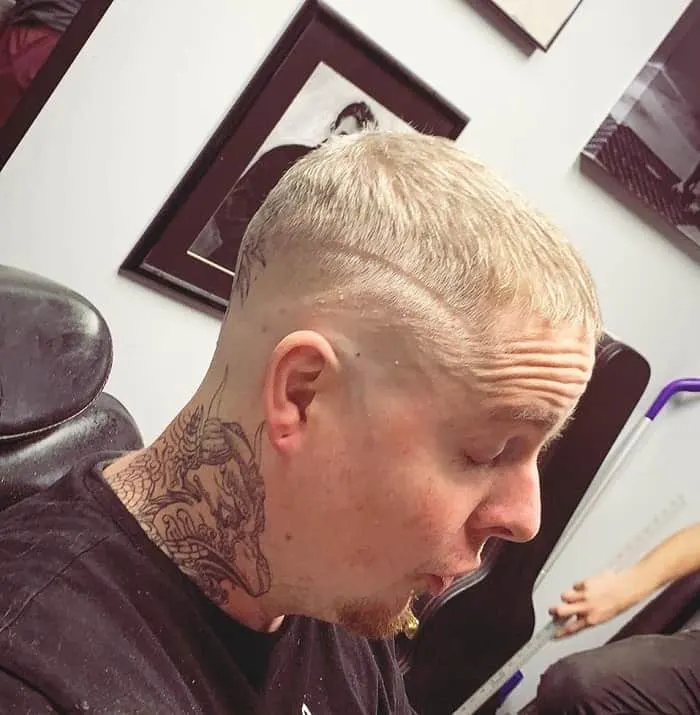 If you have little hair and do not know what to do with your hair? Then, this haircut can be your next style option. A little trimmed hair with a line and high skin fades on both the sides and back. This hairstyle suits on older men and boys with very little hair.
31. Short Brush Up with High Fade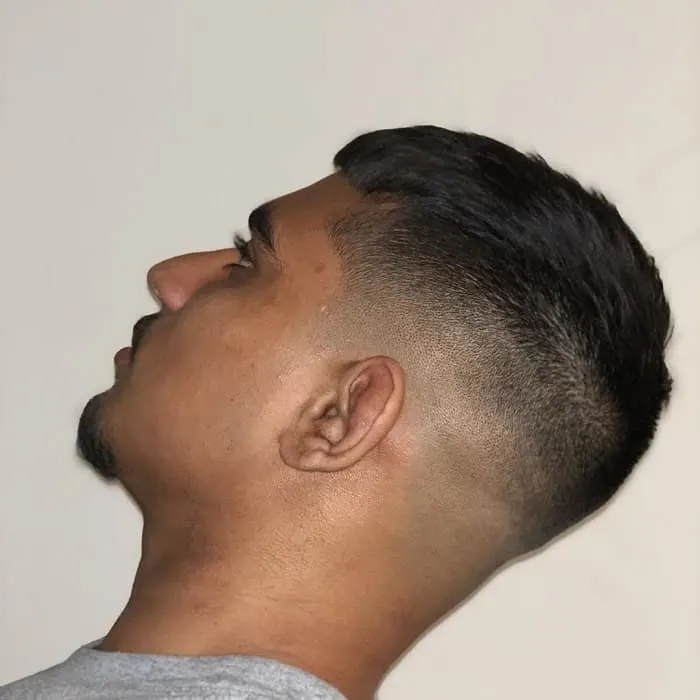 If you have medium or short hair, then you can go for this hairstyle. Bald fade high haircut looks simple yet classic. Little brushed up hair on the top and high fades on the side will make you look cool.
It helps in making you facial bones prominent. This hairstyle really pairs up with a clean shaved look.
32. Butch Cut with Bald Fade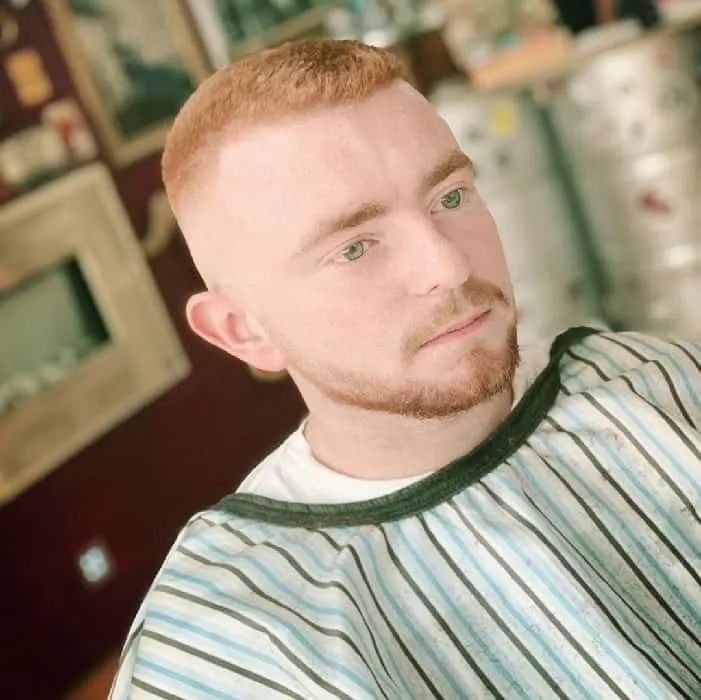 If you love bald fade hairstyles, then this is one of the best of them. A perfect butch cut with side and back bald fades will definitely go to impress others. It is a very plain hairstyle with minimum effort required to maintain it.
This look really good on young kids, teenagers and even adult men. It is casual and formal looking at the same time.
33. Military Bald Fade
Go for a completely bald look this summer to beat the heat and enjoy the most of it. A perfectly done military buzz cute with defined margins and bald sides and back is a really fun haircut to try this summer.
It really suits on adult men. Require no effort, brushing or styling to maintain the haircut.
34. High Buzz Cut
A touch of bald fade can be given with a high buzz cut which will be perfect for you casual evening parties. Some short hair on the top with bald fades on the side will look really cool for a summer look.
It suits on teenagers and adult men. This high bald fade hairstyle looks good on round faces.
35. Buzz Cut with Bald Fade Design
You can make your buzz cut look different with a slight addition of a cool razor blade design. On the sides of bald fade or on the back you can have a unique design and enjoy it this summer!
The thin stache line also adds to the rugged appeal of this haircut. It also offers the much-needed contrast with the bald fade sides and the strikingly clear fade lines near the temple.