Have you ever wondered how every Japanese woman's hair looks absolutely flawless? Japanese haircuts and hairstyles are very popular all over the world. This is mainly because they are easy to pull off and goes with every face shape.
Best Japanese Hairstyles for Women
Here are some of the trendiest Japanese hairstyles that you can easily pull off this summer.
1. Messy Cropped Bob
This new messy cropped bob will give you a modernized look. How to style? The key to rock a perfect cropped bob is to curl them up to give them a perfectly imperfect look!
Bob has been around for quite a while. Many celebrities and models were also seen rocking Japanese short hairstyles on the ramp.
2. Centre Bouffant
A bouffant gives medieval vibes. However, it is very popular in many parts of the world. It shows the softer side of a woman for long and short hair. You can take it a notch up by adding braids to it as well.
3. Roller buns
Roller buns are the most popular Japanese hairstyle. It is one of those hairstyles where sports and fashion meet. A center parting and messy buns are perfect for this summer! You can give this hairstyle a twist by having fringes or Japanese bangs.
This hairstyle was taken by storm when the many of the celebrities and the Kardashian clan pulled it off at the Coachella last year. This made it the style of the year.
4. Knot pony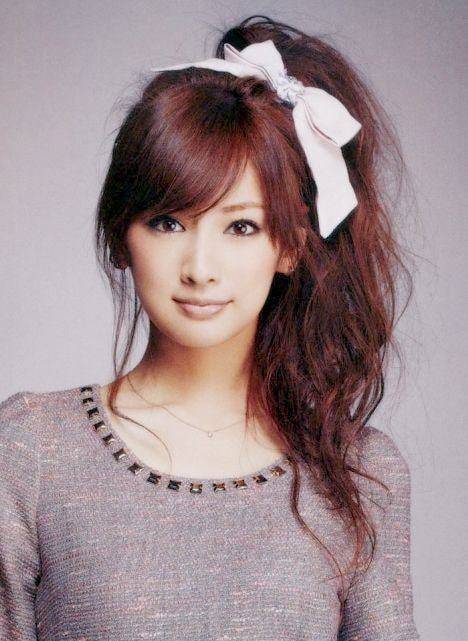 Knot pony is one of the hairstyles that seem as if you took a lot of time in front of the mirror. It is very easy to make it yet it look so complicated. It goes perfectly for people with frizzy hair.
Tip: Use beautiful accessories to give it a fancy look!
5. Japanese long layers and cappuccino highlights
Layers give your face a lot of structure. This hairstyle is perfect for people with wrong faces. And these cappuccino highlights give your hair dimension and texture.
6. Soft wave
Do you have thin hair? If yes, then this hairstyle is perfect for you! Soft waves are perfect for every hair length. Add a little highlight to give them a little texture. Make sure you curl your hair away from your face. This will avoid hair to fall on your face each time. It also looks great when swept on either side.
7. Blunt fringe
Blunt fringe is perfect for people who have round faces. Your Japanese bangs will look heavier and fuller. Blunt bangs are the most popular Japanese haircut for women today. You can carry them in various different ways. You can straighten, curl them or blow dry to give them a different look each time. You can also sweep them on one side as well. When you get bored you can also pin them up to change your look for a day.
This is also a perfect look for people who want to flaunt their beautiful eyes.
There is only one downside of this haircut which is that it needs an update every now and then.
8. Top Knots
Almost all the hairdos in the Western world are copied from the Japanese. One of them is the Topknots. They are easy to manage and makes you look edgy. The best way to make your top knot a little glamorous is to make use of sparkly accessories. This look has been very popular on the red carpets.
A top knot goes well for people with every kind of texture. However, if you have extremely curly or frizzy hair then this might be your favorite go-to hairdo.
9. Looped ponytail
Best way to rock a ponytail? Loop it! Ponytails have been in fashion for a really long time. However, people are now going for looped ponytails introduced by the Japanese. It is extremely easy to manage and perfect for people who want to give themselves a sophisticated look.
10. Long layered hair with fringes
Japanese haircuts long hair and fringes are very popular among Asians. This Japanese hairstyle goes very well with their facial structure. Anyone who can carry fringes can pull off look very easily.
11. Low Ponytail
Japanese girls have a white skin tone, making them look stunning with both black and blonde hair. If you want a simple professional look, just tie your mane in a low ponytail.
12. Multi-Colored Braids
If you are a Japanese girl that wants to stand out, a multi-colored braided hairstyle that involves electric yellow, purple, and mauve Jumbo hair will not only extend your knits but also make them look so eye-popping.
13. Traditional Hairstyle Icho Gaeshi
Japanese traditional hairstyles are genuinely mind-blowing. The Momoware hairstyle is used by 16-17 years old girls, and it has loads of decorative flowers. It is usually made out of unwashed hair to obtain that wet hair aspect.
14. Curly Layered Hair
There are few Japanese women with curly hair and if you aren't one of them, you can get a perm that will create these beautiful tight waves. Keep the bangs straight and swept on one side, and opt for a brown hair color that will marvelously match your green eyes.
15. Braided Bangs
Japanese girls with brown hair can try this fantastic braid just by knitting the bangs. Use the French knit and pull off the edges to make it look chunkier.
16. Wedding Bun
Orchids are highly appreciated in Japan, and women also use them to decorate their hair. If you want to obtain a gorgeous wedding hairstyle, go for a low braided bun and use three flowers as accessories.
17. Red Wavy Hairstyle with Bangs
Fair Japanese skin works so well with a red hair color, especially if you are a girl that loves all the attention she can get. Create straight bangs that cover your forehead and the eyebrows and give your bob hairstyle a frizzy aspect.
18. Long Pixie Hairstyle
This Japanese short hairstyle will look so cool and chic if you are a woman or a girl that has to wear glasses all the time. The combo between a pixie and a bob will look fabulous if you wear those long bangs tossed on one side.
19. Braided Bun
A braided bun is an excellent option for a Japanese girl with shoulder length hair, especially if there's a fancy occasion coming up when you need to look elegant. Complete your glammy look with a pearled, gorgeous necklace.
20. Pale Purple Ombre
Get a bob haircut with bangs and step up your styling game to a whole new level by creating a mauve ombre. Dye your roots in a light brown color and make a stunning transition to this youthful color.
Want to try out these styles right now? So, hurry up and try these trendy hairstyles to rock in this summer!