Short hairstyles for men have been popular for decades because they look great and they take very little effort to style. Most men with burr cut hairstyles can just get out of bed in the morning and head straight out without having to use styling gels or products on their hair.
A short hairstyle can only be called a burr cut if it is under a certain length. This is because these hairstyles were previously done with burr cut clippers. A longer cut is often called a butch cut.
Simple Military Burr Cuts for Men
The military uses burr cuts as a way to give male soldiers a uniform hairstyle. The cut is also a very practical one because it is low maintenance. Men outside of the military have started to choose burr cut hairstyles because they also have a very fashionable edge.
Burr cuts look really masculine so they are a very popular choice with men who want to look strong and handsome.
#1: Classic Induction Cut
A simple, stylish and chic induction cut was used by the US military for the majority of the twentieth century. This cut helps to give new recruits a uniform style which is highly practical.
#2: Rapper's Burr Cut
This burr hairstyle has been rounded off near the forehead to give the cut a really cool shape. It is a really popular hairstyle for rappers and urban artists.
#3: Long Burr with Line Up Style
There are more opportunities to style longer burr haircuts because it is possible to play around with gradients and shading. You can use a razor to carefully shape your burr into a line-up shape.
#4: Subtle Widow's Peak
A widow's peak is the name given to a hairstyle which comes to a point over the forehead. A widow's peak tends to be a genetic phenomenon, but some styles are more pronounced than others.
Heroic Undercut Styles Worth Giving a Shot
#5: Red Carpet Burr Haircut
Burr cuts are ideal for occasions when you need to be perfectly groomed. A burr cut and short beard would be the perfect hairstyle for a man who needed to walk the red carpet or attend another black tie event.
#6: Long Burr Cut with Fluffy Fringe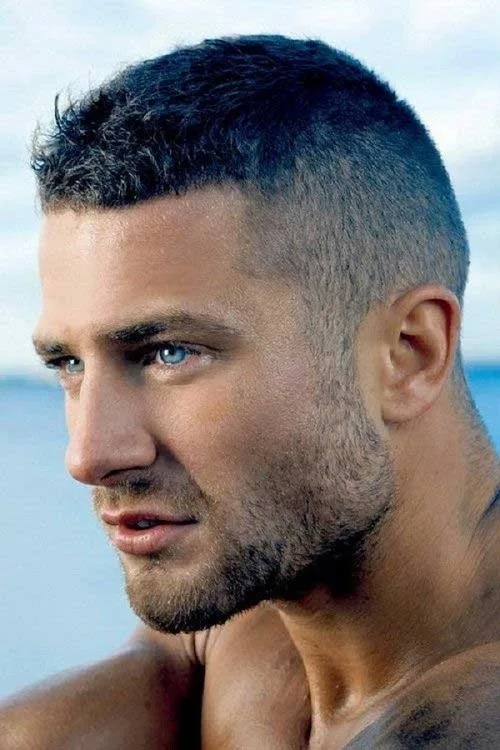 Although a burr cut is normally too short to fluff up, you can leave your hair a little bit longer to allow you to do a bit of styling. Use your fingers to pinch the hair up into small spikes.
#7: Blonde Ambition

Light-colored hair looks cool when it is cut into a burr cut style. Blonde hair or sandy colored hair produces a far more subtle look than dark hair does when it is cut into a shorter style.
#8: Deep Widow's Peak

When the hairline recedes much further around the point, it is known as a pronounced widow's peak. If you feel sensitive about your peak hairline, a burr haircut is a great choice because it makes the hairline less obvious.
#9: Military Might

If you have a square-shaped face with a strong masculine jawline, then a burr cut will look perfect. Short hair and a clean-shaven face will give you a really cool military-inspired look.
#10: Growing Out

Once you decide to grow your hair out, your burr cut may begin to look a little bit fluffy. Keep the hairstyle groomed and wash it regularly to make sure that your hair stays in great condition.
#11: Close Shave

A minimal version of the burr cut can be very short. Choose a close shave cut if you have very strong facial features and a strong jaw that can enhance your style.
#12: Beckham Burr

David Beckham is one of the most fashionable men in the world. His style choices show the world that the burr haircut can be a fashionable choice as well as a functional choice for all men.
#13: Burr Cut with Thin Chinstrap Beard

A burr cut can be a minimalist look but you can add another dimension with a carefully styled beard. A very thin chinstrap beard looks great when it is teamed up with this men's haircut.
#14: Sexy Stubble

If you are looking for a smolderingly sexy look, then try trimming your hair into a burr cut. Use the same length trimmers on your beard to give a great stubble style.
#15: High Forehead

A burr cut really suits people who have a high forehead or a receding hairline. Any short haircut will help your hair to blend more seamlessly into your forehead. This ensures that your hairline is less noticeable than it would be with a longer cut.
#16: Burr Cut for Strong Jaw
Do you have an incredible jawline that you want to show off? Get a cut that's short and uniform length all over your head to stop it from taking away from your features. It works really well on men with dark hair and very minimum facial hair such as a soul patch.
#17: Longer Bristled Burr
Some guys may prefer a little more coverage up top, so get your hair cut into what's considered medium-length for a burr. Keep your face as clean-shaven as possible to accentuate your jaw.
#18: Barely There Burr with Beard
If you want to go the absolute shortest you can go, then get a military style burr cut that's barely more than stubble. Pair with a beard that's just slightly longer to create a cohesive style.
#19: Stylish Celebrity Inspired Burr Cut
Doesn't Chad Michael Murray look totally dashing here with his light hair shaved down to almost nothing? It probably doesn't take him long to get ready for events with this cut.
#20: Fade and Line
You can still adopt modern hair trends and super short styles. Get a fade that's so gradual people will barely even notice it, but it will enhance your look. Then shave a thin line into where a side parting would be in your haircut.
#21: Dark Taper Fade
Dark hair looks incredible shaved short because you can do a lot with so little. Add a taper fade and growing your sideburns into stubble. The sideburns should connect to stubbly facial hair.
#22: Aaron Paul Inspired
As you can see, many celebrities adopt this look. It just makes it so easy to get ready and it lets them show off their features. Pair a stubbly haircut with a beard longer than the hair on your head.
#23: All Over Stubble
Add a stubble beard to a military style burr cut. It can look totally incredible because you have the same length of hair all over your head and face.
#24: The Burr Mohawk
Mohawks usually have long hair in a strip from your front hairline to the nape of your neck in the middle of your head. You can still do that when your hair is really short. Just leave some a fraction of an inch longer than the rest.
#25: The DIY
Many of these looks can be achieved at home, but ones that are all the same length on top, sides, and back are the easiest. Use the same blade length on both your cheeks.
#26: High Bald Fade
Fades are increasingly popular, especially among younger men. The hair on top is a little longer than you see in most burr cuts.
#27. Burr for Receding Hairline
The military style burr cut is perfect for guys with a receding hairline. If you have a full head of long hair, it can sometimes make the recession look more prominent, and not everyone likes that.
#28: Burr Cut for Thinning Hair
If your hair is thinning in the front, then getting it shaved to one even length that's super short will help you. You'll only be able to notice the thinner areas in certain light.
#29: High Fade with Jawline Beard
Once again we see that high fades always look great with hair that's super short.The top contrasts the sides a lot, and the sides connect to a very stubbly beard that extends down the face and along the jaw.
#30: Hairline Bristles
Want something really unique? Get your hair bristly along the hairline and shave the rest of your head. The bristly cut should fade out to skin to achieve your desired look.
Burr cuts look truly timeless. They are a great choice for young men and older men. The hairstyle is also really easy for men to maintain. You will absolutely love this look if you want a haircut that allows you to just "get up and go" in the morning.