The undercut hairstyle has become one of the decade's most popular men's hairstyles. Celebrities like Justin Bieber, Liam Hemsworth, Brad Pitt, Zac Efron, etc. have recently made this hairstyle more popular.
The undercut is a classic look; you can style it however you like, from modern and edgy to classic and timeless. With the right styling techniques, this look can be tailored to suit any face shape and give you a unique, modish look.
Popular since the Edwardian era, it doesn't appear that this timeless style will be falling out of favor any time soon. Check out our list of over 50 undercut hairstyles for men in 2023.
What Does an Undercut Hairstyle Look Like?
An undercut is a simple, trendy, and versatile style that looks great no matter your hair length. You could have a short tuft of hair or a man bun, and the cut will still look good.
The basic idea of a traditional undercut is that there's more hair on top than on the sides. The sides and the back should be shaved completely, faded, or cropped.
It's easy to spot an undercut hairstyle because of the drastic distinction between the hair on the sides and the top. You can choose from an infinite number of variations for any hair length, texture, and more.
How to Do an Undercut for Men?
If you're attempting this at home, you'll want to grab your sharpest electric clippers or razors and a comfortable pair of scissors.
Stay true to the proportions; If you leave around two to three inches on top, using a number one guard on the sides should do the trick to create that signature undercut look.
Or, if you go longer, say, six inches on top, you'll use a number four or five guard on the side to emphasize the distinction in lengths. Don't trust yourself to execute the style properly? Taking a picture to show the barber should work just fine.
With so many variations, it's tricky to figure out which style to pick. Hopefully, this comprehensive guide helps point you in the right direction since it offers tips for different hair textures, products for maintenance, face shape compatibility, and more. Let's dive in!
Best Undercut Hairstyles for Men
You can try the short hair undercut, medium length undercut, long hair undercut whichever you like. like the disconnected undercut, undercut with dreads, etc. Check out the most popular undercuts for men, which can make you look and feel great.
Disconnected Undercut
Unlike the gradual fade transition, the disconnected undercut distinguishes the sides and the top.
When your facial hair is put together with this haircut, you can take on a different look by choosing to disconnect the two sections of hair; this accentuates the beginning and end of your hair and your facial hair. For more of an edgy look, you can also make angled borders.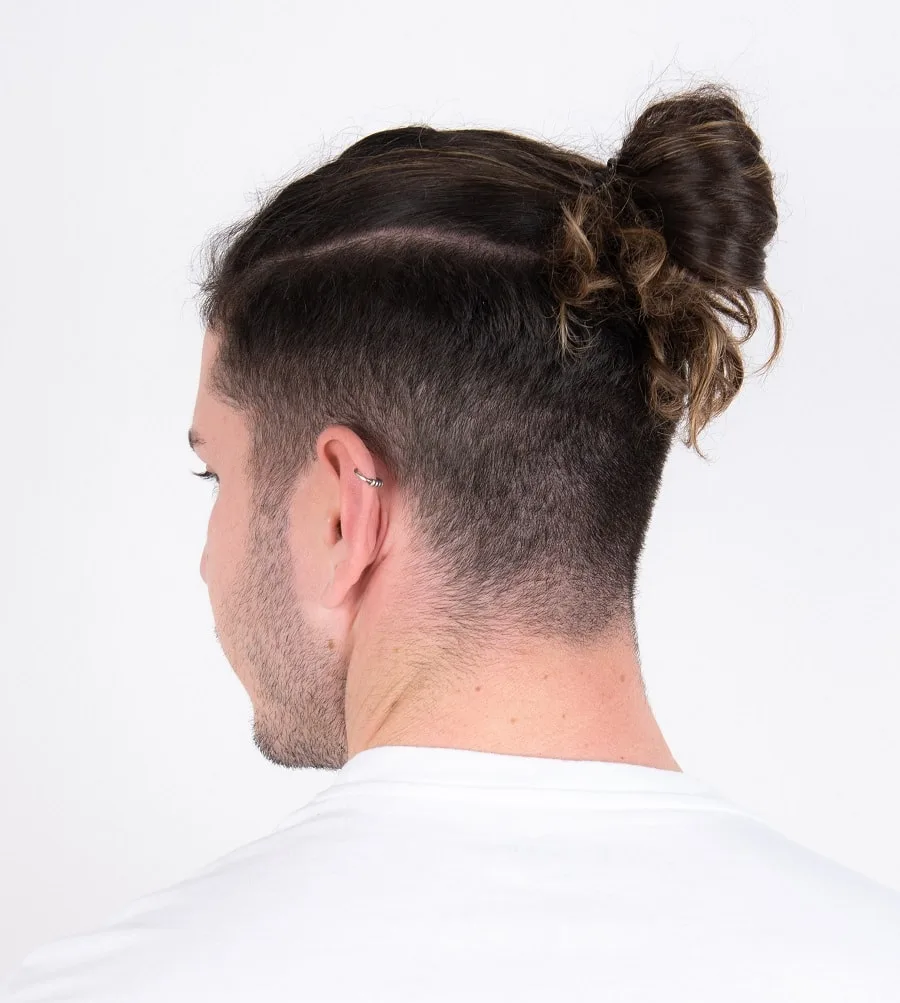 Man buns have become super chic in modern history. Adding an undercut to it can give you a sophisticated look that'll captivate the attention of others. It doesn't matter if it's big or small, you don't have to do anything but brush jr and go in the mornings. Got a beard? Even better!
Short Undercut
Not all undercuts should be paired with long hair. Even short hair on top will provide a sharp contrast to the shaved undercut sides. Therefore, if you love the appearance of an undercut, but prefer a subtle hairdo, try the short hair undercut.
Nonetheless, it could be challenging to achieve a perfect backcomb without the extra weight offered by the long hair type. A short undercut is frequently complemented with a voluminous style like a forward-swept or pompadour look.
Long Hair Undercut
Long hair undercuts are ideal for individuals who want to look trendy with their straight hair. The contrast between the short sides and the long, untamed hair on top is striking.
The cut also adds flair to a long hairstyle that could otherwise be untidy. If you want your locks to flow and the contrast to remain clear, request your barber to remove some bulk when trimming.
Curly Hair Undercut
An undercut could be a fantastic choice if your hair is naturally curly. A curly undercut will not only highlight your curls at the top, but it will also help to control them.
By trimming the hair from the back and sides, all the natural texture and volume are centered on top, resulting in an elegant look.
Layered Undercut
Combining the existing layered style with an undercut underneath is feasible for individuals reluctant to give up their classic fade haircut.
Style the longer hair with serum or wax to highlight its layers. This haircut variation is ideal for those who like to add visual depth and volume to their hair.
Side Swept Undercut
The side-swept undercut has undercut sides and a side-swept top. Like the traditional combed-over and undercut, you can choose a short, long, or medium-length hair top. https://hairstylecamp.com/taper-fade-comb-hairstyles/
Use lightweight products and a hairbrush for a smooth and polished look, or style with your hands for a scruffy look that highlights the hair's natural texture.
Slick Back Undercut
The slicked-back undercut is a contemporary spin on the traditional slicked-back hairstyle. This style requires shaved sides and combing the longer hair towards the back.
With short sides, and a long top, the slick back undercut provides loads of styling possibilities, including slick back fade, short or slicked back hair, etc.
This trendy men's cut blends the clean lines of an undercut with the edge of a side part. For a bold spin to this style, choose a disconnected undercut.
Alternatively, choose a classic style with slightly longer sides if you like a more subdued style.
Blowout Hair with Undercut
Wash your hair and dry it slightly with your towel to get the perfect blowout undercut. Use your free hand to guide your hair backward in the stream of hot air while using a round brush to help you. Hairspray will finish this style off after you add a little gel or pomade.
Temple Undercut
The temple undercut is perfect for the office or a business setting. You get a clean haircut in the back with a little added volume on top, but not too much, and the hair is shaved specifically at the temples. It gives you the best of both worlds; it's low maintenance and professional, yet it also stands out and looks unique.
Caesar Haircut with Undercut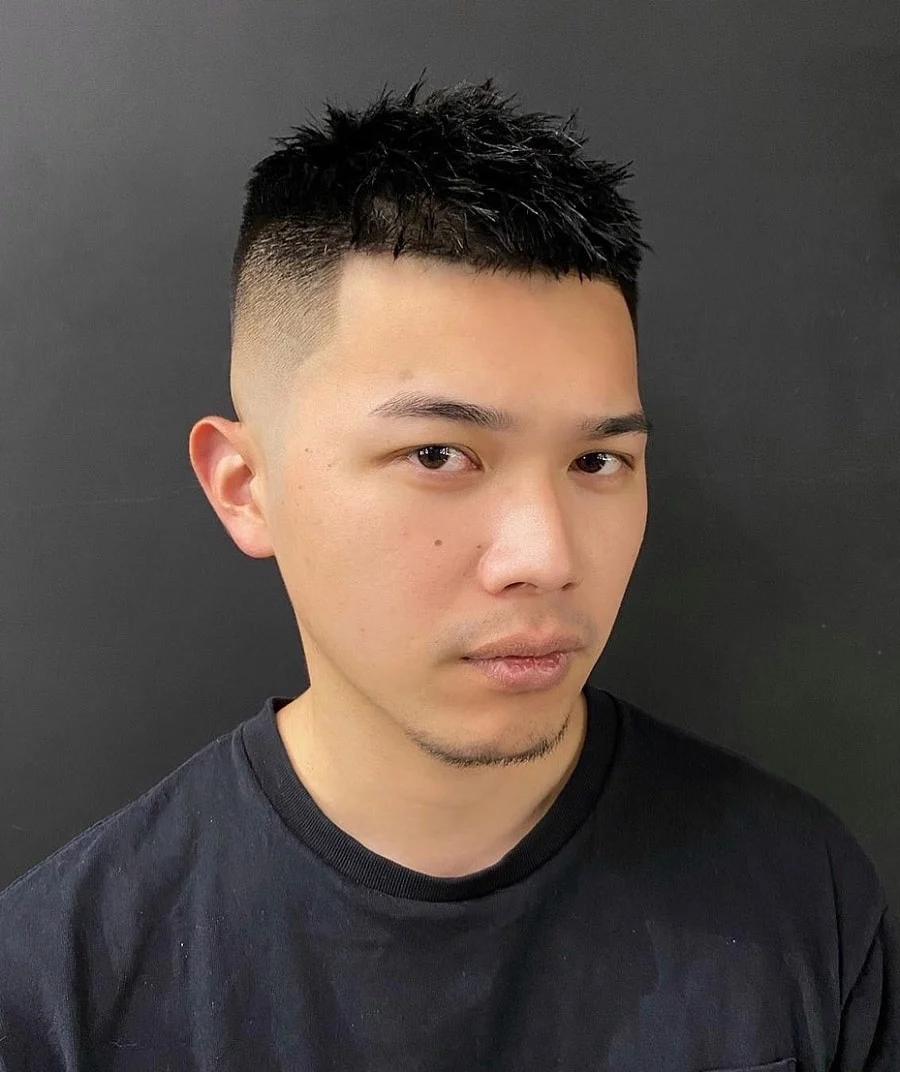 The Caesar haircut is short, clean, and has a small fringe bang near the front. The undercut on the sides says you're daring.
Adding a bold color to the top makes it look more rockstar-ish, while a neutral color like black gives a more preppy appearance. Smooth it down with a little gel, and you're good to go. Either way, it'll look impressive.
The man's ponytail is one of the most daring long haircuts for guys. Combined with the undercut, this style is characterized by shaved low-to-high sides and long or medium straight hair on top tied with a bun to give it the 'ponytail look.'
Modern men's fashion includes various styling options, including short, long, and high or bubble ponytails.
Everyone loves the Pompadour, a classic look from the 50s. Pair it with the undercut and take your hands to sweep the hair back using
hair wax or gel to get it neat looking. Depending on how much you pull it back with your fingers, you'll create more volume.
Long Fringe Undercut
A fringe and undercut style complement each other perfectly. The sides are carefully trimmed, which means the hair on top becomes the central focus of the overall appearance.
Style your long fringe haircut most elegantly, be it tamed curly, short, side-swept, or textured hair fringe bangs for a highly sharp and edgy look.
Hard Part Hair with Undercut
If you like the bold statement of a hard part on your haircut, you'll love adding this to an undercut with clean-shaven sides. You can make your part as thick or thin as you want it to get the perfect look you imagined. This variation works with long, medium, or short hair.
Forward Swept Haircut with Undercut
This is the kind of style that reminds you of the Jonas Brothers band. It's boyish, young, and fun, and you can play around with it. You don't need a ton of hair on top, just enough that you can "sweep" it forward with your fingers, and you can make the sides slightly uneven.
You can add a hard part or leave extra hair on the side, depending on your preference. For a flowy forward sweep, add hairspray.
Cornrows with an Undercut
If you have kinky or curly hair, these cornrow braids with an undercut combination are a good choice for such hair types. You can add different designs to the cornrows and you don't have to do anything except keep your scalp moisturized until you get your hair braided again.
Faux Hawk Undercut
The faux hawk undercut is for adventurous men who aren't afraid of trying new styles. Although the top hair (ideally medium length) stays intact, the undercut is the focal point.
Numerous styling options are available, including multiple lines to zigzags, but the high skin fade is the most popular pick.
High Skin Fade Undercut
The high skin fade haircut is also referred to as a zero or high bald Fade. Unlike traditional undercuts, this hairdo cuts the lower portion of the head and gradually leaves hair on top.
You could style this hair with whatever you choose, but combining it with a handsome beard will greatly improve your appearance.
Taper Fade Undercut
A tapered undercut is common, particularly for men of larger stature. Unlike the standard undercut, this style shaves the hair that arches your face at the temples.
It fits perfectly for men with oval face shapes. Develop a tiny beard to complement your haircut.
Messy Disconnected Undercut
Messy, disjointed undercuts are fantastic for all the correct reasons. Establish a shaved line separating the shortcut from the long top.
Pick blonde highlights to accentuate the attractiveness of the head area, and finish the messy undercut with a tidy beard.
Messy Textured Undercut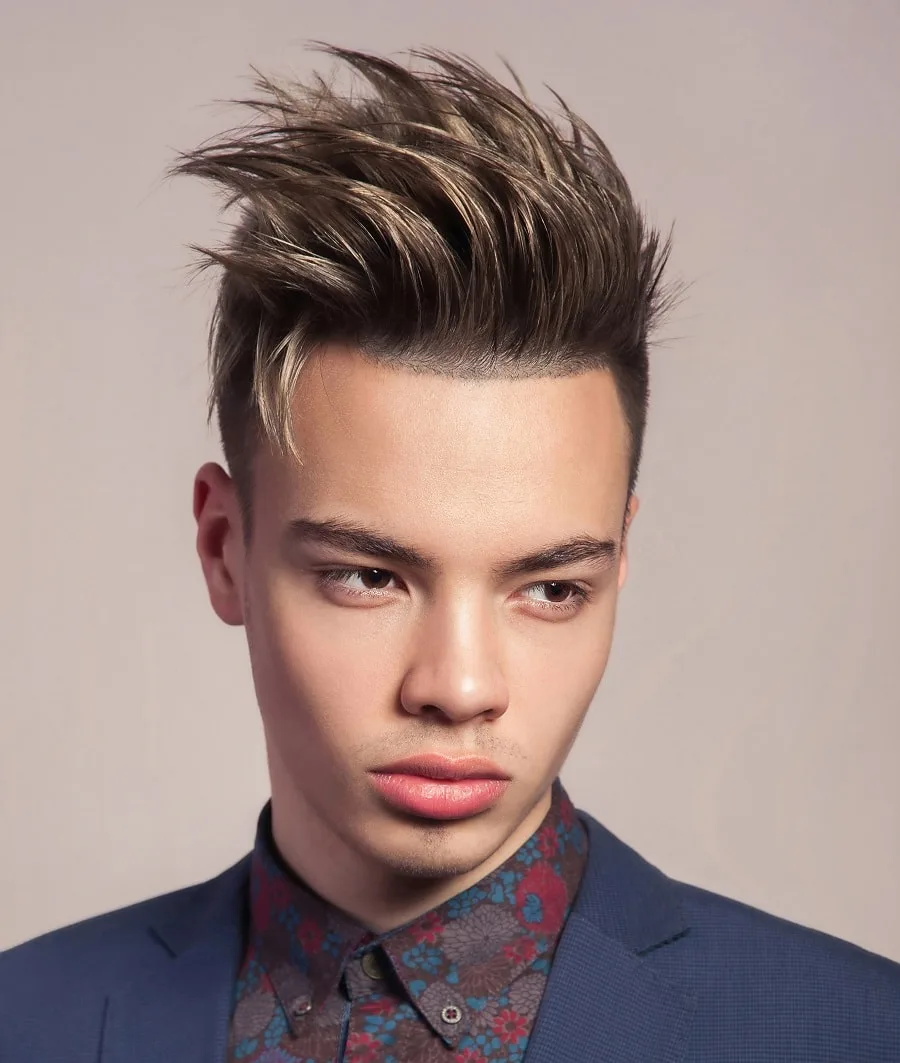 Create an undercut haircut that combines a messy hairstyle and a crisp look. Align your long, flat hair on top upwards and create a medium fade for the remainder of your hair.
The outcome will be a casual and breezy vibe, but the undercut sides will prevent the haircut from looking unruly.
Messy Blonde Hair
If you'd like to reduce the volume of your unkempt blonde hair, try undercutting the sides. Just cut the back and sides for the messy undercut blonde hair while preserving a circular outline around the head. This looks fantastic on square to oval-shaped faces.
Mullet Undercut
If you'd like the mullet look, incorporating an undercut is an excellent way to try it out without committing to the full style.
In contrast to the longer hair on top, the undercut provides a delicate, tidy haircut to the sides. When it's time to change the style, gather your hair into a bun or ponytail.
Viking Undercut
The Viking undercut is the perfect fit if you want to give off a fierce look. It is characteristic of the short sides and a longer top, which you can style in various ways.
If the top is long enough, tie it into a ponytail or top knot, but if the hair is medium-length, you can go with the slicked-back hair.
Edgy Undercut
For an edgy undercut, trim the back and sides to the skin, but leave the top long. For a more impressive appearance, comb over your hair upwards and add more texture.
Wax it and blow-dry it to achieve optimal volume. It allows you to make man buns and other braided hairdos easily.
Buzzed Undercut
The Buzzed undercut blends the traditional buzz cut with an undercut. The classic buzz is characterized by extremely short hair, typical when somebody shaves dreads.
It's currently one of the most fashionable male looks and quite simple to style. You need no hairbrush; maybe some gel to make thick waves on your hair.
Mohawk-Inspired Undercut
Mohawk-inspired undercuts feature a sharp-angled haircut with completely shaved sides. The longer hair on top is fashioned to resemble Mohawk-like feathers.
A shaved line divides the undercut from the top area to give you a distinctive appearance.
Long Bangs Undercut
The bangs are confined to one side of your head for this undercut hairdo. These contrast the overall design strongly, particularly the high skin fade on the opposite side.
This undercut long haircut is, therefore, for men who love an edgy and distinctive appearance. You could style the bangs in various ways, including curly hair, ponytails, etc.
Spiky Top Undercut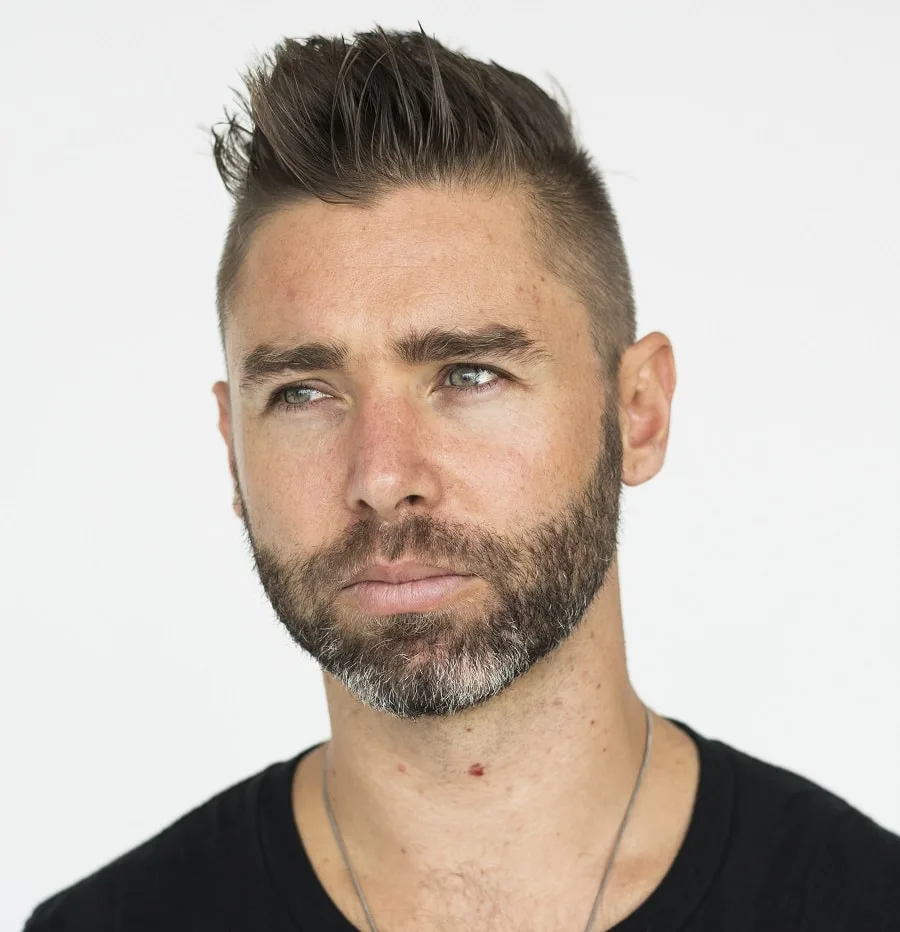 The spiky top undercut is a dash of messiness blended with evenly faded sides that highlight one's adventurous nature. This hairstyle emphasizes volume and texture, giving you an attractive, masculine appearance.
The spiky top offers numerous styling solutions, including dying or a mohawk trim. Alternatively, you could try the side- or forward-swept style for a more elegant look.
Quiff Undercut
The Quiff undercut style resembles a contemporary quiff on top, but the sides are entirely shaved, offering it an unconventional edge. Typically, the top features longer hair, which is in stark contrast with the back and sides.
When styling, brush your hair upward and slightly back to achieve a striking, textured look. You can also curl some hair locks with your fingers and drag them forward onto your forehead for a splash of retro punk.
Classic Undercut
A classic undercut has the back and sides of the head trimmed to the same length and shorter compared to the top.
It's down to you how much contrast you'd like to create, and for maximum contrast, the sides should be as short as feasible. Then, with long hair at the top, you should style it similarly to a pompadour by pushing it back.
Puffed Undercut
The Puffed undercut is similar to a curly undercut hairstyle but more fit for men with thick hair. This hairstyle fits with the natural curve of your hair and is quite simple to maintain.
Comb your damp hair with strong gel and blow dryer to achieve a voluminous crown.
Afro Undercut
You don't have to sacrifice a nicely-kept Afro for an undercut. The Afro hair is kept natural and slightly trimmed at the top to maintain a consistent level.
This style is then accentuated with angular temples and sharply defined lines. You can rub your fingers through the Afro with gel if you want some curly mane or shaggy hair.
Long Flowing Undercut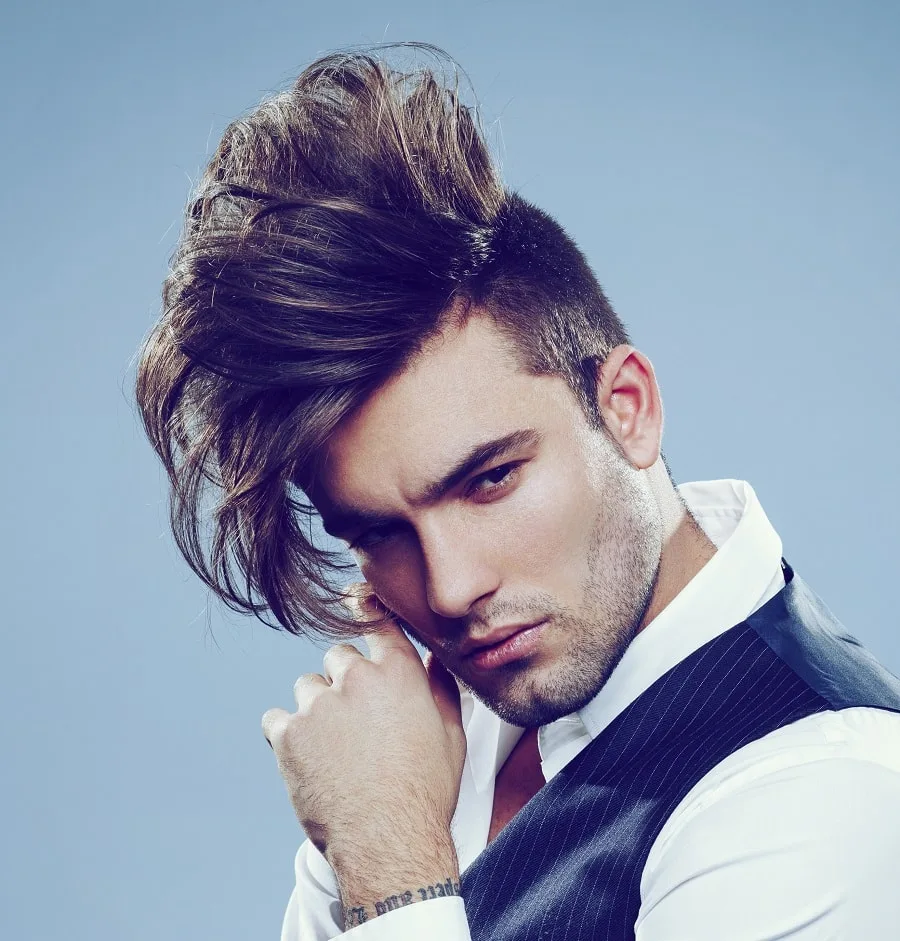 If you want your hair to stand out—give your hair a voluminous curl to give it pop! This hairdo is ideal for anyone who doesn't mind standing out from the crowd. This style gives you the freedom to be as creative as you want to be.
Long Wavy Undercut
Long Wavy undercut may be somewhat difficult to pull off, but the idea is to allow the hairs at the top of your head to keep growing. If you have curly hair, it's even more appealing.
Utilize gel or other fine hair styling products to achieve a punkish appearance with your bangs. To complete the style, you must maintain a nicely-trimmed undercut and a shaved portion to distinguish the shorter and longer hair areas.
Double Layer Undercut
A double-layer undercut is an impressive hairstyle with a small, clipped area beneath the longer primary hair section. A second shaved hairline just below the tiny trimmed portion contributes to the double-layer look.
This hairstyle will look fantastic when paired with a nice, lengthy beard. Comb your hair with gel and other quality products to keep it looking good every time.
Brush Back Hair with an Undercut
Have your barber keep your hair at a medium length, and cut the sides low and into a v-shape in the back. You'll have a drastic contrast not only in thickness but in the two hair lengths also.
A hair gel with moderate hold can help the section of hair stay in place when you brush it back, but be careful if you have fine hair, as it could become greasy.
Natural Flow Undercut
The Natural Flow allows your hair to flow freely and naturally, with the undercut laying the groundwork. If you'd like to achieve this look, leave your hair straight, give it a wavy or curly appearance, and have an undercut to the sides.
The hair's natural movement must be the focal point of this hairdo; thus, you should concentrate on keeping your hair as authentic as feasible.
Half Undercut
The Half undercut haircut for men with long hair is the perfect embodiment of the term 'edgy.' The two halves, the portion with long straight hair and shaved area, are distinguished, giving your entire personality a subtle male strength.
The eccentric and edgy haircut enhances the exotic quality of your persona. You can brush your top hair back, forward, or let it fall to the side for a more appealing look.
Military Undercut
The military undercut is perfect for edgier men and involves a close side cut, allowing only the lengthier top piece to be combed back. This hairdo is done high on the sides, but it's essential not to stray too far lest you enter mohawk territory.
If you don't have naturally straight or thin hair, the top section may droop or become unruly without using a hair product.
Tousled Undercut
The Tousled undercut takes a slight variation on the classic look but with more volume at the top and lesser shaved region on the back and sides. Use a product with a medium-to-weak grip to create a tousled look, and wear your thick hair down.
Flattened Undercut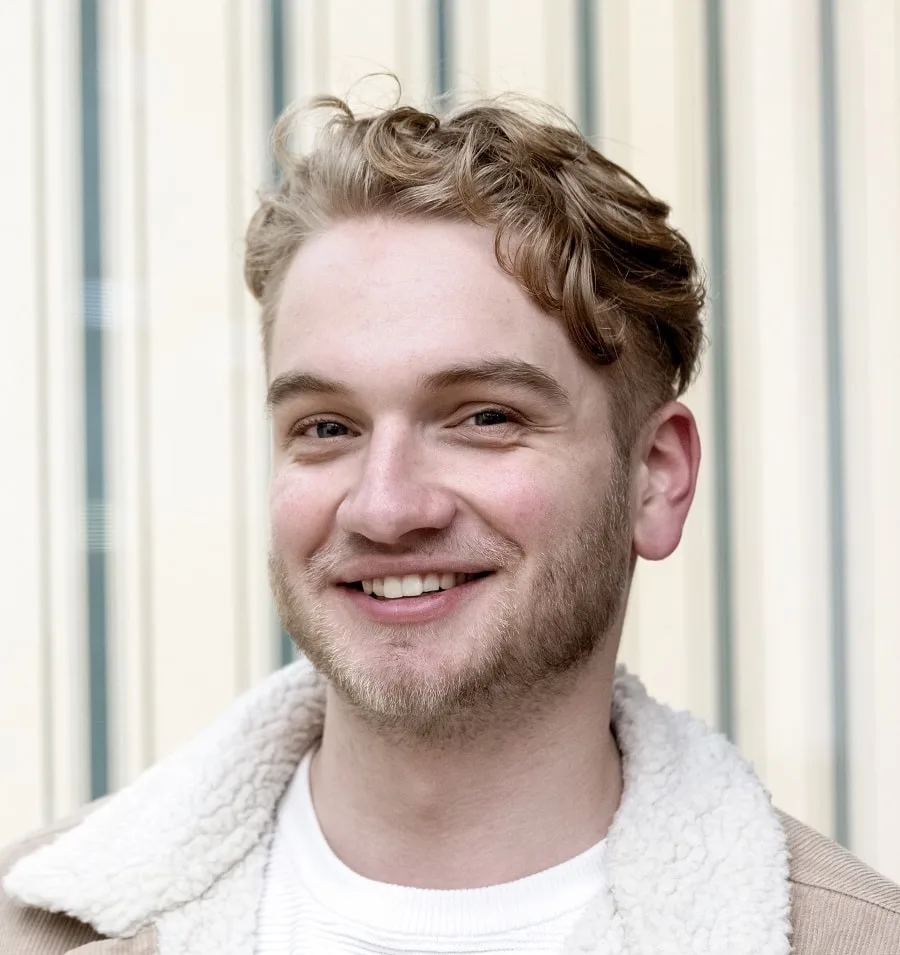 When one thinks of the undercut hairdo, the spikes or back brush immediately come to mind. However, with the Flattened undercut, this popular hairstyle needs only medium-length hair at the top of the head.
However, it's not ideal for all facial shapes. The Flattened style primarily suits an elongated face. Style your damp hair with gel to achieve curly or wavy hair.
Faded Undercut
The Faded undercut is a contemporary haircut that resembles the revival of the fringe. This undercut provides a clean look that's best achieved with shorter hair.
This undercut features short hair on the sides that are faded, blurry and high. Typically, the top hair remains long or medium-length.
Asian Undercut
Short Asian undercuts are getting popular lately. So, if you wish to stick out, the Asian undercut adds a unique aspect to your look, thanks to the bangs and faded nature of the undercut itself.
Bangs are a terrific alternative to create a different fashion-forward accent to the undercut. However, you'll need to put more effort into maintaining the bangs through healthy haircare routines.
The undercut provides modern refinement and an edgy appearance when paired with the stark contrast of a short undercut hairdo.
It features a sleek side part and a daring interpretation of the style. If you prefer a more modest appearance, stick to several long sides.
Braids with Undercut for Men
Natural hair does best with this undercut style, as individual box braids are better suited toward coarser hair textures.
No matter how long your hair is on top, you can part it and section it into small, medium, or large box braids and get a fade around the sides.
Undercut Hair for Older Men
For older gentlemen who want the classic undercut style with a clean, age-appropriate look, try moderately shaved sides with a short and choppy top. It works well on gray hair or the salt and pepper-colored strands that give off distinguished vibes.
It looks incredibly sophisticated with a beard and mustache and doesn't require much more than a quick comb-through in the morning with hair oil.
Undercut with Designs for Men
Implement eccentric waves into your hair to revitalize it if you want to add some flare to your look. These spikes, which move throughout your hair, will look great, and some scalp designs buzzed into your sides will complete the look.
Hopefully, we helped you find the best undercut hairstyles for men. This style is excellent for various face shapes, hair textures, and lengths. With a bit of pomade, gel, or styling wax, you can easily maintain this classic look.
Recommended For You: