Undercut hairstyles have recently become very popular among men and surely the most trending hairstyle of 2021. Mainly because it gets styled pretty quickly within no time. It gives a very comprehensive look at the face by far it is the most wanted and trending look for men.
The best thing about the undercut hairstyles is that it comes in many variations you can style or choose an entirely dynamic look for you along with an undercut.
This hairstyle mainly comes from the sharp look of the 1940s, but it is not limited only to short hair you can always create a brand new according to your face and personality along with an undercut.
Coolest Undercut Hairstyles for Men
The best thing about undercuts is that they get along with any type or texture of hair. An undercut is a haircut with short hair on the sides and long on the top. Undercut comes along with a broad range of variations.
You can try the short undercut, medium length undercut, long undercut hairstyles whichever you like. like the disconnected undercut, undercut with dreads, etc. Check out the most popular undercut hairstyles for men that can totally enhance your personality.
#1: Spiky Hairstyle
A short undercut will transform any man into a swaggy guy who deserves all the attention. Style a thin beard only on the jawline and around your mouth.
#2: Spiky Rainbow Highlights
Such a high top with spiky rainbow highlights will gorgeously be completed by a platinum blonde undercut. To make sure you will become quite an appearance at any party, also dye your eyebrows in the same blonde color.
#3: Four Braided Hairstyle
Split your hair into four sections, and use a French braid to knit them. You can also get a low based undercut that you can cover with your tresses if needed.
#4: Asian Hair + Hard Part
When you are an Asian man that wants to separate the top from his undercut, a hard part line will create that stunning asymmetrical look.
#5: Disconnected Undercut
This gorgeous faux hawk works hand in hand with an undercut that creates a disconnection between the top and the pointy beard.
#6: Top Bun
A bun is an excellent choice for a man who has an undercut and a long top that is easy to style in multiple ways. The hairstyle will elongate your face, and a short beard will beautifully define your facial features.
#7: Curly Hair + Temple Fade
When you have curly hair, you want to take advantage of your ringlets and place them in the spotlight with an undercut for the sides and a top that reaches your jawline.
#8: Bald Fade
A bald fade undercut will better define your bone structure and add height, thanks to that slightly longer top.
#9: Messy High Top
A messy top with an undercut will significantly highlight any long quiff or Pompadour. For young men, this is an amazing haircut that will make them look modern and fancy.
#10: Comb Over + Long Beard
A bald shaved undercut can be a fabulous option for a sleek comb-over. Pair this hairstyle with a long, rich beard, and you will undoubtedly look mind-blowing.
#11: Side Swept Hairstyle
A side-swept long top hair will greatly match an undercut that creates a disconnection between the longer strands and the perfectly groomed long beard. Make sure you periodically trim the sides and the unruly facial hairs.
#12: Mohawk with Design
An undercut design will suit all guys who want a badass rebel look. Opt for a short mohawk and if you have a dense beard, grow it and arrange it in a ducktail shape.
#13: Dark Honey Afro Hair
Undercuts are perfect for black men who want to draw all the attention to their curly top hair. To make it stand out even more, maintain the roots in their natural color and dye the rest of your Afro hair in a dark honey color.
#14: Wet Silver Hair + Beard
Every time you want to pull off an unconventional look, a side-swept top with metallic silver highlights and an undercut will amazingly match that rich beard.
#15: Block Cut
A block cut is very popular, and that undercut works perfectly with a fringe. Wear the bangs on the forehead, maintain a medium connected beard, and grow your mustache.
#16: High Fade + Hard Part
Go for a high fade for the sides and complete the look with a men's undercut with the hard part. You will fabulously build a marvelous hairstyle. Go for a side-swept top and give it texture with hair gel, clay, or wax.
#17: Flat Top
A flat top haircut can add a lot of height, and if paired with an undercut and a very short beard, it will transform any man into a stunning presence. The sunglasses are also a big plus for any guy's appearance.
#18: Side-Swept Grey Hair
Undercuts work like a charm for older men who want to keep a professional, formal look. Swoop that top on one side and show off those gorgeous natural grey strands.
This faux hawk undercut hairstyle has to be the look you can count on because of its easygoing. Takes less time to style yet looking classy as it seems, even giving a messier look to it won't hurt and good to go in no time.
Hottest old school haircuts in 2021
#20: Layered Undercut
This undercut is exactly what it sounds like various sizes of layer gives a very smart look to the hair. A slight Undercut on both sides gives it an absolute elegance.
The hair on the crown and back has a slightly short length making a look of thick volume. You can also check these stunning trendy boy's undercuts.
#21: Mohawk + Undercut
A clear Undercut on the sides makes Mohawk very prominent and a voluminous look in the middle portion, creating a sexy Mohawk on the top.
#22: Shades Full of Layers
Although this style gives a quite intricate look, in reality, it is much easygoing. If you add a subtle touch of color along with the entirely random length of layers, it will be amazing; most importantly don't forget the classy undercut that brings the look altogether.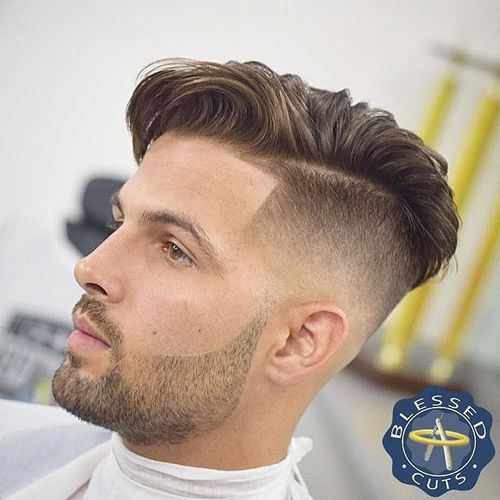 Side parted is one of those looks that never lose its charm and men of particularly all ages prefer this style. But only if you spice it up with a side Undercut then it can look splendid.
Pompadour itself is a dramatic look but mixing it with a little twist of undercut makes it give a dynamic look to your hair cut. Styling is up with proper products make it look even better.
Cutest hairstyles for your little baby boy
#25: Wild Angled hawk
This hairstyle is the look you want if you have a broad or longer face. It has a series of varied length all over the head. The front has longer range while the back and crown portion has a shorter length to create a volume in hair.
#26: Mohawk with an undercut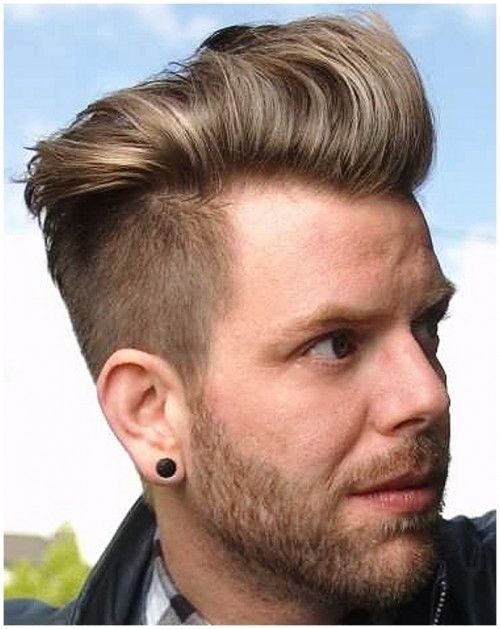 It is a classic look of Mohawk making it more prominent with an undercut. It gives out a total spectacular look. It mostly suits on long or oval shaped face. Adding a bit of a highlight make it looks even better.
#27: Combo of Bangs and Mohawk
Combining undercut with a Mohawk and adding a longer length of Bangs on the front gives out a very macho look. This cut would rather look more tempting with proper styling and bit of products to settle loose ends.
#28: Sexy layers
This cut has a combination of extreme layers on the top making a faux hawk and adding a sleek undercut makes you a total heartthrob that ladies can't get their eyes Off of you.
#29: Angled Curls
Guys with curly hair texture have a hard time styling their hair for this all they can go for or the best solution to their problem is adding an undercut from sides and back makes it a bit easier to handle.
#30: Sexy Faux Hawk
Talk about an already sexy look and mixing it with an even classier look. Yes, this is the Faux Hawk with Undercut. Smart and dynamic look. With long random layers in the top creating height on the round shaped face.
#31: Pointy Straight Layers
If you have thin or less hair, then this should be your ideal look. It has pointy and edgy look of layers it can also go well with a silky hair. It gives out a neat and decent looking.
#32: Sleek Pompadour
The style that never disappears although has remained in fashion with a bit of alternative still look good and give out a smart look. If it is neatly combed backwards forming a Pompadour on the front, it looks epic.
This hairstyle most suits on oval or broader face cuts. Neatly sleekly combed backward with almost the same length of layers all over the scalp. It doesn't need a lot of styling just the damp hair with little products to tame the loose ends, and it will look incomparable.
#34: Edgy Pointers
If you are up to give time to your hair for styling, then this better be your choice the undercut reveals a quite neat look along with a staircase effect on the layers above the crown gives a heartthrob look to your personality.
#35: Combed back Pompadour
Lighter hair on the edges making a clear undercut on the sides and a puff above the crown resembles a lot with the ladies or should I say kid's favorite Johnny Bravo look. Well, the cut sure gives a bravo effect.
#36: Ronald's look
Footballers are always known to have unique hairstyles they always prefer the kind of look which gets along with their game so if you are sportsman then this is the style you must be looking forward.
Check amazing hairstyles donned by soccer stars
#37: Johnny Bravo!
The kids from '90s must have remembered a flirtatious character from cartoons the Johnny Bravo. This style is the classic look inspires by this character with sleek undercuts and a huge puff on the crown. This style is the kinds of look which never gets old.
#38: Fade Faux Hawk
This look is quite easy doesn't require thorough styling and even looks great with thick hair, but guys with thin hair can totally pull this off.
#39: Mohawk with Slight Undercut
This particular look is amazing for long faces creating good puff on the crown making it suitable for silky hair; this look has long layers in the front and shorter on the back. It has slight undercut making an arch on the sides giving it a smart and neat look.
#40: Diagonal Faux Hawk
This teen hairstyle is perfect for younger boys. A longer layer to the front and shorter layers on the back and crown to create a puff on the top giving it a voluminous look.
#41: Varied layers
This cut has a combination of the various lengths of layers from top to backward. On the front, the layers are comparatively small but on the back or above the neck the layers are longer.
#42: A Dyed Mane
This hairstyle is for those who want short hairs but don't wish to spend a lot of time to take care for that for those this one is the best option you can set it up with various styles or let it stay as it is.
#43: Sleek Combed Back
This style the one look on which highlight gives a great impression. Use a little product to damp your hair and comb it backward to tame the loose ends and there you go, all set.
Who doesn't want to style as a fashion diva and when it comes to David Beckham? He always has such a smart and confident look, part of which is because of his splendid hairstyles.
#45: Extra Long Layers
This hairstyle is newly introduced just after the popularity of undercuts. This style gives you the best of both worlds by giving you long as well as short hair; by styling them with a ponytail it gives a very neat look to your personality.
#46: Shaded Long Layers
Talk about the long and short combo, this hairstyle has everything in it a total mash up of shaded hair with an undercut on the side and black beard. It has long layers going from front to the back.
#47: Undercut with a ponytail
Well, this is something you don't find usually but it has its charm. Undercut from back and side with a small ponytail is giving a real bad boy look. To give a masculine and rowdy look to your face, this is the best choice.
People with thin hair or facing the problems of hair fall should consider this haircut. With long layers combed back neatly and the side disappeared undercut you can have a very good and confident appearance.
This haircut along with some highlights gives a broad shape to your face. The bonus with this look is that it doesn't take a long time to style. Just take a little product and style it up.
Latest hairstyles for men who has round faces
#50: Sexy Pompadour
Pompadour and undercut together look epic. This entire look gives you a solid heartthrob look and makes you ladies man. It brings out the decency in personality.
#51: The Heartthrob look
Yes, this is the look every man aspires. It has a slight hint of buzz cut on the forehead and then the undercut on the side make it look ultimate spell bounding style.
#52: Highlighted Faux Hawk
Faux Hawk is a very common hairstyle, but it comes with many variations. You can style it up with your creativity making it angled or straight but adding up highlights on the top gives it a radiant look.
This haircut is the style for you if you have thin hair or if you do not want thorough styling of your hair every day. It has long layers combed backward neatly making it look amazing.
#54: men's Undercut With Long Layers
While we are talking about long hair, this is another hair style for long layers. It suits more on guys with long and slim face and sharp features.
#55: Random Layers
This haircut is one of a kind. It looks great even with an undercut on the sides and back. But if you add up the undercut and random layering the look is enhanced into a total excellent one.
#56: Thick Long Layers
As the name says, this look is best on thick black hair that can be styled easily with the just little product and you are ready to make an appearance.
#57: Angled Long Layers
This hairstyle is divine, showing that you have a very mature and manly personality. The look doesn't require time taking styling so it will be a lot easier to pull it off anywhere.
#58: Stylish Tramlines
This look itself is amazing but combining it with nicely angled tramlines makes it irresistible. This style is although unusual but gives you a very adventurous look. You can also try these fade hairstyles with a beard.
#59: Sided Faux Hawk
Faux Hawk has always been in fashion throughout the years, now because of the popularity of undercuts faux hawk is usually combined with it. This style is surely a fascinating look that never loses its charm.
Undercut the majority of your hair but keep the very middle section a much longer length. Instead of gelling it up into a faux hawk style, sweep it over to one side. Accessorize your comb over by razor cutting some tramlines into your hair.
#61: Fade out Faux Hawk
A fade out Faux Hawk is sometimes considered to be a less extreme version of the classic Faux Hawk. Instead of keeping extreme length all of the way through the style, it gets shorter further back.
#62: Soft Serve Spikes
Gelled up spikes still look great, but if you use a soft hold hair gel these spikes will have a lot more movement. Fiercely undercut your hair at both sides and then use a comb to pull your hair up into a gorgeously neat spiked up do.
#63: Foppish Fringe
Keep most of the length in your hair in the front section. This bit of your hair should be brushed regularly with a fine tooth comb to keep it soft and bouncy. Comb upwards from the roots to help to give your hair extra body and bounce for Foppish charm.
#64: Rolled Pomp with soft Stubble
For a rolled pomp, you will need to keep a narrow section of your hair much longer than the rest. Use a comb to roll the long section over into a voluminous Pomp style. This style looks best if you keep your beard and your hair the same length in a long soft stubble style.
#65: Swept over hair with Long Undercut
The longer that your hair is, the softer that it will feel. Keeping a long undercut will give you hair that people just want to run their hands through.
#66: Bearded Mohawk
Make a statement with a strong beard and Mohawk combination. Grow your beard to the same length as the hair on your head. Use a beard trimmer set on its shortest setting to shave away the hair between your Mohawk and each of your ears. This creates a real standout style.
#67: Lopsided Undercut with Long Hair
A Lopsided Undercut is one where the hair is only undercut at one side and not the other. The best thing about teaming an undercut with very long hair is that you can brush your hair over to one side to show off the undercut or brush it back over to the other side to hide your short hair.
#68: Oven brush Mohawk
An oven brush Mohawk is one which is short, thin and sharp. This style is reminiscent of the narrow and course hair brushes which are designed to clean the oven. To keep your "bristles" sharp, you should make sure your hair is kept short.
Medium Undercut Styles
69. Comb Over Undercut
This is a simple and much sought-after medium undercut style.
Ideal for: This is a style that would suit a majority of face shapes.
How to style: This hairstyle comes with a close shave all over the sides and the back of the head. The hair on top is brushed back to create a neat look. In case you have silky soft hair, you can gel your hair to make sure it sets well.
70. Tousled Top Tuft
This is an extremely trendy and stylish hairdo.
Ideal for: This is a style that suits a long face with sharp features. It also goes really well with a bearded face.
How to style: This hairdo shows a sharp distinction between the close shaved lower part of the head and the voluminous top tuft. This tuft of hair on top is also layered creating a ripple effect. It is truly a stylish undercut with beard hairdo.
71. Soft Spiked Top Tuft
This is a fashionable combination of medium undercut and spikes.
Ideal for: This hairstyle will look very good on an oval face with a pointed chin.
How to style: This is a style with multiple soft spikes on the hair on top. The hair is brushed upwards from the front and back. This hair is then spiked gently to create a stunning look. This style will go easy on a naturally rough hair.
72. Gradient Undercut
This is an attractive and appealing style of the medium length undercut.
Ideal for: This hairstyle is best suited for an oblong face with a jawline angled downwards.
How to style: This undercut goes easy on the distinction between the two contrasts. There is a gradual slope from the top tuft towards the lower hair. The hair from all sides are brushed to towards the top creating a stiff wave on all sides. There is also a gradient in the length of the tuft from the front towards the back.
73. Front Spiked Undercut
This is an elegant variation to the soft spiked top tuft. This style too shows a clear distinction between the top and the lower half of the hair.
Ideal for: This style will suit a diamond-shaped face with a soft rounded chin.
How to style: The undercut carries a lot of spikes pointed forward. The spikes at the front are curved upward in a gentle fashion. The lower part is almost clean shaven. However, this style too displays a very mild gradient in transition.
74. Side Combed Asymmetrical Undercut
This elegant and classy men's medium undercut carries a style of its own.
Ideal for: This is yet another hairstyle that suits a long face with soft edges.
How to style: This is an asymmetrical side swept undercut with the tuft on top a little lengthier towards the back. This hair is brushed to one side neatly. The distinction between the tuft and the closely shaved part is shown by a clean streak across the head.
75. Layered Backcombed Tuft
This hairstyle is a very similar variant to the backcombed undercut.
Ideal for: This is a style that would suit almost all face shapes.
How to style: As mentioned earlier, this is a variant to the backcombed undercut. Hence, the backcombing of the top tuft remains the same. But the tuft here is also layered with the undercut. These layers add to the smartness of this undercut style.
76. Smart Undercut with a Mild Punk
An undercut is classy, and punk is trendy. When they come together, the resulting hairstyle is very attractive.
Ideal for: This style suits well for a square-shaped face.
How to style: This hairstyle displays no big difference in terms of the voluminous tuft at the top and the close-cut sides. It's at the back where the interesting factor lies. The tuft ends in a gradual punk at the back towards the nape of the neck.
77. Long Side-Parted Undercut
This is a really cool undercut style for medium hair. If you're in for a few long strands of hair, then this is the one for you.
Ideal for: This is an amazing hairstyle for a smart face with soft angles.
How to style: The top tuft in this style is longer than in all the above styles. This tuft is side-parted. The close-cut hair ends in a clean partition where the top tuft begins. The long end of the tuft falls over to the other side of the head.
78. Long Top Tuft
This is an exciting variant of the previous style, the long side-parted undercut.
Ideal for: This style is ideal for an oval or oblong face shape.
How to style: The similarity between the two styles is the long top tuft. However, the previous style had a gradient slope on one side of the head. This hairstyle marks a clear distinction between the contrasts on both sides of the tuft.
79. Undercut with a Wavy Tuft
This is a typical informal hairdo. It is funky and unique.
Ideal for: This style would look really nice on a pear-shaped face.
How to style: The main feature of this style is that the hair on top is wavy and rugged. Also, the tuft slopes towards the front falling on the forehead. This style would work well on a tough textured hair.
80. The Messy Side-Parted Undercut
If you have messy curly hair, try this informal undercut.
Ideal for: This style is perfect for a square face with an angular jawline.
How to style: The tuft of hair on top is curled and messy. This tuft is further parted to one side with the curls falling in a messy fashion. This being an informal hairstyle is advisable for people working or studying in an informal environment.
These men's undercut hairstyles are some of the most growing trends. Undercut hair suits almost everyone still you need to take into consideration your face cut and hair texture to choose the best look for you.
Also, you should be able to style it the way it should be otherwise it won't be having a glamorous look. Do inform us what you think about these hairstyles.