Low blowout fades are one of the most popular haircuts, especially among the African American men in part because there are so many different styles you can do with them.
Trendy Simple Low Blowout Fade Haircuts
One of the brilliant things about the men's low blowout fade haircut is that they are multi-racial. This hairstyle is worn by men from all colors no matter what their ethnicity is. Low blowouts are very popular among both white and black men, so pick one from the below list of low blowout styles and get a new dashing look!
#1: Teddy Boy Low Blowout
This low blowout fade style takes its inspiration from retro Teddy Boy or greaser hairstyles. The style uses lots and lots of hair gel to tame the look. Roll the front part of the style so that it sits like a quiff.
#2: Afro Blowout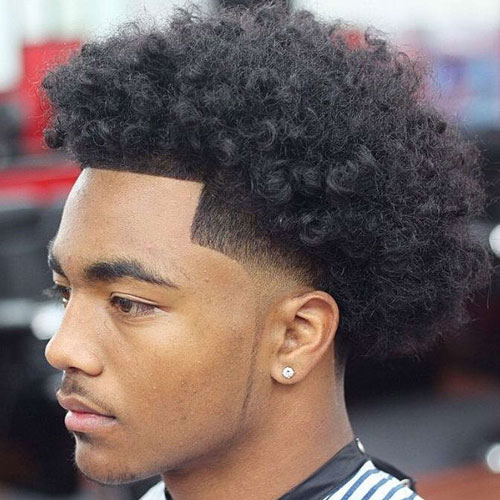 Mix up a few different styles by teaming a brilliantly bold Afro with a low fade haircut. Fading out of an Afro will actually help the Afro to look bigger. This is because of the striking contrast in the hairstyle.
Men's Coolest Blowout Haircuts to Wear in 2019
#3: Tight Curls

Tight curls are sometimes associated with an innocent "choir boy" look, but this style is anything but innocent. Style your curls with a low blowout fade haircut and a beard for a look that says "bad boy".
#4: Loose Curls

Loose curls look great in a low blowout fade hairstyle because they add natural texture and volume to the look. If you don't want your hair to look too curly, keep your hair cut shorter so that only the ends start to roll over.
#5: To the Point

Cleverly style your haircut so that it forms into a forward-facing point. Sweep the sides of the style forwards to give the style smooth edges and a good shape. Roll the some of your hair over from one side to the other to give your look a nice finish.
#6: Low Blowout with Faux-hawk

A faux-hawk style is one where a Mohawk spine has been created in the hair without shaving off the rest of the hair. Use a comb to create a rolled faux-hawk in your low blowout fade style.
Low blowout fade hairstyles are amazing but they are not right for everyone. So, before picking up a style be sure it'll match your facial features.