One of the best hair trends to come out for women has to be the money piece, which is a fancy way of saying 'face-framing highlights.'
Money piece highlights are popular because they suit every face shape and hair texture, as long as you have a good amount of hair length to work with!
While many women turn to money piece highlights for a natural look, others like how a money piece helps them express their individuality through head-turning hair colors.
Flattering Money Piece Hair Looks
Interested in giving your hair color an eye-catching update? Check out these money-piece ideas to see why you need to try this trend!
1. Brown Hair with Pink Highlights
Love color and want to make your money piece highlights really pop? Go for a stand-out hair color, like pink! We love this chic razor cut bob with its straightened layers that flip out to give the style shape.
2. Blue and Yellow Waves
To define the waves in your long hair, add a money piece in bright, vivid colors such as blue and yellow. These two colors flatter many skin tones and will also complement your glasses.
3. Blonde and Orange Bob
If you have blonde hair, a blunt bob is a super cute hairstyle every girl must try. Straighten your hair for sleekness and give it a pop of color with a vibrant orange money piece.
4. Blonde Money Piece Highlights
For blonde-haired women who are looking for a more natural look with help from highlights, give your hairstyle a warm glow with highlights in a lighter shade of blonde around your face.
5. Dark Blue on Dark Blonde
Face-framing highlights in a dark color will give your hairstyle a moodier vibe. If you have dark blonde hair, consider dark blue around your face. You can even add a touch of sea green behind for a cool effect.
6. Wavy Brown Money Piece
If your hair is naturally dark, we recommend caramel money piece highlights. See how the rich color gives long dark brown hair so much more depth?
7. Straight Blonde Hair with Blue
Eclectic doesn't even begin to describe the result of adding blonde around the face when you have blue hair! Straighten your hair and part it in the center to emphasize long layers.
8. Gray Money Piece Hair for Older Women
Older women often look for ways to liven up their gray locks as they get older. In that case, we recommend very light gray or even white money piece highlights!
9. Multicolored Highlights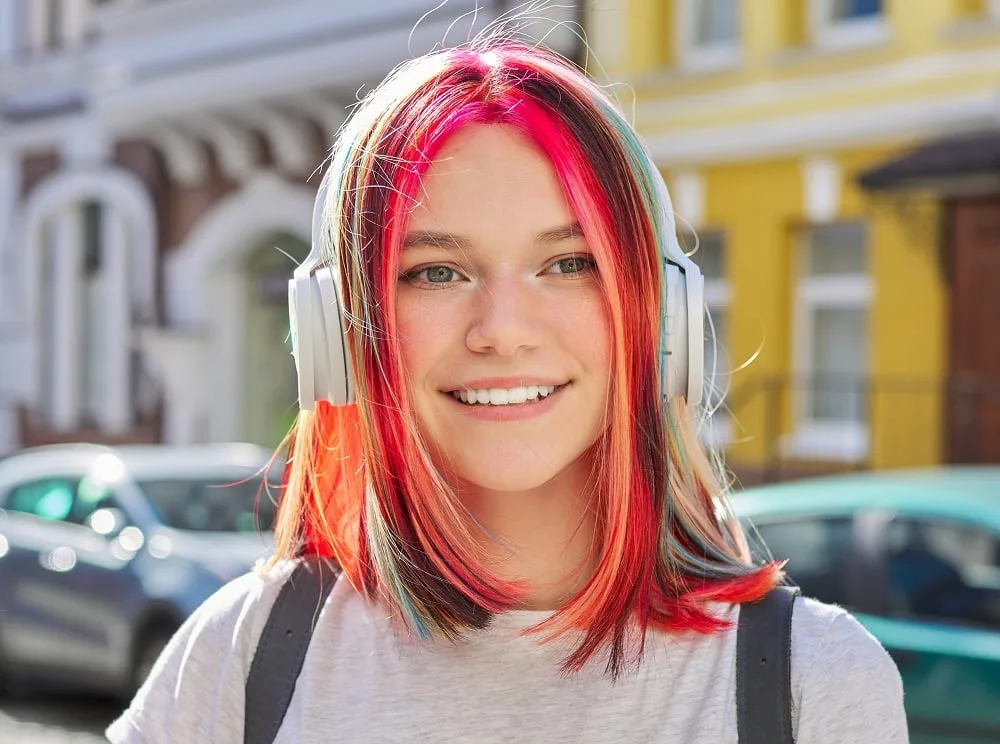 Whether you can't decide on one color to add or you just want the fun of combining your favorites, there's no bad about using multiple colors in your hair to accentuate your beautiful face.
10. Wavy Green Money Hair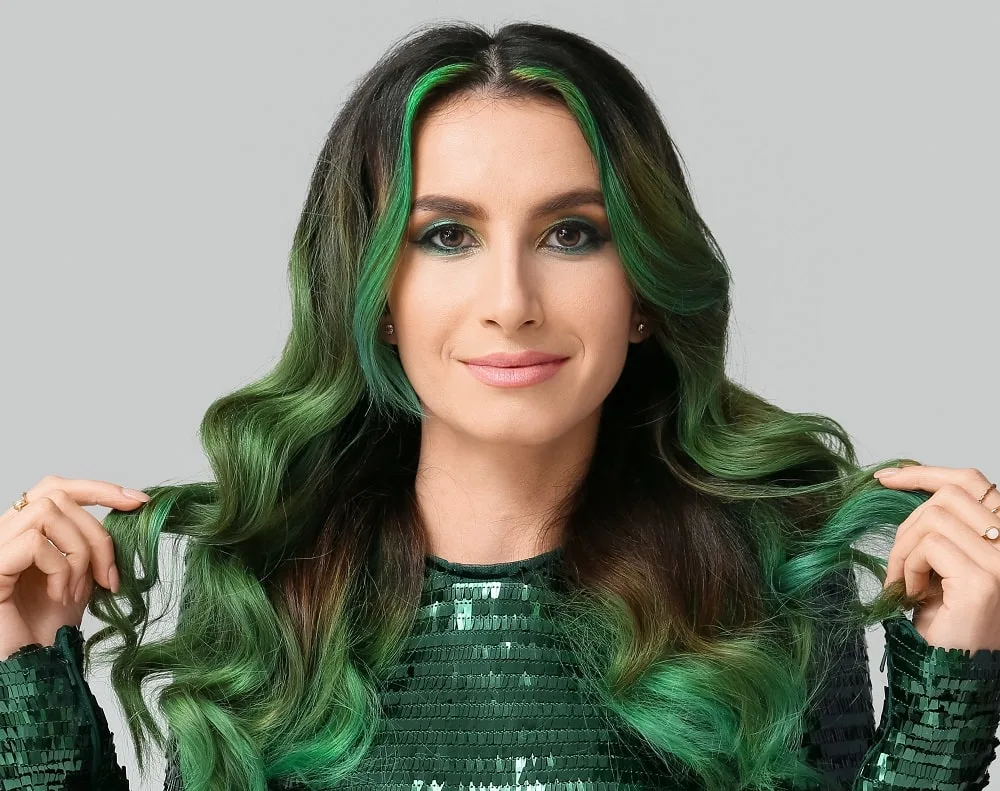 Another gorgeous shade for women with dark hair and dark eyes to flaunt is a rich dark green. They instantly help the hair appear thicker and make the waves look more luxe.
11. Money Piece Baby Bangs
Baby bangs are another hair trend popular for women who like a hipster feel. Combine baby bangs with money piece highlights in a flirty color, such as pink, to make a truly one-of-a-kind money hairstyle.
12. Short Money Piece in Blonde
Short layers around the face are great for women with a long face, as they'll make it look more rounded. Go for a light blonde around your face if you have dark hair and give them a wide wave for softness.
13. Box Braid Money Hair
Box braids are a popular hairstyle for Black women and it's easy to see why! These long thin box braids are so glamorous, especially with a money piece in platinum blonde.
14. Purple Hair with Blonde Highlights
If you're a fan of dramatic looks, you'll love this straightened purple ombre hairstyle. It features dark purple in the bulk of the mane, but fades to light purple and eventually light blonde highlights up front.
15. Brunette Ponytail with Money Piece
When you're on the go, gather your brunette locks into a casual low pony to keep hair off your shoulders and out of your face. A beautiful aqua blue highlight up front will ensure you stay stylin'.
16. Strawberry Blonde Half Updo
Do you have shoulder-length blonde hair? Fill your hair with soft waves, then gather the top half into a loose ponytail. A strawberry-blonde money piece is the perfect touch of color.
17. Dark Ponytail with Blonde Highlights
For the perfect sporty hairdo, opt for the classic ponytail. For brunette or black hair, let light blonde highlights define your face shape and accentuate your dark eyes.
18. Wavy Brown and Blonde Hair
While this medium brown haircut features a blunt cut, the waves help to soften out the look for cool contrast. A lighter blonde around the face is a flattering complement to any skin tone.
19. Teased Pixie with Money Piece
For a short haircut, such as a pixie, that has tons of structure and layers, play up the texture by teasing the crown. Straighten the hair close to your face and highlight the cut with a light-colored money piece.
20. Platinum Blonde Money Piece
Instead of adding blonde streaks throughout dark colored hair, concentrate them around your face for the best bang for your buck.
21. Yellow Front Highlights
Do you love a head-turning hairstyle? Then you need to try this super cute short haircut with soft waves. A bold combination of light blonde with yellow front highlights will catch everyone off guard.
22. Smooth Lavender and Blonde Waves
This is the most gorgeous and unexpected money piece highlight that complements blonde hair. A soft lavender purple tinged with a little ice blonde. Try it on long hair filled with smooth waves.
23. Brown Hair with Red Money Piece
Looking for an edgy money piece to rock with your brown hair? Go bold with bright red! It's especially becoming on women with a light or pale skin tone.
24. Straight Black Hair with Blonde Highlights
It seems Asian women are always looking for a way to set themselves apart fashion-wise. On black hair, light blonde highlights will instantly take your look up to a 10.
25. Maroon Money Hair
Mix light and dark hair colors in the prettiest way by rocking a maroon money piece in your blonde hair. Some soft waves throughout and an easy middle part is all you need to be ready for the day.
26. Straight A-Line Bob
If a sleek structured haircut is what you're after, opt for a straightened A-line bob. If your hair is naturally dark brown, all you need is a light blonde money piece for the total package.
27. Copper Waves with Money Piece Bangs
How gorgeous is this copper-colored masterpiece? The extra long waves shine in a rich shade, while layered face-framing bangs complete the look in platinum blonde.
28. Thin Green Money Piece
Having money hair doesn't mean you have to layer on the color too thick. On short thin hair, a thin streak of sea foam green at one side of the face provides a subtle pop of color.
29. Money Piece Pigtails
For the ultimate rocker chick look, add hot pink highlights around your face. These beauties will look amazing when your hair is all gathered up in two messy pigtails with loose tendrils.
30. Curly Updo
Put your new money hairstyle right where everyone can see it: piled on top of your head in a tight wavy updo. The dark green along the face is a great complement to dark red in the rest of the hair.
31. Medium Two Toned Hair
For the women who are a natural brunette, add platinum blonde highlights up front, and top it off with a vivid feminine color, like light pink. We love this bluntly cut medium length hairstyle with its soft waves.
32. Yellow and Blonde Money Hair
If your hair is similar to copper in its coloring, we highly suggest this gorgeous addition of yellow and blonde front highlights. They're especially great for slimming out a round face.
33. Chunky Blonde Money Piece
Is your skin tone fair or light? Then opt for chunky highlights in light blonde. A thicker color job around your face will work in tandem with a light skin tone to brighten up your complexion. Match the blonde with a copper red for the best effect.
So which of these absolutely stunning money-piece hairstyles have you fallen in love with? We certainly wouldn't blame you if you're having a hard time deciding which one to try first!
Whether you stick close to neutral and opt for a blonde or brown money piece, or you branch out and try one of the more colorful ideas shown above, you can be confident your hair is looking its hottest.