A lot of women overlook razor-cut bobs when they are looking for a chic short hairdo. But this pairing is so on-trend and fun!
Razor-cutting hair is when a hairstylist starts by cutting the hair short and shapes it with a free hand. This adds desirable body and movement, which is especially great for those with fine or limp hair.
While razor cutting works for various styles, it looks amazing with a bob if you want to go short. You can also customize it with cropped bangs, fun colors, teased roots, and many more.
With so many styles of razor cuts and bob haircuts to choose from, there's no reason you can't find your razor bob hairstyle today!
Stylish Razor Bobs for Women
So, don't miss out on the trendy razored bobs! The photos below show just how chic this contemporary cut can be.
1. Side Combed Blonde Bob
A chin-length bob haircut with short layers on the front and stacked layers on the back is a super cute option for women with a smaller face shape.
We recommend brushing this hairstyle mostly to one side to create a soft, tousled look. It is also possible to get this haircut using scissors instead of razors.
2. Straight Hair with Bangs
A long bob that has been straightened makes for a sleek hairstyle. The bob haircut with its razor-cut ends and thin wispy bangs, the style is practically runway-worthy.
3. Razor Cut Waves
Between the blown-back tight waves of this short razor-cut bob, the rich contrast of blonde and red, and the pin-up vibe created from pinning back one side – there's no reason not to choose this hot hairstyle.
4. Straightened Stacked Bob
Combine angled and razor cut layers on straight hair to make this sexy stacked bob. A super short back keeps things neat at the neck, and you can arrange the longer hair up front however you want.
5. Medium Bob with Blunt Bangs
If your face is more oval-shaped, you can easily pull off these edgy bluntly-cut bangs. They nicely round out a longer razor cut bob. Mix straight hair with teased waves for fun, contrasting texture.
6. Curly Razor Cut Bob
If you have naturally curly hair, you know it requires its own special cutting. A razor cut is great for curly hair because it puts the spring back in its shape. A bob with short face-framing layers will make sure your curls look their most gorgeous.
7. Blonde Layered Lob
Can't decide between long or short hair? A razor cut lob is the perfect length! If you have pale skin, try a light blonde to flatter your tone. A simple center part is all you need for this sleek hairstyle.
8. Teased Pink Bob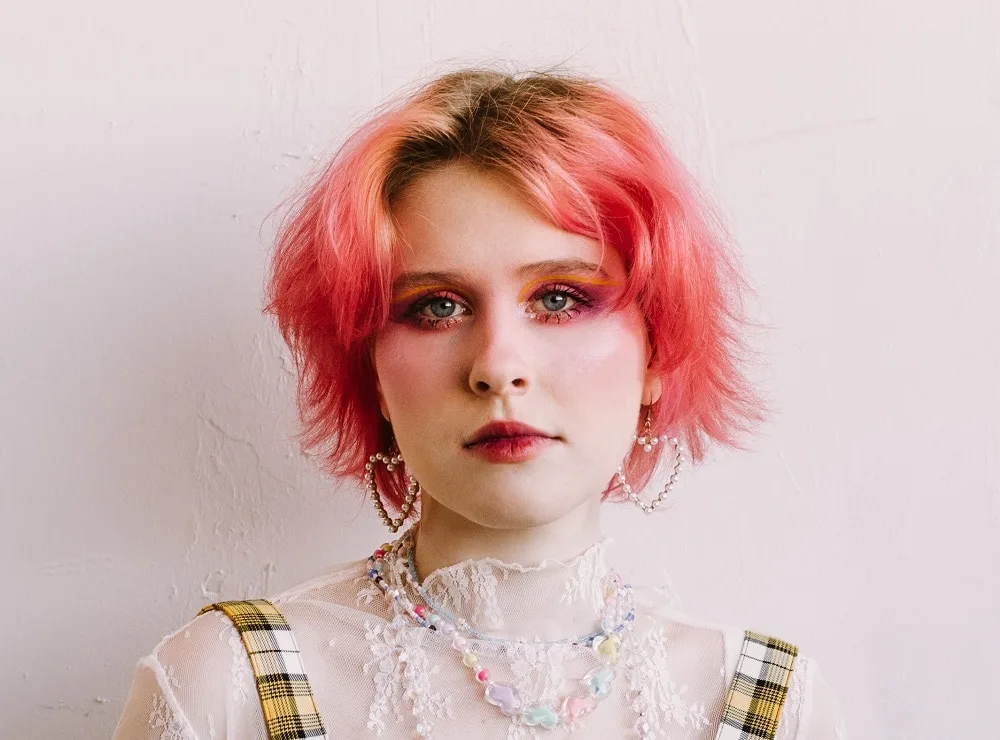 A razor cut really helps to bring out the soft wavy layers of this teased bob. The eye-catching pink hair color is a great addition if your natural hair color is blonde. Spritz in hairspray to get the fluffier texture.
9. Blue & Green Bob with Bangs
Do you have an oval face shape? This razor cut chin-length bob will help to make your face look a bit wider. Rock it with your two favorite colors for an edgy look. Short piecey bangs are the finishing touch.
10. Razor Cut Platinum Curls
Whether your hair naturally has these perfectly shaped spiral curls or you use a curling wand to get them, give them a platinum blonde color treatment and a razor cut for a head-turning hairstyle.
11. Razor Cut Bob for Asian Women
Many Asian women wear their black hair long and straight. However, a razor cut bob is much more fun to style, especially with the teased wavy texture.
12. Blonde Hair with Flipped Layers
To distract from a round or oval face and wide forehead, direct your layered hair away from the face with a round brush and blow dryer. These blonde locks are large, flipped out, and fabulous, making the hair look fuller.
13. Blonde with Dark Roots
Leaving your roots dark or letting them grow out with blonde hair is actually a cool look for a chin-length bob. Straighten the hair for an easy, low-maintenance hairstyle.
14. Red with Blunt Bangs
It doesn't matter if you're a natural redhead or not, a medium or dark red is the spice you need to liven up a short razor-cut bob. Just add bluntly-cut bangs for a dramatic, bold look.
15. Brunette Bob with Side Part
Get that 'just woke up' look by giving your brunette hair a heavy side part for height and texture. Between the razor cut ends and the messy texture, this is a totally sexy style.
16. Blonde Bottleneck Bob
Soft bangs or curtain bangs gradually blend into a classy bob in this bottleneck version. It's perfect for women with thin or fine hair. Blonde highlights are ideal for women with a light or pale skin tone.
17. White Bob with Side Bangs
For much older women with white hair, it's the perfect time to try a fun color, such as teal. Use a muted tone to liven up a short bob with side bangs and bring out your inner diva.
18. Razor Cut with Feathered Layers
Another way to dress up a short haircut is by combining feathered layers with a razor cut. This will make the hair fan out in flipped ends. When going out, pin back a small section of hair up front to accentuate your eyes.
19. Blonde Razor Cut Bob for Older Women
Is your face pretty round? Distract from that curved shape by going super short with a razor cut bob. Define short layers with a contrast of straight and wavy pieces, then add light blonde highlights to transform your hair.
20. Wavy Teal Bob with Side Part
Teal hair color defines the wavy body of this short haircut. A bit of dark blue and dark purple are used to separate the side bangs. This ritzy hairstyle is perfect for women who love a bold look.
21. Thin Hair with Soft Waves
For women who are struggling to style thin hair, make the job easier by asking your stylist for a shaggy razor cut bob. You'll get all the texture you could want and with bangs that accentuate the eyes, it's a winner.
22. Brown Mullet Bob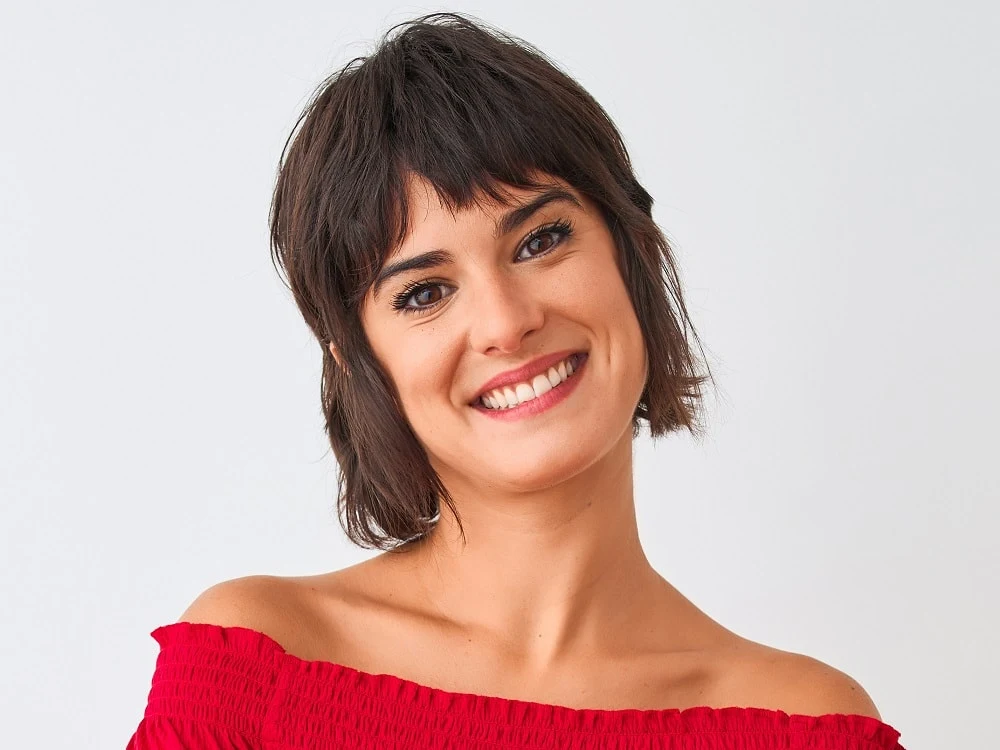 Go heavy on short layers up top with razor cut bangs and thin out the bottom of your hair to create a mullet-like bob. Straighten your hair but work in a little mousse to get the tousled waves.
23. Thin Bob with Parted Bangs
Having thin hair can be a blessing as far as low-maintenance styling goes. Trim your mane to shoulder-length and add bangs that are parted in the middle for an easy yet classy look.
24. Piecey Tousled Haircut
A straightened long pixie or short bob makes for another chic hairstyle any woman will love and look good with. Use your fingers to part the hair off center and create a piecey, tousled style.
25. Middle Parted Bob with Glasses
If you wear glasses and you don't want to spend much time in front of the mirror styling your hair, why not try a simple middle part for your bob? All you need is razor cut face-framing layers that are easy to brush down.
26. A-Line Cut with Diagonal Bangs
For women with a wide face, you can make it look slender by opting for an A-line bob which has longer pieces up front framing the face. Pair it with diagonally cut or side-swept bangs.
27. Brunette Bob with Teased Crown
For women with brown eyes, bring them out with a rich dark brown bob. This straightened haircut features razor cut layering, a partial side part, and a teased crown for sexy volume.
There are many ways to style a razor cut bob. If it's an edgy look you're going for, add bold color and contrasting hair texture. If classy and elegant is your goal, straighten the hair and part it off-center for sleekness.
For other looks, tease the crown for height, rock blunt bangs that accentuate the eyes, or use highlights to enhance feathered layers.
The possibilities are endless, so get started now on finding your new look!