When it comes to the caucasian toddler hair, it's usually rather thin and unmanageable but such is not the case with African Americans. African American black toddler hairstyles can differ greatly thanks to the thickness of their hair.
African American children often grow long and curly locks that mothers can experiment with. Toddlers are not usually happy to allow others to play around with their hair. That's why most of such hairstyles are rather simple.
So if you are ready to catch your toddler and try to make her sit still, you can check out a few samples that will make your child look even more adorable than before.
Cute African American Toddler Hairstyles
When we are talking about black toddler hairstyles for girls – we consider all kinds of braids, ponytails, and even buns. All the below styles are created to make your job easier.
Complicated haircuts might look more attractive, however, toddlers are rarely ready to allow you to spend an hour working on their hair. That's why we collected simple yet very attractive toddler hairstyles for you to try and for your toddler to enjoy. Get ready for a few failures at first, but soon your baby will be ready for longer hair experiments.
So here are 40 cutest haircuts and hairstyles for African American black girl toddlers.
#1: Off-Centre Bun
Pulling your toddler's hair up into a bun is a great way to keep her hair out of her eyes. To give the look a slightly unusual edge, pull the bun off-centre.
#2: Gorgeous Green
Beautiful emerald green accessories can transform any hairstyle into the perfect formal look. This color looks particularly elegant in African American toddler hairstyles because of the amazing color contrast.
#3: Bouncy Corkscrew Curls
Bouncy corkscrew curls look super cute on tiny African American Toddlers. Hairstyles like this can be given extra volume and bounce by using a well-placed headband.
#4: Fantastic Frizz
It can be very difficult to tame African American toddler hairstyles, but if you are really struggling to work with her hair then you can embrace the frizz. Make sure that you wash her hair regularly to prevent it from becoming dry and brittle.
Angelic Black Little Girl Hairstyles
#5: Floppy Afro
A floppy girly Afro haircut is one of the cutest looks for African American toddlers. Keep her parting in the center of her head to give a symmetrical style.
#6: Mixed Beads
Make cornrows look more colorful by adding mixed beads to the end of each strand. Using lots of different colors will help you to show off your daughter's colourful personality with a tradition African American toddler hairstyle.
#7: Wide Bun
Comb your daughter's hair so that you can pull it back up into a really tight bun. Secure the bun up with a hair tie and then fan the hair outwards to create a wide bun style.
#8: Pigtails
Twin pigtails can run down either side of your daughter's head to make a really beautiful hairstyle for African American Toddlers. This look is even cuter when it is secured up with butterfly clips.
#9: Mini Buns
If your little toddler only has very short hair, you will have to style it up into mini buns. Pull the hair together into tiny little buns on the top of her head and then secure with colorful hair ties.
#10: High Buns
High buns look great on the top of her head. Once her hair has been secured in place, use an Afro comb to fan the style out to give each bun a little bit more volume.
#11: Fun braids
These fun braids are easy to make and do wonders for keeping the hair out of your little girl's face. Separate the hair into several strands and make a braid out of each one. Collect them on top into a bun.
#12: Bang ponytails
This African American toddler hairstyle is fast and looks especially attractive. It's a great choice for a special occasion. One strand is tied into a ponytail and then combined with the beginning of another strand.
#13: Simple braids
Dreadlocks and cornrows are popular among African Americans but not everyone is ready to make a few on their toddler's head. That's why you can go for simple braids that look like dreads thanks to the curly nature of the hair.
#14: Cornrow designs
If your toddler is ready to spend some time in the barber's chair, you can create an amazing hairstyle with cornrows. The designs you can come up with can be truly unbelievable. Your kid will love them too.
#15: Flowery bun
This African American toddler hairstyle is a big find for moms. It will truly take a few minutes to make and the result will look stunning and complicated. All you have to do is separate the strands and make a few buns in a row.
#16: Headband
One simple headband can turn your toddler's hairstyle into something neat and enjoyable. A headband holds the hair in place and doesn't allow it to get dirty or hang down the kid's forehead.
#17: Afros
An afro is a traditional African American hairstyle so it would be a shame not to try it on your toddler. It takes just a few minutes to arrange. As a result, your kid will look stylish and very fashionable.
#18: Braided bun
This hairstyle will require some patience from your side. You will need to brush the hair straight by using a curling iron and some hair gel. Once you straighten out the locks, the rest is pretty straightforward.
#19: Cornrows
Cornrows is a great African American toddler hairstyle since it makes hair care as easy as one-two-three. The main disadvantage of this style is that it takes some time to make and not all toddlers are ready to endure it.
#20: Creative styles
If your toddler's hair is thick and long, you have a lot of room for imagination. This particular hairstyle lifts the hair upwards into a huge bun. What a great choice for a special occasion!
#21: Spiral Curl Updo
Thick spiraled curls pop on this cute updo for toddler girls. Use a curling iron to shape these beauties before gathering hair up high.
#22: Low Ponytails with Hat
Those cold days will be so much more fashionable when your toddler girl is sporting a rainbow or colorful beanie with her two low ponytails.
#23: Puffs for Short Curly Hair
Every baby deserves a super adorable hairstyle. For Black hair, try these three puff ponytails centered around the head.
#24: Tiny Twists
Tame your toddler girl's short hair with a bunch of tiny twists. Secure the ends with a contrasting colored hair tie like white or pink!
#25: Half Bun Hairstyle
For fancy occasions, form two buns on the top half of your toddler girl's hair. Then add tight spiraled curls to the body of the hair.
#26: Natural Hair with Bow
One of the best hairstyles you can give a toddler girl to help her rock her natural black hair is just leaving it natural. Throwing a colorful bow in will be super cute.
#27: Cornrows with Buns
Braid in tiny cornrows from the hairline into two or more tiny buns to get this adorable look. It'll keep her hair out of the way and have her lookin stylish!
#28: High-Low Ponytails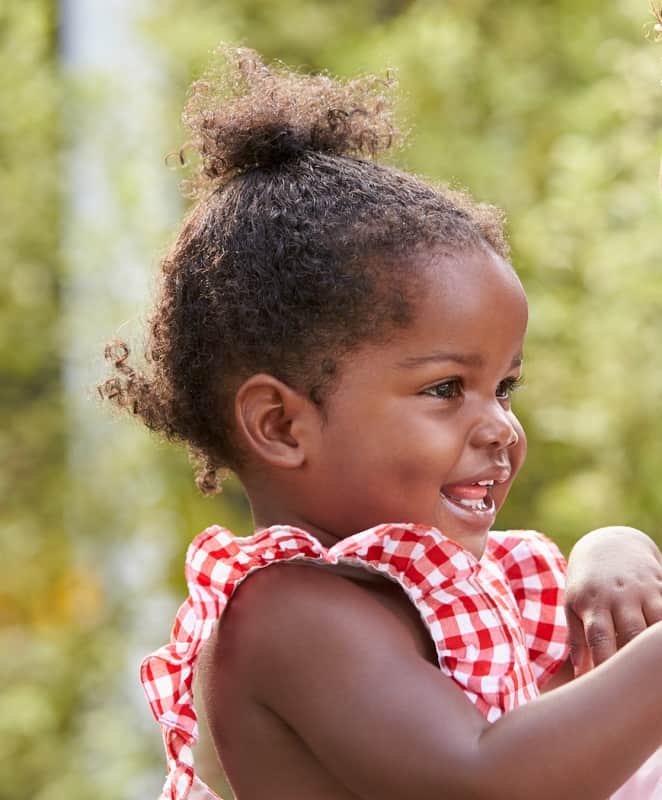 While a high ponytail is easy and adorable on its own, for Black toddler girls an additional low ponytail will make the style even cuter, not to mention more quick to style.
#29: Pigtails
If your toddler girl has long enough hair to form pigtails, this is one classic children's hairstyle you need to try. Secure each ponytail with a colorful hair tie for fun.
#30: Wild Curly Hair
With a bit of product, taming an African American toddler girl's hairstyle will be super easy. Try a bit of hair oil and use fingers to create this loose, scrunched and curly look.
#31: Toddler Girl Hairstyle for Wedding
Is there a wedding or other fancy occasion you're attending soon? Dress up your little girl in this cute messy ponytail and a floral headband detailed with lace.
#32: Natural Hair with Headband
For those days when your African American toddler girl is playing outside most of the time, give her a cute headband to keep her curly locks out of the way.
#33: Messy Curly Hair
Sometimes waking up with bedhead is okay, like on weekends when your toddler will be running around outside. Leave her curls natural and you're good to go.
#34: Twisted Black Hair
For the African American toddler girl whose hair is medium to long in length, form these neat, tasteful twists. They're protective of natural black hair and stylish at the same time.
#35: Small Ponytail
If your little girl's hair is too short to do much with, you can still create a tiny ponytail. Gather as much hair into a pony as you can and secure with a cute hair tie.
#36: Half Updo for Curls
Is your little girl's hair super thick and curly? Then a half updo like this one featuring a low ponytail is perfect. Help the top hair stand out by scrunching in hair oil for shape.
#37: Jumbo Braids
Create these jumbo braids for thick hair for easy and quick style. Secure ends with colorful bow hair ties your toddler girl will love.
#38: Microbraids and Twists
A combination of cornrows, braids, and twisted buns make this African American toddler girl's hairstyle pop. You can even secure small barrettes at the front of the hair for extra detail.
#39: Curly Ponytail
When hair is still wet, form this high ponytail and curl the body. Use hair oil to sleek hair back and tame baby hairs.
#40: Curly Pigtails
For thick curly African American hair, pigtails are a classic choice. Pump up the curls with a curling iron and use colorful hair accessories.
These African American toddler hairstyles are just the tip of the iceberg. There are so many interesting options you can come up with only if your toddler gives you an opportunity to experiment.