Little black girls are styling their hair these days and most importantly they are doing amazing! As a parent, you want nothing more than to encourage your little girl to embrace her natural beauty. While there are so many different hairstyles to choose from, it's very easy to find yourself sticking to "what works" instead of venturing out and trying out a new style on her.
Showing your daughter the many different ways in which her hair can be styled will be sure to boost her confidence and self-image. We are going to list some of the most exciting haircuts & hairstyles for black little girls to help you choose the best one for your little angel.
Black Little Girl Hairstyle Ideas
If you are a mommy stylist searching for the biggest hits in the hairstyling world in order to make your sweetie look like a queen then you should check out the list below.
From pony puffs to decked out cornrow designs and braided hairstyles, the below digital catalog contains all of the cutest black little girl hairstyles you might ever come across.
Here are 101 amazing hairstyles for your little black princess:
1: Two-Strand Twists to the side
Here is a gorgeously simple style featuring some easy two-strand twists that have been pinned to one side. Not only is this style great for girls with -length hair, it's also great for girls who are active and is an easy style for mom to do!
2: Floral Princess
This adorable headpiece is a great way to spice up any little girl's hair-do! If your daughter likes to wear her natural hair down, you can style her hair in a wash & go and adorn her with a floral crown. She'll surely feel like the little black princess she is!
3: Bun-Hawk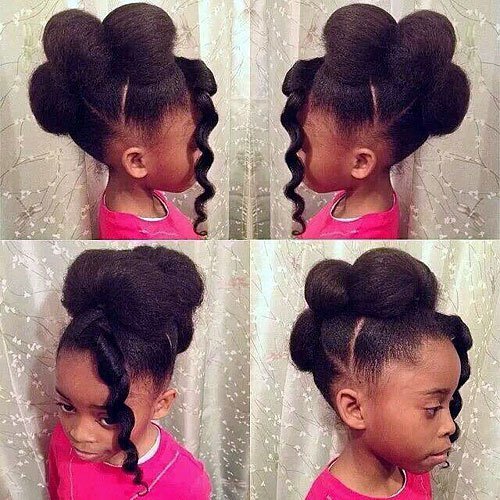 An amazing African-American black little girl hairstyle. Try this on your little girl, if she is attending a formal event. Just blow dry the hair, put it in three ponytails going up the middle of the head (like a Mohawk) and pin the ends under. You can also opt to leave a small section of hair loose, as the picture above and curl it with a curl former, flexion, or curling iron.
4: Braided Mohawk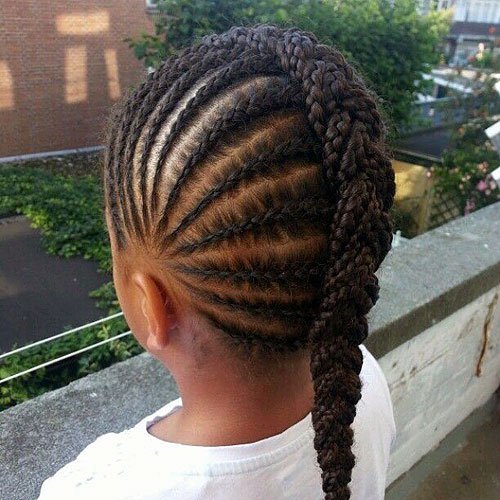 If you're skilled at cornrowing, you could try out this beautifully braided mohawk! Just braid her hair on the sides up towards the middle of the head, and cornrow all of the braids together so that they form a braided mohawk.
Try these hairstyles if your princess is going to school
5: Pretty Pink Bow
If your princess loves wearing her hair down, this is a great way to accessorize her wash & go or braidout. Applying a gloriously big bow will make her feel ( and look ) like a million bucks!
6: Flat Twist-Out
Here's a great style for those little naturals with shorter hair. The night before school, do some flat twists in her hair and tie the hair down with a satin scarf so that the edges stay in place. In the morning, take the twists down, fluff her hair out and she'll have this adorable little fro!
7: Two-Strand Twist Out
If your little beauty was wearing twists the week before, another way to style her hair would be in an adorable twist out. The night before school, mist the twists with some water or leave-in conditioner and seal with any natural oil of your choice. The next morning, unravel the twists and send your baby on her way!
See all little girl haircuts & styles
8: Synthetic Braids
Here's is a great style for your older princesses. Getting your daughter's hair professionally braided can save you a lot of time and worry. Box braids are great, a child-friendly hairstyle that won't put too much stress on her scalp by being too heavy. Always be sure that the hair isn't braided too tightly in order to prevent breakage around the hairline.
9: Braided Puff
This unique spin on the puff is a great way of switching up such a simple style. Simply cornrow smaller braids into bigger cornrows, as shown up above, or do large cornrows going around the perimeter of the hair, leaving the ends free to curl as they naturally do.
20 Trendy Hairstyles for Black Toddler Girls
10: A Little Dash of Love
Here's an adorable braided style featuring a heart and some glitter spray! Adding hearts within your little one's braided style is another great way to switch up your braiding technique. Glitter, beads, and clips are other awesome ways to spice up your princess's style, but be sure to check if it's within proper hairstyle code with the school.