Little black girls are styling their hair these days and most importantly they are doing amazing! As a parent, you want nothing more than to encourage your little girl to embrace her natural beauty.
While there are so many different hairstyles to choose from, it's very easy to find yourself sticking to "what works" instead of venturing out and trying out a new style on her.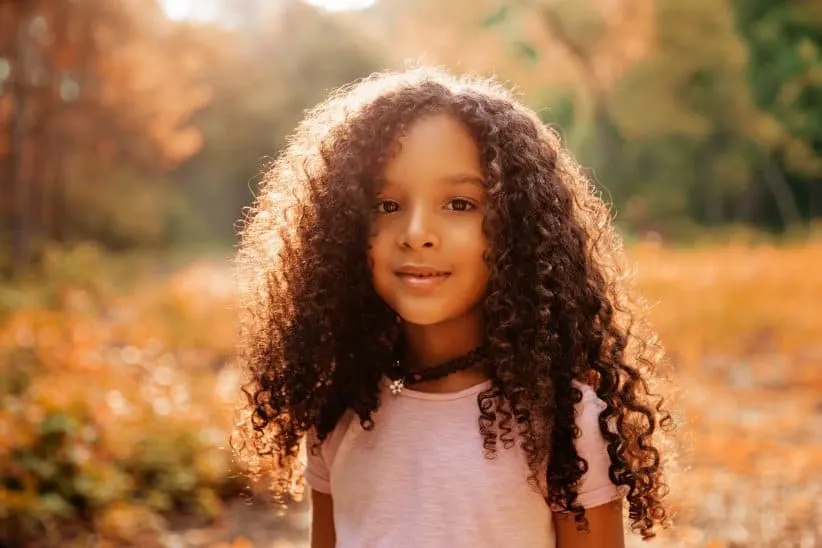 Showing your daughter the many different ways in which her hair can be styled will be sure to boost her confidence and self-image. We are going to list some of the most exciting haircuts & hairstyles for black little girls to help you choose the best one for your little angel.
How to Pick the Right Hairstyle for Your Little Black Girl?
When choosing the proper hairstyle for your little black girl, there are two things you should consider. First, your little girl's taste in hairstyling! Ensure you show her what you have in mind in terms of coiffures and make sure she likes it.
Also, the low maintenance factor is crucial! Kids cannot stay put for too long, so consider a hairdo that will last longer and can be easily created.
Bantu knots, buns, and puffballs are among little girls' favorites. You probably already know that these young lovely soon-to-be ladies adore colors, decorated hair clips, and some even fancy undercut designs.
Include some of these hairstyles among your recommendations and you'll get a glimpse of what she wants. Create a beauty routine for both of you and she will love spending her time selecting new hairstyles, brushing her hair and hanging around with her mom, doing diva stuff.
Black Little Girl Hairstyle Ideas
If you are a mommy stylist searching for the biggest hits in the hairstyling world in order to make your sweetie look like a queen then you should check out the list below.
From pony puffs to decked out cornrow designs and braided hairstyles, the below digital catalog contains all of the cutest black little girl hairstyles you might ever come across. Here are 101 amazing hairstyles for your little black princess:
1. Puff Pony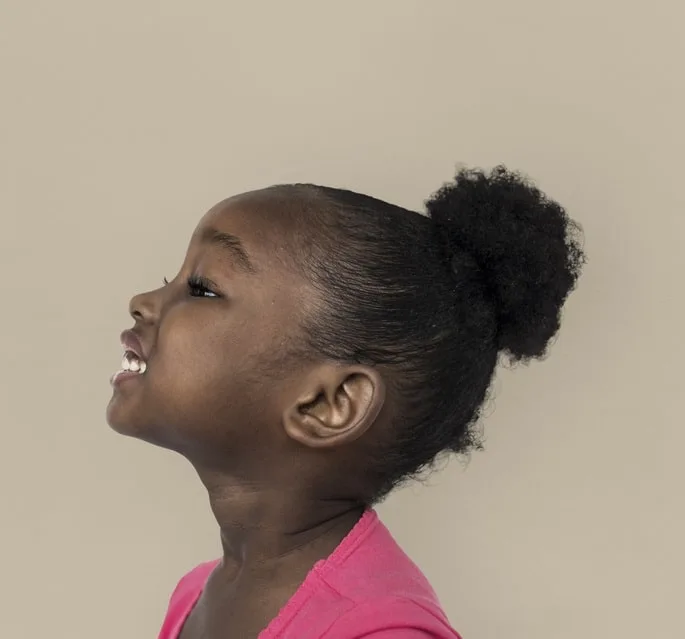 A puff ponytail is probably one of the most common hairstyles for little black girls. Any mom can easily create it at home, very 2 or 3 days, to prep her princess for kindergarten or school. All you need is some jam that will glue her hair to the scalp and a hair elastic to tie the pony on top of the head.
2. Short Braids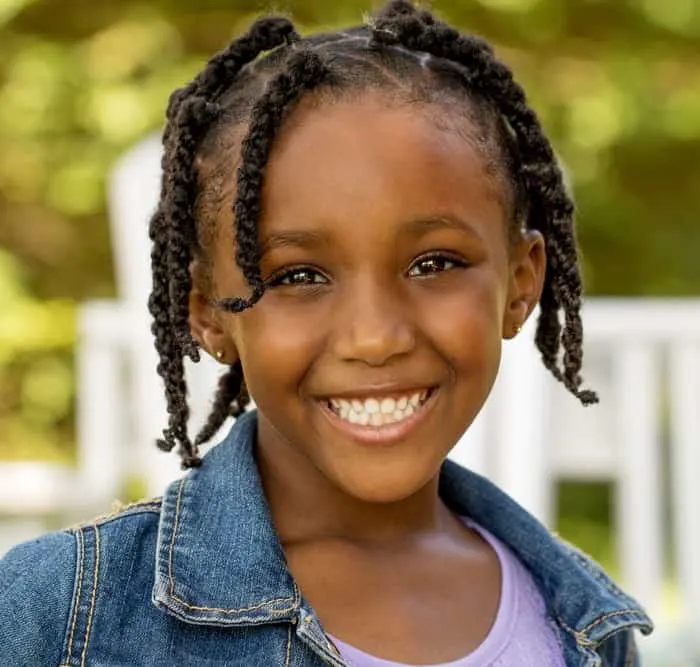 To recreate this gorgeous hairstyle for little black girls with short natural hair, part the mane into small triangles. After you have deeply moisturized the mane, secure the hair with rubber bands, and start knitting the braids. Keep them tight and tie the ends again with elastics.
3. Two Ponytails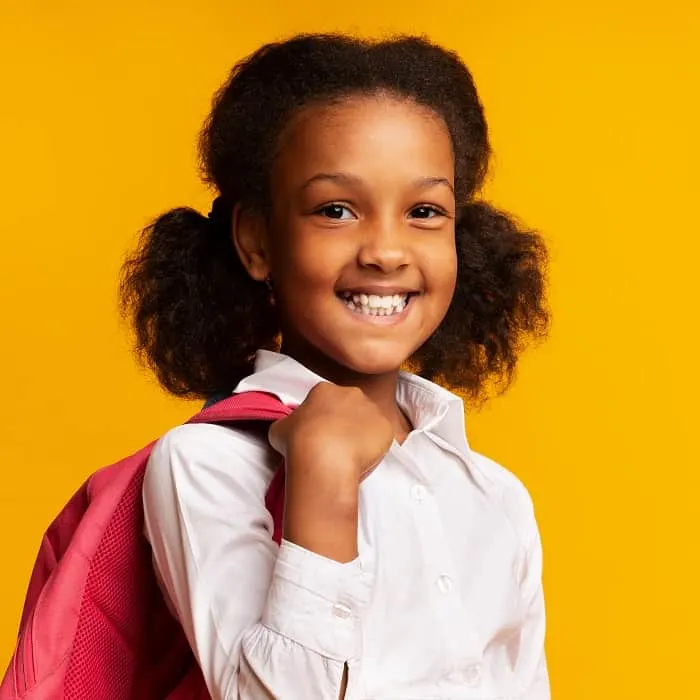 Two ponytails resemble the classic hairstyle for school for little black girls. You can opt for gluing the hair to the scalp or just keeping it simple by only building two sections secured on both sides, at the bottom.
4. Twisted Braids with Blue Beads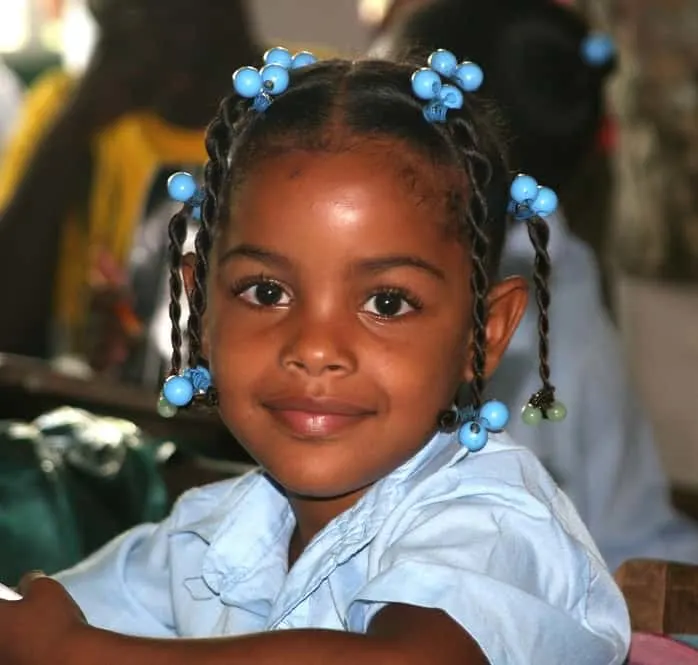 A little black girl's hairstyle with beads can get a lot of attention, especially thanks to that eye-popping color. To recreate it, section the hair into six parts and secure the twisted braid both at the roots and at the ends.
5. Twisted Braids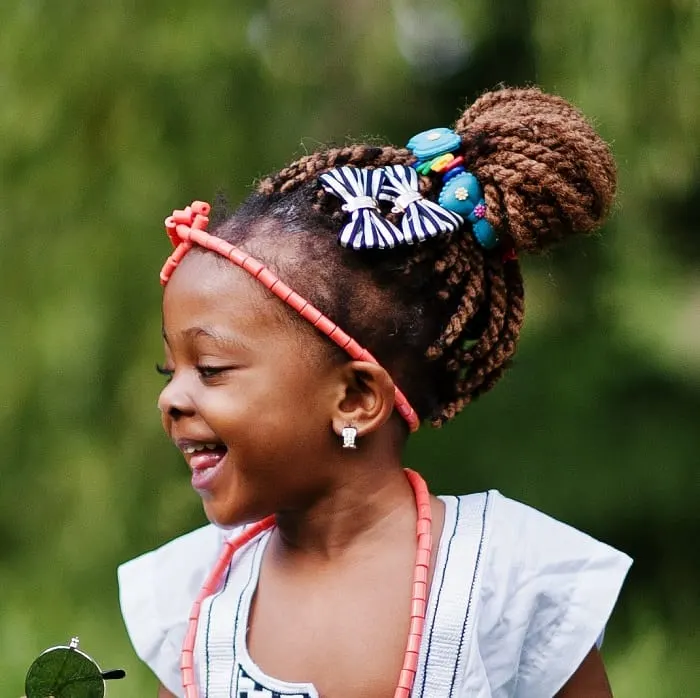 Twisted braids are a gorgeous wedding hairstyle option for little black girls. If her hair is not long and thick enough to build the knits, you can make them chunkier with some Jumbo hair. Pay attention to the overall weight; you don't want a hairdo that is too heavy.
6. Top Bun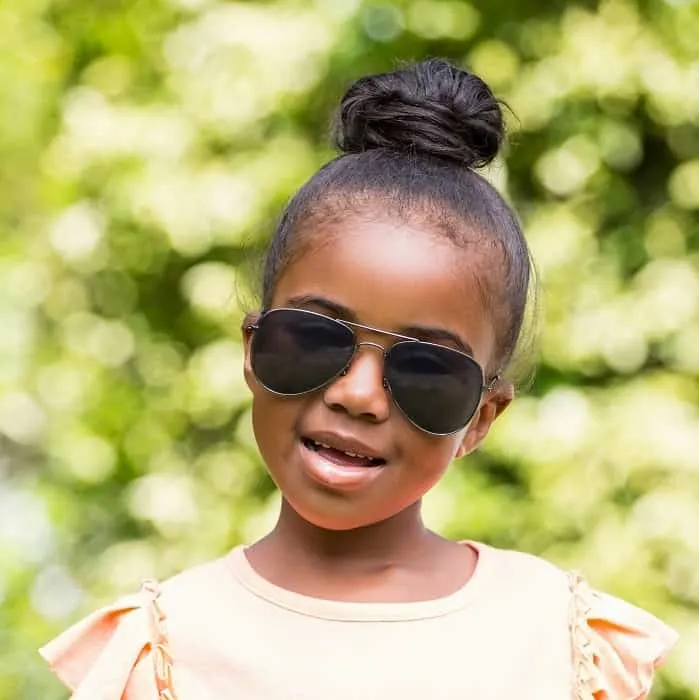 Using jam on your kid's hair is crucial if you want her bun to last 2 or 3 days. Easily comb her edges with a thick brush and make sure you use an alcohol-free styling gel because it won't cause flakeing.
7. Lazy Ponytails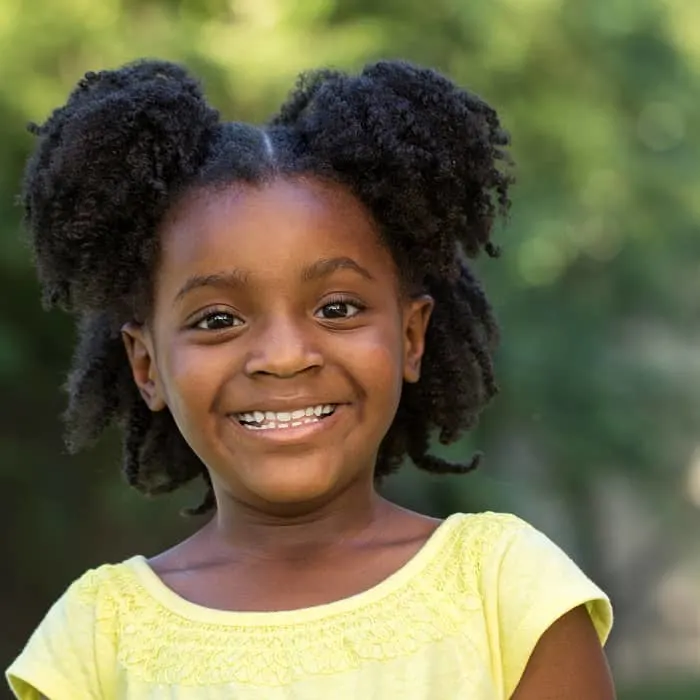 Lazy ponytails can be done so quickly because all you have to do is part your girl's hair into four sections by creating a two perpendicular line part. Once the parting is done, build a pony on each section, making sure they are symmetrical.
8. Braided Ponytails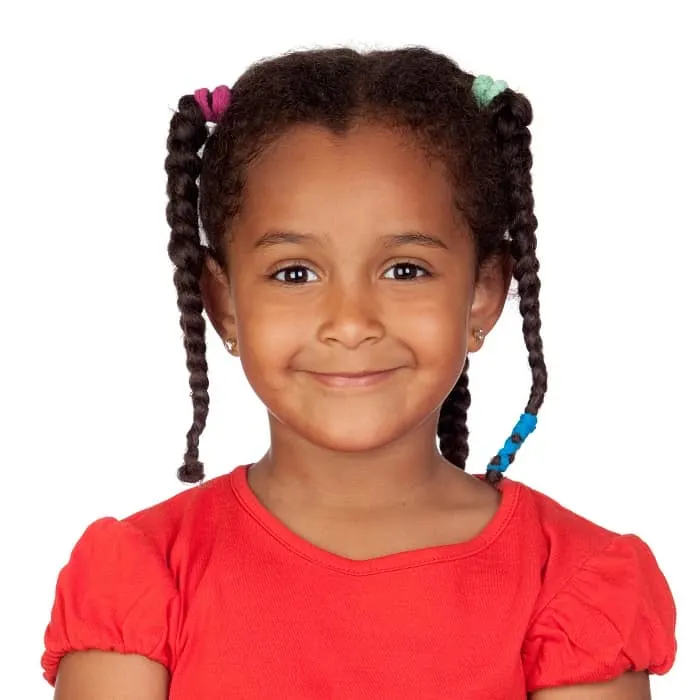 When parting your child's hair, don't worry if the line is not perfect. They tend to move a lot so if the line is not clear, go back and clean it up. Tie each section with a colored band and with a wide comb, brush the hair again to make it easier to braid.
9. Hairstyle With a Scarf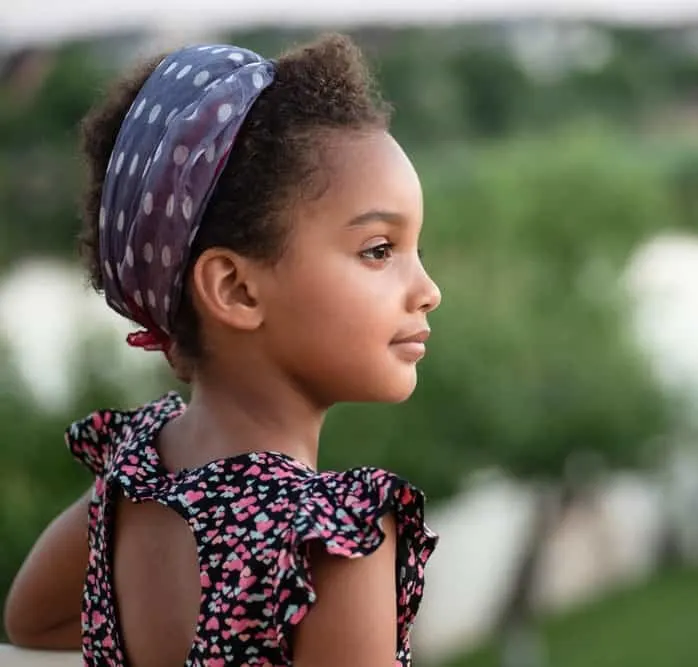 For this hairdo, you need to maintain your little girl's fluff. Use a scarf and wrap it around the head, and pull off the forehead hair to get a small bump.
10. Jumbo Twisted Braid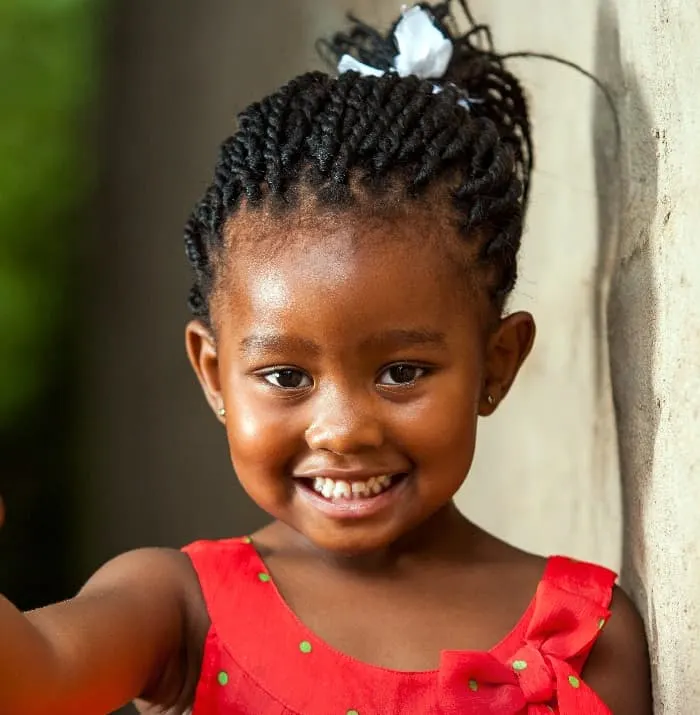 Protective hairstyles are perfect for both little girls and women. Use Jumbo hair in the same color as her hair and build the twisted braids. Don't secure them too tight because your girl will get that unbearable itch and you need her to feel comfortable with the new look.
11. Two-Strand Twists to the side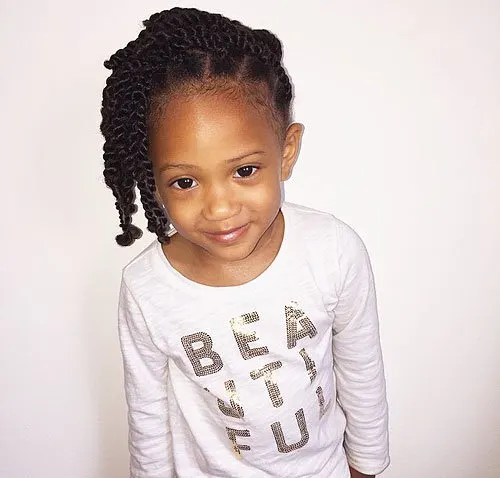 Here is a gorgeously simple style featuring some easy two-strand twists that have been pinned to one side. Not only is this style great for girls with -length hair, it's also great for girls who are active and is an easy style for mom to do!
12. Floral Princess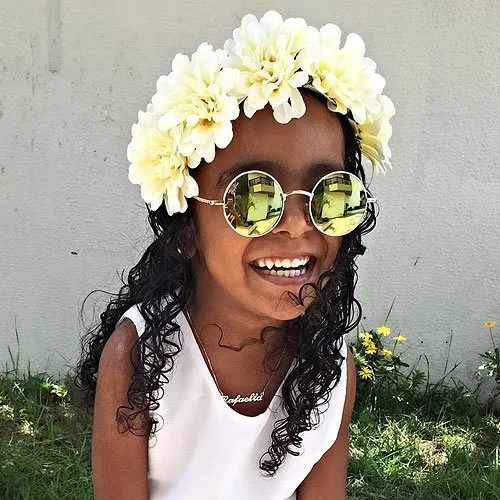 This adorable headpiece is a great way to spice up any little girl's hair-do! If your daughter likes to wear her natural hair down, you can style her hair in a wash & go and adorn her with a floral crown. She'll surely feel like the little black princess she is!
13. Bun-Hawk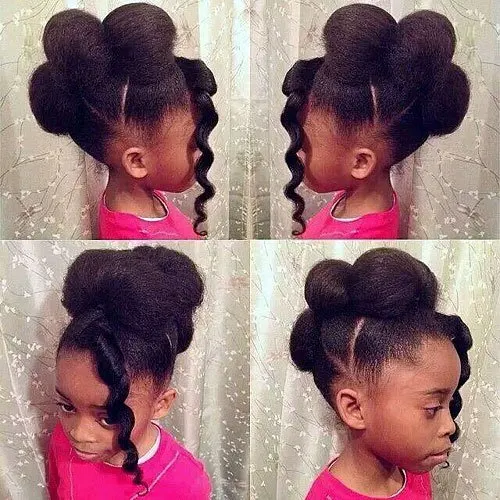 An amazing African-American black little girl hairstyle. Try this on your little girl, if she is attending a formal event. Just blow dry the hair, put it in three ponytails going up the middle of the head (like a Mohawk) and pin the ends under. You can also opt to leave a small section of hair loose, as the picture above and curl it with a curl former, flexion, or curling iron.
14. Braided Mohawk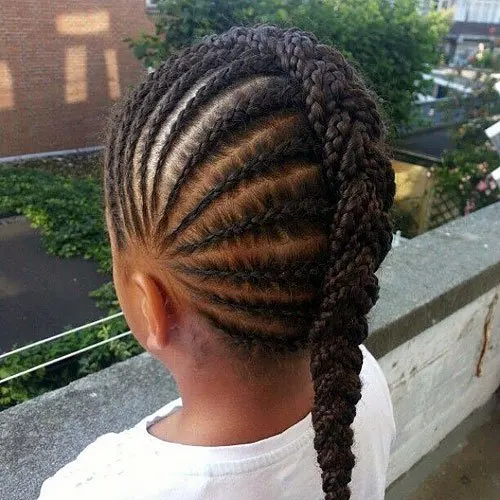 If you're skilled at cornrowing, you could try out this beautifully braided mohawk! Just braid her hair on the sides up towards the middle of the head, and cornrow all of the braids together so that they form a braided mohawk.
Try these hairstyles if your princess is going to school
15. Pretty Pink Bow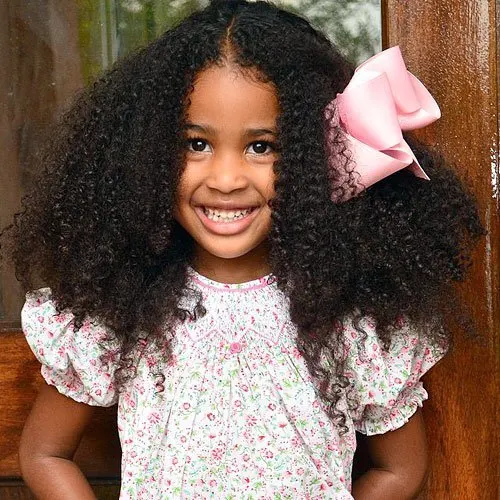 If your princess loves wearing her hair down, this is a great way to accessorize her wash & go or braidout. Applying a gloriously big bow will make her feel ( and look ) like a million bucks!
16. Flat Twist-Out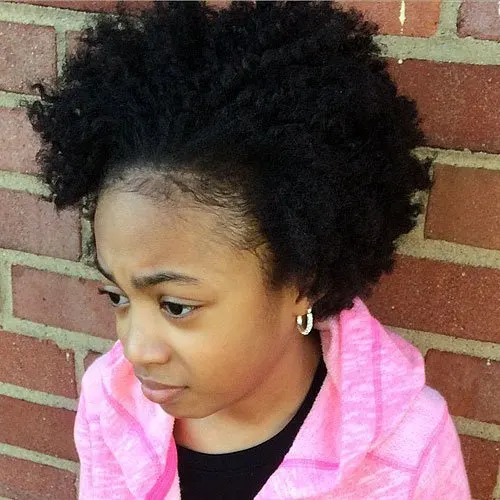 Here's a great style for those little naturals with shorter hair. The night before school, do some flat twists in her hair and tie the hair down with a satin scarf so that the edges stay in place. In the morning, take the twists down, fluff her hair out and she'll have this adorable little fro!
17. Two-Strand Twist Out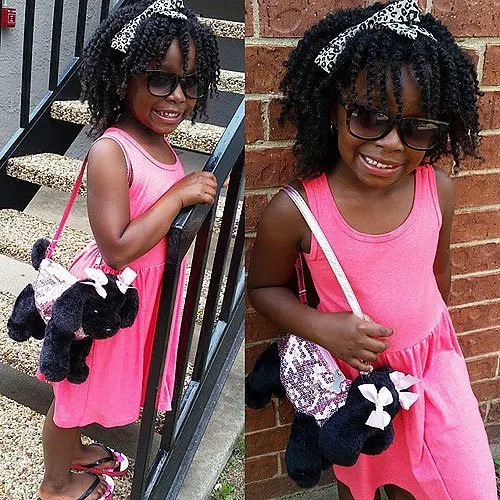 If your little beauty was wearing twists the week before, another way to style her hair would be in an adorable twist out. The night before school, mist the twists with some water or leave-in conditioner and seal with any natural oil of your choice. The next morning, unravel the twists and send your baby on her way!
See all little girl haircuts & styles
18. Synthetic Braids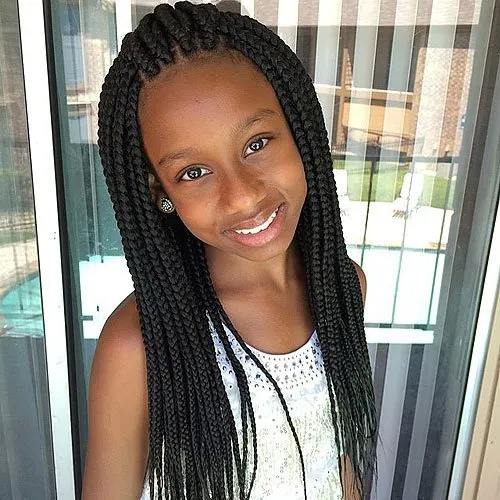 Here's is a great style for your older princesses. Getting your daughter's hair professionally braided can save you a lot of time and worry. Box braids are great, a child-friendly hairstyle that won't put too much stress on her scalp by being too heavy. Always be sure that the hair isn't braided too tightly in order to prevent breakage around the hairline.
19. Braided Puff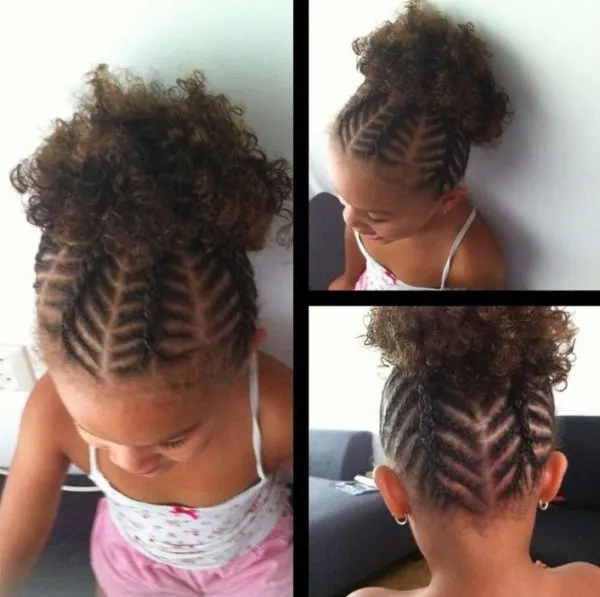 This unique spin on the puff is a great way of switching up such a simple style. Simply cornrow smaller braids into bigger cornrows, as shown up above, or do large cornrows going around the perimeter of the hair, leaving the ends free to curl as they naturally do.
20 Trendy Hairstyles for Black Toddler Girls
20. A Little Dash of Love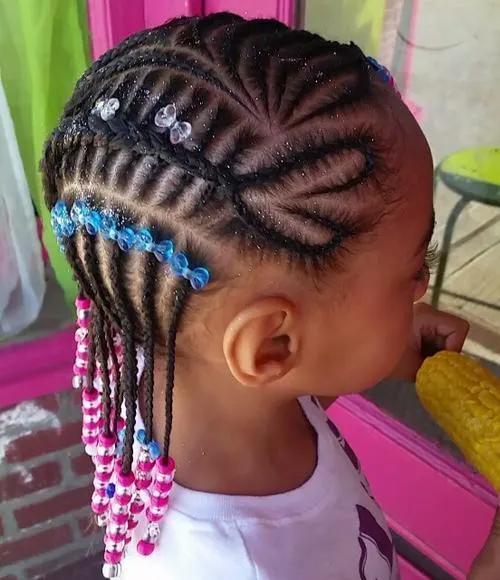 Here's an adorable braided style featuring a heart and some glitter spray! Adding hearts within your little one's braided style is another great way to switch up your braiding technique. Glitter, beads, and clips are other awesome ways to spice up your princess's style, but be sure to check if it's within proper hairstyle code with the school.
How many times has your little girl or niece come up to you and asked for glamorous black little girls hairstyles? How many times have you wished that you have had some better design in mind than the regular ponytail or loose curls? Does it take you a ridiculous amount of time if you decided to go wild with a fancy french braid? Then, you are definitely in the right place!
21. Powder Puffs
Show off the full voluminous nature of your little girl's hair by styling them into some classic puff balls! Just slick down her edges with a brush and a little bit of gel and pull it into two adjacent ponytails. Fluff the hair out and let your little one rock her natural glory!
22. Twist & Curl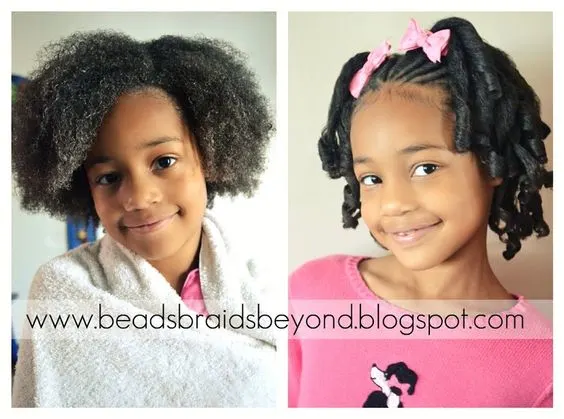 Here's a darling style that's perfect for special occasions. Just braid or twist the front of the hair towards the back, stopping at the crown of the head. Then, set the rest of the hair on flexirods or Curlformers in order to achieve beautifully bouncy curls.
23. Circle of Braids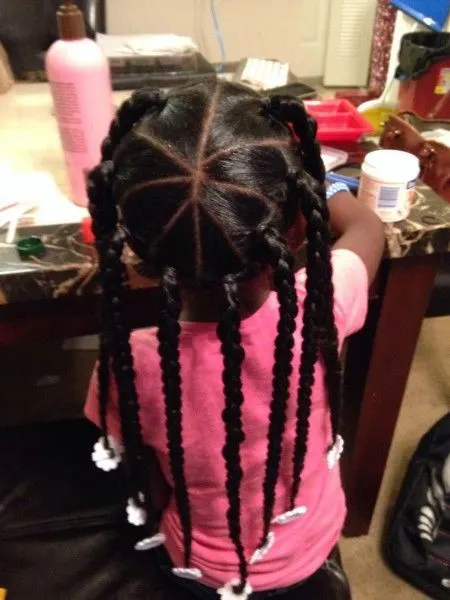 This is a very easy braided style that is perfect for those moms who aren't too cornrow-savvy. Just part the hair in triangular parts, as pictured above, and secure with a ponytail holder. Be sure to position the ponytails so that they make a circle around the head. Then, braid the length of the hair and secure the ends with a barrette or beads!
Best braid styles for black girls we love
24. Braided Halo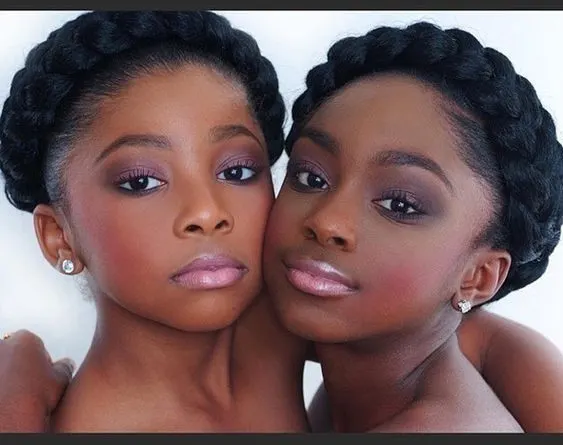 Halos are a great way to tuck all of her hair away without having to spend hours of braiding. Just braid one large cornrow around the perimeter of the head. Either that, or place your daughter's hair into two low ponytails, braid the length of them and pin them up around the perimeter of her head. Your little natural will love her halo braid and you'll love how easy it is to maintain and style!
25. Minnie Mouse Bows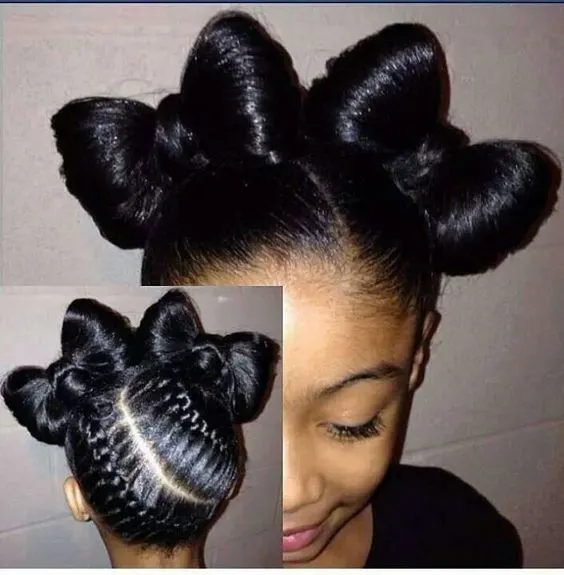 This adorably whimsical style is a different way that your little one can rock her hair. The two big bows will have her feeling like the princess that she is.
26. High Puffs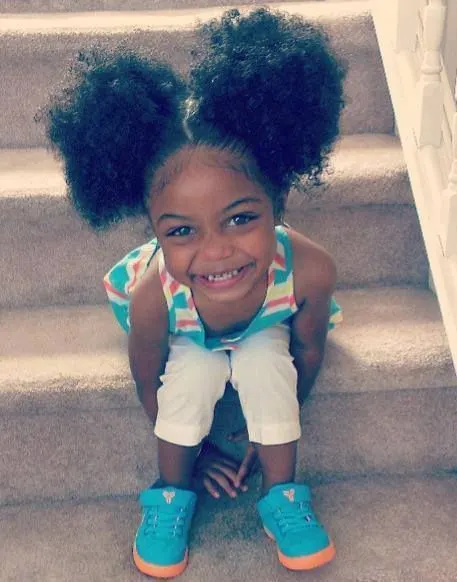 Another take on the powder puff style is to position them high up on the head instead of low. This gives the look a feeling of variety, especially for those moms who aren't too good at braiding or twisting.
27. Two Cornrows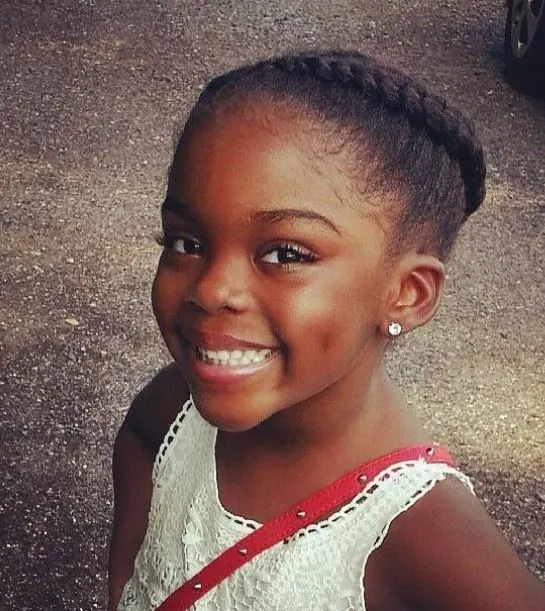 Here's another simple, yet adorable style to add to your little one's regimen! Just give her two sweet little cornrows braided around the perimeter of her head and pin up the ends. It's a great style for both moms and princesses on the go!
28. Braid and Bun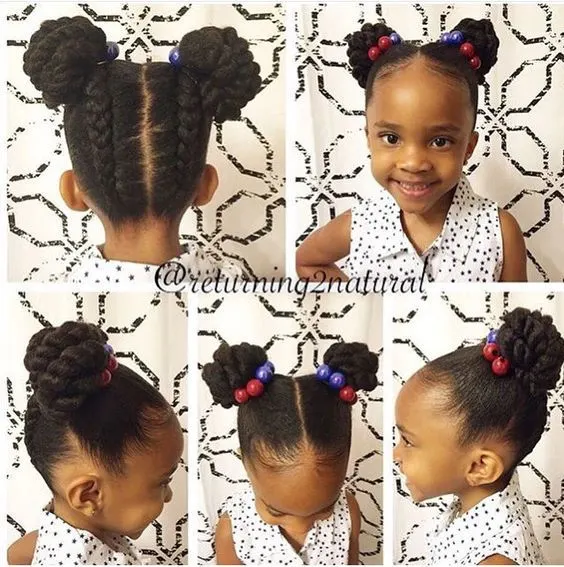 If you need to tuck your little natural's hair away for a bit, this is a great style to consider. Part the hair into four sections and braid the two back sections straight up to the middle of the head. Secure the front and ends of the braid with a ponytail holder, and twist up the remaining hair into a few twists. Pin the ends under in order to form a bun and you're good to go!
29. Big and Bold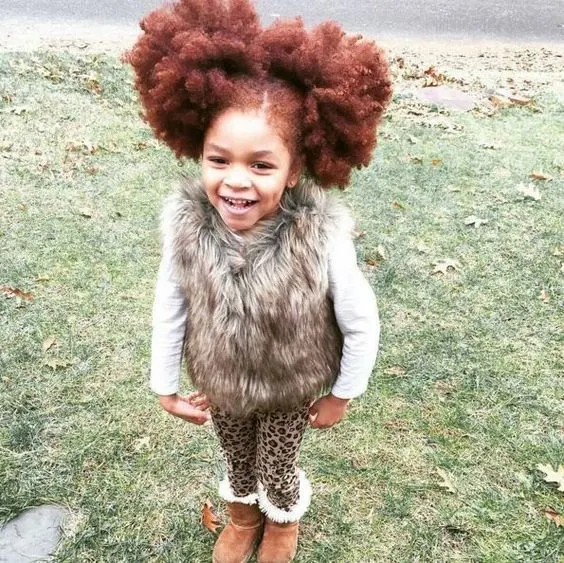 If your little black princess loves wearing her fro, this is a great way to add some versatility! Pull the front of her hair back slightly in any which way in order to switch up her look without spending too much time on her hair!
30. Twist to the Side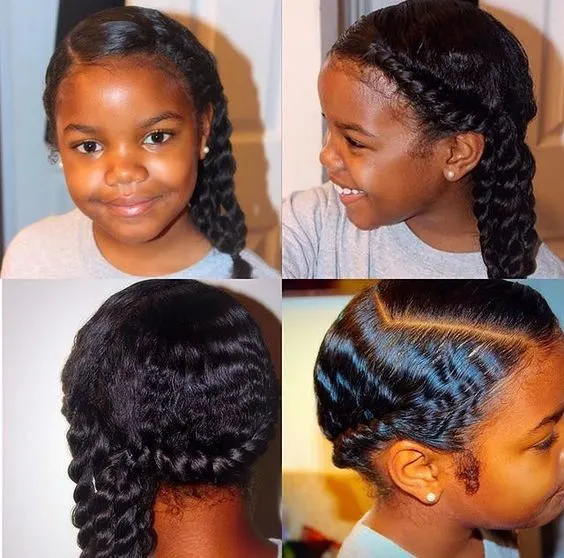 Here's another gorgeously simple style to do on your little one. Just part her hair on the side, apply a little bit of gel to her edges and brush it down to control fly away, and twist the hair as pictured above. Not only can this simple style be for school, but your little naturalists can rock this at a formal function, too!
31. Twisted All Up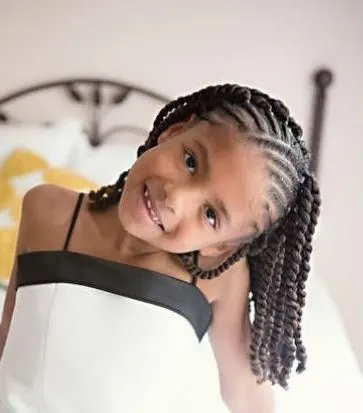 Twists are a quick and easy style that can be pretty much done in a multitude of styles. This one in particular features flat twists in the front and loose two-strand twists in the back. This style is great for active little naturals who are ready to take the world by storm!
32. Braid it All Up
This braided style is a great alternative to add to your collection. Just braid the front portion of hair back into two ponytails, and braid the back portion straight down. Adding beads and bows is a great way to spice your little girl's style up, giving her more color and pizzazz!
33. Beauti-fro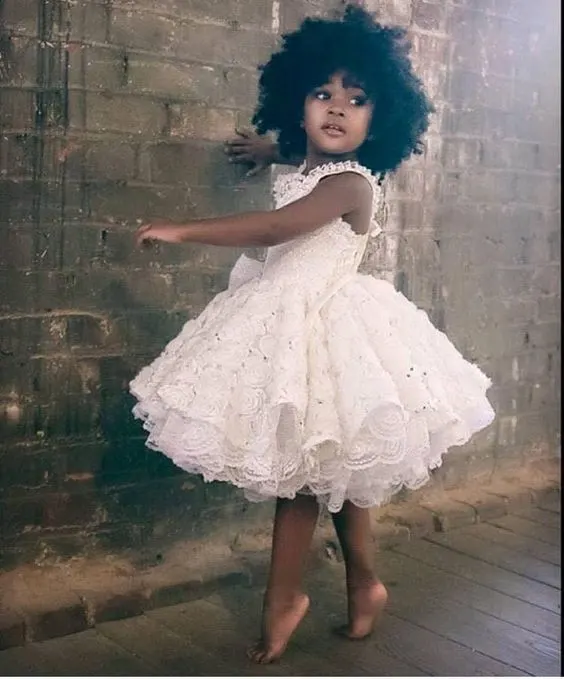 Embracing her natural texture by allowing her to rock her fro is always a great option to consider. Just be sure to moisturize and twist her hair into large twists every couple of nights in order to make sure her hair doesn't dry out.
34. Mixed Beads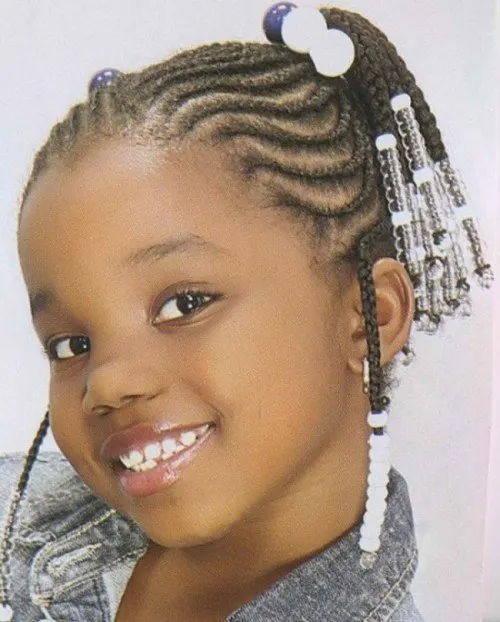 It is really fun for little girls to put lots of beads into their hair. Allow them to choose a mixture of different beads, including beads of lots of different sizes. This will allow them to express their individuality.
35. Fuzzy Fro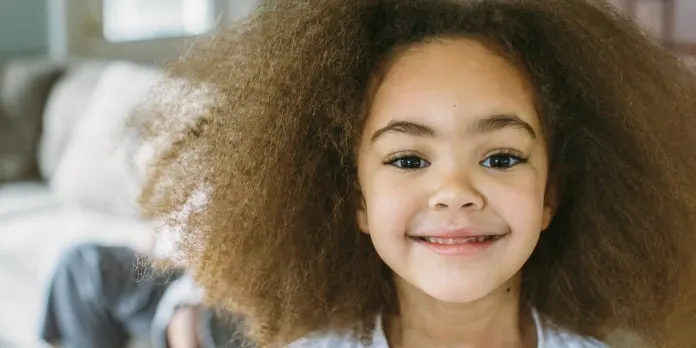 A big fuzzy Fro will look perfect on a little girl. This style is great for cheeky little princesses. Use an Afro comb on her style to stop it from getting too knotty.
36. Regular Cornrows with High Corkscrew Curls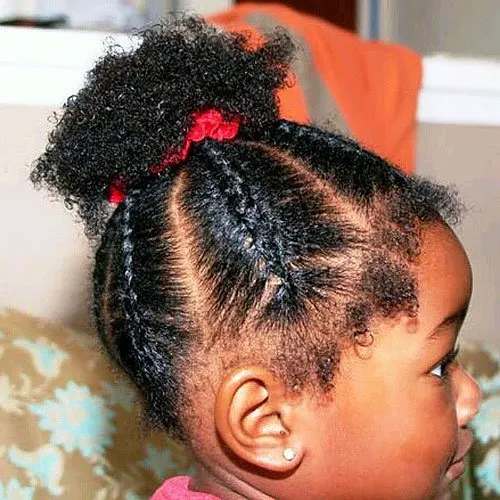 Perfect tight corkscrew curls can sometimes be difficult to control. To keep the hairstyles looking neat, then you should style it up into thick regular cornrows. Leave some hair unplaited so that people can see her gorgeous natural hair up in a tight high ponytail.
37. High Pigtails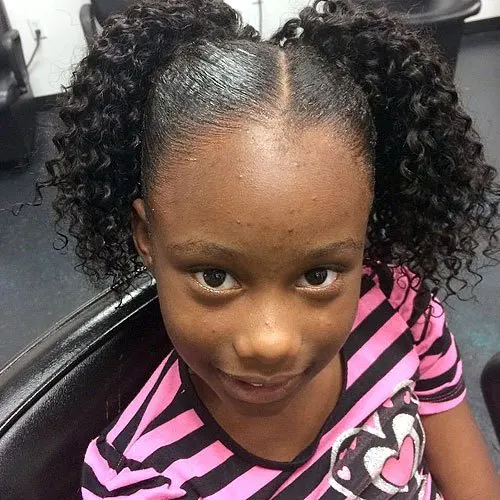 The best way to show off gorgeous curls whilst also keeping her hair under control is to try Pigtails. Pigtails are a popular girls hairstyle the whole world over. High Pigtails allow the hair to fan out much more.
38. Twisted Braids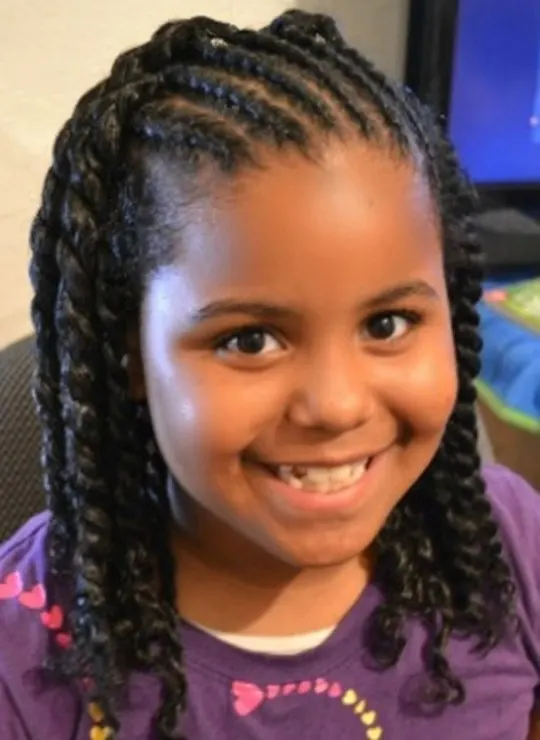 Twists are a really fun style for little girls to wear. They are a bit like braids, but instead of bringing three strands of hair together at once, you only need to bring two together.
39. Right Angle 'rows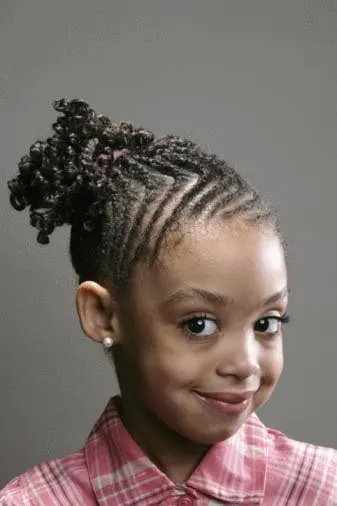 Cornrows don't need to be in straight lines all of the time. If you are looking for something a little bit different for your baby girl then try these cornrows with a sharply angled turn.
40. Black Beads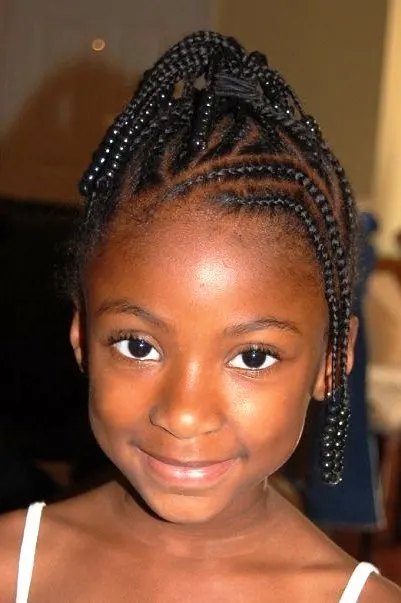 Little girls can have thin hair when they are very young. Black beads are a great way to make your daughter's hair look much thicker.
41. Beaded Crown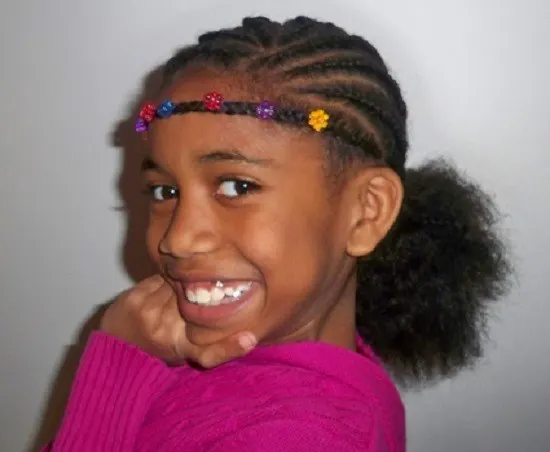 Treat your daughter like a princess by giving her a cute crown. Put a few colorful beads on a single braid and work it across her forehead. A braid crown is a perfect hairstyle for a black girl.
42. Side Swept Braids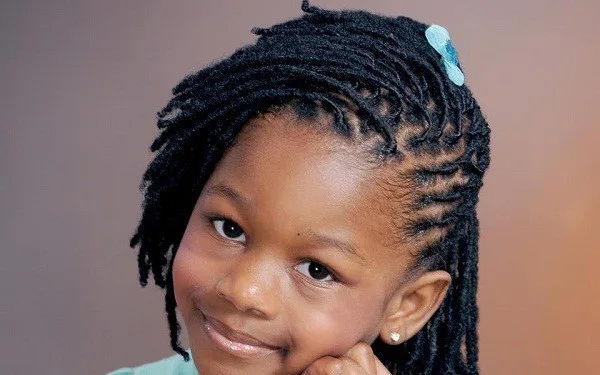 Give your daughter a really sassy look by sweeping her hair over to one side. Although it looks really cool with a French Braid style, a swept over look can look sassy with any hairstyle for young girls.
43.Heavenly Headband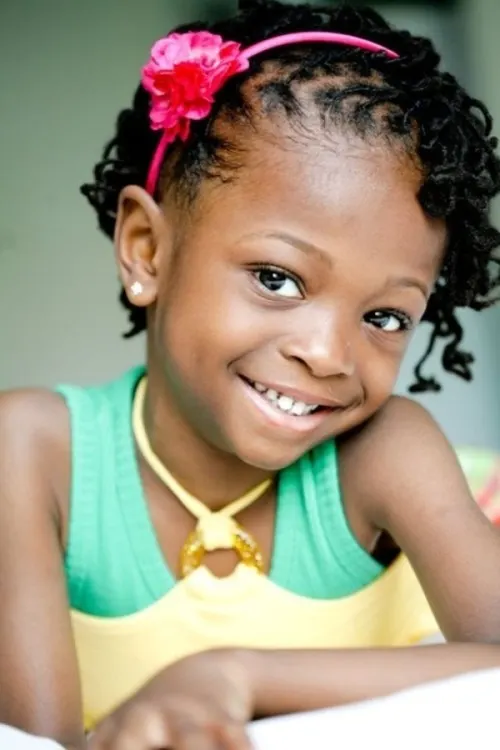 A headband is a great way to keep your little girl's hair out of her face. A headband is also a great way to help her to express her individuality. If you are good at crafts you can even make your own.
44. Braided Bob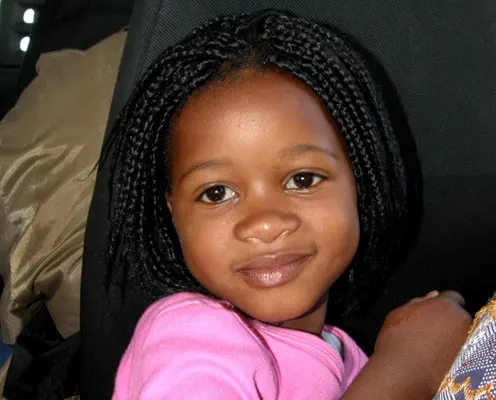 Bobs are a lovely hairstyle for little girls. A bob will help to frame her face beautifully, especially if the ends curl under her chin.
45. Beautiful Bridesmaids
Every little girl loves to be a bridesmaid or a flower girl. Make her feel extra special on your big day by giving her a beautiful crown of white or cream flowers to wear.
46. Contrasting Bow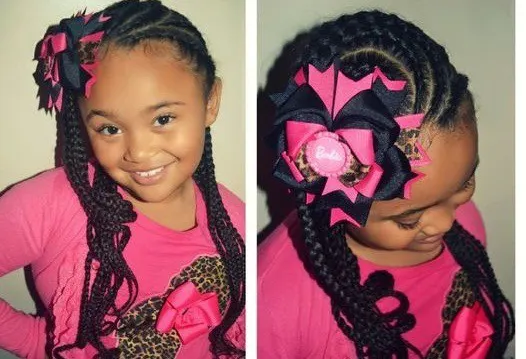 A beautiful bow can add a really different touch to your baby girl's hairstyle. Pink and black contrast each other really well, and bright pink will also contrast her black hair.
47. Perfect Corkscrew Curls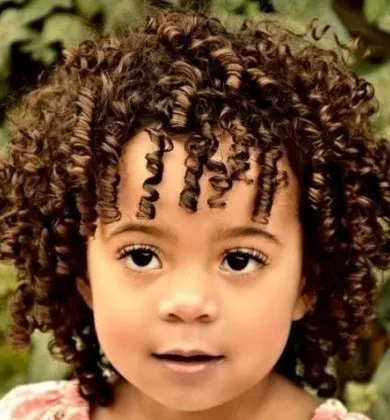 One of the most adorable hairstyles that you can pick for your little girl is perfect corkscrew curls. They are so cute and bouncy. They do require a lot of maintenance though!
48. 50s Style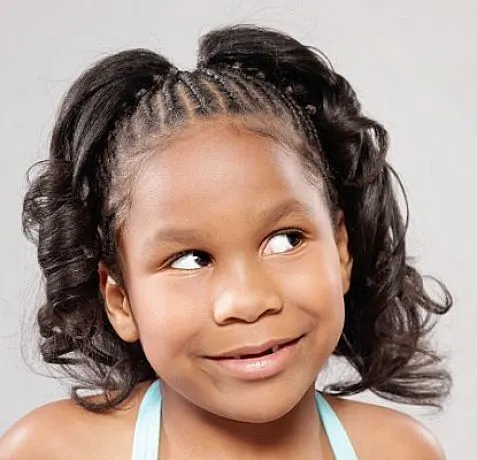 This is a cute little style which is a throwback to the 50s. Braid in cornrows along the top of the style but leave the rest unbraided. Big curls give the style that retro look.
49. Chunky Braids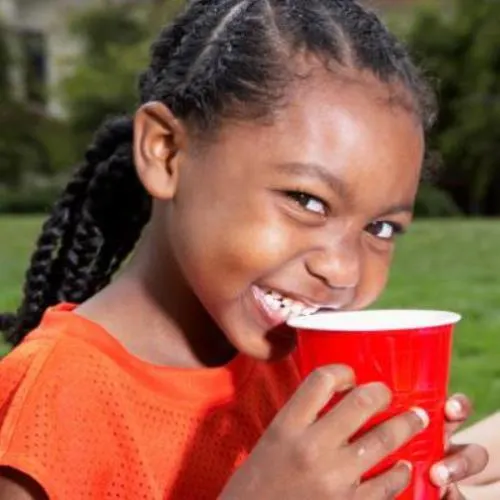 Big chunky braids are easy to put in and easy to maintain. They are a great choice if your daughter doesn't want to sit still for long enough to make micro braids.
50. Afro with Rainbow Beads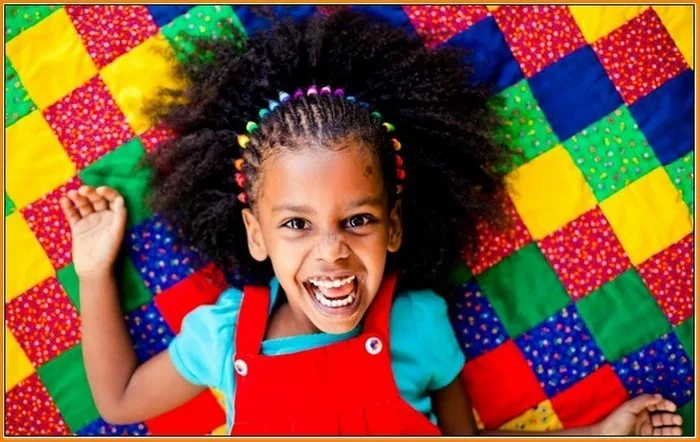 Big bold Afro styles look amazing on children's hair when they are brightened up by rainbow beads. Choose a different colour for each cornrow to make her hair look particularly eye-catching.
51. Two High Buns with Butterfly Clips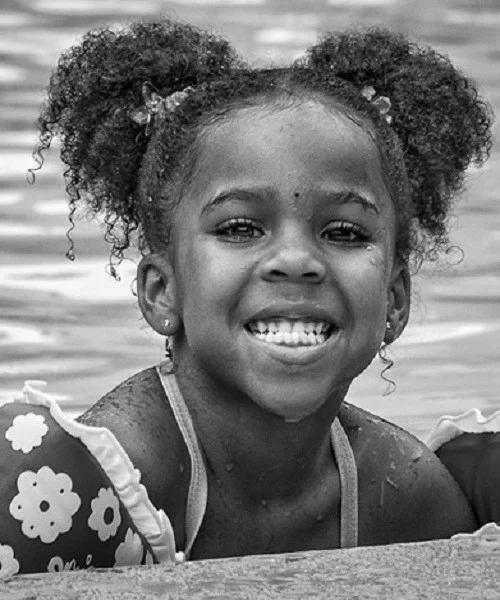 High buns can be used to style any type of hair. As well as making your little girl's hair look really angelic, it will also keep her hair out of her eyes whilst she plays. Use adorable butterfly clips for even more control.
52. Bold and Beautiful Flower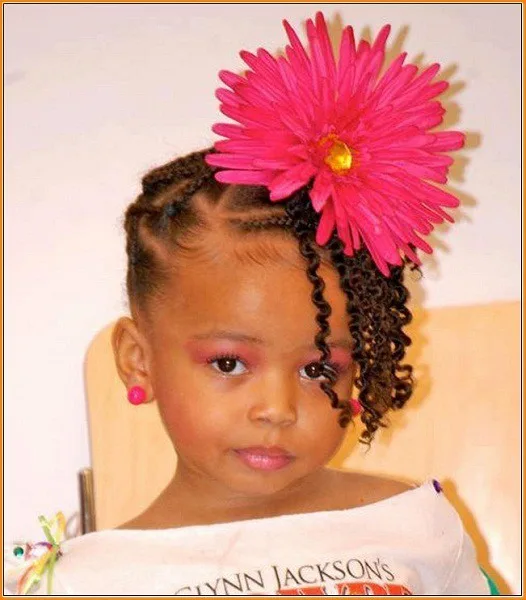 Accessorize your little girl's hair with a flower that is as beautiful as she is. The bigger, the better! This is a great choice of hair 'do for a formal event.
53. Pigtails with Frizzy Ends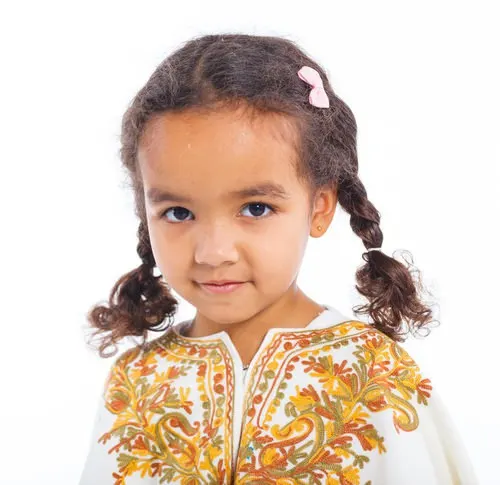 Pigtails are always a fun choice for hair for a little girl. Use an elastic to hold her plaits halfway up. Frizz out the hair under each elastic to give her style some cute little Frizzy poofs.
54. Zigzag Parting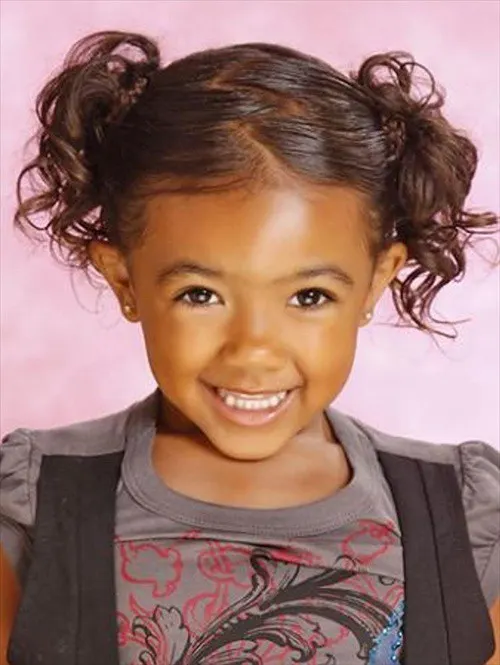 Lots of little girls love to put a zig zag parting into their hair. This crazy back and forth style is a very simple way to do something a little bit different with her hairstyle. You can try a crazy parting with lots of different girls hairstyles.
55. Flopped-over Fringe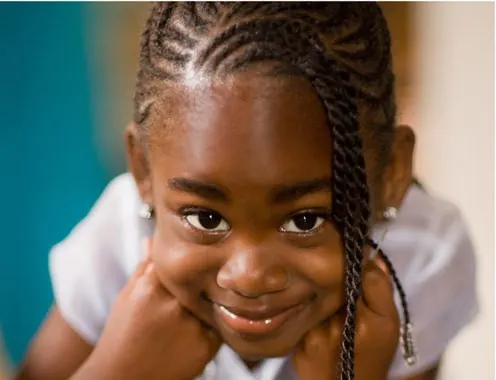 When you braid in cornrows you can choose lots of different patterns. With this pattern, you can braid in a smooth crescent which will allow her to flop a few braids over to one side of her face.
56. Dark Flower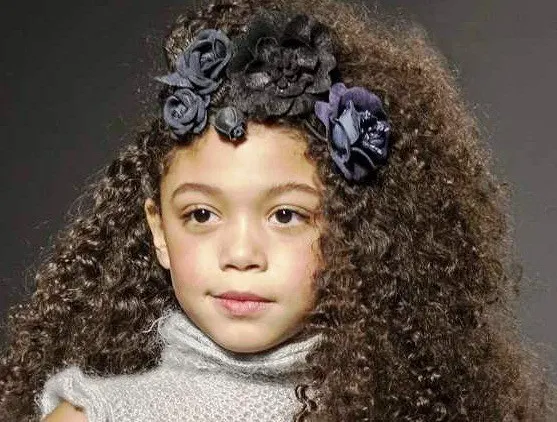 Flower accessories don't always need to be super vibrant. For something that looks a little more subtle in black girl hair, choose purple or black floral accessories.
57. Jumbo Braids
For those girls who don't have enough hair length to flaunt tall braided little black girl hairstyles, this is what you should do. First of all, use the cornrow style to take up less space underneath. Then, head out and pick faux braids and extensions that are easy to put on and off. Therefore, with hairstyles, there are no limits to your powers.
Tip: Don't keep the extensions or wig on for too long, otherwise you'll be exposed to itching.
58. Side Swept Diva Cut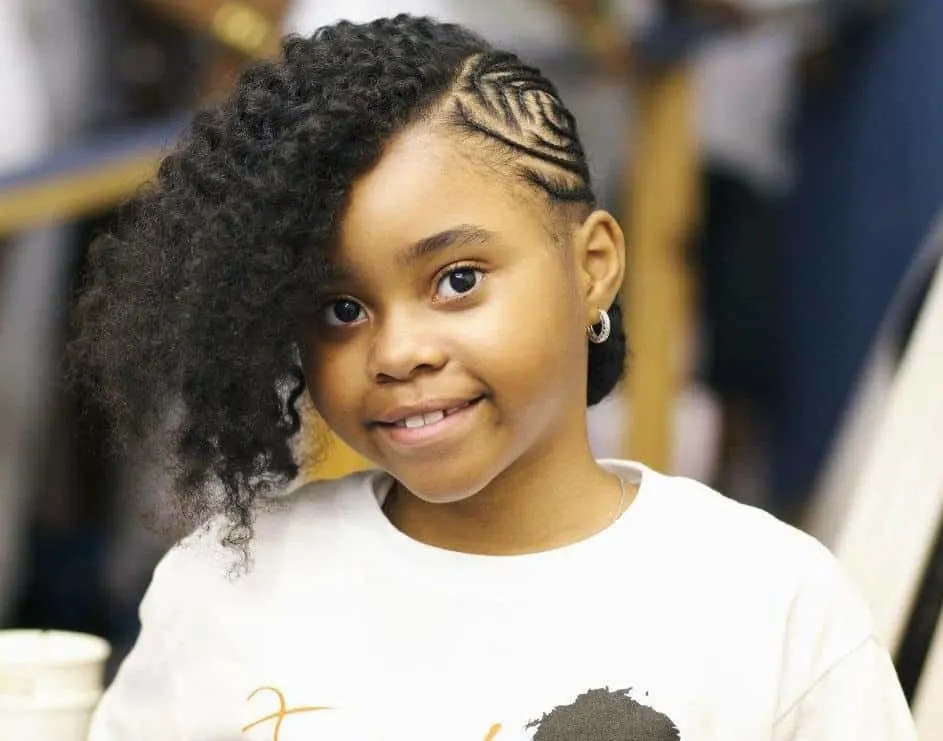 This one comes with a little girl's diva attitude where it reflects the edgy and hard rock 'n' roll style with the side swept curly hair. Meanwhile, the other side is kept with minimum hair needed to form the cornrow braids.
59. Cornrow And Loose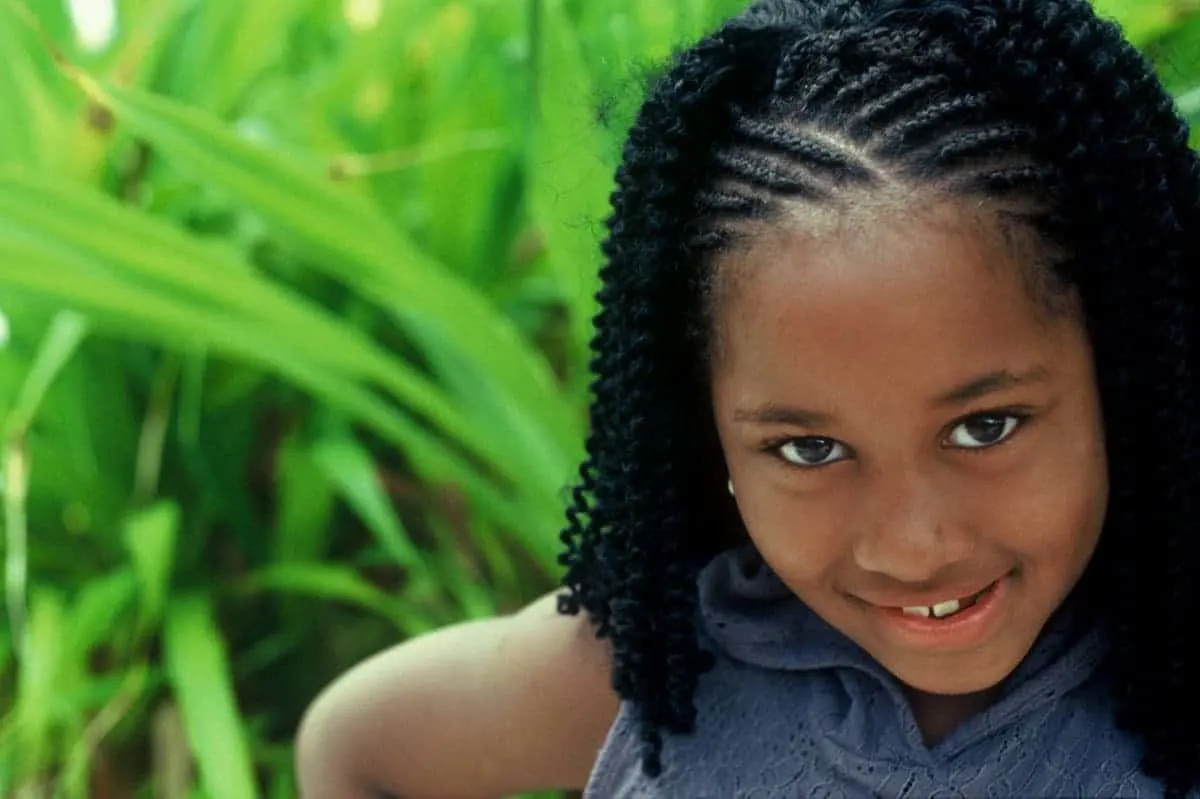 So here's one of the halves up – halves down black little girls hairstyles that every 12 years old would enjoy. First, all you need to do is tie up your top zone in cornrow style to fulfill the up part. Then, leave the rest of the curls loose to end up with the hold down part. And Voilà!
60. Just Afro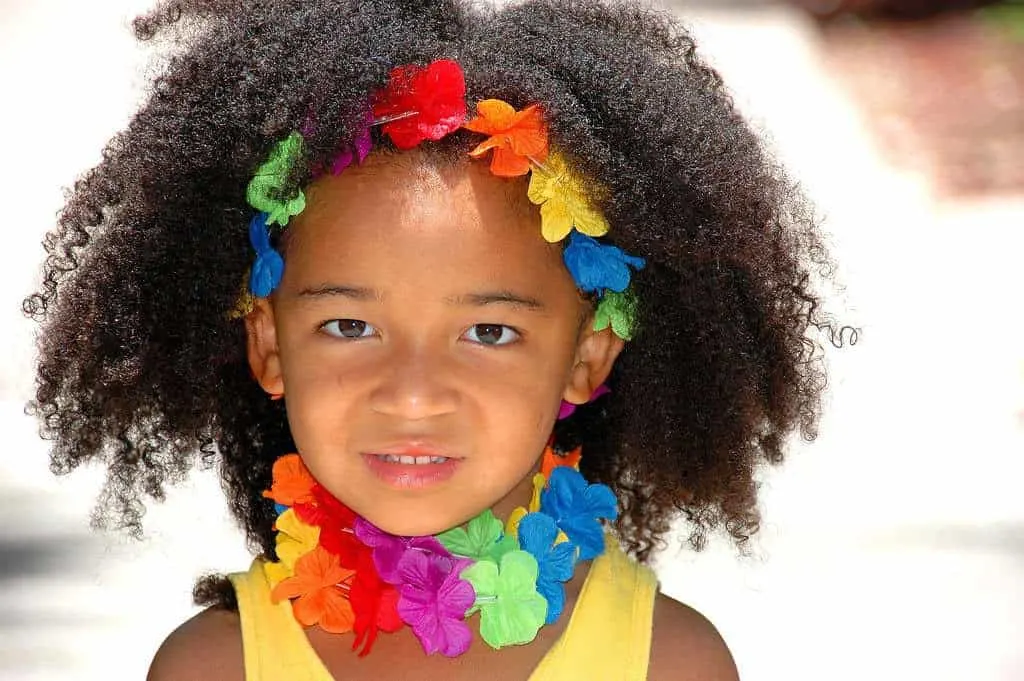 While afros for little black girls look super cute and almost impossible to resist, there's more to it than you think. So, be sure to throw in some colored elastics and ribbons for a more finished look. For example, in the example illustrated above, the little girl is crowned with a colorful floral arrangement that compliments her whole Hawaiian vibes.
Little black girl's hair tends to be kinkier and thicker than other girls' hair types. So, that makes it harder to style and work with. However, being thick makes it immune to be endangered to easy breakage and split ends. Moreover, the thickness implies more and more volume which is great for afro buns and perm rod curls.
61. Braided Updo
This look features chunky braids that are used to form a high bun on top while leaving the back ends with loose braids.
Tip: If you want your design to last longer, use thick shea butter instead of hair gel to guarantee moisture good hold without needing to be washed out every now and then.
62. Side Pony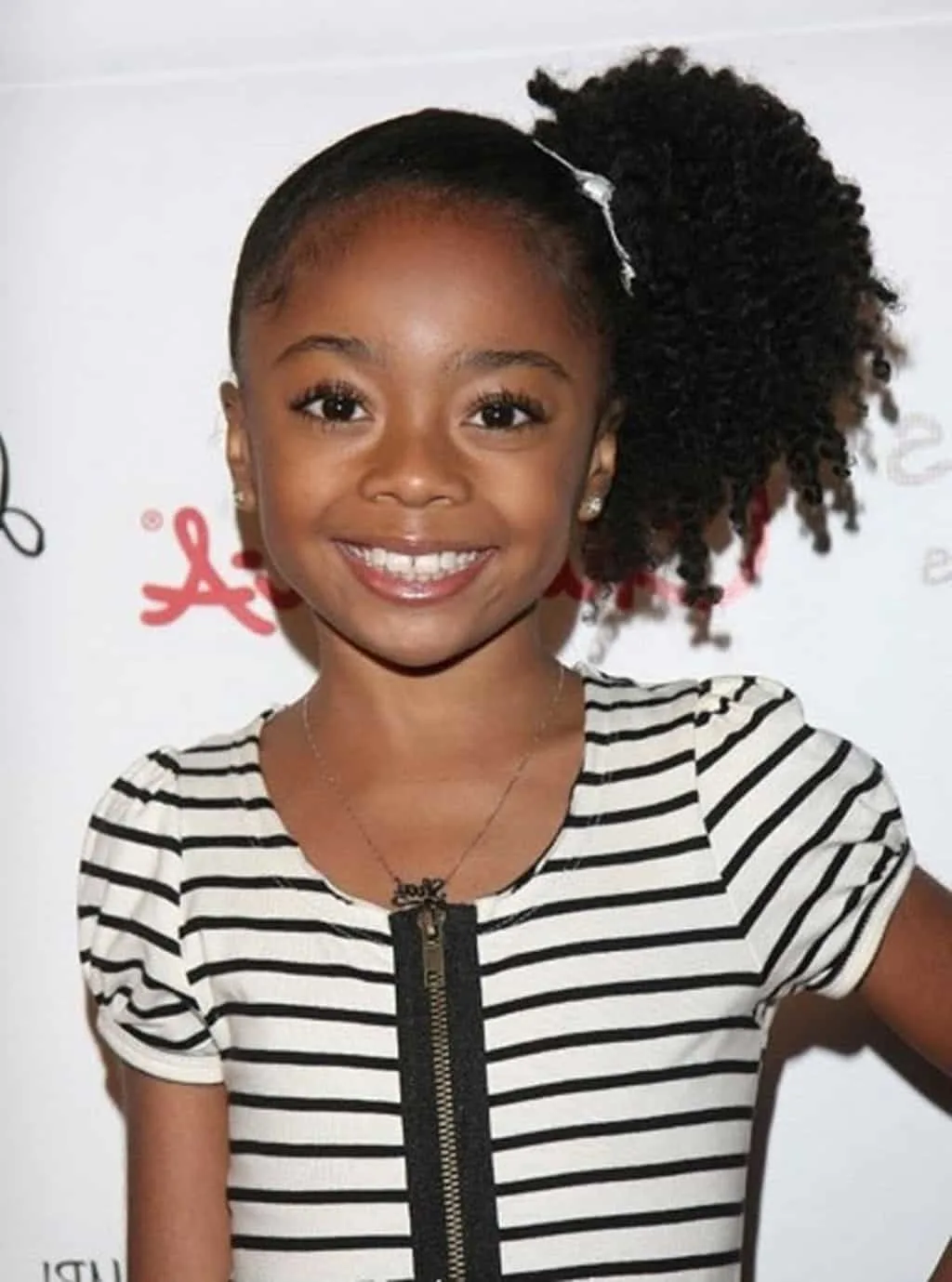 Who said that black little girls hairstyles need to be so complicated or including a lot of twists and braids? There's no doubt that having an energetic little girl can be time-consuming enough for you to want something more practical and effortless. Consequently, you have to try out a high side pony with some hair accessories to increase the flare factor by 100%.
63. Floral Bands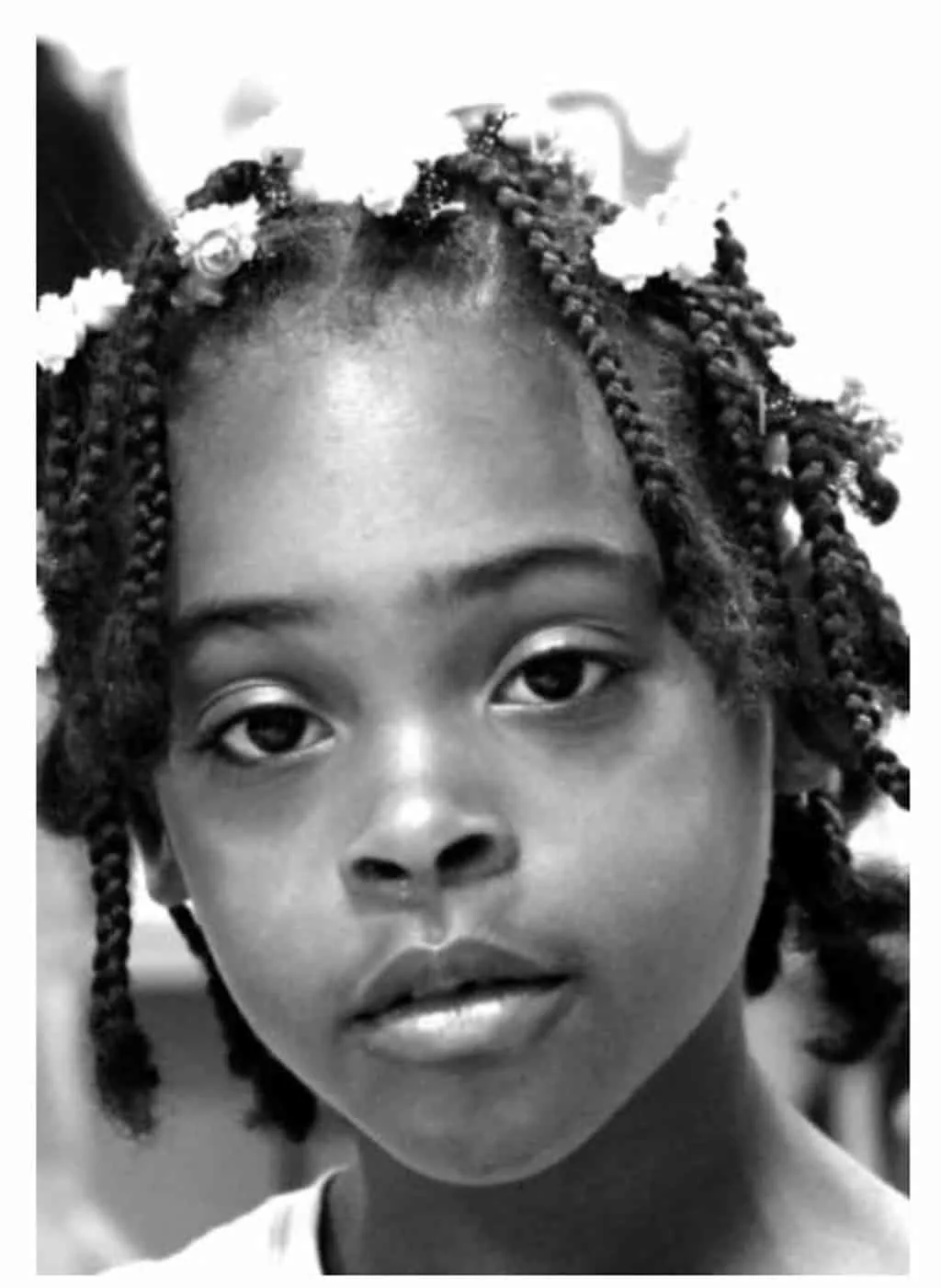 If you use floral headbands to tie up your loose braids, it will reflect a floral image as if the flowers have just bloomed from your hair roots!
64. Tied Up In Knots
Black little girls hairstyles don't always have to be long and intricate. Because sometimes working with a few knots or basic braids can offer you the complete package you were opting for. Moreover, these styles are easy and require low maintenance.
65. Moisturizing Twists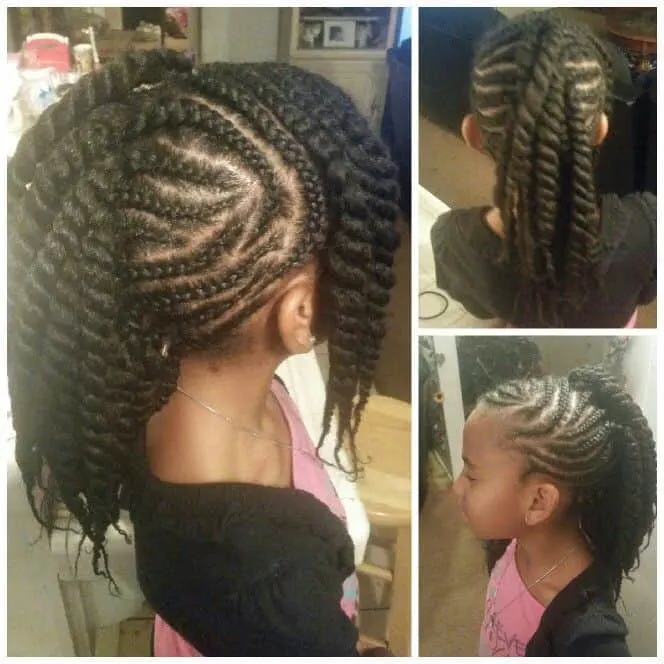 In order to keep twists moisturized without undoing them, here's how this trick is done! Keep your twists and braids moist without undoing them by:
Combining water with some leave – in conditioner in a spray bottle.
Misting the hair with your favorite oil treating hair product until you reach the desired level.
66. Bantu Knots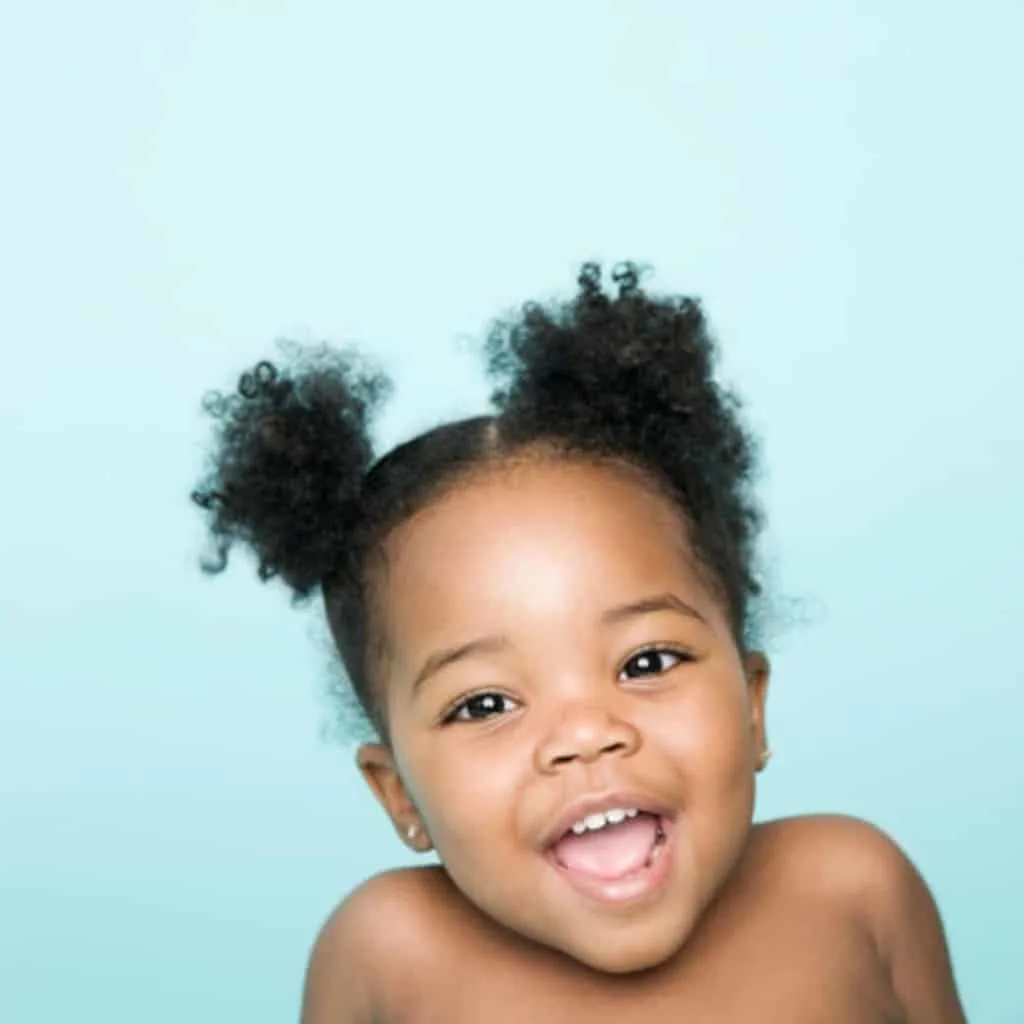 This basic puff style gets its beauty from the flair resulting from its natural curls. Therefore, it can be your little girl's everyday look. Or you can try accessorizing with some floral pins, bow ties, or headbands for a more formal look suitable for events.
67. Let Down Hair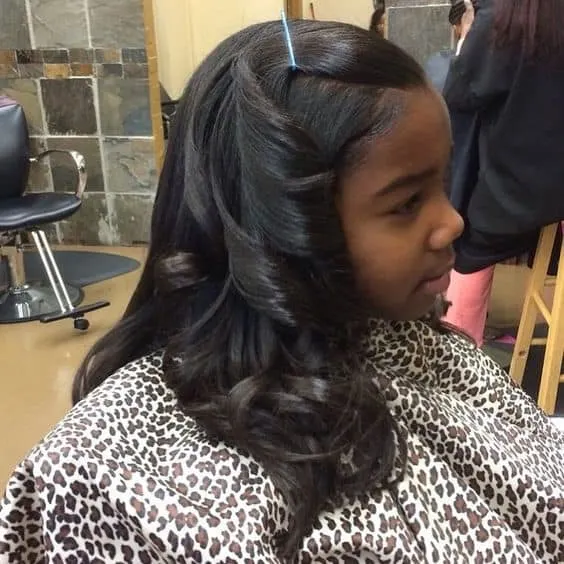 For girls with naturally straight hair, this is the kind of black little girls hairstyles they are looking for. In addition to it being almost effortless by needing a few straightening touch ups in the morning, it looks exceptional and daring.
68. Neatly Arranged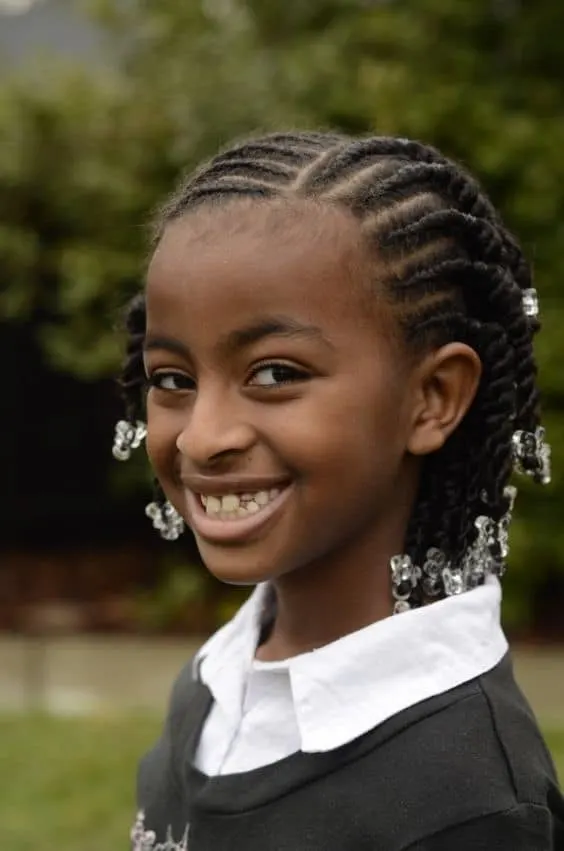 Cornrow styles can be neat and on point too. Just be sure to fix every strand in place with the help of a hair product or gel.
Note: This can be your everyday look to school or formal look to an event.
69. Kiddie Buns And French Braids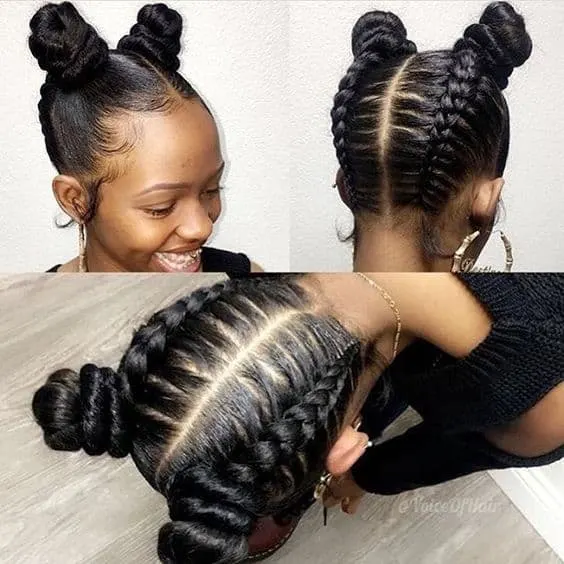 This is one of the most classic braided types that are almost appropriate for any age including little girls under 12 years old. Moreover, these easy braids are specifically designed for girls who are always on the go or involved in sports activities. So, pairing them up with two buns will make your little kitten even prettier!
70. Braided Ballerina Bun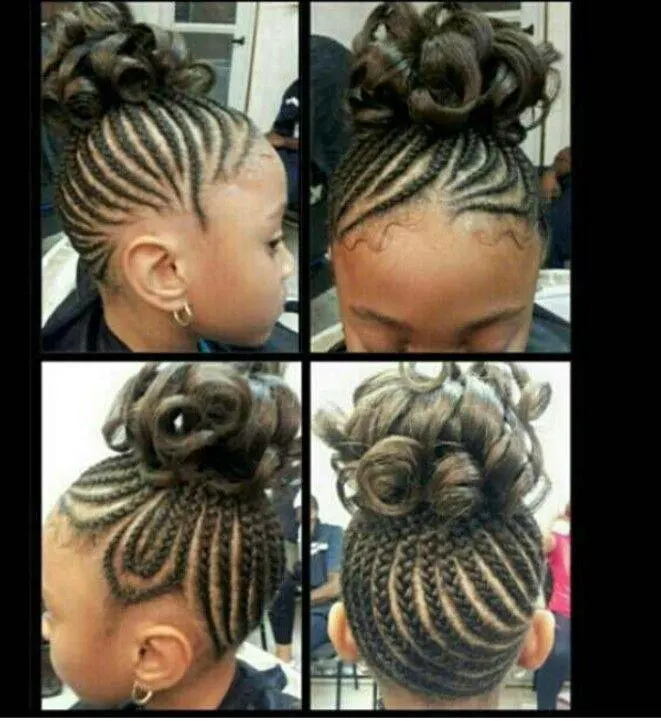 One or two braids is a universal kid hairstyle that might look too banal. However, cornrow braids paired up with a curly hair bun will definitely look interesting and catchy. And since the braids will be there for several days, this design is moderately durable where the bun will require a few maintenances from time to time.
71. Free Style
When you are out of ideas, or when have already tried them all you can go for the freestyling option. Therefore, you can create some waves with your cornrow technique and leave the rest dangling like a ponytail, or just go crazy with something completely unusual and vividly attractive.
72. The Puff Hawk
This is one of the black little hairstyles that you can consider as a fancy style for a special occasion. So, whether it's their aunt's wedding or their school friend's birthday party, this design would make your little sweetheart feel all grown up and sassy!
How To Style It?
Split up your hair into five sections.
Tie up each of the top four sections into a fun bun.
Secure the buns with small hair pins.
Split up the loose hair remaining into two parts.
Turn these parts into two long and thick knotted hair strands.
Quick Tip: To maintain this style and prevent hair break, don't leave hair buns overnight.
73. The Ribbon's Effect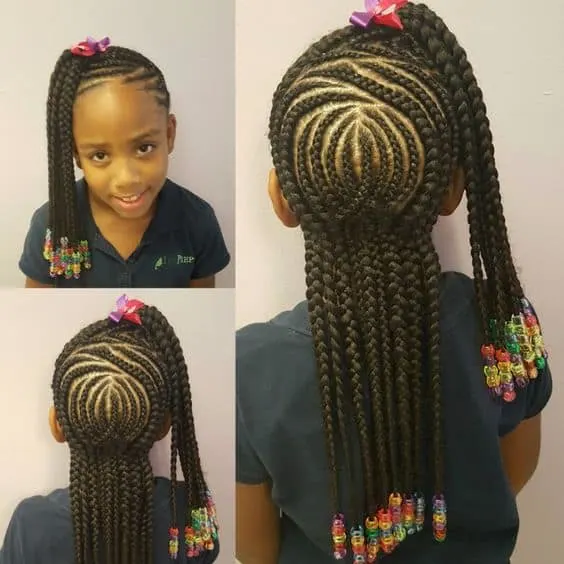 Never underestimate the power of hair ribbons and colorful beads when it comes to black little girls hairstyles.
74. A Little Something Extra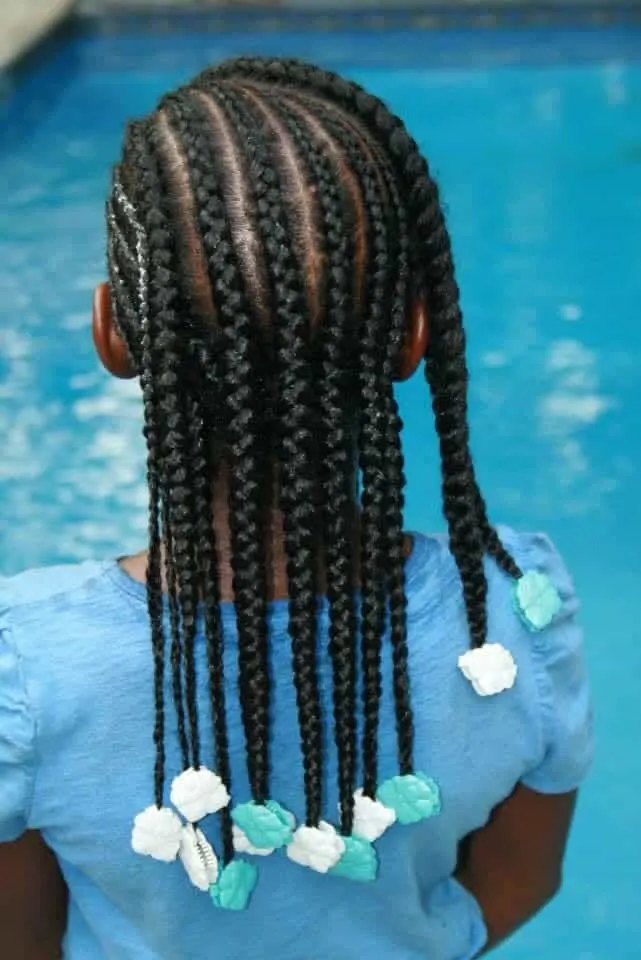 Paired up with a backswept cornrow braid hairstyles is the hair accessories of your choice colorwise and sizewise. So, it's best to go with something that compliments the outfit your little sweetie would be flaunting or something from her favorites category since she would be wearing it for several days.
75. Cute And Practical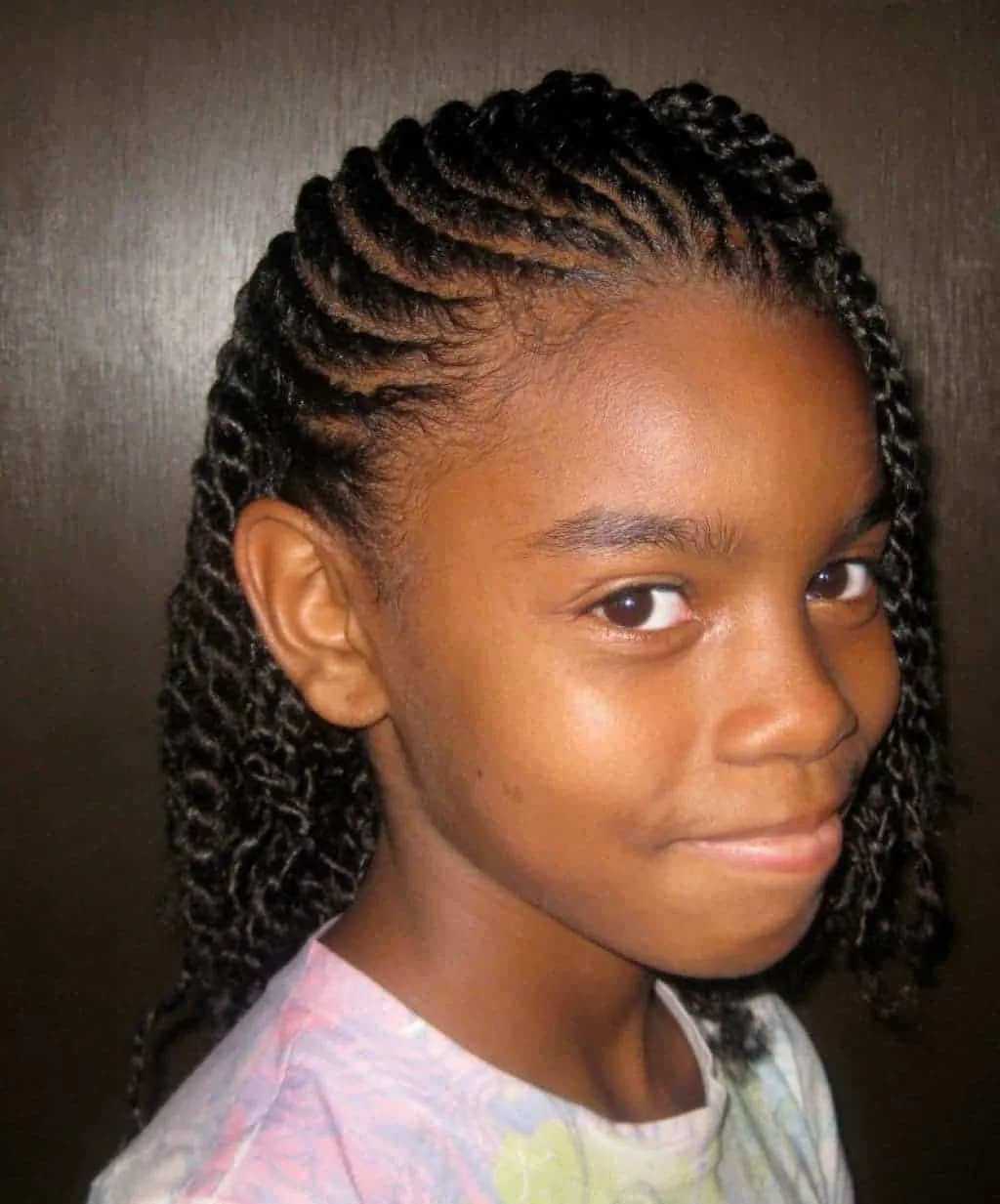 Little girl hairstyles should follow one basic rule: Cute and practical. Therefore, this requirement implies that their hair should be pulled back and away from their face. Consequently, your kid would be able to run around throughout the day without the fear of ruining their hair or being annoyed from constantly pulling it away from their eyes. And a cornrow design can make that happen.
76. Girly Twists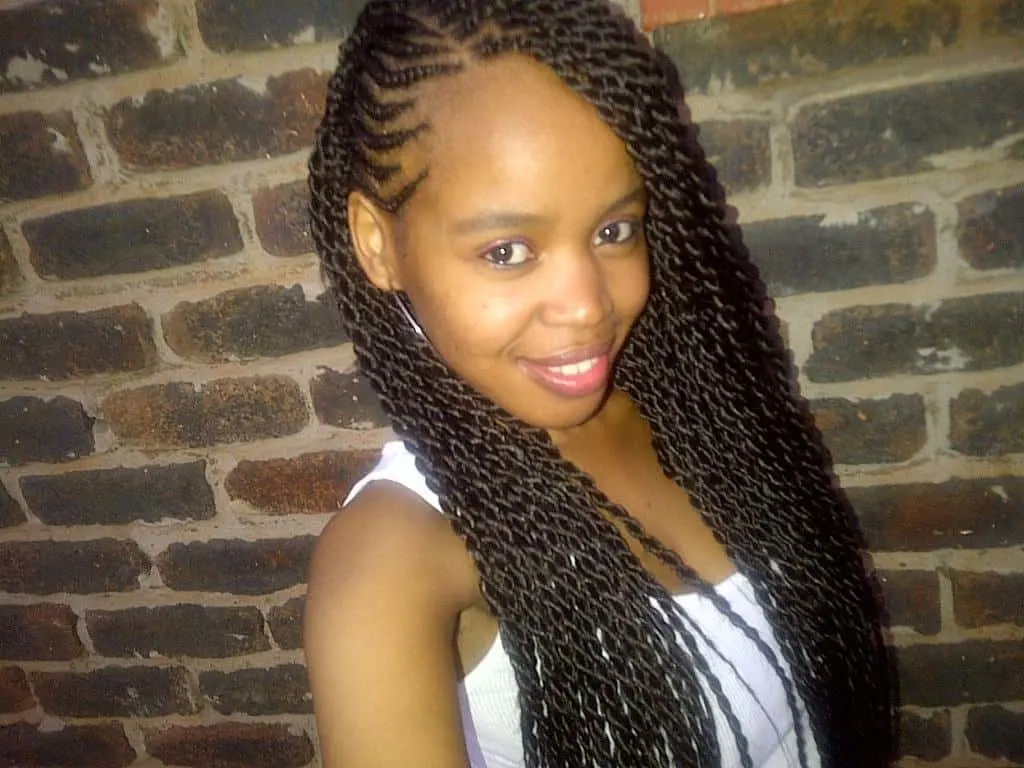 Nothing screams girly and feminine more than tall hair or braids. However, when they are put together in the same black little girls hairstyles equation, they become the invisible girlish combination.
77. Colorful Barrettes

Embellishing is an important finishing touch of the design process. Because without it, the black little girl's hairstyles wouldn't look as attractive and full of life. And what can be more energetic that color barrettes to complete your nourishing design?
78. Young, Wild, And Free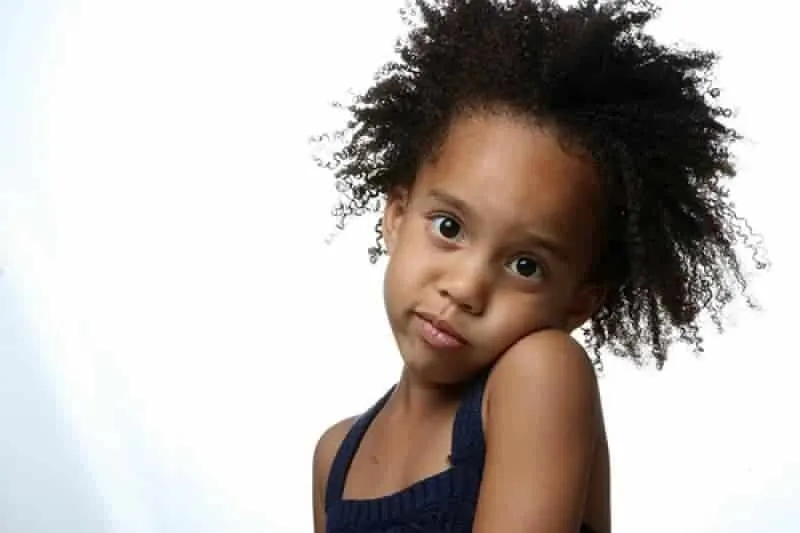 In order to make this African American hairstyle happen, all you need to do is spritz it with a bit of hairspray to keep your natural curls fresh and beautiful.
79. The Afro Bun With Bow Tie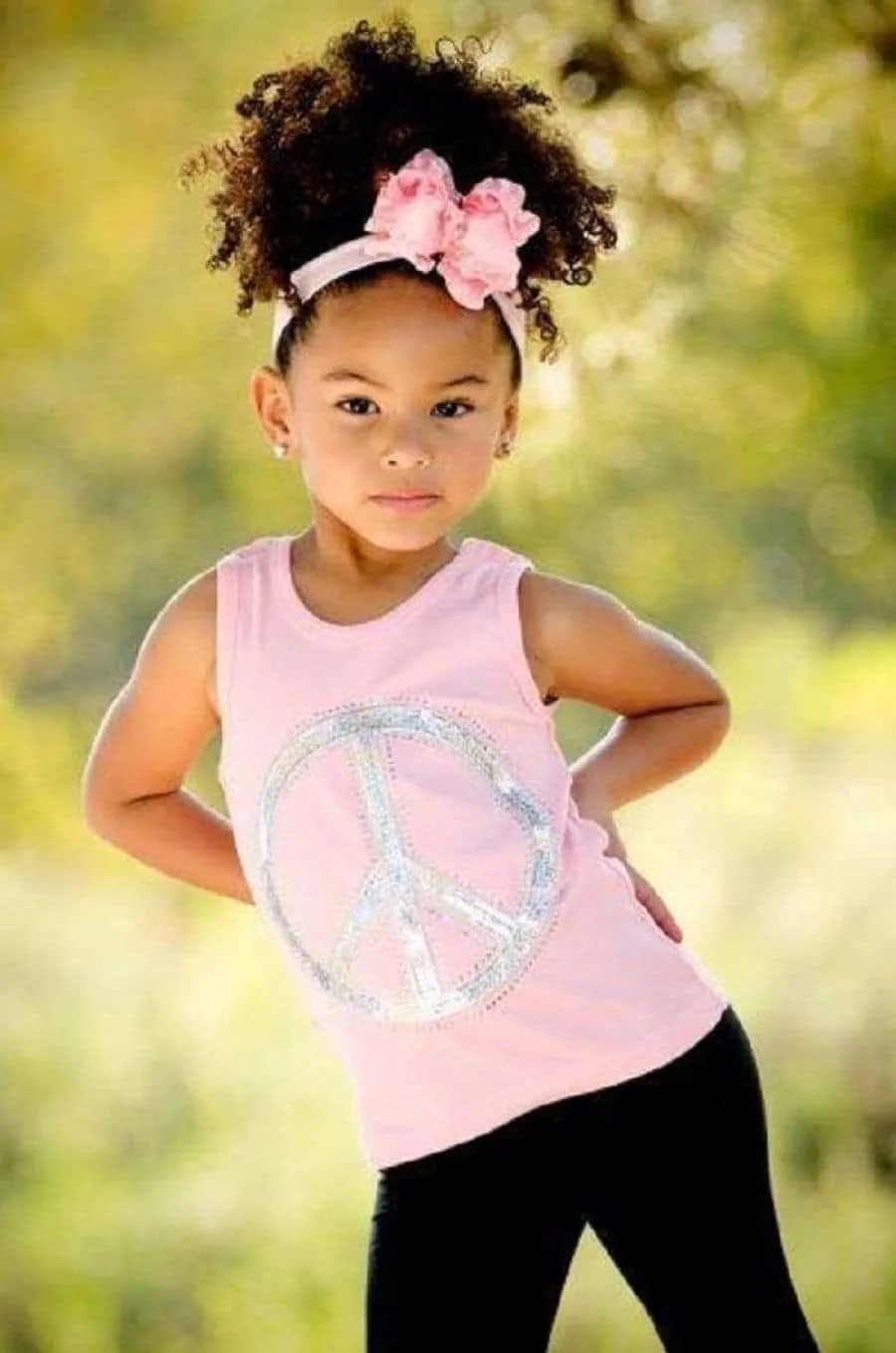 Sometimes, you'll be looking for black little girls hairstyles that are kid approved. Because let's be real and accept the fact that no matter how cool braiding your kid's hair is, it can cause them headaches and serious pain. Thus, high buns with free curls can be your ultimate solution. And don't forget to pair it up with a pink bow tie for a more fancy and girly appear.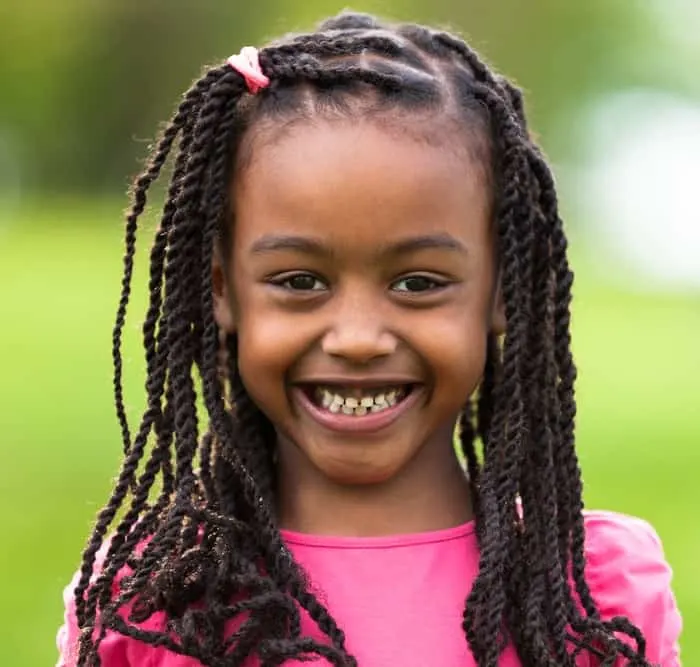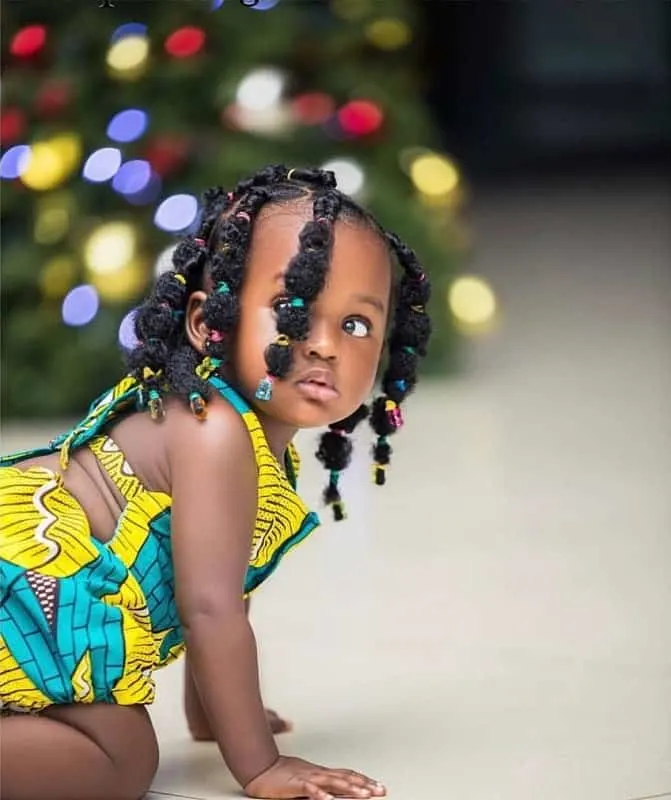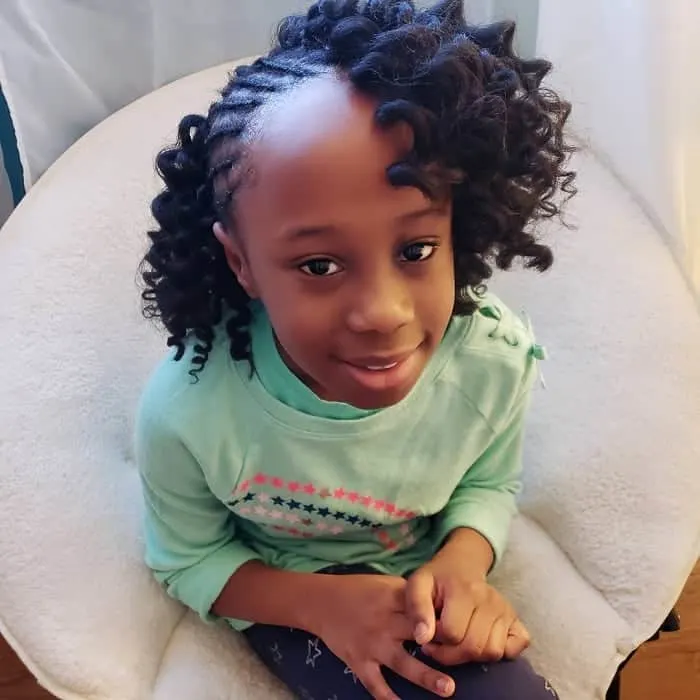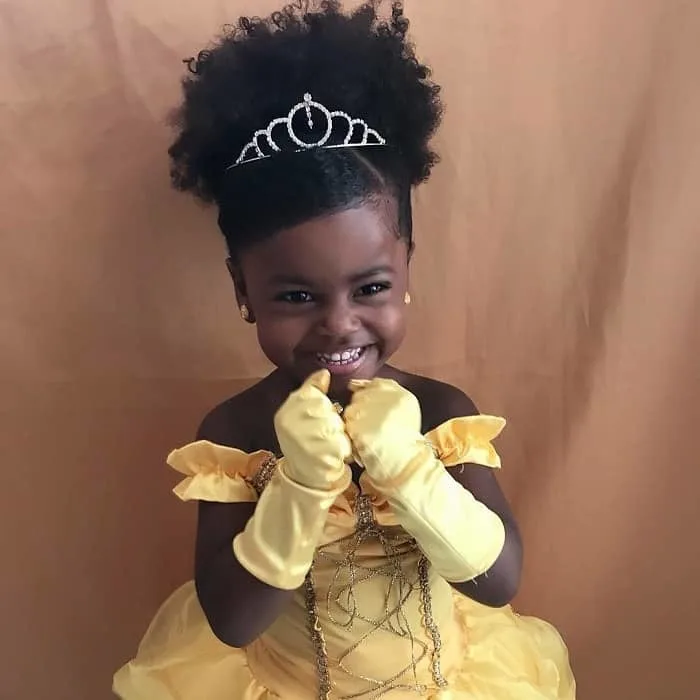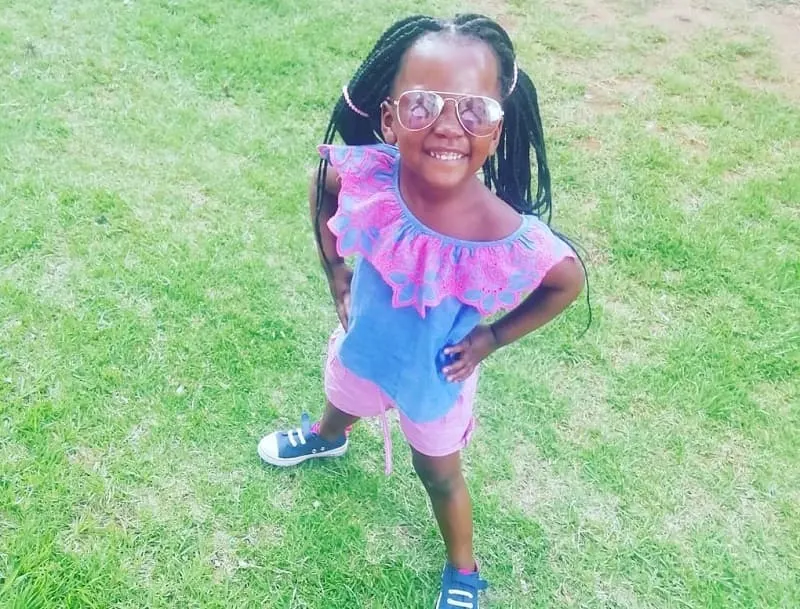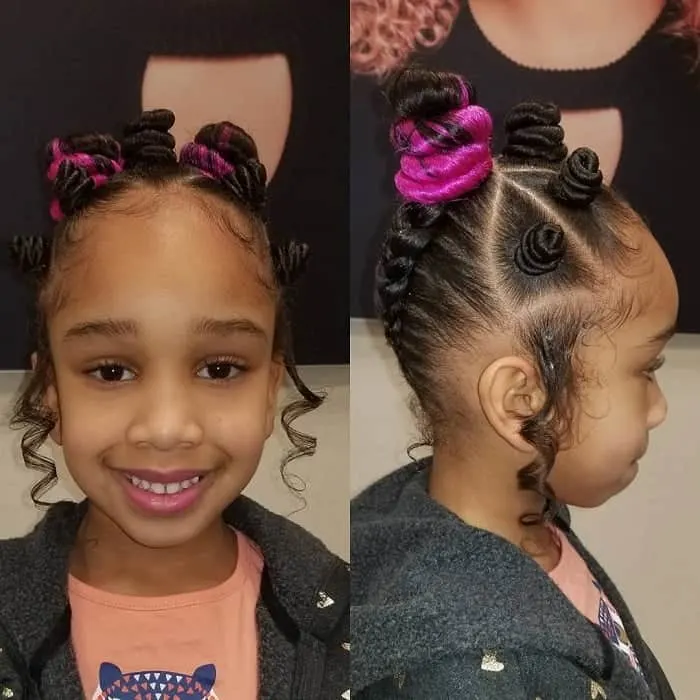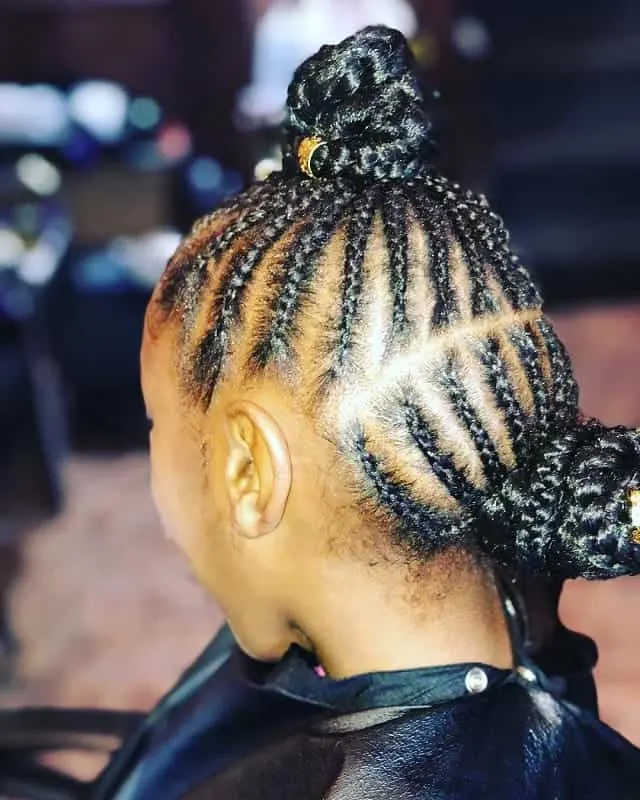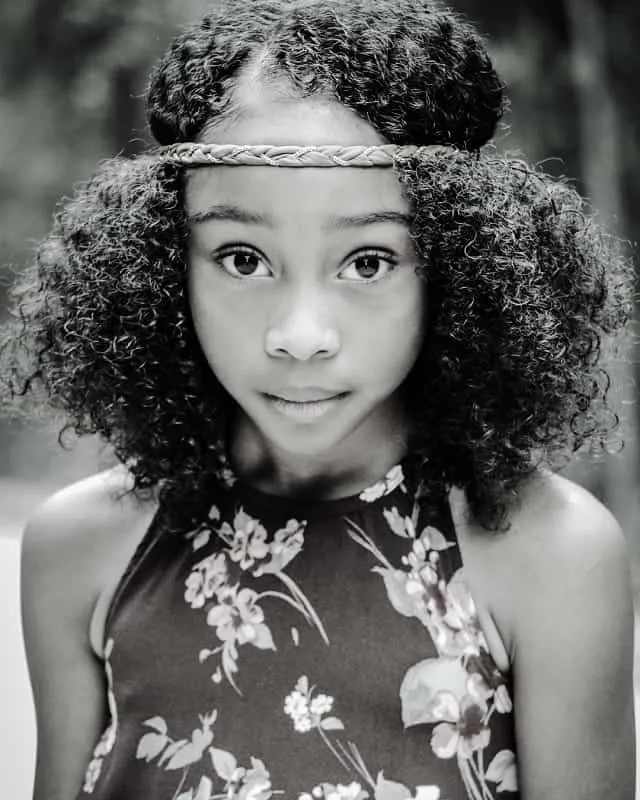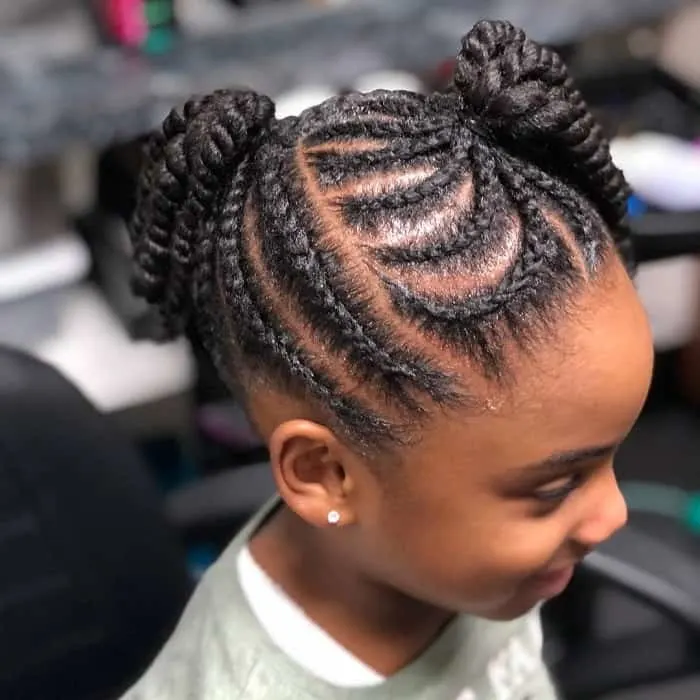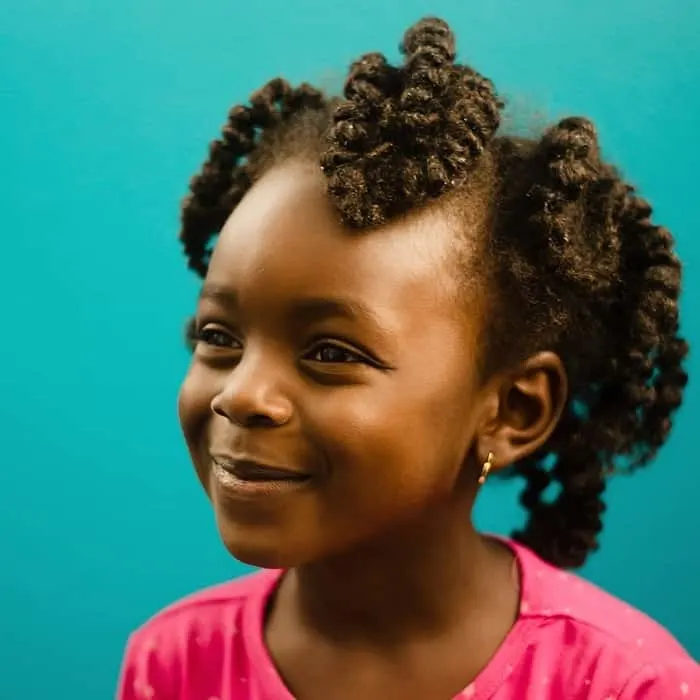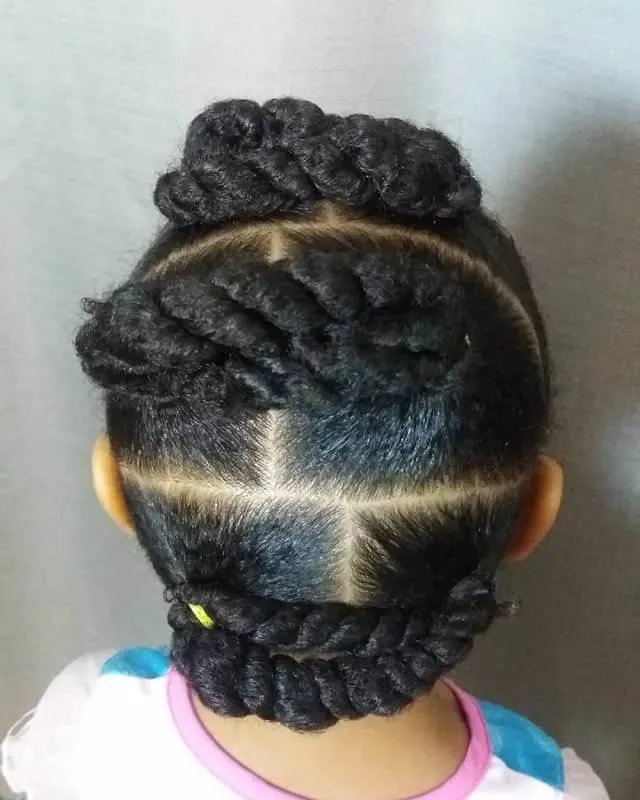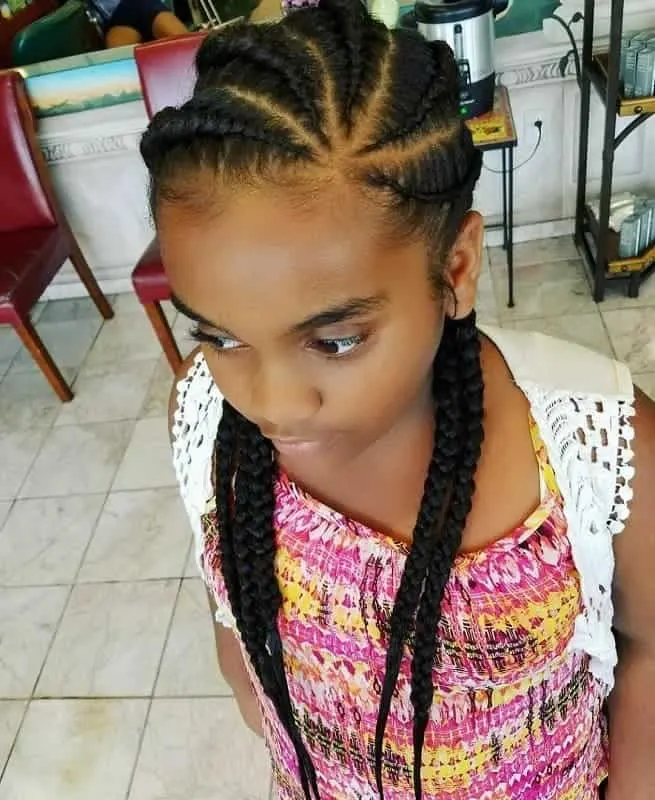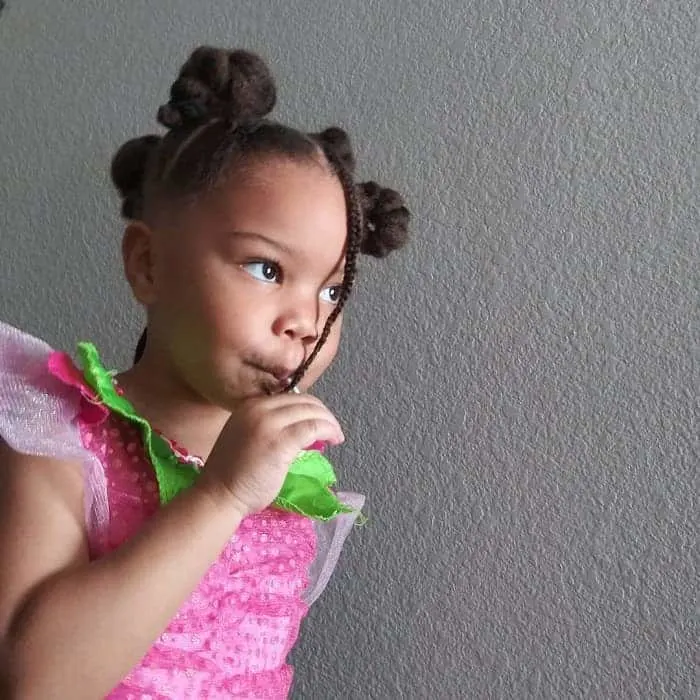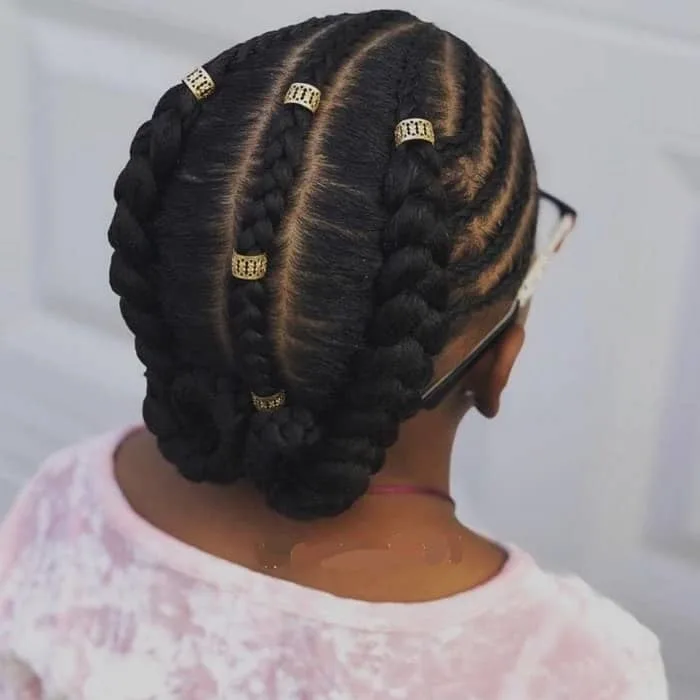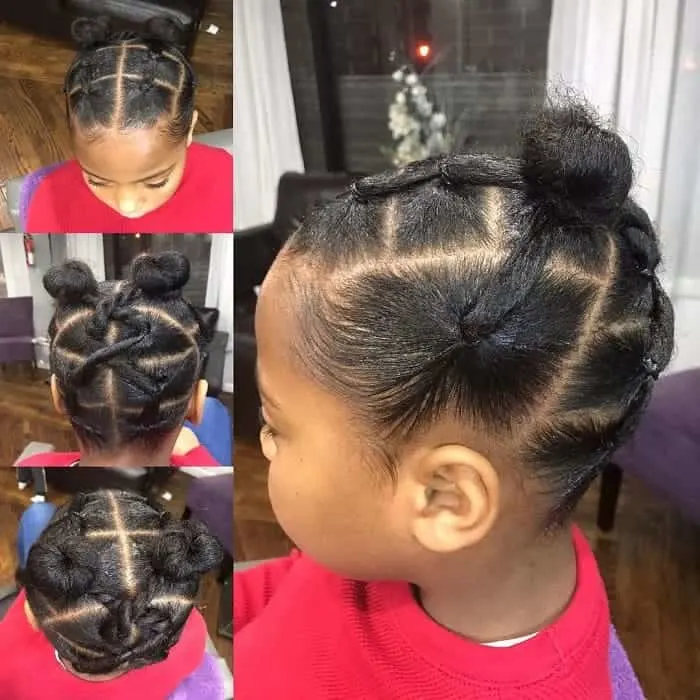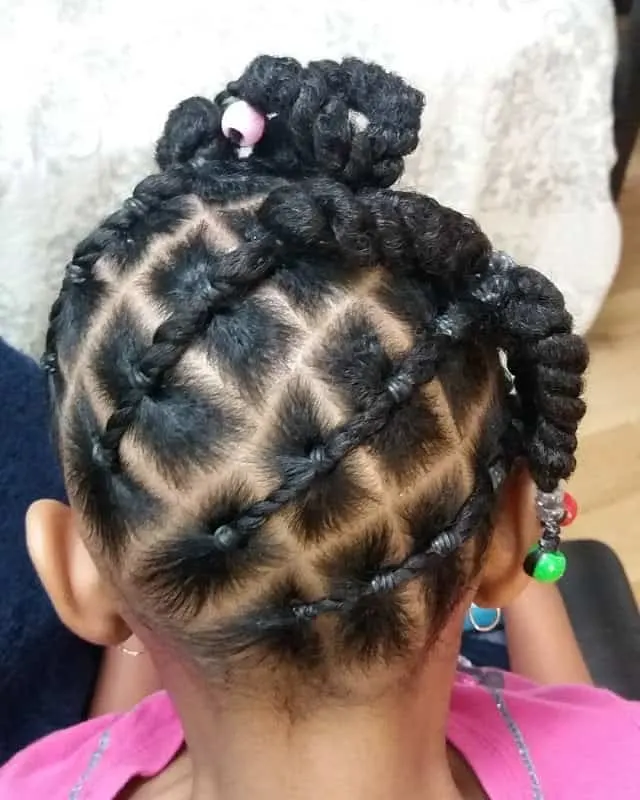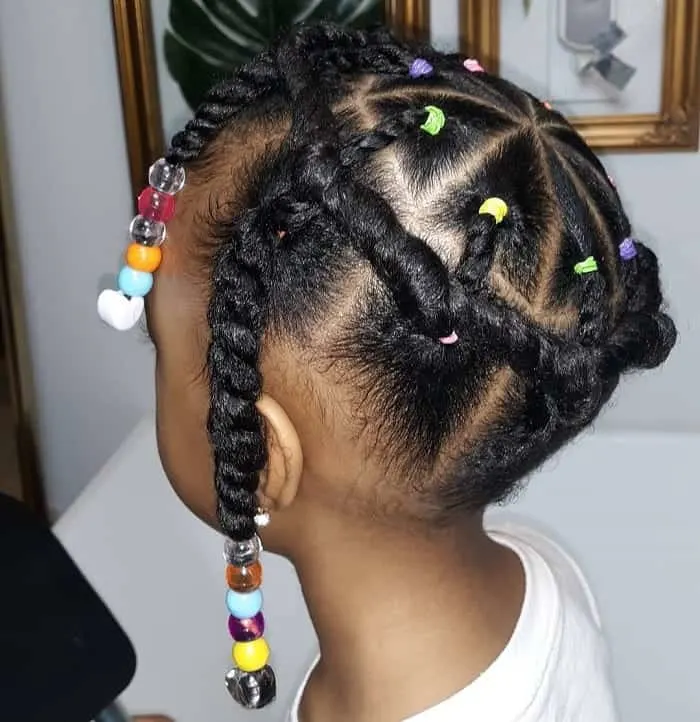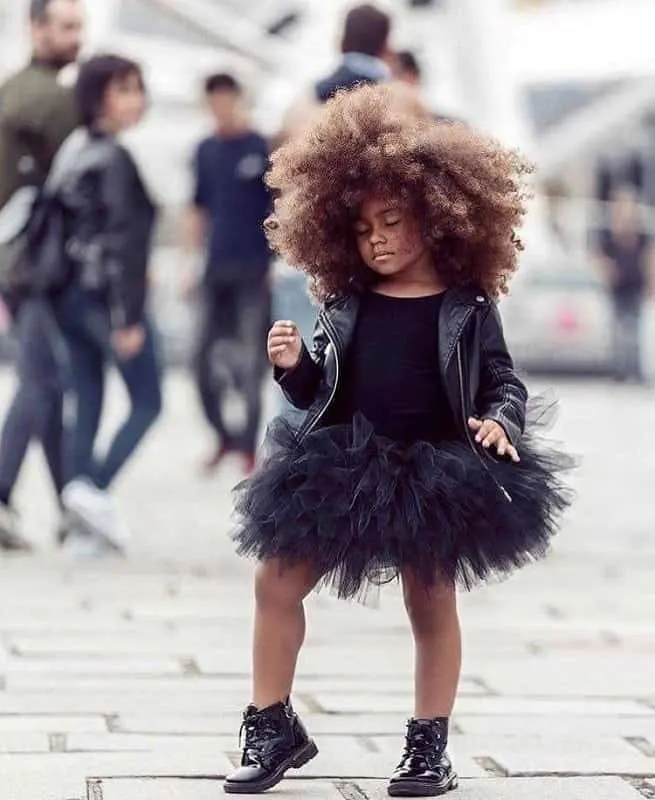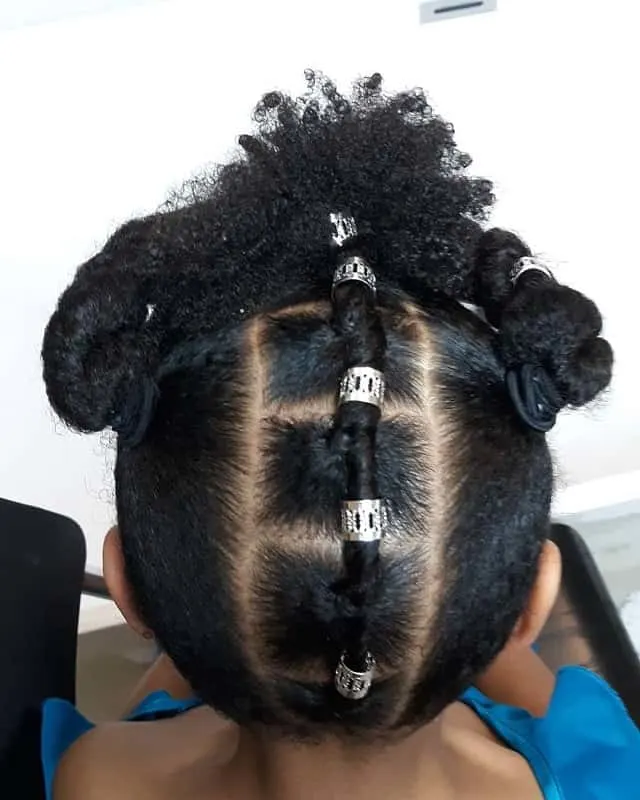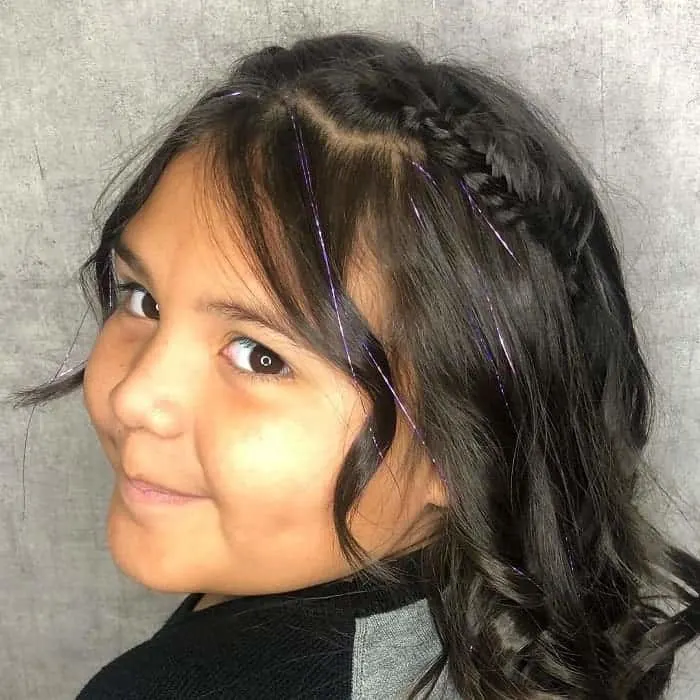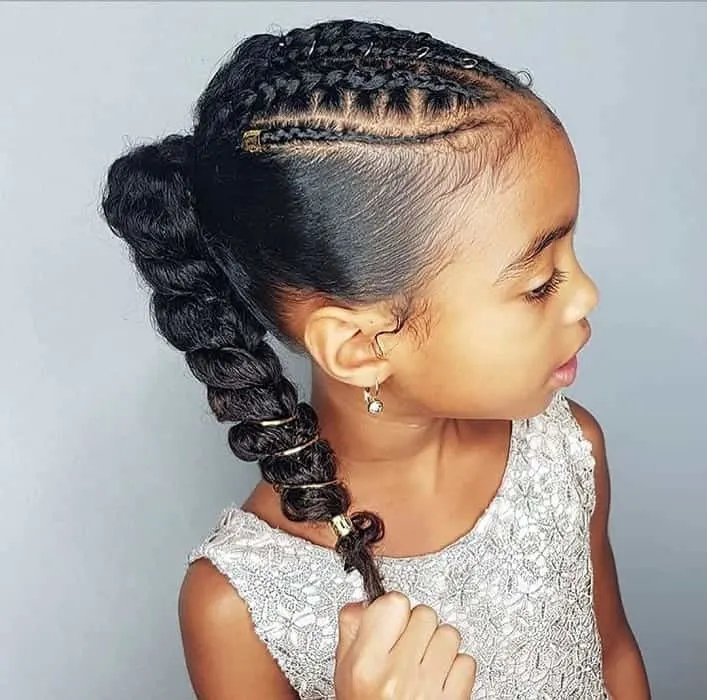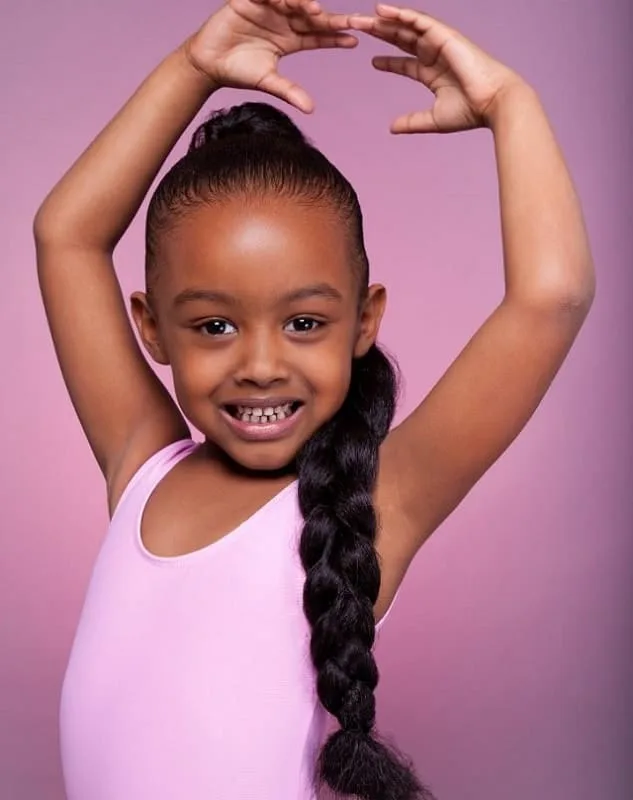 The joy of having a sweetie and the pleasure of styling her hair every morning is something that cannot be compared to the joy of any other kind. So, with the help of these black little girls hairstyles above no need to fear to get off track. So, copy whatever style that suits your little girl's desires.
Hope you've enjoyed these cute and playful little black girl hairstyles and get the one awesome styles perfect for your lovely girl!