Pompadour may seem a modern haircut but this style dates back to the eighteenth century.
This hairstyle takes its name from Madame de Pompadour, the mistress of King Louis XV, who popularized this style. The pompadour remained a female style until the King of Rock and Roll, Elvis Presley, made pompadour his signature style in the 1950s.
The Best Pompadour Haircuts for Men
Presley's connection with pompadour associates this hairstyle with rockabilly but it doesn't mean that this style is just for rock n rollers. It's a versatile haircut that can be made suitable for every wearer's age, face shape, and personality style just by varying the extremity of the cut.
Scroll down to have a glimpse of some most stylish and modern pompadour haircuts for men.
#1: Pompadour Fade Haircut
This haircut is a blend of pompadour and fade haircut. The fading temples and the classy square forehead line give a neat look. The back of the head is also shaved to highlight the middle area hair with a pompadour.
#2: Shaved Sides Pompadour
For this pompadour, the haircut should leave hair on the top for about 4 inches. The side hairs are shaved in a way that they gradually fade and completely disappear over the ear. The back hairs are also faded up to the nape.
#3: Classic Pompadour
This pompadour is very much similar to Presley's style. The hair on top are about 6 inches in length and the side and back hair are less than one inch in length. For giving your hairstyle a shine and texture, you can use hair spray or handy hair lotions.
#4: Urbane Pompadour
This pompadour style is an upgradation of the classic style and is very according to the modern hairstyles. Instead of slicking back middle hair, this pompadour is set by slicking hair forward.
#5: Blonde Pompadour With Highlights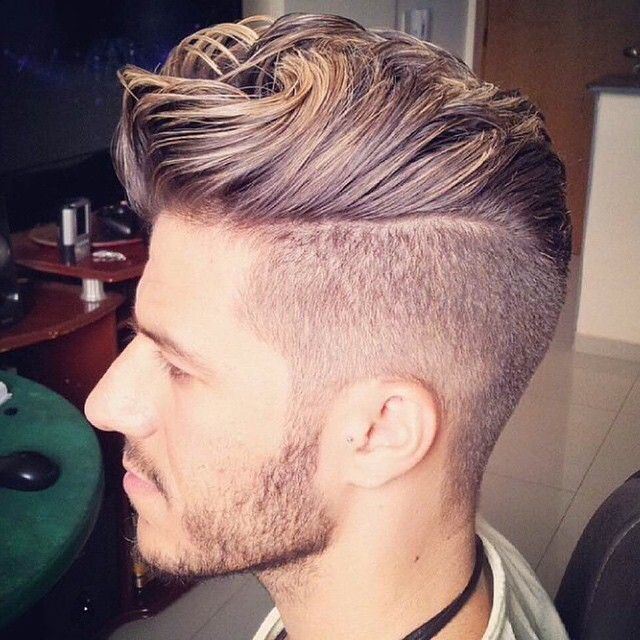 This blonde pompadour with copper highlights gives you an instant party-ready look. Amazingly, this hairstyle works best for both formal and informal occasions. So, why to wait? Just grab this look!
Trendy Pompadour With Undercut
#6: Slicked Up Pompadour
It's another modern pompadour style that also involves a taper fade haircut. The crown area hair is about 4 inches long and the sides are fading from the temples. You can use hair lotion or any other handy hair spray to style up your pompadour.
#7: Elegant Pompadour
This pompadour style gives the wearer an elegant and classy look. The length of middle area hair is in between 3 and 4 inches. The side and back hair are about 0.5 inches long. The hairstyle is complemented with a well-trimmed beard.
#8: Rockabilly Pompadour
Here comes a super star pompadour for men to let your personality enjoy the stardom. Unlike the previous pompadours, this style has a bit lengthy side hair. The length of top hair is about 5 to 6 inches and the side and back hair are about 2 inches in length.
#9: Bronde Pompadour With Bear
This brown colored pompadour with a thick beard gives a cool dude look. The volume of the top hair and the volume of beard are parallel to each other, and this is what's balancing this style. The side hair is fading from the temples and completely disappears as reaches to ears.
#10: Faded Temples Pompadour
This pompadour style requires the length of your top hair at least 4 to 5 inches. The sides are faded and completely disappear from the temples. The copper color of pompadour is making this hairstyle more graceful. This pompadour is equally suitable for office look and party look as well.
#11: Slicked Up Pompadour With Highlights
This pompadour is one of the coolest hairstyles. The highlights, a well-trimmed beard, the perfect outlines and shape of the facial hairs, all make this hairstyle the picture-perfect. The length of the top hair remains 4 inches long and the side and back hair are n between one and 2 inches.
#12: Suave 'n Short Pompadour
A flawless Pompadour doesn't need you to have thick hair. The guys with thin hair can also style their hair with pompadour. This requires the length of top hair about 6 inches. These are smoothed and slicked back using hair lotion. The sides are given a faded haircut.
#13: Creased Pompadour
This pompadour is most suitable for a formal occasion like an interview or a meeting. The hair length on the top of the head is more than 6 inches while the sides are fading. The forehead line is shaped square and a little razor-work is done to draw a thin line around the crown area.
#14: Golden Brown Pompadour With Moustache
Here comes a perfect costume party look. The head and facial hair are dyed golden brown. The hair length of the top head area is 5 to 6 inches and the sides are one inches long and start fading from the temples. The moustache makes this hairstyle an icing on the cake.
#15: Trimmed Pompadour With Bear
This pompadour suits most to teens and young adults and works best with all hair types. The middle area hair remains 4 inches long and the sides are razor shaved. The beard is also trimmed to make it comparable to the back and sides hair.
#16: Extra Short Pompadour
This haircut is a blend of pompadour and fade haircut. Unlike the other pompadours, this style has very short hair on the top. The length of top hair is between one and 2 inches. The sides are fading and gradually disappear as extends to the temples.
#17: Slanted Pompadour

This tanned pompadour with the beard having similar tone adds points to your style and personality. Just like the other pompadours, the length of top area is more than the length of side and back hair. This hairstyle can instantly give you a party ready look as well as a ceremonial look.
#18: Tapering Pompadour
Here's another classy and contemporary pompadour hairstyle to add charm to your personality. The crown area hair are smoothed and slicked up using a hair lotion and the side and back hair are trimmed short. A well-trimmed beard is complementing this hairstyle.
#19: White-Blonde Pompadour
This white-blonde pompadour hairstyle gives you an instant dashing look. This hairstyle is suitable for the guys above the age of 40. The combination of beard is making the look more appealing, and the fading temples and nape is giving a neat and fresh appearance.
#20: Contemporary Pompadour
The black and thick hair is a perfect match for a seamless modern pompadour. The front hair is about 6 inches long and this length gradually decreases as extends to the back of the head. The fading sides and the edgy outlines on temples add points to your style.
#21: Blonde Faded Pompadour
An appealing hair color can have a magical impact on your hairstyle. This blonde faded pompadour gives your style a boost. The faded sides and back gives a neat and edgy finish to you haircut. Combined with a blonde trimmed beard and the hazel eyes, this look can make you stand out of the crowd.
#22: Blonde Slicked Back Pompadour
This smooth blonde pompadour gives men a refined look. For this style, the hair on the top of the head needs to be almost 6 inches long. The hair from the back and side are faded for a neat appearance. You can use hair spray or handy hair lotions to add extra shine and texture to your hairstyle.
#23: Faded Pompadour With Bear
For this hair style, the hair on the top of the head should be tapered for about 4 inches in length. The both sides of the head are shaved in a way that the hair completely fades over the ear and the back hair is also faded up. The combination of well-trimmed beard is making this hairstyle more tempting.
#24: Curly pompadour
This romantic hairstyle will surely keep all the eyes on you. If your hair is curly, you can just brush it backwards and secure the locks with some hair spray. Leave one or two strands hanging down your forehead for a sexy look.
#25: High and mighty pompadour
High pompadours make a great impression. This particular one is easy to achieve and it looks very natural. Leave the hair on top about 3 – 4 inches long and brush it backwards. Use hair spray instead of hair gel to keep the look intact.
#26: Wet and low pompadour
This popular way to style long taper fades is also very low in maintenance. All you will need to do is leave the hair on top long enough to maker a comb over. Brush it backwards and apply a lot of hair gel to get a wet look.
#27: Ivy league pompadour
If you want to sport an Ivy League look, opt for this classical pompadour. You will need to spend some time in front of the mirror in the morning. But in the end you will look truly respectable. The top is brushed backwards and the sides are smoothed with hair gel.
#28: Lateral pompadour
If your hair is short and fine, you can still make a very interesting pompadour. Make a side part and brush the hair upwards and back toward one side. This will allow your pompadour to have more volume, while keeping it low in maintenance.
#29: Short and spiky pompadour
Pompadours are not always about having long hair. Men with short manes can spike up the top part to get an impression of a more complicated hairstyle. This pompadour haircut is easy to create and requires some hair gel to be kept in place.
#30: Elvis Presley pompadour
Elvis Presley definitely knew what to do with his hair. His famous pompadour found its way into many homes in the 1960's and it is still a popular choice for many theme parties. Sport this Elvis Presley look to impress your friends and colleagues.
#31: John Travolta pompadour from "Grease"
This pompadour was first made popular by the musical "Grease" starring John Travolta. American teenagers from the 70's loved this greasy hairstyle. It is achieved by growing rather long hair and spiking it up to the top. A lot of gel is a must.
#32: Twilight pompadour
This hairstyle is great for men who care about keeping their hair natural. It is a light variation of the John Travolta image when not too much gel is used. The result is pretty much the same but looks a lot more modern and a bit messier.
#33: Fohawk pompadour
Fohawk is always a great way out when you want to make an impression without shaving too much of your hair off. The hair is cut short on the sides and grown long on top and bottom. The front part is spiked up to create a short pompadour.
#34: Modern pompadour
This short modern pompadour hairstyle is quite popular among the younger generation. The hair is faded on the sides. Then a side part is created and the rest of the mane is swept up top and backwards. The longer the top part is, the higher the pompadour will be.
#35: High hair pompadour
High hair pompadour can be created only if your hair is long enough. It is a variation of a high taper fade often sported by African American men. In order to keep up the volume of this hairstyle, a lot of gel will be needed.
#36: Asymmetrical pompadour
Even if you are not a Justin Bieber fan, this asymmetrical hairstyle can be a great choice. The sides are cut short, while the top stays about 4 inches long. The hair is swept upwards and back and sprayed with hairspray. One side is created to be higher than the other.
#37: Side swept pompadour
Soccer players and other sportsmen will appreciate getting short and side swept pompadour haircuts. Most of the hair is cut very short and only a small strip of it is left on top. It is brushed to one side and secured with hair gel. Designs will also look great with this pompadour.
#38: Highlighted pompadour
If you want to make a great impression with your high pompadour hairstyle, add some highlights. Only the ends are dyed to create a great image when styled upwards. Long hair and a lot of maintenance are required for this style.
#39: Thick pompadour
If your hair is thick, the pompadour will be very easy to make. You can just leave the hair on top long enough and arrange it with your fingers into a pompadour. Just a bit of hair gel is required to keep it in place.
#40: Textured pompadour
This textured pompadour doesn't need much hair sweeping. The medium-length locks are brushed backwards and some strands are left to fall down the forehead. Make sure to apply a lot of hair gel to underline the texture and to keep the hairstyle neat.
#41: Leveled pompadour
A leveled pompadour will look very neat especially when contrasted with a stubble. You will need to spend some time shaping it in front of the mirror, but the result will surely be great. Make sure to cut the sides short for even a better image.
#42: Mohawk pompadour
If you are not a fan of frequent barber shop visits but still want an impressive hairstyle, try this mohawk pompadour. The sides are completely shaved and the top is left long enough to make a voluminous comb over. This is a great haircut for men with a widow's peak.
#43: Creative pompadour
If your hair is not long enough to get a voluminous hairstyle, try some creative haircuts. You can get a taper fade and then make a side part. The hair on top can be styled in different interesting shapes as long as the length allows it. Add a well-shaped beard and the image will be complete.
#44: Taper fade pompadour
Taper fade pompadours are usually the most popular haircuts among young men. The sides are made into a classical taper and the top is left about 2 – 3inches long to make a short comb over and pompadour mix. Such hairstyle requires daily maintenance to look neat.
#45: Long pompadour
If your hair is long enough but not too thick to make a really voluminous hairstyle, you can simply brush it backwards as far as possible. Then add some hair gel and your look will be complete. Make sure to keep the sides short or even shaved.
#46: Raven black pompadour
If you have grown a little tired with your hairstyle, but it is too short to change, opt for a different color. Men look especially impressive with raven black hair. If your own hair is dark, then the transition will be easy. You'll get a brand new image in no time.
#47: Spiky mohawk pompadour
Want to make a real cool impression? Mix several hairstyles. Shave the sides and the back to make a mohawk. Then spike the hair upwards to create an incredible pompadour. If your hair is thick enough, such hairstyle can be very long lasting.
#48: Pompadour with hair designs
A simple pompadour seems outdated? Get a modern hairstyle variation by adding some hair designs. Cut the hair on the sides short or shave it off completely and your hairstylist can let the imagination run wild. Add some geometrical shapes, lines or anything else you think will make you look amazing.
#49: Canyon pompadour
If your hair is long enough and you have some time to deal with a perfect hairstyle, you can make this canyon pompadour. This hairstyle got its name for the canyon-like depression it makes on top of your head. Brush the hair upwards from the front and both sides and add some gel to keep it intact.
#50: Wave crest pompadour
A wave crest pompadour is not easy to make and you will probably need help from a professional hairstylist. But the impression it makes is really worth it. Make a regular taper fade and leave the top part as long as possible. The crest size will vary depending on the length of your hair. The more hair there is, the higher it will be.
That's all of our recommended modern pompadour haircuts for boys, teens, and adults. Hope you would have found your favorite one. Just grab the picture of your favorite pompadour hairstyle and let your hairstylist know which signature style you want to take on.