The pompadour undercut remains a classic for men with its quality pomp making it the best appearances that never gets old. And if you cannot visualize it yet, Elvis Presley rocking and shaking his hairdo is one famous pompadour.
The pompadour cut goes way back in time to 18th century France where women initially did it. It took some centuries later before notable figures evolved the pompadour into one of the best men's hairstyles thus far.
The bold impression yet richly fun remains a good reason as to why it's always a popular choice. Undeniably, like all creativity accompanying the 21st century, the men's pompadour with undercut comes with a ton of variations regarding length, shape, texture, and volume.
Right Pompadour Undercut For Your Face Shape
Undeniably, some men still want to follow a classic fashion statement by applying oil-based pomades very generously. Apart from products alone, available pomp undercut can be accessed in any contemporary barbershop together with fades and uncombed sides.
Any type of undercut on pompadour suits well with oval face shape. For a round face pompadour with the cropped side is perfect. Short pompadour is perfect for a square face.
As pompadour haircut helps to elongate the face, so it's a good option for the small face shape and is better to avoid this hairstyle for long or oblong face shape.
How To Style Pompadour with Undercut
If you are about to explore new hairstyles, the pompadour with an undercut is always in any suggestion provided to match your desire. Nonetheless, below is how to style pompadour undercut for men:
Use conditioner and shampoo for a hair rinse.
Use a towel to dry your hair till it's moist, but not completely dry.
Blow dry by applying light heat setting to your hair and while shaping the pomp using a round brush.
Brush accordingly and set your hair the way you desire the pomp to appear, but usually, it is accomplished going up in front followed by the back while drawing brush strokes using a hairdryer.
Apply pomade through your hair in an even manner with fingers. Apply more where necessary. If you choose to rock the "classic" pompadour cut, consider applying the pomade first from the sides.
Apply pomade on your hair and use a comb, starting from the front to the top, to comb through. Follow the comb back movements using your hands to hold your hair in position and control height.
Watch The Following Video on How to Do an Undercut with A Slicked Back Pompadour
Pompadour Fade Vs. Pompadour Undercut
The pompadour fade is a lovely blend of two favorite cuts – the fade and pompadour. While maintaining the vital parts of the unique style, the current pompadour fade styles provide several styling variations.
On the other hand, undercut pompadour haircut comprises long hairs swept up and back at the top. Shorter or slick sides also flank it. The hair is typically the tallest and maintains more volume in front.
Coolest Pompadour Undercut Hairstyles
The selected undercuts on pompadour for men here speaks more about your level and also blends vividly with your natural face shape. Each particular feature attractiveness, whether its length, sense of perfection, or more. Let's help you discover the style that is perfect for you.
The classic pompadour features a vintage living style that suits the modern man. You can either go with complete rockabilly by doing a classic men's pompadour undercut. Big and slick, its appeal looks forever great.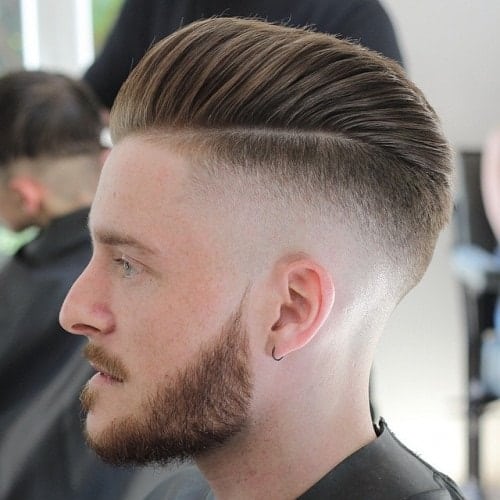 Grabbing a clipper or visit your stylist to help you buzz from sides to sides to get exceptional fade. While flanked by buzz cut, your hair remains top, looking full and inspiring. This undercut pomp haircut place emphasis on volume and length.
It achieves this goal by increasing your hair growth and making it slick within the front and back. Surrounded with nice fade that will keep the eyes of your admirers turning.
Discovering a perfect balance amid messy and outstanding attraction is an active action to pull off and be a champ. Applying some fascinating product and your magic fingers (or barber's fingers) would create the added texture level on top. The resultant look is well cherished and natural.
Completely hot right now is the side-parted pompadour undercut. It blends the best of two fabulous haircuts by the mixture an important side part with that dazzling pomp. During styling, ensure to comb sidewards in contrast to traditional back.
Are your hairs curly or have more waves? Well, the good news is you are still able to rock quality undercut with a pompadour haircut. The best reference is to go for a shorter cut on top to retain them at manageable levels. Indeed, you can go all full FRO coupled with a better tapered undercut which makes you rock.
With the high fade combover with pomp, you can get a little long and tall top to maintain tighter follicles while preserving a sharp look. You would love little pomp.
The quality of the pomp fade with side-swept is more detailed out when going for added shortness found on the sides and sweeping across the top. It remains distinct, handsome, modern, and voluminous.
Distinct from men's pompadour undercuts of the past, the modern haircut characteristically features far less shine alongside several sorts of natural-looking grooming additions available today.
Working around the angles, the cut-throat lines and parts blend to create something distinguishable to strip on top. Set against the far louder mohawk, a superior faux hawk is friendly and classic.
Comparable to messy pomp instead it adds precision, the surfaced pompadour with undercut intends to improve layering on top. The outcome is something sharp, but reduced wildness.
It remains a safe bet to argue about Becks' more extreme hairstyles are now in the past. The midlife pompadour now accustomed to him is a perfect case of why middle-aged men should not sacrifice their style for something easy but uninspiring.
Forget the famous name, and his pompadour and undercut is amongst those hairstyles that do not date. The swept-back style works better on men who seek to strike comfort between effortless and sophistication.
This pompadour with mid fade takes a little more aggressive distinction. With fade starting a bit advanced on the back and sides, you get more contrast that makes the undercut more appealing.
You can even elect to go for mid-skin fade with brief trims. And since you get medium-length thick hairs up top, there are several other styling options available.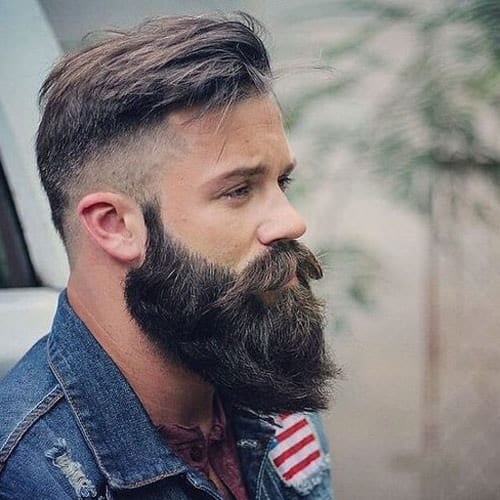 This faded undercut on pompadour highlights textured hair and a lineup. It may entail more effort and time to style, but the outcome is always worth it.
This style remains amongst the hottest hairstyles for men, and you really cannot go wrong with it.  On your skin, you may also get a high undercut trimmed down and clean hairline.
This pompadour with high fade is amongst the top favorite. So irrespective of what you select, either a tailored haircut with better skin fade or taper style loose pompadour, you would get a flawlessly shaped pomp with an undercut.
This hairstyle is stylishly hot and comes with the boldest fade types, and the high fade haircut inclines to be the basis for several short sides and long top hair trends.
Since a man's face shapes vary so does the hairstyles. The 12 best pompadour undercut for men are selected accordingly to give impressive lookout for men's haircuts. Be sure to check them out.