Ramona Flowers is a character in a graphic novel series called 'Scott Pilgrim' by Bryan Lee O'Malley. She is a delivery girl who later gets with the protagonist of the series, Scott Pilgrim. Many fans of the Pilgrim series love Ramona and her bold hair color on a unique haircut.
Most people didn't pay much attention to her hair in the graphics but when this series was adapted as a movie, Ramona's hair became the center of her personality.
Fans, especially women, started getting curious about the hairstyle and then eventually asked their hairdressers to give them the same exact haircut.
If you are also one of those people who want to get a Ramonamo Flowers haircut, this article is for you. Let's see what's all of this hype about her haircut.
In the comics, it is deeply highlighted that Ramona is the type of girl who treats her hair according to how she feels. If she is sad, she cuts her hair but lets it grow out if she feels happy.
Many of us can relate to Ramona on this because some of us take some of our sadness away by chopping our hair.
Daring Ramona Flowers Hairstyle for a Unique Look
Ramona Flowers' haircut can be called a wavy wolf cut. As we know wolf cut has many variations, the one Ramona Flowers has is wavy and bouncy. Her hair tells us a whole story and is a reflection of her carefree and fun personality.
Her short wavy bangs do not suit every face shape, so you must consult your hairstylist before getting the haircut.
Ramona undergoes several hair evolutions in the comic series but fans can see her three hairstyles in only one movie. She even tells Scott that she changes her hair 'like every week and a half' in the movie.
Let's take a look at her hair transformation.
1. Magenta Hair with Black Underneath
Ramona Flowers hairstyle is achieved by cutting hair in different lengths. In the first volume of the series, her hair is short while only a few strands in the front are longer than the rest of the hair.
In Volume 2, her hair gets longer but the longer strands reach only up to her chin. In both volumes, her hair remains magenta color with some black highlights. Her hair remains naturally wavy which gives a smooth look to her haircut.
2. Blue Hair With Black Underneath
In the fourth book, Ramona gets a new hairstyle by trimming her previously grown hair. The front of her hair is longer but shorter at the back. Her hair is a bit straight too but isn't losing its volume. The dyed blue and black underneath hair adds to her retro style.
3. Green Hair With Black Underneath
After the fourth volume and in the last part of the movie, Ramona Flowers dyes her hair green and cuts it shorter at the front. Her hair is wavy; the hair length only reaches a little below her ear. Her signature longer hair strands on the front are shoulder length.
More Haircuts Inspired By Ramona Flowers
4.
5.
6.
7.
8.
9.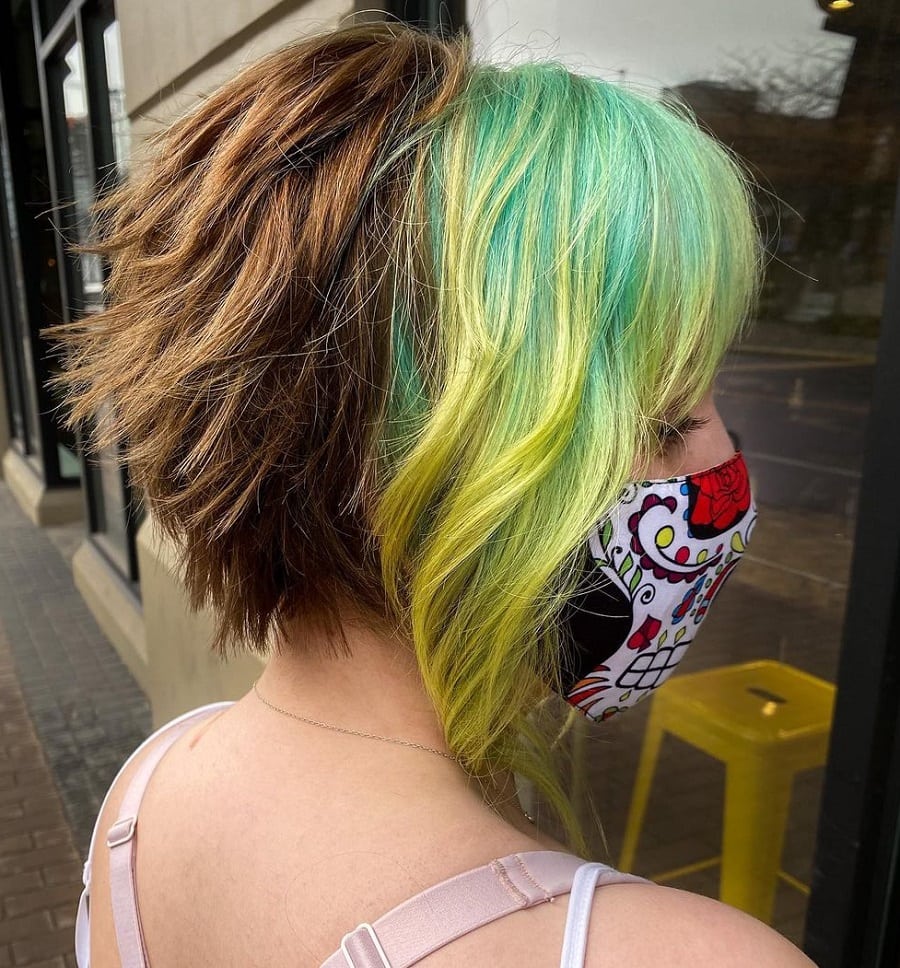 10.
How to Get a Ramona Flowers Haircut?
It is best if you get your Ramona haircut from a professional. But if you want to try it at home, there are some simple techniques to help you through.
Use the Three-section Rule
To have a perfectly layered haircut, divide your hair into three sections. This will make all your hair cut evenly and add volume to the hair.
Start with Bangs
First of all, cut the bangs. Keep the length medium, but remember that the bangs will shrink once dried. Cut the bang up to your eyebrows.
Cut the Sides
Now start cutting the sides, starting from the lowest section. Give your bob an A-line shape so they can be as bouncy as Ramona's. Slowly cut all of the sections but keep the hair length shortest of the three sections at the top.
Keep Some Front Hair Strands Long
To have the classic Ramona Flowers haircut, leave the front strands of your hair long. The two strands should be your chin or shoulder length.
Ramona Flowers haircut is best for people who want to try some unique and fun hairstyles. Dyeing your hair just like Ramona is a plus as it will give you a fun and playful feel. The best thing about Ramona Flowers haircut is that it is trendy and can never go out of style!