Gone are the days when women opted for only simple and practical haircuts. From wearing a completely new hairstyle to modernizing popular haircuts of the bygone era, women have no dearth of options.
Wolf haircuts are all about flaunting your personality and style. Whether you wish to portray a softer side of your personality or an edgier and rebellious side, there is a suitable wolf cut hairstyle for everyone.
If you are searching for a trending haircut that can bring out your edginess and sassiness, a wolf cut is a great style to try out!
Wolf Cut Inspirations to Transform Your Hairstyle
A wolf cut is basically a modernized version of two popular haircuts – the 70s shag and the 80s mullet. Here are the best wolf haircuts that can completely transform your look.
1. Classic Bob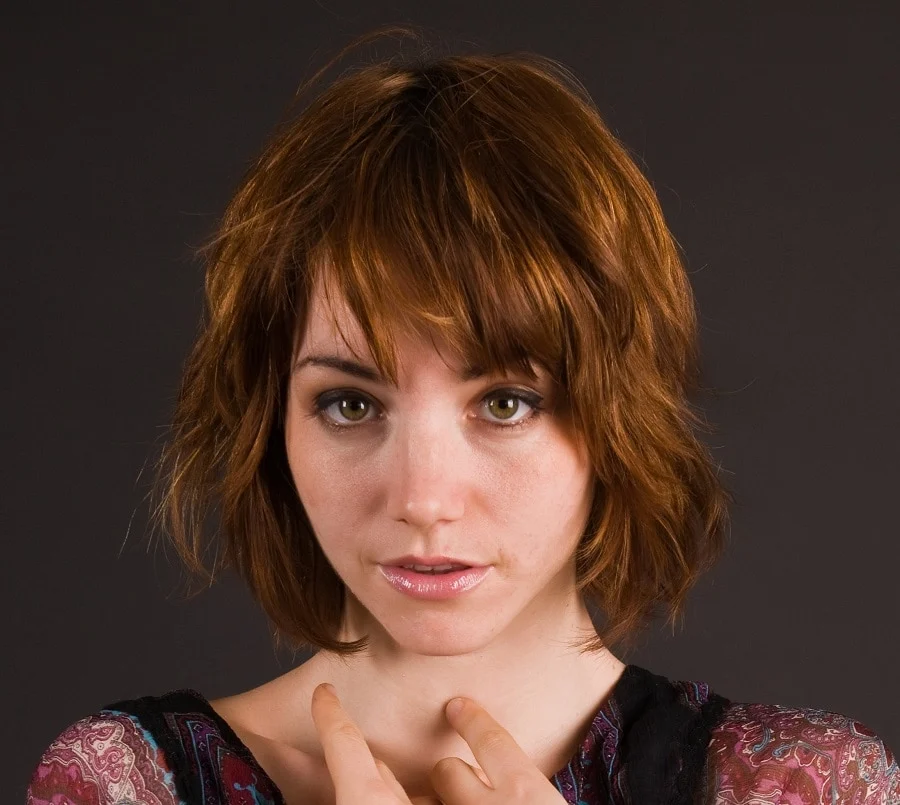 Women with short hair can try this classic wolf haircut. It is a modern take on the ever popular bob style. This hairstyle would be ideal for women with medium to thick hair. The short length makes it easier to maintain and style the hair daily.
2. Wolf Cut for Women Over 50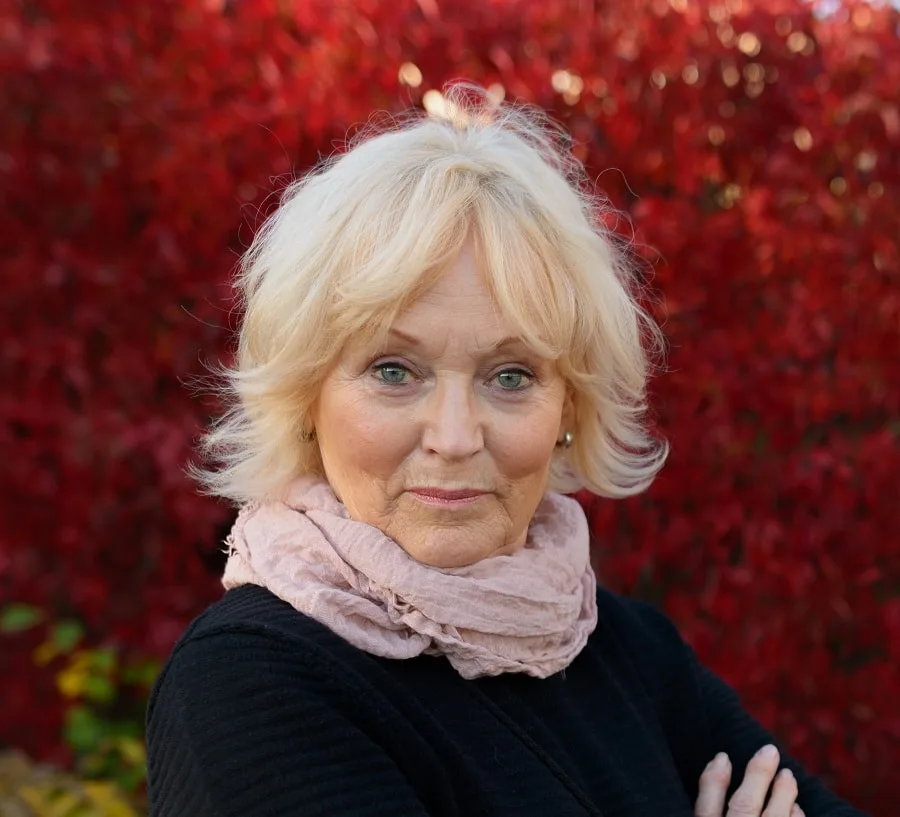 Although wolf cut requires some amount of styling effort, some styles do not require as much effort as you would have thought.
Here's an example of a simple yet stylish wolf cut hairstyle that will look amazing on women over 50. The overall look oozes grace and sophistication.
3. Short Dreadlocks
If you are looking to upgrade your dreadlocks, try out this funky style. This one is sure to grab everyone's attention as you walk by!
The tapered hair length is a great choice to highlight your facial features and keep your dreads away from your face.
4. Wolf Cut with Money Pieces
Here's another super glam style to highlight your facial expressions and proportions. Money pieces are a style where you have just two strands on either side in a shade lighter than your natural hair color. The money pieces form the perfect frame for your face.
5. Choppy Pixie with Green Highlights
Jazz up your pixie wolf cut with some bright green highlights starting from the top of your head and going all the way to the back of your head, till the ends that go up to your neck. This is quite a funky style to bring out your fun personality.
6. Two-toned Wavy Hair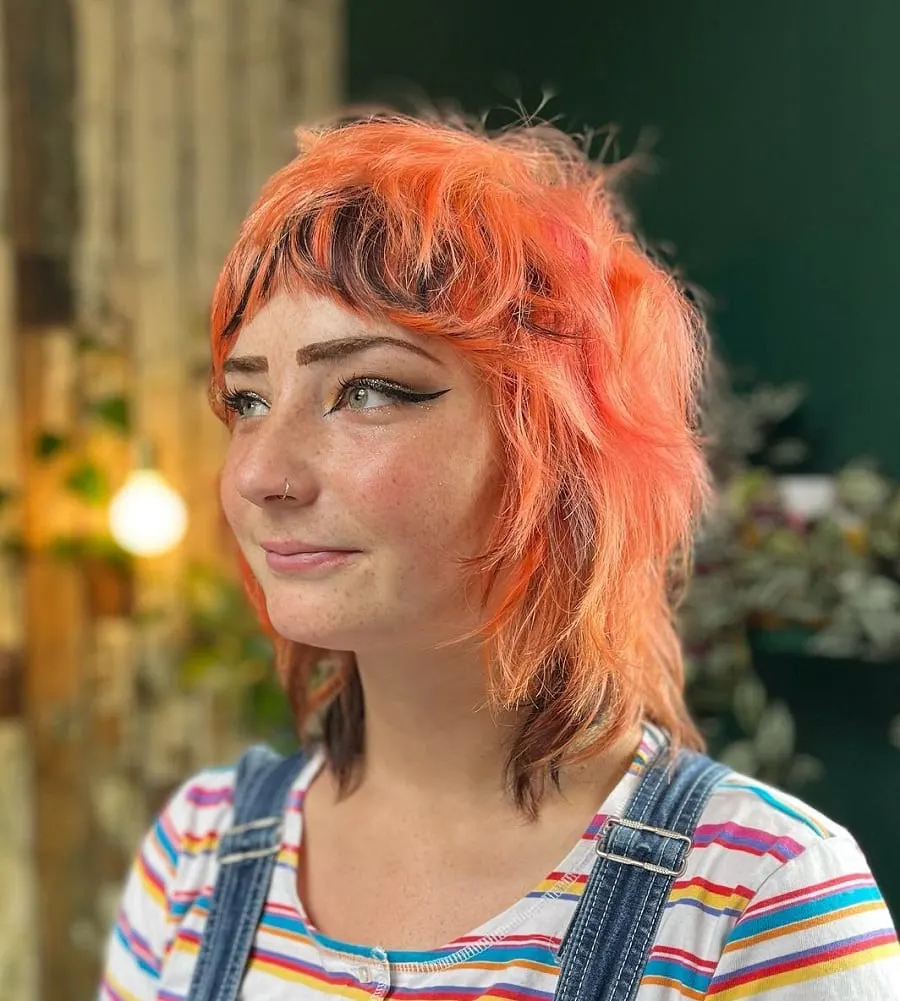 Two-toned hairstyles are a popular style and when you pair with a wolf cut, it completely enhances your hairstyle and your overall appearance. Here is a beautiful combination of brunette and ombre red for you to try out.
7. Colored Pixie with Long Bangs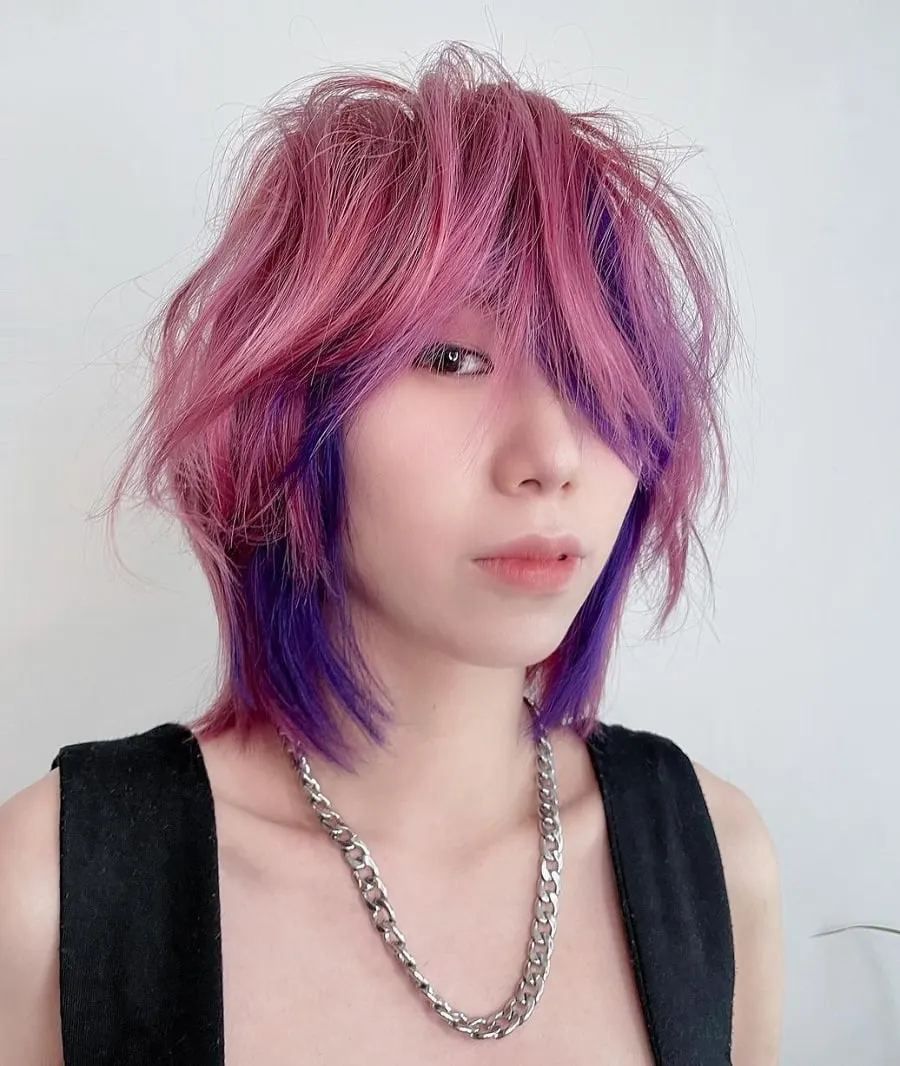 If we had to describe this hairstyle in one word, it would surely be ethereal! This wolf cut with long bangs in blue and pink ombre makes your edgy haircut look super dreamy. This wolf hairstyle would look amazing on women with long face shapes.
8. Vivacious Layered Style
Bring out your vivacious personality with this amazing, layered wolf cut. The bright yellow shade woven intricately with the ginger hair color will make you the showstopper at any event – be it formal or casual.
9. Vibrant Pink Wolf Cut
This hairstyle in a vibrant pink color with razor edges is ideal for you to show off your sassy and rebellious side. This is a great cut for women with thick hair as they can flaunt their tresses beautifully.
10. Multi-colored Mullet
If there is one haircut that is class apart in this entire list, then it is undoubtedly this multi-colored mullet!
This riot of colors is just perfect to show off your bold personality to the world. You can experiment as much as you'd like by opting for different shades of colors.
11. Wolf Cut for Long Hair
If you have long hair and are looking for a hairstyle that can make your hair look bouncier and fuller, then give this simple wolf cut a try.
Ideal for women of all face shapes, you can opt for highlights and lowlights to amplify your look.
12. Textured Medium Length Hair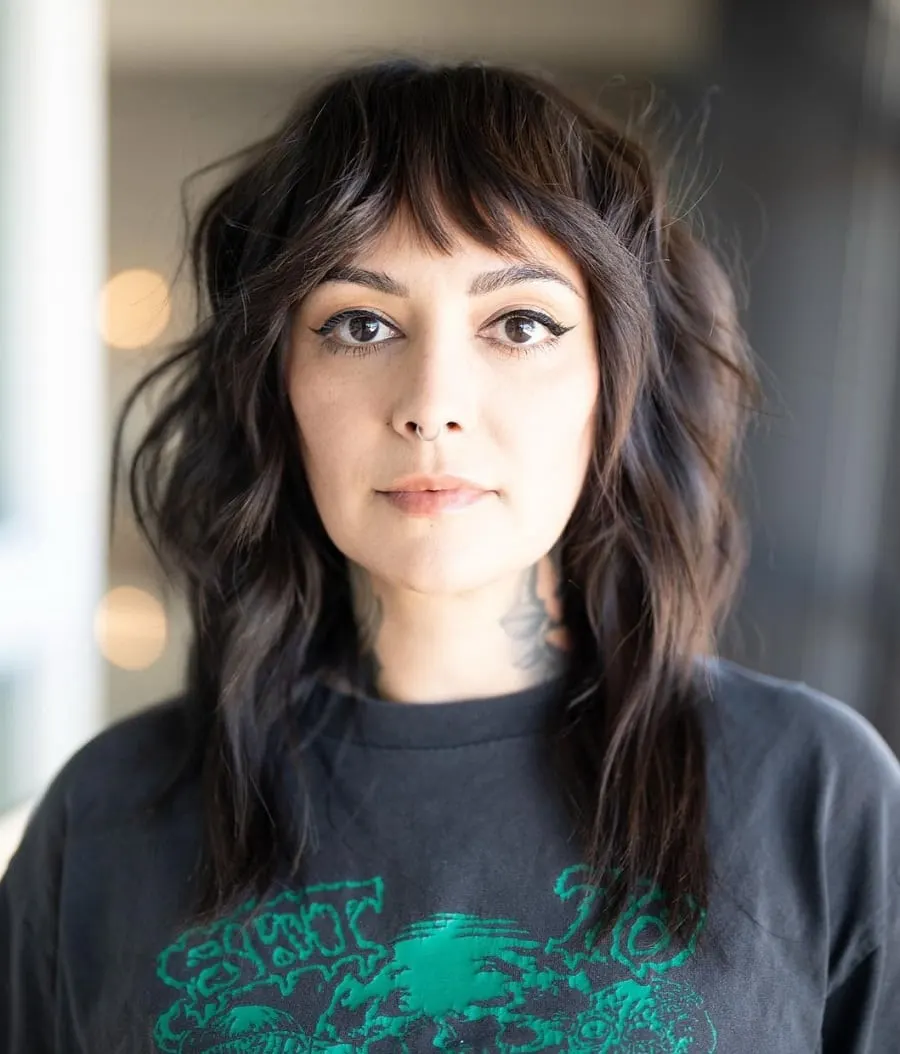 This textured wolf cut is suitable for women who have thick hair as you can play around with different textures and layers.
To make your look more interesting, you can play around with the length of the bangs to suit your face shape.
13. Shaggy Wolf Cut
If you are a woman who is always on the go and does not have enough time to spend on styling and perfecting your hairstyle every day, then this shaggy wolf cut would be a good choice. The messy loose waves can be styled with minimal effort.
14. Choppy Mullet with Shaved Undercut
When you combine edgy haircuts like the wolf cut and mullet with a shaved undercut, you end up with this eye-catching hairstyle that is going to captivate everyone around you. To keep the look intact, make sure you maintain the shaved undercut regularly.
15. Short Face-framing Bob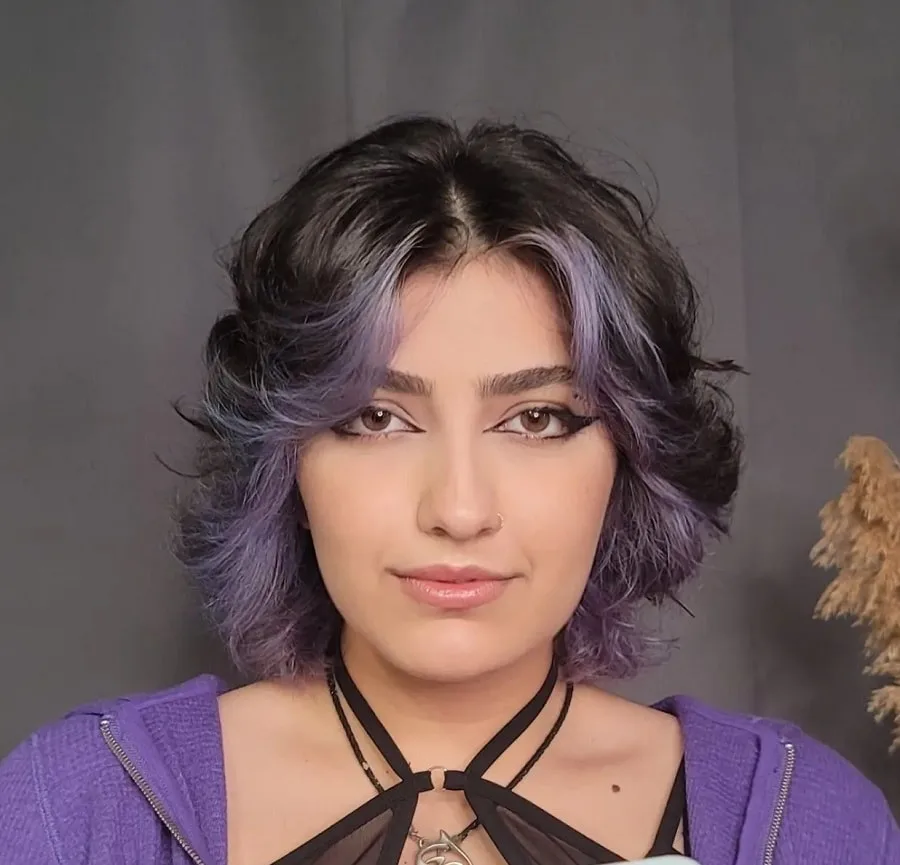 The beauty of a wolf cut is that it allows women to highlight their facial features with ease. This short bob with a wolf cut forms the perfect frame for your face, especially with the highlights on the hair strands around the face.
16. Snip Style with Color Blocking
If you are not too shy to try out something unique, then this snip-style haircut with color blocking should be on your list of future haircuts.
This unqiue hairstyle is a great way to add some contrast between your face and hair. You can opt for any dark shade to create the color blocks.
17. Short and Straight Red Bob
This short red bob hairstyle is super chic and sophisticated. It would look fantastic on women with a square face shape. It also serves the purpose of hiding large foreheads with those long, thick bangs.
Ensure that you leave a couple of tendrils on each side slightly longer than the overall length.
18. Baby Bangs for Fine Hair
The wolf cut is a good option for women with thin fine hair as it makes the hair appear fuller. This sleek style with baby bangs is a good example of how this haircut can add some life to your thin hair.
19. Layered Shoulder Length Hair with Blonde Ends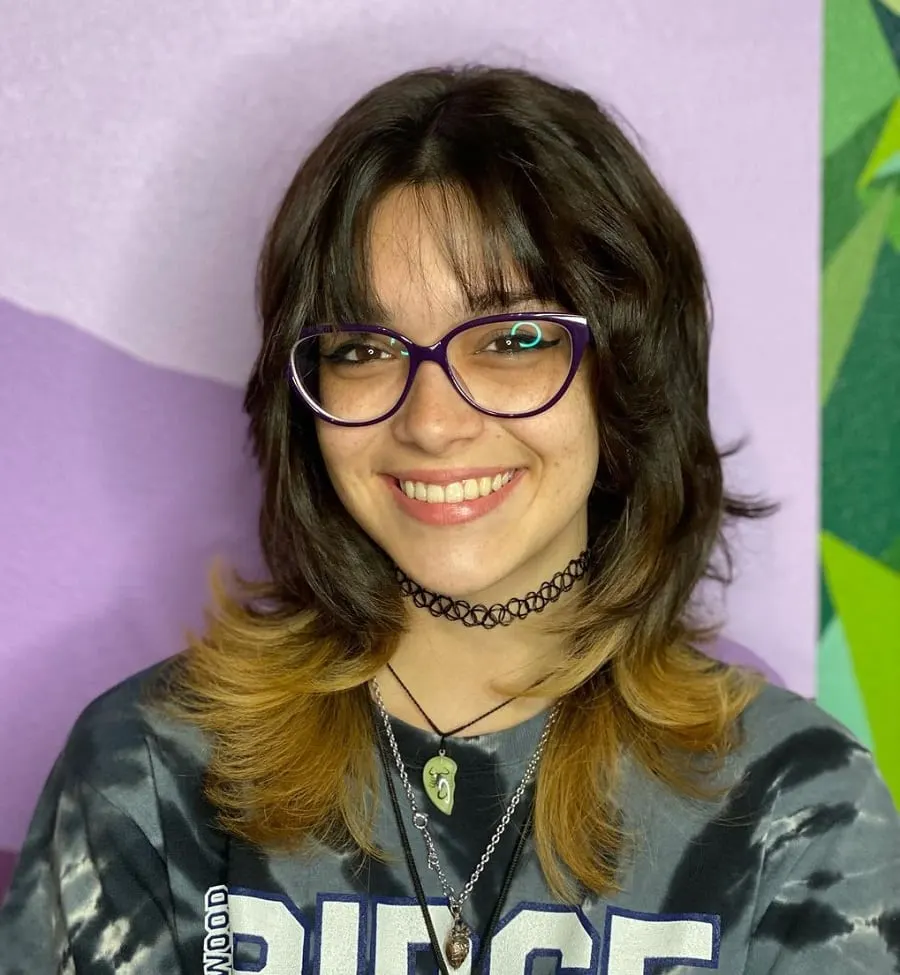 One of the best ways to transform any simple and popular haircut is to experiment with hair colors. For example, this simple wolf cut looks more alluring thanks to those blonde ends.
To achieve this look, opt for shades on the ends that are lighter than your natural color.
20. Soft Wavy Copper Hair with Long Bangs
Women with copper hair can try this soft and sweet hairstyle. This low-maintenance hairstyle makes it easy for women to look their best without depending too much on styling tools. If you have natural wavy hair, then this is a must-try!
Related: The Best Wolf Cuts for Curly-Haired Women
21. Thick Medium Length Hair with Lowlights
Transform your simple medium-length hair with a wolf cut and add some lowlights to make your tresses shine brighter.
This hairstyle will look gorgeous on women with round faces, as the fringes help remove attention from the chubbiness.
22. Wolf Cut for Women with Glasses
A wolf cut hairstyle works well on women who wear glasses as the short hair on the front and sides allow your glasses to be in focus. For this hairstyle, make sure you keep the length of the bangs short so that they don't fall over your glasses.
23. Lob with Feathery Finish
Women over 50s can try this simple lob with feathery, flicked out layers. It is an easy to maintain hairstyle and is ideal for women with medium to thick hair. The soft bangs and feathery layers make you look angelic.
24. Edgy Cut with Highlighted Ends
Women looking for an edgy look with minimal fuss can try this style. The haircut with short razor bangs and messy layers gives off the perfect edgy vibes. Also, don't miss out choosing a light shade to highlight the ends.
25. Blonde and Orange Combination
Here's a fun hairstyle for women who are looking to transform their hairstyle in a way that makes every one take notice. This combination of blonde with bright orange looks quite pretty and eye-catchy. Paired with a wolf cut, it will surely get you noticed.
26. Disconnected Wolf Cut
A disconnected wolf cut such as this one is highly recommended for women who have thin, straight, long hair. As you can see, the name is derived from the exaggerated disconnect between the various layers and fringes. This disconnect instantly gives your overall hairstyle a much-needed lift.
27. Elegant Platinum Super Short Bob
If elegance is what you are going after, then this is the perfect short bob hairstyle for you.
The platinum hair color looks absolutely alluring and the overall look with straight, sleek hair and flicked-out ends looks classy and elegant.
28. Short Shag with Peekaboo Highlights
Bored of the same old shag style? Give your shag a makeover by opting for a wolf cut. For easy maintenance, keep the length just until the nape and try out the peekaboo highlights to make your overall appearance subtly stylish.
29. Thick Hair with Fringes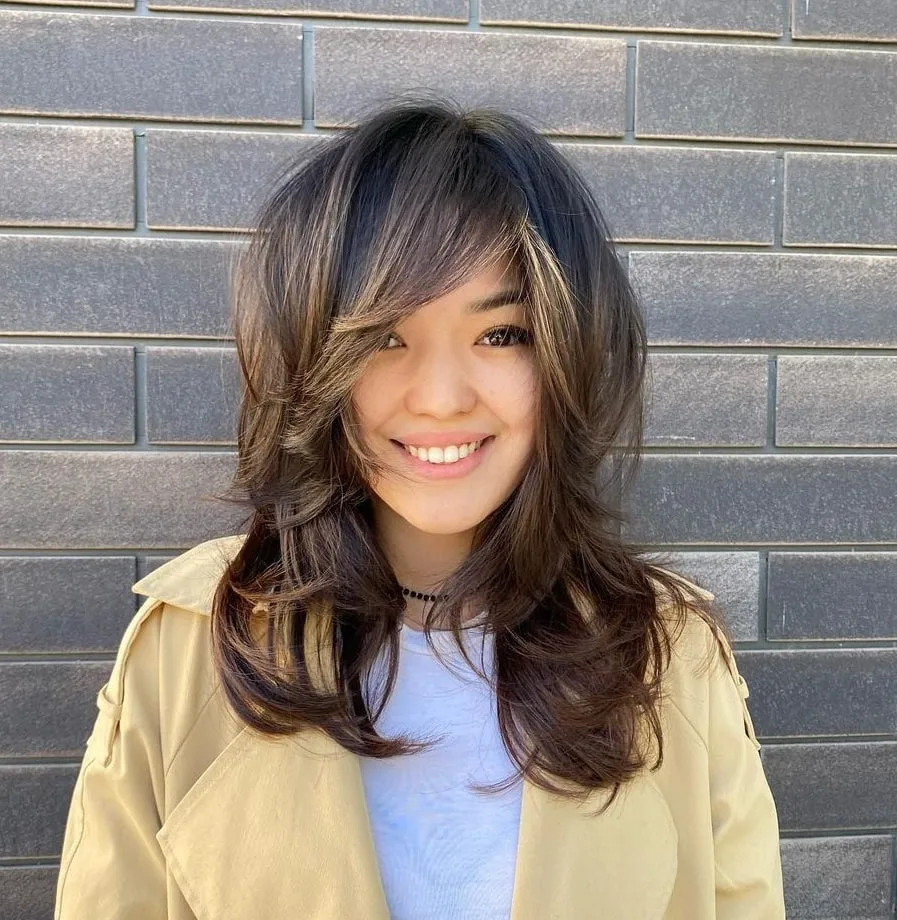 Fringes are a great way to amp up your look. You can play around with the length and style of the fringes – from short and messy, long and sleek to varied lengths with highlights. This layered wolf cut with fringes is perfect for women with thick hair.
30. The No-Fringe Cut
If you are not a fan of fringes, then this wolf haircut will look wonderful on you. The varied hair lengths can avoid the need for any fringes, thus allowing you to let your gorgeous face shine without having to push the hair strands away every time.
31. Long Red Shag with Curtain Bangs
Red is always a popular choice when it comes to hair color as it can instantly boost your appearance. If you are in the mood for a bold makeover, we recommend this red shag with wolf cut and curtain bangs.
32. Wispy Purple Hues
If you have thin, medium length hair and want to make your hair look a bit fuller and bouncier, try this hairstyle with wispy bangs.
Opting for different shades of purple will make your hairstyle appear multi-dimensional.
33. Choppy Layers and Blunt Bangs
Women with long hair can try this choppy layered wolf cut with baby bangs. The choppy style gives off a very edgy and rock chick vibe, while the baby bangs add a touch of softness to your appearance.
34. Dual-toned Lob
Women with thick hair can take advantage of the lush thickness and add some heavy textures to achieve this stunning hairstyle. Also, ask your hairstylist to give you the dual-toned look. You can try many color combinations here to suit your personal preferences.
35. Black and White Effect
Black and white is a classic combination, and looking at this funky hairstyle, there is no doubt why it is such a popular choice. This shaggy two-toned hairstyle can make you go from drab to fab!
36. Bold Wolf Cut for Thin Hair
Are you struggling to find the right hairstyle for your thin hair? Here's an uber cool style for you to try out the next time you hit the salon. The electric blue highlights with razor edges is the perfect rebellious look for you.
37. Classic Wolf Cut with Under Dye
If you are looking for a trendy hairstyle that will have heads turning everywhere you go, then this classic wolf cut with under dye hair color is the best option for you. The red under dye adds a pop of color to your natural hair color, thus boosting your hair's style quotient.
38. Mullet with Shaved Sides and Side Locks
If you are looking for an out of the box hairstyle that will truly change the way you look, then this mullet with shaved sides and side locks is absolutely perfect. This hairstyle will certainly have all eyes on you.
39. Shaved Undercut with Tousled Layers
This hairstyle is a combination of shaved undercut and tousled layers. It is a very unique hairstyle that aligns perfectly with the rock and roll vibe. Women with thin and fine hair can try this hairstyle as it gives an impression of fuller hair.
40. Split Colored Wolf Cut
Whether you wish to try the horizontal split color style or the vertical style, we are sure that you will leave people around you mesmerized with your unique hairstyle. Here is an inspiration for you to try out for your next salon visit with two contrasting colors on each half of your hair.
41. The Unicorn Style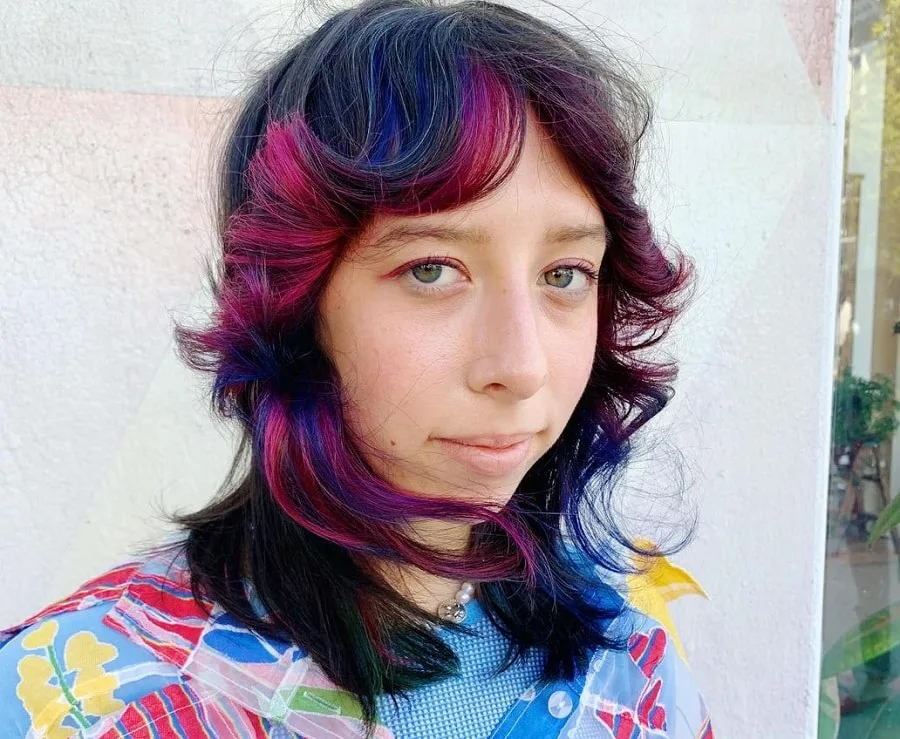 With hairstylists coming up with different unicorn styles, you have a wide range of options to choose from if this is your aesthetic. For example, this wolf cut is completely enhanced thanks to the unicorn colors forming a colorful frame for your face.
42. Half-and-Half
This half-and-half hairstyle with this combination of black and shades of green looks absolutely electrifying. Make sure that your ends are flicked out to achieve this hairstyle perfectly. You can also try this with any other bold color.
43. Wolf Cut with Pop of Pink
Women who have a square face can try this wolf cut hairstyle. The combination of blonde and soft pink streaks takes away the sharpness of your face shape and softens the edges to create an alluring appearance. The varying lengths of baby bangs also add to the softness of the look.
44. Black Layered Hair with Long Bangs
This hairstyle is perfect for women who have lush, thick, natural black hair. A simple wolf cut can completely change your look, especially with those sharp and sleek long bangs covering the forehead. It is a low maintenance hairstyle which looks sophisticated.
45. Short and Stylish Wolf Cut with Orange Highlights
Orange is definitely a trending color currently! If you are looking to get some highlights, try this wolf cut hairstyle which looks completely stunning thanks to the orange highlights. The hairstyle with its blunt bangs and flicked out ends would look amazing on women with all face types.
46. Asymmetrical Salt & Pepper Bob
If you are bored of a regular bob, the best way to upgrade it is to ask your hairstylist to give you an asymmetrical haircut. As you can see, the added combination of salt and pepper hair coloring in the asymmetrical bob looks mesmerizing.
47. Punk and Funk
Want to embrace the punk style, then we highly recommend you try this punk and funk style. This wolf cut hairstyle is the epitome of a retro look complete with the multi-colored hues of purple and yellow.
48. Sleek and Icy Blue
Get your sleek game on point with this icy blue, sleek, and sexy mullet. From the off-beat color and the blunt bangs to the mix of inverted and flipped out ends – this hairstyle has a lot of beautiful elements.
49. Short and Messy Fine Hair
This is the ultimate go-to hairstyle for women who have really fine hair and are super lazy to spend time daily on styling them. This short and messy wolf cut is a low maintenance style and suitable for women with any face shape.
50. Wolf Cut with Wavy Layers
Finally, we have this dreamy shoulder-length wolf haircut. The USP of this hairstyle are its highlights and lowlights, which make the overall hairstyle unique and stylish. This hairstyle would look good on women with medium to thick hair.
One of the key unique offerings of a wolf cut is that it suits all hair types, textures, hair lengths, and face shapes. This is one of the best styles today if you wish to flaunt a stylish and rebellious hairstyle.
Although, before you go ahead and transform yourself, remember that you will have that for some versions of this hairstyle, you may need to spend some time styling your hair. Using the right hair products can help you to achieve the desired look easily, of course.