If you are not satisfied with your hair or just want to try something absolutely different without cutting or dyeing it, you can try sew in weave hairstyles. A sew in weave means that the hair extensions are sewn to your own hair. At first, your hair is braided into a cornrow in a certain place or a pattern and then the hair extensions are sewn to the braids.
There are several sewing techniques different hair stylists use. You can even do the sewing on your own. However, professional sew ins are recommended. By using a weave you can turn your simple bob into the hottest long ponytails, or change your dull medium-sized locks into voluminous braids. All you have to do is give the weave a chance!
Stunning Sew In Weave Hairstyles for Modern Women
Thinking hard about an image change? Go no further. An amazing way to make your hairstyle dreams come true is to use a sew in weave. You can let your imagination run really wild with the help of your new long locks. Sew in weave hairstyles are pretty long lasting, so you can enjoy your new look to its fullest extent.
We prepared a short list of the most amazing sew ins for your use. The great advantage of such hairstyle is that you can change it as often as you wish. Take a look at how you can go about a sew-in weave hairstyle.
1. Long and Soft
If your hair is originally curly or wavy, a great image change would be to make it long and straight. Get a straight or slightly wavy hair extensions to make your dream come true. You can now experiment with long braids and ponytails!
2. Straight and low
Turn your fine and straight locks into an amazing long mane with a sew in weave. Women with fine hair look especially amazing when they attach hair extensions. The image changes drastically. A simple girl can turn into a real beauty queen!
Sew In Hairstyles for Black Women
3. Coveted curls
Always wanted nice and curly hair but all you've got is some messy waves? Go for a sew in weave hairstyle. You will turn your unruly mane into a great curly extravaganza. Just make sure to take care of these curls on a regular basis.
4. Pageant look
Dreaming of a beauty pageant but hate your hair? Hair extensions will do the trick. Sew in large and voluminous weave into your hair and you dream will come true. Choose curls or waves for a really regal look.
5. Teased curls
Teased curls don't look too good on your short bob? They will look amazing with long locks. Find the hair extension that will fit your hair type and color and sew it in. You will love the way your new hairstyle will look.
6. The longer the better
Girls with thin and straight hair can make this amazing hairstyle by attaching simple straight hair extensions to their bobs. Straight weave will give you a chance to create all types of hairstyles, but the straight locks with blunt bangs always look the best.
7. Be special
Sew in weave is great for special occasions when you just need to look your best. Not every girl is ready to face the long hair hassles, that's why they are ready for a temporary quick fix. Just be careful. You might like the weave so much that you'll want to keep it.
8. A-line bob
Getting a weave doesn't mean that you must choose a long one. You can turn your pixie into an a-line bob with the help of a sewed in hair extensions. Changing your hairstyle in a matter of minutes is a lot of fun.
9. Ombre
How do you make an ombre without coloring your hair? Get a weave! You can sew in hair extensions above your own natural hair to get an impression of an ombre. Or you can just get a longer weave to attach over your bob to make it longer.
10. Be elegant
When your hair is fine and messy, it is very hard to look elegant. Use hair extensions to change your image by adding some length and volume to your hair. You will need a really professional hairstylist to make your new hairstyle look neat.
11. Curl cascade
Planning a wedding and want to look your best? Hair extensions will do the job for you. Get the most beautiful and curly sew in weave to make an incredible hairstyle you will remember for the rest of your life.
12. Creative hairstyles
When you have long hair, you can come up with many more hairstyles than when all you have is a short pixie. Get a sew in weave to help your imagination go wild about daily images. Experiment with curls, braids, ponytails and buns. You won't regret it!
13. Turn on the volume
If your hair is too thin to be voluminous then you can use the hair extensions to fix the problem. Allow your hairstylist to find the weave to fit your hair color and attach it as high as possible. You will love the new and improved volume!
14. Long bob
Turn a short bob into a long one by getting hair extensions. You might either be tired of your old style or wanting new experiences. All reasons are good for getting a weave. You can even go further by getting hair extensions with a different color.
15. Low curls
Even if your hair is straight, a well-chosen curly weave can make you look absolutely fantastic. Having curls just on the bottom is a style all on its own. So, don't be afraid to experiment with the curls at different levels.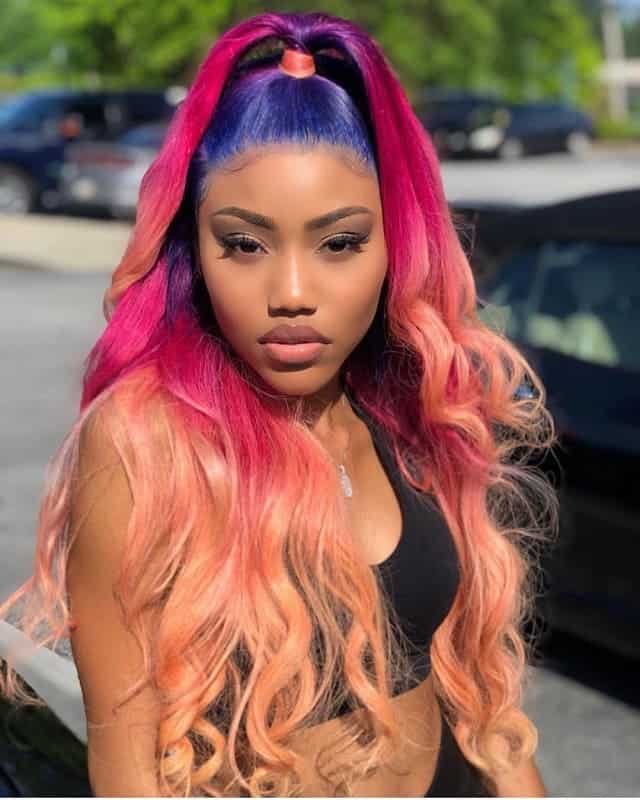 We have shown you the easiest way to get the image change. Now it is up to you to use this knowledge. Choose one or two of these amazing sew in weave hairstyles and show them to your hairstylist. No matter which one you'll choose, you will surely be happy with the result.