If you are not completely sure what a sew in hairstyle is, we will explain. There is really nothing hard about it. It is a special way to attach hair extensions.
The weave is literally sewed into your own hair. Your locks are braided in a special way and then the hair extensions are attached by using a needle and a thread. Some weaves are sewn directly into the braids/cornrows, while others can be fastened with the help of a net. This is a great way to make your hair longer or more voluminous without damaging it.
The weave is great for making long curly manes. But there are many more uses such hair extensions have. Special attention should be paid to sew in bob hairstyles.
Beautiful Sew In Bob Haircuts to Try
Ready to make your bob stylish? Think about sew in weaves. They will add your bob some volume and make it look really special. Hair extensions will not just add length, they will change the color and the style. If you are tired of your old bob but don't want any drastic cuts, the weave can really help you out.
Take some time to browse these sew in bob hairstyles, which we have chosen to show you how amazing your hair can look with a little help from a weave.
1. Side Part Sew in Bob
The transition from a dark-colored hair to a bright blonde is, as you can imagine, very damaging to your hair. In order to avoid that, braid your hair, get yourself a net, and start sewing those blonde extensions that will help you get this eye-pleasing blonde color.
2. Sew in Bob with Middle Part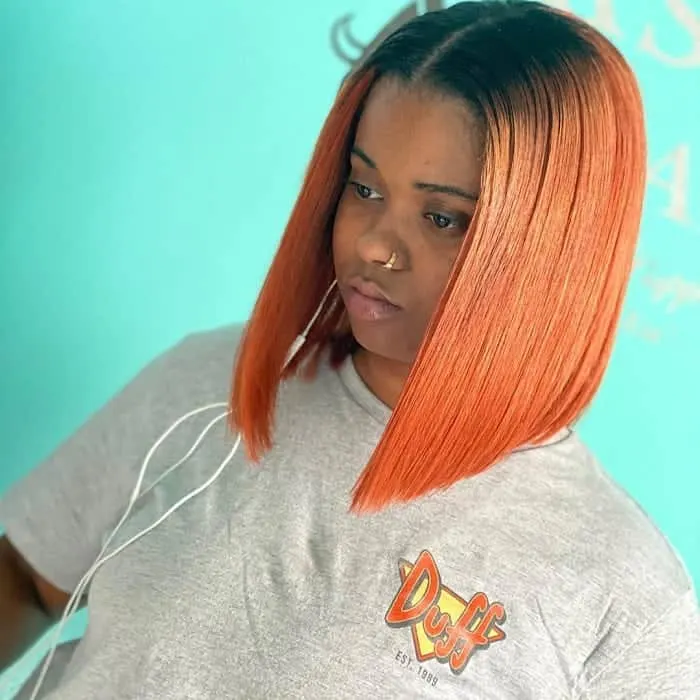 If you are that kind of girl that loves bright colors but also gets easily bored of them, there's no need for a permanent change. Choose your sew-in extensions, and after you applied them, cut an inverted bob hairstyle.
3. Short Sew in Bob
A short sew in bob hairstyle can come in all sorts of shapes and sizes. To recreate this hairstyle, you need to create a fantastic teal blue ombre and master some waves for the tips of your hair. Do the part on one side, and you will fall in love with this sew in bob.
4. Red Bob Sew in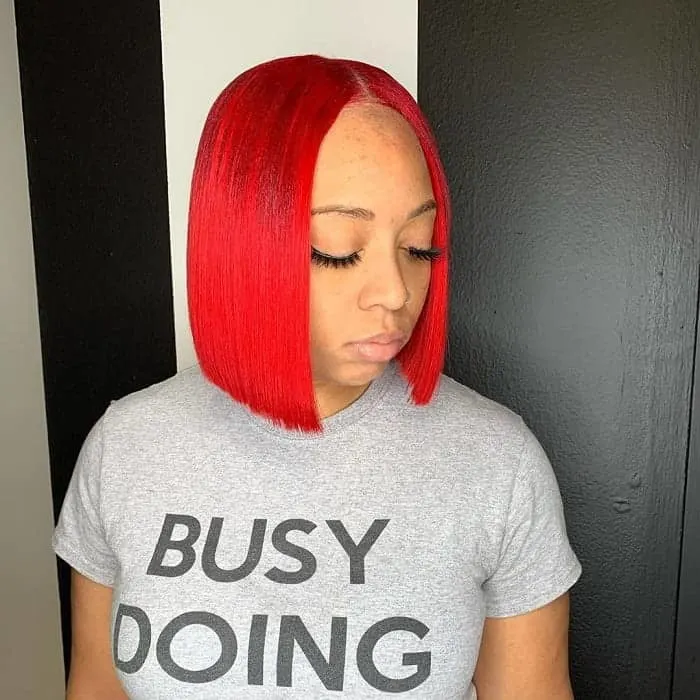 A red bob with sew in extensions will not only protect your hair from damage, but it will also show your strong, fierce personality. Get a straight line cut and do a middle part. If you want it to look flawless, use a straightening iron.
5. Sew in Ombre Bob
Get ready to shine with a mesmerizing burgundy bob ombre hairstyle with sew-in extensions. For this particular hairstyle, you'll need an already dyed weave and to part your locks in the center. Also, remember that the cut should be flawlessly straight.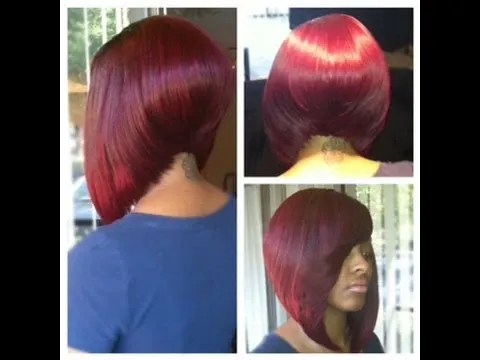 Long angled bob is very popular among teen girls. Your short bob can be made stylish in a matter of minutes with a sew-in weave. The hair extensions are attached in front to add length to the frontal strands. A short weave is added in the back to create volume.
7. Extend your bob
If you are unhappy with the length of your bob, try extending it in the back. The sew in weave is attached in the back to make some hair fall down the neck. A short bob is magically turned into a longer hairstyle.
8. Back volume
Women with fine hair will appreciate this sew in bob hairstyle. Thin hair creates a stylish bob, but there is usually no volume. Weave will save the day. Add some in the back to make your bob voluminous and fluffy.
9. Colored extensions
If you want to drastically change your look from a short haircut to a bob, hair extension will save you a lot of waiting time. Make sure you have enough hair to create a braid to sew the hair into and you are ready to go.
10. Volume for fine hair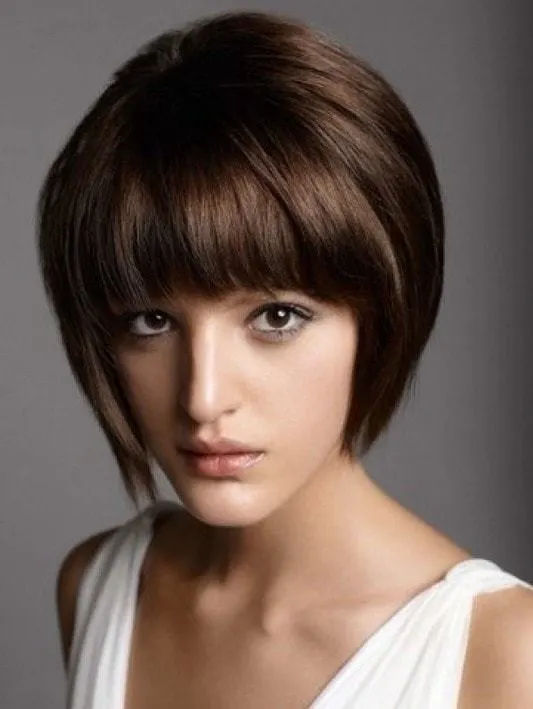 If your bob is lacking volume in the back, use sew in hair extensions to make it fuller. You can also play around with frontal strands. They usually look great combined with a short bob. A great idea for triangular faces!
11. Color experiment
Sew in weave is great for changing the color of your bob. If you don't want to dye your hair, the weave will become your best friend. Incorporate light hair extensions into the dark bob and the result will exceed all expectations.
12. Brown Sew In Bob

Creating volume on top of your bob will take a lot of blow-dryer work and hair cosmetics. Want to avoid all that? Use sew in hair extensions right from the top. The bob will immediately get a new and fresh look.
13. Bangs

You'll be surprised to learn that bob with bangs can be created with the help of hair extensions. So, if you always wanted bangs, but never had enough courage to try them, go for sew in weave. It will make your bob look amazing.
14. Heavy strands

Women with fine hair dream of heavy strands. They can be attached in a matter of minutes. If your bob is short, then long strands might not look appropriate. Go for hair extensions, which make your hair look thick and heavy, while short.
15. Side extensions

Extend the sides of your bob to make it look even more stylish with the help of sew in weave. This hairstyle is easy to create on any hair type. Sewing in thin strands will take minutes and the result will be amazing.
16. Sew In Straight Bob

Long sleek bobs look amazing. Especially when the hair is straight and thick. Give one of them a try even if your hair is not too long. Sewed in weave will add your bob some length while keeping it beautiful and stylish.
17. Stylish curls

If your hair is hard to manage and you are keeping it in a short bob for neatness, try the sew in hair extension. It will create a hairstyle you always wanted without trying to tame your unruly mane. Add some stylish curls to make your bob look fantastic.
18. Asymmetrical Bob Sew In

If your bob is quite simple, you can easily make it stylish with some asymmetrical locks. Sew in some angular strands to make your simple bob modern and fashionable.
19. Neat basket waves
Neat waves on the back of your bob are easily created with the help of some hair extensions. Sew in the weave and let it create volume. At the same time you can style your natural hair to create neat waves without worrying about the shape.
20. Fixing mistakes with bob sew in
One interesting use of sew in hair extensions is fixing hairstyle mistakes. If you decided to go for a very short hairstyle, which you stopped liking after a while, you can add sew in weave to make your hair longer.
21. Curly sew in bob
You can turn any short hairstyle, such as a pixie, into a great curly bob by adding sewing in a weave. Curls are a great choice for a weave since they do a good job covering the sewing. Messy curly hair is a great idea for girls, who are tired of short straight styles.
22. Long sew in bob
You can make your bob as long as possible with the help of sew in hair extensions. Weave can also help your bangs look voluminous and blunt. The overall look you'll get is worthy of a beauty pageant.
23. Long bangs
If you want your bob to look even more stylish, add some long bangs. If you have no wish to wait for it to grow, add some sew in hair extensions to make the process much faster. One visit to the hair salon and your long bangs are ready!
24. Bird's wings
This special hairstyle is available to women with thick heavy hair. However, if you hair has neither of those qualities, use hair extensions. They can really create a wonderfully unique hairstyle, which will keep some heads turning your way.
25. Extend it
Extending the frontal parts of your bob is a must to make it more stylish. Extend just one of them with the help of a weave and you will get a completely new and improved look.
26. Sew In Swing Bob
Single sew in strands are a great way to diversify your simple bob. As you know asymmetry is in style, so go for asymmetrical strands. Make sure they stand out due to the color contrast and your outstanding hairstyle is ready!
27. Burgundy Bob Sew In
Give your bob a second life with an awesome burgundy sew in strands. This hairstyle can only be achieved by a professional, so choose your hairstylist carefully. The result is bound to amaze you and anyone who sees it.
28. Tight curls
This sew in bob hairstyle is a dream for many women who never had curls. No need to go for perms and flat irons. A wonderful sewed in weave will fix the problem and give you a chance to flaunt amazing curls.
29. Slight change
If you are satisfied with your look and want to add just little mysterious details to it, a sew in strand is the best idea you can come up with. Choose an outstanding color and insert a weave inside your fringe.
30. Blonde Sew In Bob
Want to add some real drive to your haircut? Choose a wispy textured bob with voluminous bangs. Don't have enough hair to even start making it? No problem. Sewing in hair extensions will help you do the trick. This hairstyle will really make you feel amazing.
31. Sew In Blunt Bob
If you are looking to change up your style then you can go with sew in blunt bob. It suits many face shapes which is the main concern for girls.
33. Sew In Bob With Highlights
34. Feathered Bangs + Sew In Bob
35. Sew in bob cut with curls
Now you know how different sew in bob hairstyles can be and are ready to choose one of them. There is no reason to make just one! Change the hair extensions every time you are ready for a new hairstyle. Weave gives you a wonderful opportunity to experiment.