Vanessa Hudgens has been ruling the hearts of many not only for her exceptional acting and singing skills but also for her unique fashion sense and iconic hairstyles.
This multiracial beauty plays around with different hairdos, hair lengths, and textures every single day and knows how to slay each one of them.
If you love to switch up your look, as much as this sweetheart from High School Musical does, have a look at the following guide of Vanessa Hudgens' latest hairstyles with some styling tips and tricks to appear picture-perfect every single time.
Vanessa Hudgens's Latest Hairstyle in 2023: Sleek Braided Updo
From Vanessa Hudgens' messy updos to sleek bobs, you will find a bit of everything on this list to rock on casual days as well as formal events.
1. High Braided Ponytail
A simple high ponytail can work wonders to lift up the face. Vanessa Hudgens opted for one sitting on the very top of her head and braided it down to the end.
Swoop down your unruly flyaways using hair wax and don't miss the winged eyeliner!
2. Slicked Top Knot
Vanessa Hudgens' hairstyles include a number of updos that are perfect for any occasion.
Ladies who like to wear their hair up can copy her iconic top knot. Pull up all your hair into a braided ponytail with a middle-parted front and swirl it around into a bun. Voila!
3. 90s Flipped Pony
Though 'Princess Switch' is popular for her contemporary hairdos, she looked even sexier while sporting a retro flipped ponytail.
The actress relived those good old days with a super high ponytail and flipped-out ends. She completed the look with a sleek side swoop at the front, and so can you!
4. Bouncy Bombshell Curls
Vanessa gave some glamorous 70s vibes with her Christmas holiday look featuring shimmery eyes and big bouncy bombshell curls.
Get a layered haircut, preferably at shoulder length, and curl the strands gently away from the face to achieve the style shake-up of your dreams.
5. Straight Middle-Parted Tresses
Simple is sexy! The 'Beastly' actress has a naturally curly hair texture but tends to wear her tresses straight every now and then.
The middle part breaks down the broadness of her face while the side locks conceal those prominent cheekbones giving the illusion of a slimmer facial outline.
6. Blunt Bob
The half-Filipino songstress rocked the American Music Awards with a neck-length blunt bob and some deep side-parted bangs.
She went for barely-there point layers and flipped out the ends for an edgy appeal while flaunting her petite jawline like no one else!
7. Sleek Side Part with Bun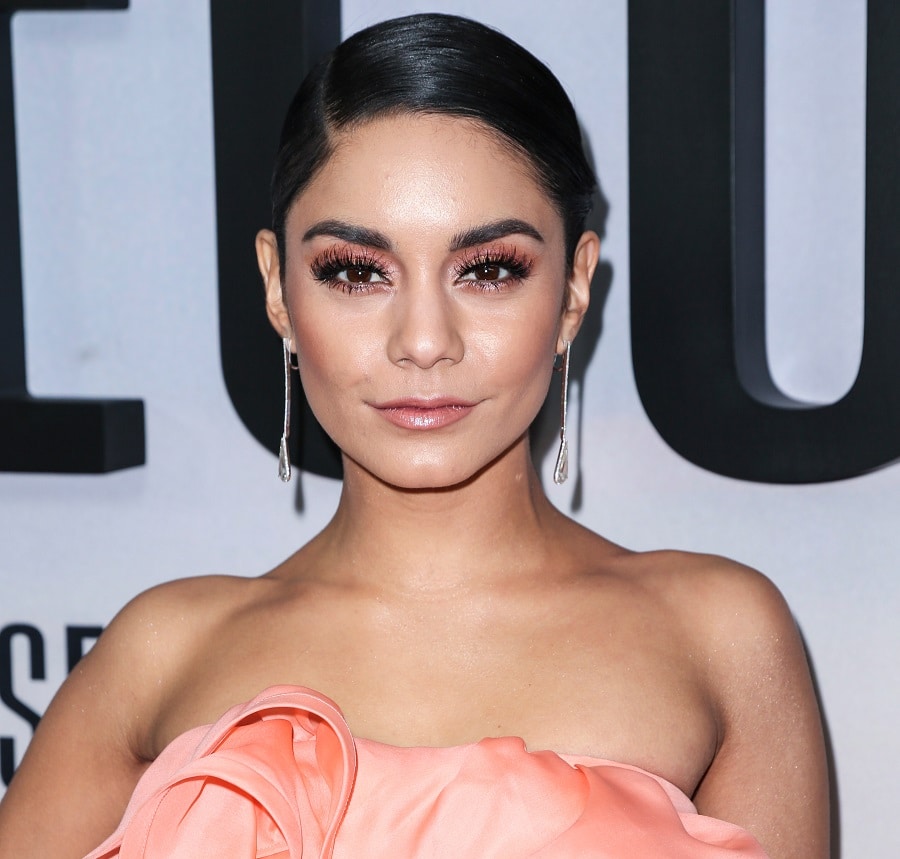 This hairstyle of Vanessa Hudgens was truly on fleek at the premiere of 'Second Act'. The style icon kept it basic with a sleek deep side parting and a low bun at the back.
Make use of that oily mane of yours on the day of an important formal event and stand out from the rest.
8. Classic Parisian Cut
Get a Parisian charm, just like Hudgens did here, with a classic French girl bob. Couple your chin-length chop with cropped bangs and layers to achieve some movement around the face.
Add further bounce with loose curls and you will definitely love the outcome!
9. Neck-Length Waves
The 'SuckerPunch' girl has got another bob hairstyle in case you find the above-mentioned one too short.
Try a neck-length snip with minimal to no layers and skip the bangs. Avoid a blunt look with flowy waves and a deep side parting.
10. Voluminous Comb-Over
Layers or blunt haircuts, Vanessa Hudgens slays them all. The beauty diva went for both a stylish and professional look with a straight-cut bob and a voluminous comb over to broaden her narrow forehead.
Tease the roots and tousle the remaining strands before sweeping them sideward for a messy yet sexy finish.
11. Relaxed Slick-Back
The slick-back hairdo is still going strong, and actress Vanessa didn't miss the chance of sporting it at the Peoples Choice Awards.
She skipped the sleek wet version and brushed back her raven locks with a subtle pouf instead to accent her diamond-shaped face. Relaxed and reliable!
12. Playful Space Buns
The 'High School Musical' girl shed off several years and looked like a teenager with her funky space buns and long face-framing curls.
The trick is simple; create two pigtails and wrap them around into buns. A zigzag hair parting will look even better.
13. Choppy Bob + Caramel Balayage
Though Vanessa Hudgens is proud of her black curly tresses, she likes to spice them up with varying hair colors for a change.
She took part in the choppy bob hair trend and set it on fire with hand-painted caramel blonde highlights that added a flawless radiance to her face.
14. Romantic Half-Up Halo Braid
Vanessa Hudgens' hairstyle at the MTV Music Awards made her look like a true princess.
Ladies having long tresses can recreate this look with a half-up crown braid running across the hairline and messed-up loose curls. Don't forget to add some teeny tiny flowers!
15. Princess Leia Buns with Loose Ends
The 'Come Back to Me' songstress went for a Princess Leia look with double buns on both sides of her head.
Lower the buns to sit just above the ears and leave the ends loose to graze your shoulder. Adding curls will make a huge difference though.
16. Ombre Beach Waves on Bob
Hudgens enjoyed the summer of 2014 with a choppy shoulder-grazing haircut featuring a dark brown top turning butter blonde midway to the ends.
An off-center parting works wonders to alter your look with just a tiny change while those beach waves are a must-try too.
17. Statement Straight Lob
The American actress looked mature, sporting a sleek lob tucked neatly behind her ears, putting her beautiful face on full display.
The gorgeous chocolate brown-to-blonde ombre and feathered tips are just everything. Ladies with oblong faces should definitely skip short bob cuts for a classic lob instead.
18. Big Curls
Vanessa Hudgens' hair and style look completely different every time she makes a public appearance.
Here she refreshed her appearance without letting go of her long tresses. The songstress went for a natural-looking dark brown hair color and big bouncy curls that dropped many jaws.
19. Long Layers and Middle Part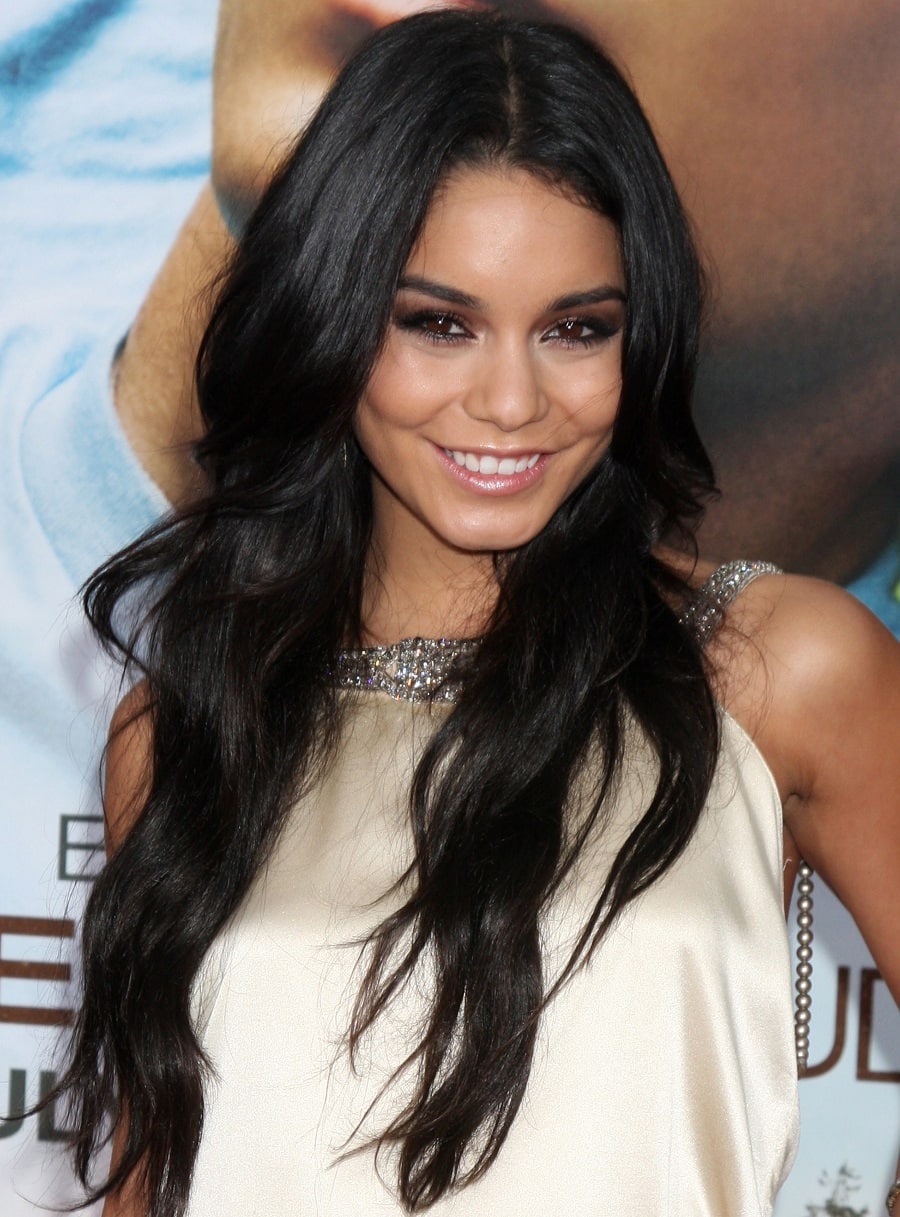 Fringe bangs are ideal for softening harsh facial outlines. Hudgens hid her protruding cheekbones with long middle-parted curtains that made her face appear more slender than before.
She went for long wispy layers tousled carelessly at the front and so can you without second thoughts.
20. Casual Ballerina Bun
Basic ballerina buns save the day for celebrities too. Whether you want to keep hair away from the face on a lazy day or wish to look stylish effortlessly on a festive occasion, just slip a hair donut bun maker onto your ponytail and cover it up. Can't get any easier!
21. Thick Side Fringe + Razored Layers
Vanessa lightened her super thick raven locks with razored layers that resulted in disconnected slices that thin down towards the ends, airy wispy tips, and plenty of texture.
The actress coupled her rumpled long tresses with smooth angled side bangs to add some asymmetry to the face. Some curls surely won't hurt.
22. Tousled Curly Updo
The young Hollywood sensation went for an all laid-back look at the premiere of High School Musical 2.
Hudgens piled up her curls in a loose updo and pulled out plenty of chunks to frame her gorgeous face. The messier it gets, the better it looks!
23. Laid-Back Milkmaid Braid
Vanessa Hudgens put away her long highlighted hair in a messy milkmaid braid that is pushed farther away from the face as compared to a crown braid.
The American singer went for a ruffled French plait, wrapped it around her head, and left plenty of tendrils loose to accent her facial features.
24. Formal Soft Pouf
Princess Switch opened up her face with a formal hairdo on the red carpet and wowed everyone around her.
She kept it low-key with a messy bun and tousled strands all around the face. The soft pouf on top adds length to the face making it suitable for round-faced women.
25. Dramatic Halloween Half Updo
With this hairstyle, Vanessa Hudgens turned herself into a spooky black widow once on Halloween and her dramatic makeup and over-the-top hairdo are just to die for.
She sported jumbo entwined curls at the front, to mimic a crown and long loose tresses at the back. Professional help is inevitable here.
26. Red Ombre Shag
Mussy shags are trending this year, and Hudgens' rock'n'roll hairstyle is an ideal inspiration to start with. Vanessa brightened up her jet-black tresses with vibrant ombre highlights that intensify towards the tips.
Fuller layers around the crown and thinned-down ends are all you need to ask for.
27. Lady Gaga-Like Soft Blonde Waves
Vanessa Hudgens' most iconic hairstyle is the one where she channeled Lady Gaga like no one else. She covered her natural dark mane with an epic blonde wig featuring soft waves.
The celeb created further drama with bleached brows and turned around many heads. Recreating this look will require lots of courage off course!
Vanessa Hudgens' ever-changing hairstyles prove that she is a style chameleon like no one else. The actress has prominent cheekbones and a diamond-shaped face which she pairs perfectly well with a variety of hairdos, whether long, short, curly, or straight. And if she can, so can you!