There are many brown haired actresses in Hollywood but what adds to their appeal is not just the color of their hair but rather how they style it. Here are some of the most famous brown haired celebs and their favorite go-to hairstyles.
Popular Brown Haired Actresses
Check these most renowned brown haired actresses to draw inspiration for your nest hairstyle.
1. Jennifer Lawrence

The Hunger games star is not only ranked in the top amongst highest paid actresses but is also known for her impeccable simplicity in style. J-Law loves sporting brunette hair with blonde highlights whenever she can and is often seen switching hair colors.
She is seen maintaining medium length hair at most times and loves pulling her hair back into a ponytail for her everyday looks. Her go to look for when she is doing public appearances is to either let it loose or go for a loose messy bun.
2. Zoe Saldana
The Avengers actress is undoubtedly someone who is so in love with her hair. Zoe Saldana has maintained her brown locks whereas she is constantly shifting between curls and long straight hairstyles. The actress has a relatively smaller face which goes well with her preference to sport loose hair all the time. With those pretty locks, we'd go for it too!
3. Mila Kunis

The candid brown haired actress is known for her down to earth character but style divas are often mesmerized by how well she styles her hair. Be it a slicked-back hairstyle or beach waves, Mila Kunis is definitely an inspiration when it comes to styling brown hairdos. Her go-to hairstyle ranges from sleek ponytails to loose hair, while most of them are center partitioned.
4. Megan Fox

Megan Fox, a gorgeous actress with brown hair and blue eyes. If you thought her craze for tattoos was all you had to look up to then you seriously need to revisit the number of times she has upped her sex appeal with her long dark brown hair. Her go-to look is middle parted hair with all or part of her locks pulled to one side. Preferably to show off her tattoos perhaps!
Lovely Brown Hairstyles for Blue Eyed Women
5. Natalie Portman

Academy award winning Natalie Portman is more than just a pretty face and her stunning performances will speak of that for you. The talented brown haired actress is one of the most famous stars to sport beautiful hairstyles for years together. Her famous looks are often ones that involve a casual updo.
6. Kristen Stewart
Kristen is one of the most famous young actresses with brown hair. The Twilight star rocks any hairstyle be it her long locks or her recent variations of a buzz cut. She seems to be more comfortable styling her buzz cut off lately and her recent runway look is completely ravishing.
7. Emily Blunt
Another brown haired actress with blue eyes. This Brit beauty changes her hair color from time to time but her constant choice has always been her luscious brown locks.
While Emily prefers to maintain medium hair length for most occasions, the actress chooses both straight as well as wavy textures. Her go-to hairstyle is a simple brushed and let loose hairstyle that highlights her minimal makeup.
8. Angelina Jolie
If anyone rightly fits into the brunette bombshell category, then it has got to be Angelina Jolie. The award-winning actress with brown hair is known for her bravery and philanthropy but is also a style inspiration for many women across the globe.
Angelina Jolie always opts for hairdos that highlight her facial features the best possible way. Her most famous hairstyles include the half up half down hairdo and the sleek bun.
9. Anne Hathaway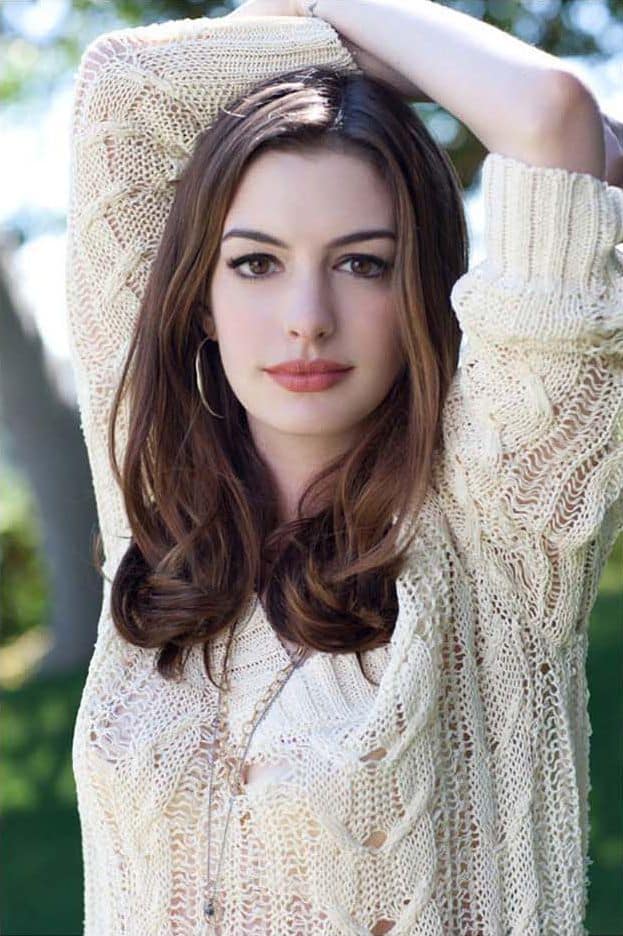 Anne is an incredibly talented actress nonetheless and it definitely a style inspiration for many women. Her style statement is a mix of classy and simple. The actress styles her brown hair with elegant hairdos on many occasions.
Anne prefers keeping things simple with her hair. It's either a center partitioned soft waves that are let loose or side partitioned brown wavy hair that falls right across the temples. These hairstyles are certainly the best ones if you want to keep all the focus on your facial features.
10. Jessica Alba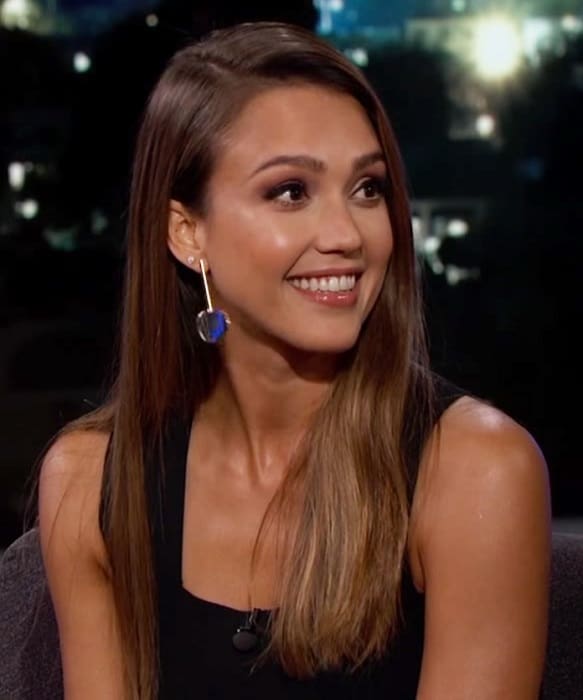 The Fantastic Four actress is goals for many women who want to be fit and beautiful through the years and rightfully so. Alba keeps much of her glamour to just shoots and prefers a more natural and elegant style elsewhere. The brown haired actress opts to maintain long her for the most part although she surely can pull off a super short bob as well.
While the actress is quite experimental in her style, she loves maintaining center or side partitioned straight her for the majority of times including her day to day runs.
11. Lena Headey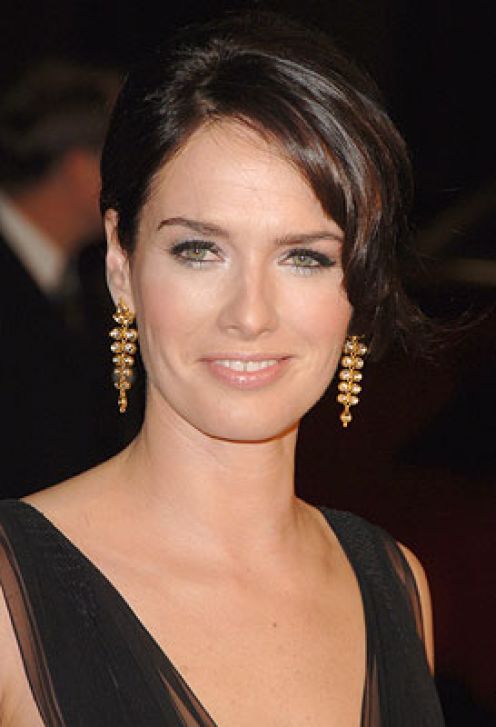 The Game of Thrones star may have just recently lost her long gold hair on the show but Lena Headey has been maintaining her pixie cut hair for quite some time now. The British actress is simple, natural and an extremely talented beauty. Her style mantra is to just go for anything that is comfortable and appreciates her svelte figure. Lena Headey opts to style her brown hair in layered curls.

Best known for her pop diva days as Hannah Montana, the Voice star is goals for any fitness freak with her daily yoga moves. Earlier the brown haired actress maintained long hair and then went for a super short pixie cut. Now the actress's long hair is making a comeback. Miley prefers letting her hair loose when she has long locks and goes for bohemian style hairdos at times.
13. Elizabeth Gillies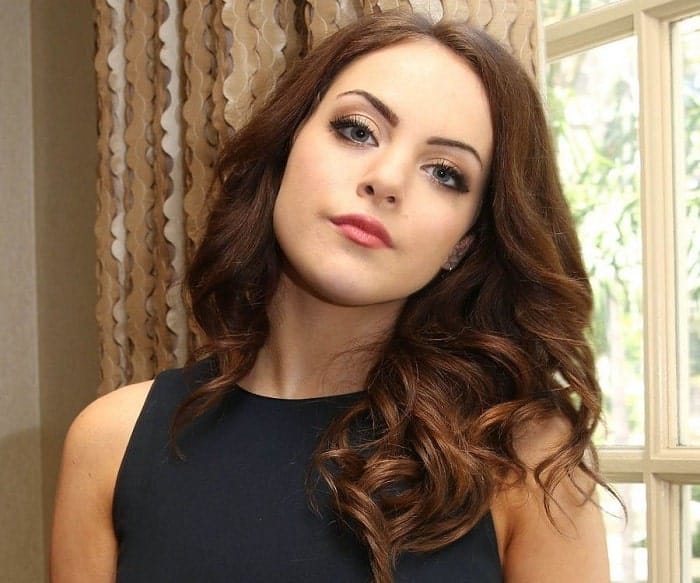 Known for her role as Fallon Carrington on Dynasty, Elizabeth Gillies one of the popular young actresses with brown hair, her favorite hairstyle is beach waves on her locks both on the show and in real life. The long beach waves are ideal for anyone who wants to make their hair look voluminous.
14. Keira Knightley
Quite the stunner that she is, the British beauty is smart, witty and known for her boldness in many interviews. The brown haired actress prefers messy updos off late for public appearances to highlight her cheekbones.
15. Jenna Dewan
Sporting a high low bob recently, Jenna Dewan styles her brown hair according to different trends and is a trendsetter on her own too. Her latest hairstyle is a chic bob that she lets fall on her shoulders softly.
If you thought blondes have all the fun, then here's your reason why brunettes aren't any less enticing. We're sure that these brown haired actresses gave you a whole lot of style inspiration.