Victory rolls is a hairstyle that became popular in the 1940s. Making such a hairstyle means creating large and voluminous curls either on top of your head or around the face. The rolls got their name from an aerobatic maneuver. This hairstyle continued to be popular during the 1950s. There are many different variations stylists came up with during that era. In fact, some of them were so interesting that they are still used nowadays.
Victory rolls are pretty easy to make. All you will need is curlers or rollers and a lot of imagination. The most unique victory rolls can be created at home. These rolls are great for theme parties and special occasions. Some of them are considered rather modern and are often used as wedding hairstyles.
Tips for Choosing a Victory Rolls Hairstyle
Victory rolls can take all shapes and sizes and are not only a hairstyle that was fashionable back in the '40. Among other iconic hairstyles, Victory rolls are undoubtedly elegant, powerful, and inspirational. When you choose to pull it off, people will see a certain glam, allure, and strength in you, and if you don't have these characteristics, the hairdo will not be suitable for you.
But if you are that graceful girl, you need to know that besides your wands and curlers, there are other useful devices that you can use to build those rolls easily. You will need many bobby pins, fixing spray, and a curling brush contraption, a handy tool for these Victory Rolls.
Also, when you choose a hairstyle with these imposing graceful curls, a red lipstick will suit you like never before. It makes any woman look more feminine and charming, and it will help you master that retro look.
Vintage Victory Rolls From the 1940s
Victory rolls are not just beautiful, they look like a lot of fun as well. You will be amazed to learn how well such vintage hairstyle can fit a modern image. We have collected 45 most interesting options for you to check out and copy.
The 1940s and 1950s victory rolls can become a great choice for many different occasions. Large curls never go out of style. Mixing new and old ways to arrange them is always a smart idea. Take a look at this shortlist and you might find what you've been looking for.
1.
2.
3.
4.
5.
6.
7.
8.
9.
10.
11. Low curls

This is one of the simplest and most popular victory rolls haircuts. The hair is arranged into large curls on the bottom, while the rest stays wavy. This is a wonderful choice for any special occasion including a wedding and will look good on medium-length hair as well.
12. Braided rolls with high hair

This interesting vintage hairstyle is created by brushing the top part up and down, so the hair stays high. The rest of the locks are arranged into two loose braids and tied with an elastic band in the back. The braids create an appearance of large curls.
13. Victory rolls for short hair

If you have medium-length hair, then these victory rolls are for you. Soft waves are created along the length of your hair and the bottom part should be curled into one large roll. Hair gel is used to smooth down the top part to make a good visual contrast.
14. Fringe roll

Upper victory rolls can be considered the classics. In order to create a fringe roll, curlers are used. Then the large roll is arranged on top of the head and pinned to the rest of the hair. The bottom locks are also curled and arranged over one shoulder.
15. Two front rolls

These upper rolls look especially well on long hair. One roll is traditionally smaller than the other. They can be kept intact with pins and hair gel. The rest of the hair is arranged in soft waves. This hairstyle will surely make you shine!
16. Small victory rolls

These small victory rolls are great because they stay intact for a long time. The frontal strands are lifted upwards and curled to make small rolls, which are pinned to the top hair. The rest of the locks are curled and left down.
17. Lateral victory rolls

This vintage hairstyle is a modern variation of the vintage victory rolls. The frontal strands are curled with the help of two rollers and are arranged horizontally not vertically. The rest of the hair can be left straight or curled on the bottom.
18. Sleek and chic

These rolls are easily made and will suit women with fine hair. The locks are divided into three parts. The two on the sides are lifted upwards and rolled up with curlers. Hair gel is used to keep intact. The third part is left straight in the back.
19. Raven black

Girls with light skin will appreciate this raven black hairstyle. The upper rolls are arranged in a classical way and the rest of the hair is also curled. Hair gel is applied on top and on the bottom. Red lipstick will be a great addition to the image!
20. The classics

This is the classic 1940's victory rolls hairstyle. The hair on top is separated into three strands. Two rolls are created on top and the middle strand is brushed over one of them and secured with hair gel. The back part of the hair can either be left down or lifted upwards into a loose bun.
21. Braided roll

If a curler is not your best friend, you can create a stylish braided roll. All you will have to do is make a high and loose braid and arrange it in a roll on top of your head. Make sure to pin it carefully, so the look will last all day.
22. Ponytail roll

This modern and fun vintage 1940's haircut is very simple to make. All you will need is long hair, elastic bands and some pins. You can start by making a low ponytail and securing it with an elastic band. Then the ponytail is lifted upwards and the end of it is pinned near the front hairline. The rest is up to your imagination. You can make rolls, buns or braids.
23. Regal roll

This regal roll will surely have some heads turning. It will take some time and skill to create, so perhaps you'll want to ask your stylist for some help. Adding some special highlights will make this regal roll even more unique.
24. High hair

High hair can create a good victory roll imitation. You can use the curlers to lift up the top part of your mane to look like a horizontal roll. The rest can be styled as usual. You can also curl the tips of your hair to make them look more vintage.
25. Pretty horns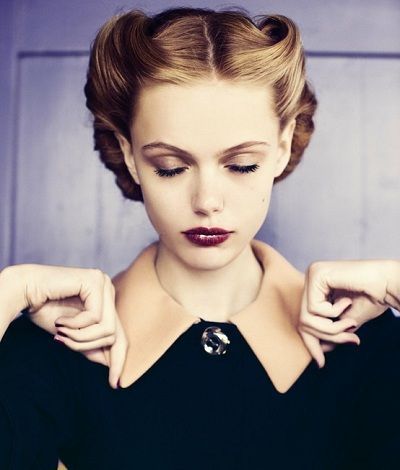 These pretty "horns" is another modern variation of the victory rolls hairstyle. It can be created on the hair of almost any length, as long as there are at least 10 inches of it. The back part can be either arranged into braids or a bun.
26. Rolls for short hair

Women with short hair can also enjoy amazing victory rolls. The hair on both sides needs to be brushed upwards and carefully arranged into small rolls with the help of some pins and hair gel. The look is truly stylish and can suit any special occasion. Such hairstyle will look good on women with a-line bobs.
27. Large rolls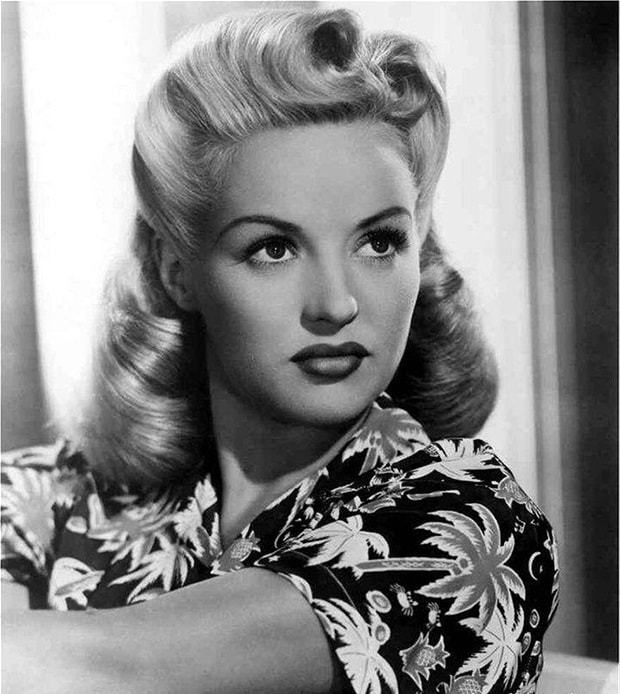 The longer your hair is, the larger the rolls you can make. Large bottom rolls were considered very stylish in the 1940's. You could make the top part low by making cute bow-like rolls and make very large rolls below.
28. Roll extravaganza

Modern girls don't stay with the classics, they go much further. Making different rolls on both sides of your head is a great idea. You can make a really large one in the middle and small ones on the sides. Or just one bow-like curl on top. Use your imagination!
29. Side rolls

There are many ways to create rolls in a vintage way. One of them is side rolls. Instead of creating something on top of your head, the large rolls are created on the sides. The rest of the hair is curled and neatly arranged.
30. Quick fix

If you don't have much time to deal with your hair but still want victory rolls, you can use this quick fix. The hair on the sides is lifted up and pinned to the rest of the hair to make just one coil. Some hair gel is applied to keep it intact.
31. Messy curls

If you like a messy curls look, you can diversify it by adding some small rolls on the sides. Instead of sporting a regular modern appearance, your image will immediately turn into something much more original.
32. Asymmetrical rolls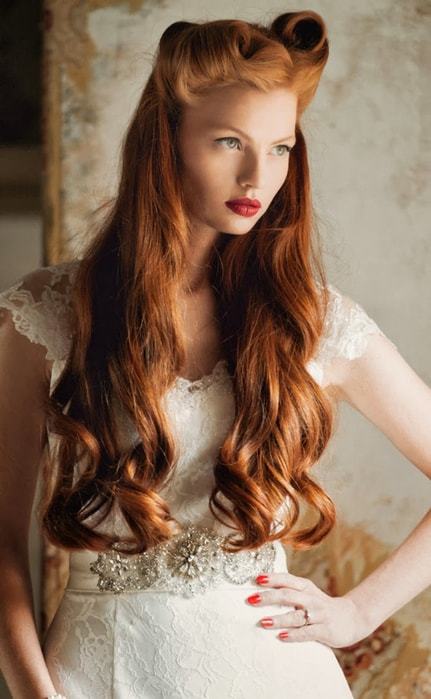 The classical victory rolls are asymmetrical. However, the difference between them is rather slight. You can go further to making the asymmetry much more obvious. Make one very large roll and another very small one.
33. Thick rolls

This amazing hairstyle is created by rolling up all of the hair instead of using just a few strands of it. It is great for girls with shorter hair. The hair on the sides is lifted up and arranged into thick rolls. The hair on the back is also lifted and pinned to the rest of the mane.
34. Be creative

This is an example of a creative vintage plus modern roll. It is very easily done without any curlers. One strand of hair is arranged into a curl and pinned with small pins to the rest of the hair. The strand on another side is swept backwards and pinned there.
35. Red devil

If you want a real devilish look, consider dyeing your hair deep red color. The classical victory rolls on top of your head look a lot like pretty horns. You can complete the image with a black dress and red lipstick.
36. Mermaid Rolls
These mermaid victory rolls totally steal the look. The asymmetrical rolls look like a crown on top and the long hair falling across the shoulders complete the look. Lighter-hued highlights bring perfection to the 1940's look, and you'll totally rock it!
37. The Wavy Roll
Rock the classic wavy victory roll look. If you have dual hair color, the wavy roll will look lovely on you. Slightly mold the top front hair into a light wave and roll up the rest of the hair. For the remaining hair, a back bun or a low ponytail would be nice.
38. Fringe Twisted Roll
Twist your fringes back into a bid fluffy roll. Behind the fringe roll, make a puff on top and pull them into a bun. Blonde hair looks gorgeous in the fringe twist roll due to their gold-like hue.
39. Voluminous Vintage Roll
Thick and voluminous black hair could be turned into a vintage victory roll hairstyle. Two thick strands are taken from the front and rolled into large rolls. Pin the rolls up slightly on the side of the head for a royal look. This style looks best on medium length hair.
40. Royal Vintage
Pin your front hair up into two rolls, one giant sized and the other about medium sized victory rolls. Keep them a little laid back, towards the side for an attractive and unique hairdo. Let the rest of the hair settle loosely and gracefully at the side.
41. Curl In Up
Opt for tight or moderate curls for medium length hair. Make victory rolls and pin them up high on the top part of the head for the best look. The rolls give the appearance of a heart when pulled up together.
42. Cat Victory Rolls
Color your hair a dark brown and a little lighter red towards the ends and get bangs for the front hair. Pin your rolls towards the top and a little sideways on each side. You are all set with a cat to look! Dress up in a chic sundress or a retro attire for the best appeal.
43. Fine and Royal Victory Roll
Pull your hair into a half ponytail for a fancy appeal. For the front, opt for a fine-looking victory roll set sleekly on one side of the head. To do complete justice to the look, dress up in something vibrant and more feminine.
44. The Bandana Hairdo
There could be nothing more vintage than a chic victory roll on the front side and a vibrant bandana tying the rest of the hair into a ponytail. The ponytail brings a fun look while the roll is a complete vintage.
45. French Style Victory Rolls
Look graceful in a fine black bun made tightly at the back or side of the head. For the front, for a complete vintage feel of the French region, go for two rolls pinned close to each other.
Victory rolls are beautiful and fun. Try the simple ones to see how they fit you. We are sure, you'll come back for more. Some of these ideas are very easy to copy. All you will need is hair curlers and some imagination. Good luck!