Blonde with curls are one of the most popular hairstyles of the planet. That's why many women choose curly hairstyles with blonde hair. Since natural blondes are rare in the world when compared with dark-haired gals, the demand for the blonde dye is mind-boggling. If you want to become a curly blonde, you need to get ready for a long road. However, in the end, you can get a breathtaking style that you'll never want to change. All you have to do is prepare to be patient and do some work with your hair.
Stylish Blonde Curly Hairstyles
No matter what hair you start with, you can always create a curly blonde hairstyle. Gals with dark straight hair will have the most trouble, but eventually, each one of them will get the curly blonde hairstyle she always wanted. Don't be afraid of the long way to the beautiful image. A professional hairstylist can help you achieve your dream in just a few sessions. Most women just need one visit to the barber shop to create the hairstyle they wish for. Become a curly blond in no time. Below are 12 blonde hair styles with a curly hair to look attractive.
If you have a short teenage hairstyle, you can completely change it in just a few steps. All you need is a curling iron. Creating tight spirals is a perfect way to a striking hairstyle regardless of the shortness of your locks.
2. Professional curls
If you want to look magnificent with the least effort, you need to ask a professional hairstylist for assistance. You can experiment with blonde hair by adding light highlights in front and keeping the locks darker in the back.
Curly hairstyles with blonde hair look especially inviting if you go for natural shades of blonde. Most of the time you'll have a choice of dark hues, such as dark ash blonde, or honey blonde.
4. Playful curls
Taking out your curling iron or wand and start wielding it! You can arrange tight curls anyway you want to and they will still look perfect on your blonde mane. Modern curly hairstyles come in all shapes and colors.
Short Curly Hairstyles for Round Faces
5. Curly bob
Turn your simple a-line bob into a curly extravaganza. Either use a curling iron or ask for professional assistance. The tighter the coils are, the more interesting and special your hairstyle will look.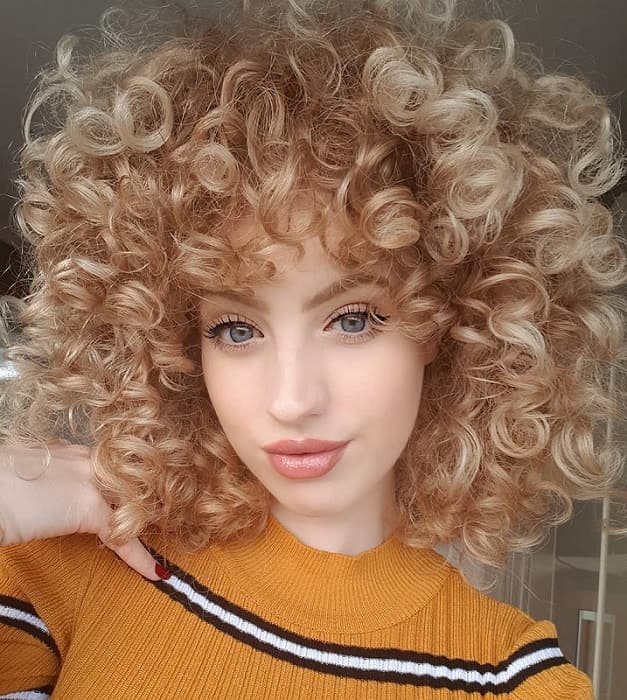 Curly hairstyles with blonde hair are exactly what you need when you are looking for a new way to arrange your locks. The most popular blonde shades and a curling iron are waiting for you to make the right decision.