Strawberry blonde hair is a fabulous mix between shades as red, warm light copper, and blonde and is a color that you can rarely find.
This is why, before you buy the hair dye for your DIY project, make sure the color suits you. The shade is known to work for girls with warm tones and fair skin, but if you're having doubts, visit your colorist and to find out if it will look on you too.
Strawberry Blonde Hair Colors
Influencers, bloggers, and singers love this strawberry blonde hair, and they are often spotted wearing it. If you want to obtain those fantastic hues, just scroll down, and you'll discover the most delicious nuances.
1. Strawberry Blonde Bob with a Fringe
A strawberry blonde hair with blue eyes look will make you ravishing all the time. Get a long bob haircut with bangs and let the color work its magic. If you are already a blonde, it will be so easy for you to nail this look.
2. Straight Pink Strawberry Blonde Hair
If you need something more eye-popping and fierce, a pink strawberry blonde hair can be your match. You will irrevocably fall in love with his luscious color. You can even straighten your hair with an iron to obtain that flawless appearance.
3. Strawberry Blonde Layered Hairstyle
When you have gorgeous thick curly hair, go for a layered haircut that will transform you into a queen. A dark strawberry blonde hair will give each ringlet texture and if you want to keep them well defined, use a shampoo that maintains the curls bouncy and healthy.
4. Strawberry Blonde Bob
Pull off a short strawberry blonde hair by getting a blunt bob haircut. You can opt for a fringe that covers the forehead and you'll and up with better face-framing.
5. Strawberry Blonde Balayage
If you are that kind of girl that loves a natural wavy look, a strawberry blonde balayage and a bob haircut will look astonishing. Create a few waves to obtain that smooth touch and careless look.
6. Strawberry Blonde Hair Crown
When you have long locks, your hairstyling options are limitless. Opt for a strawberry blonde hue and curl only the tips of your mane using a wand. Use the bangs and top strands to build a hair crown around your head.
7. Strawberry Blonde Curls
A strawberry blonde hair with green eyes will look fabulous with your fair skin with pink tones. If you have freckles, don't hide them because they will make a great team with your hair color.
8. Strawberry Hair with Bangs
Thick hair looks fabulous with any color dye. When having green eyes, a strawberry blonde hue and a long cut with bangs will undoubtedly make you look genuinely ravishing. Also, keep the roots in their naturally dark color.
9. Strawberry Blonde Ponytail
If you always dreamed about having long hair that reaches your waist, now you can have it without waiting for it to grow. Get a long faux ponytail in a strawberry blonde shade and dye your top in the same color. Nobody will notice the difference.
10. Strawberry Blonde Low Bun
A strawberry blonde hair is the ideal hair color for girls that want to look ravishing. Your pale skin is a perfect match for this color and your blue or green eyes will stand out even more. Opt for a low bun in the nape area and make it seem like you didn't put too much effort into building it.
11. Lightly Layered
A lightly layered look is an amazing choice for strawberry blonde hair. The layering at the front of your style will help to frame your face, whereas the rest of the layering looks really subtle.
Hottest Hair Color Ideas for Women
12. Subtle Face-Framing Curls
Use a curling wand to put a very light curl into the front section of your hair. This will help to frame your face in a gorgeously glamorous way which really suits the strawberry blonde color.
13. Pinned Back with Big Waves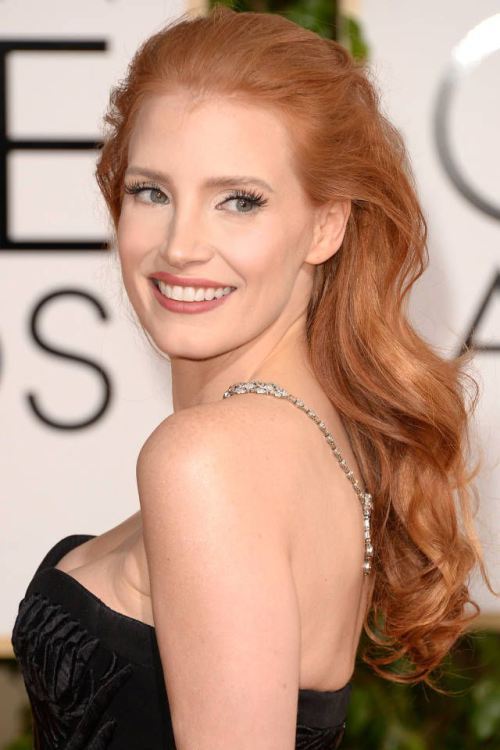 A pinned-back style with big waterfall waves and curls is a great look for the red carpet. The best thing about this amazing look is that it is easy to do without the help of a stylist. Just add waves and curls to your hair and then pin it high on your head.
14. Big Bold Curls on Strawberry Hair Color
Voluminous curls are an ideal choice for girls who love their strawberry blonde hair color. This style helps to make your hair big and bold. You are sure to be the center of attention.
15. Side-Parting with a Lightly Curled Fringe
Give your hair more weight on one side than the other by styling in a side-parting. Add a light curl to the fringe on the heavier side to give this strawberry blonde hairstyle an added touch of glamor.
16. Long Hair with a Strong Wave
Large, flowing waves look gorgeous in big hairstyles. To create waves like this in a strawberry blonde hairstyle, you should curl your hair in rollers and then brush through it. This will loosen out the waves.
17. Blonde Highlights
It is possible to lighten a strawberry blonde haircut by adding bright blonde highlights to your hairstyle. Adding these in the top layer of your hair will help to create texture and depth.
50 Fresh Chestnut Hair Color Ideas
18. High Ponytail with Bun
For a clean hairstyle for your next red carpet event, choose a high ponytail with a chignon bun. Scraping back your hairstyle will ensure that you do not have a hair out of place all evening.
19. Low Ponytail
For a more relaxed look for your next hairstyle, try securing your hair in a low ponytail instead of a high one. Add a few extra hair clips to keep your hair looking perfectly manicured.
20. Ombre Styling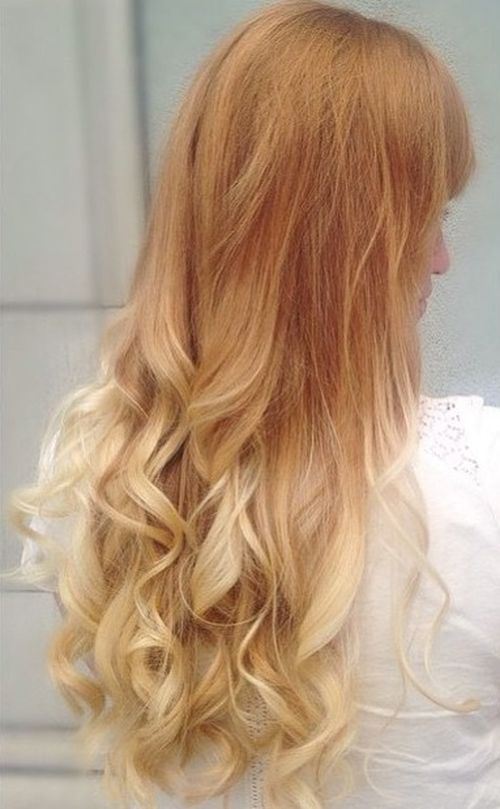 Give your strawberry blonde hairstyle an extra edge by coloring it in an ombre style. Keep the top part a darker strawberry blonde color but allow the color to lighten towards the tips of your hair.
21. Shoulder-Length Hairstyle with Curls
Shoulder-length hairstyles are very gentle and delicate if you have thin hair. A soft loose curl is a perfect addition to a shoulder length hairstyle, especially if you have a delicate strawberry blonde hair color.
22. Sleek Styling with Long Layers
Sleek styling can really help to show off your strawberry blonde hair coloring. Heavy layering can help to reduce the weight of your hairstyle, meaning that it looks even straighter and sleeker.
23. Light Strawberry Blonde Bob

A lighter shade of strawberry blonde can be teamed up with a weightless hairstyle like a chin-length bob. Short layering around the face will help to keep the hairstyle looking really cute.
Blonde Hair Types: The 7 Shades of Blonde Hair
24. Sleek Hair with Short Layering
If you have sleek hair, short layering helps to create a blunter hairstyle. Keep your hair a uniform length for most of your style, but shorten the layers a little bit around your face.
25. Voluminous Roots
Comb your hair upwards from the roots to try to give the style more volume. This works really well on strawberry blonde hairstyles that seem to be too thin or flat.
26. Touchable Locks
For locks that you will just want to run your fingers through, use a combination of shampoo and conditioner. Layering throughout the style will also help to give your hair much more bounce so that you will just want to grab it.
25 Best Bohemian Hairstyles for Every Girl
27. Feathering
Cut layers around your face to help to frame it and then open it up with feathering. Feather your locks away from your face by curling the front section around a barrel brush whilst you are blow-drying it.
28. Tousled Soft Waves
Give your hair a gorgeous tousled look with soft waves by lightly curling your hair and then running a brush through it. Layering the style can help to enhance your waves.
29. Updo with Bangs
For a glamorous look for strawberry blonde hair, pull your hair up into a high twisted bun. Separate your short bangs at your parting from drawing attention to your beautiful eyes.
Put lighter highlights and darker lowlights into your strawberry blonde hairstyle to add texture and depth. Highlights and lowlights look fantastic in a lightly curled or wavy hairstyle as they make the waves or curls really stand out.
50 Alluring Brown Hairstyles With Caramel Highlights
Do you envy the hairstyles in our list? Just take the photos to your hairstylist and ask them to help you to recreate one of these fantastic strawberry blonde hairstyles. If you aren't looking for one of the top strawberry blonde hair color ideas, then you can take a look at our other lists.