The ashy blonde has been very popular among women because they provide a hair color that goes in a different direction than the blonde ones with yellow undertones.
The light ash blonde is a very modern and popular choice among women who want to make an impression with their hair color.
Dark ash blonde is a hair color which sits in between blonde color and brown color. Sometimes dark ash blonde can also have hints of gorgeous gray.
Although many people have natural ash blonde hair colors, it is also possible to dye your hair this beautiful shade.
Who Should Try Ash Blonde Hair Highlights
Ash blonde is a great choice for people who are looking for a mixture of blonde and ash, brown. If you do not want the brightness of true blonde hair or the dark intensity of fully brown hair color then you may want to choose ash blonde hair color instead. It also goes will with a lot of different skin tones.
How to Get Ash Blonde Hair
Each hair coloring line does have ashy tones in their palette of products. These ashy tones are considered to tone down the hair color, cool some intense shades and give a smokey finish. Many women with red or orange pigmentation regularly use the ashy tones so they can adjust the desired hair color up for their taste.
When it comes to blonde ashy tones, they are mainly used for achieving unique looks that will cover the yellow undertone of the blonde dye. If you are dying your hair light or dark ash blonde, you can choose some of the hair colors that are already with an infused ash tone in them.
If you are up to some mixing, it is best to let your hairstylist do it for you. The ash blonde hair can be done with a mixture of blonde shades and a gray one. The lighter the grey is, the more subtle the shy finish will be. The grey ashy tone presents differently on different blonde shades and that is because of the different color of the base and the undertones of the hair. The ash blonde hair color can be done overall as a hair dye or in ombre, balayage or highlights technique.
Watch The Following Video to Learn How to Get Ash Blonde Hair
Pearl Blonde vs. Ash Blonde
Pearl blonde is an icy blonde, also called Scandinavian blonde. It is a sophisticated and striking shade that is warmer in tones than the platinum or ashy blonde. The ashy blonde is a shade that has grey tones in it, while the pearl blonde goes for a bit of color giving is more natural texture. Both of the shades are cool and suit each person differently. The pearl blonde tends to lean more towards the white tones.
Latest Ash Blonde Hairstyles
Following are the most popular ash blonde hair looks that women love!
1. Ash Blonde Hair with Highlights
This is a beachy–textured and shaded style that is dimensional and deep. The unique color is accented by the waves and subtle layers. Under a different light, it presents various colors. The ashy undertone is dominant and this shade suits women with lighter skin. From afar, it has a metallic shine that is extremely interesting and very modern.
2. Long Bob
Ash blonde hair color looks great in a Long Bob hairstyle. Use straighteners to keep your hair sleek to show off the color and then use the irons to curl the ends of your Bob under your chin.
Brown Hairstyles with Caramel Highlights
3. Medium Ash Blonde
The base of this light ask blonde hair look is the dark roots and the ashy brown shade. It is toned down, without any yellow or gold shine. The hairstyle is shoulder length blunt cut and wavy. The blonde is a dominant color, with just a bit of grey infused shine.
Sleek layered hair is ideal for people with dark ash blonde hair color. Having sleek hair helps to show off the subtle variations of color between each strand. Light layers will help to frame your face.
5. Large Glamorous Curls
Large loose curls help to create a truly glamorous style in long hair. These big curls give texture and volume to ashy blonde hairstyles.
6. Light Ash Blonde Highlights
The brown and dark blonde shades come together in a wonderful mixture that shines with ashy tones. The ends are highlighted in blonde, and the appearance is cold, cool but very attractive. The lighter hair is accented in subtle waves and the highlights are in lighter blonde.
The grey shade is coming in a perfect mixture with a light blonde color. The hairstyle is sleek, edgy, clean, with bangs to the side. This hair color is great for women with fair complexions because it brings out the natural pinkish tone of the skin. The light ash blonde tone is more intense to the roots, slowly becoming lighter to the ends.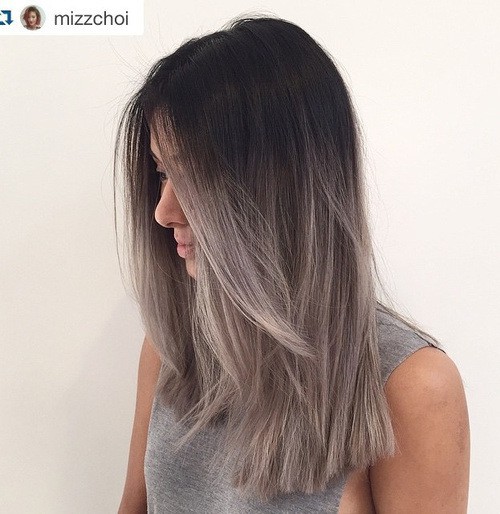 Give your lightest ash blonde hairstyle a cool modern look by changing the color to a subtle shade of gray. Ombré hair colors which go from dark to light give this look an even more funky edge.
Blonde Hairstyles with Lowlights to Look Like a Star
9. Dark Ash to White
Take the ombré look to the extreme by letting your dark ash blonde hairstyle run from a dirty blonde color into pure white tips. You may need to bleach your hair to achieve this look. Be careful to follow the instructions or you could damage your hair.
10. Messy Look
Create a devil-may-care look with your dark to medium ash blonde hair by using curling irons to put a loose curl into your hair. Once the curl is set, run your fingers through your hair a few times to create a messy-sexy style.
Exquisite and rare look, but very effective to the eye is a version that combines the golden blonde with the grey ashy one. The golden blonde highlights transform the look as it is touched by the sun. Again, the best hairstyle that brings out the beauty of the colors are the waves. The golden highlights do not start very high.
12. Dark Ash Blonde Highlights
Gray or platinum blonde highlights hairstyles can be taken to another level by putting those in ash blonde hair. Putting dark ash blonde hair color close to the top of your hair will help to give your style depth and texture.
A sloping bob is a cool style for people who want to give their hair a modern twist. Keep the hair longer close to the chin and then get shorter towards the rear of the head. Ash blonde bobs with side bangs look great with a very light curl.
14. Silver Ash Blonde with Dark Roots
This light ash blonde hair starts from the roots, making it look like an ombre. However, the roots are just for balance, the color is grey with silver shine with ashy babylights. The hairstyle is straight, with subtle curves to the end. Worn as parted to the middle, it shows the hairs color equally and the waves only add to the uniqueness.
For a hairstyle which screams everyday glamor, choose a hair color teamed up with a subtle curl. Your hair should be largely straight and sleek at the top, but it should fall into big loose curls at the bottom.
The sun-kissed shade is a combination of medium ash blonde at the roots, gradually transforming into ashy blonde. It is textured and dimensional hairstyle – it is matte at the root and then continues to be shinier. The hairstyle is between straight and messy, with subtle waves at the end. Both yellow and ashy tones can be seen in the interlocking waves.
The blended light blonde and ashy blonde shade result in this wonderful balayage. The base is medium blond, warm and creamy, and the ashy tone that comes as an addition cools down the brightness. Some parts of the hair are left in lightest ash blonde just to make the other shade stand out more. These highlights start from high up. This balayage is best shown on long hair.
18. Distinctive Curls
Keep your curls distinct by scrunching handfuls of curling mousse through your hair whilst it is drying. Create curls in your dark ash blonde hairstyle by using a diffuser attachment on your hairdryer.
19. Chic Lob
Wavy bobs are great for showing off different shades because they easily and quickly show the change of tones and colors on the hair. This hairstyle delivers two hair shades divided in the lower and upper hair.
The lower part of the hair is light blonde, with grayish and ashy undertones, while the upper part is subtle blonde with ashy shine. The waves are very loose. They complement themselves with nice gradation and balance.
20. To the Point

Dark ash blonde hair color really lends themselves to long layering. Get your hairstylist to cut your hair so that it goes to a point at the back. Keep short layers around your face to help to frame it.
21. Light Ashy Babylights
In order to get more brightness and dimension, the balayage and babylights here are made of ashy, beige blonde shade. This color is easily achieved when done on already blond hair as a base. The soft waves add perfection and texture, showing just enough of both the shades. The point of this look to start the babylights high so both the colors can come consecutively.
22. Side-Parting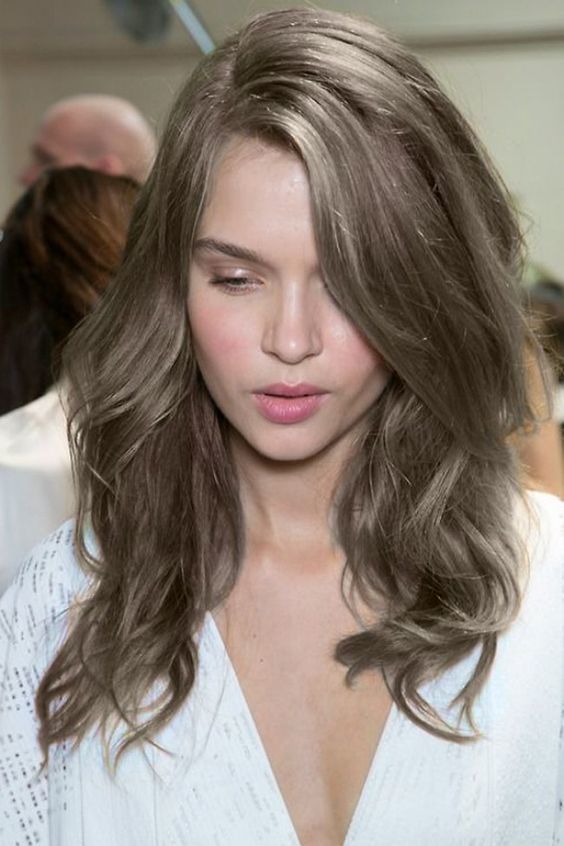 You can make subtle changes to any haircut by putting in a side parting. A side parting can help to change the way that your hair sits and will subtly change the weight balance on both sides of your head.
23. Ash and Grey Blonde Tones
Blonde and grey are similar shades that can complement each other. Blond is warm and the grey is cold. With the addition of ash, they both come at the same level of smokey appearance. At this look, they are done as highlights and the final outcome is a soft silver shade. The beauty and uniqueness of the color are best shown in a big side Dutch braid. This hair color combination suits best women with fair skin tone and light color of the eyes.
Give your light ash blonde hairstyle an emo nod with a gorgeous sweeping fringe. Drawing your hair over from one side of your head will give your style a lot of weight near to your forehead.
25. Platinum Ash Blonde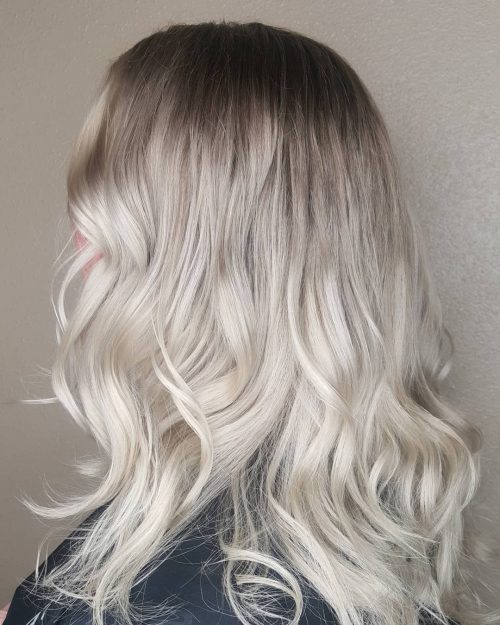 Platinum ashy blondes can have a strong yellow undertone and that is why the ashy shade is used to neutralize it. The platinum becomes clean, shine, deep and natural. The curls at the end are loose. If you want to keep you look more to the white rather than grey, balance the grey infusion and add just the right amount that will be enough to kill the yellow tone.
This type of curl looks perfect for a glamorous red carpet event. Make sure that you set your curls with a soft hold hairspray to help to keep them looking perfect all night long.
The light ashy blonde it a combination of iridescent pearl baby light, smudged root, and beach waves. There is a silver pearl tone that is visible throughout the color giving it a unique shine. The hairstyle is perfect for women with thin hair. The root and the ends create a nice contrast.
28. Show your Roots
Dirty ash blonde hair color can look really cool when it is teamed up with darker roots. If you do not have natural roots, you can add a bit of darker hair dye to create the glossy and mossy effect.
29. Light Ash Blonde Ombre
The sleek long straight hair ombre perfectly shows the change of hair color and different tones. The dark blond starts at the roots, then slowly continues to light blonde and ends with a light ash blonde hair color. The highlights are also ashy blonde, dominants and bright. They are started just at the root and are visible through all the hair.
30. Pixie Crop
Pixie crops look fantastic on women with dark ash blonde colored hair. If you have a strong bone structure, this type of style can help to give you a real model like the look or a celebrity feel.
31. Smokey Shadow Root
The middle part divides the hair is equal parts, both of them starting with deep blonde shadow root, and quickly moving to ashy white and blonde ends. The highlights start from the roots, and are bright, light and come together with the end of the hair. This is a light ash blonde hairdo that is best worn straight.
32. Sleek Hair with Volume
To give a sleek hairstyle more volume, you will need to brush upwards from the roots. This gives your locks volume right from the base. Subtle dark ash blonde lowlights also give your hairstyle the appearance of more volume.
Most Popular Dark & Honey Blonde Hair Color Ideas
33. Shoulder-Length Locks
Shoulder-length locks look really glamorous when they are worn loose at a red carpet event. You can easily pull this middle part hairstyle up into a ponytail at other times.
Angled styles are the height of modern chic. Keep your hairstyle long at the front but then cut it much shorter as the style tracks backward. The style looks ultra-modern when it is super sleek.
For a superstar look, you can undercut your dark ash blonde hair with shaved sides. Style the rest of your hair up into a fantastic mohawk with wonderful curling pomp at the front.
The options for blonde hair colors today are so various and the hairstylists have so many new techniques on achieving the wonderful looks that each visit to the salon can be an opportunity for a new shade. The ashy blondes are cool tones that can be managed to suit your skin tone. The blonde in combination with grey is a shade that fades, and as you know, the more regular touch up is needed if you want to keep the desired shade.