Blonde hair is the most requested ones around the world. Women get inspired by all the wonderful blonde hair colors they see on social media and want just that.
But, can everyone wear a light shade blonde hair dye? Does the same light shade go with all skin tones? Here is everything you need to know about lighter blonde shades and styles.
How to Dye Your Hair Light Blonde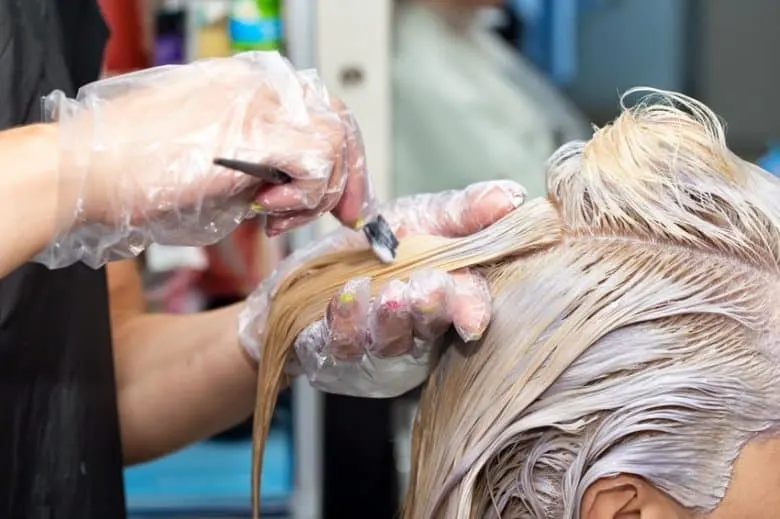 Light blonde, as the name suggests itself, is the lighter version of the regular blonde hair. The blonde shades usually have yellow undertones, while the lighter ones go towards whiter ones. Many women are exactly looking for these lighter versions because they give a completely different look than the regular blonde shades.
The whiter and ashier tones are colder but fresher for the face. For those who find these tones very cold and unappealing, there are more creamy shades that neutralize the yellow undertones from the blonde and are produced to flatter every skin tone.
When it comes to dying a lighter shade, it is a must that you have a light base. This means that even with already blonde hair might need bleaching so that they can achieve the desired tone. As for the other ones with darker hair, one salon appointment will not do the work.
First, you will need to bleach your hair to create a light base for the blonde, then apply blonde hair color and see how it reacts to your pigment and the air. After that, you can try dying it with the lighter hair color.
Watch The F0llowing Tutorial to Learn How to Dye Light Blonde Hair Color
Dos & Don'ts
When wearing light blonde hair it is essential to maintain its color and health by nourishing it, keeping it safe from the sun and using the proper hairlines designed specifically for blonde hair color. Try to keep it covered with a hat or a scarf when exposing yourself out to the sun.
If possible don't dye your whole hair very often, stick to the roots only. Don't wash the blonde hair frequently because the color will fade away quickly. The excessive heat will damage and burn it which is very visible to the blonde hair. Use different hair oils that will hydrate it and make it shinier.
Coolest Light Blonde Hairstyles
According to your skin tone and color of the eyes, these are the light blonde hair color ideas you should consider:
Women with brown eyes usually have the medium or darker skin tone, so this creamy & buttery light blonde color looks warm and soft on their hair. It creates just the perfect balance between the skin tone, eyes, and hair, giving the face healthy glow and keeping the tone warm.
Icy blonde is a very popular blonde with light shade. It is the natural color of the women leaving in the Scandinavian countries who are known for their impeccable light skin tone, eyes, and natural light hair.
That is why this blonde hair color is best for blue eyes. It will give them a more natural look, without making it look all made up. The icy tone is a cold one, without any warm undertones.
The sun-kissed light blonde highlights has white undertones and this blonde bob is the best hair color choice for green eyes. It lets their eyes shine, only by adding beauty to the whole look and natural appearance.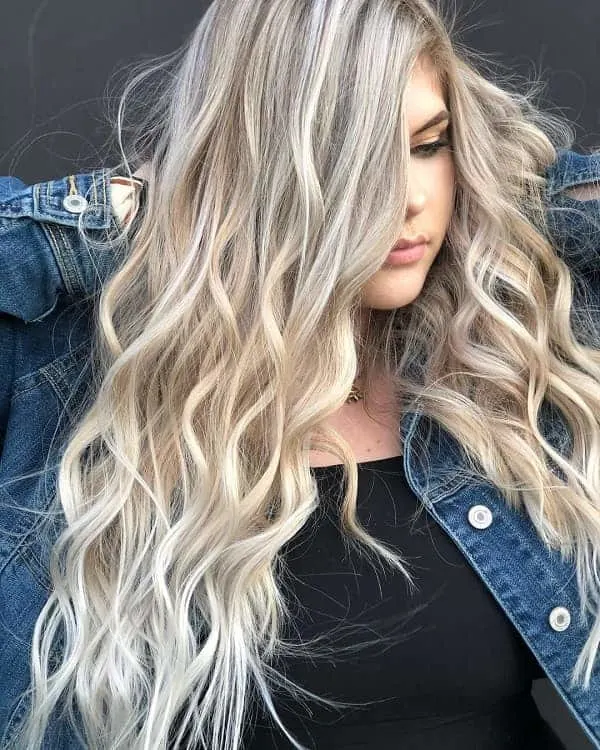 Similar to the regular icy blonde, the whitish light blonde hair dye is the more sharp, crisp and cold look. It is infused with more grey and white undertones, totally cooling down each yellow undertone that might appear. Again, such light and cold bold shades are best for women with pale skin tone and light color of their eyes.
Bright blonde is the common option among women who are not determined in their choice but want to stick to the blonde shades. It suits best women with pale skin tone or those who are prone to grey hair.
Light buttery blonde is another great hair color for women with green eyes. As the sun-kissed is more neutral and cold, the buttery one is more warm and yellowish. It flatters the skin tone without make it look too colorful.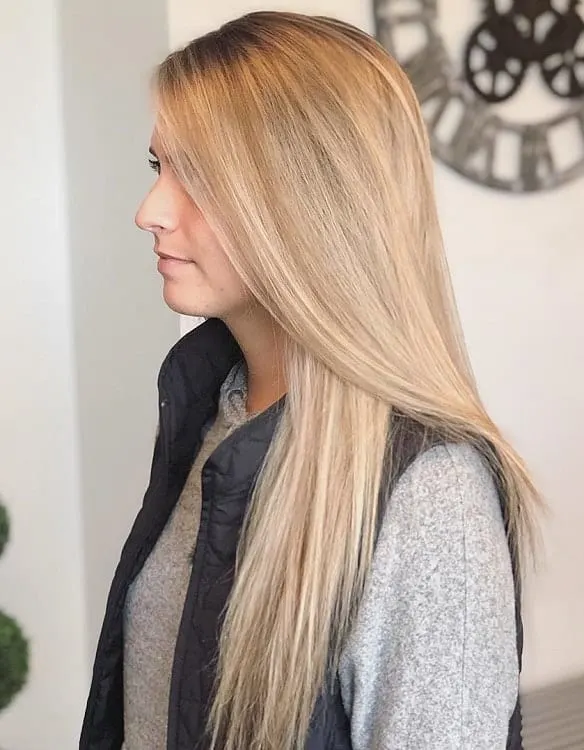 Honey blonde tones have always been present and they are among the first blonde shade to appear on the market. They are the choice of many women who have medium skin tone and not natural blonde hair.
Vanilla tones have yellow undertones in their shades, which suggest that this shade too will lean more toward yellow than white. However, this shiner light blonde hair color is soft, warm and beautiful and goes best to women with lighter skin tone.
Blonde platinum shades are trending among the younger population. They are natural to the skin tone and look very shiny. Warm platinum ones are great for women with brown eyes.
10. Creamy Ash Blonde – Celebrities Favorite
The blonde hair color you see on the celebrities and you try to achieve every time but somehow you do not manage to do so, is the light blonde balayage.
It is a shade that is a perfect and precise mixture of cold and warm shade, with a pinch of ash. It is measured properly for each celebrity so that it flaunts their skin tone to the perfections.
11. Champagne Blonde – Suitable for All Skin Tones
Champagne blonde is one wonderful light blonde hair color that suits all skin tones. Its beauty lies in the pinkish undertones that mix perfectly with each hair, giving a feminine, warm and subtle look. Though it looks confusing with ash blonde to many, pick between champagne blonde or ash blonde that looks better on you.
Sandy hair shades are not as vibrant and shiny as the other ones, because of the ashy undertone they have. They tone the reddish pigment down and are usually worn by women who have brown hair and eyes.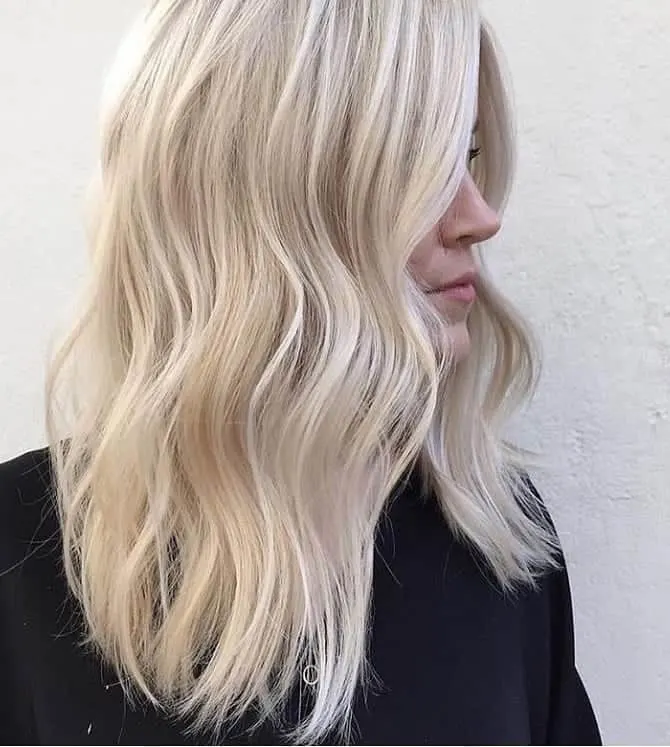 Milky shades are white, neutral and matte. They lean toward the white hair so the yellow undertone is minimized. These milky & lighter blonde hair dye are suitable for women with light skin tone.
Popular Asian It girls and fashion bloggers are rocking platinum-blonde hairstyles. It has become their signature hair look. The full highlights are sharp, shiny and clear, just like they want to present themselves. The shiny light blonde looks extra white with a dose of pearly shiny and ashy tones.
A light blonde hairstyle that is another common look is the cold blonde tone. The mixture of white and honey tones comes together on a hair whose base is not a natural blonde, which instantly presents yellow tones.
It is cooled down with subtle white and grey hues. This shade and its variations are frequent choices for women with medium skin tone.
With all of the suggestions above and suitable shades for each skin tone and eyes, it is easy to pick the look you want. The hairstyle, of course, is left as a personal choice, but lighter shades fit every hairstyle. No matter if you have long or short hair, if the blonde suits you, it will suit every hairstyle you wear.
Be careful to take care of your hair and color because light blonde hair needs more attention and special products for keeping it healthy. If possible avoid bleach as much as you could. If not, leave it to the professionals to do it for you.