The curly ponytail is a hairstyle women usually refer to if they have run out of ideas for styling or if they're headed to the gym.
There are many ways to make a ponytail pop with fashion. From high to low ponytails with or without braids or other techniques to make the traditional hairstyle stand out, your new favorite look will be the curly ponytail after seeing the below styles.
Curly Ponytail Hairstyles
Whether your hair is naturally curly or you're going to use hot tools to insert sexy curls, these 40 curly hair ponytails will have you falling in love.
1. Ruffled Ponytail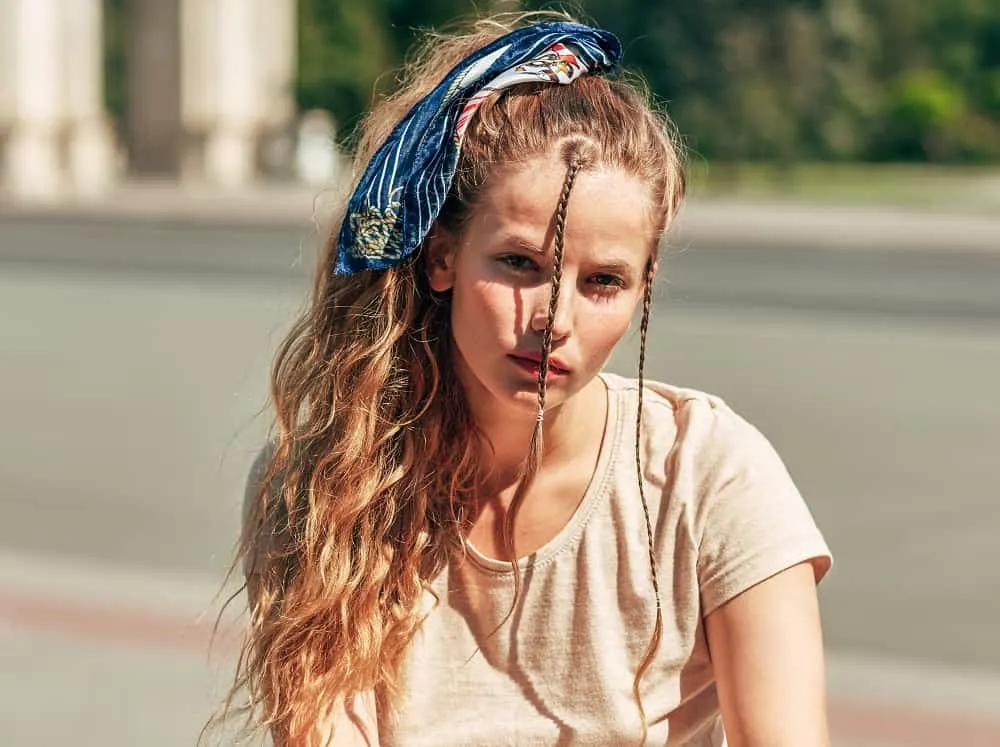 The easiest way to tame long locks is by securing them up in a high ponytail using a colorful head bandana. Pull out some strands at the front and sides and braid them down for a bohemian look.
2. Cute Pigtails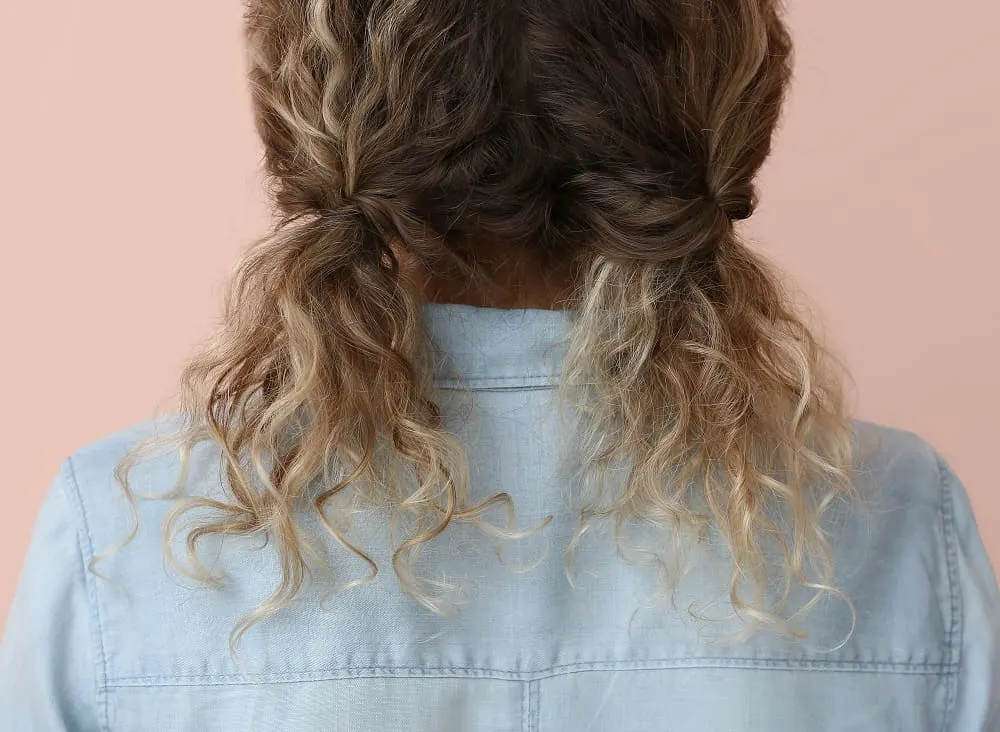 Pigtails add a cute girly touch to the face. Style the curls into two low middle-parted pigtails. Create a space above the hair ties and tuck the pigtails through them for a flipped look ideal for a fine curly hair texture.
3. Side Tousled
Style those reddish-copper luscious curls in a distinctive manner. Side-tousle the curls and secure them in a loose ponytail sitting on one shoulder. Pull the strands loose for a carefree appeal and use hairspray to keep the curls in place.
4. Fluffy Afro Ponytail
Black girls can tame their afro curls by pulling them back in a high ponytail sitting on the top of the head. Use the drawstring method to achieve this hairstyle and couple it with a middle-parted curly front fringe.
5. Half-Up Hairstyle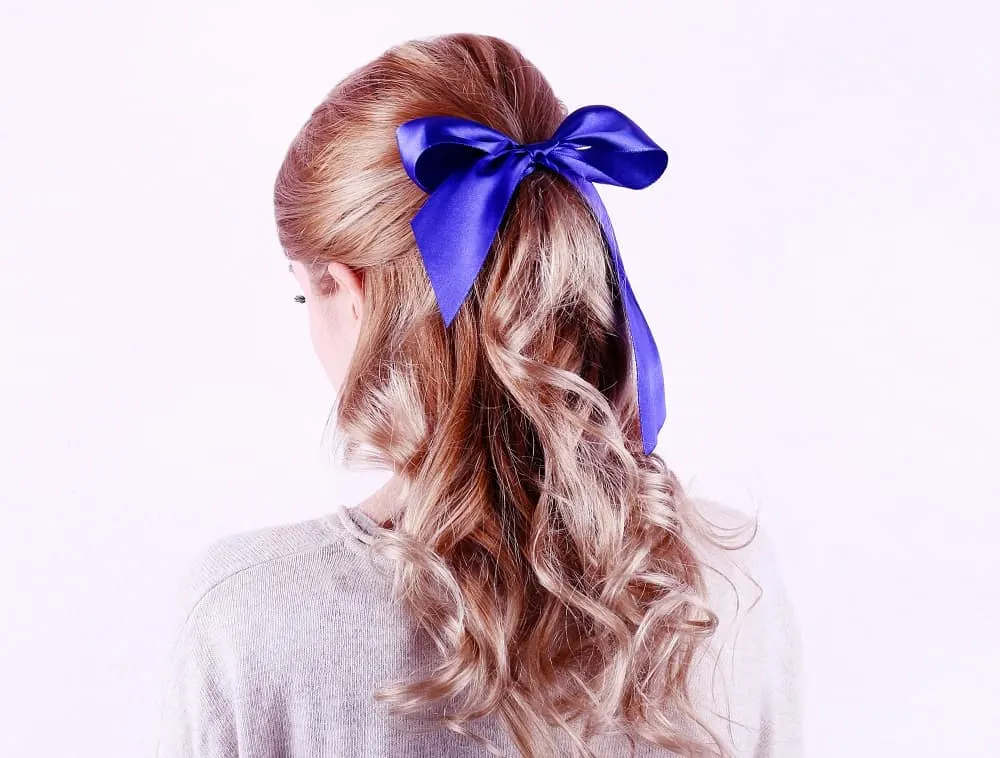 Wear your medium-length curly locks in a half-up half-down hairstyle for an elegant appeal. Take half of the strands and secure them with an oversized bow hair tie. This look keeps the hair away from the face while it beautifully sways at the back.
6. Pulled Back
Curly-haired ladies who are looking for an easy hairstyle to style their hair on a day-to-day basis can go for this hair look. The subtly highlighted curls are pulled back into a tight ponytail. Use pomade to recreate this wet ponytail look exactly.
7. Contrasting Look
Ladies with puffy curls can slick down their hair with a center parting at the front and secure it at the back into a fluffy ponytail. This hairstyle is easy to maintain and is an ideal office look.
8. Short and Puffy
Who says short hair can't be styled in a high ponytail? This look is ideal for women over 50. Brush up the blonde curls as high as possible and tie them with a spiral hair tie. The result is a short and puffy ponytail.
9. Front-Leaning Ponytail
Another modern way to style a curly ponytail in 2023 is by combing the curls to the front just behind the hairline and fastening them with a hairband. This look is bold and ideal for young girls who want to express their wild side.
10. Low and Laid-Back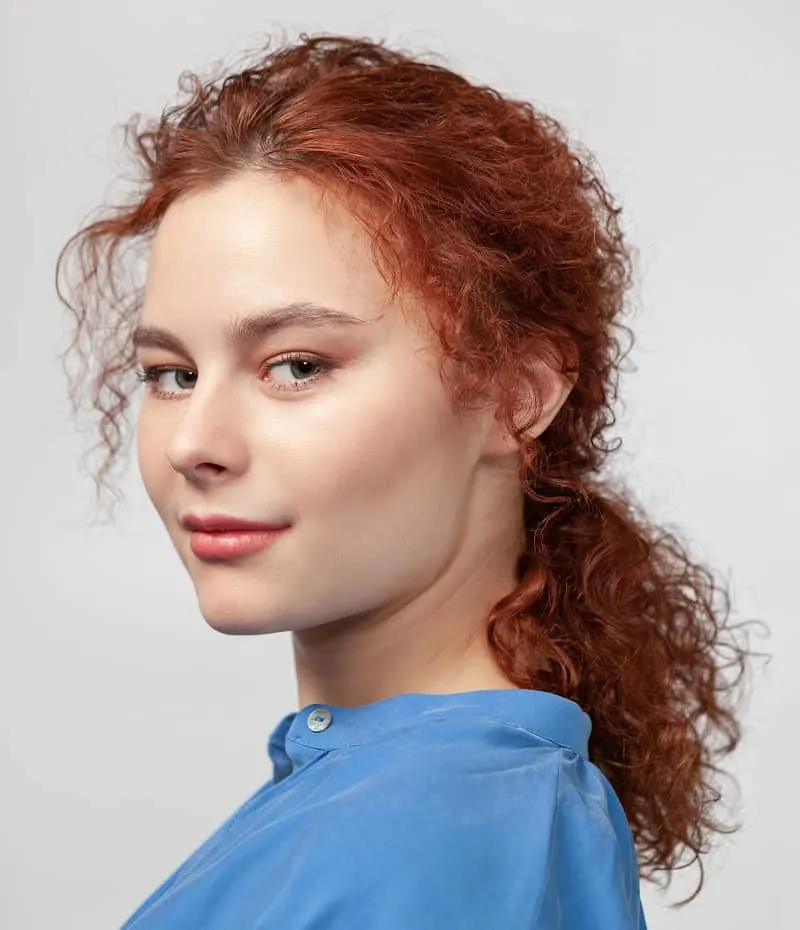 A quick way to style your shoulder-length curls on busy days is by detangling them and securing them in a low ponytail sitting on the neck. Loosen up the strands and pull out some of them for a bedhead look.
11. Box Braids + High Ponytail
Box braids look bold and can be kept for some days. Entwine the sections and gather them at the top of the head styling them in a high ponytail with the unbraided curly strands contrasting against the braided scalp.
12. Side-Swept Locks
Wear a side ponytail with a twist. Instead of using a hair tie use a scarf to wrap around the long blonde curls and style it in an oversized bow. Top off the look by tousling the hair on one shoulder at the front.
13. Keep It High
A high ponytail looks sassy and never goes out of style. Draw back the curls tightly securing them into a high ponytail sitting on the top of the head. The slicked-back front contrasts wonderfully with the bouncy curls at the back.
14. Sophisticated Appeal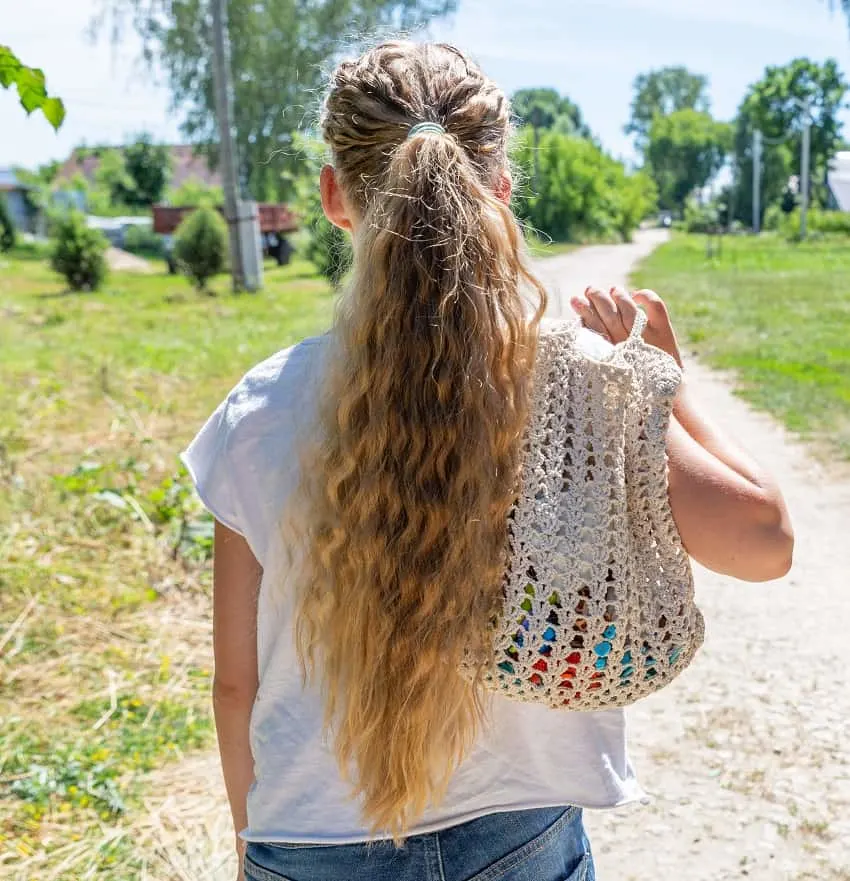 Ladies with long curly locks can style them in a simple ponytail like this for a sophisticated appeal. Pull the hair loose at the front while the remaining dangle beautifully at the back. This style is suitable for the hot summer days.
15. Crimped Hair
Style a curly ponytail in a modern way by combining it with crimped hair that is making a comeback in 2023. Gather the strands just behind the hairline and style them in a hair-wrapped ponytail. Use hairspray to settle down the flyaways.
16. Piled Up Curls
This two-toned hairstyle will keep all the eyes on you. Go for a coral red ombre hair look and pile up the kinky curls on the top of the head. Use the drawstring method to achieve this simple fluffy ponytail.
17. Curly Mess
Flaunt those curly coils with confidence by dying them in a yellow blonde hue and styling them up in a high ponytail. Pull the curls tight to make them fall along the sides of the face for a funky appeal.
18. High Curly Ponytail
A high curly ponytail is formed at the crown of the head. Micro braids will add to the thick style. Smooth back frizz to get a chic result that's date night ready.
19. Low Curly Ponytail
Low curly ponytails will accentuate the length of your locks. Leave a few pieces loose around your face to frame angles and keep the style soft.
20. Curly Weave Ponytail
For super long curly locks everyone will be staring at, a weave can be worked in. Slick back baby hairs and use fingers to shape curls; spritz everything with hairspray for all day hold. Check out more weave ponytail ideas.
21. Curly Drawstring Ponytail
These elegant ponytails feature a drawstring and some small combs to attach the ponytail to a woman's hair. The result is a natural-looking, thick bunch of curls.
22. Curly Side Ponytail
Throw your look back to the 90s with a curly side ponytail. No matter which direction you choose, a high thick ponytail is an unexpected way to draw attention to the angles of your face.
23. Long Ponytail With Curls
High or low, a long curly ponytail is always a chic option to choose. Pull it tight to get a smooth finished look or leave a low ponytail slightly messy and loose for sexy volume.
24. Short Curly Ponytail
High short ponytails give off major cheerleader vibes. Tie everything together with a dainty ribbon or a colorful band and don't be afraid to have a little bit of frizz for that girl next door style.
When you want to feel your best on your wedding day, choose a low curly ponytail and accent it with faux flowers for the ultimate romantic vibe.
If your forehead is on the wider side, curly bangs will cover that up. They're also a soft touch to a low side or high ponytail.
27. Blonde
Show the world how much fun blondes really have by sporting a medium or low curly ponytail. Wrap the pony in a piece of your own hair to cover up a boring elastic band. Have a look at these curly blonde hairstyles if you're looking for more options.
28. Natural Curly Ponytail
For natural curly hair, pull the hair across the forehead for a soft style with faux bangs. Or pull it all into a low side ponytail and top with a pearled headband.
29. Slick Back
Whether it's a relaxed weekend where you're hanging around the house or at the gym, a slicked back ponytail will keep flyaways out of the face and you'll still look hot.
30. Big Curly Ponytail
A thick curly ponytail is the dramatic hairstyle you need in your life. Let it trail down your back for princess feels or drape locks over the shoulders.
A side braid or braided crown is just the thing to make your curly ponytail stun. You're sure to feel like a princess with romantic curls and twisted braids.
32. Middle Part
Instead of slicking hair straight back, part it in the middle first and then form your curly ponytail. This style will especially accentuate the shape of round and oval faces.
A side part adds dimension and splits up the angles of any face shape. Straight, zig zag or diagonal, a side part is an easy style touch to a low curly ponytail.
34. Half Up Curly Ponytail
Half up curly ponytails make long hair look even longer. Pull it tight and smooth frizz and baby hairs for that polished look you can wear to the office or special occasions.
35. Two Curly Ponytails
You don't have to be a child to rock two curly ponytails again. Pull up all of your hair on either side into the ponytails or just the front top half while leaving the rest loose.
36. Messy
Messy ponytails look totally boho and sexy on curly hair. Bring back the scrunchie for a 90s throwback or use another special colorful elastic to hold everything loosely together.
37. Curly Invisible Ponytail
Invisible ponytails last up to two weeks and are intended to make hair look fuller. A side part and gold or silver hair clips will take this style to the top.
38. Curly Genie Ponytail
Genie ponytails take the regular curly ponytail to new heights. A thin braid will accent your look or you can shape baby hairs into swooped waves.
For swoon-worthy style, a thick loose curly ponytail with tendrils of hair falling down over ears is what you want. For added detail, insert a couple side braids.
40. Kinky Curls
If your hair is the kinky-curly type, tame those locks with a low ponytail you can drape over your shoulders. A lacy headband and colorful hair string are fun details to play with.
No matter how high or low you wear your curly ponytail, it will look stunning. Make sure to take care of your curls with hair oil – it will not only enhance shine but keep each curl's shape looking perfect. With the above curly hair ponytails at your fingertips, you'll never run out of new looks.