Fine curly hair can be extremely challenging to work with. But there are many women rocking their natural curls on a daily basis with different hairstyles. Of course, it takes a little care and effort. But nonetheless, the results are astonishing.
Certainly, there's nothing known as the best hair texture. However, if we need to pick a favorite, ours would be curly hair. Working with curls creates more dramatic hairstyles that speak a whole lot of character in the look you're trying to achieve. But, if you are new to styling curly thin hair, our guide will tell you exactly where to start.
Fine Curly hair: Tips to Maintain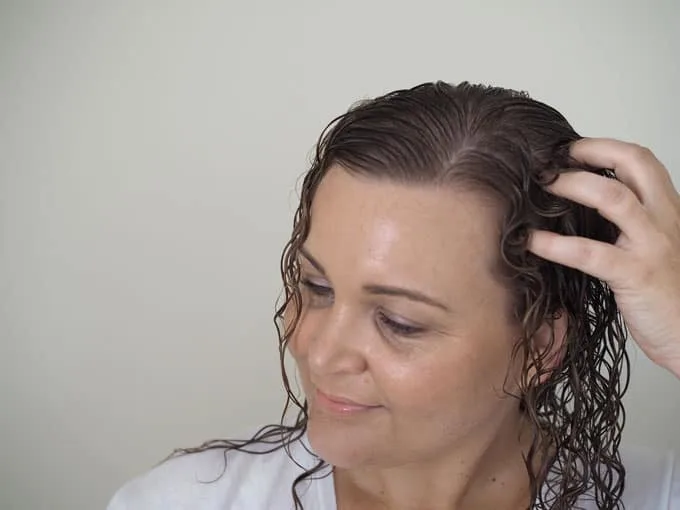 Many supermodels have thin curly hair naturally and use the right products to keep their hair in check. You need special styling products to suit your super curly texture. Use hair serums that are designed to assist fine curly hair and always use shampoos and masks that help control frizz when it comes to your hair.
Additionally, use a protective serum if you are stepping out in the sun. For curly hair wine fine texture, the goal of maintaining neat texture is by keeping your locks hydrated. Use hydration oriented hair products and stay away from mundane hair sprays designed for all hair types.
Keep a straightening rod handy in case you need to style segments of your hair straight while keeping the rest curly.
How to Style with Fine and Thin Curly Hair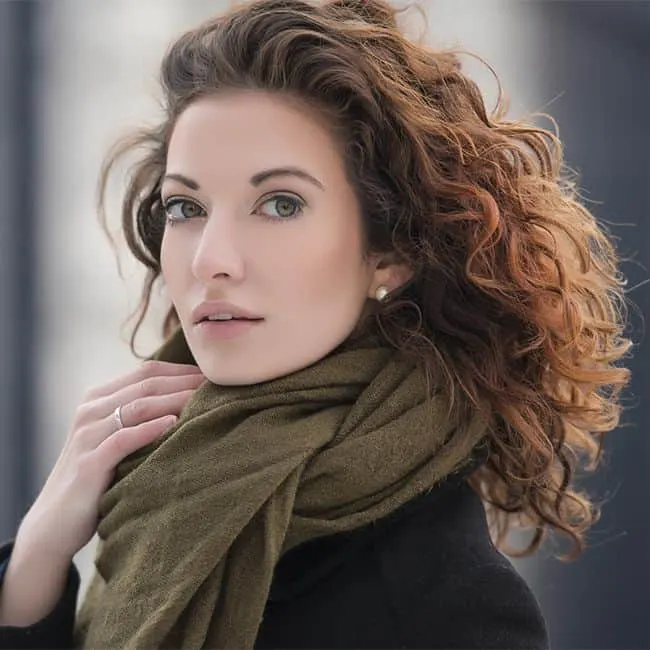 Styling fine or thin hair with curls can be a little challenging but with the right products, you can perfect your tresses. Use a styling serum after a shower while your hair is still wet and scrunch in places you want to add an extra wave.
Try to towel dry for the most part and if you are going to use heat-based styling techniques, go for heat protective sprays and leave-in conditioners for your hair. Always keep a small leave-in conditioner in your handbag to maintain moisture and hydration levels in your hair.
Top Hairstyles for Thin Curly Hair
Following are 35 most popular curly hairstyles for thin hair. Go through the styles and find the suitable one for you.
1. Waves and Highlights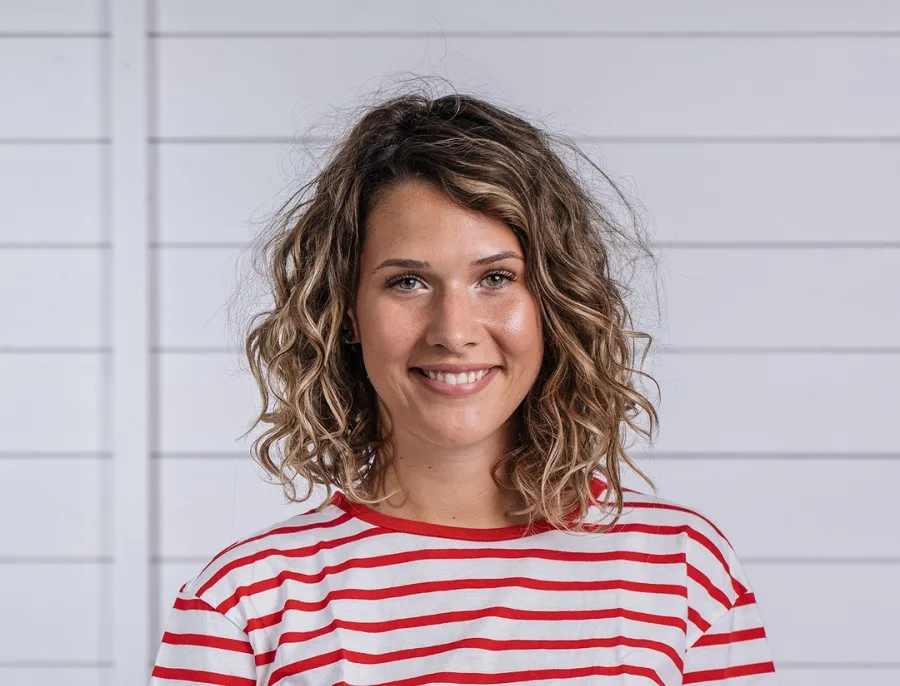 Thin curly hairstyles will suit you like a glove, especially if you add some highlights. These will add a lot of depth and make your tresses stand out. Also, you need a haircut that fits your face shape, and in this case, this asymmetrical bob is exactly what you need. Wear the longer bangs on one side t create angles.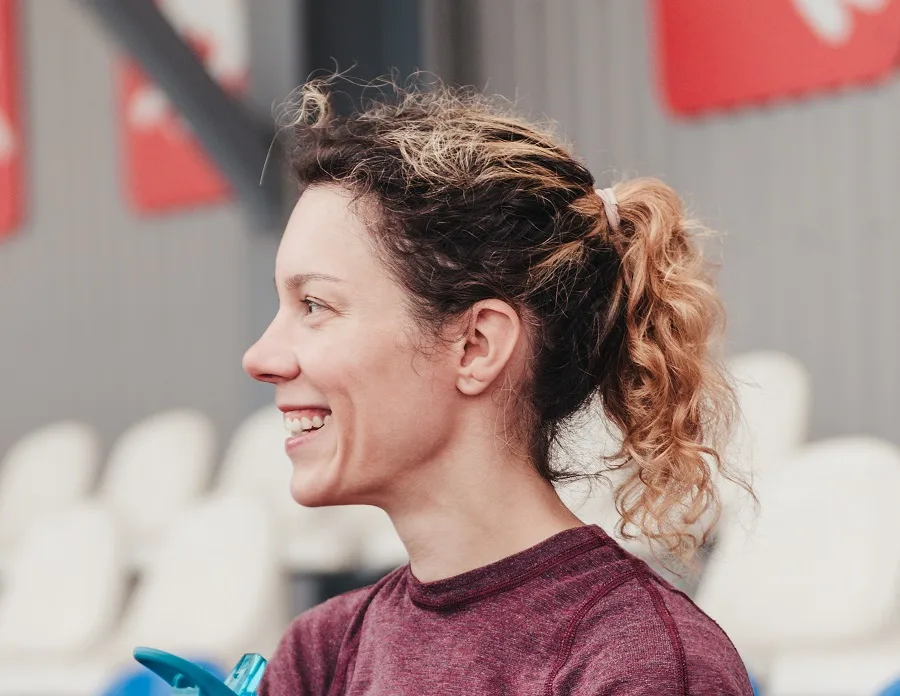 When you're going to the gym, you just need a hairstyle the keeps the hair in one place. The same thing applies when jogging or doing any other trainings. If you have an ombre, your thin curly hairstyle will look cooler and will give your tresses more dimension.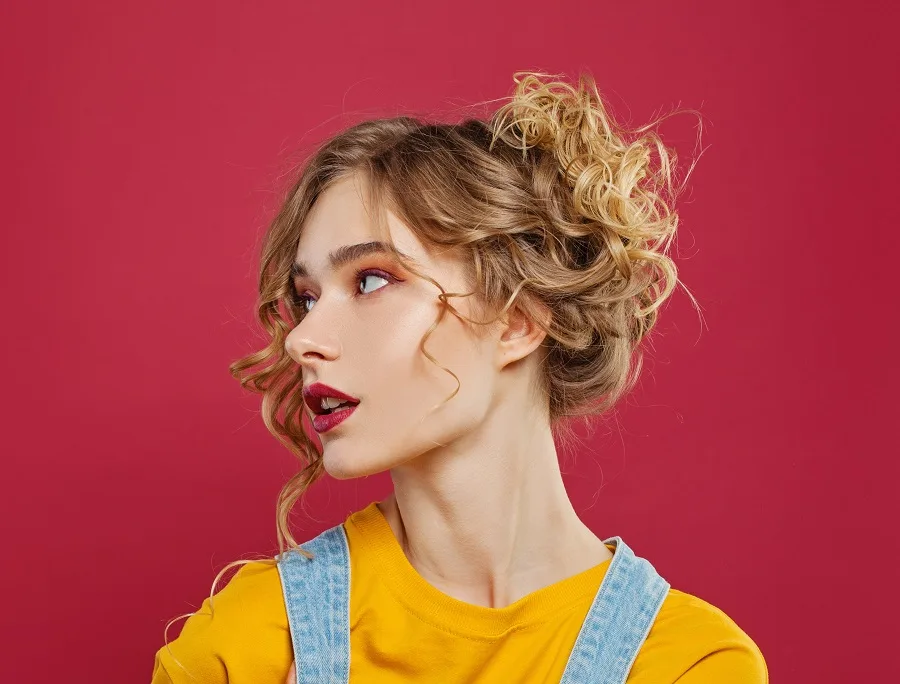 When you have thin hair, a curling wand can totally change the way your hair looks. It gives volume, more texture, and a gorgeous shape. Take most of your hair and pin it in the back, with a large hair clip. Spare the bangs from one side and keep them loose.
4. Long Hair with Undercut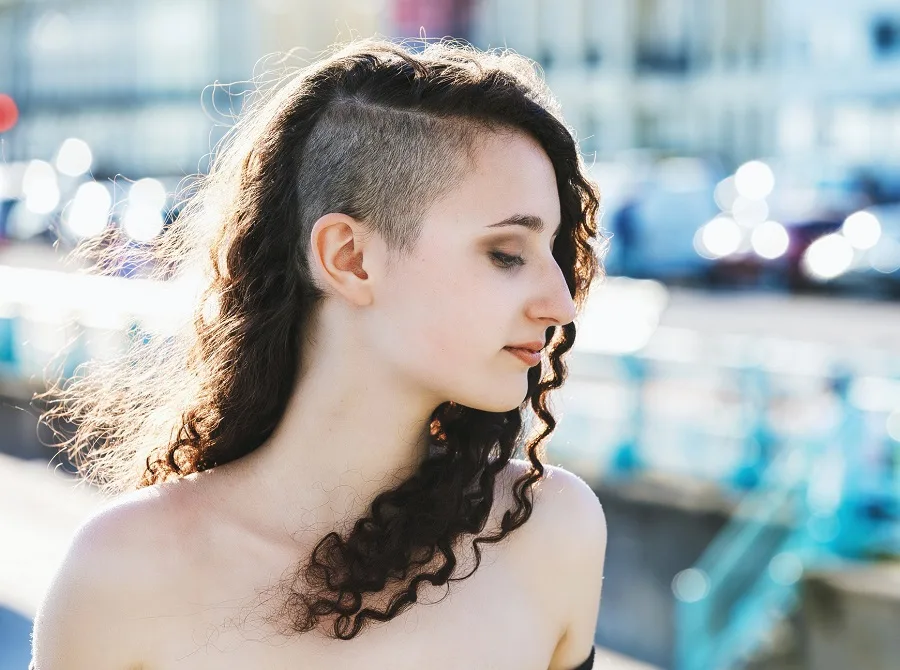 You might want something more dramatic and even rebellious when having such a curly hair. On one side, go for an undercut. Use a trimming machine and clippers and pull off a length that you're comfortable with. Keep that part uncovered.
5. Asymmetrical Bob Hairstyle for Thin Hair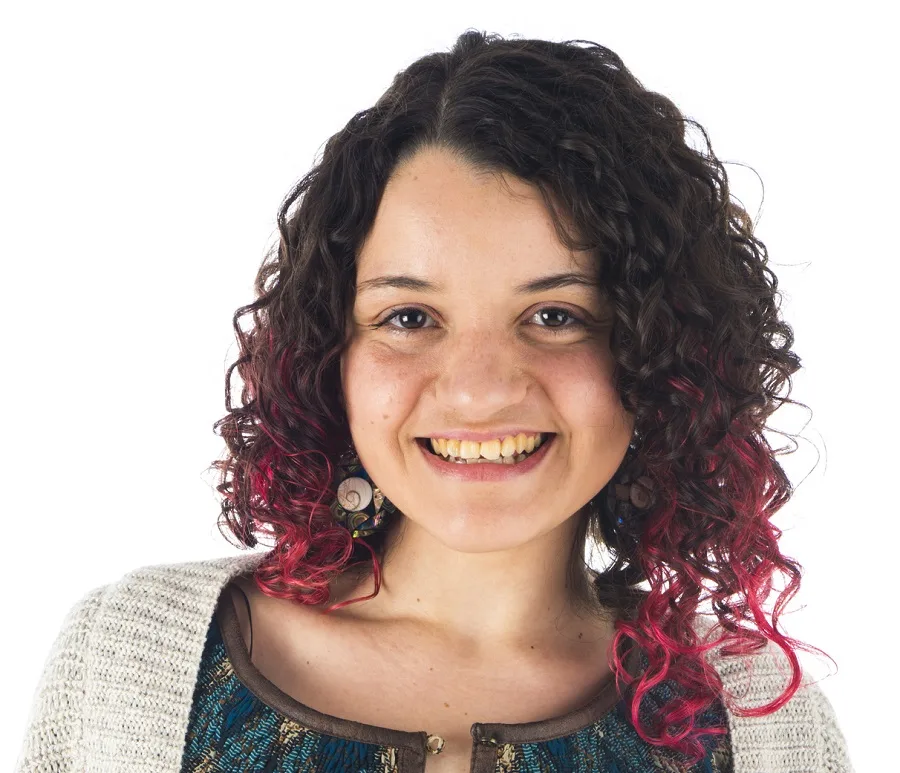 Get an asymmetrical bob haircut that is longer on one side and reaches the shoulder line on the other. If you want a pop of color, go for red highlights. You will certainly need to apply bleach so the red nuance will be more pronounced.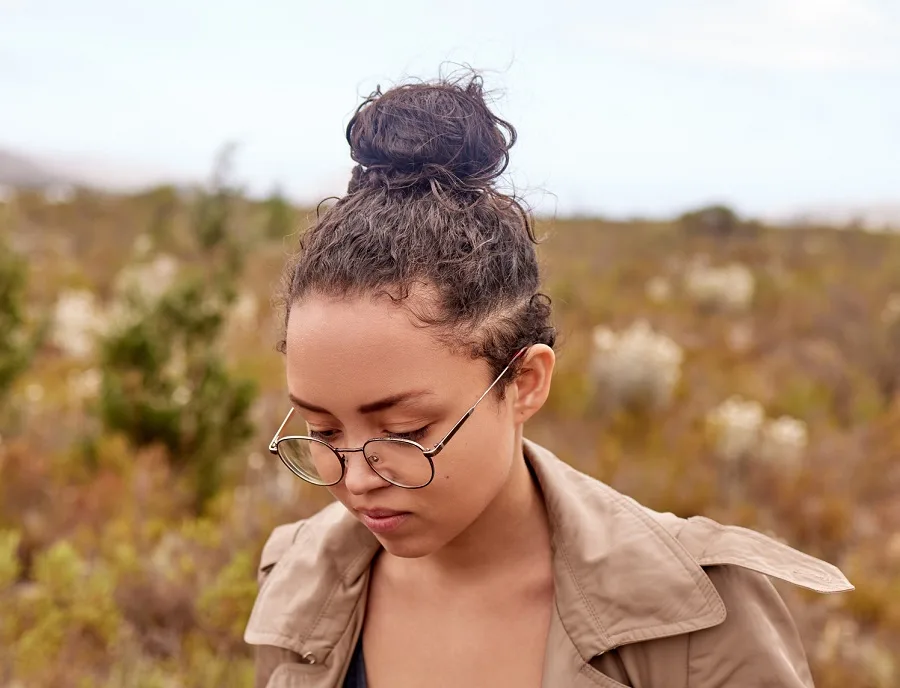 This thin curly hairstyle is very popular, and teens and young women sport it all the time. Part your hair into two sections. The lower part should be trimmed with the machine, while the rest in pinned in a bun. You can ask a friend to do the trim for you, or you can do it yourself, at home, guiding yourself in the mirror.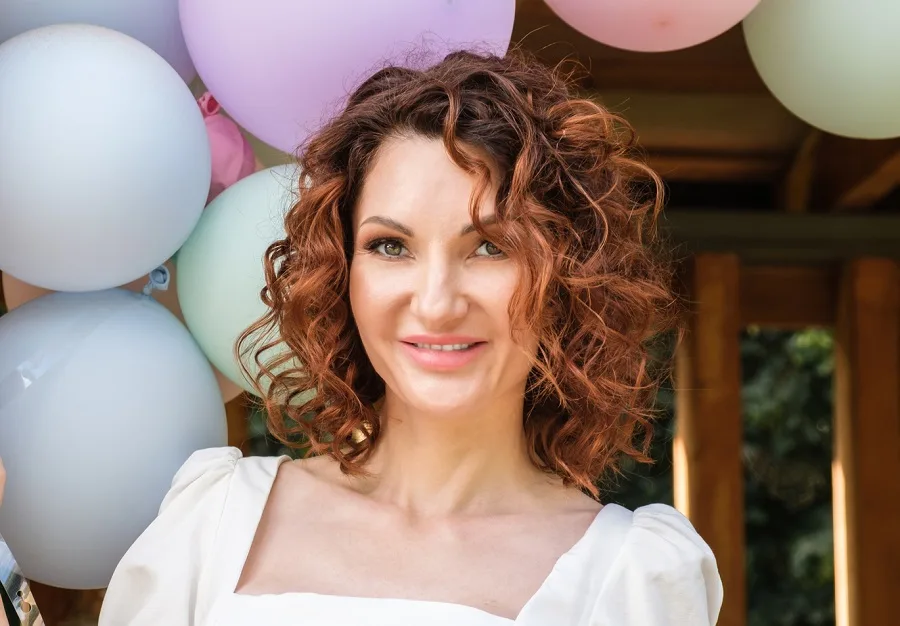 This layered curly hairstyle is ideal for weddings. Get a layered haircut and go for a copper auburn ombre. Curl your hair using a straightening iron or a curling wand. Set it with some hair spray if you want your hairstyle to last all night.
8. Messy Braid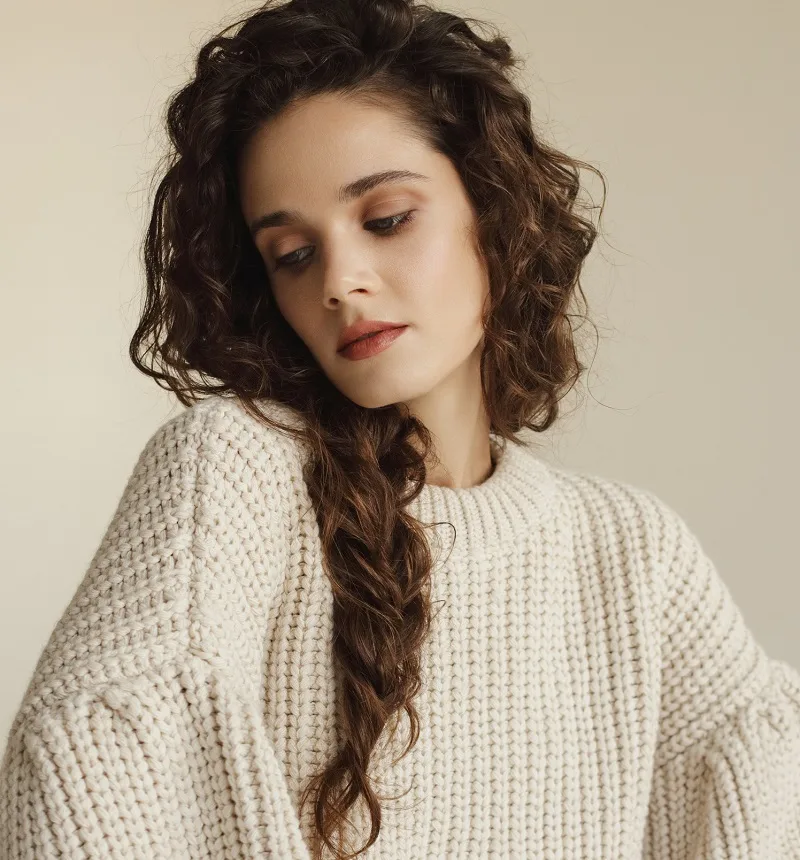 When having curly hair, volume is not a problem. To maintain it even when braiding your hair, gather all the hair on one side and create a loose knit. You can keep it knotless for a more natural aspect.
9. Fiery Red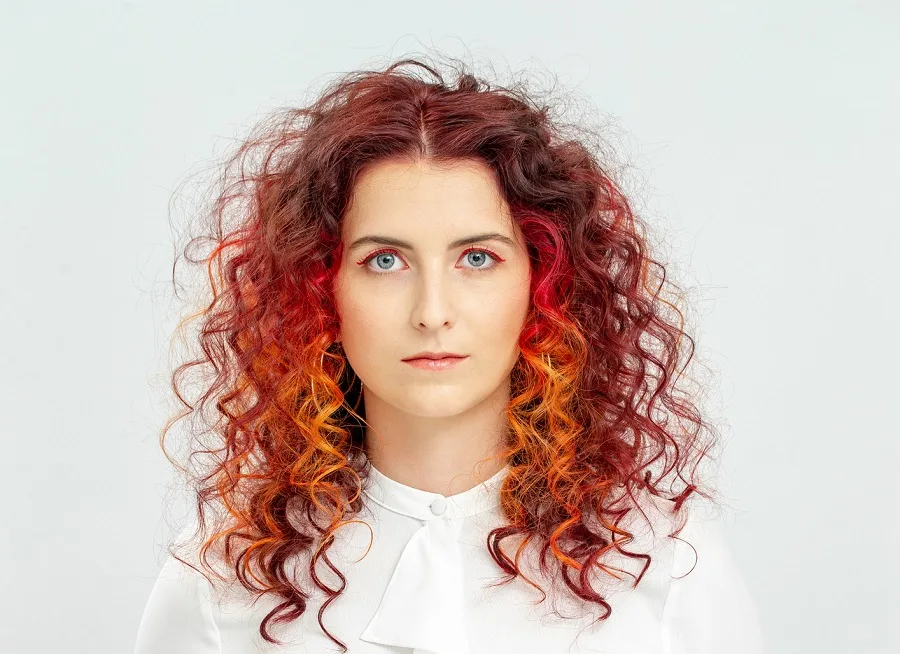 For this fiery red hairstyle for thin hair, play with multiple shades of red. The base color should be a darker nuance, and in front, a mix of orange, yellow, and electric red. The hair must be layered so it will have a great shape.
10. Hippie Ombre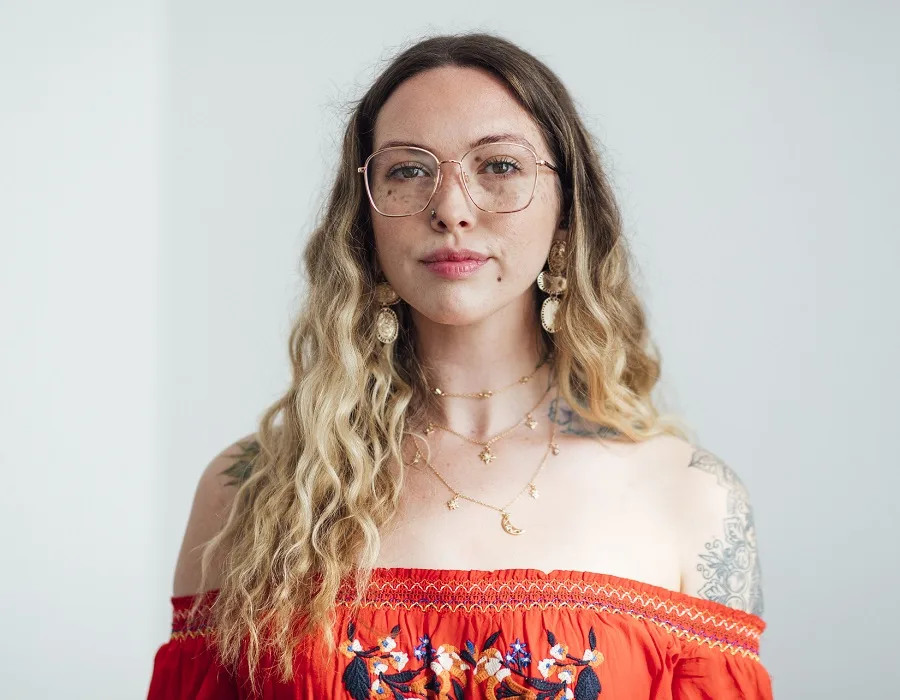 This hippie ombre is an ideal thin hairstyle for women with long hair. Keep it simple, natural, and cool. Create that marvelous blend between the roots and the creamy blonde, wave the hair, or keep it in its usual state. Do a middle part and you are good to go.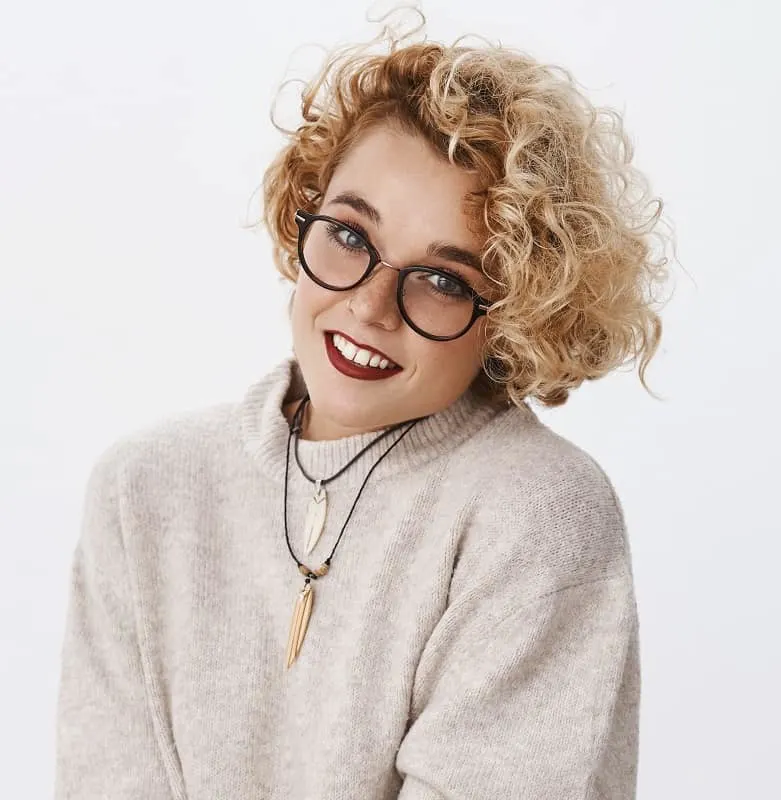 Cropped hair is always a good idea if you don't have a lot of hair to work with. A short bob for thin curly hair has plenty of personality all while making hair appear thicker than it actually is. Try a swooping side part to give your hair an energetic feel.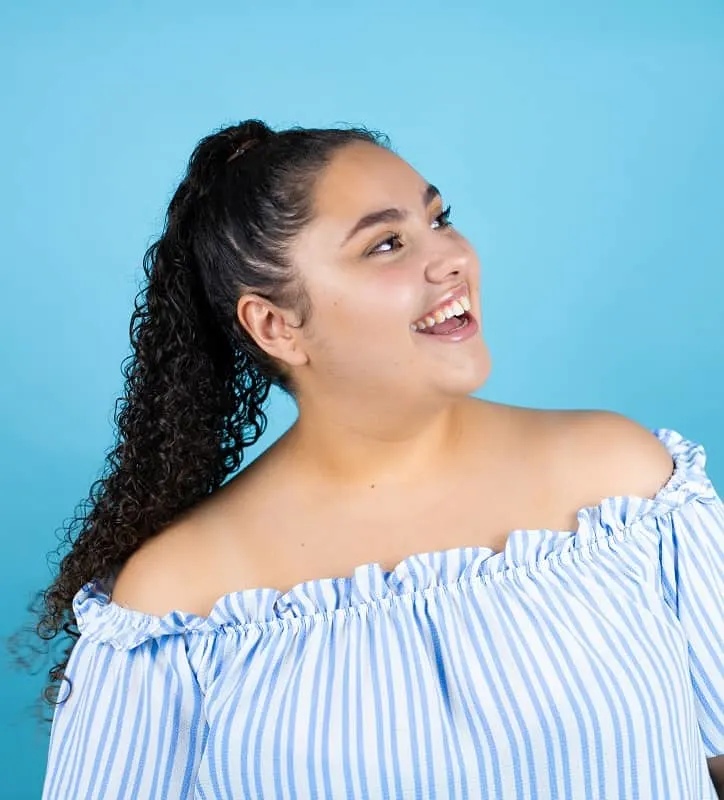 To accentuate volume on long thin curly hair, try a high ponytail for your next updo. As opposed to a low pony, setting your hair high on the back of the head causes hair to cascade downwards for style and fullness.
13. Medium Frizzy Bob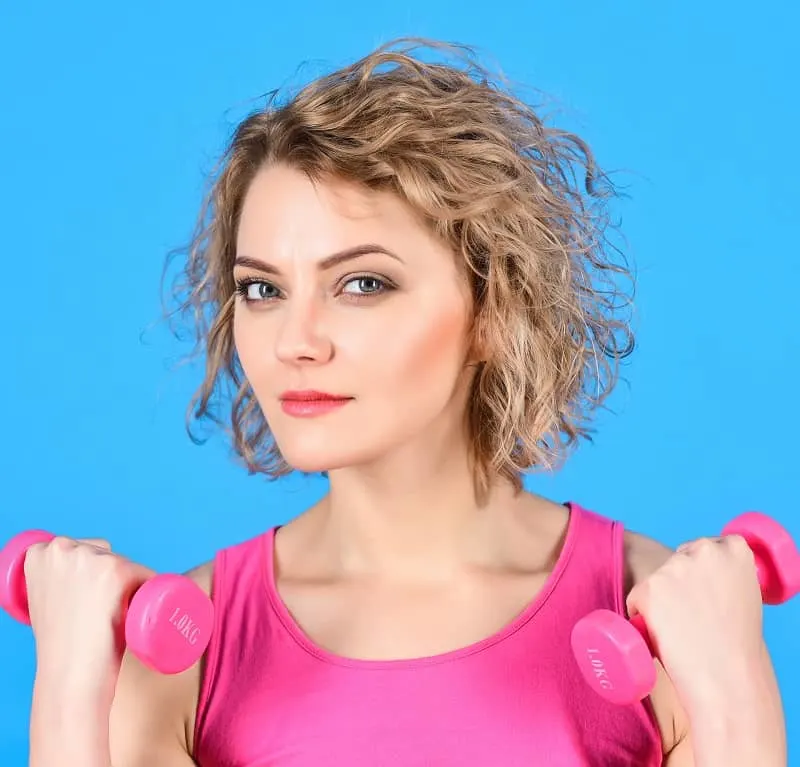 Long fluffy hair isn't ideal, so consider a medium-length cut. While thin curly frizzy hair may not be the easiest to work with, a nourishing curl creme applied to wet hair hydrates and adds shine. Believe it or not, a little frizz is in these days, so don't be afraid to sport your natural texture.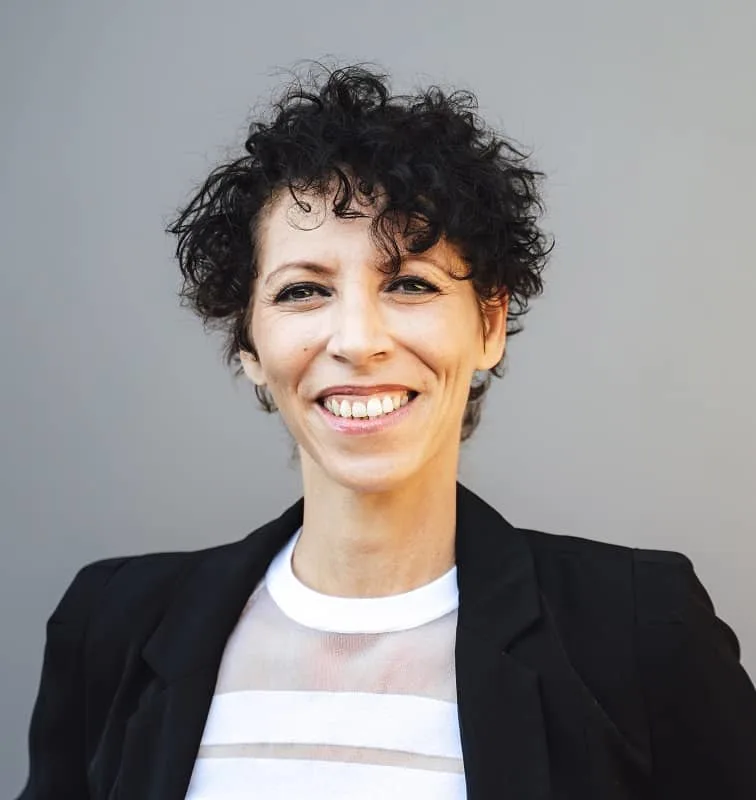 Pixies are a totally manageable short haircut for thin curly hair. Side bangs add a little flair, too. Long and thin face shape should let hair grow a little longer on the sides to create roundness, as seen here. On the other hand, round face shapes should tailor hair closely over the ears.
15. Large Loose Curls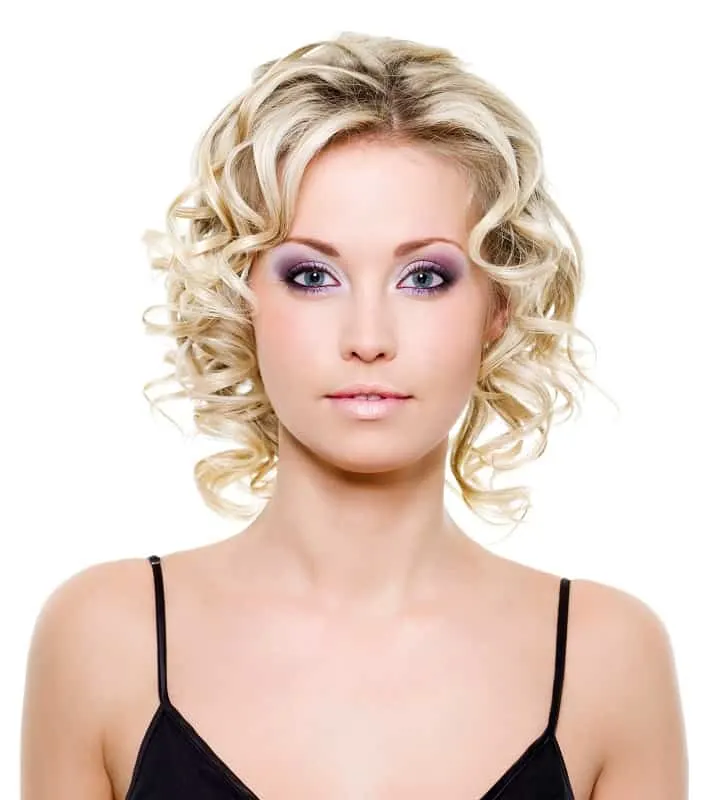 The bigger the curl, the better suited they are for thin curly hair for round faces. Tight ringlets will only enhance the feeling of roundness against full cheeks. Large curls, however, draw the eye downwards for a super sleek vibe.
16. Round Bob for Brittle Hair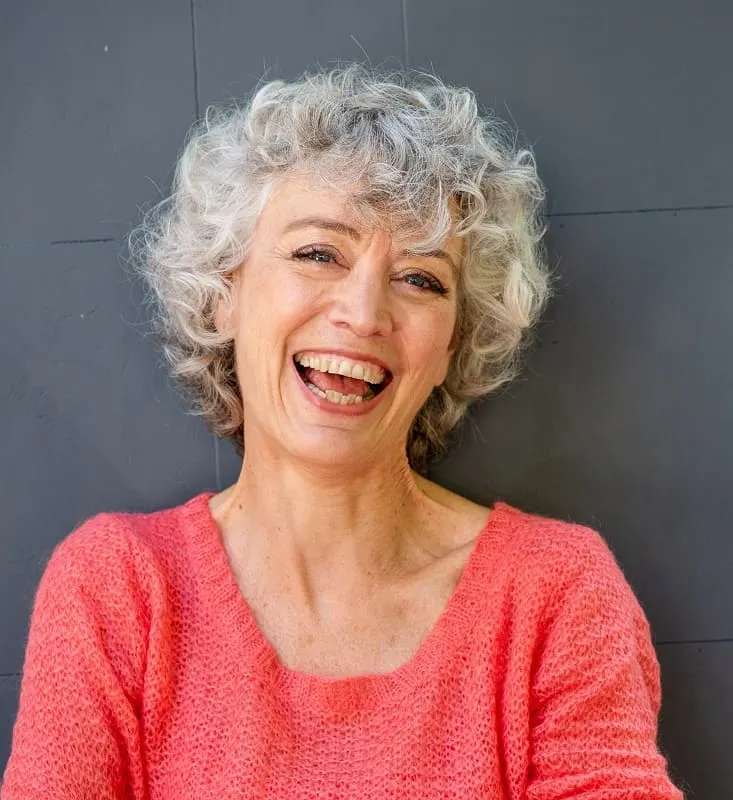 A rounded bob makes for a great hairstyle for thin curly hair over 50. Thinning, brittle hair can be tough to manage, but a circular shape adds energy and life where your hair needs it most. Many older women choose to wear bangs for extra softness around the face.
17. Sweeping Side Bob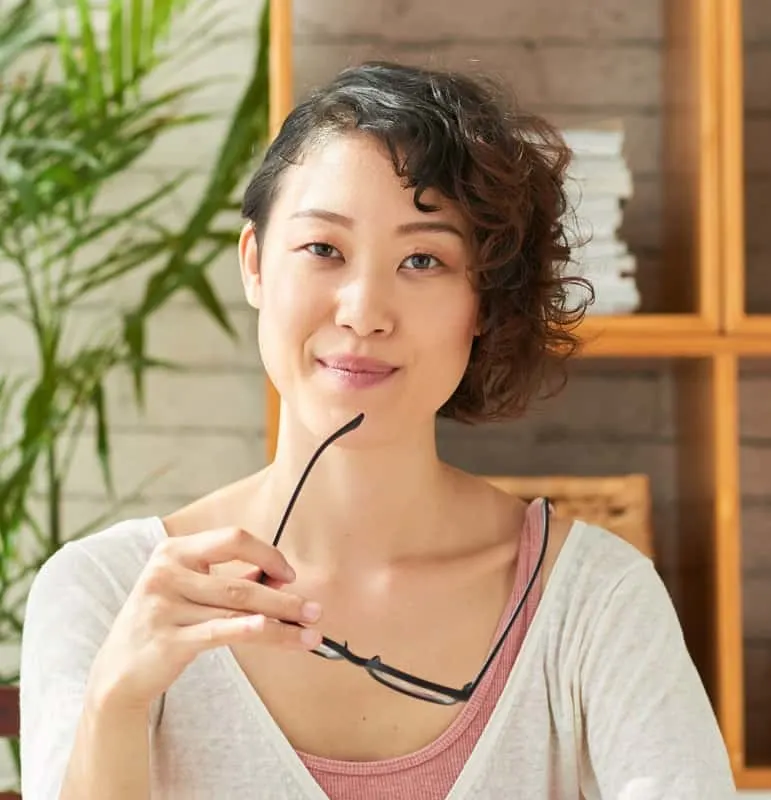 A little asymmetry never hurt for Asian woman with thin curly hair. In fact, by sweeping the majority of your curls to one side and cropping the other side close to the head, you're adding so much interest to your look, regardless of your face shape.
18. Long Layers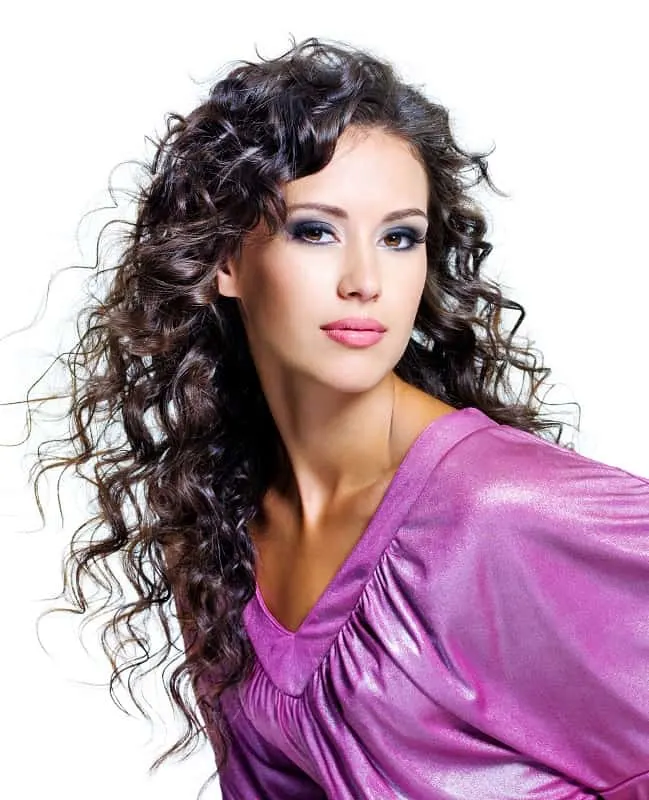 Long lengths can be tough for thin loose curly hair, but layers certainly help. Ask your stylist to cut long, tempered layers at the lower half of the hair for movement and the illusion of fullness. A side part boosts hair for an extra burst of volume.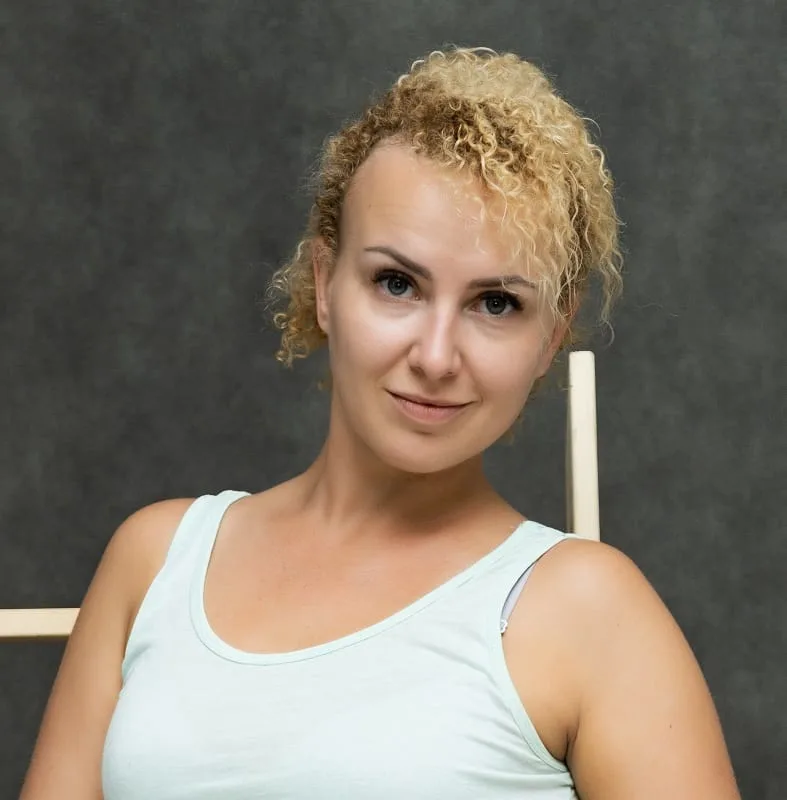 Tight, springy ringlets are so special and beautiful but can be a challenge for very thin curly hair. Keep hair short and consider adding thick side bangs to your look. If needed, lightly tease them along the crown of the head for added oomph.
20. Thin and Curly Black Hair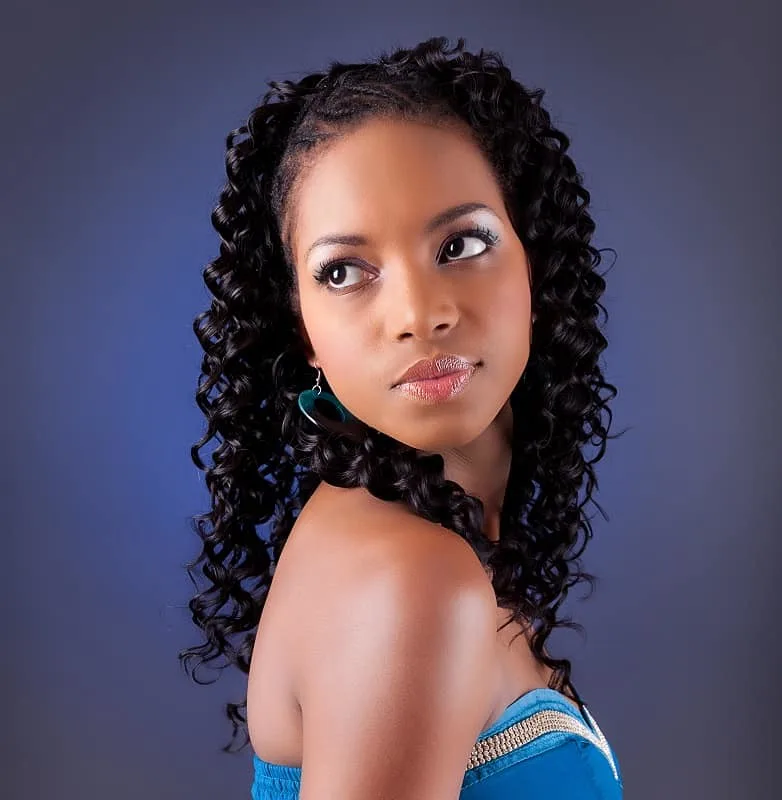 Growing thick and healthy hair is often difficult for Black girl with thin curls. Regardless of the length of your hair, moisture should be your number one focus. Hydrate locks with curl cremes and frequent hot oil treatments to make those curls shine.
21. Simple Chestnut Curls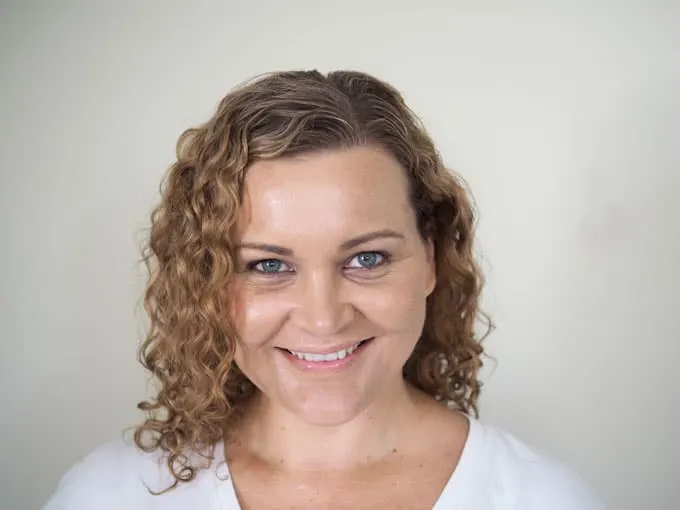 If you have fine curly hair in blonde, consider getting a darker shade done with highlights to show off your curls. The texture is almost always invisible when your hair is of a very light color and it is too beautiful to be hidden. A chestnut shade is perfect if you want to sport your curls in a trendy bob. Simply style your bob with a side partition and let it flow.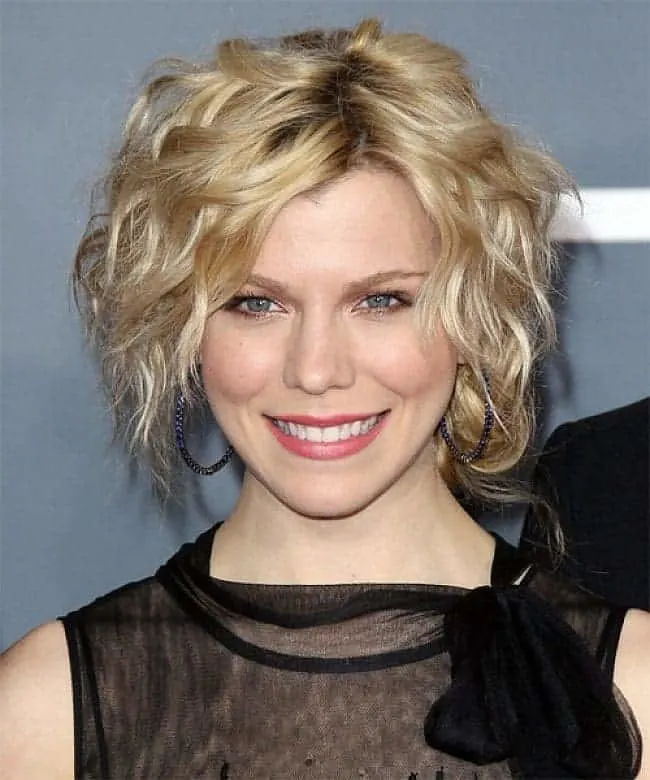 Use styling serums when your hair is wet and scrunch at the crown of your head, near the root of your hair to add more volume at the top. Your beautiful curls fall into place nonetheless. A simple and suitable hairstyle for thin curly haired women.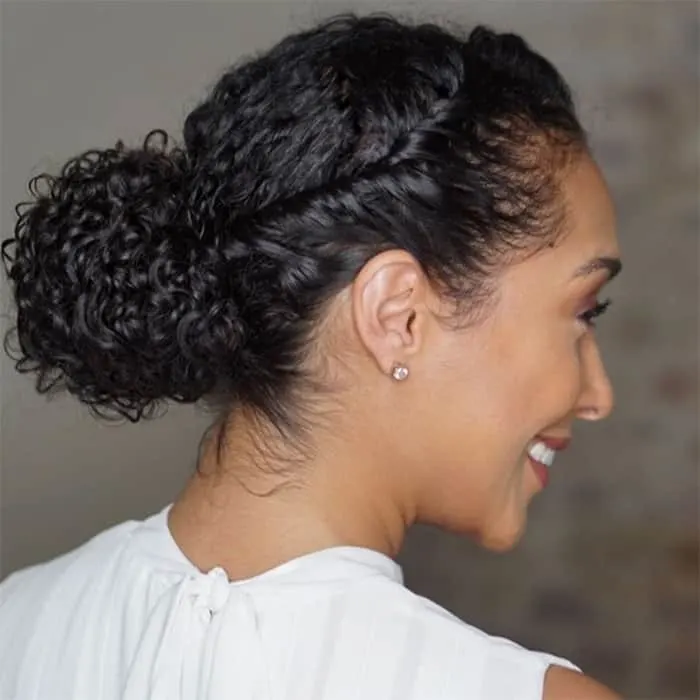 Twist and tuck your hair from the front to create a sleek look while going for a tight and simple bun at the back, ending just a little above your neck. This curly thin hairdo is perfect if you want to keep your tresses away from your face during your workout session or on your day out.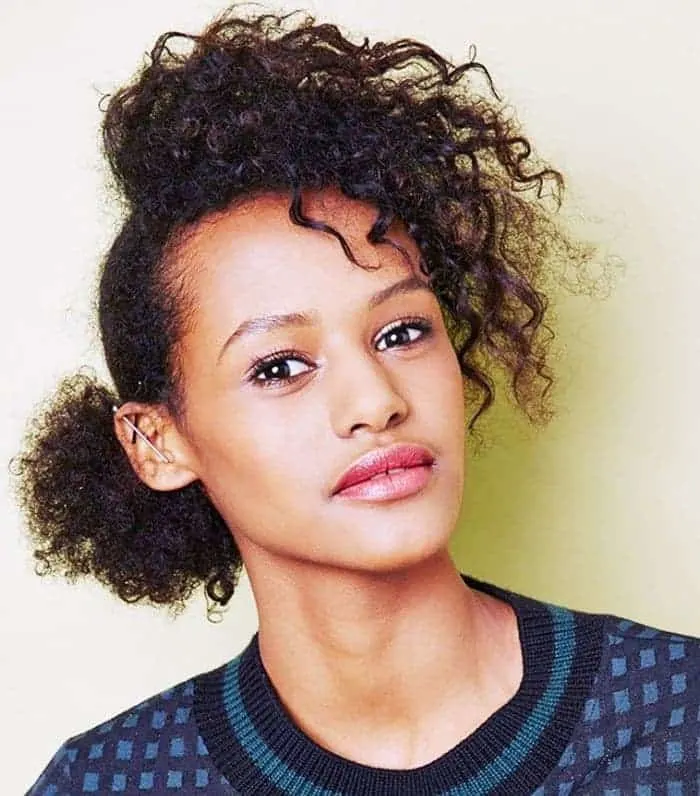 Leave a huge chunk of your hair at the front loosely while sweeping your remaining tresses to a side-swept ponytail. This look highlights your curls at the front while keeping a portion of it tucked away. It's super cute and perfect for women with fine curly hair.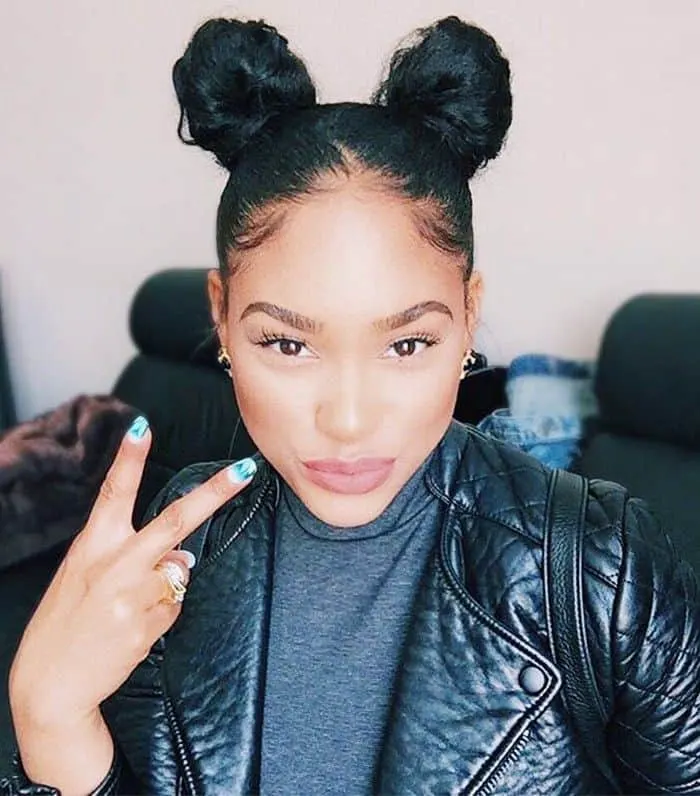 Use styling serums and tightly gather your hair into twin buns at either side of your head. Since you are styling thin curly hair, top buns do better justice at appreciating and accentuating your curls.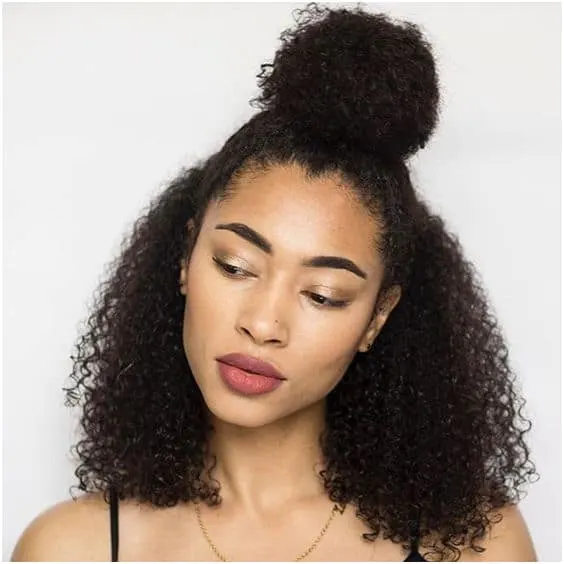 Who said women with fine curly hair cannot rock the half up half down hairstyle. Most women with curly hair like to keep their hair away from their face in order to highlight their facial features.
If that's how you like it, then this hairdo is perfect for you. Gather the front of your hair and bring it to a bun at the crown region. Additionally, you can use a setting spray to prevent your curls from breaking out. Use styling serum and comb to finish your look.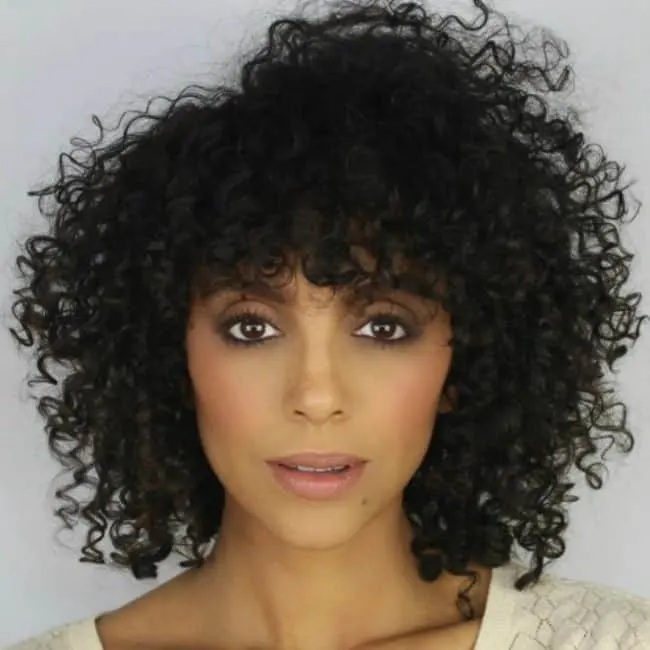 Probably the most common look for women with thin curls, this hairstyle is a timeless beauty. Slay the look with bangs in the front.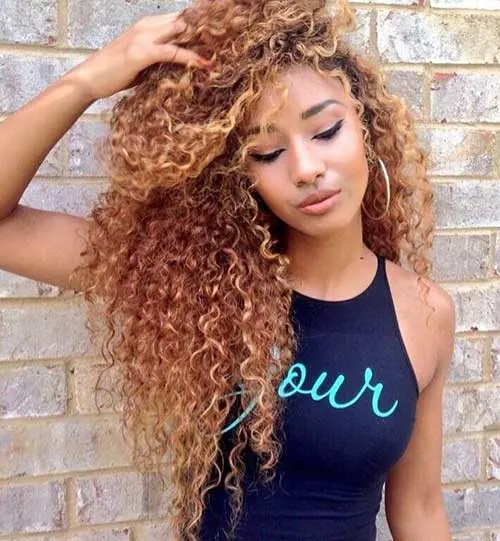 Planning to grow your hair long? Choose a suitable hair shade and combine with highlights that will accentuate your curls. When that is done, follow regular styling norms and let your thin curly hair flow free.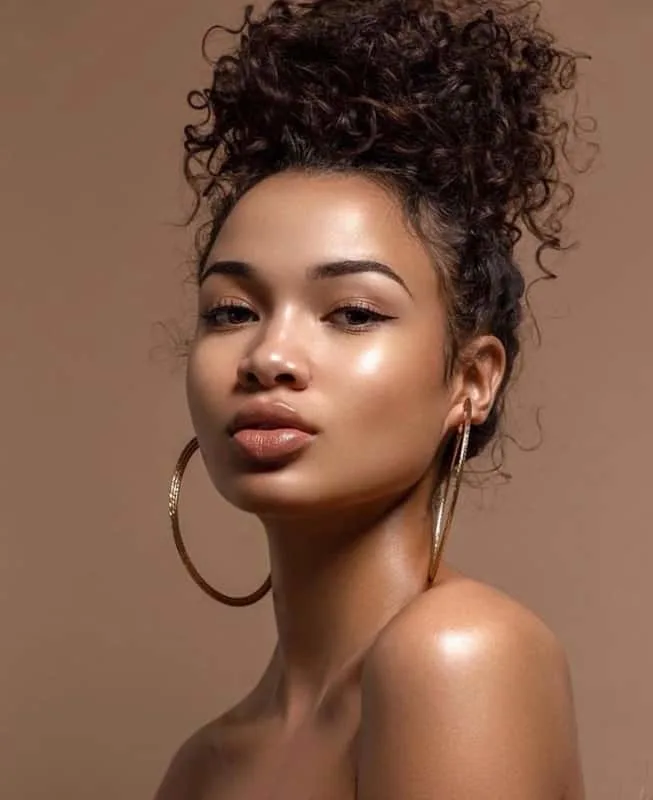 Comb upwards and combine your tresses to a bun at the top of your head. You don't have to pull up loose tendrils if you prefer and the bun is super voluminous without trying, thanks to curly fine hair. Accessorise with flowers or brooches if you are feeling ornamental.
30. Side Swept Ponytail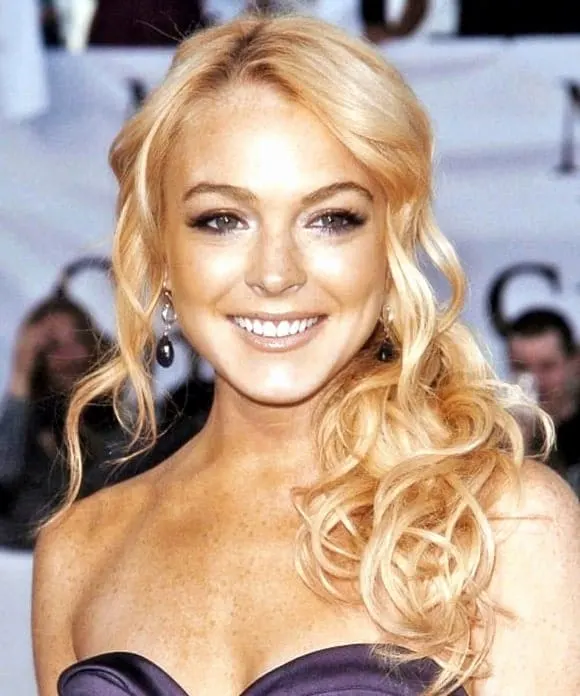 If your hair is a little between curly and fine curls, then this easy hairstyle can be your companion. Side partition your hair and create a ponytail at the back which leans to one side. Put your tresses in the front to show off your long curly hair with bangs.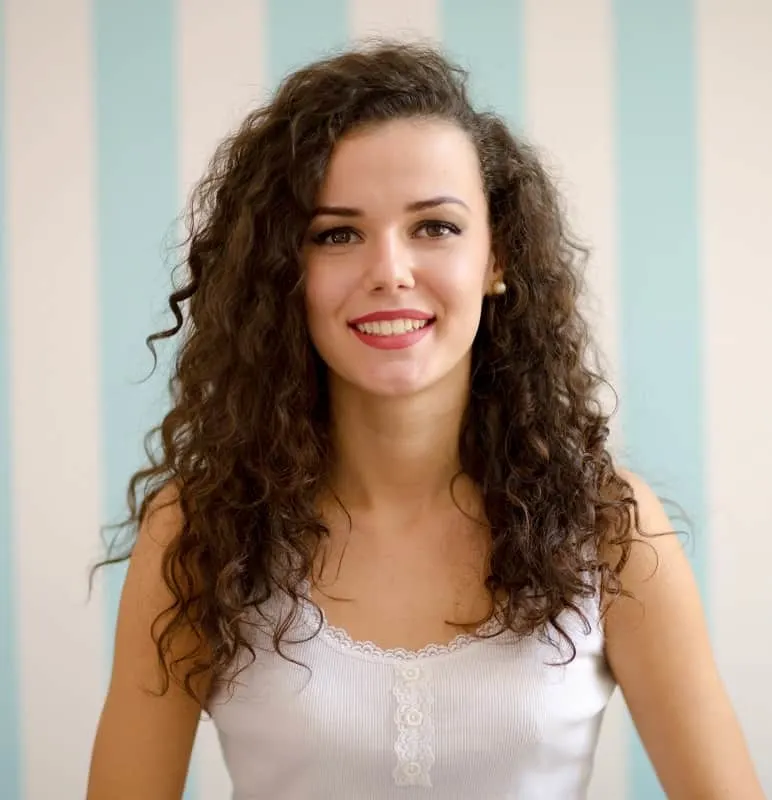 It's easy for thin locks to fall flat, so try a deep side part on your medium thin curly hair. If you find that even your side part flattens out throughout the day, flip your head over, give it a tousle, and switch the side of your part.
32. Simple Updo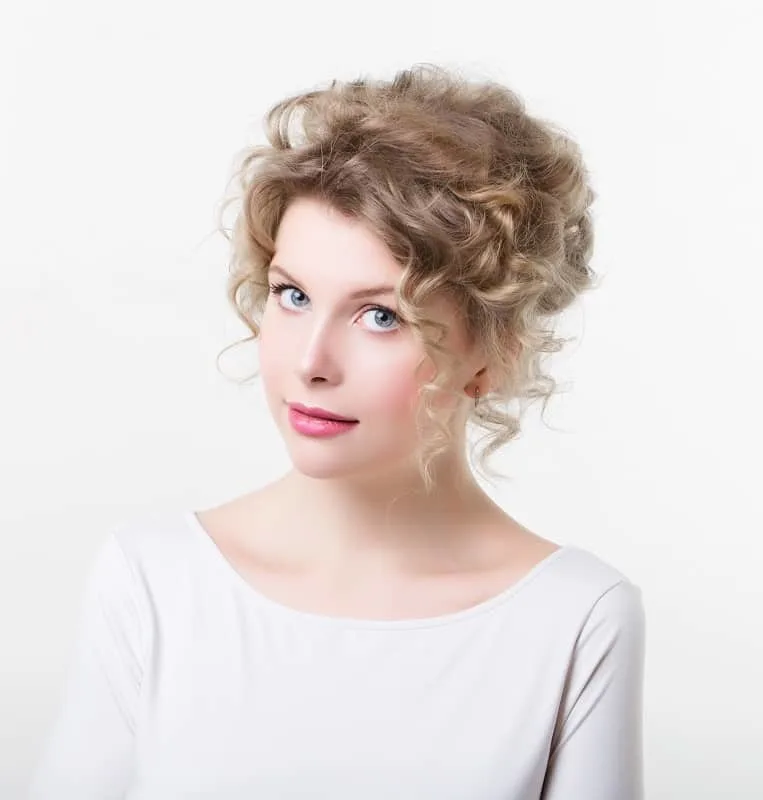 Because you want to create the illusion of volume, try a loose updo for thin curly hair. Pin hair at the back of the head but don't ever make your hair too tight. Use the long, thin end of a comb to gently lift and raise hair from the root.
Interesting color or dynamic dark roots make for an easy trick to volumize thin hair. If you find your hair needs a little extra help, apply thickening spray at the root and work hair upwards as it drys or as you dry with a diffuser.
34. Tight Natural Curls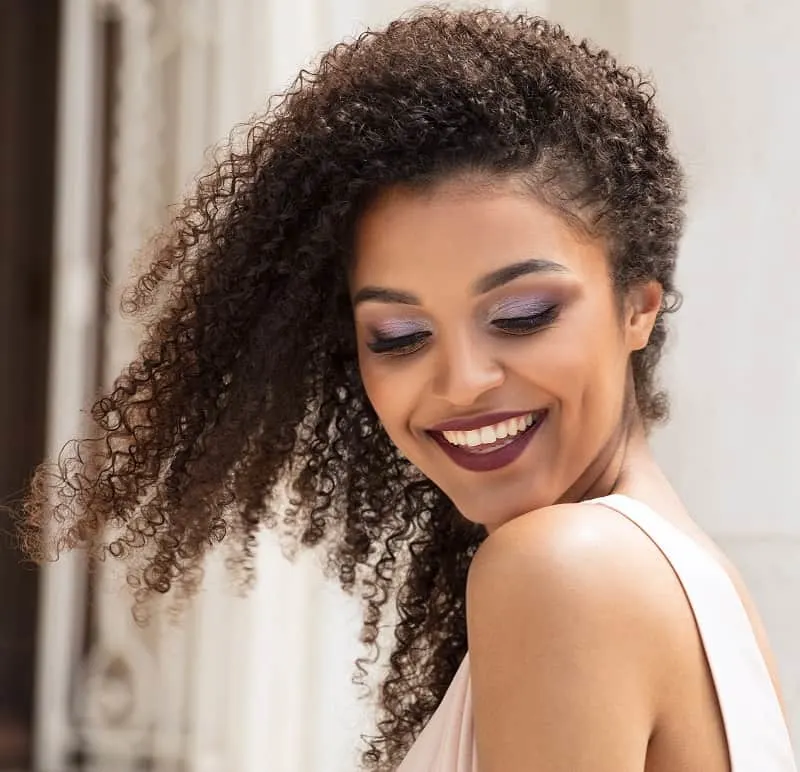 If you prefer to wear your natural ringlets somewhat long, ask your stylist to cut the ends of your hair in varying lengths. This creates a sense of fullness. Instead of hiding frizz, take advantage of this texture and frizz out ringlets for an extra bit of volume.
35. Sleek S Waves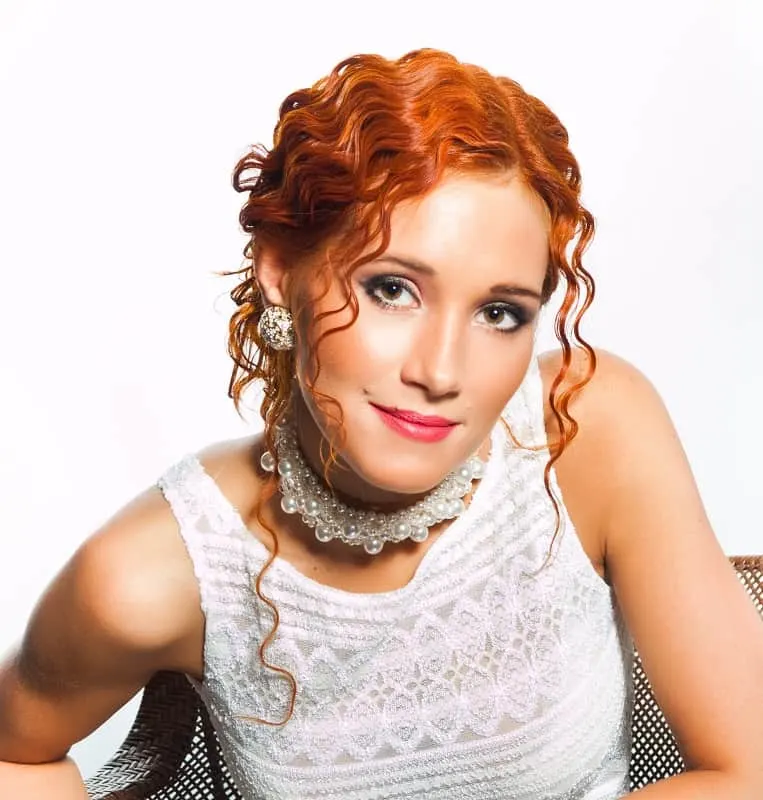 You can thank glamorous, bygone eras for the popularity of S waves. These ultra shiny curls move in the same direction and remain close to the head. This makes them perfect as an updo for thin hair types. Leave a few curls loose for style and a touch of volume.
FAQs
With all types of natural hairstyles, curly is, in most cases, the most challenging hair to tame. If you're lucky enough to be blessed with thin curly hair, you may have some questions about what you can do with it.
Here, we got all the answers.
Are thin and fine hair same?
No, they are not. Thin hair has to do with the density of your hair from the scalp. If you have fewer hairs on your scalp because of genetics then you most likely have thin hair.

Fine hair has to do with the texture of your hair. If your hair is super soft and each strand is thinner and susceptible to breakage you have fine hair.
Can curly hair be thin?
Yes, curly hair can be thin. In fact, it is one of the most challenging hair types. Too much hair product will ruin it by weighing it down, whereas not enough hair products can make it look frizzy.
How can I know if I have fine curly hair?
The best way to tell whether you have fine curly hair is to take a strand and identify whether it's small or narrow. Coarse or thick curly hair strands are strong and wide in width.

Another way to tell if your curly hair is thin is if your hair becomes oily, dries out fairly quickly, and doesn't hold the style or shape for very long.
Which haircut suits curly hair? Layered or feathers?
Layered curly haircuts are ones that divide your hair in different lengths and work as "layers" across the length of your hair. The feathered cut is a variation of layered cut wherein the ends are textured to resemble the sharp look of feathers.

When you have fine hair, it is best to go for layered cuts as feather cuts may differ from person to person depending on their own natural texture and curls.
Short or long? Which length is perfect for fine curly hair?
Whether you have curly hair or super straight hair, the hair length greatly depends on your preference. But if you need to know how each length works, let us discuss that with you. Usually, for dense curly thin hair, it is best to stick to short lengths.

This is because your hair naturally tends to frizz out more and look extra dense if you leave it loose. When you go for a longer length, that may be very challenging to keep your hair in place. If you have fine hair that is a little less dense then you can go to long lengths that do not make your hair uncontrollable or difficult to manage.
Can my thin curly hair have bangs?
Yes. Curly bangs are a guaranteed way to achieve the thick bouncy look. Fine curls match great with bangs. When it comes to bangs with thin curly hair, try to keep them to the side or opt for curtain bangs.
Is it bad to thin out curly hair?
Too much texturizing will destroy the look and feel of curly hair. The ends of curly hair need to be weighed down to keep the shape of the curls. If you're getting a thinned cut, ask for the bulk of it removed but never the ends.
Can I thicken my curly hair?
Yes, there are a few techniques you can try for thickening curly hair, such as:
● Pre shampoo your hair with oils
● Try cold conditioner
● Limit hair products
● Massage your scalp
● Leave hair to try – don't towel dry
● Trim your ends
● Try adding eggs, honey, and olive oil to your hair care routine every two weeks
Can I get layers on my thin curls?
Yes. You can get layers on your thin curls. However, it will make your hair seem more volumized and bouncy. Getting layers will also make your hair look fuller and thicker.
What's the difference between coarse & fine curls?
The difference between fine and coarse curls is that delicate curls are smaller in circumference than coarse curls. If you have fine curly hair, your hair may sit flat, whereas coarse curls have a natural volume.
What are the best products for thin curly hair?
The top recommended products for thin curly hair are:
● Apple Cider Vinegar to restore pH to delicate strands
● Weightless Shampoos to help lift your hair rather than weight it down
● Frizz-free Curl Mousse due to its lightweight hold
● Manuka Honey and Mafura Oil for deep hydration
● Satin Pillow Cases to avoid breakage
Is it bad to use hot tools on thin curly hair?
Yes. Heat takes moisture from hair. Thin hair already struggles to lock in moisture, leaving your hair dry and flat. Use a heat protectant specifically designed for curly hair to avoid permanent damage and split ends.
Can I curl thin hair without heat?
Yes. Some surprising ways to keep your thin hair curly without heat are:
● Tight fishtail braids left in for two days
● Hair rollers or spoolies
● Curl tiny strands around pencils and clip them in your hair – leave for a few hours
● Scrunch your hair with mousse or other lightweight holding products
● Put leave-in conditioner and desired hair products on after a shower and wrap your hair in a short overnight
How often should I wash thin curly hair?
Since natural oils can weigh your hair down, you'll want to wash your thin curls at least three times a week. However, if your hair is on the drier side, you'll want to avoid using shampoo every time.
Does curly hair get thinner as we age?
As you age, you might find that you have less hair than some people. But, for thin hair people, you might find that your curls get looser or change shape as you get older.
Is coconut oil good for fine curly hair?
Yes. Coconut oil is excellent for thin hair because it adds moisture to the hair shaft. Coconut oil adds shine and softness and helps you manage your curly hair better.
How to sleep with fine curly hair?
If you'd like to keep your fine curly hair healthy, bouncy, and well taken care of, you should try sleeping with a satin pillowcase or sheets. Ensure that you braid your hair before bed every night, and don't be afraid to spritz a lightweight product in your hair for the night.
Thin curly hair is a great pleasure to work with when it comes to chic and stunning hairstyles. When styled right with the right products, you can truly reveal the beauty of naturally fine curly hair.
You May Also Like