Wedding hairstyles for curly hair are so chic that even women with straight hair can't help falling in love with them. It is a truth universally acknowledged that many people with curly hair wish it was straight, and those with straight hair wish for it to be curly.
But on your wedding day, the last thing you want to do is fight. Not with your future mother-in-law, not with the DJ, and not with your hair. If you have a head full of curly locks, this is a day to let them sparkle and shine!
Tips for Brides With Curly Hair
Unlike straight hair, curly hair is a hair category with a wide variety. We'll address the most popular curl subcategories to give you wedding day tips for your specific type of curly hair.
Long to Medium Curls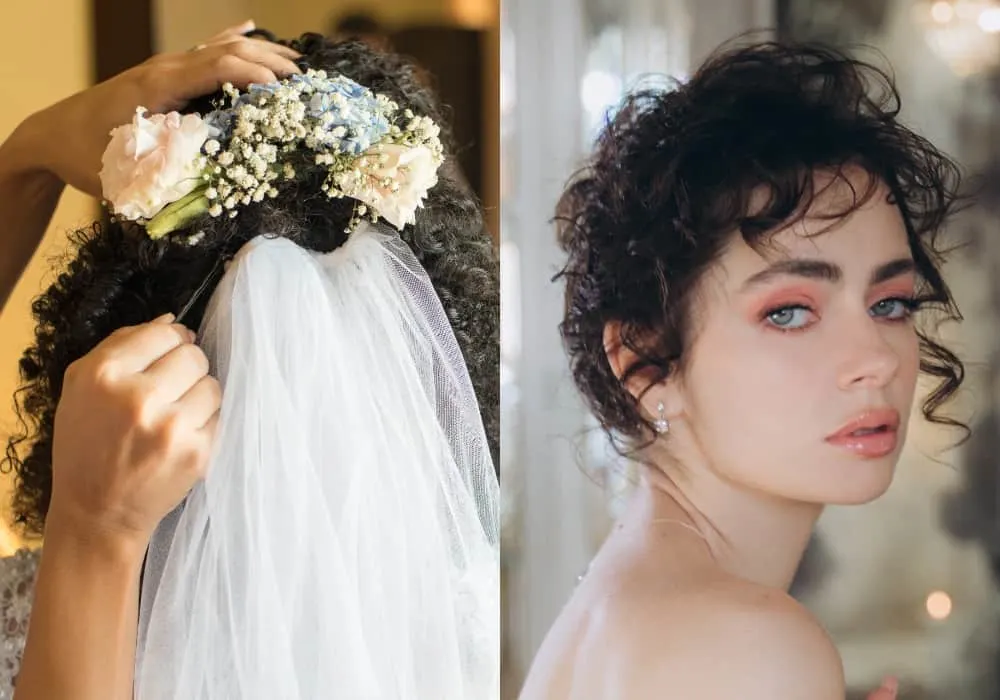 Long, curly tresses left natural can be adorned with a flower crown and a trailing veil. This can complement wedding gowns of several styles. Medieval, boho, or informal "beach wedding" dresses all invite the classic look of cascading mermaid curls.
If you prefer fewer embellishments, a braided or twisted crown can enhance your curls while keeping them away from your face.
For a more traditional look, an updo is always appropriate, and heat tools can help train the natural curls into tendrils. Wedding days tend to begin early and last late into the night. Unlike straight hair which will lose its style during the events of the day, curly hair will retain its shape and even "fly-aways" will become charming, face-framing lovelocks.
Short Curls
Shorter curls are more versatile than you might think. A finger-wave style is in vogue with Downton Abbey fans, or for a more modern look small pearl or flower hairpin accessories can peek out in just the right places. Consider topping your natural curls with a tiara, or go for a vintage look with an offset pillbox hat and short veil.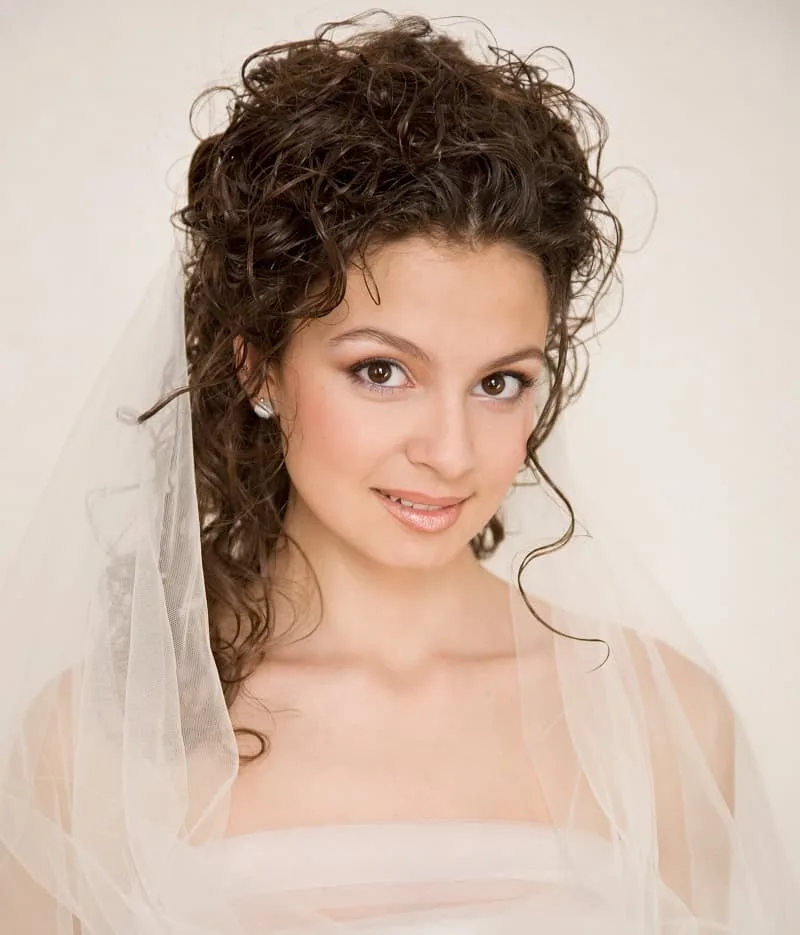 The tendency to get frizzy in humid weather may be what gives curly hair a bad rap. The warm weather months are the most popular for weddings, and in many places, humidity goes hand-in-hand with heat. There are a few steps you can take to mitigate this problem and keep your hair looking as good at 11 p.m. as it did when you left the salon.
Anti-frizz products are designed to keep your hair smooth no matter the weather. Natural options made with argan oil or coconut oil, or shea butter are good options for maintaining a more sleek appearance all the time, not just on the big day. Ask your hairdresser what he or she recommends for your hair.
Charming Wedding Hairstyles for Curly Hair
Nothing compares to those moments when you're planning everything and trying out different dresses and hairstyles that you'll wear on one of the most important days of your life. Finding the ideal hairstyle doesn't have to be such a hassle. Scroll down to see 31 wedding hairstyles for curly hair you'll fall in love with immediately.
1. Short Kinky Afro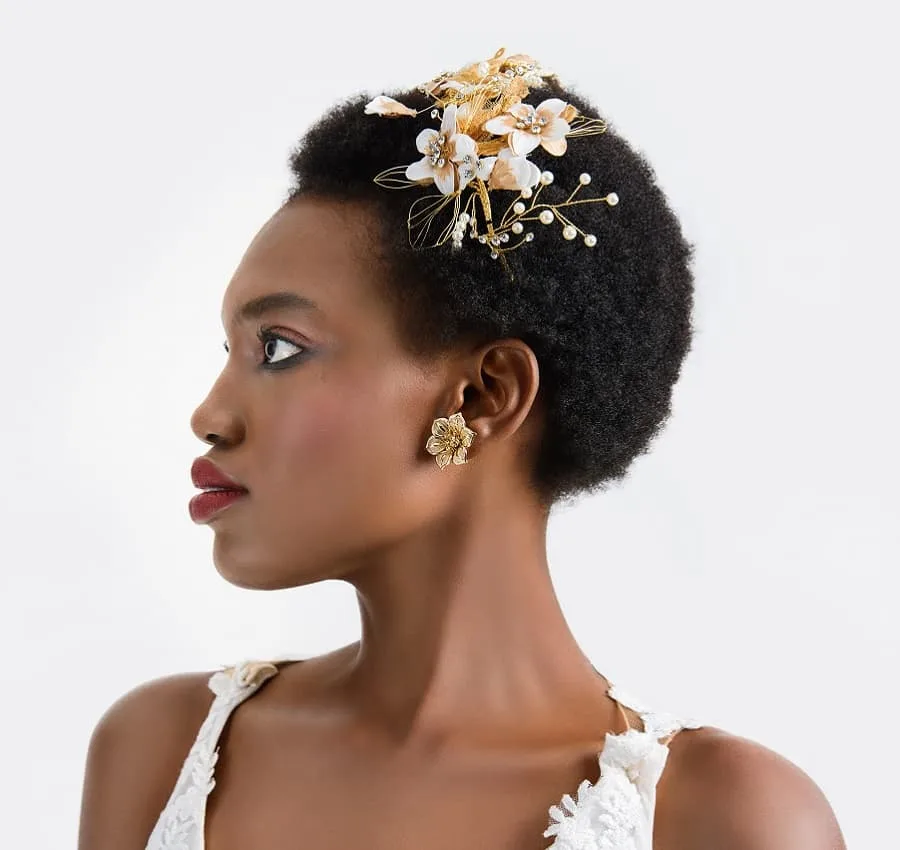 African-American ladies can flaunt their kinky afro curls by opting for a close-cropped haircut with the strands uni-length all over the head to keep all the attention on the face. Finish off by adding an embellished headband to match with the wedding attire.
2. Half Up, Half Down Look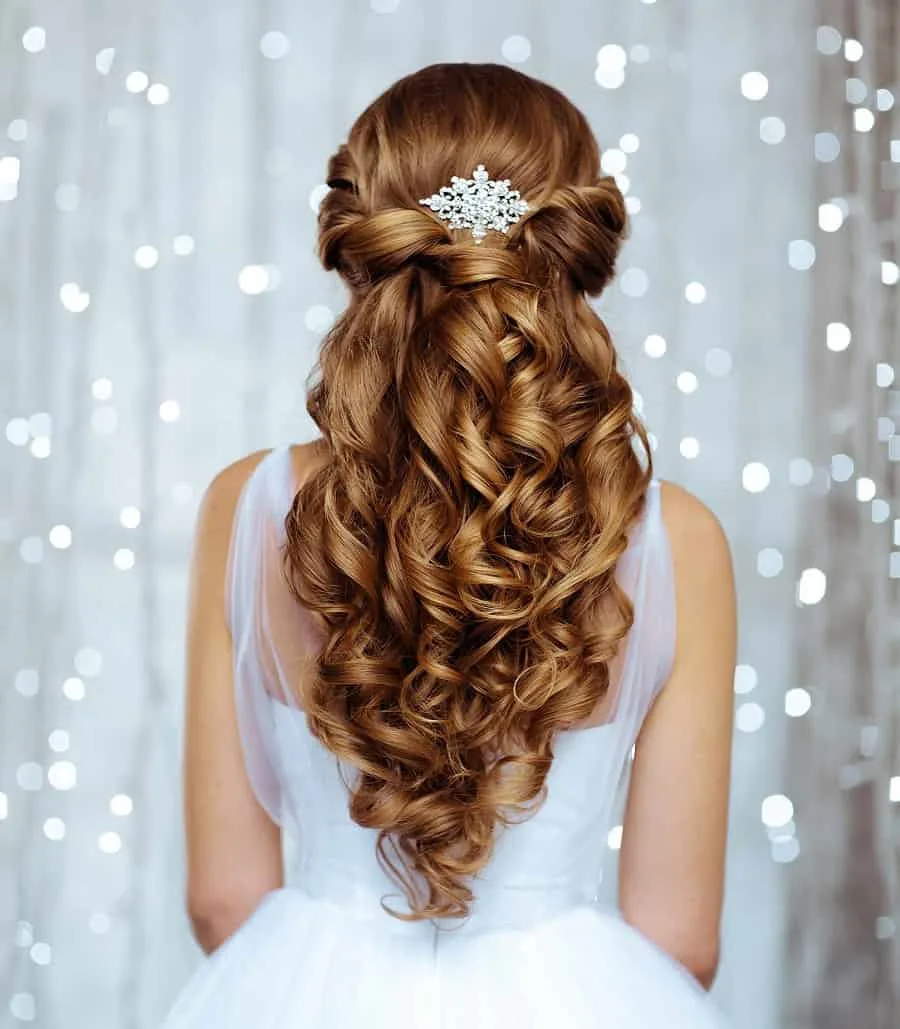 This look is undoubtedly one of the prettiest hairstyles for curly-haired brides in 2023. It features a V-cut on a soft caramel blonde mane full of bouncy curls. The side locks are twisted to be secured at the back while a crystal hair comb completes this dreamy hairstyle.
3. Front Puff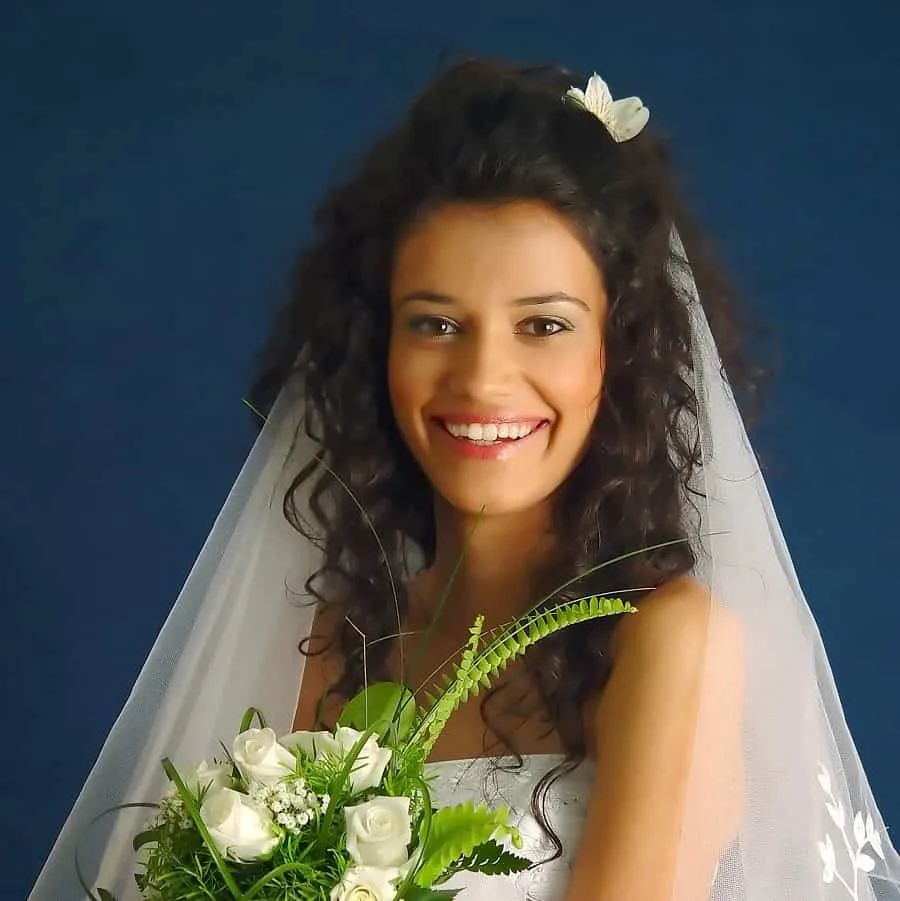 Those who want to keep it simple and carefree on their big day too can go for an effortless bubbly front puff created using a comb and hairpins. Top it off with a white flower while the remaining curls are left loose for an easy-going appeal.
4. Chunky Blonde Highlights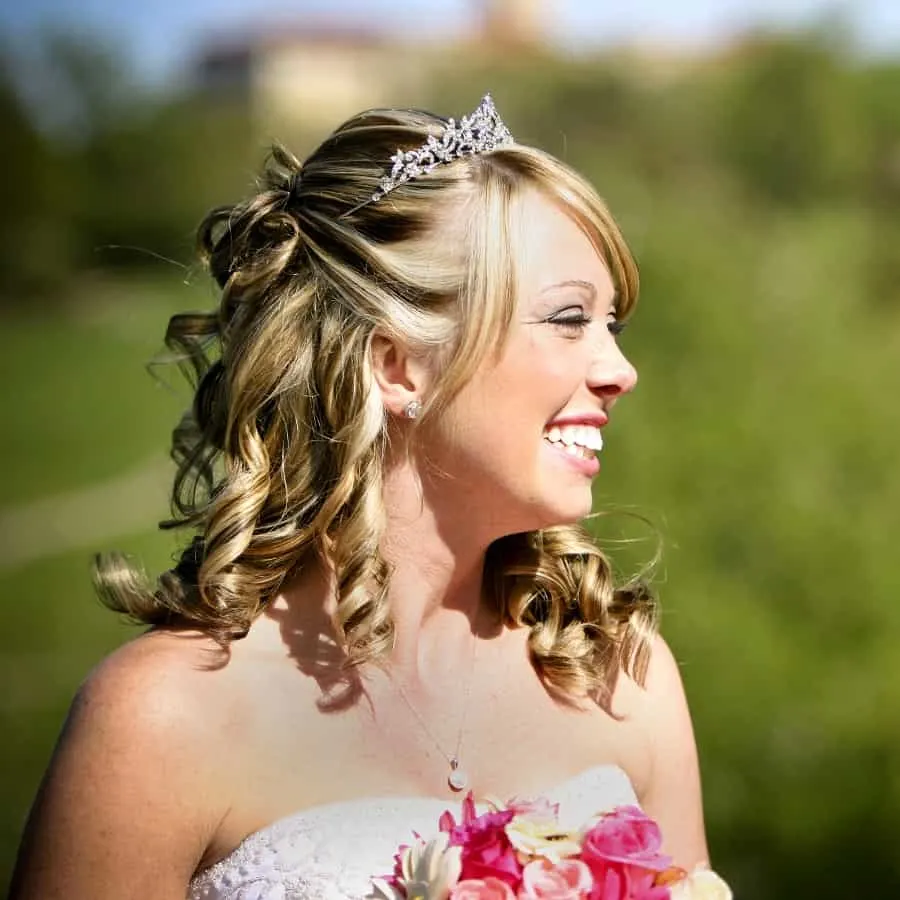 Bring a prominent change in your look by adding chunky blonde highlights on a dark chestnut mane creating a two-toned appeal. Opt for a puffy half-up hairstyle with a delicate crown for a princess appeal and add tight curls sparing the face-framing fringe at the front.
5. Curly Mess + Sleek Bangs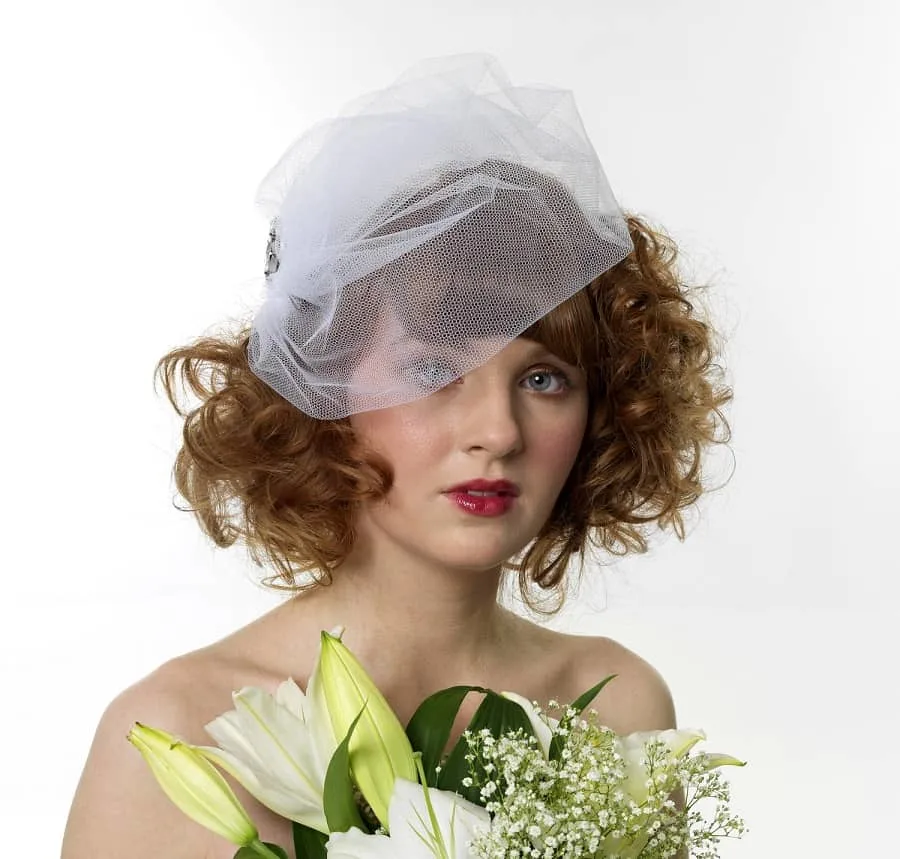 Another easy-to-achieve hairstyle for brides who like to keep it simple. Tease the shoulder-length golden blonde mane all around the head creating a curly mess that contrasts with the straight and sleek bangs at the front. The birdcage veil adds up to the look.
6. Ruffled Updo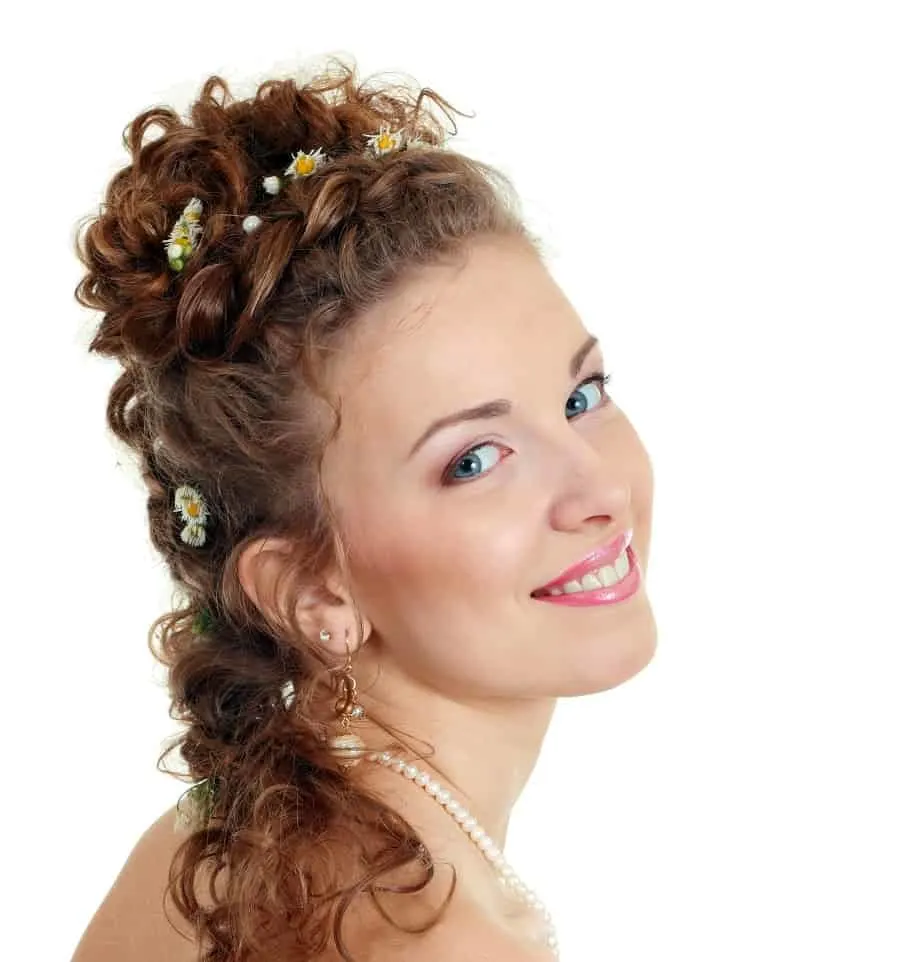 Recreate this romantic curly wedding updo by braiding the front row and continuing while the braid zigzags on the head reaching the neck where the remaining hair is left loose. Tug the strands loose for a ruffled appeal and finish off by adding cute little daisies.
7. Gorgeous Deva Cut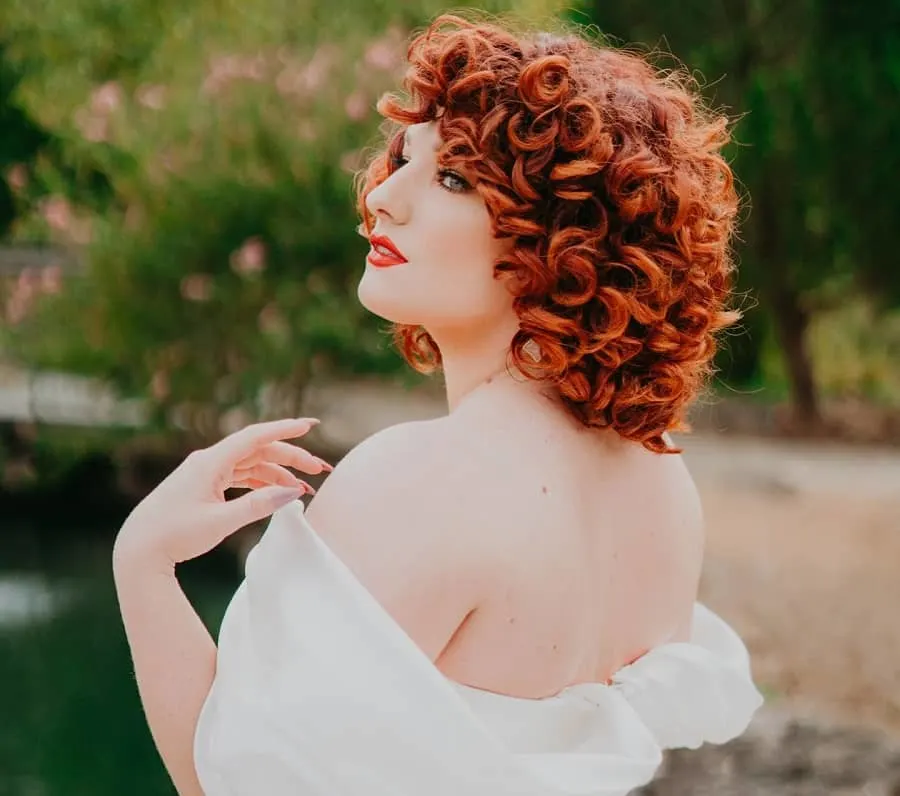 Turn around some heads by considering a deva haircut that styles each curl individually to frame the face with the curly fringe falling over the forehead flawlessly. Dye the curls in a rusty red hue to complete this jaw-dropping wedding hairstyle.
8. Rolled Updo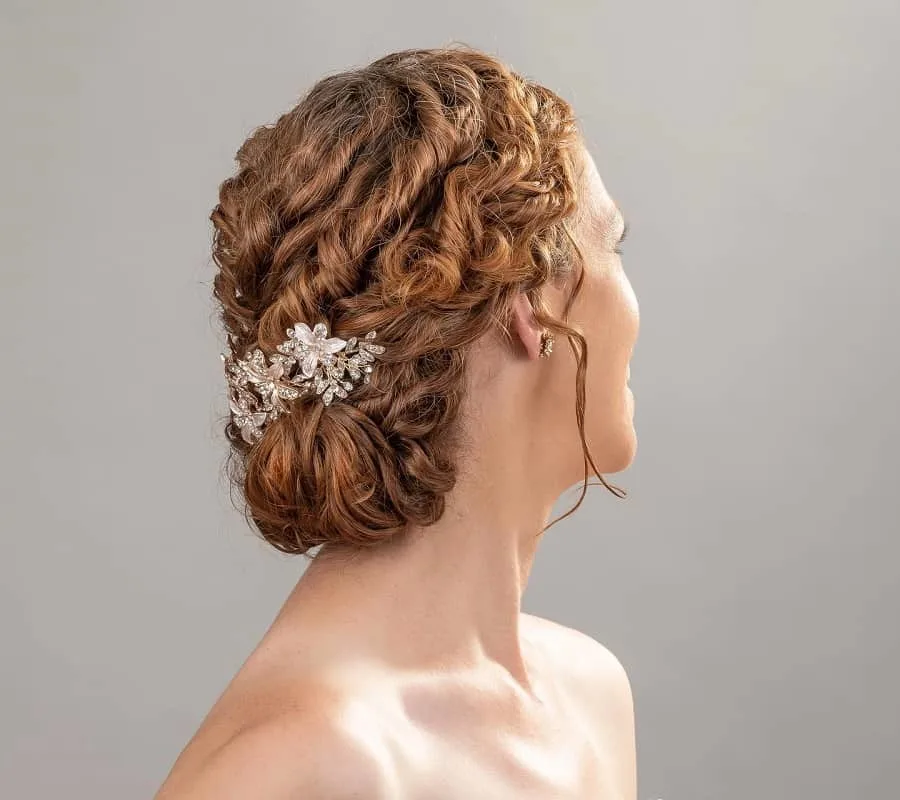 Keep it elegant with this rolled updo hairstyle. Twist back the center-parted side locks loosely to retain the curl pattern and roll the remaining hair inward to secure with pins. Add a fancy hair clip and pull some strands loose along the sides of the face.
9. Flipped Ponytail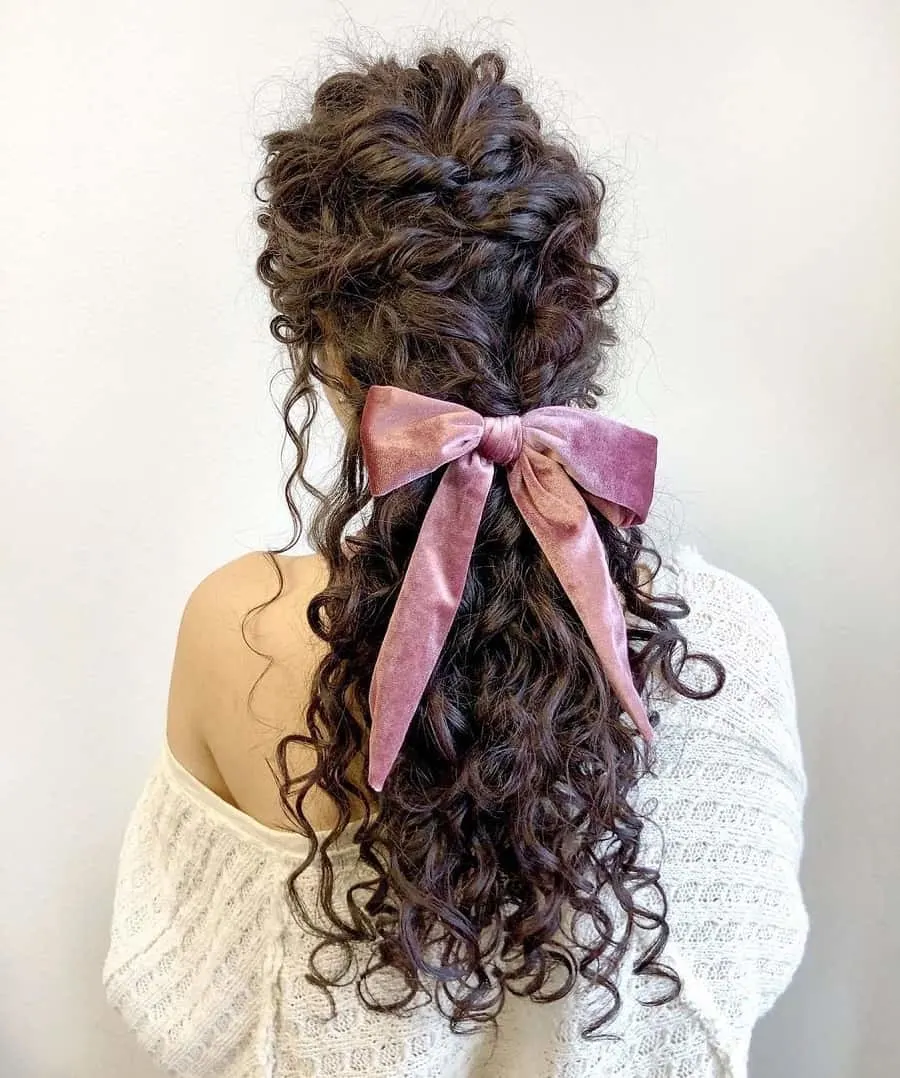 An adorable girly look like this will surely keep all the eyes on you. The hair is styled into three ponytails on the head flipped loosely through a space created above them while a fourth ponytail gathers all the curls at the back with an oversized bow hair tie.
10. Side Braids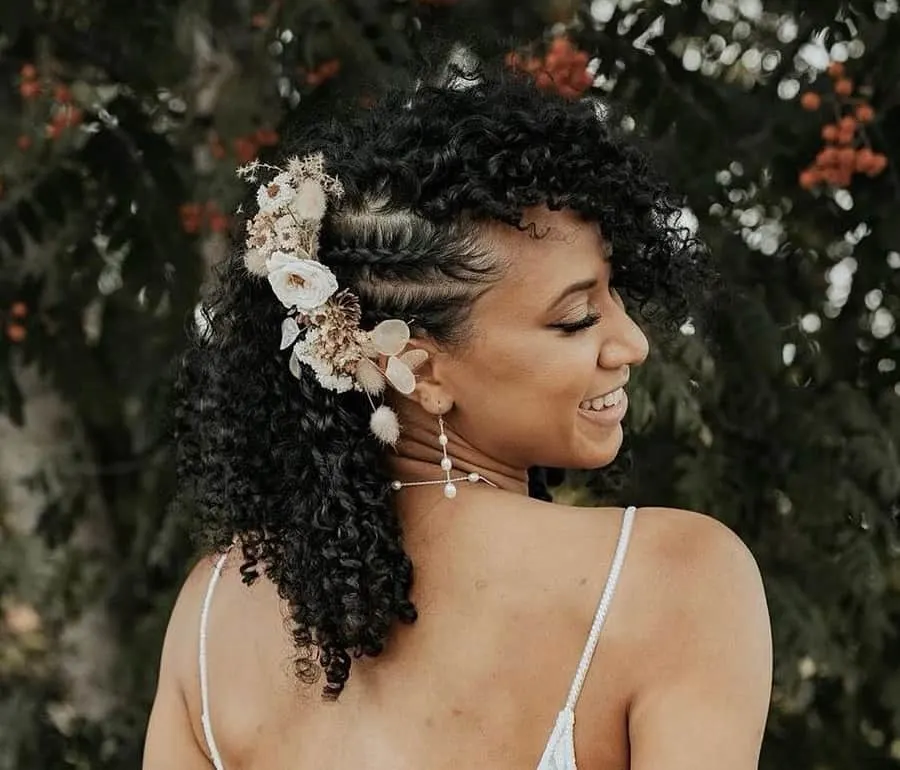 Black brides can rock their natural curly black coils on their wedding day by going for a deep side parting and styling one side into tight braids to contrast with the remaining hair tousled on the opposite side. Accentuate the braids with some flowers and the look is done.
11. Bold Double Buns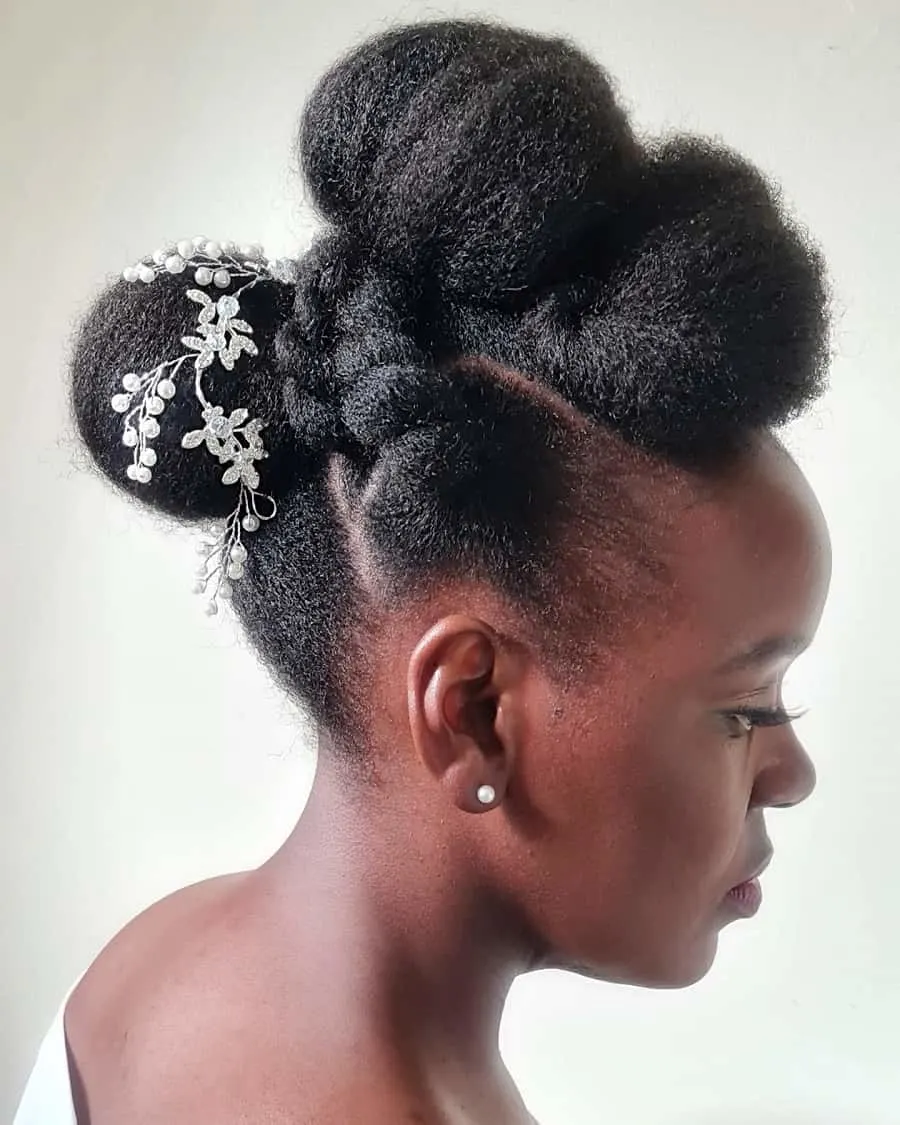 Afro ladies can express their bold side by opting for a double bun look. The front is twisted back creating a fluffy puff. One bun sits on the top while another at the back with jumbo side twists crossing between them. Top off with a hair jewel.
12. Curly French Braid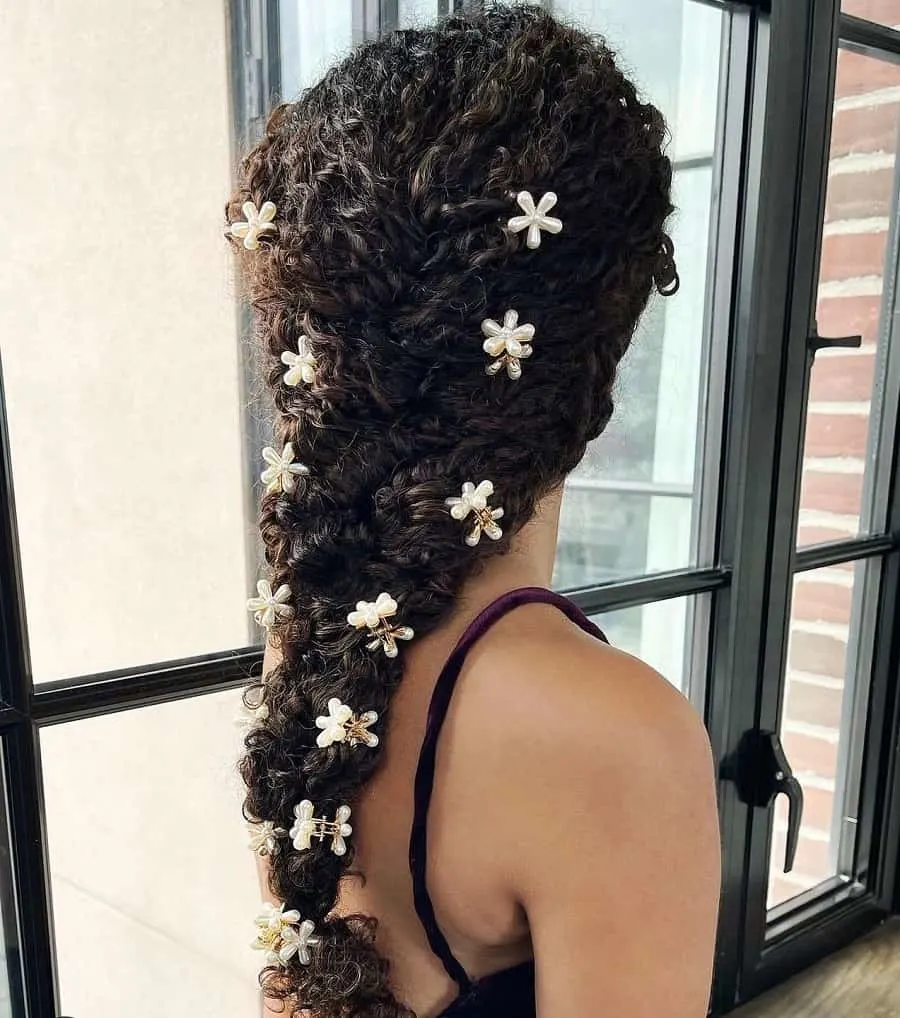 This charming wedding hairstyle for curly hair is to die for. It is simple and classy featuring a curly mane loosely plaited into a French-style braid maintaining the curl shape. The cute little flower hair clips added along the length are the key to this gorgeous look.
13. Pushed Back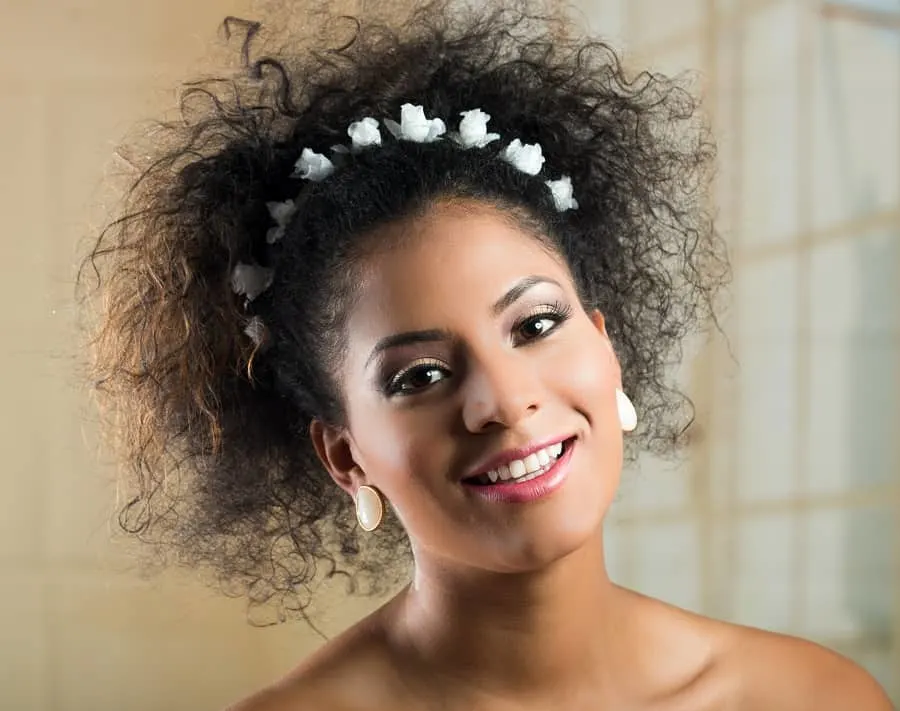 Some confidence is required to pull off this messy hairstyle. The fluffy curls are teased and tousled creating a chaotic pile that is pushed back with a floral hairband keeping it away from the face. Pair it with some soft natural makeup and the look is complete.
14. Plaited Top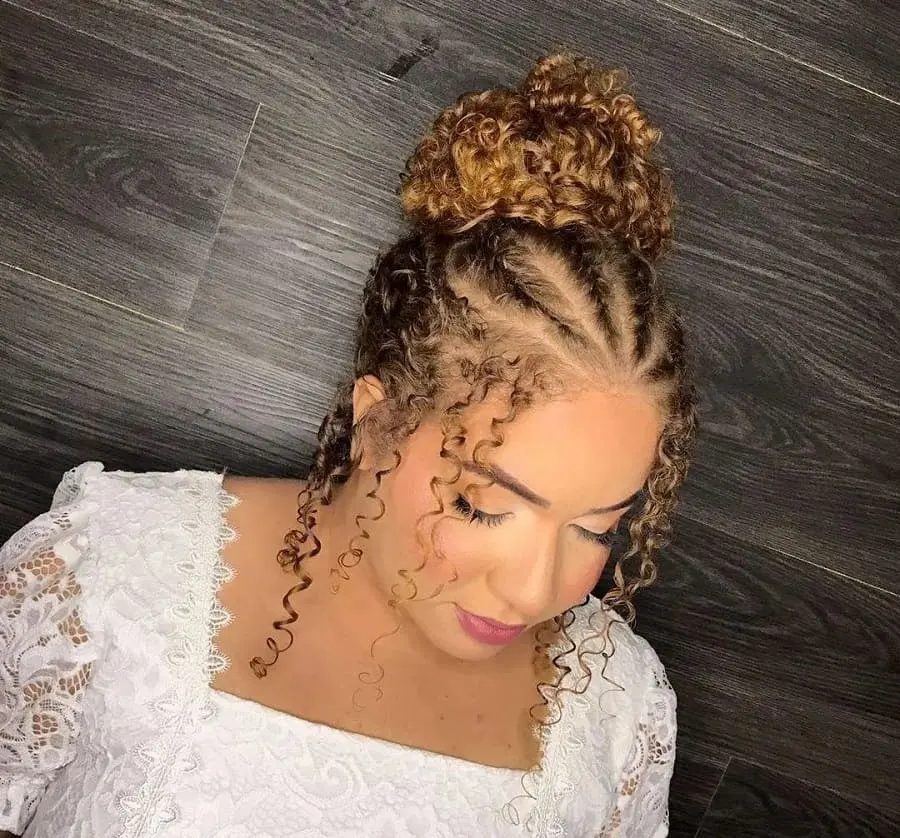 Cornrow braids look chic at weddings. This two-toned look features a dirty blonde top melting into the honey blonde hue reaching the ends. It is plaited tightly with well-defined curls along the sides of the face while the remaining hair is styled up in a high curly updo.
15. Braids and Curls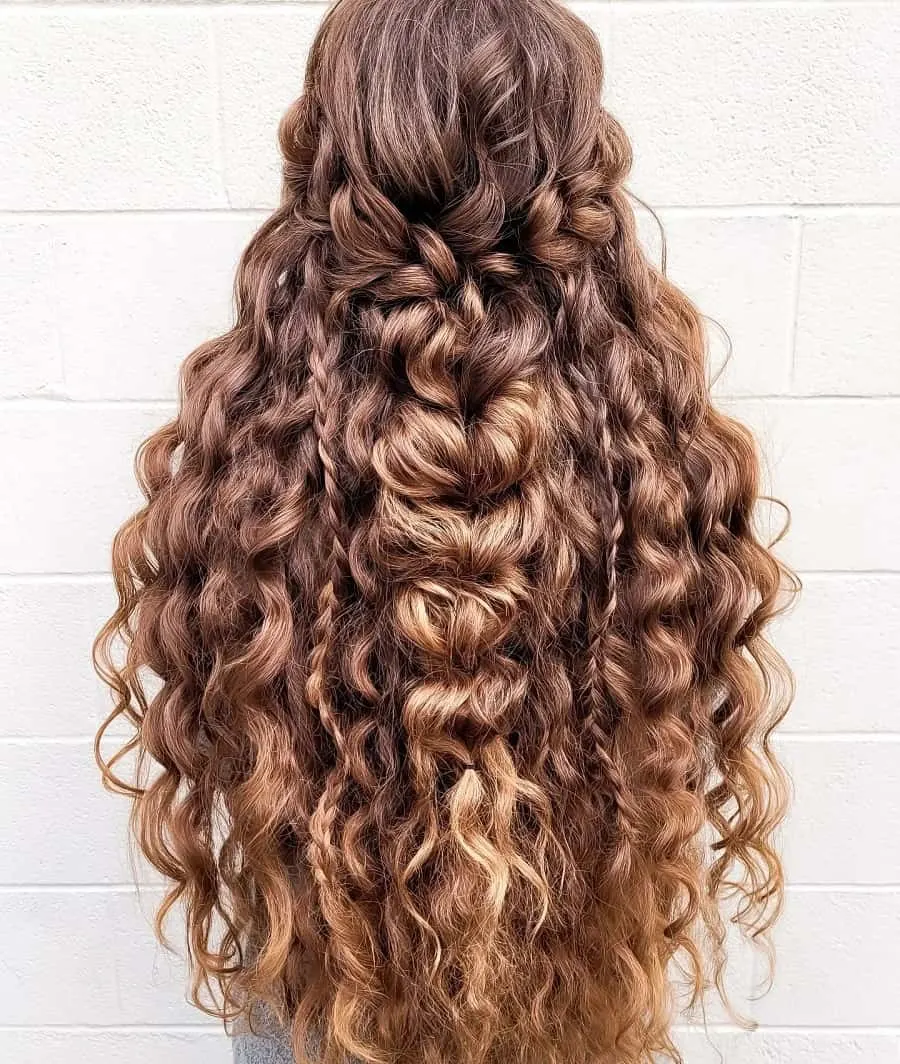 Women with long curly locks can opt for this romantic bridal hairstyle that is impossible to ignore. The side locks are braided using the pull-through method and merge together at the back. Two fine side braids accompany the bubbly jumbo braid with the remaining curls covering the entire back.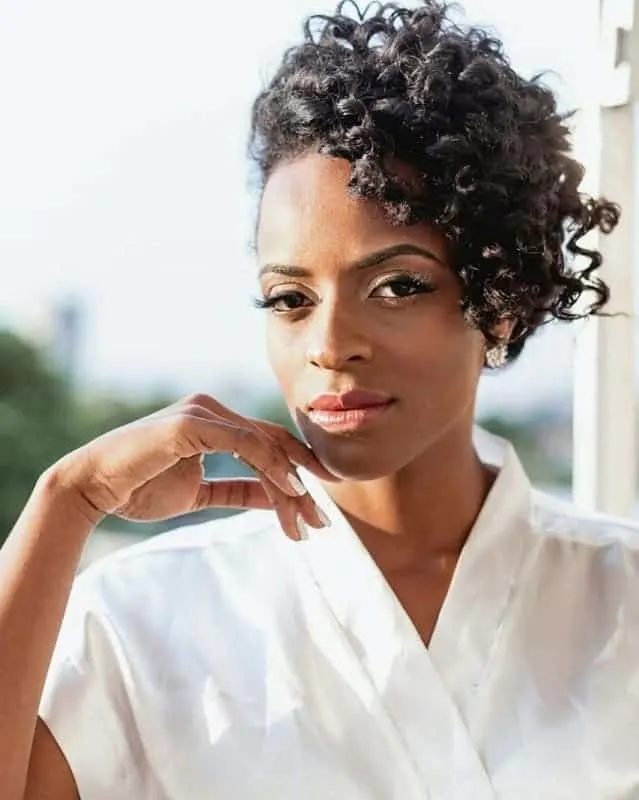 Short and curly hair is beyond adorable, but it also gives you plenty of styling choices. For example, you can pick up your hair to one side of the head and use bobby pins to secure it. Getting more curls and locks on one side gives you more volume, and it only enhances the elegance of the whole look.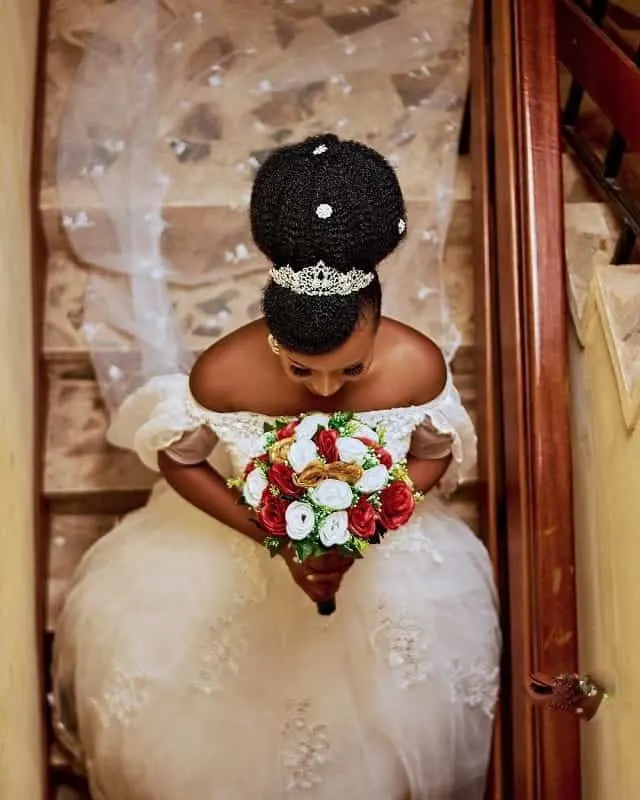 Wedding buns are everything! They're so easy to make and keep hair out of our way. The best thing is, we can also style them in an elegant fashion. So, one way to style curly hair for wedding is to get a big, voluminous bun that you'll accentuate with accessories. Isn't it fantastic?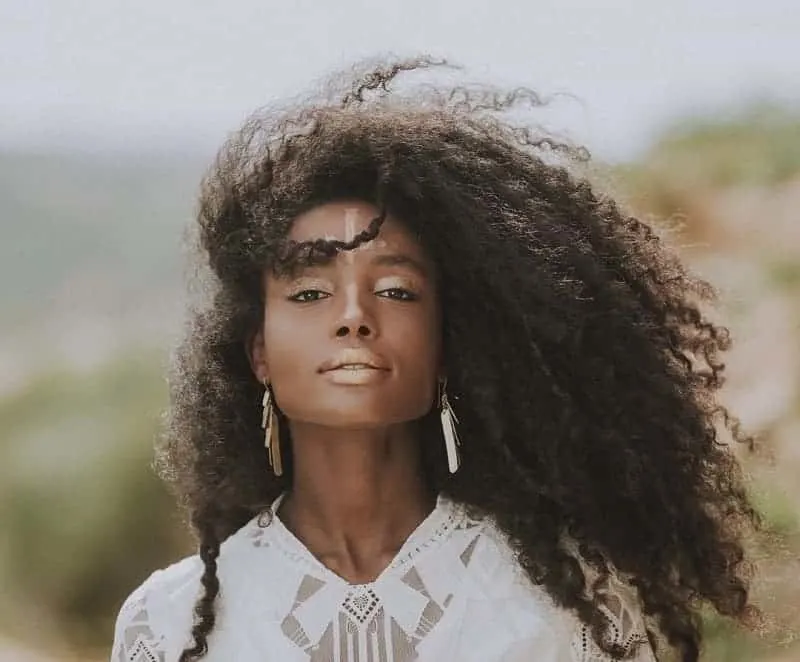 Wedding hairstyles are usually updos, but nothing is stopping you from going the other way around. Instead of picking your hair up, you can leave it down and allow your curls to take the main stage. Not only is this look so simple, but it's also elegant, gentle, and romantic.
Glamorous Layered Curly Hairstyles for Women
19. Hair Accessories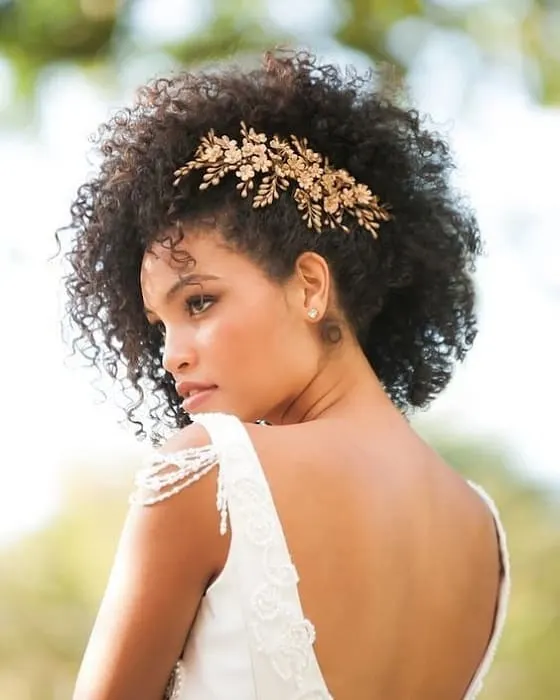 We wear various accessories on a daily basis because they complete the look and help us achieve the effect we've envisioned. You can do the same with your hair. Complete your curly wedding updo or leave your hair down but style it with an elegant accessory and you'll feel like a princess.
20. Big Hair, Don't Care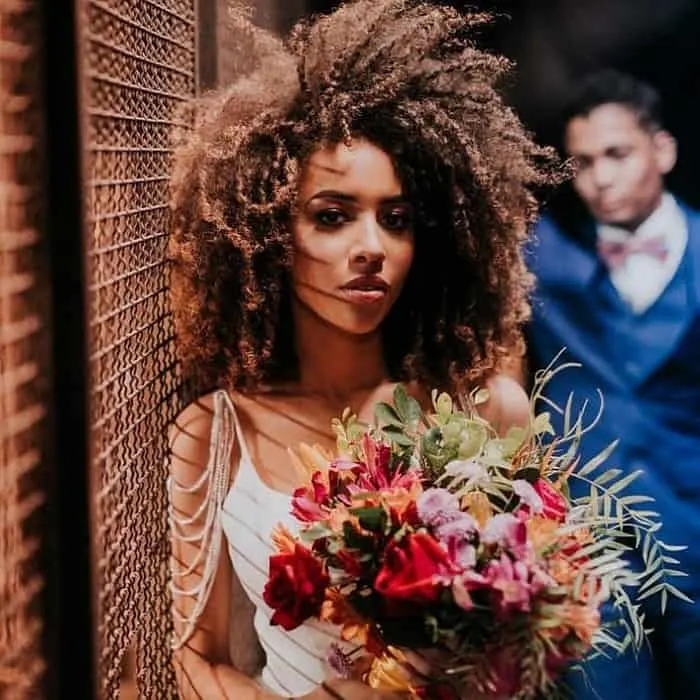 You absolutely love your curls and want to show them off at your wedding? Then the natural look is the solution you're looking for.
Sometimes the best solutions are also the easiest and the most logical ones, and yet we don't think about them at all. Just let your curls do their best – frame your face and exhibit all your demure yet exciting nature.
21. Flower in Your Hair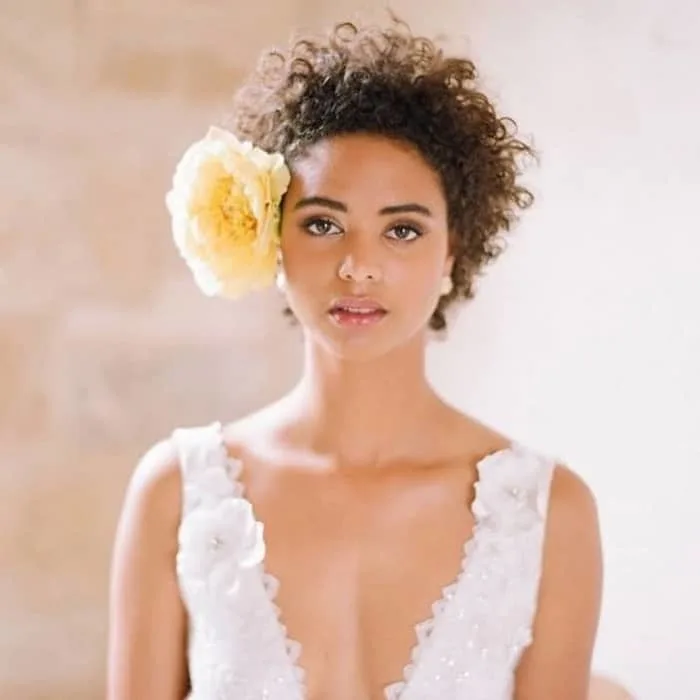 The romantic occasion is the best opportunity to bring out your romantic and gentle side. One way to make it happen is to style your short wedding hairstyles with curls and a flower. After all, the flower is a symbol of love, elegance, delicate yet strong nature.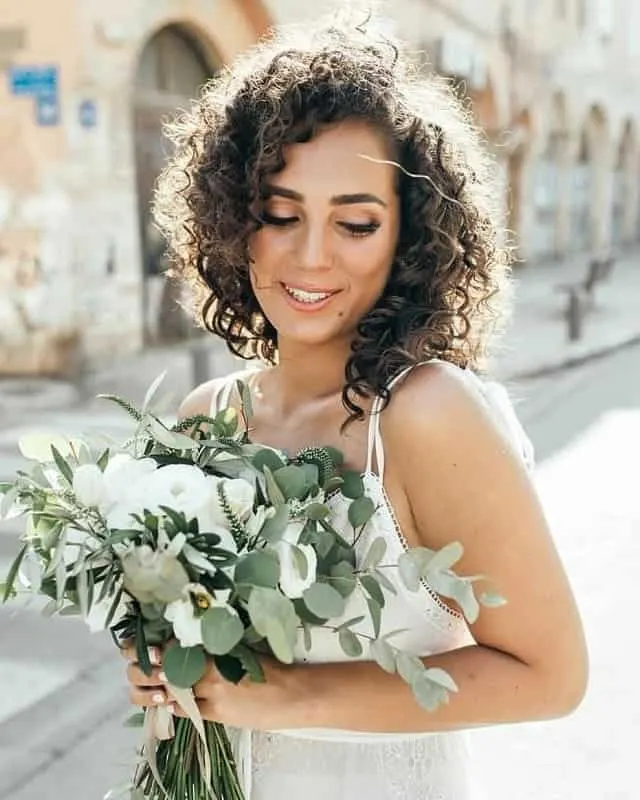 A common misconception is that styling curly hair for a wedding requires some complicated looks because curls are difficult to control. Not quite true! You see, curly hair lob is delicate, and it doesn't require complex looks.
Keeping your hair down is always a good idea, even for the wedding. All you need is some quality hair-styling product that will accentuate your curls.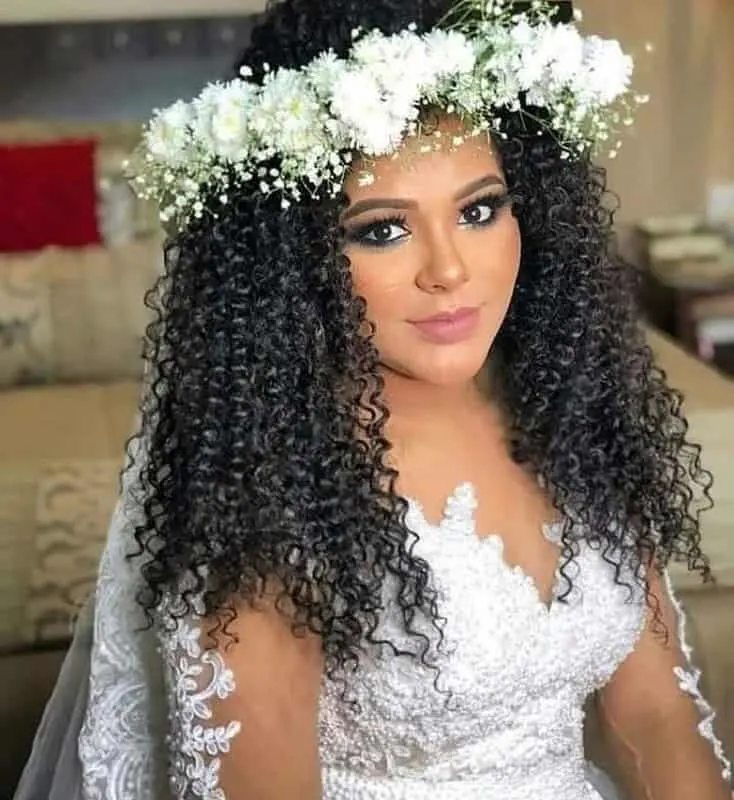 Having a summer wedding? If so, flowers are always the right decision. One of the most beautiful ways to style your curly hair is to put on a flower crown. As mentioned above, opting for light colors in contrast to your dark hair is the best way to go.
24. High and Low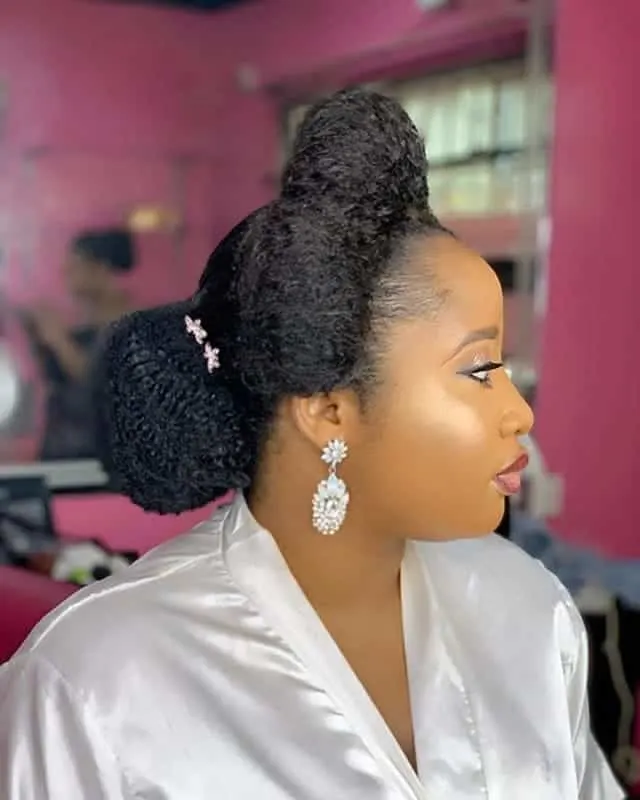 Brides who want to try some unique updos for curly hair at their wedding will love this look. Pick up your hair in a high crown on the top and then make a sleek low bun for a classy, yet unusual style that everyone will love.
Striking Curly Hairstyles with Headbands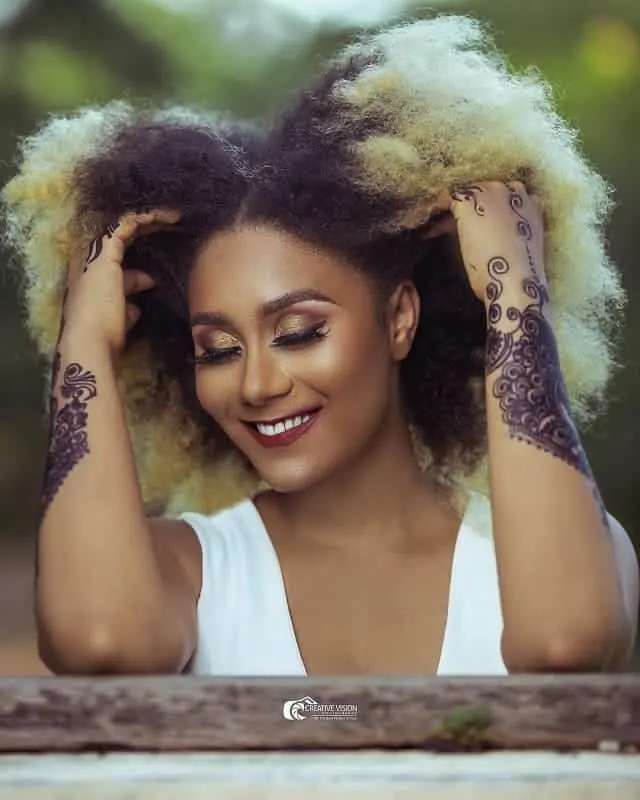 Brides with curly hair who want their wedding hairdo to be unique, edgy, and stylish may want to opt for a two-toned look. Combine your dark hair with lighter shades to create contrast.
Make sure you allow a professional hairstylist to do this because curly hair with blonde highlights is quite sensitive. Professionals will get the job done without causing too much damage to your locks.
26. Colors, Colors, Colors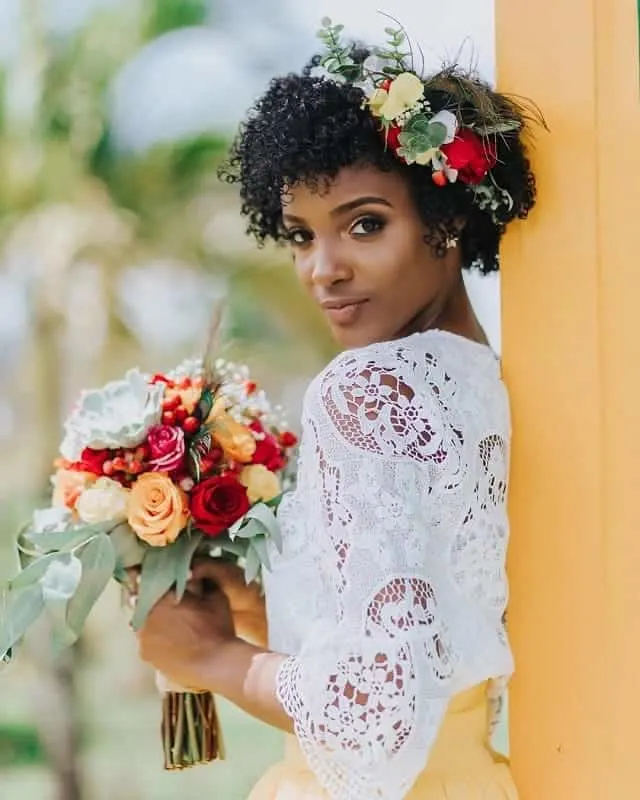 The summer vibe is a perfect style choice for the wedding outfit and hairstyle. Use colorful flowers or hair accessories to turn your wedding into a tropical occasion regardless of your location.
Even if your wedding is during cold, winter months, you can still opt for colors that will bring more light and warmth to your special day.
When choosing something borrowed, something blue, etc. for your wedding look, you should consider styling your curls that way. In most cases, brides make sure their wedding dresses contain these elements, but adding some of them to your hair is a great decision.
For example, decorate your high bun with blue accessories, and you'll look stunning. This happens to be one of the classiest curly updos for wedding, and we love it.
Tiny curls are bouncy, playful, and elegant, all at the same time. Let's not forget this curly hairstyle for brides is incredibly cute as well. Enhance the cuteness with the strategic placement of accessories, as seen in the photo below.
29. Short-Haired Elegance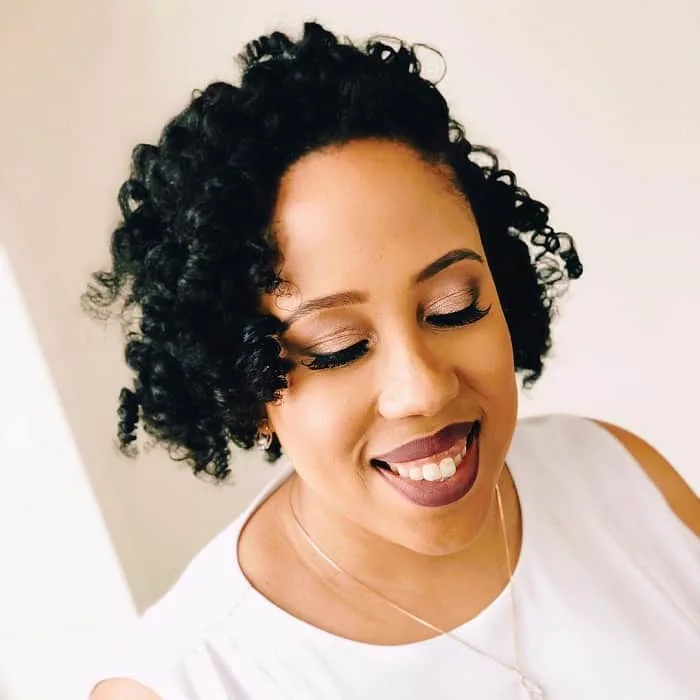 We tend to think that only long hair gives us a plethora of styling options, but short hair can do the same. Use mousse to bring more volume and fullness to your curls. Rock your spiral-like curls short and use a bobby pin or two to secure a portion of your hair on one side of the head for a super elegant wedding look.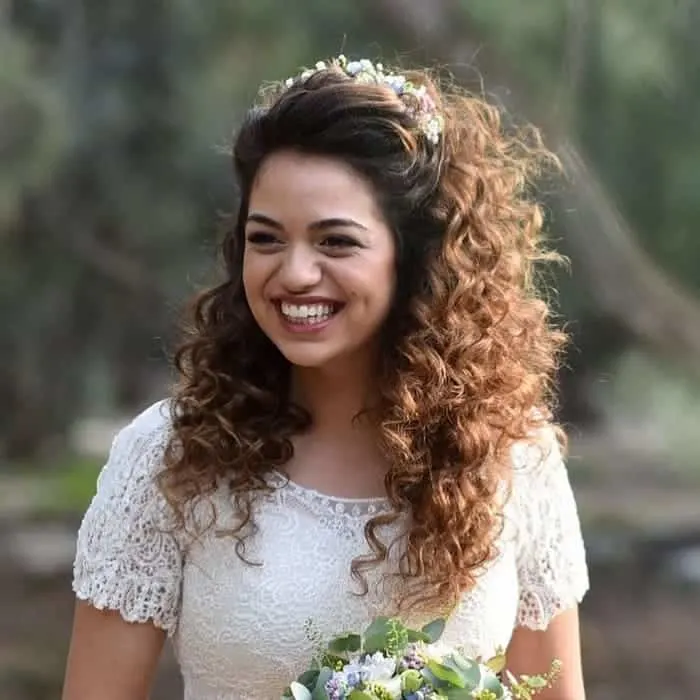 Got long and luscious locks? A great way to accentuate them is to remove hair from your face backward. That way, your hair will appear to be even more voluminous.
31. Gentle and Free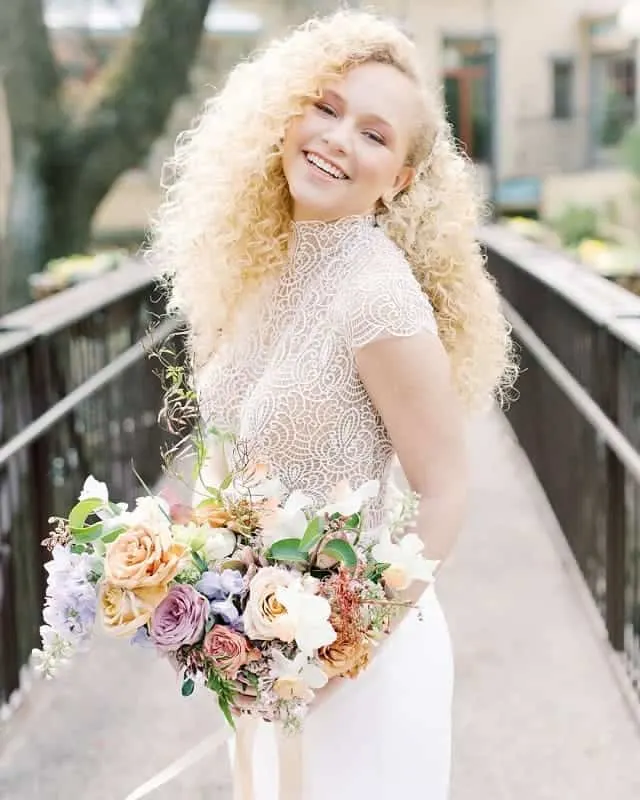 Curly blonde hair is usually associated with strength and power, but it also brings out your gentle side. Let your hair down for your big day, and you'll get the timeless wedding hairdos for curly-haired brides that will never go out of style.
FAQs on Curly Wedding Hairstyles
Curly hair updo or curly hair down which looks best at the wedding?
Curly hair updo is considered more elegant, sophisticated, and formal, all of which is ideal for weddings. However, it's your big day, and you should choose the hairstyle that you like the most.
Loose curls and big curls are they the same?
Not really! You see, curls can be big or small in appearance. Big curls can be thick and tight, depending on your hair type. On the other hand, loose curls are essentially relaxed or wavy curls.
Many hairstylists love styling curly hair for special occasions, because hair with texture maintains its style more easily, and with less product. It is also the perfect medium for accessorizing. Use these tips to embrace your beautiful curly locks and let them shine. Here comes the bride!
Found a few curly wedding hair ideas you like? Try them on to identify the one that you love the most and fits beautifully with your wedding dress.