Platinum blonde hairstyles are a raging fashion nowadays since they have such an elegant and classy appeal about them. The way these highlights have taken on the fashion industry is quite impressive because people used to stick to darker shades of blonde in the past.
Goldish blonde hair used to be a true beauty symbol in the past, but that has now changed marginally.
People are trying new hair colors and even grey and lighter blonde shades are loved by them to an extent that it leaves one in awe. The platinum blonde hair looks lovely and youthful despite the fact that it is such a light color.
What Color Is Platinum Blonde?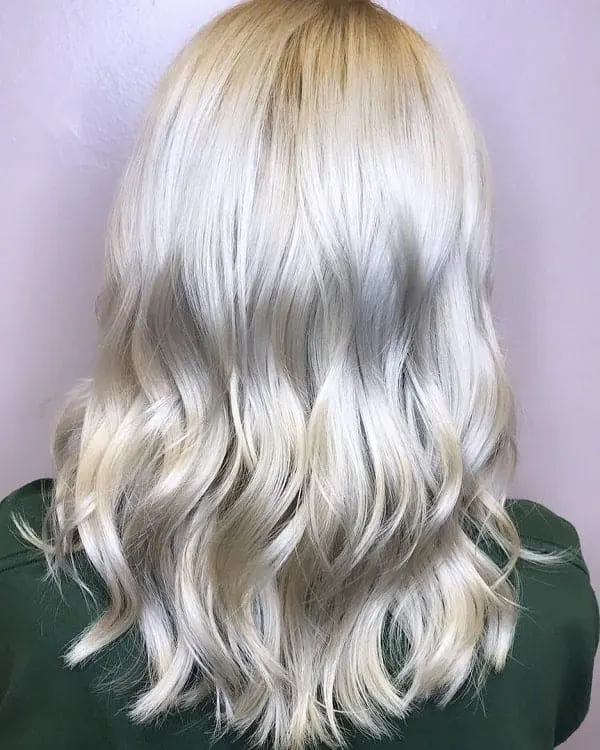 Platinum blonde is the lightest possible shade of blonde which looks quite neat to grey and is a perfect blend of white, grey and blonde colors.
This makes blonde such an impressive hair color that women are now dumping dark and classic hair colors in favor of this subtle and sophisticated hair color.
The uniqueness of this hair is enhanced further if it is used for highlights rather than as a single tone dyed hair. This is a really nice addition to the color spectrum when it comes to hair colors.
Who Should Try Platinum Blonde Hair?
Platinum blonde hair color is not for dark-toned skin as they contrast with such skin colors. This is why it is best for pale skin or other lighter skin tones.
This is because the platinum highlights on blonde hair are already very light in color and they blend so perfectly with your profile if you have a lighter skin tone that the overall look is more beautiful than the one that you aimed for.
How to Highlight Hair with Platinum Blonde
Highlighting hair takes a long time and is a tricky business. But if you know the right way of doing it then you do not have to worry about anything. Here is how you can keep the process easy and simple while highlighting your hair platinum hair color.
First of all, you need to shampoo your hair well, but do not condition it and then leave it to dry off.
After this, section your hair in four parts with clips and then take out strands from the first section that you want to highlight.
Apply bleach on these strands and then wrap them in aluminum foil pieces. This way the bleach will not get in contact with the rest of your hair.
Let the bleach sit and then wash it off.
After that put platinum shade blonde hair color on the bleached strands and then after the needed time wash the color Now blow dry it and see if the color is of your liking or not. If it does not then repeat the process and you will be able to get the best version of platinum blonde highlights for your hair.
How to Maintain Platinum Blonde Highlights
Maintenance of platinum highlights does not require any extra efforts or hair care products. You just have to take care of these few things to have our highlights around for a longer time period.
Do not wash your hair that frequently as it will cause the dye of highlights to fade off more quickly.
Avoid using hot water to wash your hair as it opens up the cuticles and causes the hair to lose dye more quickly.
Make sure that your hair is properly hydrated, so use a good quality moisturizer on it so that your hair does not appear lifeless or damaged.
Platinum Blonde Hairstyles
1. Pixie Platinum Hair
Depending on your previous color, you will need to lighten up your hair with bleach. If you want it to be protected while having this transformation, add some collagen powder to your mix.
You'll get that keratin protein that will ensure your hair stays healthy and with a gorgeous shine. By far, you will get the best short platinum blonde hair, and men will love it.
2. Straight Platinum Blonde Hair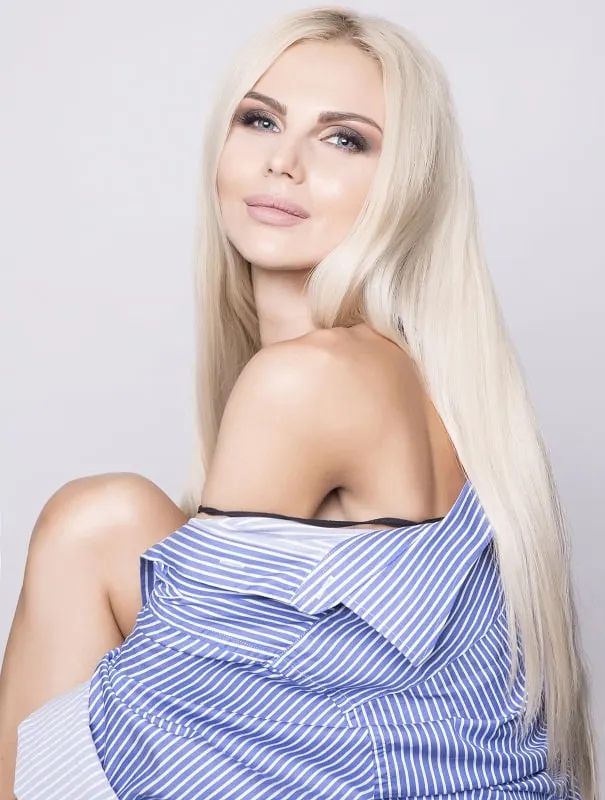 As a natural blonde, it's easier for you to get a long platinum blonde hairstyle. But that doesn't mean you can ignore the repairing products you should use after you tone the hair.
Cuticle sealers, hair softeners, and products that rebuild the hair from the inside will make your tresses look impeccable.
3. Crimped Platinum Blonde Hair
Platinum blonde crimped curly hairstyles can be achieved easily by braiding your hair overnight, using small sections, and knitting them very tightly.
This is a process that won't damage your hair and can be used often. On the other hand, you can use the crimping iron, just make sure you apply a heat-protecting product on the tresses before you heat up the iron.
4. Long Icy Platinum Blonde Hairstyle
If you crave for an icy platinum blonde hair, you should consider using the Olaplex or lookalike treatments.
They protect the hair from the chemical dyeing procedure and make your hair look shinier and strong. Even if they make the process a little slower, your hair's health is more important.
5. Bob Platinum Blonde Hair
If you have tanned or dark skin, that doesn't mean platinum blonde hair won't look good on you. It would be best to find the right balance between the orangy-tanned face with the hair color. Also, you must be aware of how prominent your features are.
6. Mild Platinum Ombre
When you want platinum blonde ombre hair you need to embrace yourself with patience. It will look fantastic if you use foils, to make sure you evenly distribute the color.
Use a comb and backcomb the root area to achieve a smooth transition between the sandy blonde on top and the great of the hair.
7. Silver Platinum Blonde Hair
Keeping those dark roots visible will allow you to pull off any color you want, including fastidious platinum blonde hair, which we all know doesn't suit all skin tones. To give it more fuss and texture, apply a silver toner, and build some rebel waves.
8. Platinum White Hair
If you're going for a DIY platinum blonde medium hairstyle, brush your hair thoroughly before you start bleaching. You want to avoid having weird spots from the tangles.
Part your hair into four sections and apply the bleach to dry hair. If you have darker hair, use a 30-40 volume lift, and if you are a blonde, a 20 should be enough.
9. Short Pixie Platinum Hairstyle
Pixie haircuts can look fabulous with large black-framed glasses. They will create a remarkable contrast between the platinum ash blonde hair and will draw all the attention to your eyes.
10. Platinum Blonde Balayage
A platinum blonde balayage hairstyle will attract a lot of light to your hair, giving it a mesmerizing gloss. When highlighting is involved in the color process, the hairstyle looks more professionally done and ads that natural soft touch.
11. Silver Blonde Roots and Platinum Hair
When you're doing your hair, the quality of the products is crucial. If you use a lighter that already has a bonder in its formula, your hair will be protected during the process, and won't end up with brittle hair.
To get that perfect platinum silver-blonde hair, make sure your toner is also a good quality product.
12. Platinum Blonde Asian Hairstyle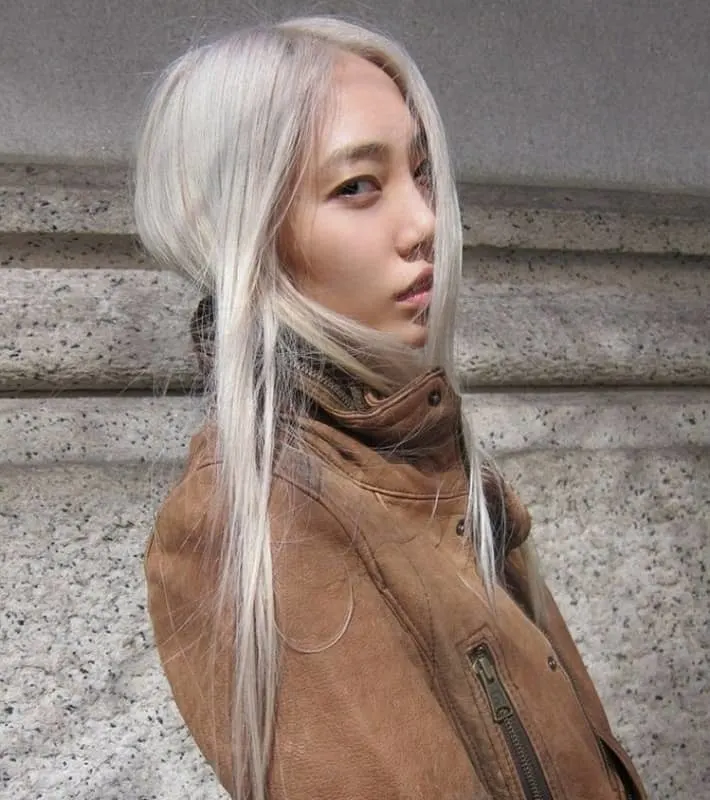 If you are an Asian girl who has never dyed her hair, you might need to use the lighter twice to get that most wanted platinum blonde hair. When applying the bleach, always use tiny hair sections to cover each hair strand fully.
13. Platinum Hair for Black Girls
As a black girl with thick dark coarse, or Afro hair, you will definitely need to use a 40 lighter. Add some Olaplex in it if the product doesn't contain it, and apply the mix to your hair.
To tone the lighted hair, make sure that the platinum blonde hair color you picked will suit and look good on you.
14. Platinum White
Platinum white will give your hair a truly eye-catching look. This bright color will be the first thing that most people see when they walk into a room.
15. Super Sleek Side Style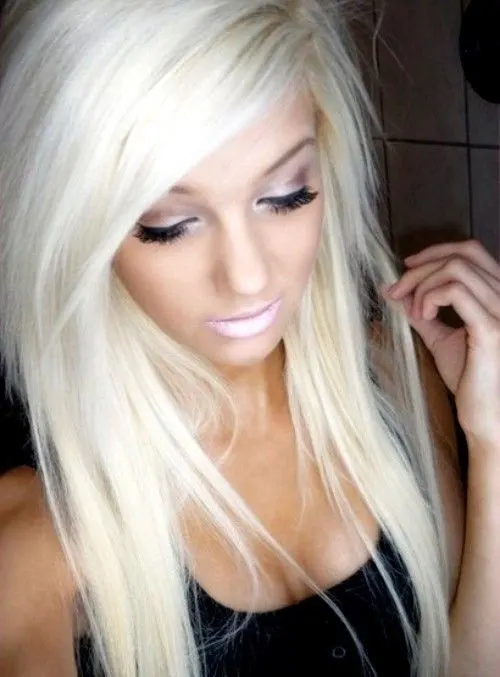 Sleek styles look amazing when you have light blonde hair. For a truly dramatic style, sweep all of your hair over from one side to the other. A sweeping fringe tops off the style.
16. Full Platinum Blonde Highlights
Platinum hair colors can be given a passionate boost with some light hair curls or waves. Light curling and waving help the hairstyle to look thicker and more touchable.
17. Side-Parting
A side-parting is a great way to change the weight and thickness of your hair. Heavy layering around your face will look great if you have a platinum blonde hairstyle with a side-parting.
Platinum Blonde Highlights
If you love platinum blonde as much as we do then you must be looking for some lovely highlighted hairstyling options that come with platinum shade. Here are some of the best such options for you.
This crown braid is a perfect way of showing off your platinum blonde highlights as it has your hair in a very attractive display.
The crown is braided and the rest of the hair is pulled up in a stylish updo. You can add some fresh flowers on the hairdo to make it look fresher and more appealing.
19. Modern and Straight Hair
This sleek and modern hairstyle is a huge hit on the fashion board at the moment since it has long straight hair falling down the back of your head in a perfect streaming fashion.
The smooth hair looks neat and gives you a very young and stylish vibe that impresses people even before you interact with them.
20. Wavy Hair with Blonde Highlights
This is where your platinum blonde hair highlights game gets the strongest. The shoulder-length wavy hair makes the highlights pop as the hair is gently twisted in waves.
The hair looks even more lovely when you let it fall freely around your head in a friendly and fashionable way.
Gorgeous Brown Wavy Hairstyles for Women
21. Natural Brown Base
This is yet another lovely and youthful formation of platinum blonde highlights on brown hair with curls.
The sunny appearance helps you seem more approachable and friendlier. This is a style which you must try in the summer holidays for a perfect fresh summery look.
22. Chic and Modern Cornrows
Who said that cornrows are only for black hair? They look as lovely on platinum-highlighted hair as on the simple shiny black hair. So, get yourself some lovely highlights and finish off the look with these impressive cornrows.
This dimensional short platinum blonde hairstyle is all that you need to make a strong fashion statement. The haircut brings out the highlights, even more, making you look like a stylish diva.
24. Highlights with Dark Roots
Are you blessed with long hair? This dark-rooted base is perfect for two-toned highlights with platinum and beige blonde shade as it makes them stand out more and look more attractive. The hair is of medium length and completes the look just fine.
25. Black Base and Ice Highlights
This platinum blonde highlights styles on dark hair go really well with a dark base like black. So, get yourself this stunning hairstyle before everyone else does.
FAQs
Platinum blonde Highlights or lowlights Which one is better?
Blonde highlights and lowlights with platinum shade are both unique and impressive their own way, but you need to know how each one will look on your hair.

If you have grey or platinum hair then subtle platinum blonde lowlights are a cool option for you. However, if you have darker-shaded hair then it is better that you go for platinum highlights.
What hair color goes well with platinum highlights?
Platinum blonde highlights go perfectly well with dark hair colors, especially black. So, if you have black natural hair and want to add highlights to then go for these highlights.
How long platinum blonde highlights last?
These blonde highlights last for 3 to six months on average, but it varies along with the product quality and company policies.

The natural color, texture, and volume of your hair also determine for how long the highlights will stick on your hair.
These platinum highlights hairstyles are perfect for you if you want to have a lovely and stylish hairstyle which impresses everyone!