Short blonde curly hair is what you should be rocking this season if you want to join the club of fashionable ladies. Forget about long hairdos, it's all about fresh short chops. If your hair is already curly, you will have so much fun styling it. If not, we'll help you find the easiest ways to curly it and flaunt one of the chic manes below.
How to Curl Short Blonde Hair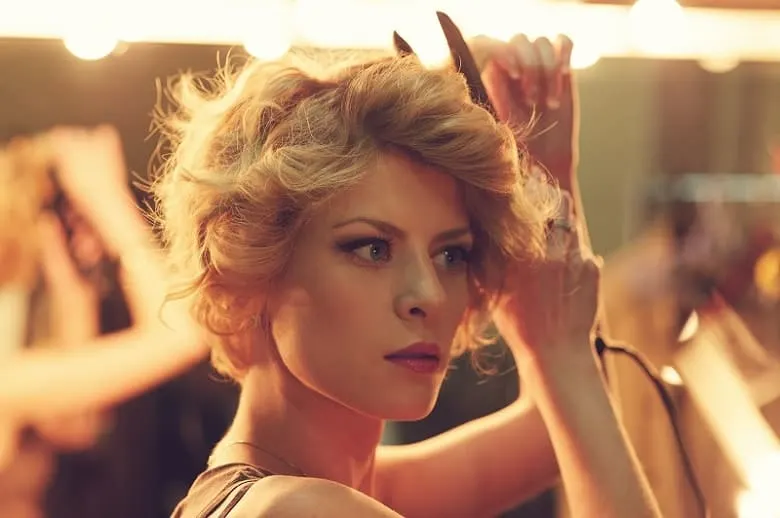 There are several different ways you can curl your short blonde hair. All of these tools are very easy to use and literally, anyone can do it.
Curling Iron: There is no woman out there who doesn't own a curling iron. When you have short hair, you will need to use smaller strands to create those perfect curls. Divide it into sections and turn on the iron. Start with one strand, and now you can either start curling from the bottom or from the top.
If you're doing it from the bottom, you should clip the tips of the strand and roll the hair moving toward the roots. That way you'll get proper bouncy curls. If you start from the top, just wrap the strand around the iron and hold the tip with your fingers. This is a similar method to a curling wand. When you're done, you will get glamorous waves.
Flat Iron: This is one of the most popular ways to get short blonde curly hair at the moment. It's mostly because it's time-saving and every lady has a flat iron. Start with one section, clip the hair with the iron near the roots, and curl away from your face. Now, simply bring down the iron. Once you're done with that strand you can do the rest in the same direction, or do one away from your face and another one towards your face.
Curling Wand: Another very simple method is the curling wand. It comes in different sizes, so for short hair, you should definitely choose a smaller diameter. Get one strand, place the curling iron near the roots, and wrap the hair around it. Hold the tip with your fingers. Curl away from your face.
Hair Rollers: Hair rollers sound like a very old-fashioned way to get curls, but they are very efficient and provide a natural finish.
A Pencil or Pen: All those tiny and cute curls you see on Instagram are so easy to recreate. All you need is a pen/pencil and a hair straightener. Wrap the hair around the pen and go over it with the straightener. That's how you achieve finger curls.
Watch The Following Video to Learn How to Curl Short Blonde Hair
Tips & Maintenance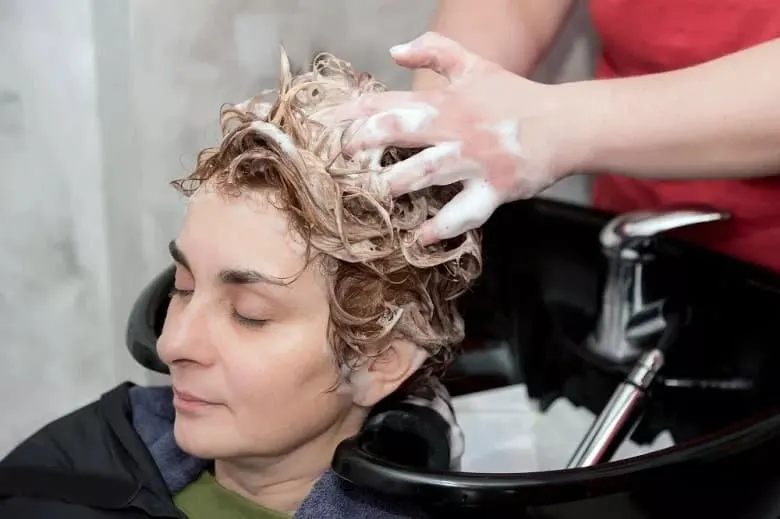 Blonde short curly hair can be very easy to maintain, you just need to get the right tips. So many women are scared to rock a short blonde hairdo with curls just because they're scared of how they will style it. The first thing you have to think of is the color of the mane. If you are a natural blonde, always go for special products made for naturally blonde hair.
If your hair is colored, you really need to pay a lot of attention to the items you use to avoid a brassy finish. In other words, you will need to regularly treat it with a toner. You can either do that at home or visit the hairstylist. Another thing to think of is color-protecting shampoos, conditioners and more.
Since curly hair is best when you actually take the time to properly form the curls. You have to invest in a good hair mousse that will accentuate and give the locks a nice shape. The best tip you'll ever get is not to wash it with shampoo too often. It's completely ok to skip it and go straight to conditioner once in a while.
Lower the heat of the water while you're in the shower and your life will be changed. If you want to avoid frizz, sleep on a silk pillowcase and grab products which help against static.
Cutest Short Curly Blonde Hairstyles
Draw all the hairstyle inspiration for your short blonde curls. These 10 ideas will amaze you.
If you've been blessed with curly hair, just make sure it's healthy! With blonde, your short curls will glow like crazy
Ideal for: An everyday mane that will never get boring.
How to Style: Apply mousse to the ringlet curls, so that they are fresh and bouncy.
So many celebrities are working a curly fringe right now!
Ideal for: Upgrade your short curly hair with bangs and highlights. Great for everyone who's looking for a change.
How to Style: Keep the curly bangs shorter, so that they don't fall in front of your eyes.
2. Braided Topknot
Blonde short curly hair becomes even cooler when you add braids.
Ideal for: It's a mane you can try for a night out.
How to Style: Do double French braids in the front and tie a topknot as well.
If you can't decide whether you want your short curled blonde hair up or down, this is the solution.
Ideal for: The best way to elevate your look every single day when you don't have too much time.
How to Style: Get one half of your hair up and secure it with a tie.
4. Super-Short Afro Hair
After a number of popular stars went for the buzz cut, all we can do is encourage you to do the same.
Ideal for: This is short blonde curly haircut meant for the bravest ladies out there.
How to Style: No need to style it at all, just use the regular color and heat-protecting products.
A short crop will save you so much time.
Ideal for: A low-maintenance hairstyle, great for all ages.
How to Style: Cut it short and make sure that you keep the top part a bit longer to show the curls.
Bobs are officially once again the hairstyle of the year.
Ideal for: Great for women who don't want to spend too much time on their hairdo.
How to Style: You don't need to spend any time styling your short blonde hair with curls, just keep the curls healthy and shiny.
When you don't want your hair down, grab a tie, bobby pins and create a messy updo.
Ideal for: Great for a day at the office.
How to Style: It's an effortless short curly hairdo for blonde-haired women that requires only bobby pins and a hair tie.
8. Use A Hair Scarf
Hair scarfs will be everywhere this summer.
Ideal for: Perfect for those days when you need to put your hair up and want to accessorize it with a cute scarf.
How to Style: Put one-half of your short blonde curls up with a tie. Wrap the scarf around it and tie it.
This type of braid is great for short & curly blonde hair and you can do it without the help of anyone. With sandy blonde, this hairdo becomes more elegant.
Ideal for: Great for short blonde curls.
How to Style: Start from the front and create two waterfall braids which will meet in the back.
An undercut requires so much commitment, but it is so cool.
Ideal for: You need to be 100% convinced that you want an undercut before cropping your hair.
How to Style: Keep the curls natural and bouncy, that way you can show off the shaved sides.
Short curly blonde hairstyles are so popular right now that so many celebrities decided to flaunt these hairstyles. You will find it to be so versatile and even easy to take care of. If you have your eye on some of our suggestions, spring is the best season to experiment with different looks.