Dirty blonde hair colors are literally rocking in 2023. Besides, why decorate yourself with a limitless contour on the face when one can flaunt cute and simple dirty blonde hairstyles. Getting a new hairstyle can be risky and adventurous, but if it turns into a healthy shape, you know it is worth trying.
What Shade Is Dirty Blonde Hair?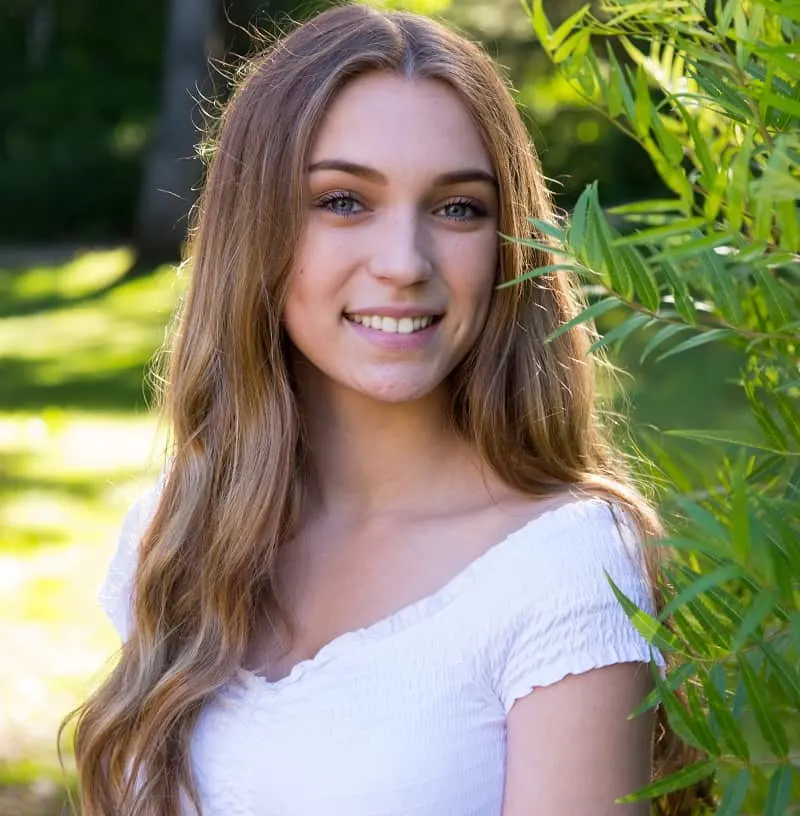 Dirty blonde hair is darker than standard blonde hair but lighter than brown hair. This is not one single shade. Any shade between vanilla and caramel is called dirty or dishwater blonde.
Considerations Before Getting Dirty Blonde Hair
While the mainstream media frequently uses blonde hair as a symbol of beauty, not everyone can rock dirty blonde hair. This shade tends to look best on people with cool undertones on their skin. It also looks good on those that naturally have light brown or dark blonde hair, and the dirty shade still suits their natural coloring.
If your hair is naturally black, it may be difficult for you to achieve a dirty blonde shade right away. For darker hair, you may need to dye your hair several times, ensuring that you deep condition your hair between attempts.
This blonde hair color can look great on someone with naturally dark hair, but it will take extra time and effort to get there.
If your complexion or natural hair color isn't ideal for dirty blonde hair, consider dying your hair a different shade of blonde more suited to your natural coloring.
Hair Coloring & Maintenance Tips
Below are some tips for coloring and maintaining your dirty blonde hair:
If you are lightening your hair by more than a few shades to get dirty blonde, you will need to bleach it.
Check your hair frequently during the hair dying process to ensure you don't leave the dye in too long.
Never leave any bleach on your hair for longer than 40 minutes.
If your hair comes out with shades of copper or orange, you will need a toner or to redye your hair after letting it rest for at least one week.
Once your hair is dirty blonde, deep condition your hair as necessary to prevent damage from lightening your hair.
Try to limit contact between your hair and pool water. The chlorine can turn blonde hair green.
Do not use excessive heat on your hair after dying it, and use heat-safe products when you do use a straightener or curling iron.
Consider using color-safe shampoo and conditioner.
Try purple shampoo and conditioner if your hair came out brassier than intended.
Think about how hard or soft your water is. Filtered water may be better for your hair.
Wash your hair less frequently. It's especially important to use hot water on your hair less frequently to promote better hair health.
Dirty Blonde Hairstyles
The following are some ideas and recommendations encompassing 45 dirty blonde hairstyles we love.
45. Dirty Blonde Beach Waves
Beach waves make a low-maintenance hairstyle every busy woman needs to know about. Beachy waves cut slack on uniformity. You don't have to curl your all your hair either. One must try this medium beach waves with a sun-kissed blonde shade.
If you want to look effortlessly elegant, dirty blonde hair with sun-kissed balayage is a perfect choice. Get a natural flow and graduated look from balayage. Use a good quality hair spray to hold the style in place.
43. Ombre California Hair
One can simply not take one's eyes off this super long and sexy California hairstyle. Blonde tint from ombre fused with dark a base is a perfect blend of natural hair with creativity. You can keep this dirty blonde look in open hair as well as in a ponytail.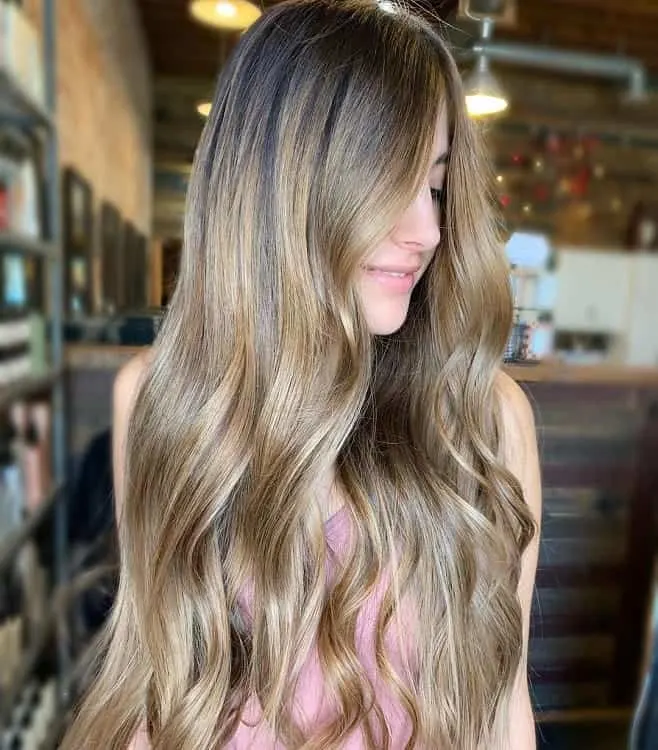 Summer season demands manageable hair. Create a perfect summer look with blonde hair made into half-French braids. Enjoy your cruise with sexy summer clothes and French summer braids. Keep the lower half of hair open for a messier look.
In case you have been wondering what sandy blond hair look like, you're at the right place. You can give yourself this hairdo irrespective of your hair length. The unkempt look makes this style easy-to-make and a low-maintenance one. Messy would never have been this elegant before.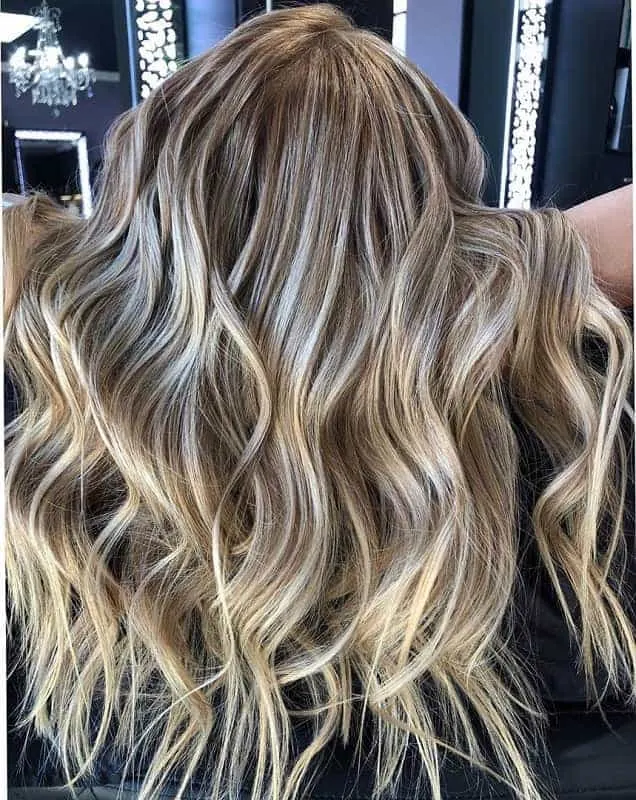 This is one of the finest dirty shade blonde hairstyles. With soft brunette balayage and a contrasting dark natural base, this blend is out of this world.
Loose beach waves with a messy touch accentuate the overall look. Run your fingers through your hair waves to create an unkempt look.
39. Bohemian Style Prom Hair
If you want to stand out with your dirty blonde hair, you will have to work on them. Make your cloned hair more interesting by tying them into bohemian style prom hair.
Loosely made hair twists and prom braid style made on blonde hair create a perfect hairstyle for a formal as well as casual event. Spray a good quality styling gel to hold the style in place.
Angled bob has always been a style for bold women. You can cut you hair into a medium angled bob and keep them messy like an early morning look. This style is super easy to make and do not require any additional efforts. Caramel highlights will oomph up the look.
This hairstyle is a neater version of messy. Ideal for medium length hair, this style has caramel highlights made into light curls. You can use a flat iron to make these curls and then run your fingers through them for a few times.
This will give a slightly messy look to the curls. You can carry this style casually as well as to a formal event. Pair it up with a formal suit for the meeting and get all the applause.
Having dirty blonde hair in a short length is a blessing. They are extremely manageable and require almost no maintenance. A short bob is almost similar to leaving your hair loose behind the ears. No added styles or ponytails!
Just comb your hair with a center or side partition, as you like, and you are ready to go.
Dark & Honey Blonde Hair Color Ideas
35. Waterfall Braid
For a sophisticated and romantic look, go for waterfall braids. Aside from adding a whimsical touch to your long straight hair, this gorgeous braid also showcases the beautiful contrast between your hair's dirty blonde and ash brown shades.
34. Floral Bun
This sleek dirty blonde bun is one of the best hairstyles to keep your hair looking classy while showing off your elegant hair color. With a simple hair accessory like this floral beauty, you can take your bun game to a whole new level.
33. Medium-length Curly Hair
Let's face it. Curly blondes have the most fun! If you want to keep your hairstyle sweet and simple, keep in mind that texture plays an important role in styling curly hair. Lucky for you, you can easily achieve the perfect texture with the right comb and curl-defining product.
32. Crown Braid + Wavy Ponytail
Show off your inner royalty with a gorgeous crown braid. Pair it with a wavy ponytail to keep the entire look modern, stylish, and totally on point.
Warning: You'll need lots of hairpins to achieve this hairstyle.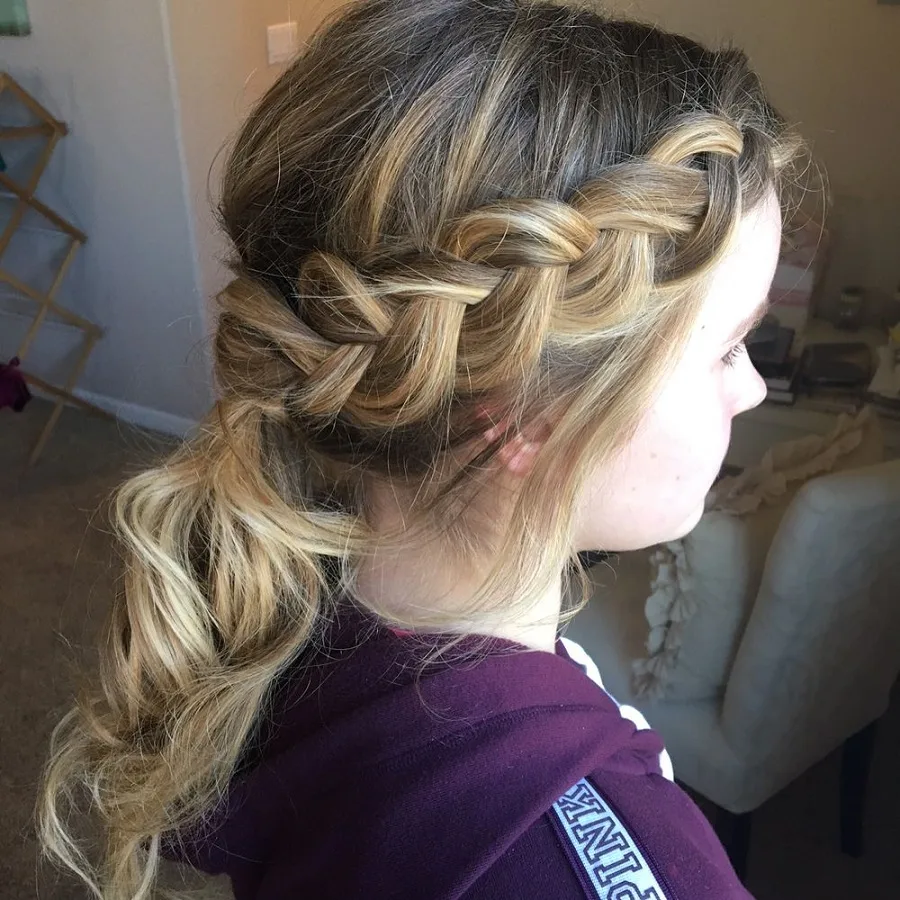 31. Layered Pixie Hair
The soft pixie cut has always been the go-to hairstyle of older women. For a more youthful look, ask your hairstylist to add soft wispy layers instead of choppy ones.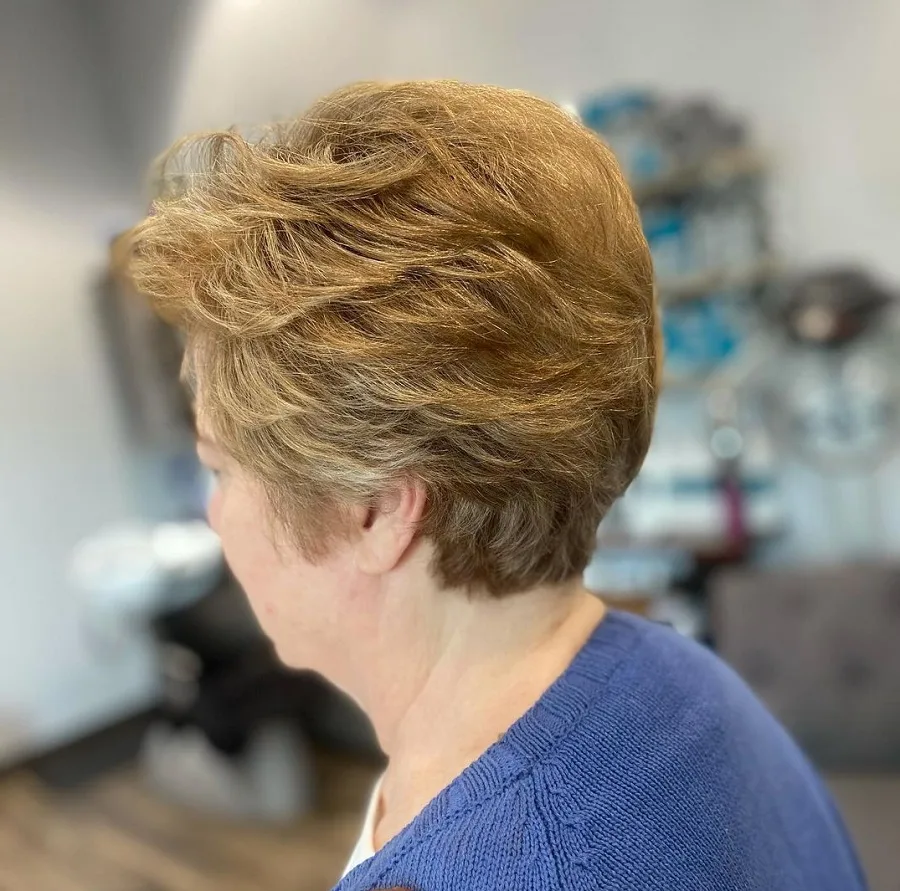 30. High Half Up Hairstyle
Surprise: you can achieve Ariana Grande's famous high ponytail even with only medium-length hair. The secret? A high half-up ponytail!
The high half-up ponytail keeps hair away from your face while the curls reveal the perfect combination of dirty blonde and mahogany shades in your hair.
29. Space Buns + Long Bangs
For a cool party-ready hairstyle, go for space buns that look totally out of this world. Pair this 90's classic with another currently-trending vintage hairstyle– the long curtain bangs. These bangs will frame your face beautifully, cover up your hairline, and elongate your face.
28. Wavy Hair + Wispy Bangs
Long wavy hair is always a good idea, especially since dirty blonde colors look amazing in it. Flaunt your charming heart face shape with wispy bangs– a subtle and more romantic take on the famous blunt bangs.
27. Mermaid Waves
Mermaid waves are all over TikTok and it's time that you jump on the bandwagon! The good news is it's easy to make at home. The only tool you need is a curling wand with a three-prong barrel.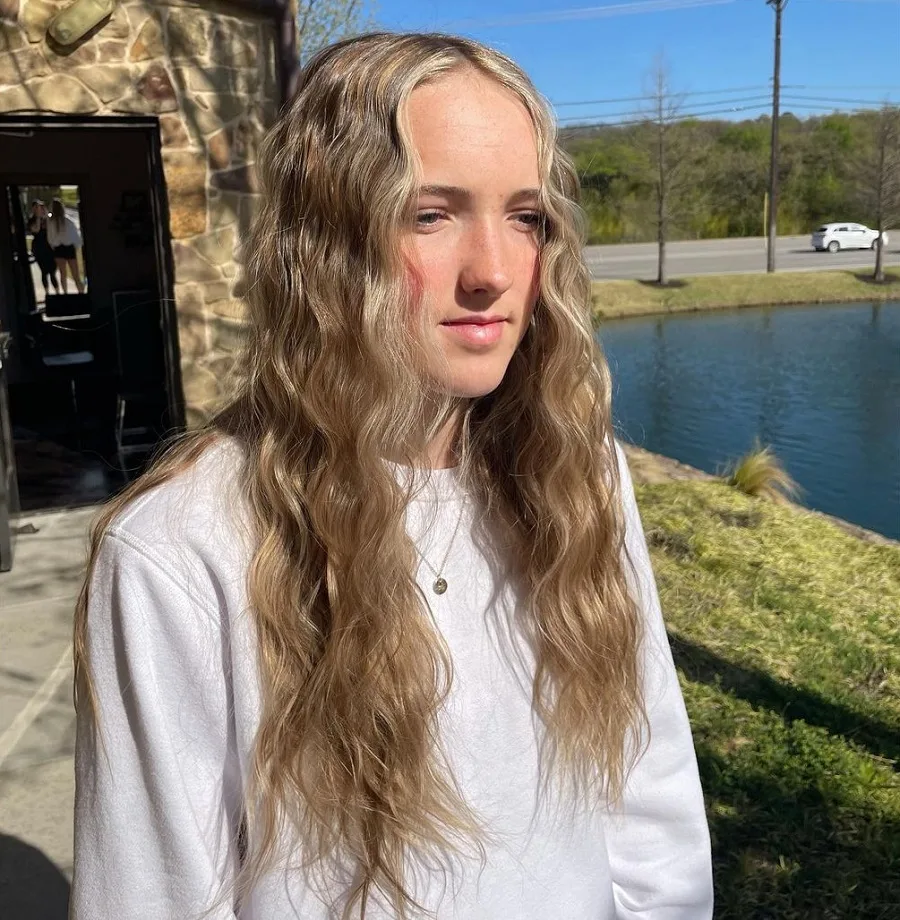 26. Blonde and Brown
Can't decide which hair color to go for? We highly recommend going for dirty blonde with caramel and brown highlights. The contrast in the hair color will give your hair more movement, depth, and texture.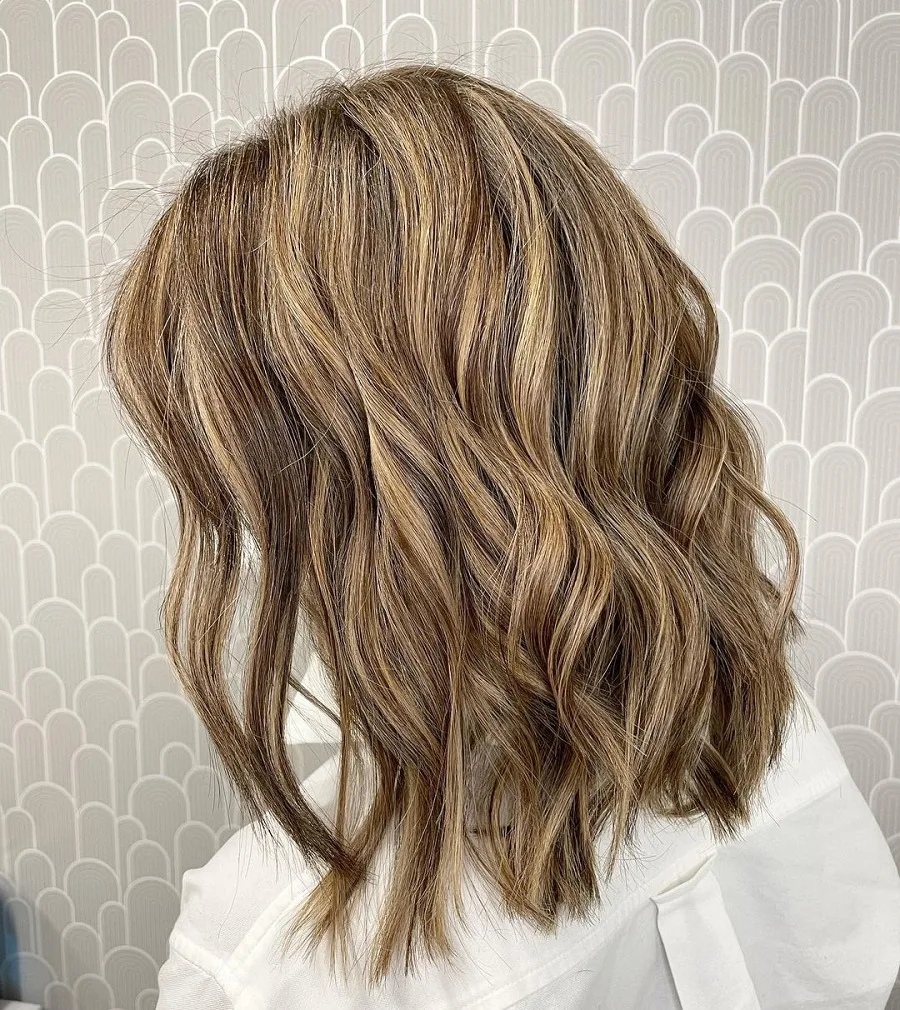 25. Money Piece Highlight + Balayage
Money piece is a face-framing root-to-end highlight while balayage features many highlighted strands all over the head. What do you get when you combine both? A perfectly designed dirty blonde hairstyle that looks like a million bucks!
24. Dip-dyed Dreadlocks
Take your dreadlocks up a notch with this eye-catching dip-dyed hairstyle. The coloring process delivers a dual-tone appearance, leaving the dreads with natural black roots and the ends having a gorgeous dirty blonde shade.
23. Wavy Pixie
Add a feminine touch to your cool pixie cut with wavy layers. The transition from the dirty blonde shade at the back of the hair to a golden yellow blonde color at the front highlights the waves and makes them pop out.
Medium length blonde is an ideal hairstyle for giving woman slight young looks. If you were new to experimenting with hairstyles and are in search of cute blonde hairstyles then this one would definitely overpower your previous hairstyle look.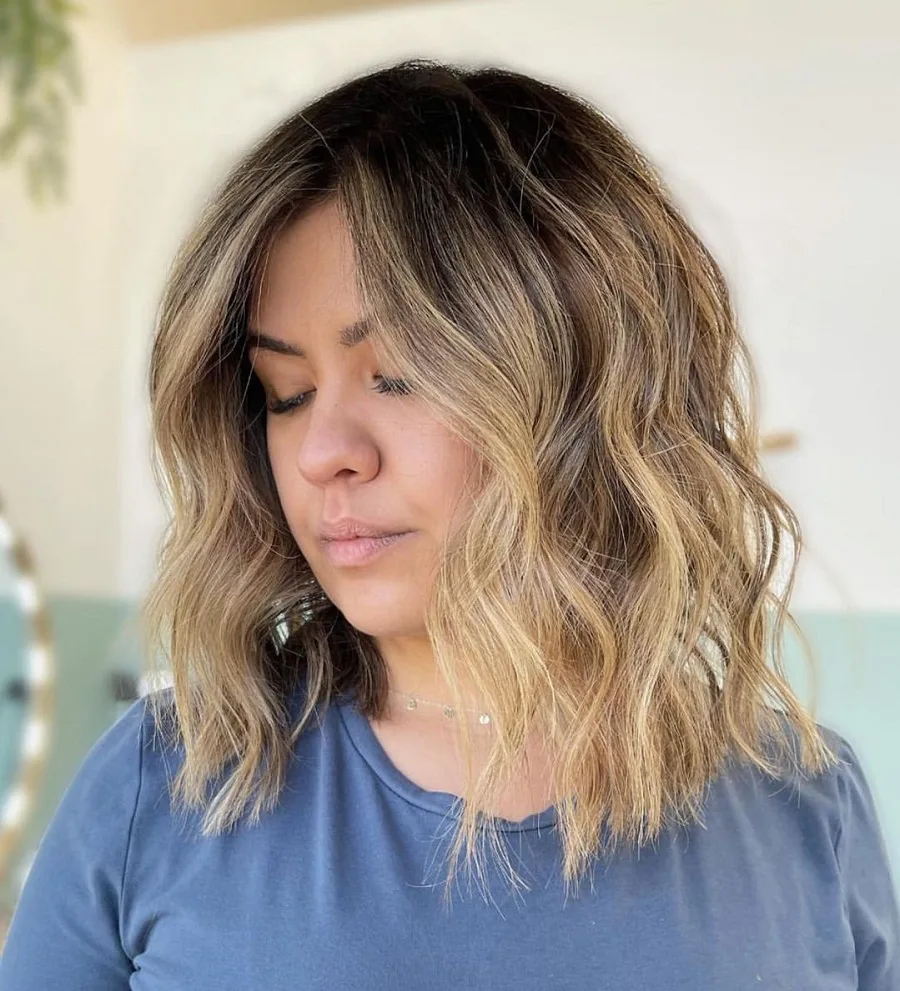 21. Dark Blonde Bob
Thinking of a beauty realm and not thinking about Marilyn Monroe's will be an injustice. Speaking of which, she always set a mark of blonde bobs. Dark bobs are super cute hairstyles depending on what nature you provide your hairstyle being cute, messy or dirty.
Blonde lob is not just the hottest but super attractive hairstyle to flaunt in the summer season. This dirty blonde hairstyle is a lifesaver; one can always look faultless with this short blonde hairstyle. This haircut is considered the most dubbed one because it never went out of style.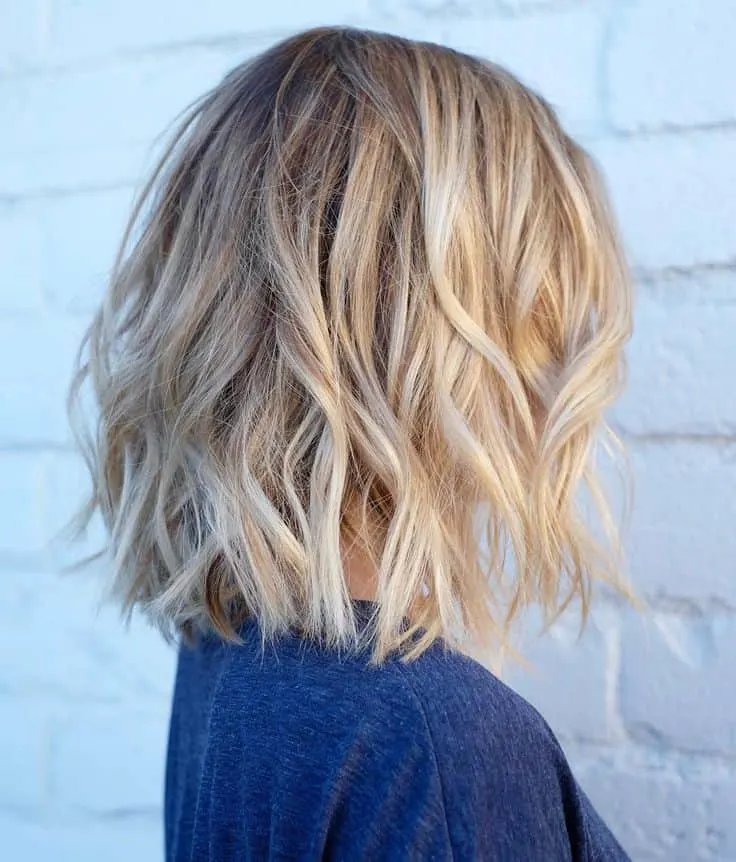 19. Surfer Blonde
Surfer blonde is every woman's summer dream hairstyle. Drawing attention with simple yet dirty hairstyle was never this easy. This super impressive hairstyle would go about with any kind of occasion. If you are indecisive and want to take a chance on a new blonde hairstyle, this famous one would keep you safe.
There is a myth of finger waves hairstyle not suiting every face or its structure but this never ran out of style. It is one of those red-carpet hairstyles, which has always given a woman much of a classier look. Considering the fact, blonde hairstyles naturally makes your outfit look twice as attractive as it could be.
17. Dirty Blonde Ponytail
It is tiring to keep your hair loose open 24/7 but a ponytail is one of those simple and cute hairstyles which started trending in no time and is still up to date. Rather than spending days on deciding what hairstyle to pick on, a simple ponytail can match any dress or outfit in the given time.
16. Soft Curls
Shaping your hair and giving it a cute look, once in a blue will not harm them. Looks are to enhance with time and what features other than hair will give the look a drastic change? Soft curls or waves save massive ugly other hairstyles that would not ensemble with your beautiful outfit.
Simple straightening can also be an option. Long straight hair has always looked elegant over the years. People with natural straight blonde hair can relate.
It is a blessing to have such a hair type. For those who do not possess straight hair, can straighten them with a straightener, which is a little time consuming but worth it.
If you have super long, voluminous and thick hair, pull-through braid hairstyle is made for you. Tightly combed back hair tied into a high ponytail and later made into a braid is a sexy chic blonde hairdo.
Pair up this style with slinky jeans and a sleeveless top for an oomph.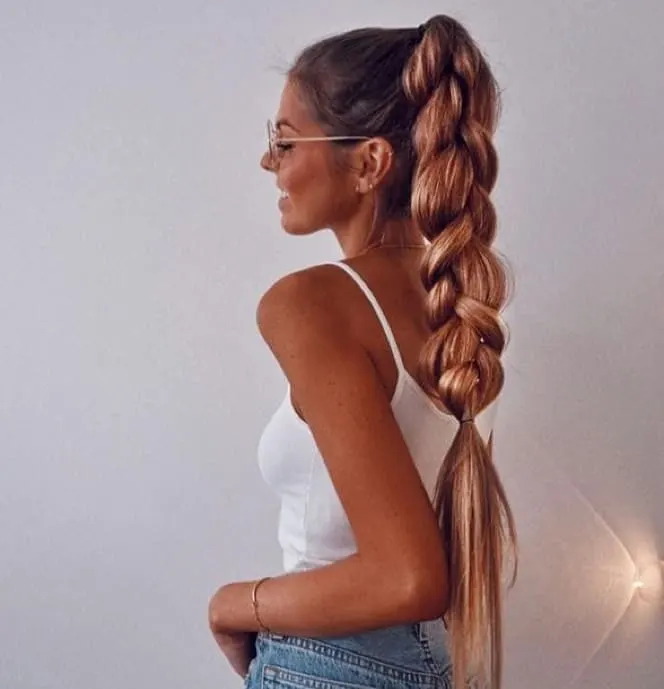 13. Messy Curls
If you have messy and tight curls, you don't need to worry about them anymore. Forget about hot flat irons or getting the expensive hair straightening treatments. Messy curls on dirty blonde shade is a new buzz style.
All you need to do is manage your hair like you always do, use a hairstyling spray and you are good to go.
12. Subtle Waves
These are Lana Del Ray's hair on Summertime Sadness. This hairstyle looks royal and yet is very easy to make and manage. Long blonde hair, irrespective of the dirty shade of blonde, make a perfect playground for this style. This hairstyle adds depth and dimension to your beautiful locks.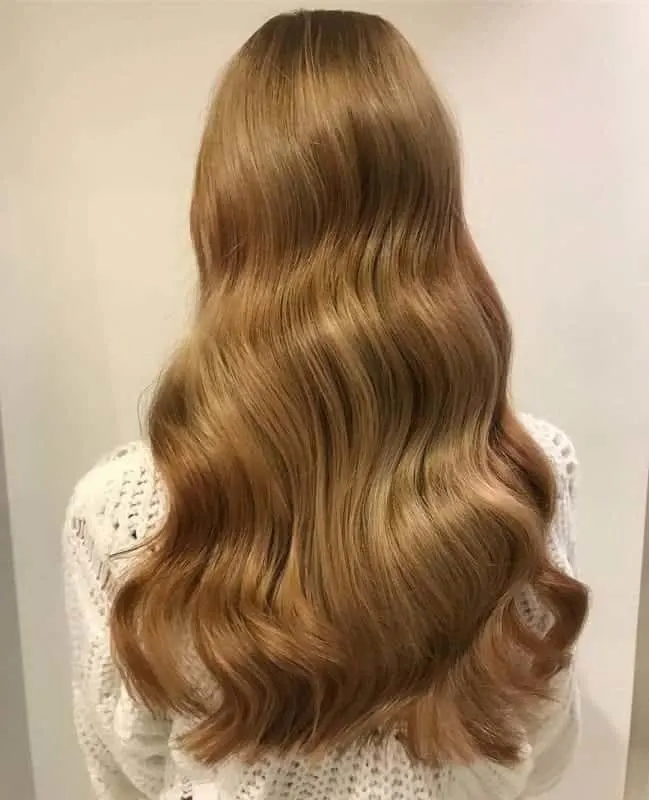 11. Messy Blonde Hair
Do you know what a classical beach look has in it? Messy hair flowing with the air in all directions. Super messy and flowy blonde hair kept open and loose will give you the look for your choice.
This is an exotic hairstyle for those with thin or rough hair. Making a style statement of your natural hairstyle is indeed a very smart move, no? Pair up this style with bold red lip color and metallic shades for a startling look.
10. Very Short Blonde Hair
Greeting yourself a very short haircut is a bold move. However, you have to do justice to your hair and overall look.
If you crave standing out in the crowd and make your own hairstyle statement, this hairstyle is the best choice. Cut your hair really short and dye it dirty blonde and comb them with a side part.
9. Curtain hair
Curtain hair is a fashion of the 90s. However, this style has made an entry into the fashion world with twists and new looks. Front curtain bangs on dirty blonde long hair give a very chic look. This cute yet sexy hairstyle is ideal for all types of events; formal or casual.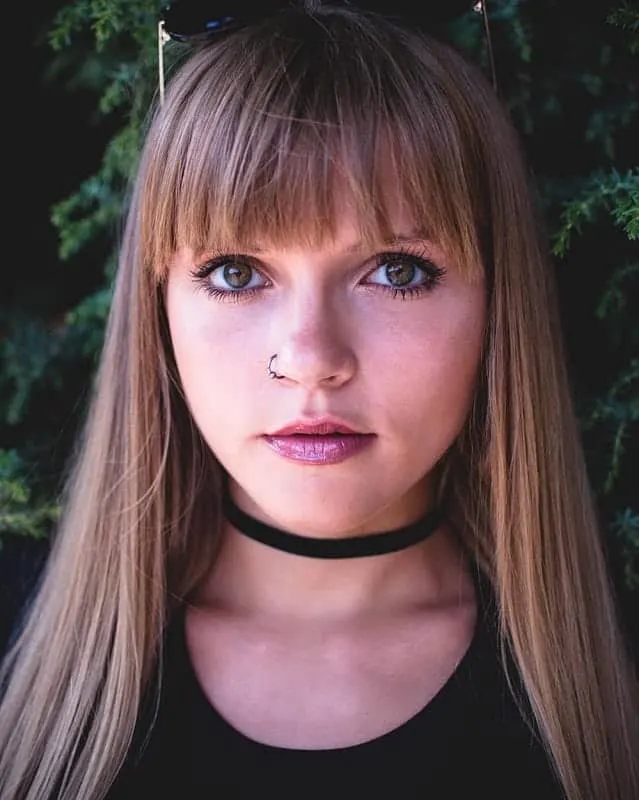 If you have got really long hair and want to make your own blonde hairstyle statement, this style is made for you. Make a half ponytail tied high up and spread into a dome.
Create a center part in your front hair and make side fringes. Leave the rest of your hair loose, messy and wavy.
7. Rapunzel Hairstyle
If you want to flaunt on your waves with dirty blonde hair color, you must try this Rapunzel style. This is actually a 2-layered hairstyle which consists of tying different sections of hair at intervals. This simple hairstyle needs no added efforts.
Messy fishtail braids with a center part is an ideal style for blonde hair. This unkempt style needs a little effort but will go all day long without creating the slightest discomfort. If you want to style with comfort, try this look.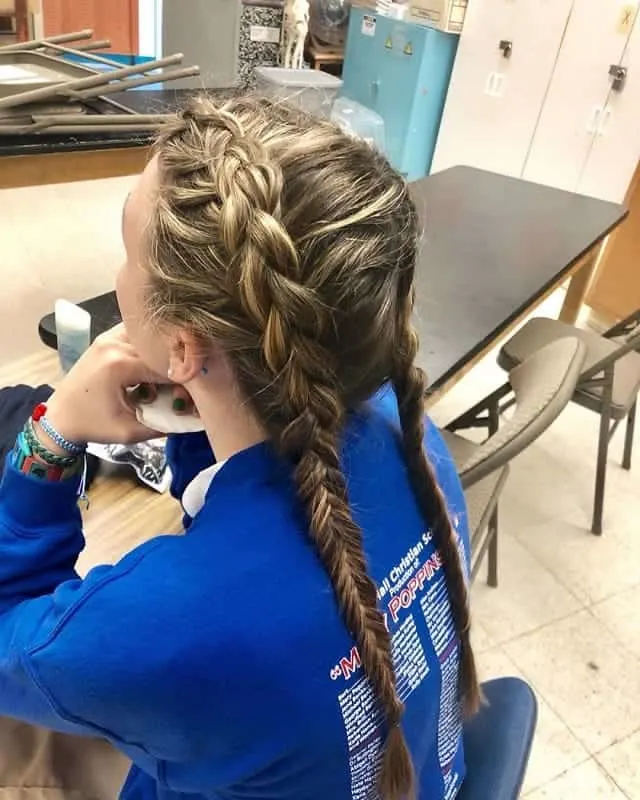 5. Blonde Hermione Hair
Hermione from Harry Potter is known for her bushy hair. If your hair type is Hermione's hair, get ready to slay in it.
Create hype with your natural, messy and volumized dirty shade blonde hair. Leave them natural. You can use a hair styling spray to let your hair settle. No additional styling is needed.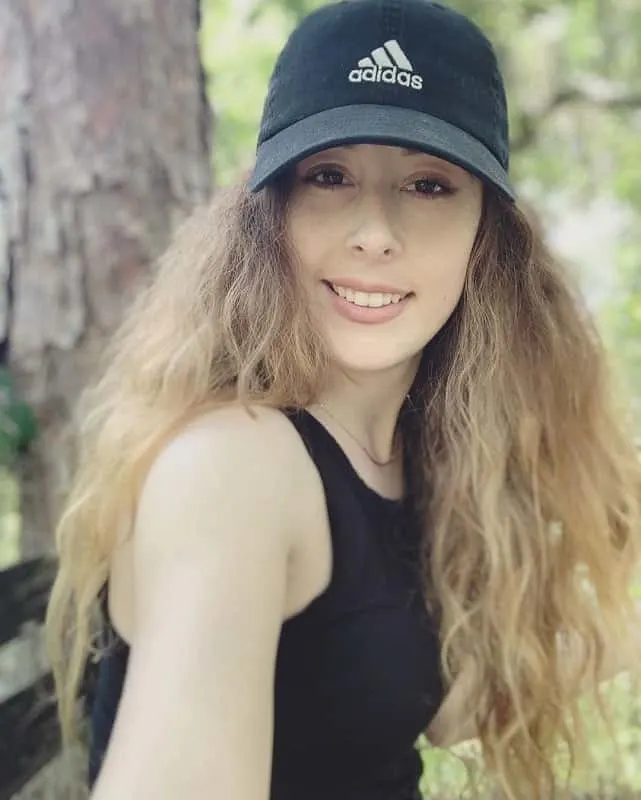 4. Bouncy Blow Dry
A good blow dry can add a lot of volume and dimension to your hair. Short or medium blonde haircut, volumized with a blow-dry and kept a little messy is the type of office look you must try.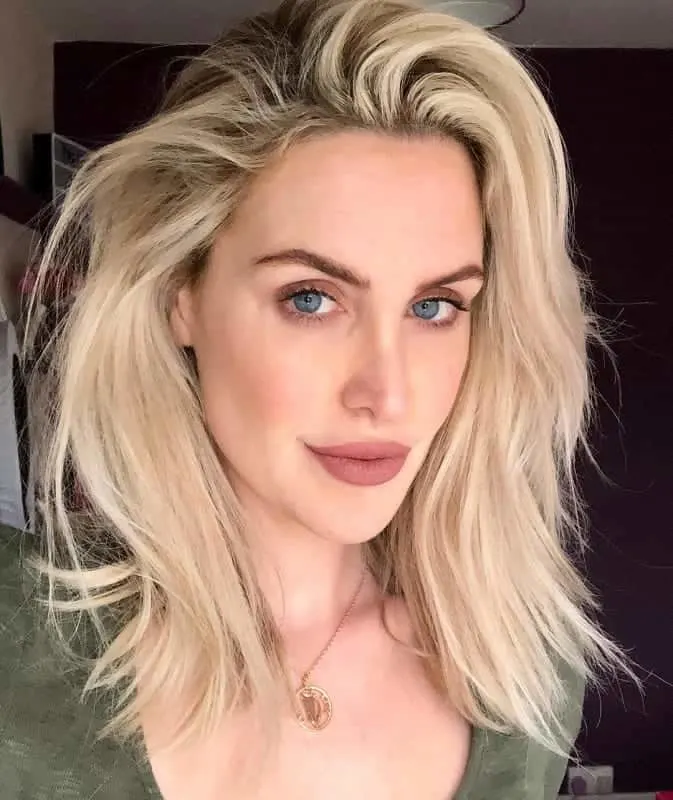 3. Dirty Blonde Crisp Curls
Crisp curls make an unruly hair type. However, blonde crisp curls give one an edge over others. Keep your curls messy and volumized. Use a hair spray to hold the hair in place. No added efforts or maintenance is required!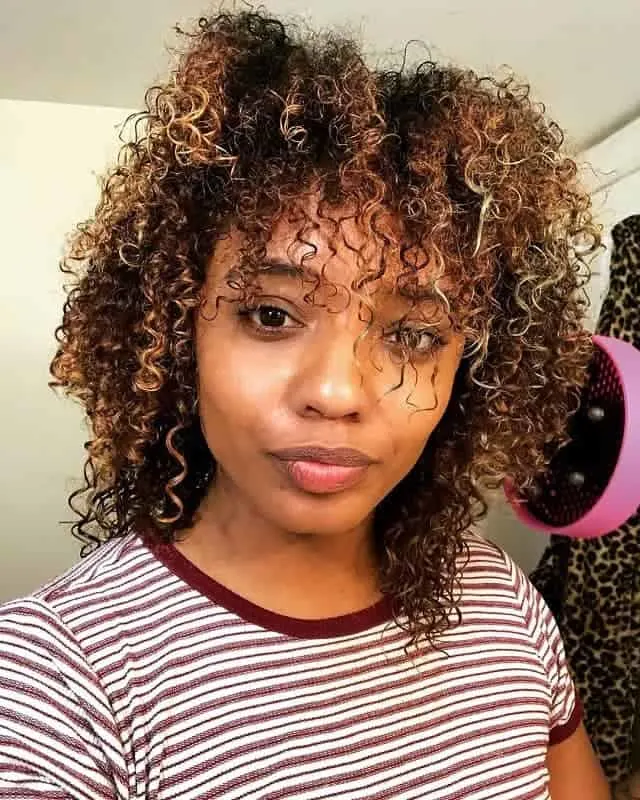 A hairstyle with multiple fishtails looks creative as well manageable. If you want to style with comfort, this look is the best option for you. Make this style on your dirty blonde hair and enjoy your casual look.
1. Short Layered Hair
Last but not the least, short and layered blonde hair with a center part look unique yet classy. If you have short and sleek hair, this style is good to have. Enjoy your tomboy look with a style statement of your own!
How Can You Lighten Dirty Blonde Hair?
There are several ways to lighten dirty blonde hair to another shade of blonde. First, you can use boxed hair dye, bleach, or peroxide. However, because dirty blonde is already fairly light, there are a few natural ways to lighten it as well.
You can dilute lemon juice with water and spray it onto your hair. Make sure to rinse it out after 20 to 30 minutes to avoid damage. You can also steep chamomile tea and, once cooled, thoroughly wet your hair in it. Leave on your hair until you reach the desired color or for 30 minutes, and then wash and rinse your hair.
Additionally, the sun will naturally lighten blonde hair to lighter shades. If you use the sun instead of dye or natural methods, ensure that you are using plenty of sunblock on your skin!
FAQs
Can I have dirty blonde hair naturally?
Yes, people can naturally have this blonde hair color. Usually, people with naturally dirty blonde hair had very light, almost platinum blonde hair as a child. This blonde shade is a lot more prominent in those with northern European heritage.
Who should get dirty blonde hair?
It looks best on those with cool undertones or who already have blonde or light brown hair. The shade doesn't look as good on people with warmer undertones, which look good with sunny, warm shades of blonde with golden or straw-colored tones.

People with very dark hair and cool undertones can get dirty blonde hair, but it will take extra effort. It may take multiple sessions to go from black or dark brown hair to dirty blonde.
Is dirty blonde a blonde or brown shade?
It's in the middle. Dirty blonde is a range of shades between dark blonde and light brown. This typically doesn't have the golden or red undertones that would make them appear lighter or darker.
Why does dirty blonde hair turn brown?
Children's hair often gets darker before and during puberty. Platinum blonde can go to dirty blonde, and dirty blonde or strawberry blonde can go to brown.

The darkening of hair happens because of a change in the amount of eumelanin that occurs naturally as hair changes with age.
Does dirty blonde hair shade require bleach?
It depends. Going to dirty blonde will not require bleach if you have platinum blonde hair. You might not need bleach to get it if you have very light brown hair and aren't far from blonde hair.

However, if you have black or dark brown hair, you will almost certainly need bleach to attain the proper shade of blonde.
Are dirty blonde and dishwater blonde the same?
Yes, dirty blonde and dishwater blonde are similar, and both are catch-all terms for dark blonde shades to light brown hair that are not entirely true blonde or genuine brown.
These following simple, cute and dirty blonde hairstyles will never run out of fashion and will always save a woman's day for any event or occasion. Not all the time, a visit to the parlor is mandatory for a good fresh look when you can sensibly make it in no time.