A baby boy's first haircut is a milestone moment that many parents anticipate with a mix of excitement and nostalgia.
Whether you're leaning towards a classic trim or a modern style, this rite of passage is as much about capturing memories as it is about grooming.
Delve into our selection of adorable and suitable first haircut ideas that will ensure your little one looks dapper while keeping comfort and practicality in mind.
First Haircut Ideas for Baby Boys
Below are 15 precious styles for every baby boy out there. Check out all of the fun inspiration!
1. Long Wavy Locks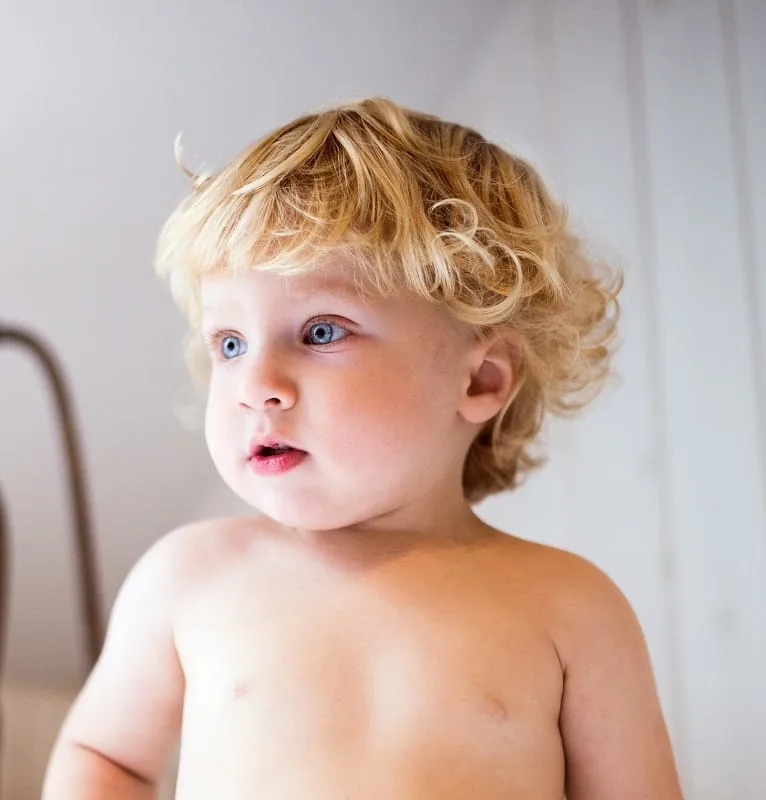 Some babies are blessed with lots of hair right out of the gate. Show off natural texture on a first haircut for baby boys with long hair.
Go for a round shape to let soft waves do their thing. Bangs should be cut above the eyebrows to reveal the sweet face underneath.
2. Straight Bangs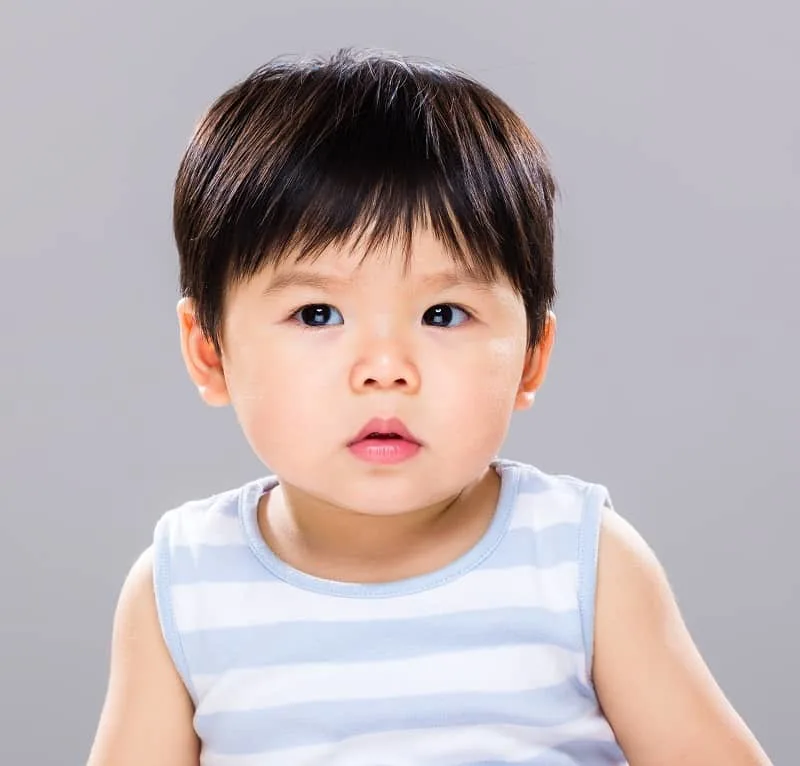 Soft bangs make for the perfect baby boy's straight first hairstyle if your little one has fine locks like most babies do. Cut a fringe so that it is shortest in the center of the forehead to frame angelic cheeks.
3. Natural Curly Hair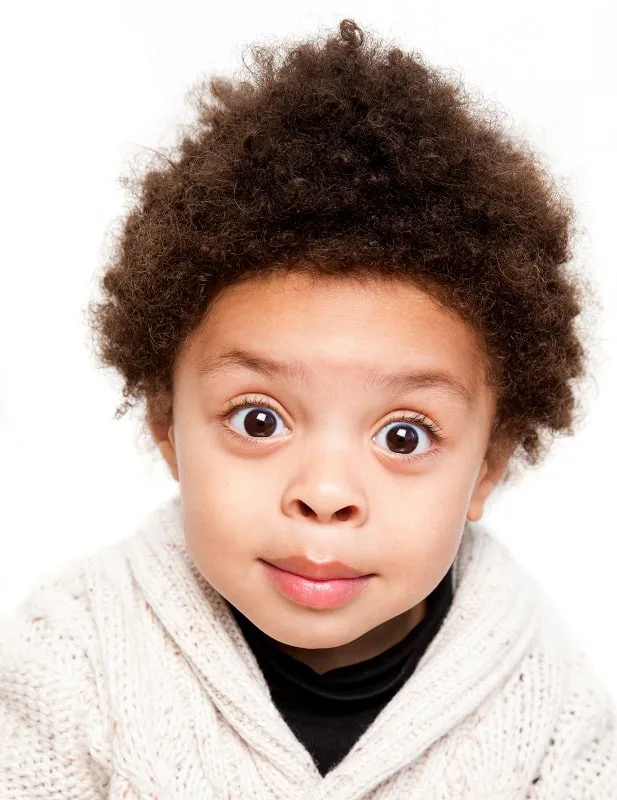 Create a cute gumdrop shape on a curly-haired baby boy's first hairstyle to balance out those luscious cheeks. A pointed style works well with natural, curly texture and provides the perfect contrast.
4. Fine Blonde Hair
Easy cuts are the best option for a first haircut for baby boys with blonde hair, as the hair is typically super fine.
Sweep hair with barely-there texture to one side and cut soft layers throughout the hair for a cohesive style.
5. Choppy Layers
Fine hair is often spiky, so work with, not against, this texture for an Asian baby boy's first haircut. Clean up choppy bangs and go for a more playful, rounded shape all around the head and enjoy the cuteness of all of that energy!
6. Tiny Quiff
Who said that style was just for grownups? A mini quiff looks ridiculously precious on a tiny one. Ask your baby's stylist to crop the sides of the hair into a short fade and leave all of the length up top.
7. Cropped Buzz Cut
Buzzcuts are perfect for little ones at play. This closely cropped cut is fuss-free and helps to draw all of the attention to the beautiful baby blue eyes.
8. Sideswept Bangs
Chubby cheeks are so delicious, so why not draw attention to them with layered side-swept bangs? Their sideways motion concentrates all of the focus onto a sweet face and button nose.
9. Cute Side Swept Look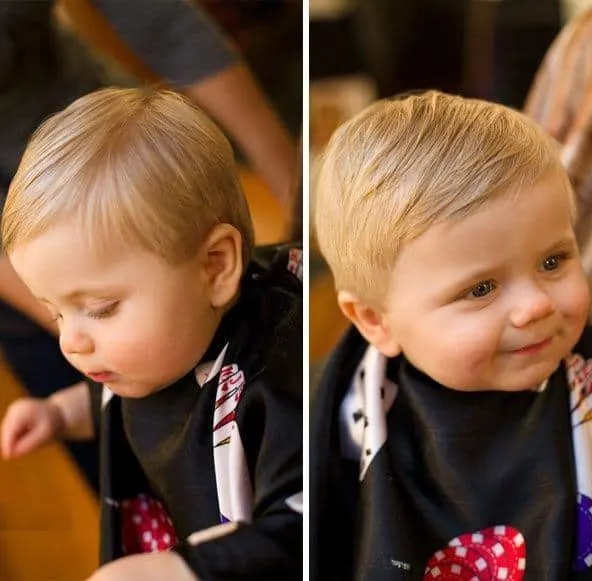 One of the most adorable ways to style a baby boy's hair is to sweep it to the side. A soft, side-swept look will make your baby look even cuter.
10. Side Part for Baby Boys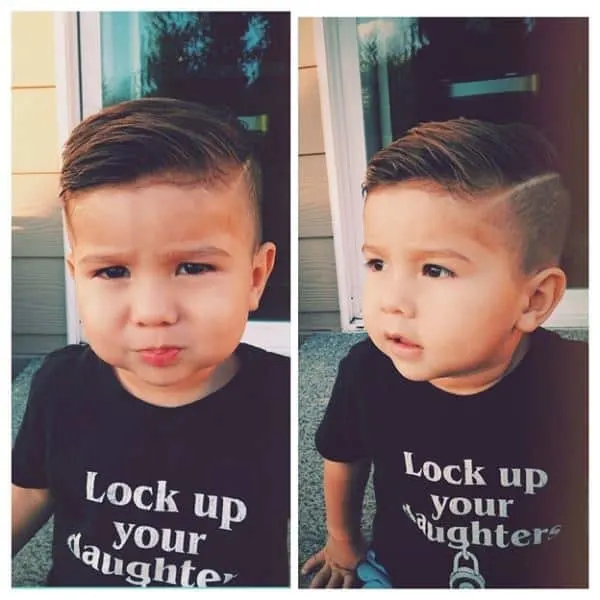 Part your boy's hair to the side and just trust us, he would look like the finest gentleman there is. So give this baby boy's first haircut a go!
11. Fringe for Baby Boys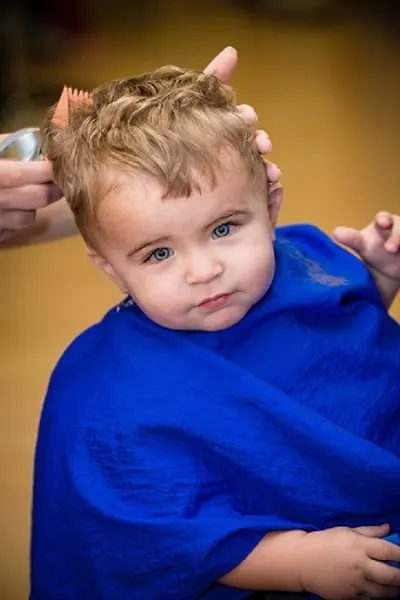 Fringes are one of the most popular hairstyles when it comes to choosing one for a boy baby's first haircut. It draws special attention to the innocence of youth in any baby's face.
12. Baby Boy's First Quiff Hairstyle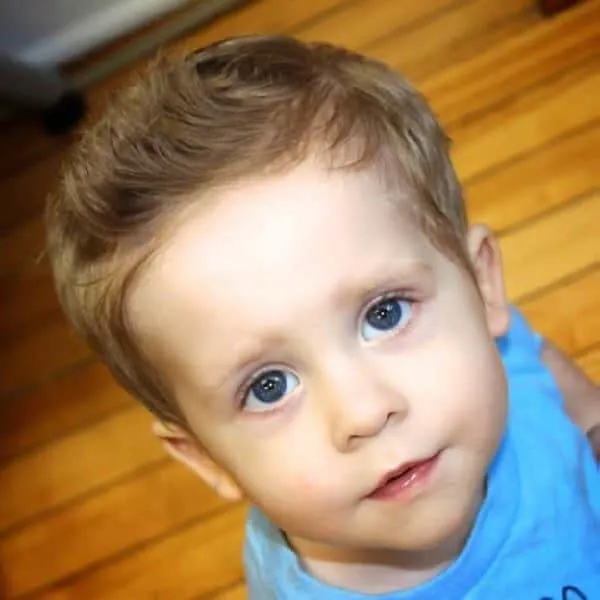 Who says that a quiff is for grown men only? Try styling your baby boy's hair in a quiff, it will definitely serve as a squeal-worthy baby boy's first haircut for your babies.
13. Black Baby Boy's Haircut
An afro in itself is a cool hairstyle, and it looks especially cool and much cuter when a baby is working it. So if you're looking for such effects, an afro would be a great baby's first haircut option for your little boy.
14. Baby With Spikes
We are sure that this one has been tried on almost every baby all over the world, especially for fun. So why not choose this hairstyle for your little punk?
Try These Little Boy Haircut Trends in 2023
15. Baby Boy with Slicked Back Hair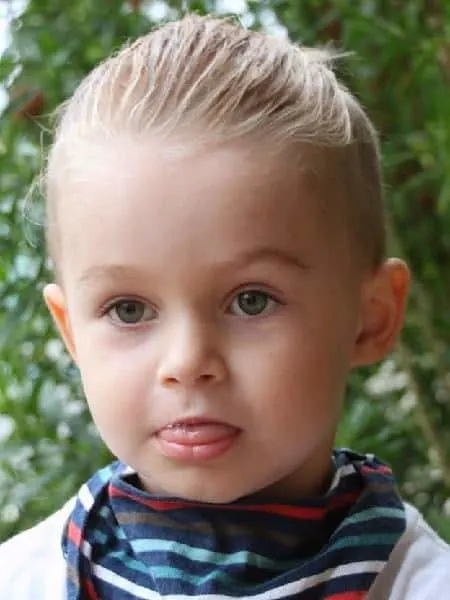 The slick back hair would make your baby boy look like a young gentleman.
Time has passed really quickly and before you can even think about it, the time has already come for you to take your baby boy to get his first-ever haircut. For this purpose, you must be wishing that the style you choose for your little man is nothing less than absolutely adorable with a hint of dashing hairstyle in it.