Baby's first haircut is an exciting milestone – your little man's personality is shining through and it's safe to say that your baby is growing up. But don't marry him off just yet, you still have a couple more decades before you need to worry about that.
It's important that your little one's first haircut is something memorable and fun, but most importantly, that it reflects your baby's personality. With that being said, here are 40 super cute baby's first haircut styles:
Baby Boy's First Haircut Ideas
1. Schoolhouse Rock
Want your baby boy's first haircut to be stylish? If your cutie likes more edgy looks, try tapering his hair and styling the crown up into some spikes. This too-cool-for-school style will have your little man looking like a rock star which will surely have all of the staff at the daycare talking.
2. Baby Boy's First Hair Design
Here's another tapered cut that's perfect for baby's first haircut. The sides have been cut short while the crown is left fairly long and has been tousled. The best part of this haircut is the cute design that has been cut into the sides.
Not only does this give the look more personality, but it allows you to keep that playfulness without compromising his overall look.
3. Gentle Baby Haircut
"Lock up your daughter" is right! This little man is sporting a tapered cut with a distinctive part- perfect for babies who like to show off that classy, gentleman side.
4. Baby's First Quiff Cut
This little cutie is rocking a cute little quiff-inspired style that has been tousled for a carefree look, which is perfect for a spunky social butterfly. If you're not looking to cut off all of the hair when you give the baby his first haircut, maybe on your baby's first birthday, this style is a great choice.
5. Baby Boy's Tapered Cut
This little man is rocking a tapered style that frames the face. This is another style to consider if you don't want to cut the hair too short for baby's first haircut. With such an innocent look, your baby boy will surely get all of the attention.
Baby Boy? Try These Hairstyles
6. Curly Top
This cutie pie is rocking his curly high top fade. If your baby has curly hair, you can give your baby this simple short first haircut. The perimeter has been faded and a design has been cut out to give the style some fun edginess.
If your little man is a live-wire with a whole lot of personality, then this funky haircut might be the perfect choice for him.
7. African-American Baby's First Curly Taper
This is another style that you can do if your little baby has curly hair. Tapers are easy to achieve for baby's first haircut because it takes about half the time to cut the hair. The distinctive part gives this style some structure and finesse, while his natural curls give off a playful, more laid-back vibe.
8. Baby's First Mohawk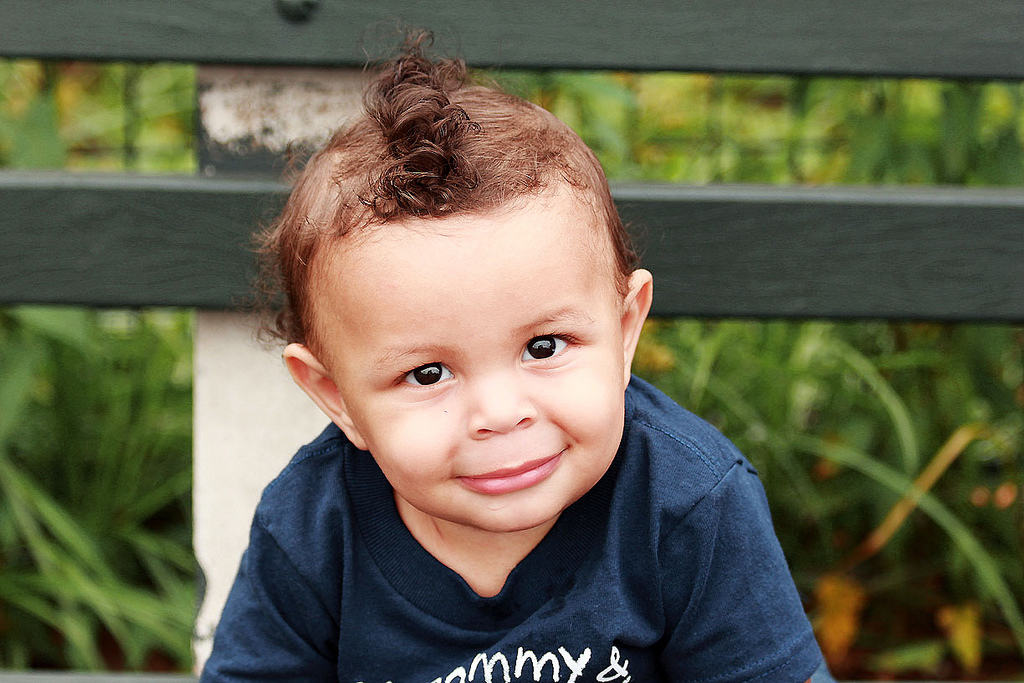 If you don't want to cut your little man's hair too low just yet, you could trim the hair and give him a funky little Mohawk as his first haircut. Not only will this save on time, but it will give him a cute alternate style until you're more comfortable with cutting more hair off.
9. Baby's Little Trim First Haircut
Another simple yet elegant first haircut for your baby. This cutie is rocking a short haircut that has been cut with scissors rather than hair clippers. If your little man isn't ready for clippers yet for his first haircut, there's no need to force him.
A lot of toddlers don't like clippers, but that doesn't mean that baby's first haircut will be a fail. Have the barber style a cut for him just using scissors this way you can give your baby a new look without having to worry about traumatizing him (or yourself).
10. Faded Mohawk for Afro-American Baby's
This last baby boy first haircut is a Mohawk that has been faded around the edges. If you want your baby's first haircut to be a stylish, memorable one, then this might be a great option for you.
You'll love this adorable video.
There are many different ways to style your little one's hair for his first haircut and the key to finding the perfect one is to stay true to your child's personality. Get a haircut that suits him and his style and have fun with it! Remember, you can only have baby's first haircut once!
Little Girl Hairstyles for Your Princess
11. Short Boy Haircut with Bangs
Many parents cut their baby's hair short the first haircut, but this longer look shows how adorable wispy long bangs can be on a little boy.
12. Long Top, Faded Sides
No one would ever expect a faded side design on a baby's haircut but edge isn't just for adult haircuts. Keep the top long and use a bit of hair product to get the piecey look.
13. Short Blonde Hair
This baby's first haircut keeps the adorable natural blonde waves he was born with but cuts the bangs short so his baby blue eyes are the focus.
14. Curly Hair Baby Haircut
A baby's first haircut shouldn't mean cutting everything off. Teach him to be proud of his curls by showing him how to keep his hair long but tamed with a center part.
15. Very Short Hair for Black Baby
Little Black boys tend to have pretty short hair the first year of their life. While there isn't a lot of length to work with, keeping it shorter on sides is a way to draw attention to the more subtle long top.
16. Long Buzz Baby Haircut
A buzz cut typically means going super short on hair, but this baby's first haircut features a buzz style up front for a layered effect and longer sides to frame ears.
17. Messy Curls
Remember your baby's first haircut forever by taking him for professional photos of him with his slightly messy curls tousled up top.
18. Side Bang and Part
All babies look adorable with a side bang and it's also a great way to keep his long hair out of his face. Use a side part to help emphasize the side bang and make him a little more dapper.
19. Short Bangs
One low maintenance look many parents choose for their baby's first haircut is just trimming up the bangs, ignoring the rest of the hair. Short bangs ensure you can always see those adorable baby blues.
20. Blonde Wavy Haircut
For baby's first haircut, only a small trim is needed if he has tousled waves at the ends of his locks. Focus on thinning out his bangs to create a small part.
Baby Girl First Haircuts
21. Short Side Swept Messy Hair
This effortless Side Swept Messy Hair gives your baby girl the "I-woke-up-like-this" look. You don't necessarily have to give her a neat look to make her look presentable. She is cute nonetheless. Besides, if you have a busy day, you can simply leave her hair as it is.
22. Short Kinky Hair With a Bow Headband
If your baby girl has short kinky hair, a simple, cute bow headband would be just enough to add to her doll-like appearance. As a baby first haircut, you can wait for some time until her kinky hair grows a little longer.
23. Cropped Hair with Silky Ribbon
One of the cutestfirst haircuts for your baby girl, this is going to break hearts! It is absolutely cherubic and will let your baby girl enjoy herself without any hair bugging her face. This haircut surely gets extra brownie points for being one of the easiest haircuts to pull off.
24. Cute Low Pigtails
This is one of the best baby first haircut styles. Cute Low Pigtails is a very sporty hairstyle for your goofball. It is adorable and extremely effortless to manage. This will make her look very playful and girly at the same time. This haircut works best with the uneven length of hair growth for your girl.
25. Short Bob with Fringe
When your little girl has silky smooth hair, you can style it in any which way you want. This little girl short bob with fringe is a fairly simple and pretty hairstyle to pull off. With this charming bob, she will become the little star of the town in no time. Plus, who knows? Your little princess might find her signature haircut in this one.
26. Cute High Pigtails
Pigtails will always give a bubbly sweetness to your baby girl. High Pigtails are absolutely adorbs and will prevent any extra hair from bothering her eyes. She will love the look and probably want to wear it every day. Besides, little girls and pigtails have been best friends since the beginning of time.
27. Side Swept Bob
Another bubbly baby girl's first haircut is a Side Swept Bob. This is one of the best and hassle-free hairdos in short hair you can try for your girl. This is a really cool haircut to opt for if she has short hair. This will give her a playful and make her look a hundred times more adorable.
28. Adorable Loop Pigtails
A funky hairstyle for your little baby girl. These little High Loop Pigtails are pretty simple and offbeat as well. This charming hairdo can also be worn on a daily basis. The fact that it is so easy to style will make it her favorite in no time!
29. Short Bob With a Big Bowed Hairband
This is a no-fuss look and the big bowed headband instantly gives your baby girl a chic look. The short bob is a really effortless baby first haircut and can be sported on a daily basis. This is also a great haircut for your kid to make a fashion statement.
30. Super Short Bangs
This Asian baby's first haircut focused on creating short choppy bangs. Super short bangs give an edgy contrast to long hair.
31. Short Curls and Smooth Bangs
The tousled curls on this baby girl's haircut are adorable, so don't cut them! Instead, tame the hair by smoothing the front pieces to one side to create a side bang.
32. Braided Pigtails
Show off your baby's first haircut by gathering her long hair into two long braided ponytails. Straight bangs are easy to simply comb smooth.
33. Baby Ballerina Bun
A ballerina bun is great for school photos and while your baby is running around outside. Use your fingers to comb the hair into a high bun.
34. Side Pony with Bow
For one of baby girl's first haircuts, a cute side ponytail can be formed by gathering just the side of the front half of her hair. Use a pink bow to secure it.
35. Haircut with Headband
For a baby's first holiday, such as Christmas, pair her short hair with a bright red headband. On little girls with straight hair, simply comb it smooth before adding the accessory.
36. Long Black Hair with Bangs
If your baby has gorgeous big eyes, a peekaboo bang will flatter them. Just leave the bangs extra long but thin and maybe pin some of the hair to the side with a cute clip.
37. Hairstyle for Baby with Long Hair
These long curls deserve to be shown off. Leave your baby's hair down and worn over the shoulders. A side part will keep bangs from getting in her eyes.
38. Natural Haircut for Black Baby
Black babies with naturally curly hair only need a bit of hair oil for styling. This is an ideal baby's first haircut because it's easy to style.
39. Blonde Curly Hair
Another winning first haircut for baby girls is this short curly hairdo with super short bangs. Avoid clipping the curls to keep the texture.
40. Long Black Curly Hair
This Asian baby's black locks are adorable worn over her shoulders and parted to the side.
Which one is your favorite baby's first haircut? We'll love to hear in the comment!