Do you ever find yourself wondering what you would look like with a completely different hairstyle? You might ask yourself, "what would I look like with a perm?" or "what would I look like with highlights in my hair?". If you're using an iPhone, don't think hairstyle apps are only available on android. We're here with the best iOS apps that'll help you try plenty of hairstyles.
New hairstyles are a refreshing change, but they don't come without risk. What looks great in your imagination might not turn out great in reality. Once you've gone to the salon, you are stuck with your decision.
Now, with iPhone hairstyle apps powered by AI technology, you can see ahead of time what you would look like with a different hairstyle. So before you head to the salon, read on to learn all about the best iOS hairstyle apps in 2023.
What Are Hairstyle Apps?
Everyone has different face shapes and facial features. They are also different in the more intangible qualities like energy and vibe. As such, it can be hard to know whether a particular hairstyle will fit you until you see it.
Even if another person looks amazing with a specific haircut or color, there's no guarantee of how you will look. But in today's world of smartphones and apps, there are now easy—and risk-free—ways to see what you would look like with a different hairstyle.
So let's learn some of the specifics about how these apps work.
How Hairstyle Apps Work
Hairstyle and makeover apps are becoming increasingly popular. Thanks to the amazing technology in your smartphone, you can analyze your new hairstyle ahead of time—before you make a decision that you can't take back.
In particular, iPhone hairstyle apps make use of the AR (augmented reality) technology in your phone to let you see what different hairstyles would look like on you. Some of the apps even analyze your face shape, eye color, and skin tone!
It's basically like having your own on-demand personal beauty consultant. Instead of wondering, "what would I look like with a perm" now you can actually find out!
Considerations for Choosing an App
While all of the apps below are great, they don't all compete on the same list of features. Some of them are better at analyzing your face shape, while others are better for experimental makeovers. And some apps are optimized for trying out different hair colors.
As you read the best iPhone hairstyle apps below, weigh the features against what your specific needs are. And if it's a free app, then there's no harm in giving it a try!
Best iOS Hairstyle Apps for iPhone
For something as popular as hairstyle apps, choosing the right one can be overwhelming. There are simply too many to choose from. And it's equally hard to definitively say what the best app is since it depends on your specific needs.
But to help you narrow down your choices, here is a list with some detailed features on the 7 best iOS hairstyle apps for your iPhone in 2023.
This app allows you to try on new hairstyles, and it has lots of positive reviews on the app store. You can either take a picture in the app or upload a photo, and then the app will give you tips and hairstyle suggestions. You can even match up different hair colors with each style.
Some of the app's features include:
36 hairstyles free of charge
Up to 800 hairstyles if you buy the packages
50 hair color options
Hairstyle tips for your specific face shape
The app is free to download, but as you can see, you will need to make an in-app purchase to unlock the full features.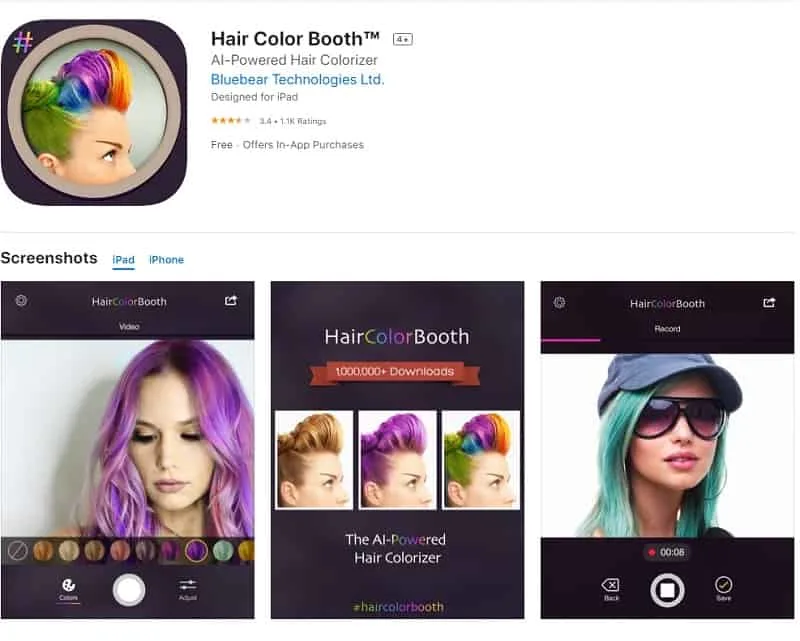 This hair color app is exactly what it sounds like. It allows you to change the color of your hair, including combinations of colors. And it looks super realistic.
The Hair Color Booth app allows you to:
Digitally change your hair color in a realistic way
Adjust the strength of the color
Share your results on social media
Like many iPhone hairstyle apps, Hair Color Booth is free to download but has paid options to unlock additional features.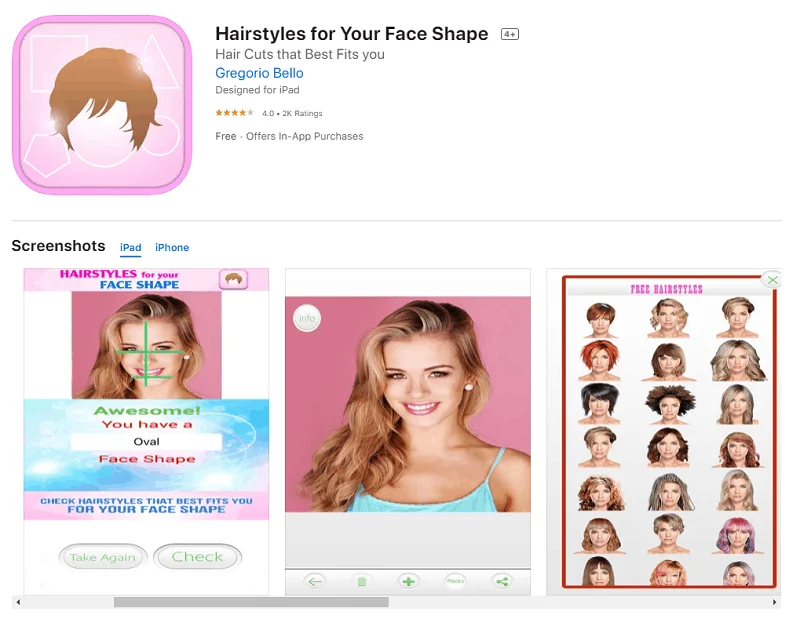 This app takes a picture of your face and then fits you into 1 of the 7 face shapes. It works for both men and women.
After identifying your specific face shape, the app will then suggest the long or short hairstyles that best suit your face shape. Then you can see how they look.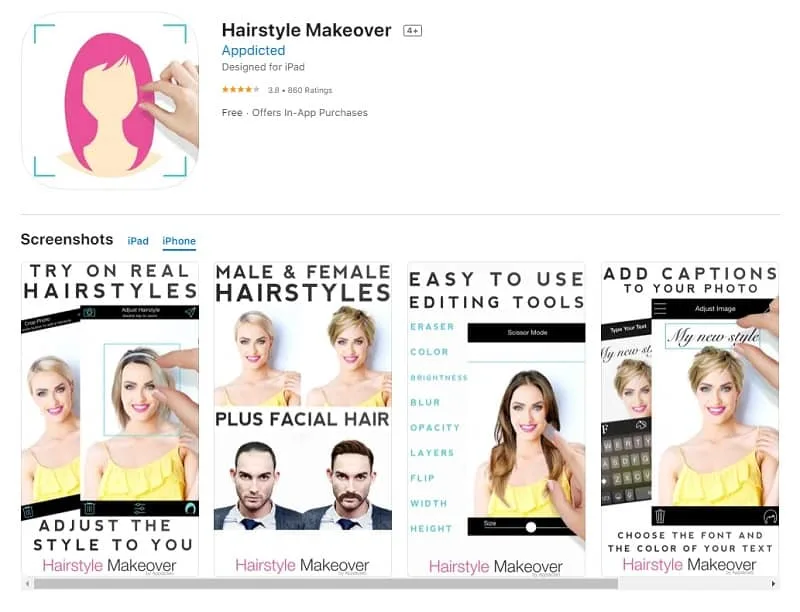 This app is user-friendly and works for both men's and women's hairstyles. It even works alongside options for mustaches and beards!
The app features:
5 free samples for each face type
Hundreds of additional styles with in-app purchases
Advanced editing tools to fine-tune your style
User-friendly interface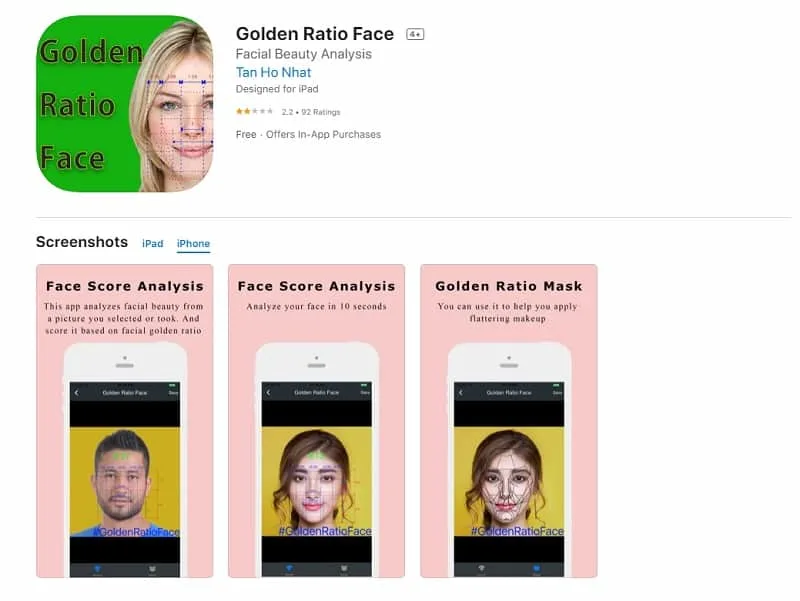 Based on the research of the golden ratio, this app analyzes your facial structure and compares it to the ideal ratio. It then gives you a score to reveal how close your face comes to a golden ratio face.
Using this knowledge can help you balance your face with particular hairstyles and makeover options. And most of the main features are free!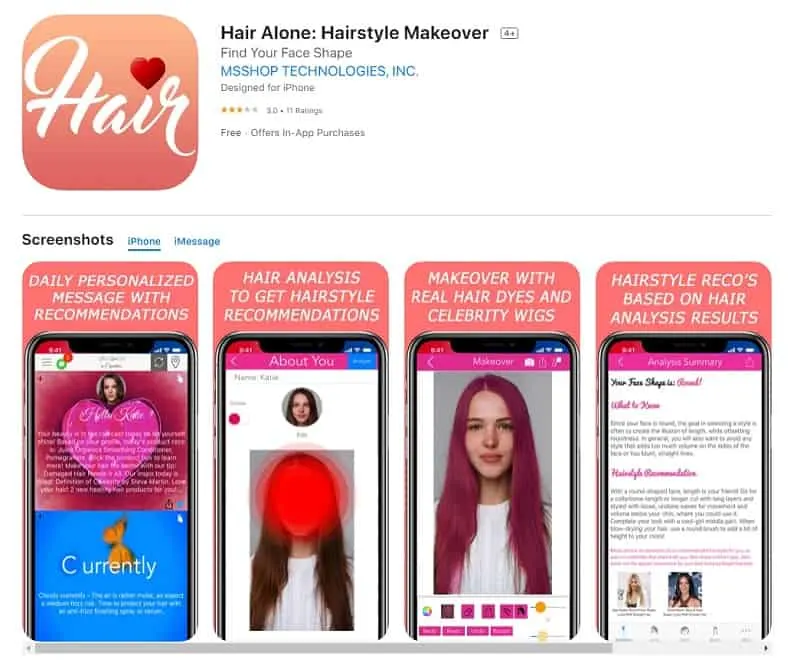 This app is loaded with features. It is basically like having a personal assistant just for your hair.
Some of the main features of this app include:
An analysis of your current hairstyle
Recommendation based on your face shape
An analysis that accounts for hair color and your skin tone, eye color, and eyebrows
Accounts for trending hairstyles around the world
Those features only scratch the surface of what this app can do. The app has a free trial, after which you have to subscribe for a fee.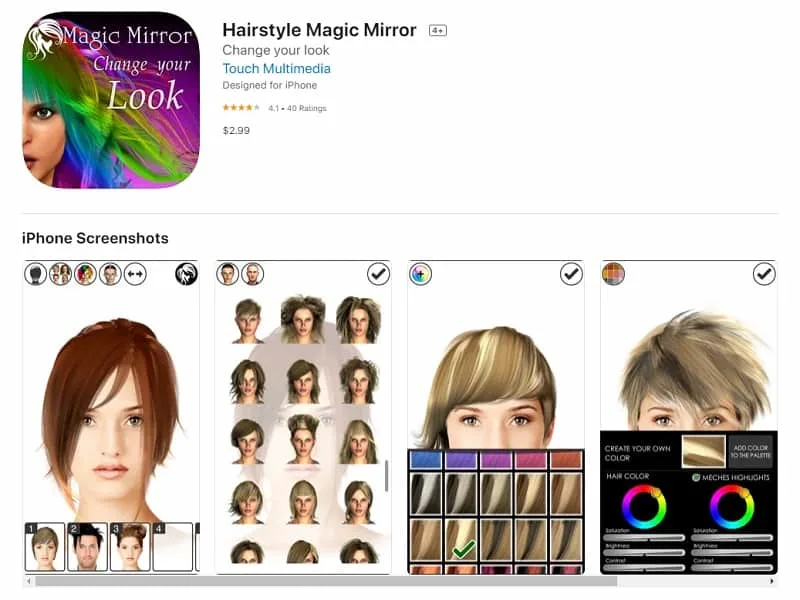 This app is like a magic mirror that allows you to experiment with different styles and colors.
The standout features of this app are:
Simple interface
Hairstyles for men and women
Plenty of color options
Paid and free options
Since this app is free, there's no harm in giving it a try. And if you like it, you can pay for the full version.
It's hard to say what the best app is for you. That will depend on your specific needs and whether you're willing to pay or not.
But hopefully, this list can help you narrow down your choices, and you'll be testing on your new hairstyle in no time!