If you've been wearing a long or medium-length hairstyle all your life and feel as if the time has come for a change, don't rush to the salon.
Sometimes rash hairstyle decisions can do more harm than good. It shouldn't come as a surprise that you have to consider the face type before going for any new hairstyle.
Whatever looks great on one person (especially if it's a celebrity on a magazine cover) might look completely different on you!
Different Face Shapes & Hair Styling
About 50% of women are not happy with their hairstyles after they get out of the stylist chair. You can prevent this problem by making research in advance.
If you have an oval face shape, don't worry, any short haircut will look good on you. In fact, any haircut you choose will look good.
Pixies look good on oval, heart-shaped and square faces. They appear the most beautiful on girls with heart-shaped face types. Just make sure not to add too much volume on top.
3. Long Faces – Make a Shaggy Lob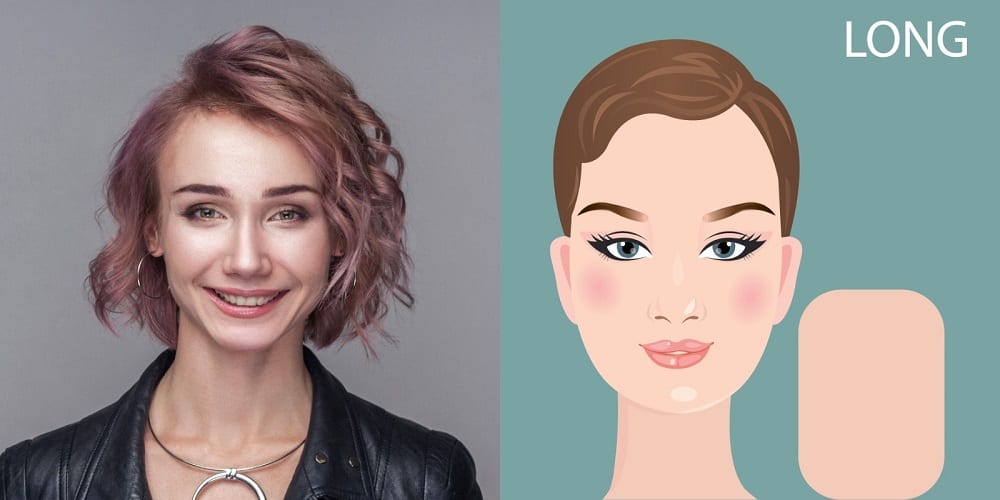 If you have a long face shape, allow yourself to enjoy a shaggy lob. This short hairstyle can make your face look more oval and give your head the volume it might be lacking.
A bob with bangs does a wonderful job making your square face look slightly rounder. If you have straight hair, you have great grounds for experiments. Girls with curly locks will need more maintenance.
An angled bob can make your round face look slightly longer. If you add side-swept bangs, it's a perfect hairstyle!
Medium Hairstyles for Women With Round Face
Suitable Short Hairstyles for Difference Face Shapes
1.Asymmetrical Bob – Oval Face
An asymmetrical bob features longer hair up front and shorter hair in back. This smooth straight version of the angled bob is gorgeous on oval faces because of the way the left side falls over the forehead.
2. Short Waves – Heart Shaped
For your heart shaped face, try this cute half updo for short hair featuring a braided bun and waves. With a heart shaped face, you can rock pretty much any half updo beautifully. With or without highlights, this is the hot girl look you have to try.
3. Short Undercut – Long Face
Trying to distract from your long face? Try an edgy short undercut. With the amazing volume up top and the short faded sides, all the attention will be on the immense detail. And of course, to complete your look you'll want bold eye makeup!
4. Long Pixie – Square Face with Glasses
A long pixie has the tendency to round out a square shaped face. Try this straight style featuring a combination of short and long bangs, and long hair covering ears. To get front hair to curve inward on cheeks, hit hair with a blowdryer.
5. Short Pigtails – Round Face
Avoid rounding out an already round face by rocking two pigtails on short hair. The bold deep red color and the diagonal part help make this traditionally childlike style more mature.
6. Short Bangs – Oval Face
A hairstyle that doesn't have bangs can make an oval face seem even longer. So try straight bangs that stop shortly before eyebrows on a short straight bob. To dress this cut up, you can still pin back each side of the hair or do a messy low pony.
7. Short Corkscrew Cut – Heart Shaped
Consider yourself lucky if you have a heart shaped face as it's one of the prettiest shapes out there and it's easy for you to rock many hairstyles, including this cute short hairdo with corkscrew curls.
8. Short Curly Bob – Long Face
A long face shape needs a hairstyle that seemingly cuts length in half. This short curly bob stops at the chin and features a heavy part for extra volume. If your hair is naturally curly, just add in some leave-in conditioner for shine. Otherwise you can use a hair curling wand and seal with curl creme.
9. Highlighted Short Hair – Square Face
If you have thick hair and like short length, try this straight bob with highlights. The top is full of height a side bang drapes across the forehead. When going out, use a hair clip to pin back the front section of hair.
10. Purple Pixie – Round Face
If you're all about expressing your personality through your hairstyle, add this gorgeous shade of purple to a pixie! The faded sides and long side combed top work beautifully together. A slightly shorter hairline is that extra added detail.
11. Super Short – Oval Face
Whether you have natural black hair or not, on a round face a super short haircut is bold, especially with a stunning color like turquoise or sea green. Color will be especially flattering on women with medium to dark skin tones.
12. Wavy Bob – Heart Shaped
As you already know, a heart shaped face can rock pretty much every haircut, including this short wavy bob. Just run your hands through instead of creating a formal center or off center part.
13. Short and Pink – Long Face
If you're not afraid to go super short, you need to try this buzzed cut with pretty in pink color for long faces. Hair is one length all over, so its maintenance is low!
14. Short Blondie – Square Face
With short layers a cute hairstyle like this pixie is always possible. Use hairspray to get the touchable volume up top and maintain slightly shorter sides. You can use fingers instead of a comb to get this awesome texture.
15. Straight Bob – Round Face
Women over 50 with round faces should try a straight bob at least once! A soft side bang is incorporated here which makes your look flattering to bone structure. Be bold and rock your natural greying color using a heavy part for lift; you can also tease the crown. To emphasize grey or white hair, try adding in extra color for thicker streaks.
Now that you've studied which face shapes look good with short hair, you're ready to make a decision. Browse some photos online to see how these hairstyles look with your face type. Good luck!