When you buy through links on our site, we may earn an affiliate commission.
The hair type of Asian people is different, so you'll need to use a shampoo that's suitable for your hair. In that sense, it may seem challenging to answer the question of what is the best shampoo for Asian hair. With that said, however, just as other ethnic groups have some similarities to their skin and hair care needs, so do Asian men and women.
In this guide, we're going to discover the best shampoos for Asian hair based on how well it works for people of Asian heritage with typically straight, sleek hair.
Defining Asian Hair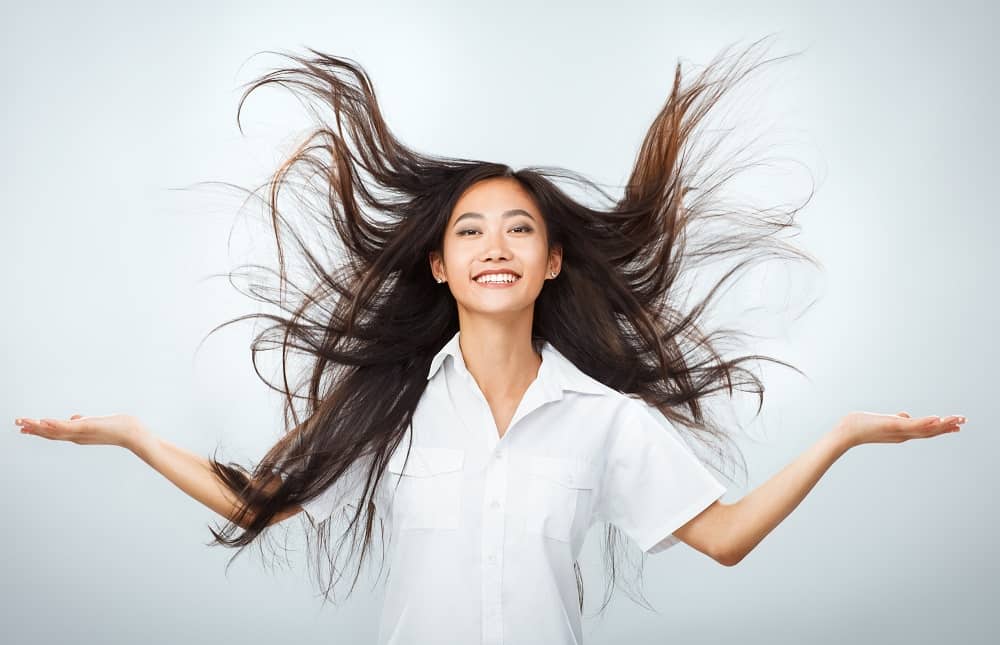 We get it. Asia is the largest continent on the planet; it would be impossible to pick out just one shampoo that will benefit every Asian person's hair. Throughout this article, we'll be reviewing the best shampoos for people with thick, usually smooth, round strands of hair that are typically quite resistant to breakage.
Individuals in China, Japan, Korea and India usually fit this general hair description and many in this region of the globe tend to have an oilier scalp. Your hair, of course, depends on your genetics and even your geographical location.
For instance, if you live in a humid place you may find your hair looking weighed down and oily. Drier climates may lend to drier scalps and hair, in which case your cleansing needs will be different.
Evaluate your hair's needs, then explore this list. You're guaranteed to find a shampoo that's perfect for your hair type, no matter what that may be.
Top 8 Shampoos for Asian Hair
Not sure where to start? Check out the top picks we've listed below, and you may just find the best shampoo for Asian hair.
Tea tree oil has been used for centuries to treat the scalp. The pure oil in this shampoo is excellent for removing toxins from your skin and even increasing your circulation. That means a healthier environment for gorgeous hair to grow. In fact, tea tree oil may even stall hair loss!
Botanic Hearth Tea Tree Shampoo is naturally antimicrobial, cleansing your hair and your scalp with every wash. Rosemary, Vitamin C, Vitamin E, and orange extract add to the nourishing qualities of this cleanser. The shampoo is safe to use every day and is free from toxins, parabens, and sulfates.
Anyone with straight, thick strands will benefit from this nourishing shampoo. We love that it's made in the USA from cruelty-free ingredients. And we think you'll love the refreshing peppermint scent – a perfect way to get your day started right.
Pros:
Great for straight, thick hair
Antimicrobial properties may help your hair grow
Added essential oils and vitamins nourish your hair
Cons:
Conduct a skin test before use
If you live in a dry climate, you likely get frizzy, flyaway hair from time to time. The next shampoo on our list, Hair Food Shampoo with Argan Oil and Avocado, will tame those rebel strands without making your hair look flat or limp.
Avocado has been shown to help seal the cuticles on each of your hairs and give you a smooth, sleek look. Argan oil is an incredible moisturizer that will condition your hair throughout the day, maintaining that controlled look from morning until evening.
All of Hair Food's products are non-toxic and safe to use, even on the smallest customers' heads. Mineral-, paraben- and dye-free, this shampoo is safe for your whole family. In fact, each Hair Food recipe was inspired in the kitchen; natural ingredients are at the heart of each product.
Pros:
Moisturizes with argan oil and avocado
Will not cause excess oil buildup
Cruelty-free and eco-friendly
Makes a great baby shampoo
Cons:
May not be appropriate for naturally oily hair
One of the biggest challenges for someone with naturally oily hair is sebum buildup. Now, sebum definitely serves a purpose. That's the oily stuff that your skin secretes for protection from toxins, the sun and even bacterial infection. But it can also make your hair look greasy between washes.
Moroccanoil Clarifying Shampoo is one of the best shampoos for Asian hair because it knocks out oily buildup in just one wash. All the oils that you accumulate naturally, through your hair styling product, and just from day-to-day life are rinsed away, leaving your tresses looking refreshed and renewed.
We recommend you use Moroccanoil Clarifying Shampoo once every other week to reset your hair. If you regularly expose your hair to chlorine or other contaminants, the cleanser is safe to use weekly. Argan oil, jojoba, lavender, and chamomile will leave your hair smelling incredible and looking its best.
Pros:
Cleanses hair care products and environmental toxins
Nourishing ingredients soften hair
Subtle, pleasant scent
Cons:
Not suitable for daily use
May not be suitable for naturally dry hair
Not all Asian hair is oily hair. If you're one of the millions who experience a dry, itchy scalp we know you will love Tree to Tub's Moisturizing Shampoo. The cleanser was designed for all hair textures and will leave your hair feeling soft, silky and healthy.
The magic ingredients in Tree to Tub Moisturizing Shampoo include argan oil, olive leaves, lavender and aloe vera. But the star of the show is soapberry. Soapberry contains saponin, a natural substance that will have your hair looking positively lustrous.
Tree to Tub stands by its commitment to non-toxic and eco-friendly beauty products. You'll never find any phthalates, parabens, toxins or other poisons mainstream products will expose you to.
Pros:
Phthalate, paraben and toxin-free
Natural soapberry for soft hair
Suitable for all hair types and textures
Cons:
May not be suitable for naturally oily hair
No matter where your ancestors are from, there's a solid chance you've experimented with the color of your hair from time to time. That's why we've chosen to include Pureology Hydrate for Color Treated Hair on our list of the best shampoos for Asian hair.
As you know, coloring your hair can cause severe dryness and damage. That's especially true if you're a DIY colorist – those boxed colors can be brutal! You need to nourish your hair with a product that will protect and repair – a product like Pureology Hydrate.
This shampoo will help restore your locks to their natural luster with green tea, sage, bergamot, and other nurturing (and vegan!) ingredients. Vitamin E and UV filtering natural additives protect your hair's color as you work and play.
Pros:
Vegan formula
UV filtering ingredients
Repairs colored hair
Safe for daily use
Cons:
Not suitable for those with green tea allergy
May need a separate conditioner
Does your hair lack the bounce you crave? Do you wish your strands had a little more pep in their step? Mokita Naturals Regenerate Volumizing Shampoo will inject a little life into your hair with a safe and non-toxic formula.
Makita Naturals biotin shampoo is literally guaranteed to give your hair luxurious volume, whether it's straight, curly or some style in between. Seven botanical extracts, including green tea, cucumber, marigold and chamomile combine in this formula to strengthen, protect and liven up your 'do.
Some of Mokita Regenerate's biggest fans are those who are experiencing hair loss. By conditioning your scalp as well as your hair, you can create an environment healthy for regrowth.
Mokita products are paraben-, sulfate- and alcohol-free, and your shampoo is guaranteed with a 90-day "you'll love it" money-back promise.
Pros:
Rich, spa-like lather
Conditions skin and scalp
Adds volume without styling equipment
Cons:
May be drying for some skin and hair types
Check for skin reaction to green tea
Just about everyone experiences dandruff from time to time, and those pesky white flakes are especially problematic when you have dark hair. You don't want to use a harsh mainstream product – so how do you cure dandruff? One of the best shampoos for Asians with dandruff is crafted by Majestic Pure Himalayan.
Majestic Pure designed their cruelty-free shampoo with nature in mind. Himalayan salt helps to absorb the excess oils on your scalp wash away dandruff without drying. To ensure your hair's moisture is restored, jojoba oil, rosemary oil and coconut oil are also included in this eco-friendly recipe.
Your Majestic Pure shampoo is cruelty-free, made in the USA and is 100% GMO-free. Majestic Pure is a family-owned and operated business.
Pros:
Cruelty, GMO and toxin-free
Natural ingredients, sustainably sourced
Relaxing, earthy scent
Cons:
May not be appropriate for dandruff due to dry skin
Last on our list of the best shampoo for Asian hair is a cleanser that's great for anyone who suffers from sensitive skin. Ingreendients organic, vegan shampoo is crafted to cater to those with skin that simply can't tolerate chemicals and harsh ingredients.
Ingreendients shampoo is made from 100% plant-based ingredients. Apple cider vinegar balances your hair's pH and gently dissolves the buildup that hair styling product leaves behind. Tea tree oil conditions your scalp for optimal hair growth. Jojoba oil and shea butter soften your hair gently, without the addition of artificial silicones, toxins or chemicals.
We love that Ingreendients has such a strong commitment to the planet, too. The company has blacklisted over 1,400 ingredients that have proven harmful to the earth – you'll never find these in this shampoo. In addition, your shampoo is packaged in all-recycled materials and the cleanser inside is cruelty-free, responsibly sourced and ethically made in the USA.
Pros:
Responsibly and ethically made
Vegan and cruelty-free
Balances pH for optimal hair growth
100% recycled packaging
Cons:
May require additional conditioning product
May not be suitable for extremely dry skin
Choosing a shampoo to suit your hair type doesn't have to be a chore; in fact, it can be exciting to find new, natural and nourishing brands that are appropriate for your style. We've included the best of the best on this list, and you're sure to find a product or two you love.
Your hair is a unique feature. It's an expression of your personality as well as your heritage and you want it to look its best. No matter what style of hair you sport, if you're an Asian, this list of eight shampoos will have you looking and feeling like you just stepped out of the salon – every day.
See what's selling hot: