Boy's faux hawk hairstyle has been in fashion since 2000. Faux hawk is one of the trendy, popular and sharp or pointed hairstyle for boys. It generally refers to the word fake hawk because it is just like Mohawk hairstyle but there is a slight difference between these two haircuts.Mohawk includes the completely shaved sides of a head but in case of faux hawk hairstyle, the sides are just faded and not shaved off completely.
As compared to Mohawk, boy's faux hawk can be wear at any event. A faux hawk hairstyle for boys is different and playful while being super easy to do. If you are a fan of stylish hairdos that you can wear anywhere and at any time, just give them this cool cut this Summer season.
How to Style Faux Hawk on Boys Hair
This hairstyle includes the following steps –
Wash your hair thoroughly and dry with the help of a towel. (Don't blow dry your hair to avoid the rough look but if you have short hair then you can blow dry to give them a volume.)
Apply any hair styling product such as hair wax, gel or good quality pomade.
Make spikes of the hair on the top of the head with the help of hands
Slightly comb the spike downward to make it look different from Mohawk
Flat your hairs on the sides of the head to give it a tamed look
Now use hairspray to fix the style
That's it, you are done.
Watch The Following Video about DIY Faux Hawk Hairstyle for Boys
How to Do Faux Hawk for Little Boys
Step 1: Make sure your child is super still once getting this haircut. Although it is super easy to achieve, as well as quick to do, our little ones can become super impatient after sitting in that chair for longer than 5 minutes.
Step 2: Go for a sleek fade on the sides, you can even settle for a sidecut, or any other bolder detail. Also, you can do some temporary highlights as long as your boy isn't afraid of them. Once cut and defined on the sides, make sure you focus on the top part.
Step 3: Leave the top as natural as possible. If your child has a lot of hair and they are not afraid of hair gel or hairspray let their hair grow out long! Style the top by combing it through, and decorate and style a sleek hawk by doing upward teasing motions.
Step 4: Wash their hair often (especially if it has been styled with some hair gel, hair wax, or hairspray), or tie it into a small ponytail if you are short on time. Use natural, sulfate and paraben free shampoos, as well as any hair styling products which are made for sensitive skin.
Most Popular Faux Hawk Hairstyle for Boys
Faux hawk is a versatile boys hairstyle. Here we will discuss some of the types of faux hawk haircuts and styles for boys through whom you can get a bundle of ideas and inspiration.
1. Faded Faux Hawk with Line Part
If you are looking for the classic hairstyle for an event, then this boy's faux hawk will be most appropriate. In this haircut, the sides and back of the head are trimmed slightly to give it a faded look. The top of the head is separated from the sides with a clean, obvious part/line as shown in the image.
2. Spiky Faux Hawk with a Bald Fade
It is a combination of spikes of the top hair and low bald fade sides of the head. The spikes are little pointed as shown in the image above.
3. Textured and Tapered Faux hawk
This hairstyle depends upon the thickness of hair. It is the most stylish and cool faux hawk. The sides of the head are blended with the faux hawk. You can highlight the tapers from the sides and middle-low sides as shown in the image.
4. Curly Faux Hawk
This faux hawk hairstyle for boys suits who have curly or wavy hair. You can use pomade or a good quality gel to fix your curls.
 Sensuous Haircuts And Styles for Curly Haired Men
5. Undercut Faux Hawk for Boys
The top hair is long and a little bit messy. The sides are faded slightly. The top is disconnected from the sides as shown in the picture.
6. Shaggy Boy's Faux Hawk
It is a messy boy's faux hawk and perfect for those boys who like a messy look of their hair.
7. Rat-Tail Boy's Faux Hawk
It is the trendy hairstyle for the funky or sports boys. It is a combo of rat tail and slightly short faux hawk. The rat tail adds an extra cool and fun factor to the personality of boys.
Best Faux Hawk Hairstyle for Little Boys
Here we have brought for you some faux hawk hairstyles for little boys that will surely inspire your kid's next hairdo.
8. Spiked Up Haircut
Try to grow your hair a bit longer and you will enjoy this faux hawk in no time! This hairstyle is low maintenance and is only a bit harder to blow dry at the top.
9. Curly and Frizzy Faux Hawk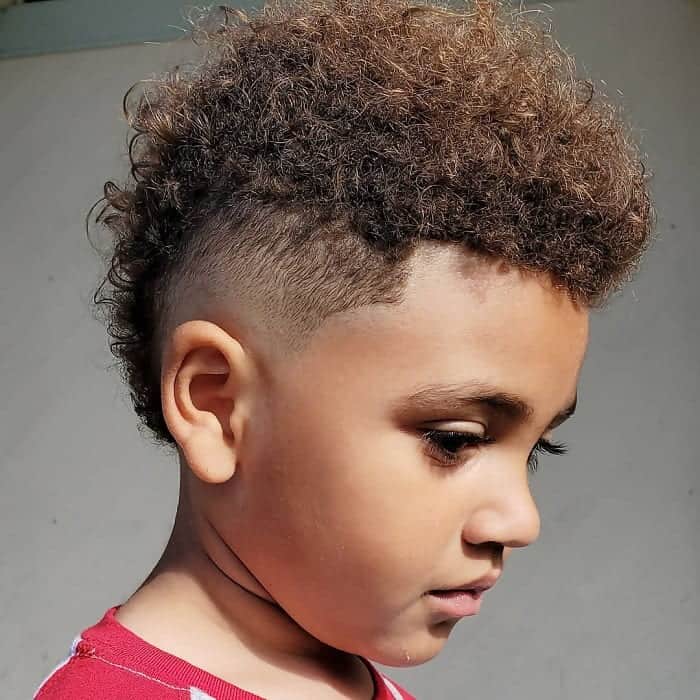 If your child has naturally curly hair know that they are blessed with this texture. Make their hair stand out by doing a boys faux hawk and decorate it with some softer fade on the side.
10. Wavy Faux Hawk Hairstyle with Fade
Guys with naturally lighter hair can enjoy a simple haircut, but only make sure it is symmetrical on both sides. If your child ends up going for this style, pair it up with some necklaces and give them a stylish twist.
11. Long Faux Hawk with Shaved Side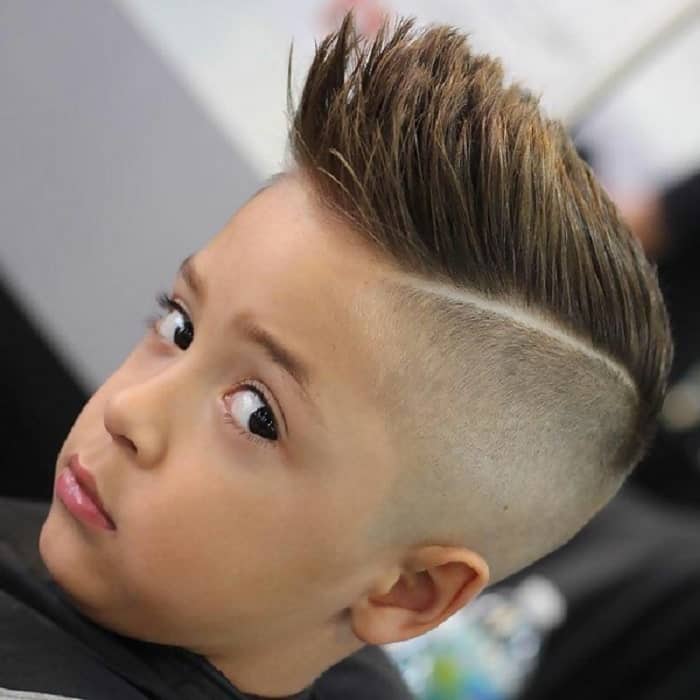 If your baby boy has long hair why not spike it all up? This is an attention-seeking hairdo which can be hard to do, plus it is very high maintenance. Make sure you have a lot of hair gel laying around, and apply it all the way from the roots to the tips.
12. Short and Symmetrical
If your child is into sports, playing any sports, or they are an outdoor and active person, make sure you give them something which is practical. This boys faux hawk haircut is low maintenance, it won't let you sweat, and it is practical for any activity.
13. High Skin Fade Faux Hawk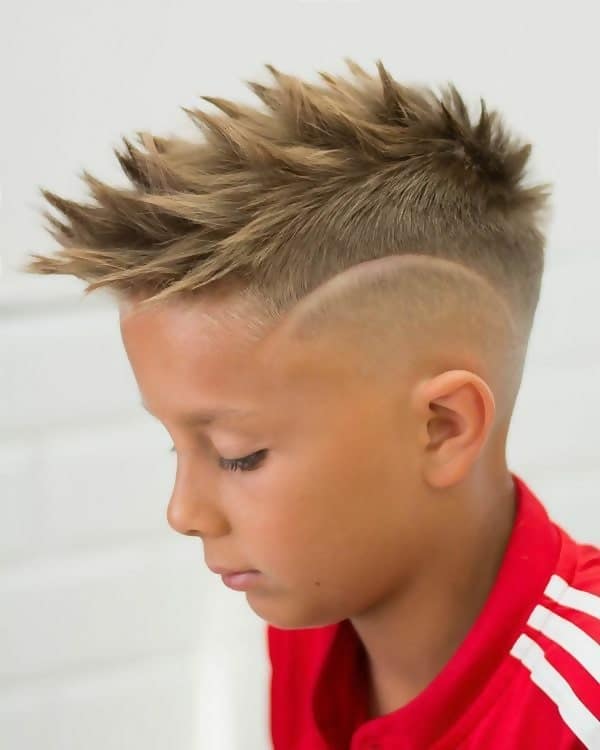 A high fade when decorated with some details and side cuts will look super stylish on anyone. If your little one prefers longer and more upfront hairdos, give them this cut. It is a bit harder to achieve, so make sure you visit the right barber.
14. Short and Curly
Lastly, those boys who have some earrings or who love to wear jewelry should go for a sharp, defined, and precise cut. This one is cute, but at the same time, it screams business.
Which of these hairdos is going to be on your go-to list? All are ideal and perfect in their own way, but let us know which style you'd prefer the most in the comments down below.