It's hard to come up with creative haircuts for men with curly hair because such locks are usually very hard to style.
Men who have curly hair usually opt for cutting it really short in order not to deal with messy strands and knots. However, there are modern approaches to dealing with curly hair that can make styling easier.
For many years, curly locks were considered special and made people who have them attractive. So why get rid of such a wonderful accessory that nature gave you?
Learning how to deal with your curly hair is as easy as reading this article. Taking a look at how other guys deal with their curly manes will help you get inspired.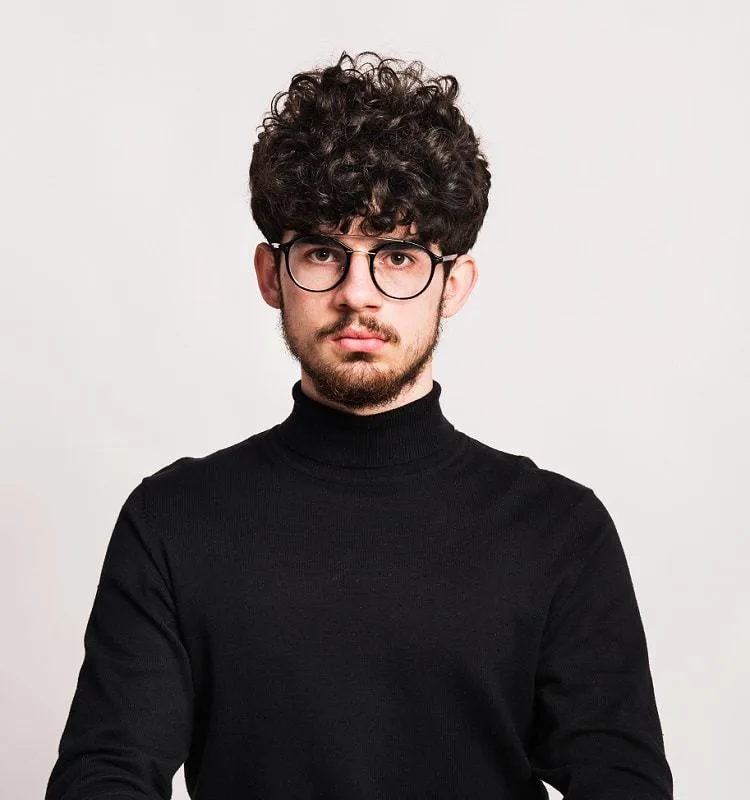 Different Types of Curly Hairstyles for Men
Curly hair is always an attractive option for men, if done properly. You can opt for a completely unique curly hairstyle by combining any other hairstyle available.
That's the beauty of curly hair. Never consider your curly hair as a burden, rather consider it as the natural styling option given to you!
First thing's first, however! Before you learn what curly haircut is right for your face, you'll have to know what face shape you possess.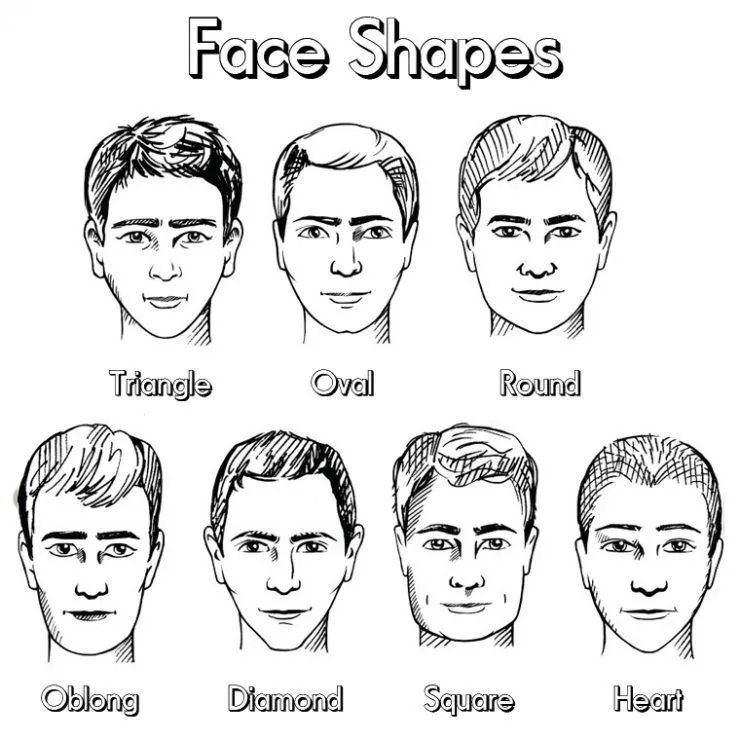 Take a look at the above face shape chart for men. Have you found the one that you fall under? If so, it's time to take a look at these haircuts and find the one that'll look best on you!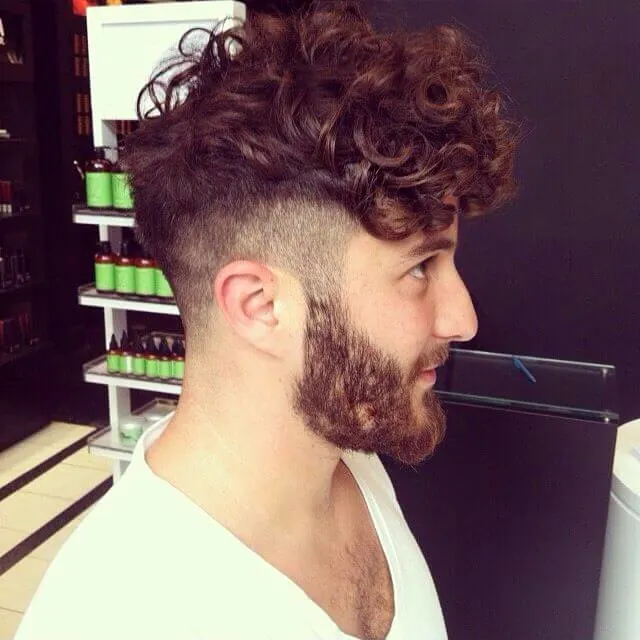 The undercut is a classic haircut that can take a man's curly hair from typical to trendy. Shaved on the sides and back and fuller on top, it's a great style for men that can be both professional and fashionable.
How to style: After washing hair, use smooth moisturizer and a curling cream through wet hair. Doing this while hair is wet reduces the likelihood of frizz and keeps your curl pattern uniform. For volume, you can use an afro pick to fluff your roots.
Ideal face shape: Longer faces such as oval, diamond or triangle.
How to maintain: To refresh this curly hairstyle after a night's sleep, run your fingers through your hair to get rid of flatness and restore volume, being sure not to disturb the curl pattern. If you have coily or kinky hair, you can use an afro pick again to give your hair its volume back. Don't brush or comb while your hair is dry or you might end up with a head of unruly frizz!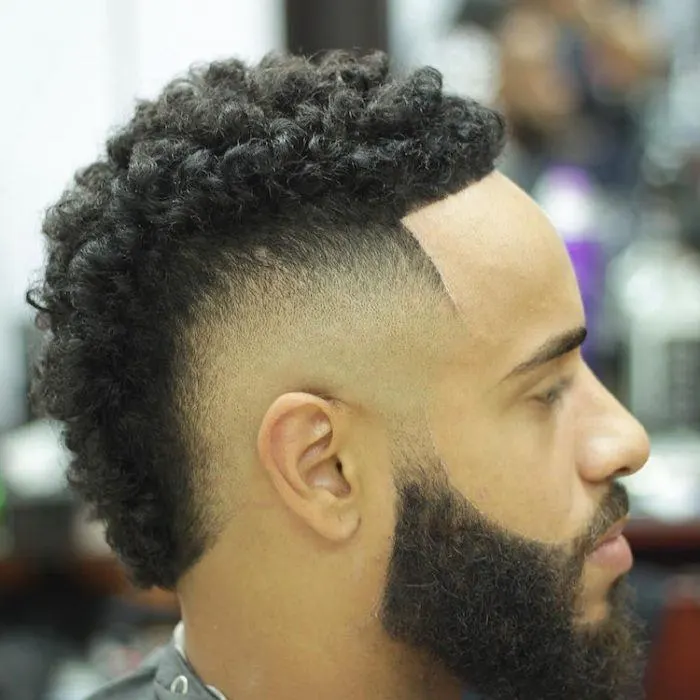 Another gorgeous haircut for men with curly hair. The popular Mohawk meets the fade in this bold, eye-catching haircut. A long or short Mohawk can be a guy's choice for this cut, and if he's extra daring, a pop of color or bleached tips on curly hair are stunning to see.
How to style: On wet hair, apply your moisturizer. For looser curls, a light moisturizing spray may be enough, but tighter curl patterns benefit from cream moisturizers and oils to keep them hydrated. After moisturizing, apply a curling cream, jelly or gel to your hair to hold and define your curls.
Ideal face shape: Oval, oblong, triangular, diamond.
How to maintain: Lightly mist your Mohawk with water to re-activate the product. You may need to fluff your mane a bit to restore the body.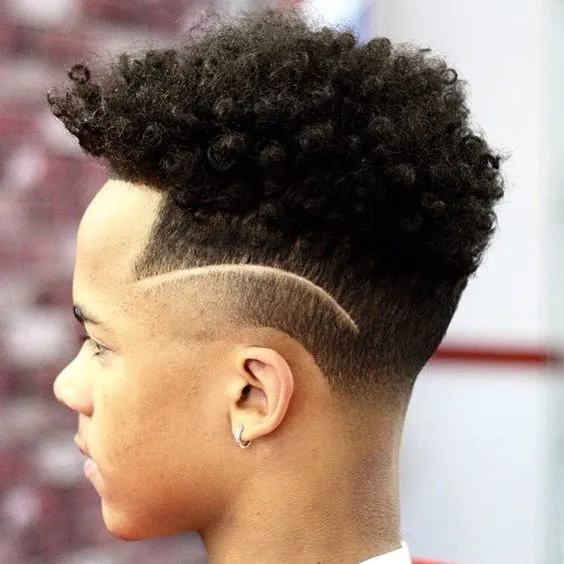 The high top is extremely popular among modern-day men's haircuts, mostly so with curly or afro-textured hair. It's a haircut that's often worn by young teenagers and exudes confidence as well as style. It's usually coupled with a fade, but can be done with a full head of hair as well.
How to style: Using gel or a curling jelly/styler, define your curls or coils while your hair is wet. Kinkier textures can use an afro pick to fluff up their roots for more volume.
Ideal face shape: This curly haircut works for all face shapes.
How to maintain: Re-pick or fluff your hair each morning to bring it back to life.
Windswept Curls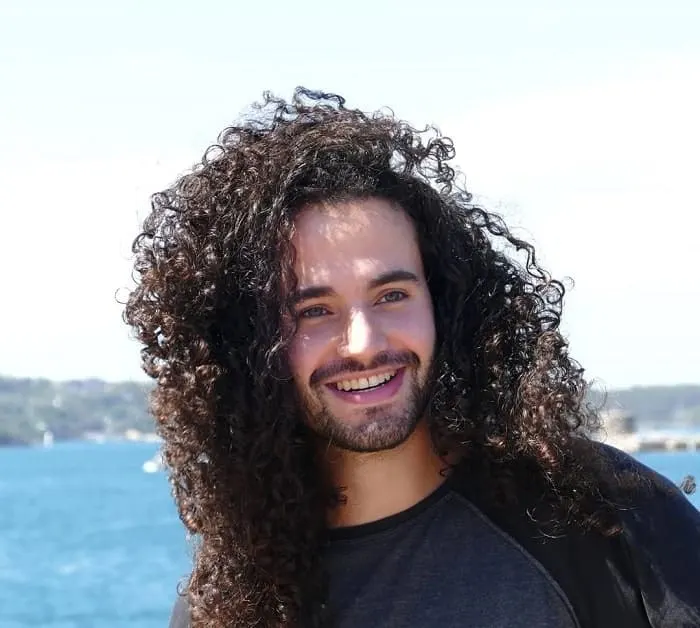 For the simple, laid-back or even lazy guy, windswept curls are a godsend. They don't require much maintenance or effort, but they definitely hit the mark on creating a mysterious, sexy cut.
How to style: On wet hair, simple rake your favorite moisturizer and curl definer through your hair, shake and go. It's that simple. As your hair dries naturally, it'll form into these effortless curls that frame your face perfectly.
Ideal face shape: Works well on all face shapes, especially oval, diamond and triangle.
How to maintain: Wake and shake – seriously! With this style, your hair length means that all you have to do is shake your hair back into place to make it full of life and body again.
Fringe With Curls


One of the most amazing curly hairstyles for men with mid-length hair. For a shorter, fuller look, a fringe is great for guys who aren't too daring but want to show a little style in their look. Shorter at the back and sides and longer at the front, the fringe is a cool-looking cut that will definitely work for men with curls.
How to style: Apply moisturizer and a curling styler to your hair, as usual, paying special attention to the front of your hair. For this section, rake the hair forward so that it falls over the front of your forehead.
Ideal face shape: Oval, triangular, diamond.
How to maintain: Shake your hair lightly, and then do any additional fluffing or raking with your fingers, being sure not to disturb your natural curls.
Curly Side Part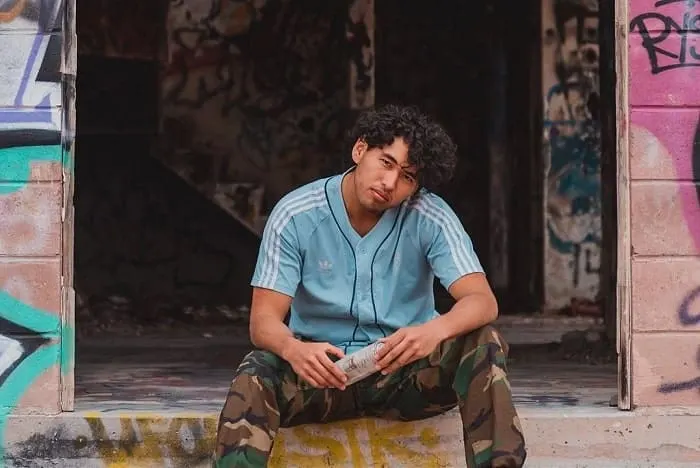 The side part haircut for men can be done with or without an undercut – either way, it's a hip cut that has remained popular for decades. Slick, glossy side parts on curly hair give a polished look while gently tousled curls are simple and effective.
How to style: While your hair is wet, apply a light moisturizer and some curling product. Rake your fingers through your wet hair, finger-combing it over to one side, and neaten up any stray hairs in your side part.
Ideal face shape: Oval, round, triangular, diamond, heart.
How to maintain: After a night's sleep, use your fingers to fluff your hair if it's been slightly flattened. If it's too messy, use a spray bottle to mist some water into your hair and re-apply a bit of curling product as needed.
Short Quiff & Curls


It's nothing like Elvis' famous slicked quiff, but this short messy haircut is one of the most common and dependable for men with curly hair. It's short, so there's not much work to be done. You can be carefree and trendy at the same time. The quiff is generally shorter at the back and sides and full at the top.
How to style: For looser waves and curls, a light moisturizer and a curl cream on wet hair is enough to define and hydrate your curls to keep them happy. For curlier and kinky textures, a cream moisturizer and gel may be needed to get that perfectly defined curly look. Rake the products through your hair while it's wet and allow it to dry for a frizz-free result.
Ideal face shape: The quiff suits all face shapes!
How to maintain: Lightly fluff and rake your hair using your fingers – no combs! If more curling product is needed, feel free to add a bit more.
Curly Bob


For the men who just like to let their natural curls do their thing, the curly bob is a simple, attractive style. This haircut requires barely any maintenance, save for a trim or two every now and then, and you can wake, refresh and go in a few minutes without having to worry about spending too much time on your hair every morning.
How to style: If your hair is of tighter curl pattern like the picture on the left, you'll need to make sure that your hair has been detangled in the shower before you style it.
You can then go on to add your moisturizer and curling cream/jelly to your wet hair, making sure that the product evenly distributes through your hair. If you need to, rake the products through your hair with your fingers to get your curls more defined.
Ideal face shape: Heart, diamond, round, oval, triangle.
How to maintain: Sleep with your hair in a ponytail to minimize frizz and tangling. In the morning, simply shake out your hair and apply a little bit of moisturizer to it.
Stylish Crew Cuts for Classy Men
Lion's Mane


For the men with long, lustrous curls, this one is for you. The 'lion's mane' is just that – it's a voluminous, free and wild cut that allows your tresses to hang in all their beauty. Styling is versatile and simple, and simply having gorgeous locks doesn't hurt. Who said men couldn't have long hair?
How to style: With hair like this, styling is almost unlimited. You can do buns, ponytails, braids or you can go the carefree way and let it all just be free to do its own thing.
With whatever style you choose, be sure to apply your moisturizing and defining products to your wet hair so that your curls won't suffer frizz, but then again –the bigger the mane, the better!
Ideal face shape: This wild haircut works with all face shapes and can be especially striking on square faces with sharp jawlines, like the picture on the left.
How to maintain: This cut is probably the easiest to maintain. Running your fingers through it to refresh it does a pretty good job, and even if it gets extremely frizzy, you can just throw it up into a bun or ponytail to mask it.
Watch The Following Tutorial to Draw Curly Hair Inspiration for Men
Curly Hair Care Tips
Moisturizers are your friend! They help to keep your curls healthy, hydrated and full of body.
Dealing with curly hair while wet is always easier.
When washing your hair, use gentle shampoos and don't skip conditioning. Conditioners add moisture to your hair, balance hair's ph level and make it softer.
Detangling is easiest when done in the shower with a head full of conditioner. It provides slip for less breakage.
If your hair is long enough, sleeping with it in a bun will always minimize frizz, breakage and curl pattern disruption. Give it a try!
Best Haircuts for Men with Curly Hair
Dealing with the hair that nature gave you is not always fun. However, if you choose the right approach, you will soon be enjoying beautiful locks and a completely new image.
Both men and women like the way others look with curly hair. So if you want to achieve a romantic yet manly look, cutting your hair really short is not an option.
There are several useful tips for creating haircuts for men with curly hair. You can take a look at the options in the below collection of curly hairstyles for men we prepared for you.
1. Voluminous Afro
A gorgeous afro is the perfect choice for a man with thick, tight curls.. Thick texture gives this hair its rounded shape that will be the envy of everyone around. Embrace your frizzy texture, it's on trend these days.
2. High and Tight Coils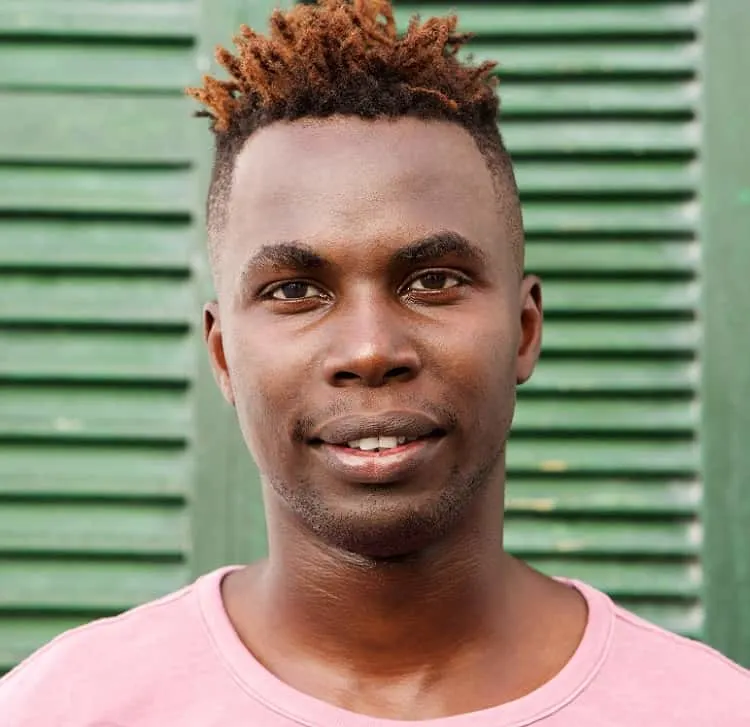 Coils are another popular curly hairstyle for black men. A high and tight look, however, is sharp and ideal for hot climates and business casual environments. If you really want to make it special, add auburn tips for a pop of color.
3. Long Curly Bangs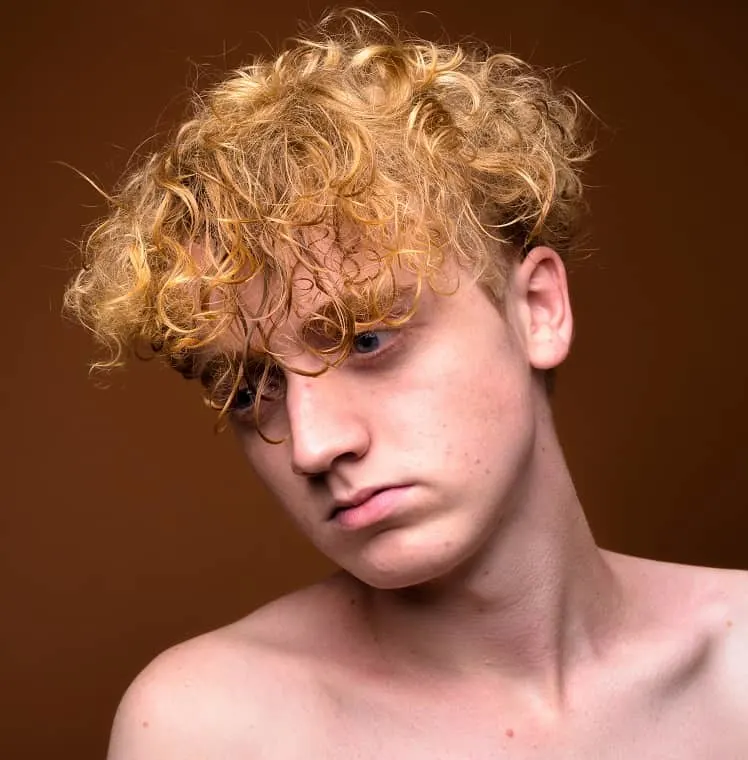 Do you have naturally straight hair? A curly perm hair for men is perfect for creating these sexy, tousled bangs. Consider this look to add softness to a straight nose and defined cheekbones.
4. Thin Curly Hair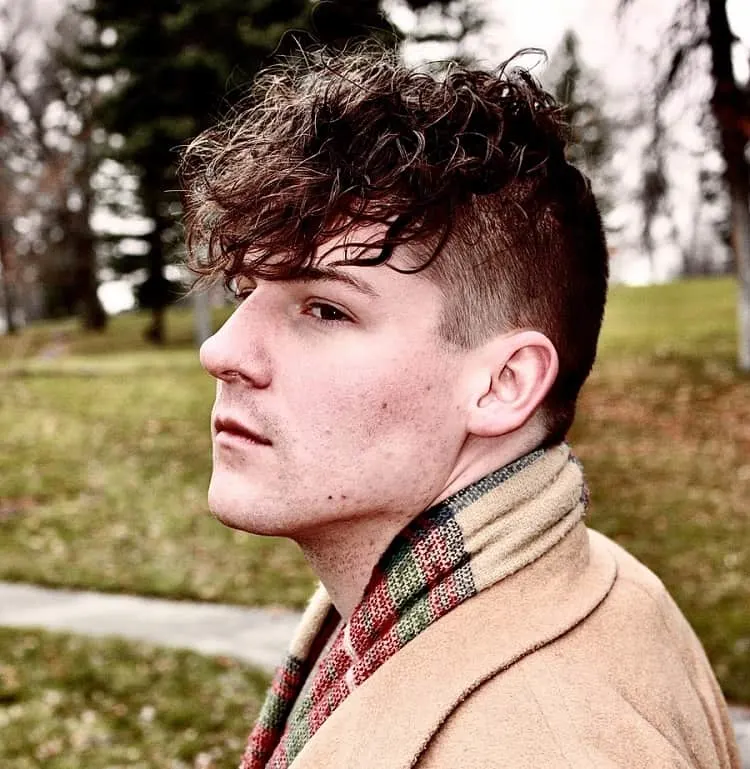 Curly hair isn't always super thick! Try a high fade for contrast so you can focus all of your energy on a smaller curly portion of hair up top. This makes for an ideal thin curly hairstyle for man.
5. Curly Crew Cut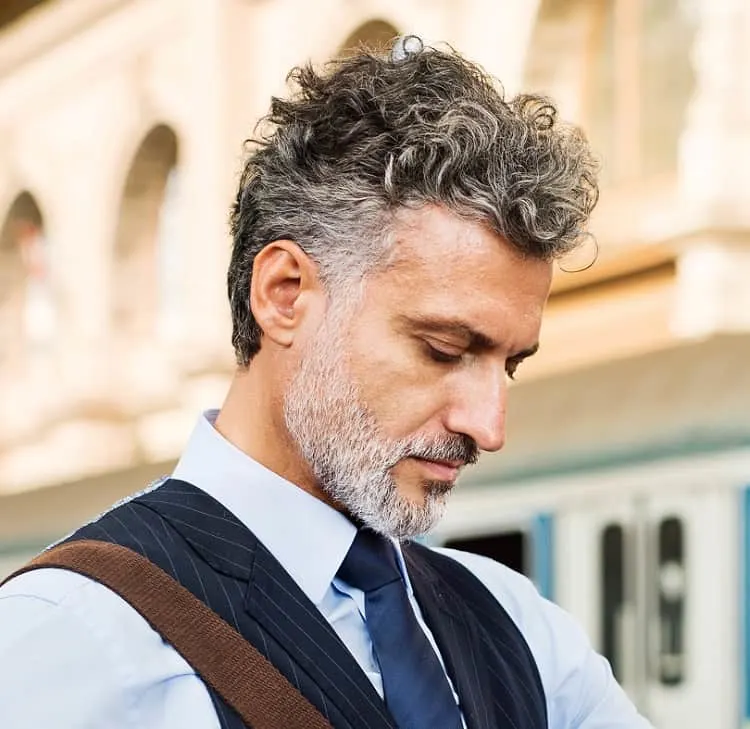 A crew cut is classic and makes crazy curly texture manageable and professional. Your stylist will cut hair much shorter along the back of the head and at the sides while maintaining envious volume on top.
6. Rounded Curly Style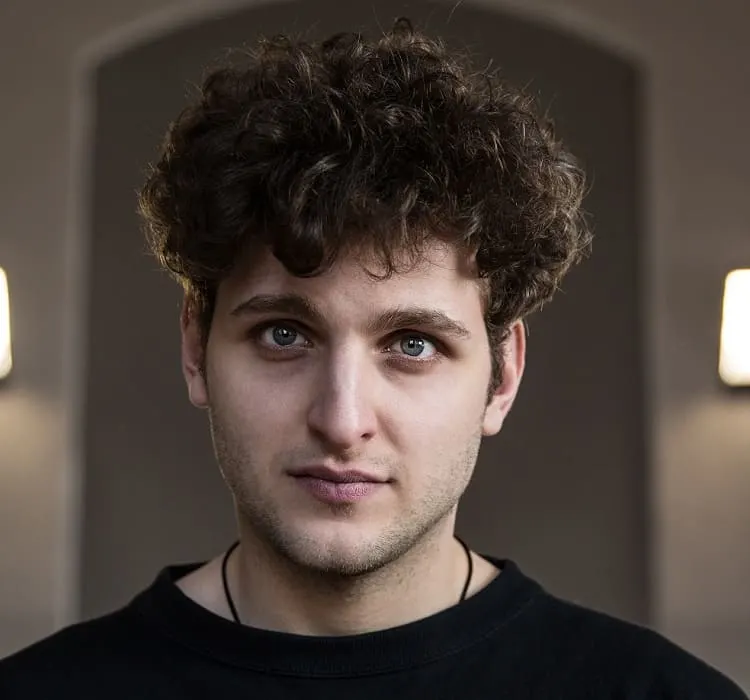 A strong, pointed chin can handle the round mushroom shape of this look. Curly bangs will frame the eyes while close-cut hair at the temples adds definition to your look.
7. Textured Bangs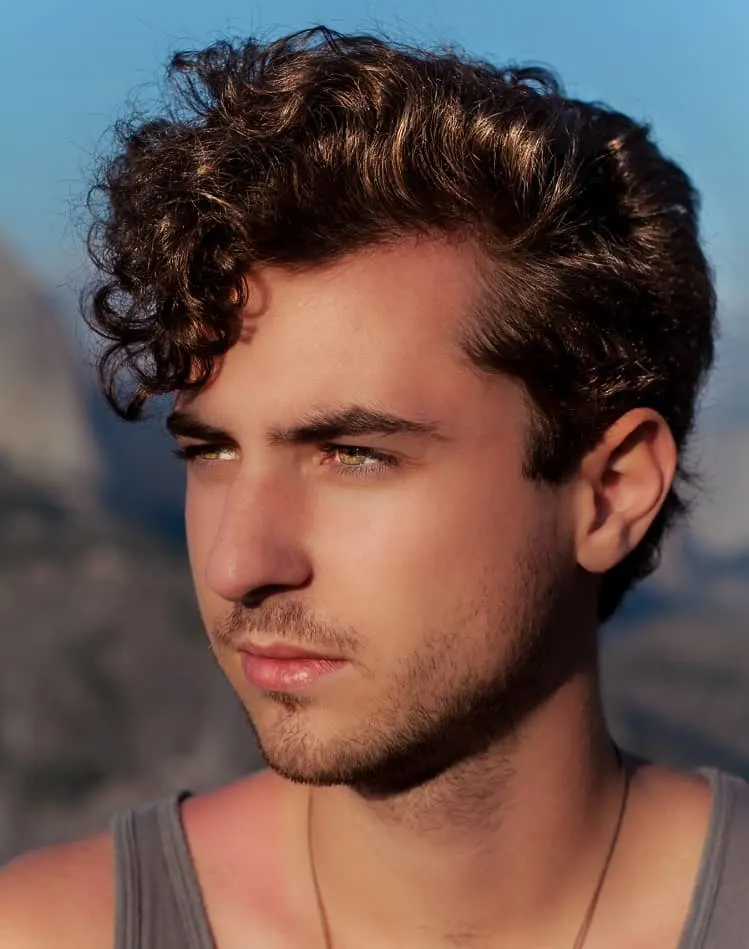 If you prefer a short style but want to emphasize your curls in a subtle way, then these longer curly bangs are the way to go. Have them fall over on one side of the forehead exclusively for the best balance.
8. Bald Fade for Curly Hair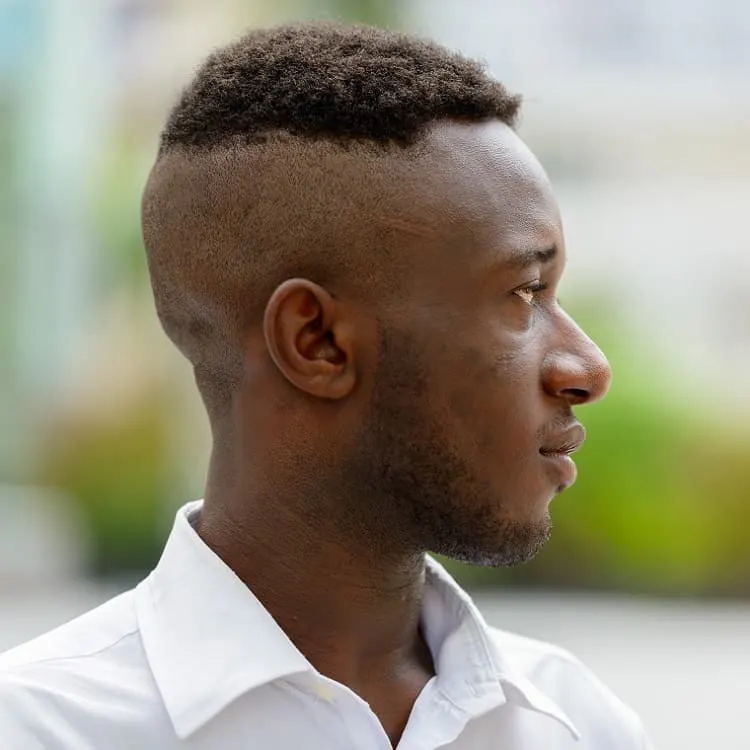 The no-fuss nature of this hairstyle makes it a go-to for men who like to keep things simple. A round shape is hardly boring while a bald fade means little to no daily styling.
9. Medium Hair for Ringlets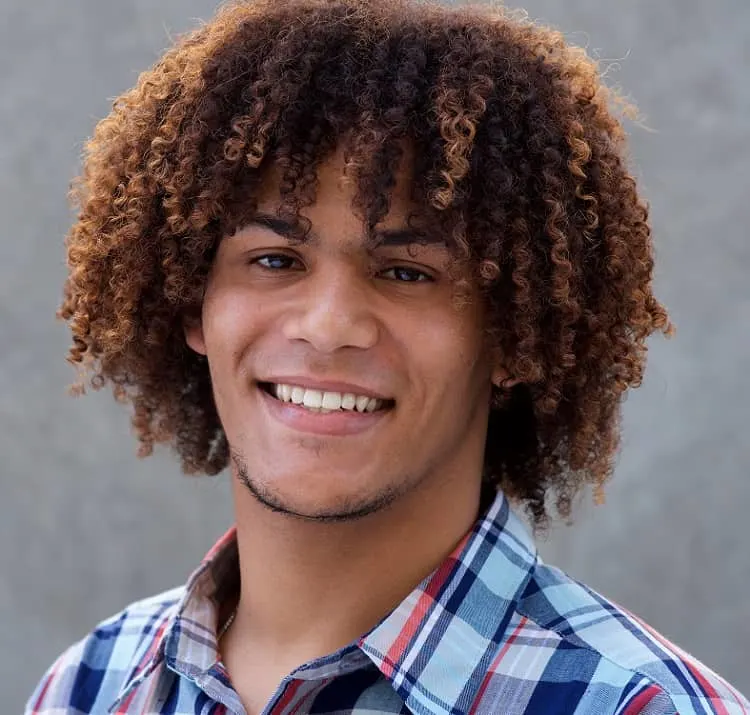 If your ringlets are as perfect as these, then a medium haircut provides the best way to show them off. Add subtle layers cut throughout the hair so it has shape and doesn't appear too bulky.
10. Medium Loose Curls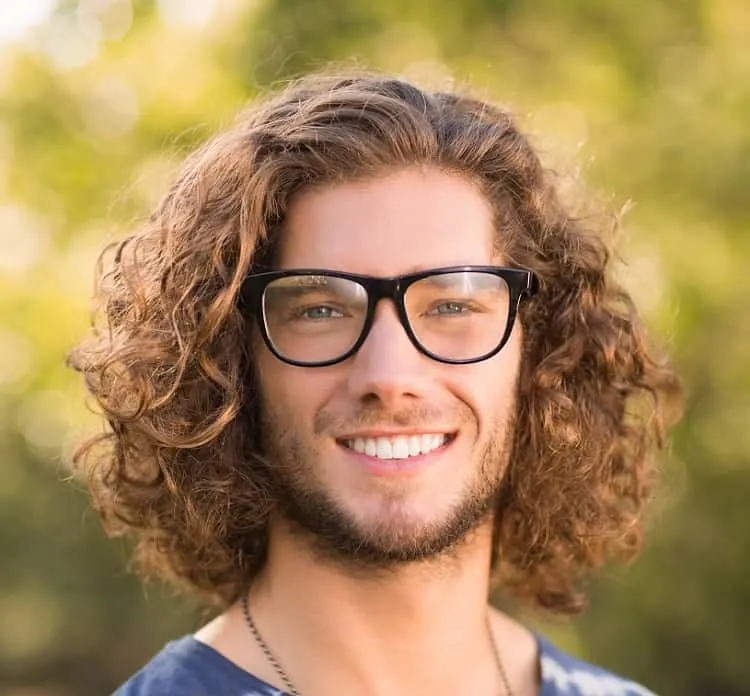 Considering a longer length for your hair? Medium length is great if you're working with loose, flowing curls and lots of body. Try a side part though, to maintain the balance of your face.
11. Tousled Top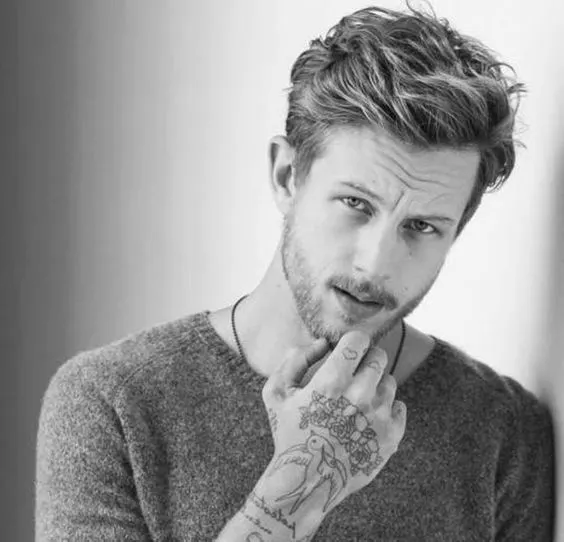 This haircut is a great choice for guys with wavy hair. Keep the side short as you would in an undercut and leave the top at least 4 inches long. Apply hair gel and create a tousled look on top.
12. Wild curls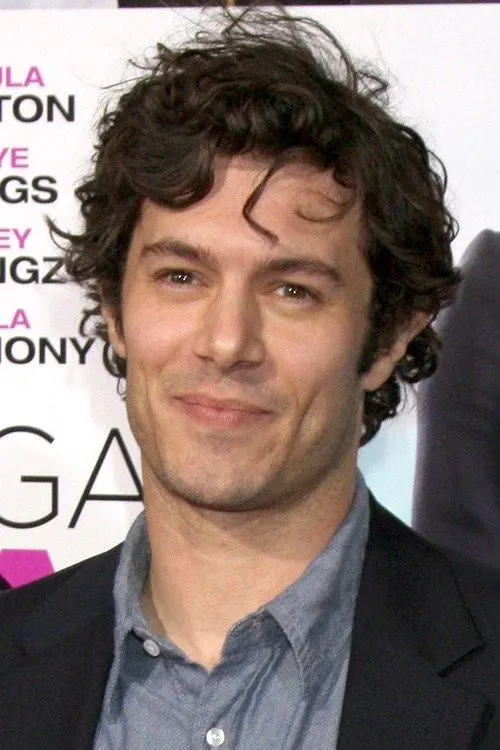 If you are not a fan of too much styling, you will appreciate the wild and curly look. This bob should have hair down the neck and enough length to create wild and messy bangs.
Faux Hawk Fade Haircuts for Men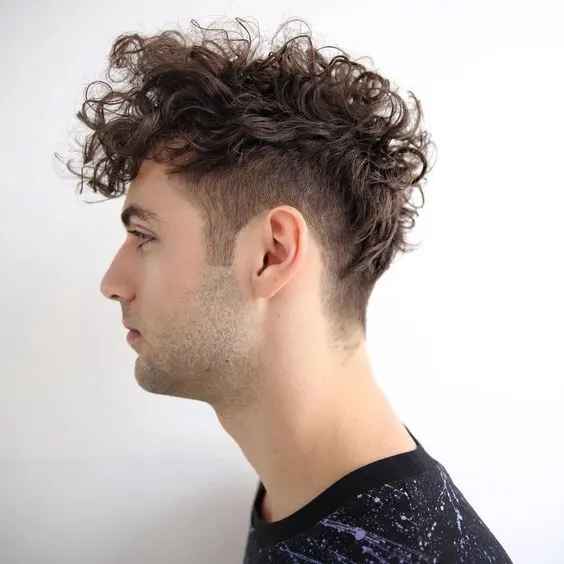 A fohawk is one of the greatest haircuts for men with curly hair because curly tresses look so great as a contrast to almost shaved sides. Curly top of the fohawk can be played around with depending on your tastes.
14. An Undercut with The Curl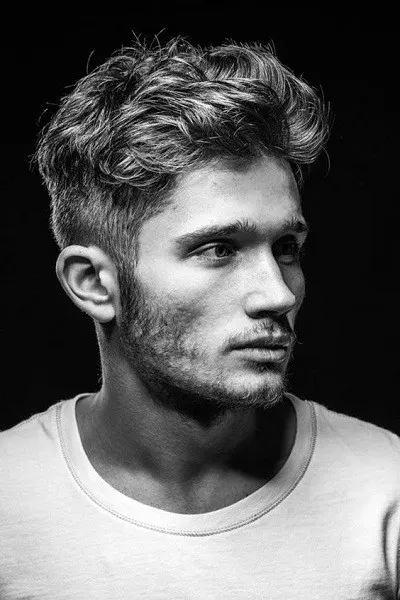 An undercut is a solid choice for guys with curly hair. The sides are kept really short and don't require any maintenance while the curly top is out there and ready to make an impression.
15. Long Taper Fade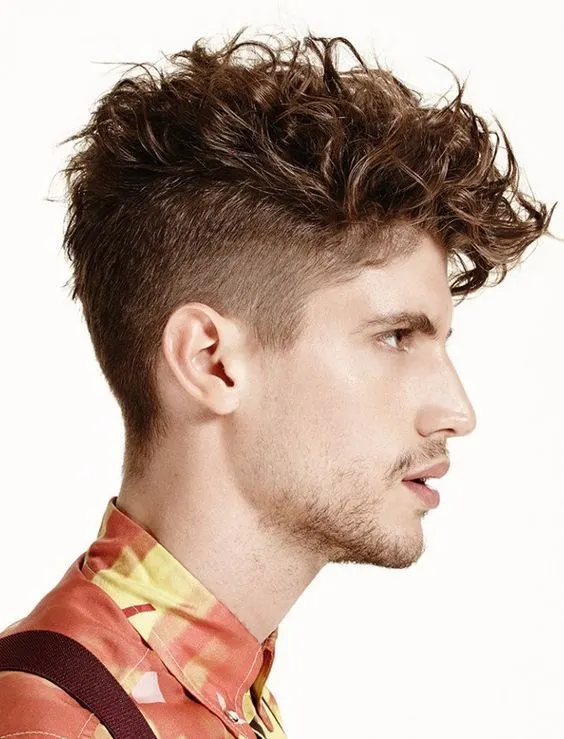 Doing a taper fade on curly hair requires brilliant skills. If your hair stylist is up to the task, you will get an amazing hairstyle. Just make sure the transition of the layers is visible so you'll have plenty of time until the next touch-up.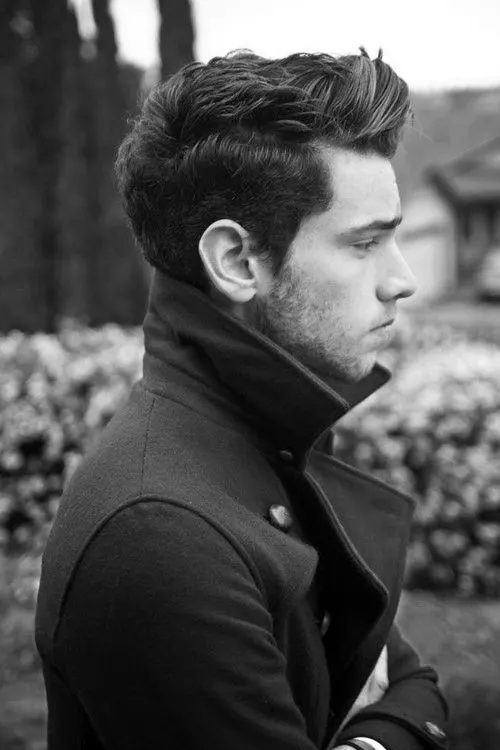 If your hair is curly, you can straighten the bangs with the help of some hair gel. This way you'll get a great and contrasted hairstyle for men with curly hair. Most of your locks will stay soft and curly while the bangs will stick up in a high comb-over.
17. Long Bangs with Curly Hair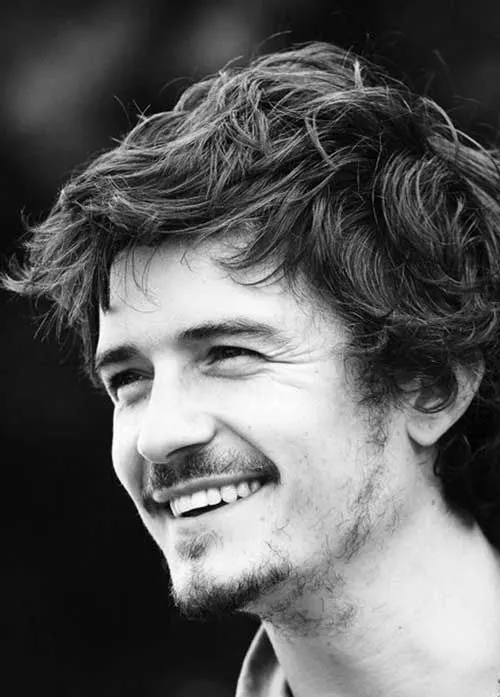 If you have curly hair, long bangs might be tricky. They will keep getting curled up the wrong way and in the wrong direction. However, even the curliest fringe can be tamed with the right amount of hair gel.
18. A Creative Touch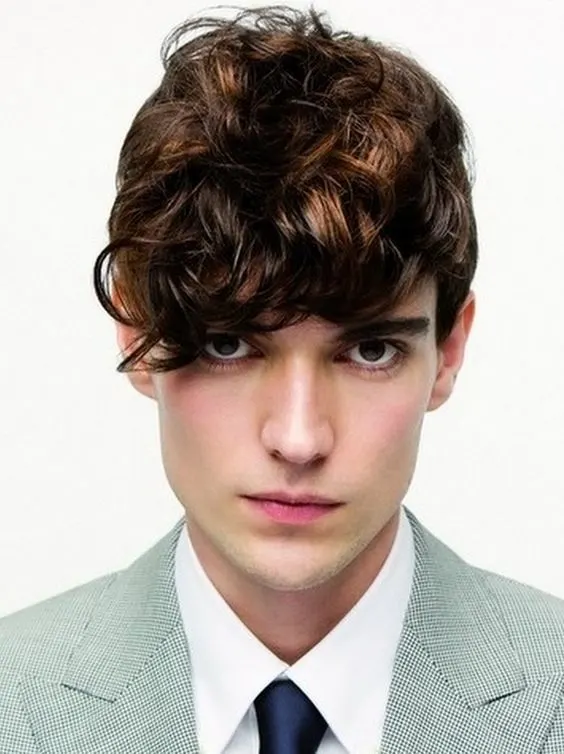 This creative approach to curly bangs can be a good idea for a special occasion. This hairstyle can be created by guys who have straight hair as well. It will require a lot of styling and plenty of patience.
19. Messy Short Curls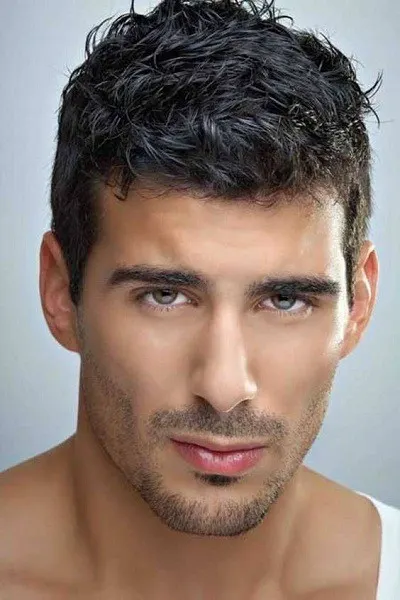 The shorter you cut your curly locks, the easier it will be to deal with them. But try to leave at least a couple of inches on top to play around with. If you don't want too much styling, go for a wet look.
20. A Romantic Bob
If you are brave enough to grow your hair long, you are in for a surprise. The longer your curly locks are, the easier they are to manage. You can brush the bangs backward for a manly yet romantic look.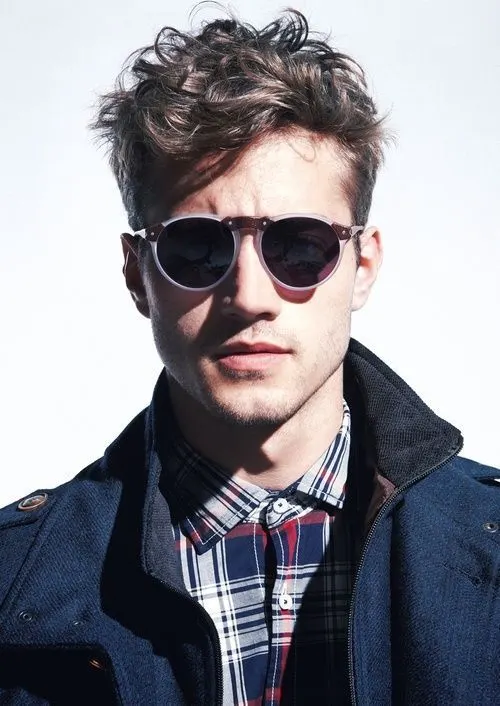 This shaped up haircut for men with curly hair looks very impressive and keep the locks neat. All you will need to do is deal with the top part. But if you make it shorter than 2 inches, it will look great on its own.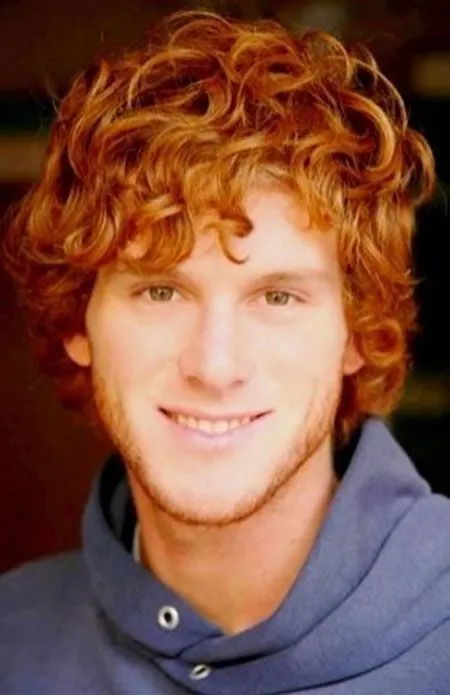 If you are ready to take good care of your hair every morning, this beautiful shag with bangs is a great option. It allows you to flaunt your curls and make up your own style. Give it a try!
23. Ivy League Curls
If you are into ivy league haircuts, you will appreciate this one. The sides are neatly trimmed to avoid any curls. Meanwhile, the top is about 2 inches and arranged to create a sleek wet look.
24. Neat Curls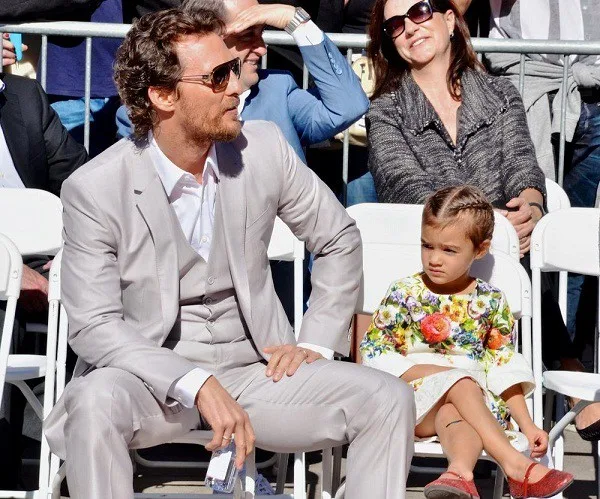 If you are suffering from a receding hairline, this haircut for men with curly hair will look great on you. Focus on dealing with the hair on top and in the bag and create a long bob to shift the attention from the forehead.
25. Tight Curly Shag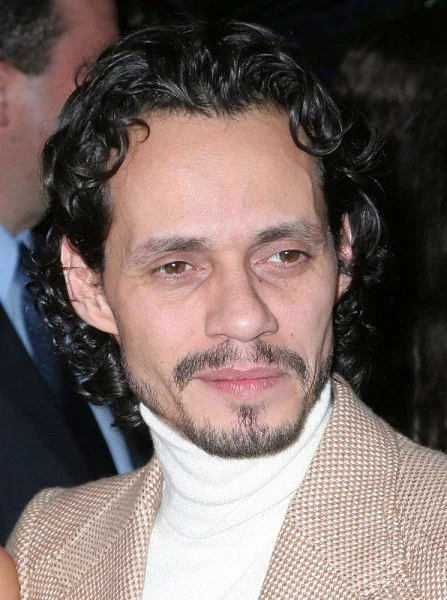 Shags look great on guys of all ages as long as they are ready to keep them neat. If you have tight curls, your shag will look amazing only if you are ready to tame the spirals every morning.
26. Wet Spirals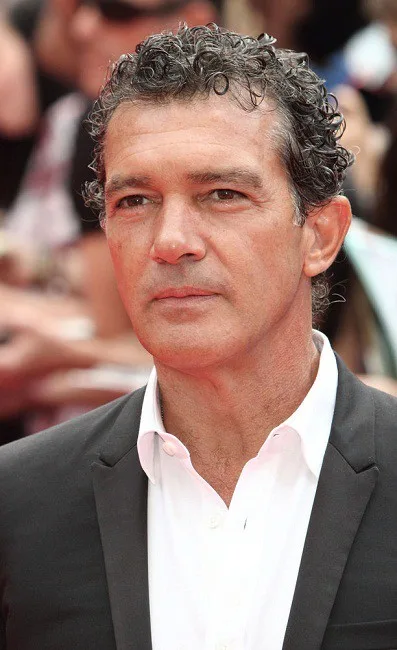 Keep your hair short but not short enough for the curls to disappear. This balance is rather delicate but can be achieved. You can apply hair gel to create a neat look suitable for any occasion.
27. Layered Shag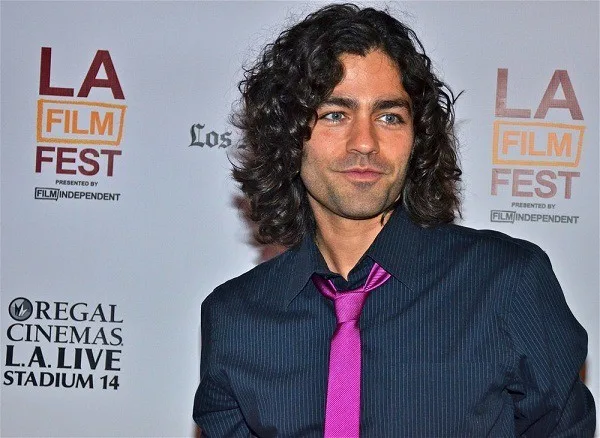 One of the simplest ways to keep a haircut for curly hair men neat is to make layers. Curls tend to create the volume which is not always welcome. Layers can tame the spirals and create a stylish appearance.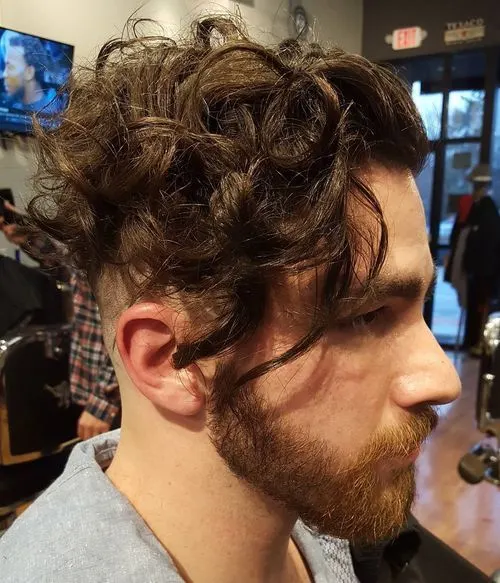 When you are browsing through curly hairstyles for men, mohawk stands out of the crowd. If you are brave enough to sport a mohawk, you can forget about styling the top part. A messy look is magnificent.
Mohawk & Fohawk Hairstyles for Men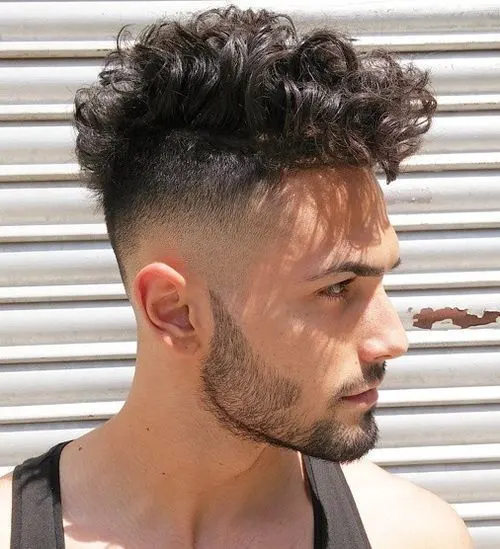 A tapered fohawk is another brave choice of a hairstyle. Many guys prefer to leave more hair on the sides in order to make this hairstyle suitable for formal occasions.
30. Flaunt'em!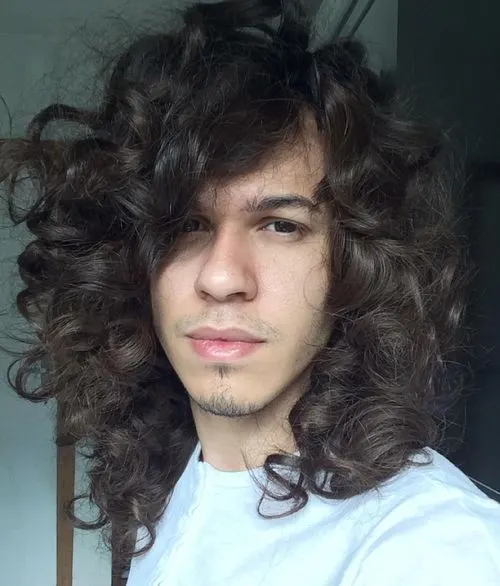 If you've got large soft and beautiful curls, why not flaunt them? If you are not afraid of the hairbrush, grow your curls long and wear them down. If you get tired, you can always opt for a ponytail.
31. Kinky Haircut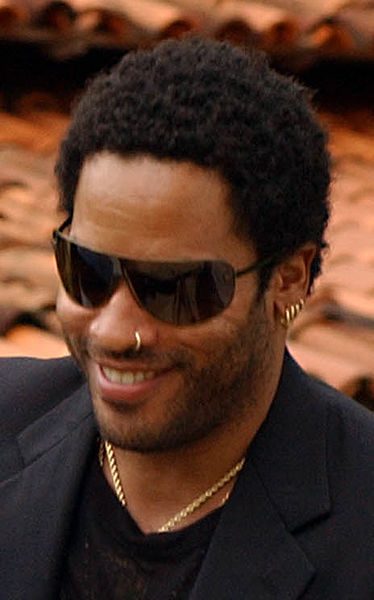 Some guys have tightly curled hair like this which is called kinky hair. You can use your natural kinky hair to get an awesome look.
Long hair is always hard to manage and if its curly hair, that becomes more difficult to maintain. You may wonder how the guys look with a curly hair. This picture will give the answer to your quest.
33. The Jheri Curl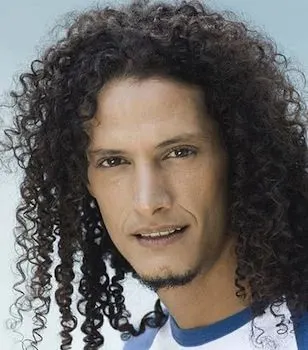 Jheri curl is one of the classic curly haircuts for men originated in the 80's. One can get this haircut to create an old-school vibe around him.
34. Two Toned Curly Hair
Using different colors is a great way of creating new hairstyles. Two almost similar colors have been used in this hairstyle to make a difference. Two-toned haircuts can produce a stunning look.
35. Bigger than Ever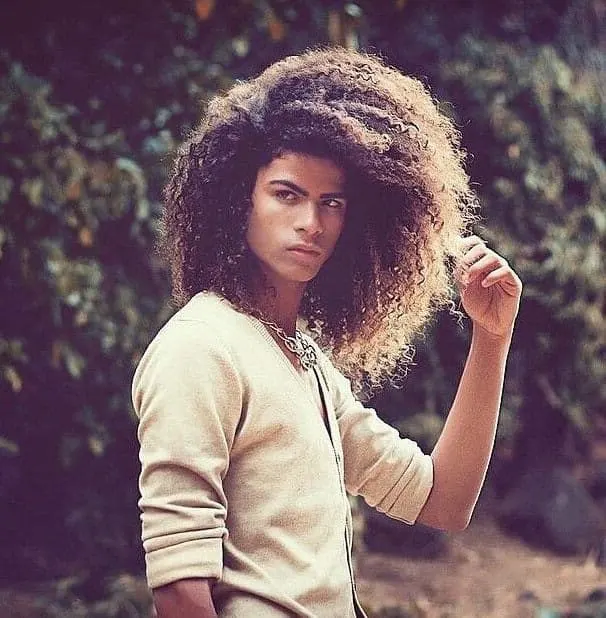 If you are a great curly hair enthusiast, this type of haircut can give a good impression about you to the beholders. Though it needs a great deal of determination and patience to get a huge haircut like this one.
36. Slicked Back Curls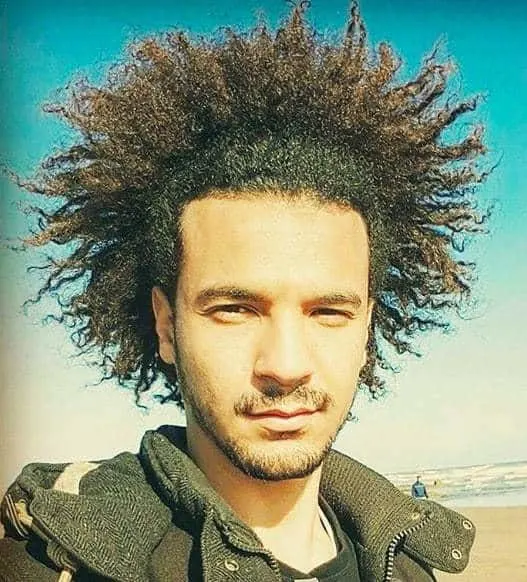 This is an interesting curly haircut for men. The hair from the front side is slicked or tied back using a hair band to make it look like a slicked back hairstyle.
37. Wavy at the Top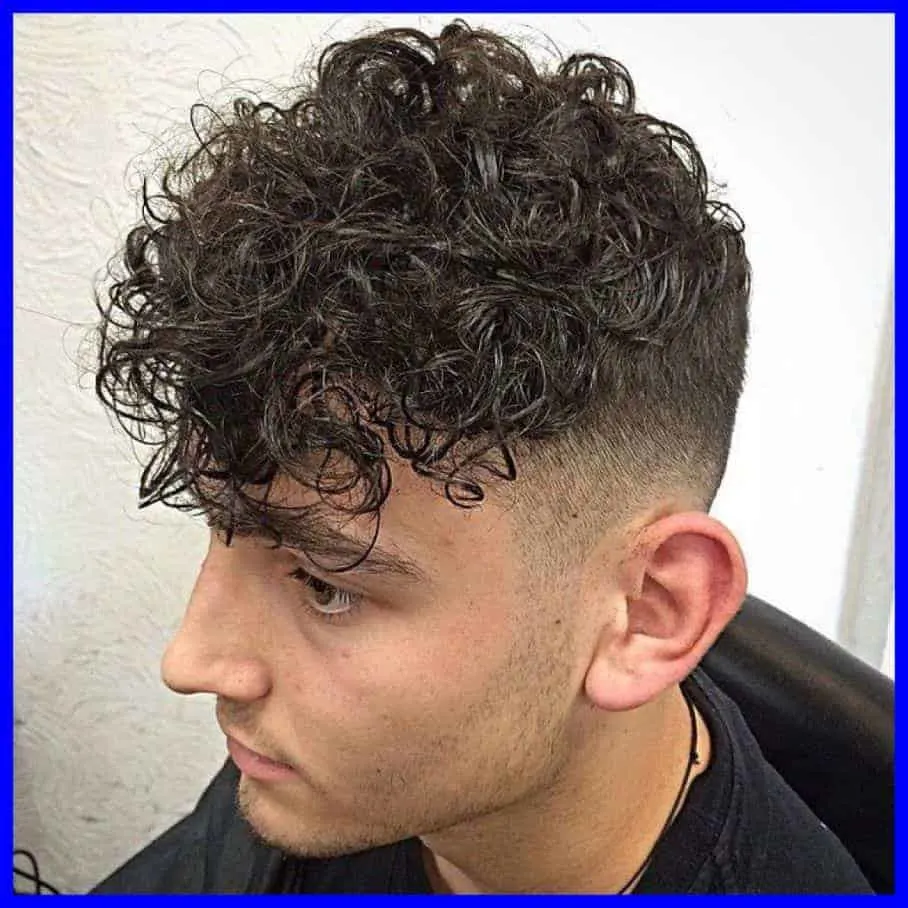 The top hair can play a vital role while getting an appealing and stylish haircut. Managing the top hair isn't that hard and it looks great with a bit of styling.
38. Awesome Curly Haircut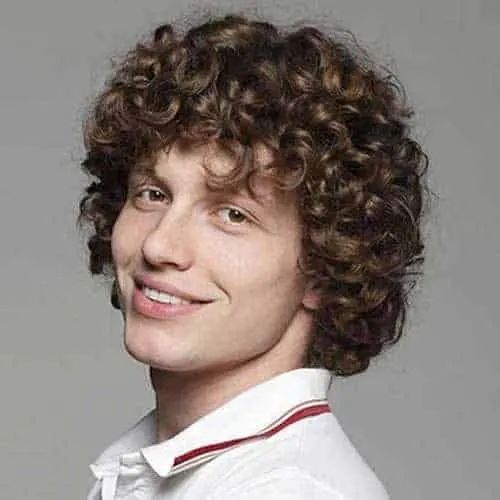 This is one of the basic curly haircuts for men. This type of hair suits the people with a long face as it helps to make it look a bit round and oval.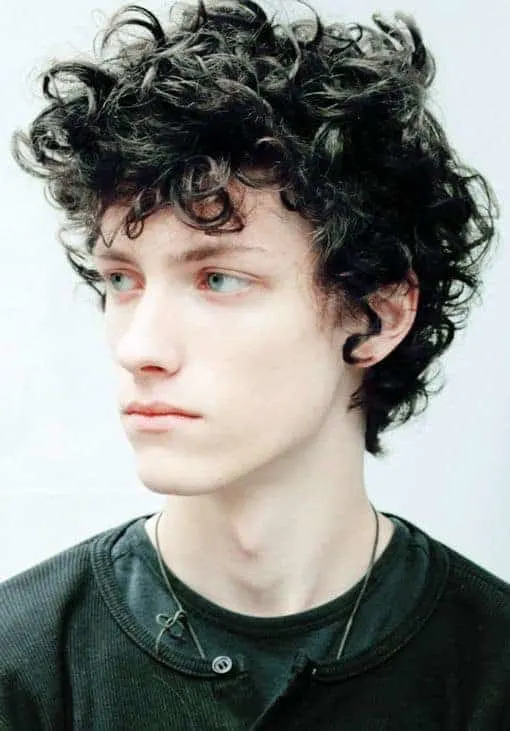 Teenagers are very much choosy about the hairstyles they are going to have. This is such a haircut which has the ability to impress the boys having a naturally curly hair.
40. Curly Hair with Formal Look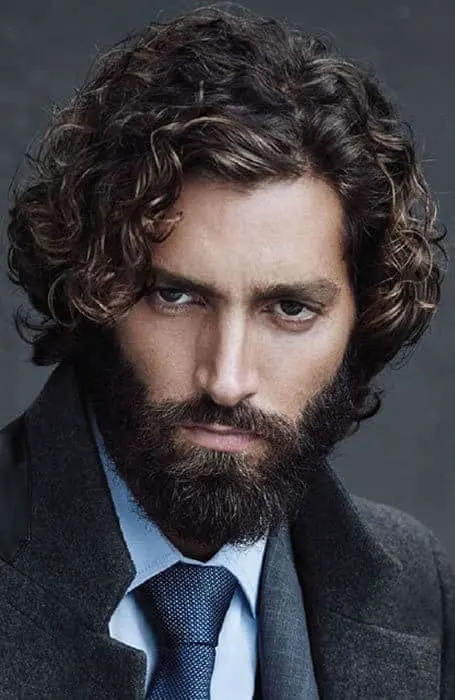 Everyone has some places to go where formal attires are a must. One can attend a formal meeting or party with this sort of well-organized curly haircut men.
41. Cool Haircut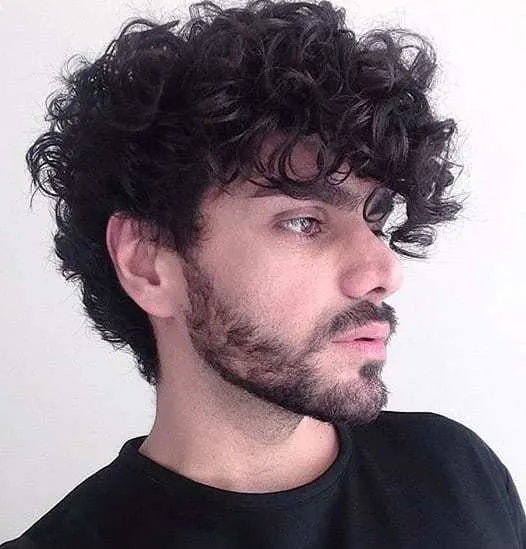 Curly hair tends to grow into a voluminous shape if it is let to grow more. In this case, let the hair from the front side grow and hang from the top. This will look stunning if you can get it right.
42. Afro Beauty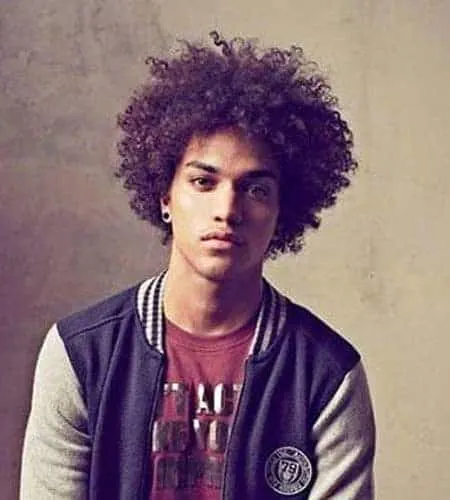 Afro haircuts are vastly famous to black people. The beauty of these people largely depends on the hairstyle. So, having a great Afro hairstyle will enhance beauty to a great extent.
43. Handsome Haircut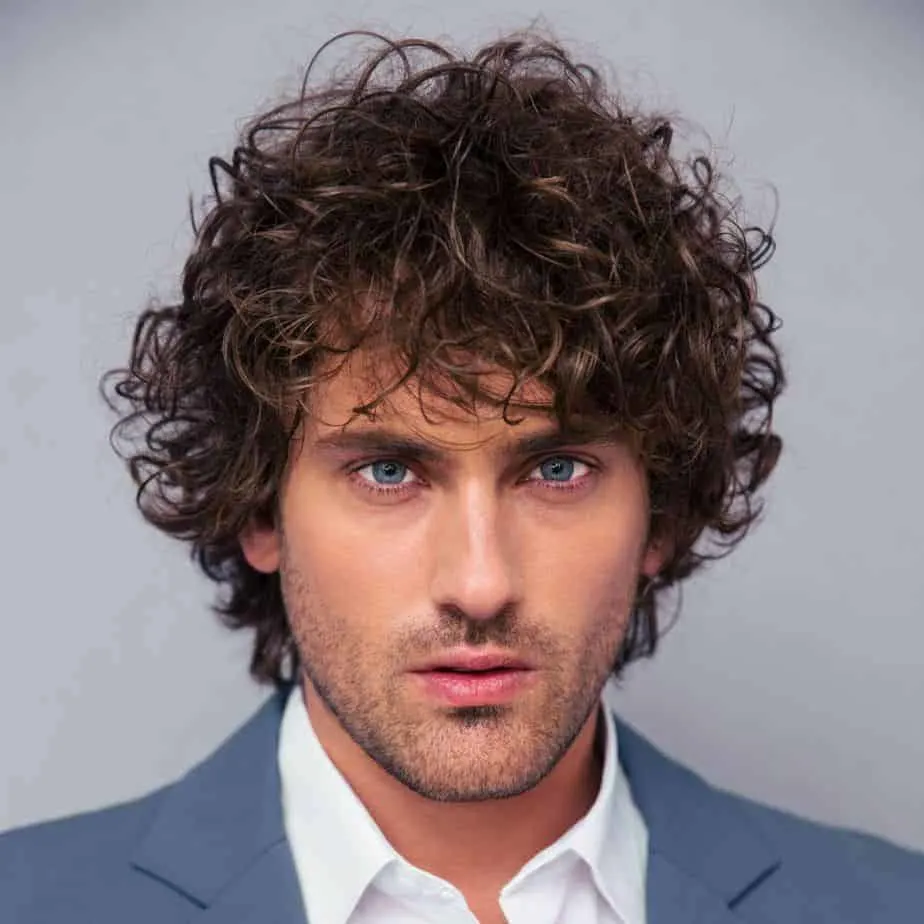 A curly haircut with a short beard can complement the look to a great degree. A head full of curly hair and a face full of stubble make the perfect pair which can beautify the look.
44. Messy Curls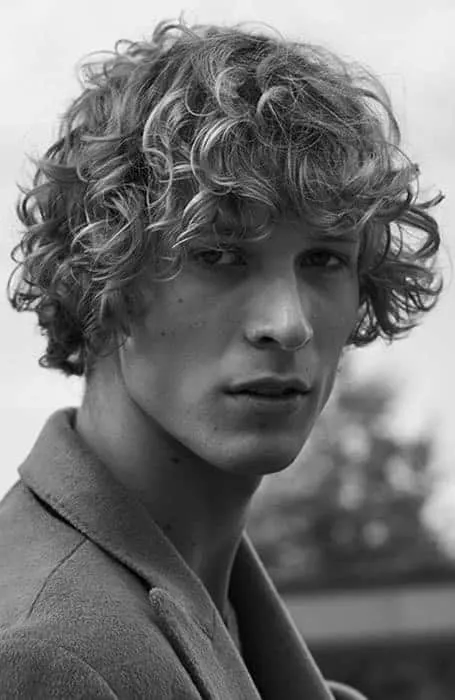 Messy hair can create a well-defined style that looks great with respect to haircuts for men with curly hair.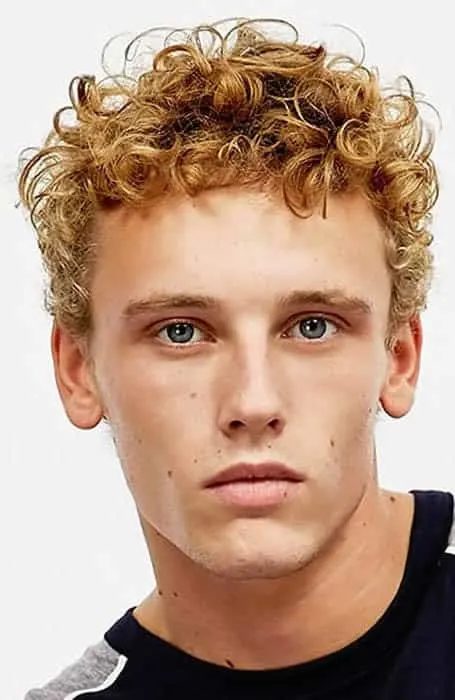 Blonde hair is naturally beautiful because of the amazing color it has. If it's associated with curly hair, the look achieves perfection.
46. Evenly Cut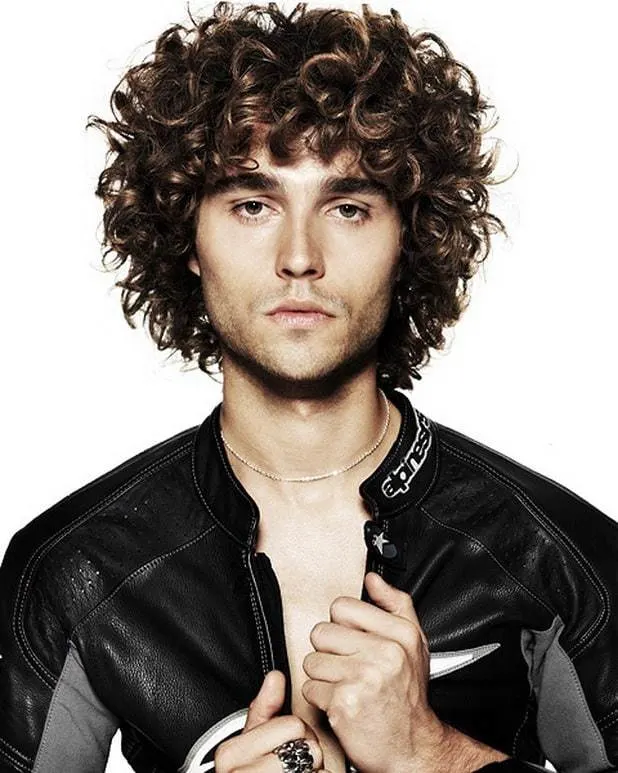 If the curly hair is cut evenly it will help you look gorgeous. Attend a good and skilled hairdresser to get the best out of your curly hair.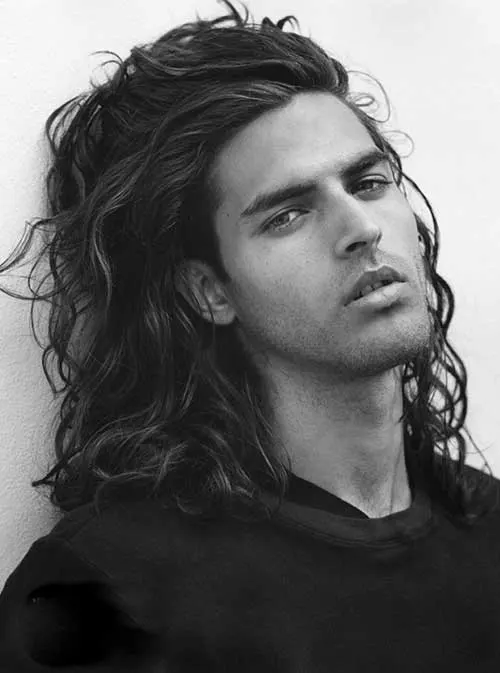 Long hair looks awesome unless it looks like an unkempt hairstyle. That's why it's important to take care of the long hair regularly for the better health of the hair strands.
48. Fade & Striping Beauty
A fade looks like an undercut if it is done tightly keeping a close connection with the skin. A stripe on the side will be an added beauty for the colorful curly hairstyle for men.
49. Wild Beauty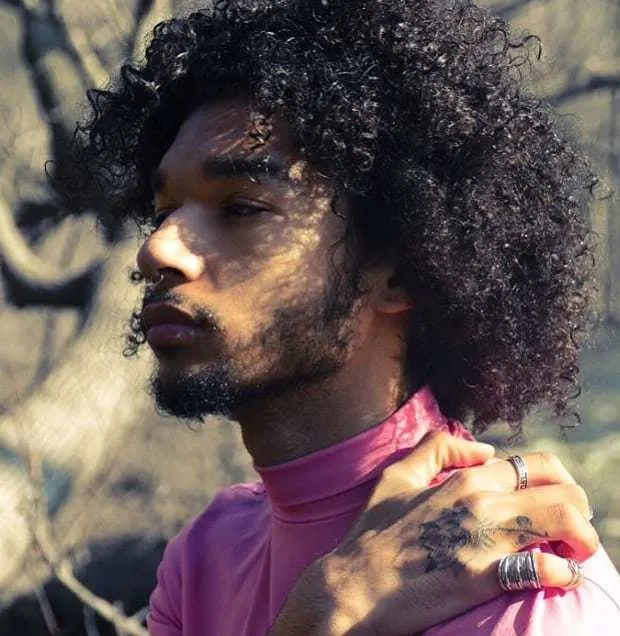 Let the kinky hair grow long and keep the beard as it grows. The natural growth will allow you to have a wild hairstyle. Some people like this wildness.
50. Haircuts for Thick Curly Hair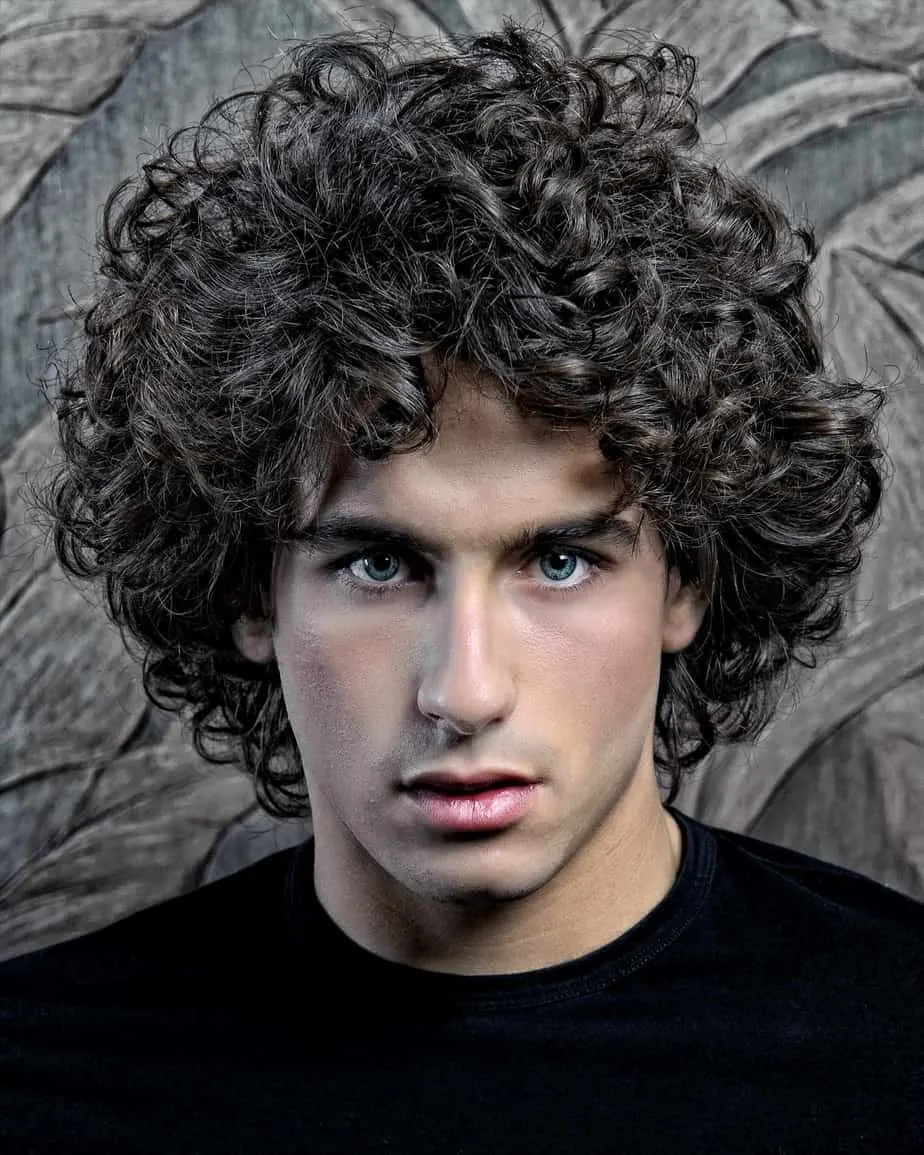 Thick curly hair is beautiful if it is taken care of perfectly. Let the hair grow long enough to make it noticeable. Apply hair styling products regularly to get the best output.
51. Hanging to the Sideways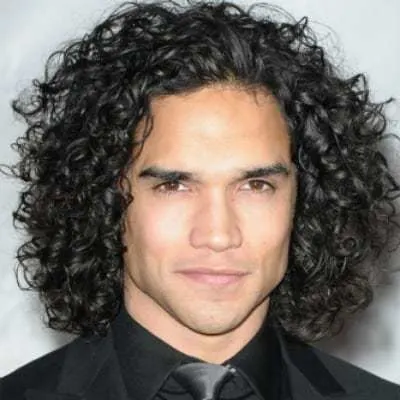 If you have long hair, managing that will be a great challenging deed. The best way to manage it is to sweep the hair sideways keeping the forehead open to be displayed.
52. Coiled Curly Hair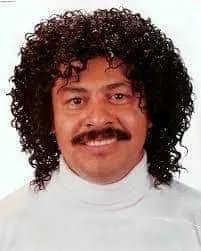 This curly hairstyle for guys has more curls throughout the length of the hair. Because of the excessive curls, it looks a bit congested.
53. Kinky All Around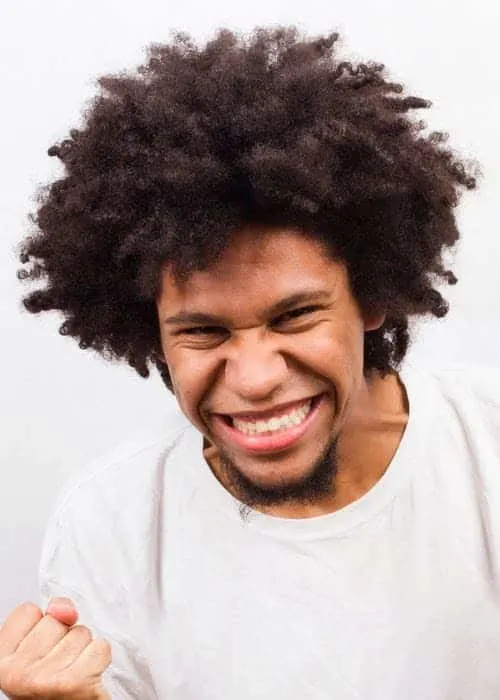 This hairstyle is for those who have naturally kinky hair. Let the hair grow big and voluminous then associate it with a goatee beard.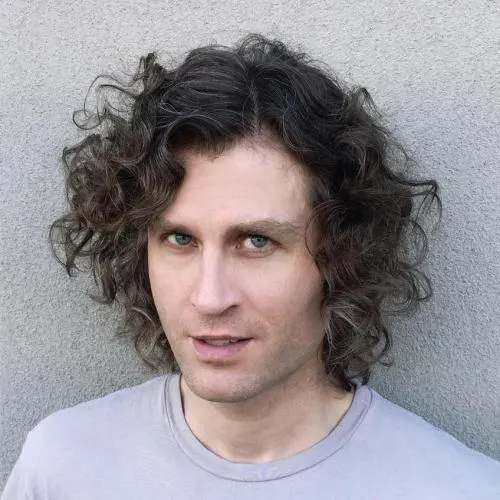 One of the most common hairstyle techniques is parting the hair to any side or at the middle of the head. A side-parted curly haircut for men will undoubtedly make you look better.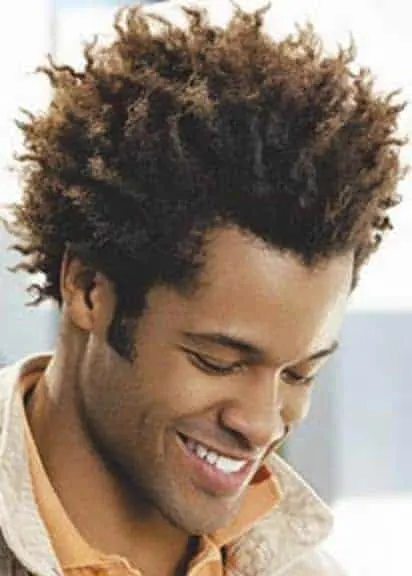 Spikes are a common way of styling hair. One can apply spikes to his curly hair to make it look more gorgeous.
56. Tiny Curls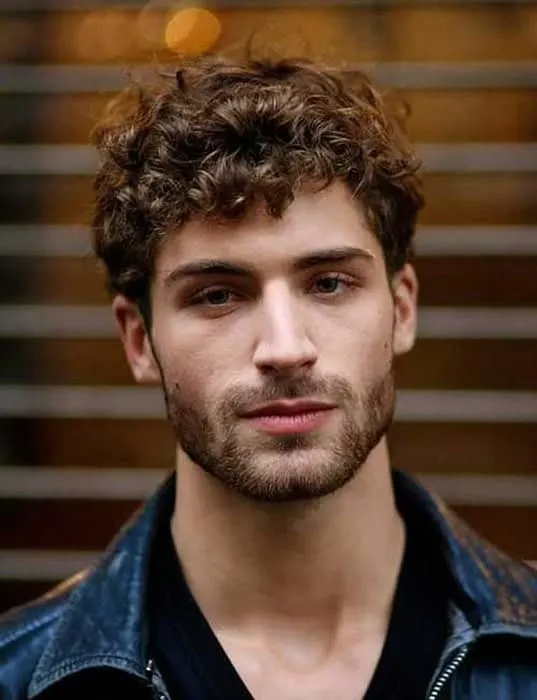 This is a special kind of curly hair. The curls are so tiny that a small amount of hair consists of so many curls. A full stubble will look good with this type of haircut for men with curly hair.
57. Glamorous Curly Hairstyle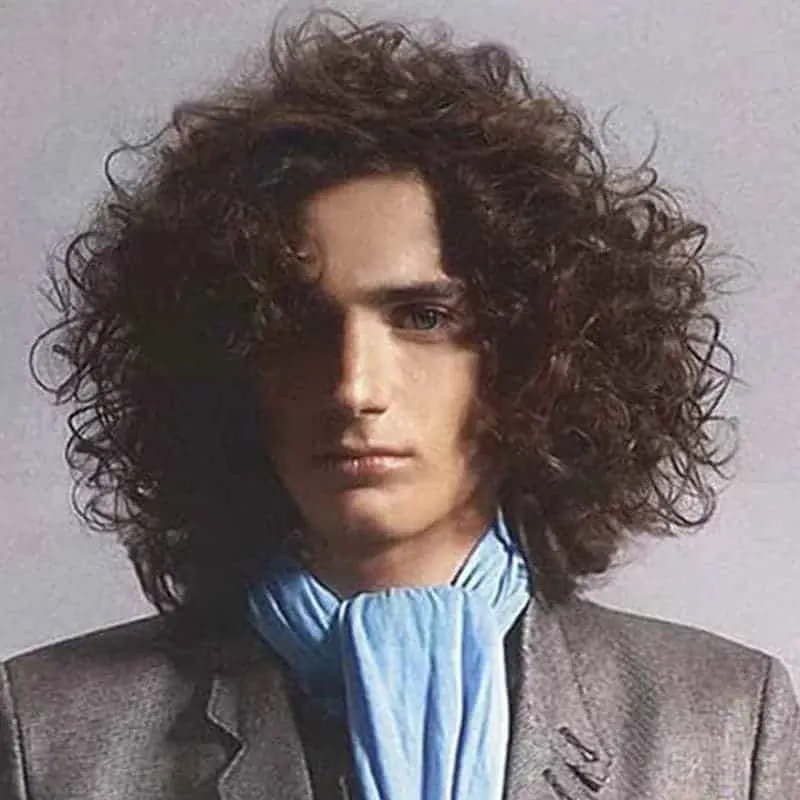 Creating puff while designing hair is a unique way of styling hair. Let the hair grow long and make puff to make it look like a side puff hairstyle.
58. Abundance of Hair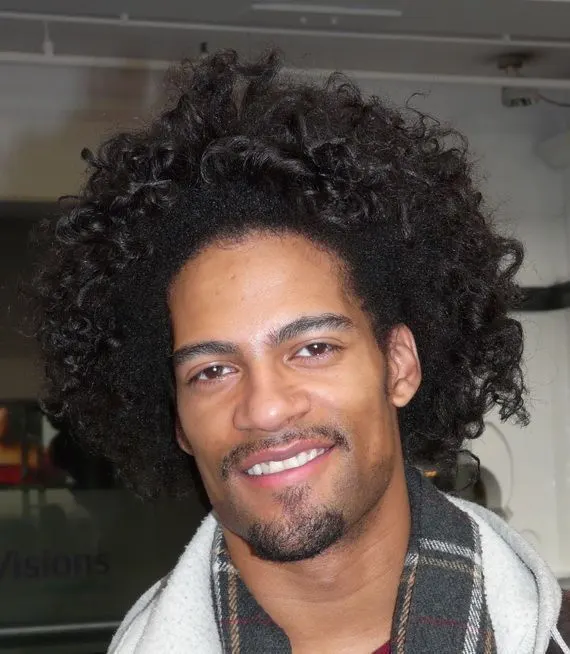 If you have a good amount of kinky hair, it will look extra large and voluminous once it grows long.
59. Messy Bangs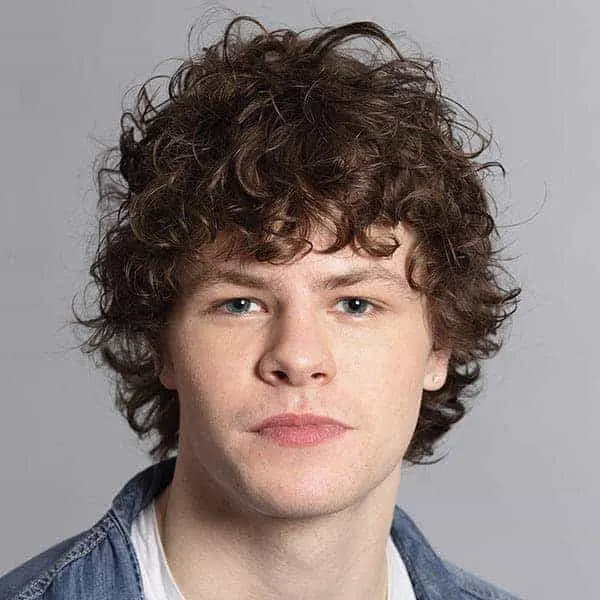 Curly hair can be kept messy yet may look stunningly beautiful. It will look more beautiful if bangs hairstyle is associated with this haircut.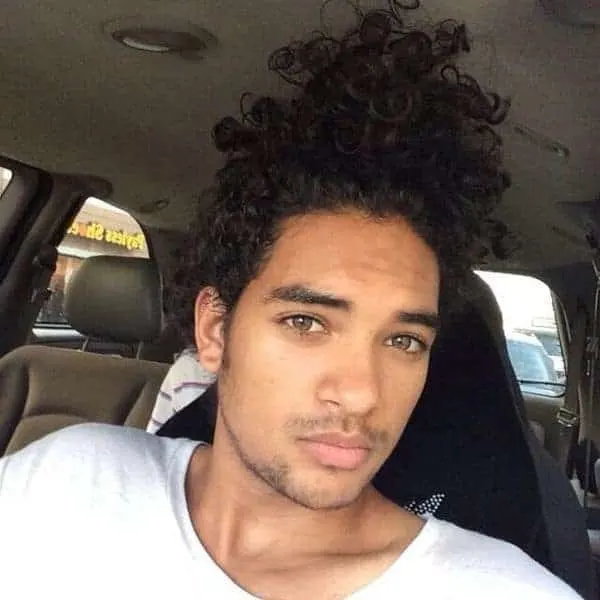 Make a difference in the realm of haircuts for curly hair men by making a man bun using the curly hair you have. This is a distinctive hairstyle which can help you stand out from the crowds.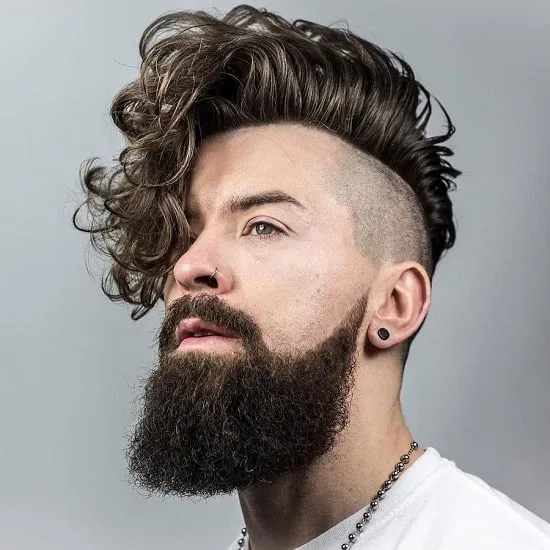 If you want a decent and yet spicy hairstyle, this side shaved curly hairstyle for men is the choice of the night! Make an asymmetrical side partition in your hair and let the larger volume float free like bangs.
You can also comb back your hair and set them with gel. The choice is yours! It depends on the type of event you are going to. Tonight, make the chics swoon!
62. Up and Top Curls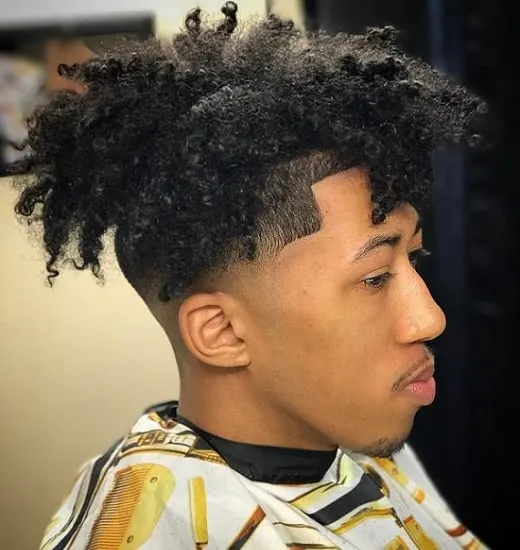 Most of the men with curly hair tend to manage them by keeping them low and short. Now, in addition to the long curly hairstyles mentioned above, top and up curly hair are also a creative avatar to have. You can have a hair-cut like shaved sides and long top section or even tie your curls in man bun. This unique hairstyle will put you in the limelight. Tonight, stand out in the crowd!
63. Long Curls with Colored Tips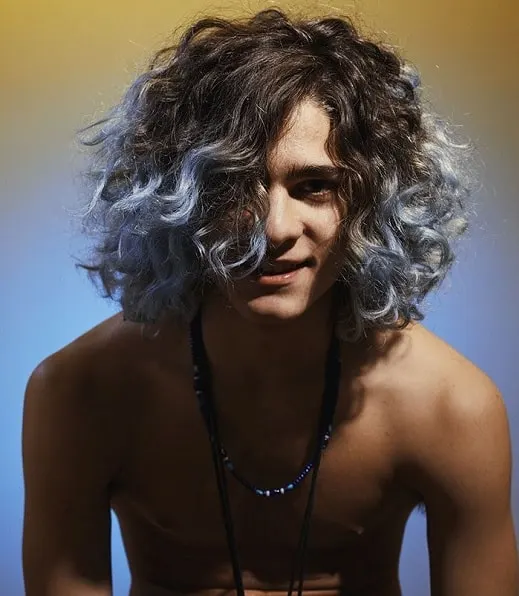 Got curly messy hair? Grow them long. Don't cut them short. Color them instead with the funkiest hair colors. This will give a bold boost to your look and make you stand unique, drawing everyone's attention towards you. Keep the hair messy.
Hence it is a low maintenance style. You can carry this buzzy curly hair style to any casual gathering and can even make it your everyday look. Time to embrace your curly hair and make the most of them!
64. Creative Curls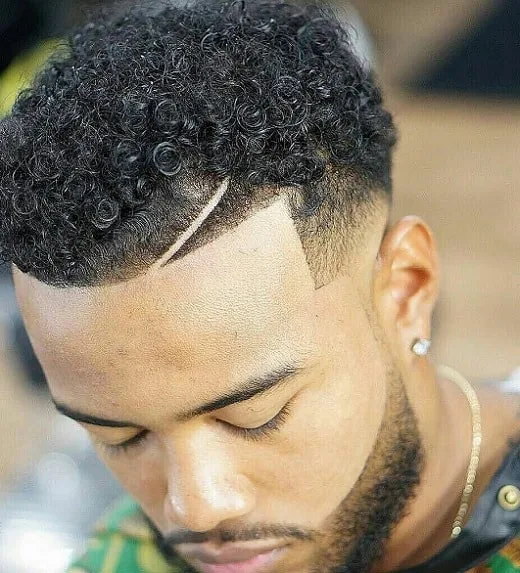 It's time for all the men with curly hair to add some style to their cut. Get a mohawk style cut with shaved sides and long top section. Keep the side hair natural. This can give you a punk look to carry wherever you go.
65. Creative Mohawk for Kinky Curls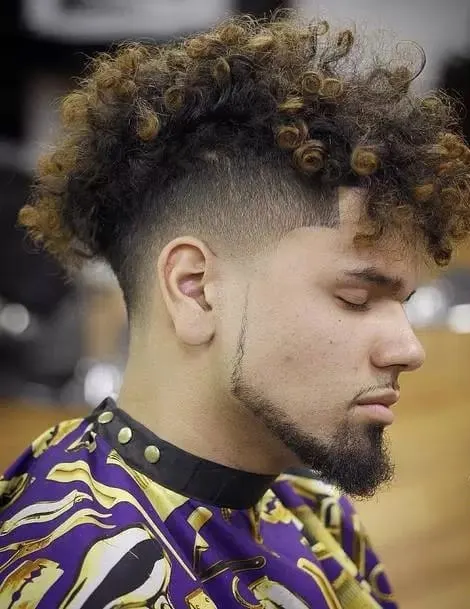 The best way to style your kinky hair and hold them in place is to cut them in a mohawk style with sides shaved. Keep your sides finely shaved into a creative square cut while top section of kinky long hair is kept as it is. You can die your hair for more hype. Pair up this curly hairstyle with a chinstrap beard style and you'll be good to go.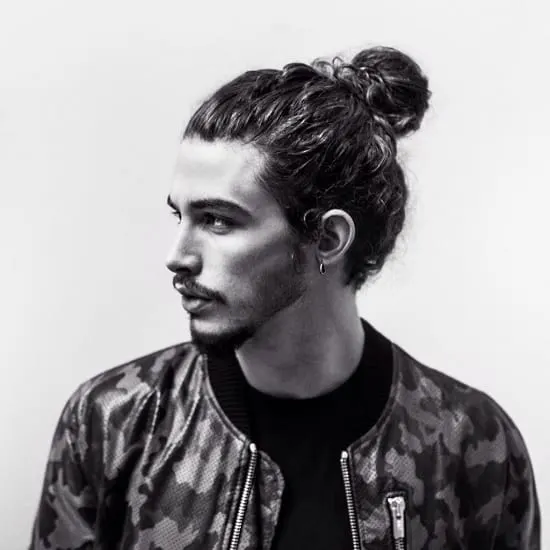 A messy top bun never goes out of vogue. Men with curly hair have a special edge when it comes to this hairstyle because they get a heavier volume of the bun. If you have Russ style hair, this hairstyle is a must-have one! Tie your hair into a messy bun with the help of fingers instead of combing them to the back. Pair up this style with a thin mustache and jaw curtain beard style.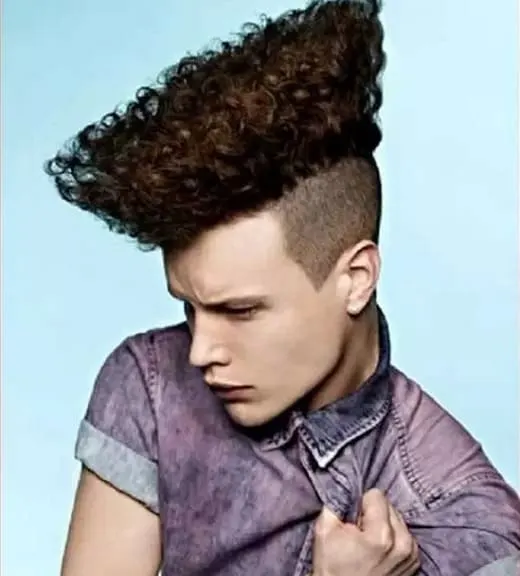 Shaved sides come with a plethora of styles. This one is unique in its own. To get this design, tell your stylist to shave your sides to medium thickness. Keep the top section of your curly thick hair long and shape them into a boat. Hold the style in place with the help of hair gel. This buzz style is unique and you need to have this before it gets common.
68. Messy Loose Curls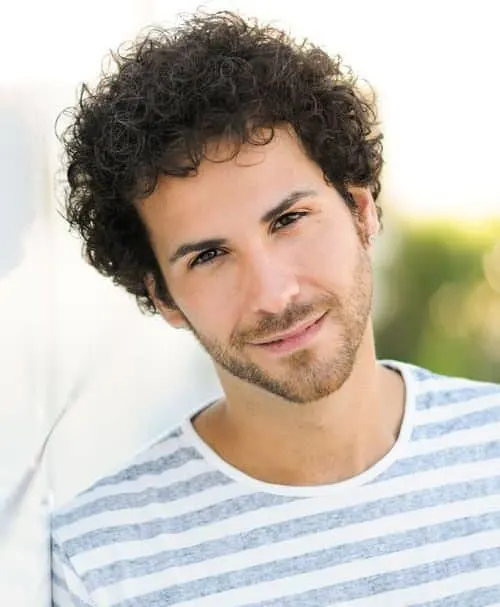 If you are a minimalist for style and need to manage your curly hair, a messy hairstyle is the best way to carry your hair. Cut your hair to medium length and run some hair gel through them with the help of fingers. No need to bomb or maintain your style.
If you have loose curls, this short curly hairstyle for men ought to be your style statement! Add some extra buzz by pairing up your hairstyle with thin beard. This is the complete casual look you can carry anywhere and get ready within a minute.
69. Curls With Waves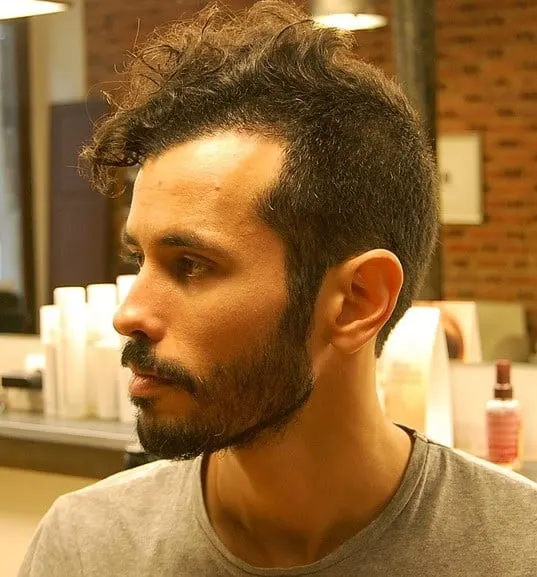 If your curly hair has more of a wavy look, this hairstyle is made for you. You will need to put minimum effort and end up having a funky hairstyle. Cut your hair short while keeping the top hair a bit longer than the sides.
Run a small amount of gel through the top section to keep the hair in place. You can make ocean waves, ceaser cut or a slight puff on your forehead and you will be ready to go.
70. Volumized Shoulder Length Curls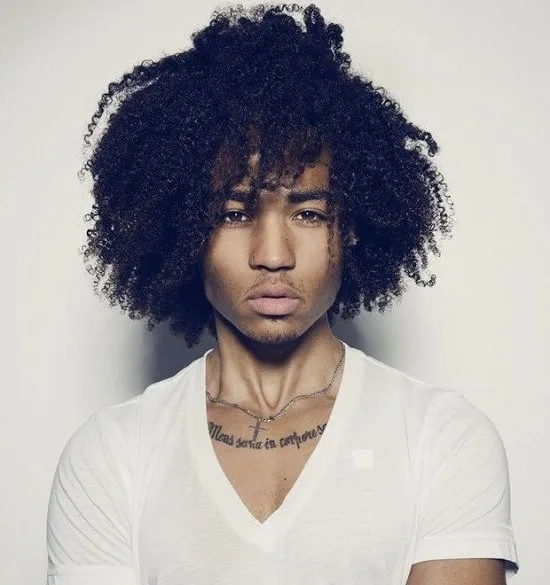 Tight curls are difficult to handle as compared to the loose ones. They got more bounce and volume. The best way to deal with them is to leave them the way they are. Keep your hair till the shoulder length and leave them to lose. Tight curls give a more congested look because they begin all the way from the roots.
#71. Curly Mohawk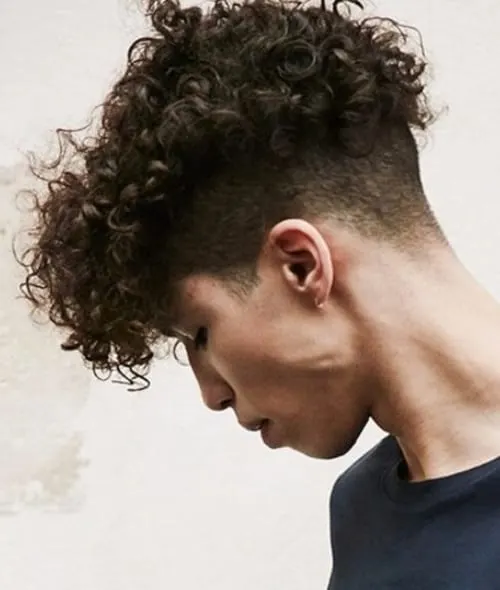 Mohawk is buzzing into the world of fashion these days. However, this style has surpassed the limits of straight hair. Add twist to it with your curly hair. Shave your sides into a taper fade and leave a good length of hair on the top. This hairstyle is good for loose as well as tight curls. Leave your hair messy and let them fall on your forehead like a puff.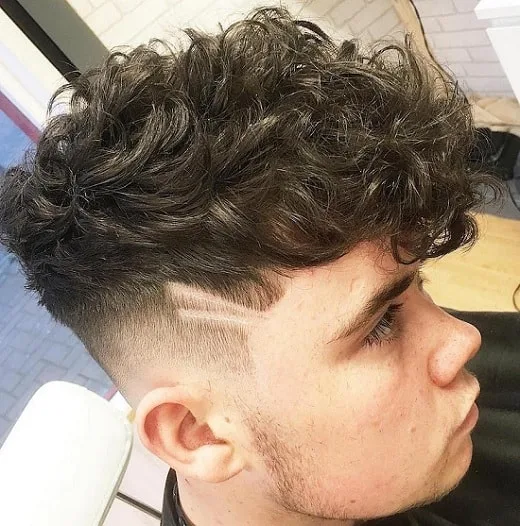 Messy hairstyles are the best ones because they are low-maintenance and easy to make. Getting a mohawk out of wavy hair is one of the most promising hairstyles you will come across.
Not only this style lets you handle your hair with ease but also gives you a fashionable look. For more creativity, add stylish cuts to your shaved sides and go sassy.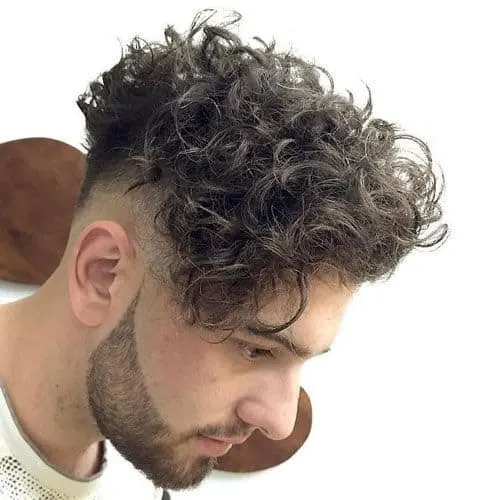 This men's curly hairstyle is yet another modification in the mohawk design. Tell your stylist to shave your sides into a taper fade while keeping you crown hair long. Keep the front section of top hair longer than the one on the back to create a flick. Make a side flip of your hair by creating a side partition. Let your flip fall onto your temple. Compliment it with a neatly shaved beard.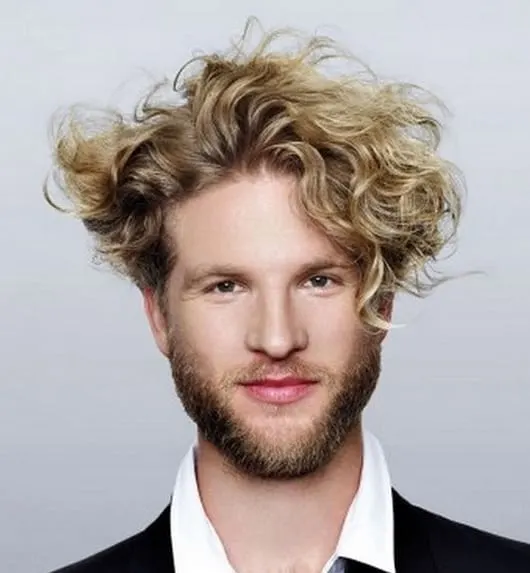 If you have wavy hair and want to embrace them as it is instead of cutting them into some "not your thing' funky style, this avatar is definitely yours to carry. This is a casual office style you can take anywhere you want. Grow your hair to a medium length and set them loose to fall freely wherever they want. Pair your hairstyle with a medium thick beard.
#75. Tight Curls with Forehead Bangs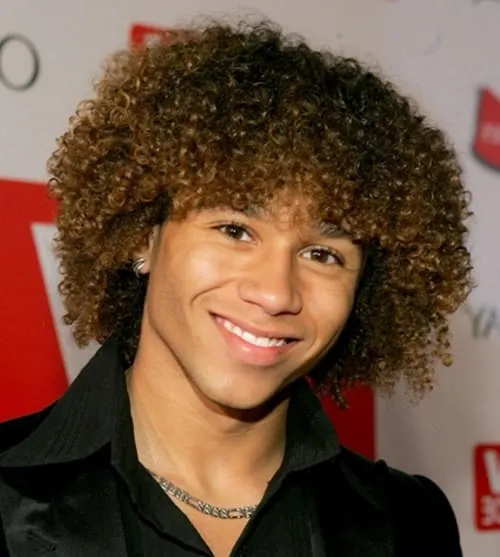 Nothing can beat the tight curly afro style with forehead bangs. No need to hold your curls in a ponytail or cut them short. Keep your hair just below the ear length while cutting your front bangs short enough to fall on your forehead.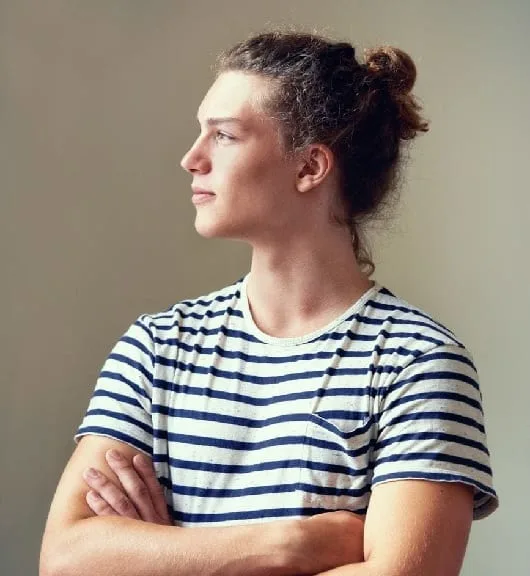 Frizzy hair might sometime act very stubborn. However, a messy bun knows how to handle the frizz. Comb back your hair tight and tie your hair into a messy top knot. You are good to go!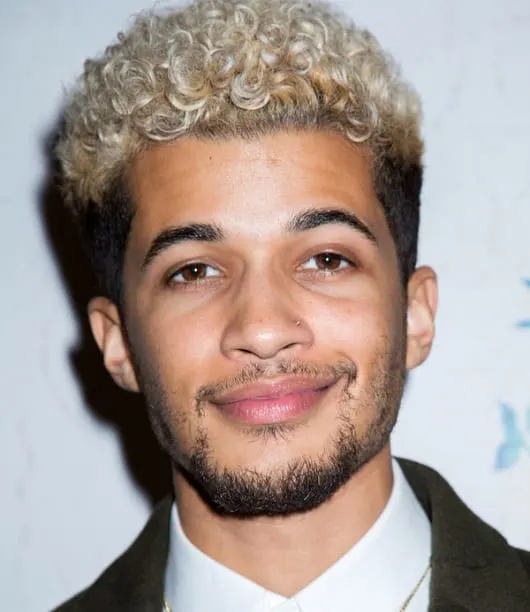 Neat and short curls make the road towards a decent hairstyle. Cut your hair short and die your top hair in contrast with the side hair. This will accentuate your curls. You can use colors like caramel or blonde.
#78. Punk Hair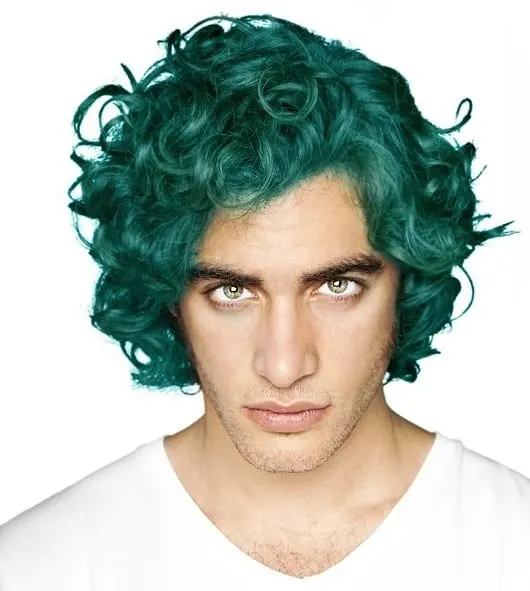 Why color the sections of your hair when you can color them all? Funky colors like green and burgundy. This can give you a very hypnotizing look. Create a side partition in your hair and set your hair loose. For extra creativity, you can use eye lens which go well with your hair color!
#79. Layered Died Top Afro with Shaved Sides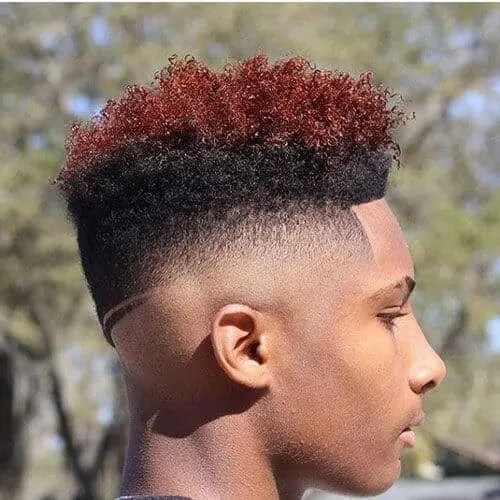 This unique hairstyle for curly hair men gives an ant look. Shave your sides with creative lines while keeping your top hair dense and long. Die the upper layer of your top locks with contrasting color to accentuate your look.
#80. Creative Lines and Beard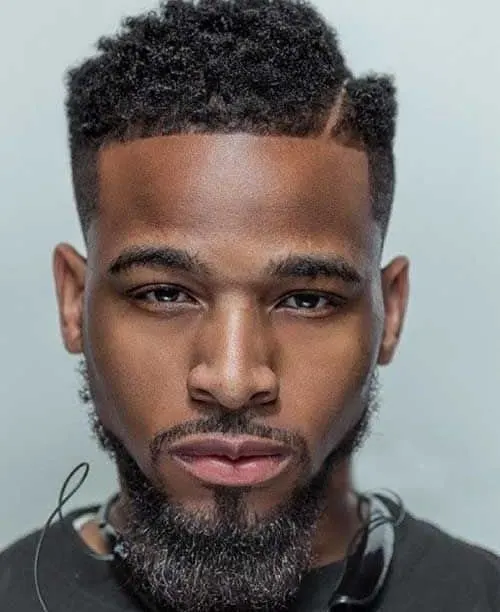 The best way to handle an afro is to cut it short. Shave or hair to a medium length while putting your creativity to it. Create a side partition with a shaved line. Add further boldness with a beard.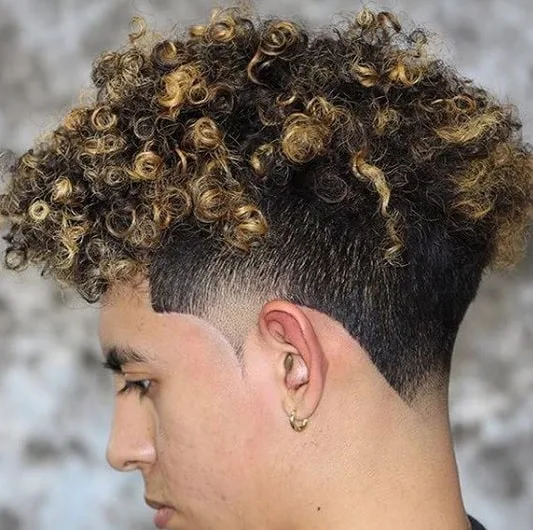 This is a very bold curly hairstyle for men to carry. It's a 3 in 1. You cut your hair into a mohawk style with shaved sides and die your locks with a bold color like caramel. Keep the look messy for an additional X-factor.
#82. Half Bun
This is classic Post Malone hairstyle with shoulder length loose curls/waved and a half bun. This style helps you hold your hair in place without compromising on style. Add some twist with a thin mustache and goatee beard.
#83. All Grey Curly Shaved Sides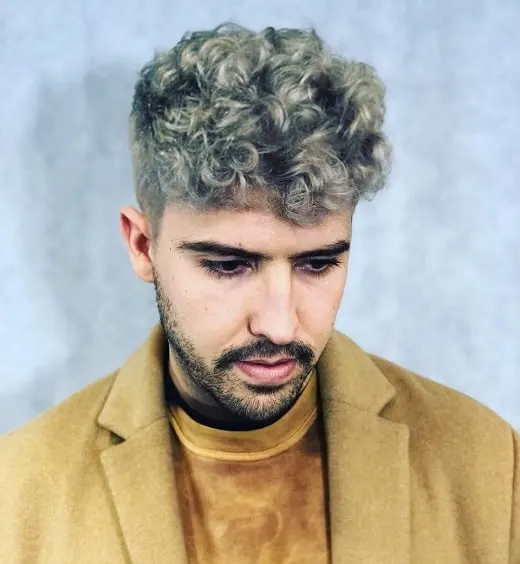 Grey hair is a very bold look to carry, especially when you are not old enough for it! However, choosing the right shade and really hype up your hair game. This time, die your hair all along instead of contrasting the top hair with sides.
#84. Wavy Mohawk with Arab Beard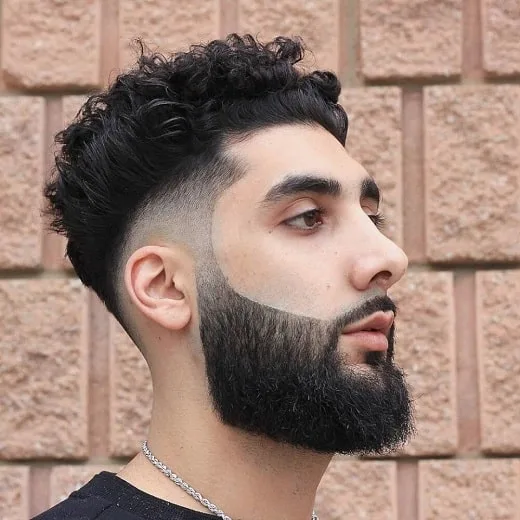 We tend to oversee the importance of beard when it comes to hairstyles for men with curly hair. However, lately, a beard has been used to hype up the style game. Getting a curly Mohawk is good and pairing it with a finely crafted beard is best!
#85. Military Inspired Undercut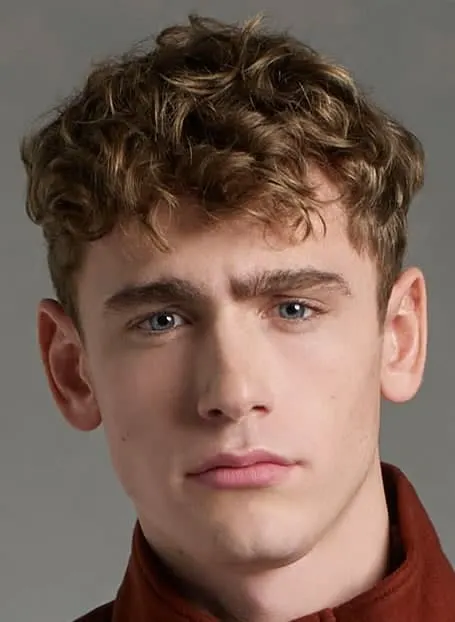 This is a fantastic style to fic your waves/curls on the top and keep them manageable. This is a military-inspired hairstyle but is made with wavy and curly hair. This will give a multi-dimensional look to your hairstyle.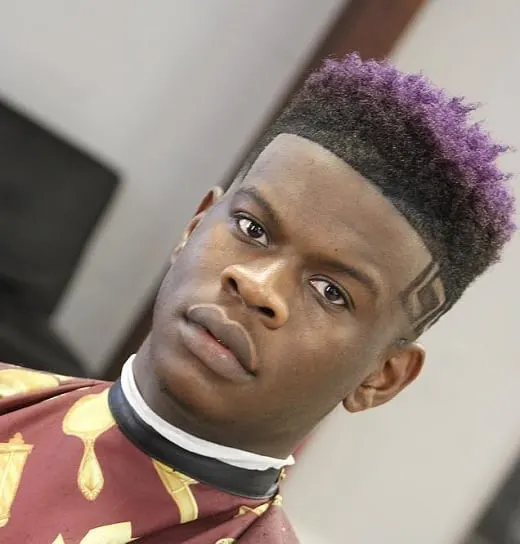 This is indeed one of the most creative afro hairstyles one can come across. Crown cut with a fade on the sides while keeping the top part dense enough to accentuate the die and creative mathematical designs on the temples, all reflect a very thoughtful hairstyle for someone with the unruly afro.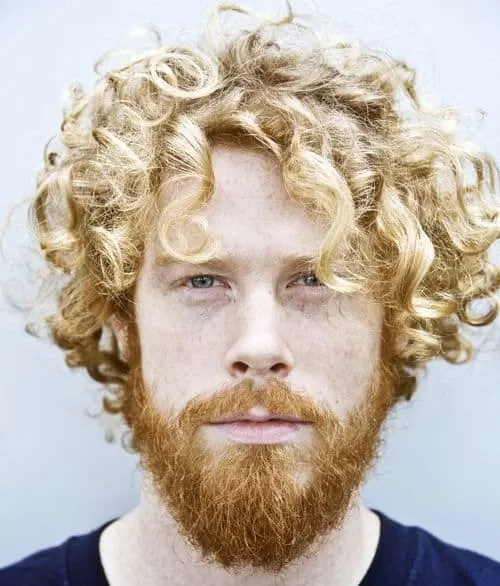 A shiny golden die all over is even better than a redhead look. A very few people go for such bold looks. However, if you have curly hair and a thick beard, this goldie look is made for you. Use a good quality serum to add shine to your hair.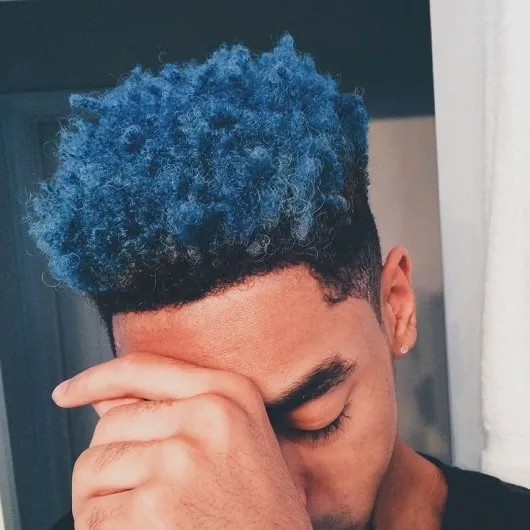 Hold your unruly afro with an undercut style. This will keep the dense hair on the top. For an added hype, die the top part with blue and you're ready to roll.
#89. Textured Short Honey-Comb Curls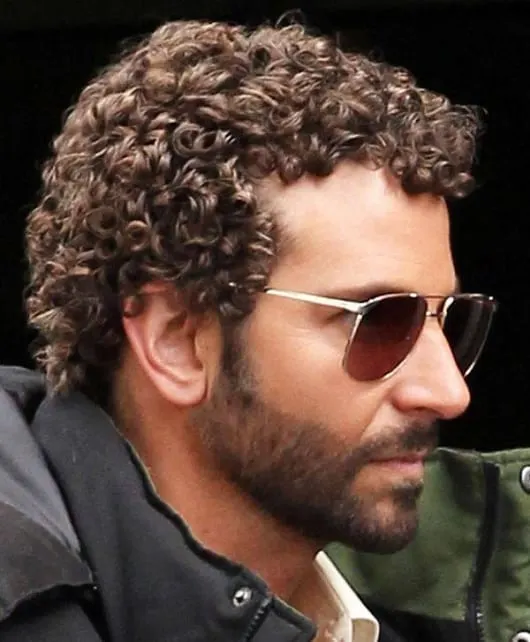 These curls are very unique to have. With such a natural glossy texture, these curls require minimum effort. Just keep them short and carry them with your everyday look. Use high-quality products to maintain texture.
#90. Shirt Tight Curls with Fade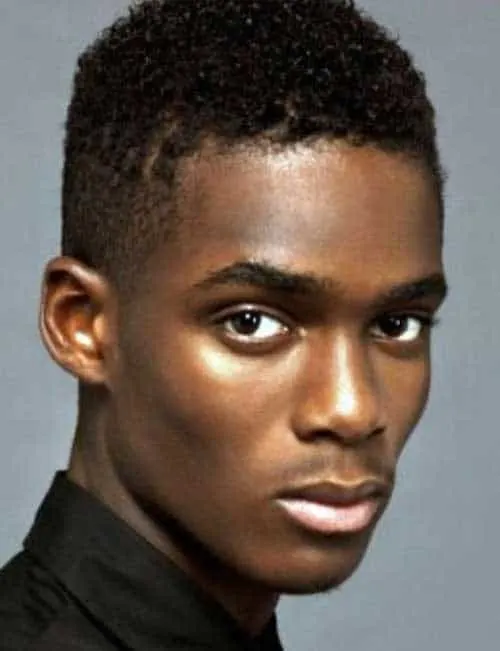 Nothing works better than an afro cut into a fade. This short curly hairstyle for men requires minimal maintenance and gives you a neat look.
#91. Messy Curls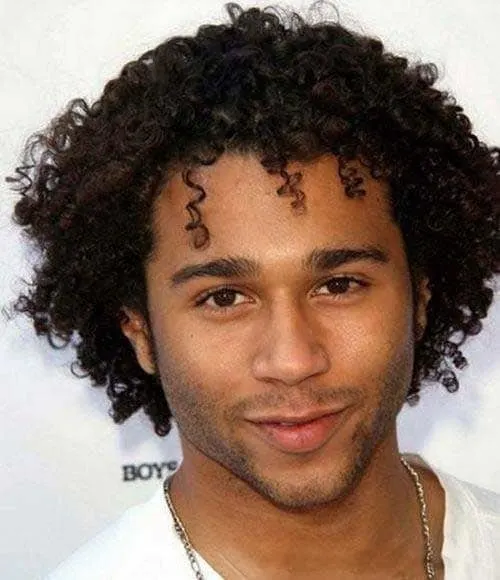 If you have got messy curls, it's time to make a style statement out of them. However, this is a bit trickier than it actually sounds. You need to hold the curls in place with a good quality styling gel or mousse. This will add dimensions to your hair.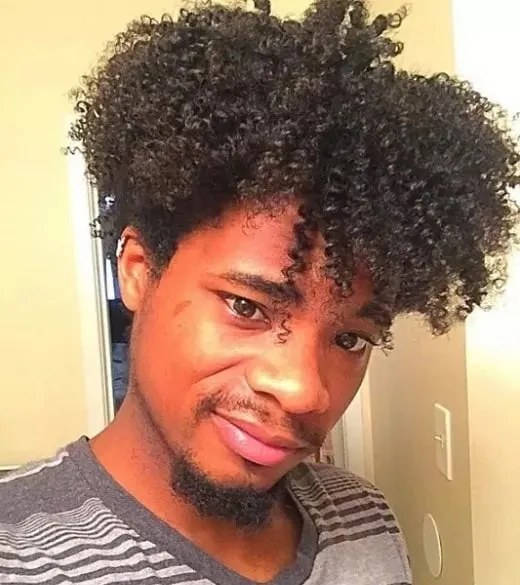 Dreadlocks with extra added bounce and texture is a very dramatic hairstyle to carry. Tight noodle curls with the maximum volume on the top look very artistic and volumizing.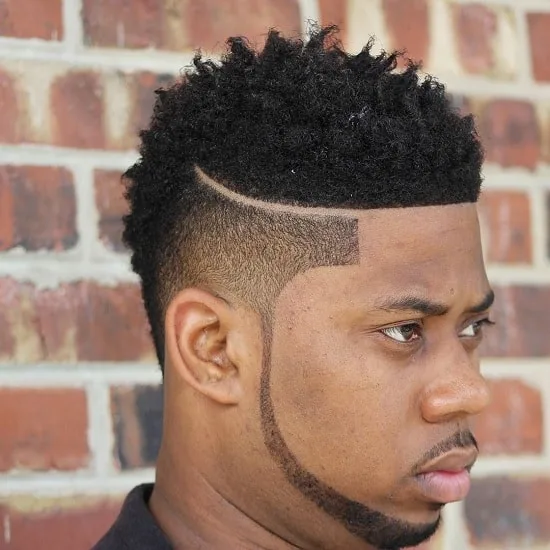 Faded afro adds a twist to the mainstream high-volume afro and is easy to manage. You can shape it into a mohawk with shaved sides, accentuated with creative lines and fine beard.
This is one of the finest looks that a man with curly hair can carry. Grow your hair to the shoulder length or below and blow dry them into volumized, smooth waves. This gives a very royal look.
#95. Dramatic Roller Curls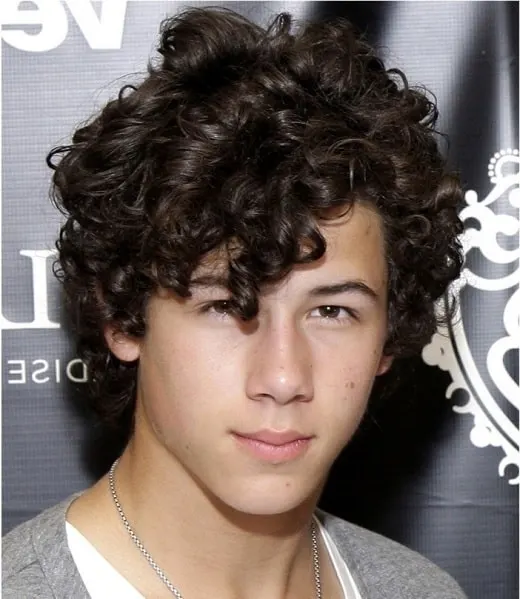 These curls have a bigger diameter as compared to the usual curls. Therefore, these curls look less congested and give a conventional dramatic look. Add gloss and texture to your curls with a good-quality mousse.
#96. Super Messy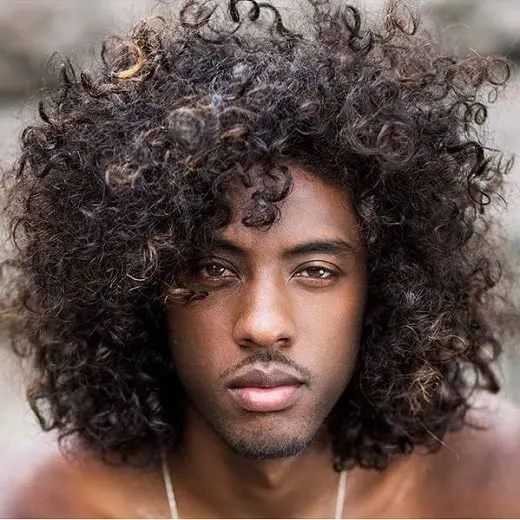 First comes messy and then comes super-messy. Only a few can handle this super bold look. This curly haircut men requires a lot of effort to make and maintain. It's better that you use a very good quality styling serum to hold the mess in place. This style has a specific sex appeal!
#97. Rainbow Afro Mohawk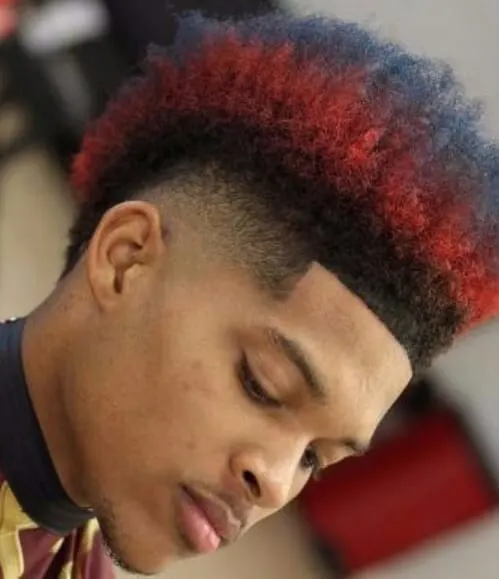 A crown shaped afro mohawk with shaved sides and died into rainbow colors takes creativity to yet another level. This men's curly hairstyle lets you play with colors and volume.
#98. Blue Mess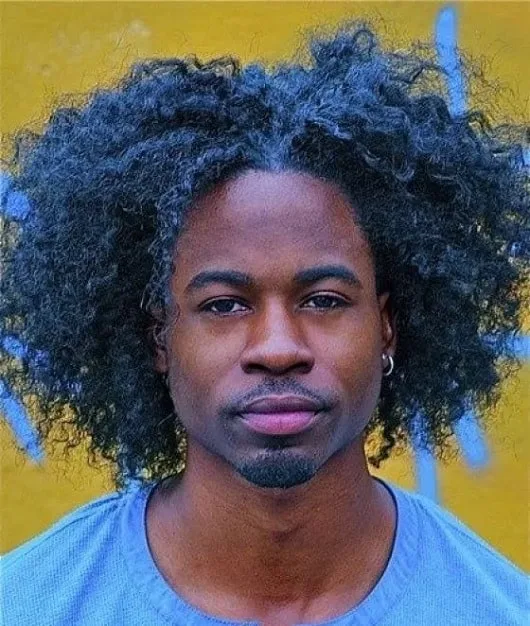 Why not add some spark to your messy curly hair? Grow your curls long and dye them blue for an added effect. Keep the curls in place with any gel or spray.
#99. Side Parted Short Waves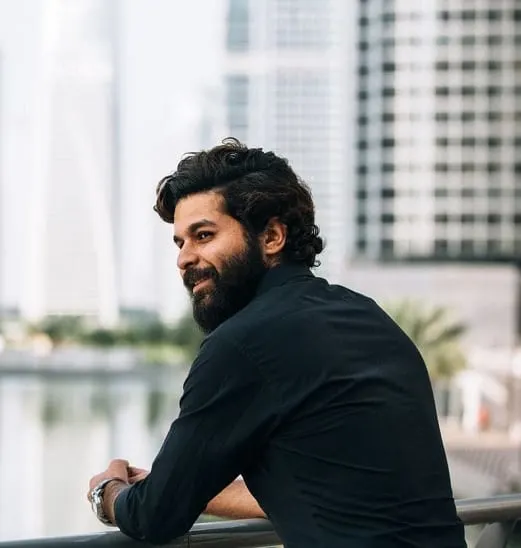 For a gentleman with tight waves, the side-parted hairstyle is the best style to display. This gives a neat and decent look which goes really well with a formal avatar.
#100. Asian Afro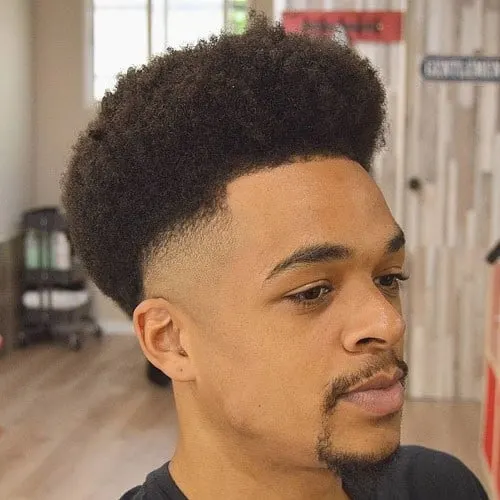 Asian afro might sound like a completely new term. Although self-made, it is a legit hairstyle for men with curls who wants to carry afro in the easiest and dramatic manner. This style not only allows you to keep your afro in place but also lets you create a hairstyle statement of your own.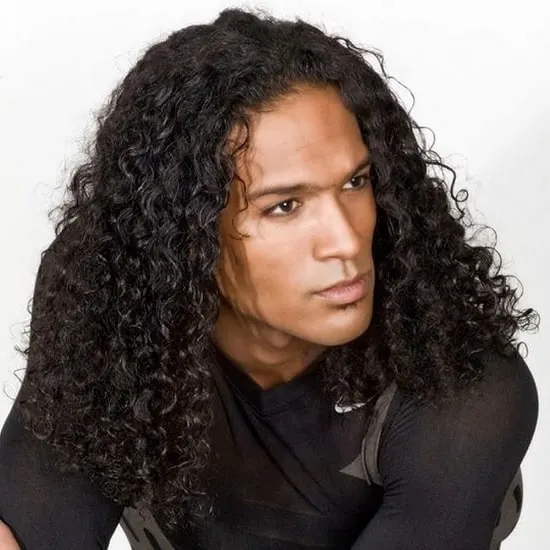 Glossy noodle curls in a long hair is a very sexy hairstyle only a few men can do justice to. Add texture to them with high-shine products. This adds volume and creativity to your overall hair look.
#102. Wavy Quiff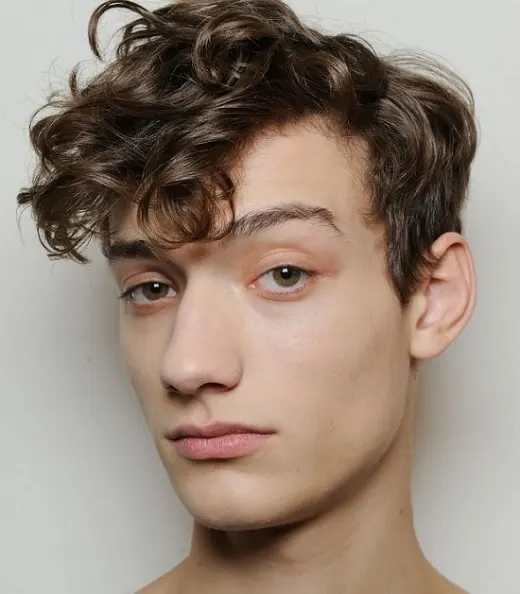 This hairstyle is good for all age groups yearning for a gentleman or a Coolio look. This lets you capitalize your hair sections with a better texture and enhanced curls. This also keeps you from putting extra effort into blow-drying your hair.
#103. Extra Bouncy Curls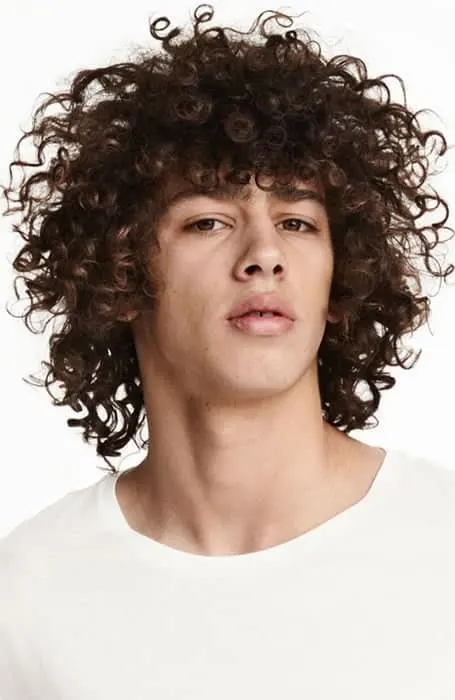 If you like to have extra dimension and bounce in your curls, this hairstyle is made for you. This is rather a messy style to carry and is good for young and teenage boys instead of an adult aspiring for a gentleman look.
#104. Extra Tight Nest-Y Curls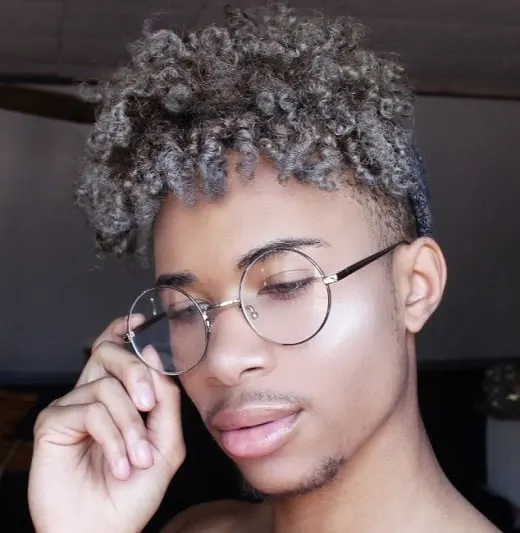 Because of being super tight, these curls give a nest-y as well as a nasty look. For added fun and hype, use funky colors to dye sections of your curls. Keep the top section heavy for a hat look.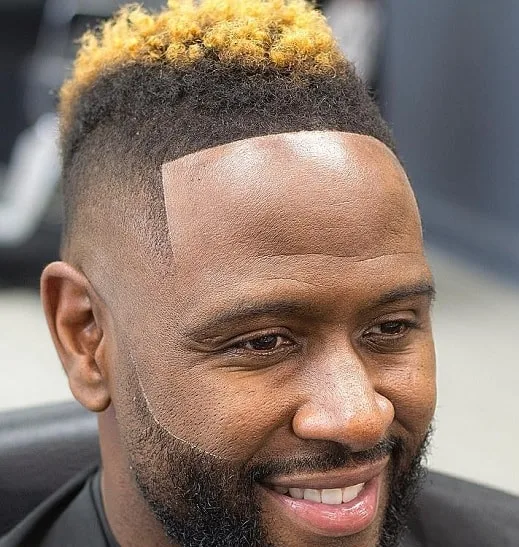 A shirt afro is a blessing to have. In it, style comes with a twist which is easy to handle. To make it even more artistic, dye the top section of hair with prominent colors like caramel or gold. With super added cuts and beard, this style is a complete YES.
#106. Super Glossy, Messy Curls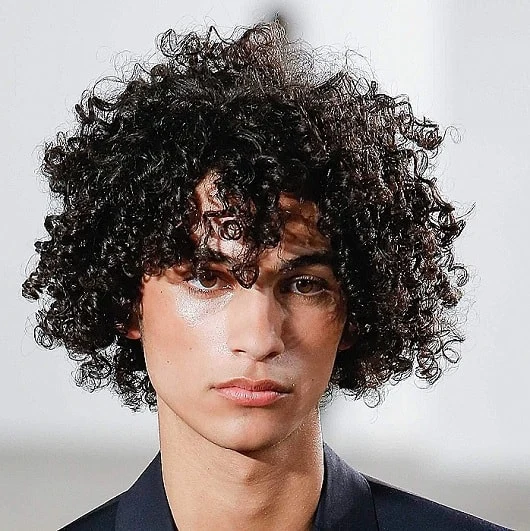 With length and mess, add extra gloss to your curls and see them compliment your look a long way. Use high-shine products to maintain the gloss and enjoy the dramatic haircuts for curly hair men.
#107. Curly Bob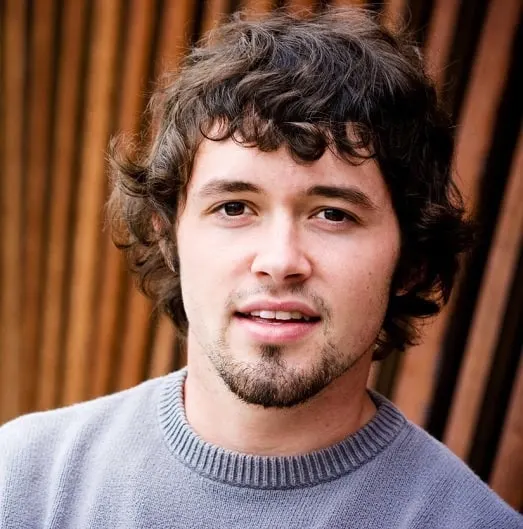 The curly bob is an easy-to-have look to carry. It is a low-maintenance curly hairstyle for men and turns out to be promising when it comes to style. Add more curls on the front section and around the ears for an accentuated look.
#108. Extra-Long Mongolian Curls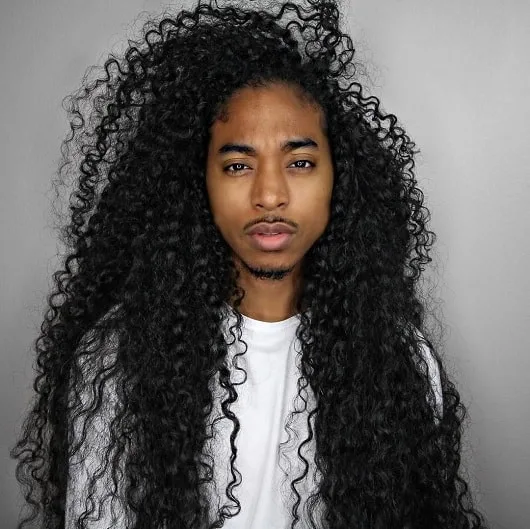 If you have lusciously thick and long hair with black glossy texture, Mongolian curls are something to ought to do. This will hype up your hairstyle game and give you a dramatic look as well.
#109. Glossy Curly Short Bob
Try this simple yet stylish curly hairstyles for guys to carry. Ideal for loose curls and wavy hair, this style lets you hold the unruly curls in place and do your chores even without the slightest discomfort.
#110. Medium Curly Bob with a Side Wave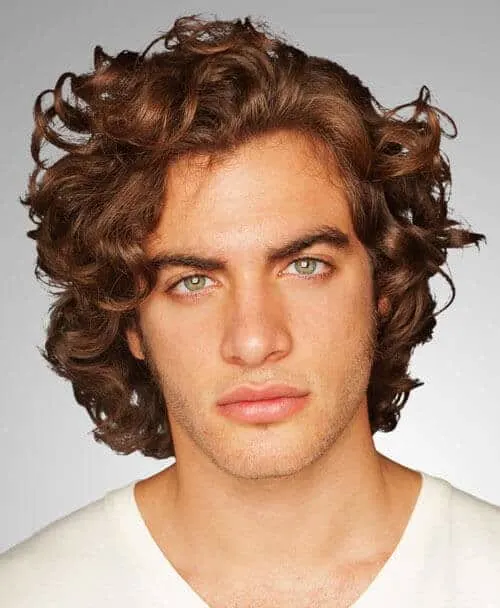 Loose curls/waves combined with medium-sized bob and side part might sound very mainstream but is the king of hairstyles. You can carry this look at almost any occasion, casual and formal.
#111. Green Shaved Spiky Afro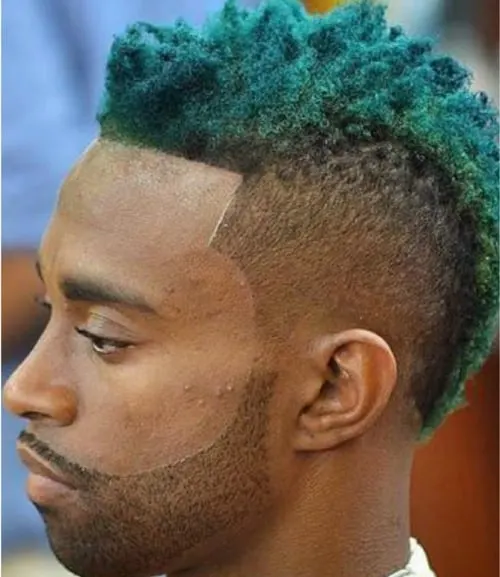 Spiky afro shaved into Mohawk style, top part dyed green and finely trimmed beard can combine to give you the sassiest look of all times.
#112. Tight Basket Curls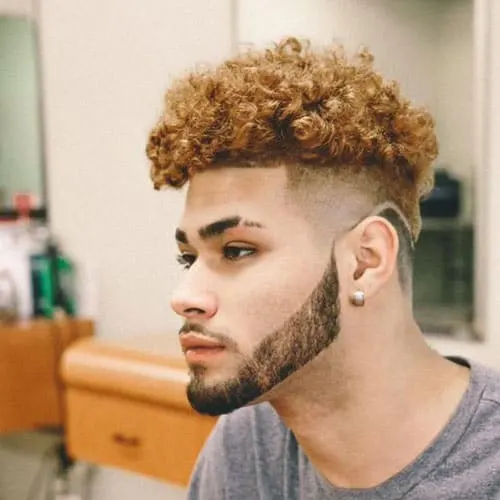 This men's curly haircut comes in three layers. One is the layer of thick basket curls on the top with a bleached look. The second layer is of shaved sides. The third layer is of contrasting black slanting beard.
#113. Shaved Cup
Hairstyles with contrasting colors have always been a sight of interest. Tight curls made into a cup design and dyed into blonde, with finely shaved sides and contrasting beard, gives a very unique look.
#114. Side Parted Curly Bob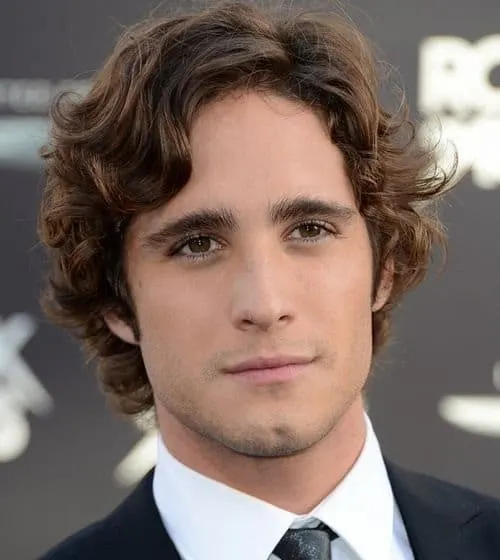 Loose curls, blow-dried into sleek waves and further combed into side part is one of the most decent curly hairstyles for men to have. Pair it up with a suit and get ready to slay.
#115. Tight Waves with a Side Slick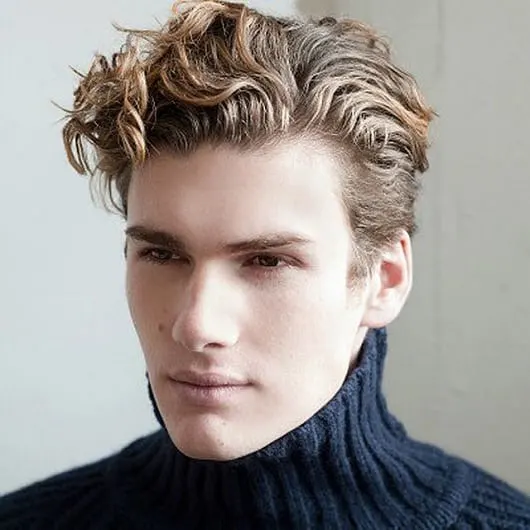 Tight waves belong to the family of curly hair. Comb them well, slick them to the side and brush hair gel through them to hold them in place. You are ready to go!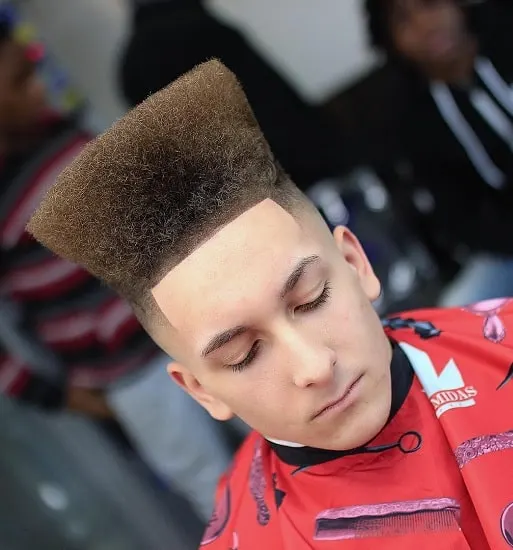 African Pharoah is indeed one of the boldest looks to carry. This is not only challenging to make but also requires high maintenance. However, this hairstyle for men with black hair is very artistic and one of the best ways to hold the unruly afro in place.
#117. Beach Waves for Red Heads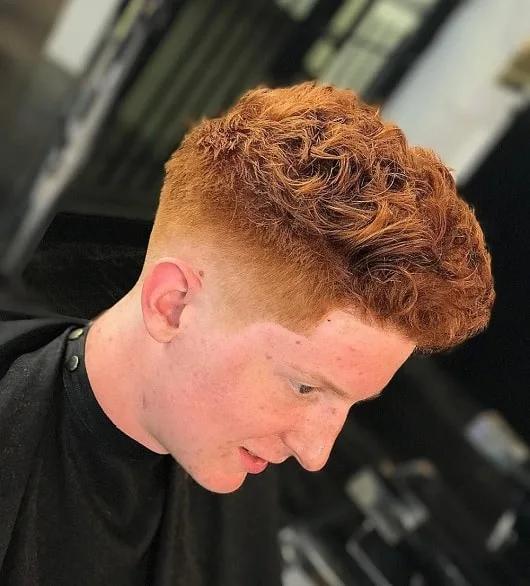 Beach waves are in vogue nowadays. Pair them up with shaved sides and golden red hair for an added style and pomp.
#118. Curly Grey Fringe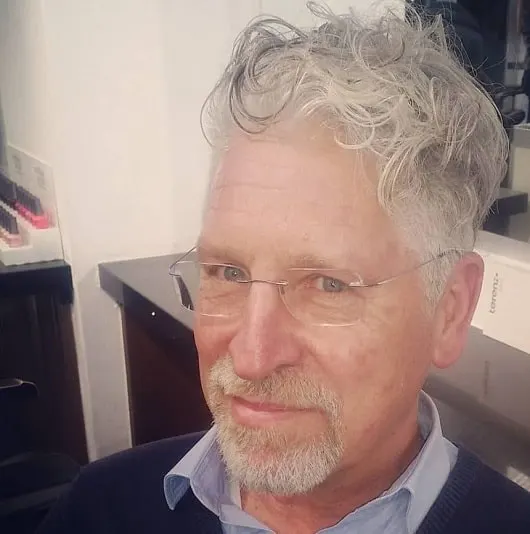 For middle-aged men who are struggling with their curly hair, a fringe is a right option. Either dye them grey or use your natural grey hair to create then easy-to-carry hairstyle.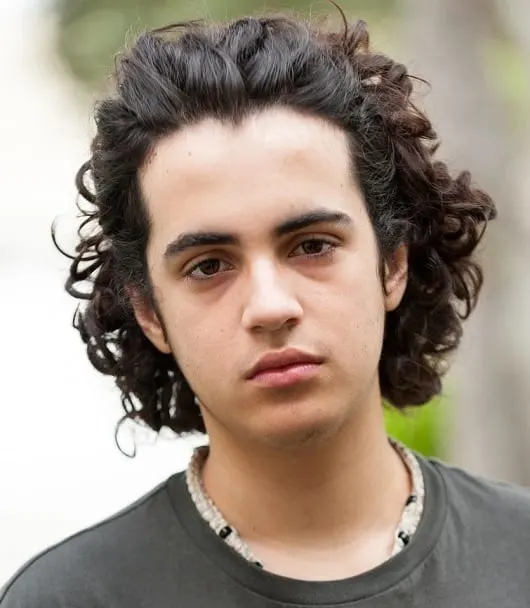 Young boys know how to carry slicked back curly hairstyle really well. Use a band to hold your hair back. This style brings fashion with comfort. Use fingers to style the hair instead of combing them back. You can add extra texture with the help of mousse.
#120. Kinky All Around
Kinky hair is indeed kinky to handle. These hair are known for their stubbornness. However, we have smartly come up with sexy ideas to style kinky hair. Grow your hair big and voluminous. Then pair them with beard for a sassy hype. The best thing about this curly hairstyle; all men can wear it anywhere, casual and formal!
#121. Hanging to The Sideways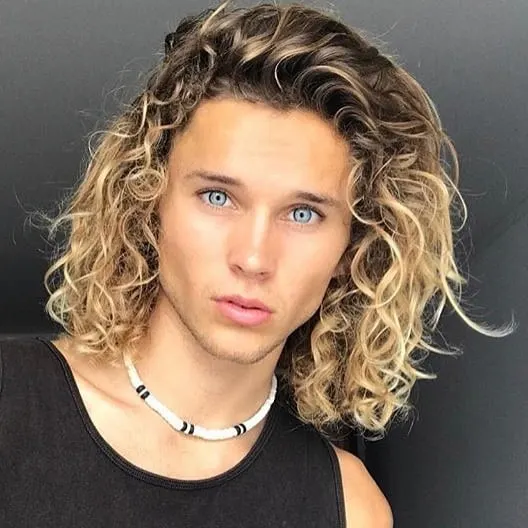 For all the men with curly hair who want sexy hairstyles but dread managing them, this is one of the simplest and buzzy hair-style. Simply sleep your curly hair on the sideways leaving your forehead open. You can also use some hair gel to fix the hair. This curly hairstyle for guys is a versatile one and can be carried anywhere.
#122. Coiled Curly Hair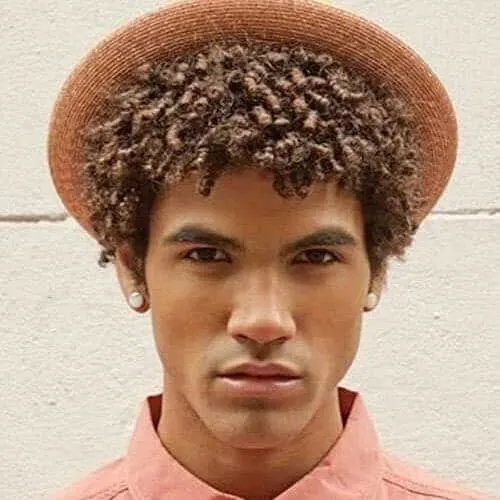 The coiled hairstyle is a bit bold hairstyle to carry for men with short curly hair. This looks congested because the curls are tightly packed together and are present throughout the hair length. Manage this style with creative and clever ideas like putting on the hat. This will hold your hair as well give you a cool beachy look.
#123. Spiky and Curly Hair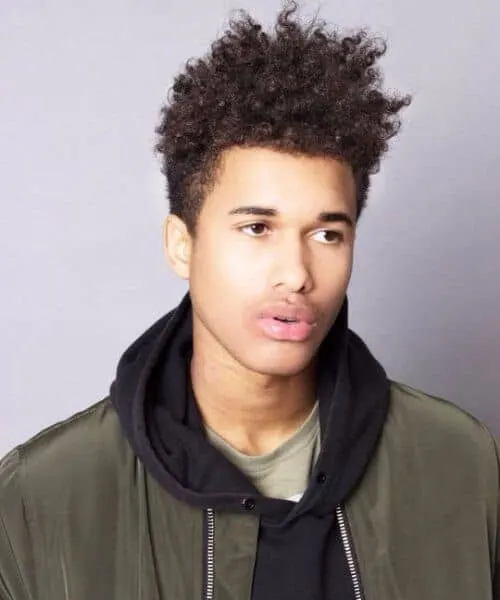 Spikes have created a recent buzz among the youngsters and millennials. However, this had been more of a straight hairstyle. But, now is the time to twist it up! Men with curly hair can now spike up their curly hair and spice up their fashion statement!
#124. Tiny Curls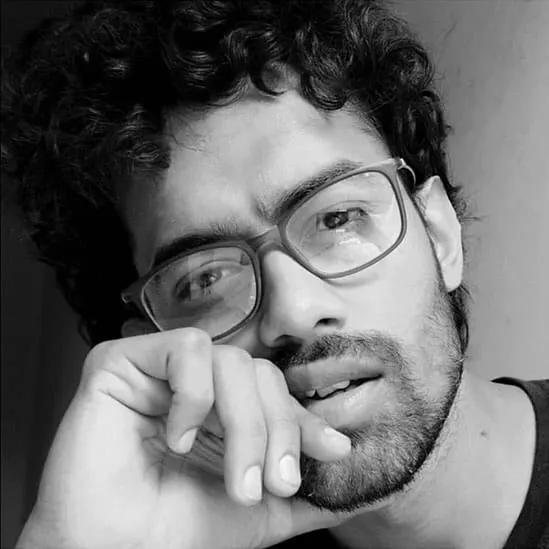 This hairstyle for men with curly hair will make the girls drool over you. Only special men are gifted with these decently-behaving curly hair! It might sound ironic, but that's the fact. These curls can make you look neat, decent, sexy and effortlessly stylish. Pair up this hair with a light beard and you're ready to go!
#125. Glamorous Curly Hairstyle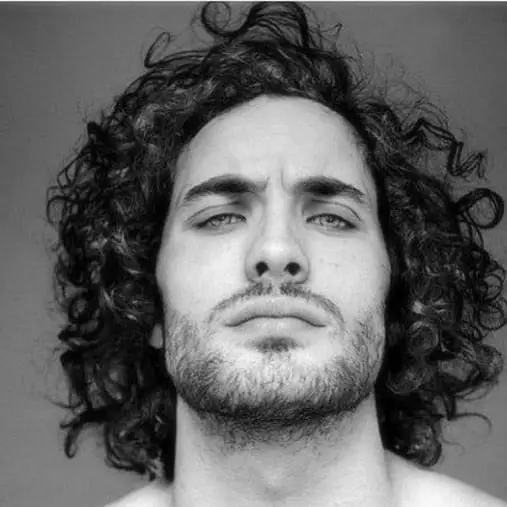 Add glamour to your curly hair by creating puff and volumizing them. Let your hair grow long so you can make them into a side puff and hold them with a hair gel. Add extra buzz to your look with a sexy beard and accentuate it with a suit.
#126. Cork Screw Curls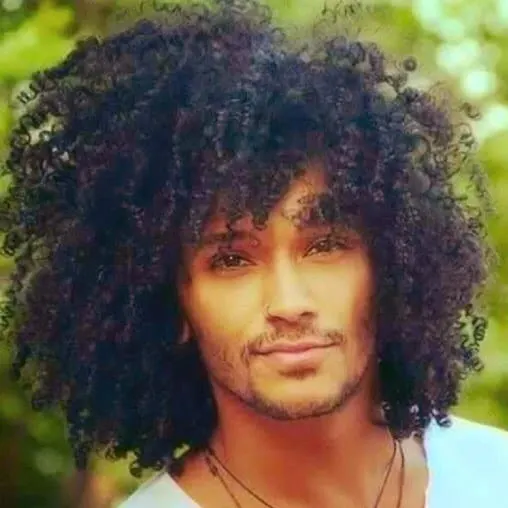 Got an extra volume of kinky hair? Styling your curly hair is no more a task now. Challenge your hair texture, grow them long and keep them voluminous. Set them free and enjoy the abundance of your curly hair.
#127. Curly Bangs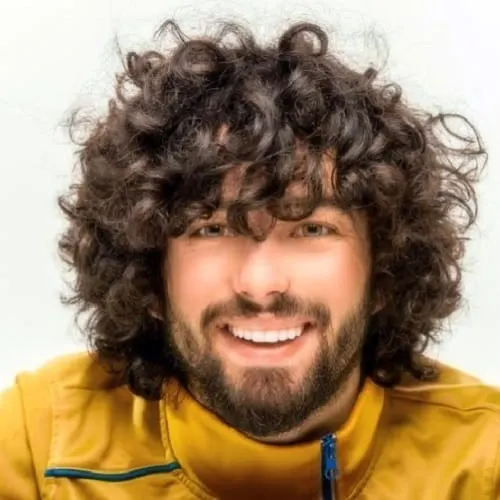 Now the men with curly hair can flaunt messy bangs too. This messy yet charged hairstyle is one unique look to have. To add more shape to the hairstyle, get a hair cut that goes with the bangs. You can carry this everyday look to all your casual gatherings and feel free yet stylish.
#128. Shaved Sides with Long Curly Puff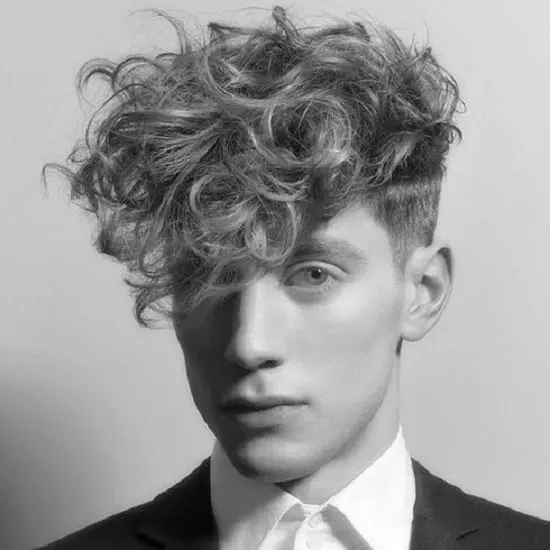 Take on a more dramatic look and keep your curly puff long. Get your sides shaved into a taper fade while keeping the top section long enough to hang down your forehead. Keep the puff in place by applying a small amount of gel. This haircut for curly hair men will give shine to the hair as well, making them look less messy.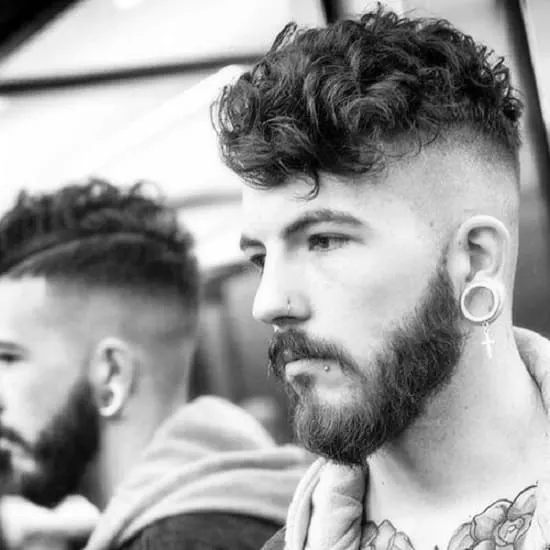 Mohawk is highly in vogue these days. However, once it was a hairstyle for men with straight hair alone. Now, men with curly hair are nailing this hairstyle even better. Tell your hair stylist to shave your sides finely or in taper fade, keeping the top section long in a mohawk style. Hold the top hair in place by applying a small amount of hair gel. Accentuate your look with medium sized beard adding more to the manly look.
#130. Messy Top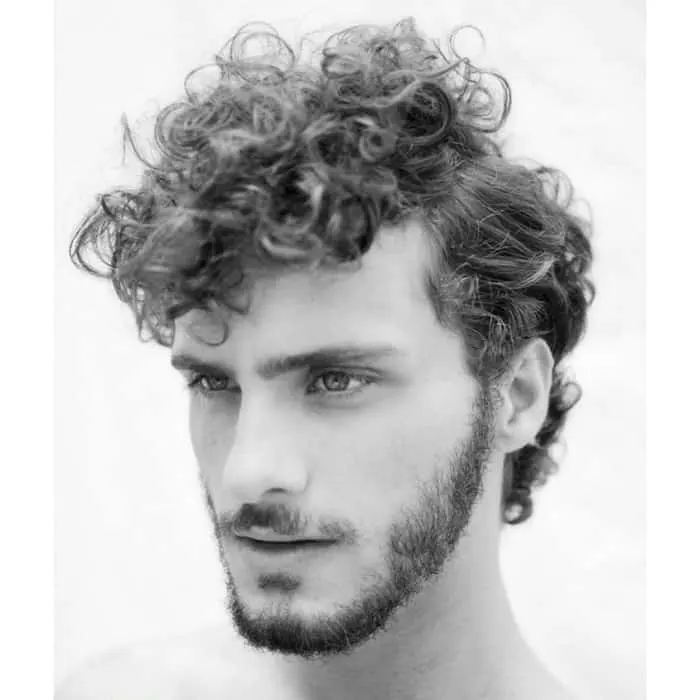 This messy side parted curly hairstyle for men gives a careless look and is suitable for any casual or formal party.
While browsing through these haircuts for men with curly hair, you must have found something beautiful and something outrageous. We recommend you not to waste any time and start styling your curly locks the way you like.
Trending Topics