If you are a lucky owner of curly or wavy hair, there are many different hairstyles you can try. Two of the most popular ones are taper fades with curls and waves.
However, guys with curly locks rarely like to flaunt it. It's understandable since they are very hard to manage. That's why the stylists came up with these easy to make taper fades that can keep your curls and waves in check. Take a look at these simple options that can completely change your outlook.
The Best Taper Fades with Curls & Waves
If you are a bit tired of managing your curly hair and are ready to get the shortest haircut out there, take a break and take a look at this collection of interesting options we prepared for you. You can flaunt your beautiful curls and waves while not having too much trouble keeping them neat. The time has come to spend a few minutes in styling your hair with the amazing curly and wavy taper fades.
1. Short and stylish wavy taper fade
Your waves will just be slightly visible if you leave the top part of your taper fade just about an inch long. Use hair gel to keep the hairstyle intact and allow just a few curls to show.
2. Taper fade hiding the curls
If you don't really like the way your hair looks, consider this taper fade with curls that will actually hide the curly locks. Get one of the shortest haircuts that won't give the curls a chance
High and Low Taper Fade Haircuts
3. Wavy and beautiful
Flaunt your wavy hair even when it's short. What you will need to do is to arrange it with some hair gel to make the waves look neat on top of your head. You will love the way they look.
4. Side part
If you want to emphasize your taper fade with waves, go for a side part. Make one side very short and style the other one to show what you really want.
What is The Difference Between Taper and Fade?
5. Taper fade mohawk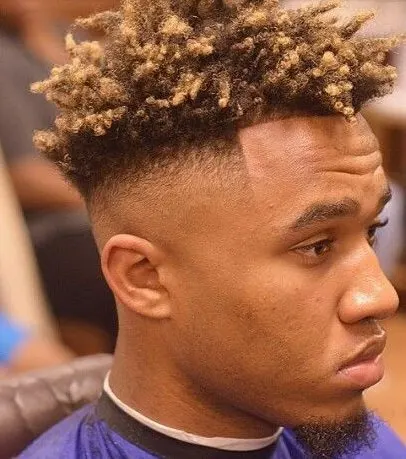 This is a wonderful tapered mohawk that will make you stand out of the crowd. You will need to spend a couple of minutes each day styling the top but it's truly worth it.
6. Taper fade with Ocean waves
This stylish wavy taper fade is hard to create on your own since it requires a special brush and a lot of experience. Ask your hairstylist for a couple of lessons and you can sport this hairstyle daily.
7. The blowout
A shaped up blowout is a good option for guys with wavy hair. Do the regular taper fade on the sides of your head and leave the hair to be as long as you want on top. Some daily styling will be needed.
8. Taper Fade with Long Waves
It is one of the classy taper fade combos with a long wavy top that everyone loves! Guys looking for uber-professional and élan attire can go for this one doubtlessly. Sweep back the waves and grow a faded, line up beard for an urbane look.
9. Wavy Top+ Taper Fade Cut+ Faded Beard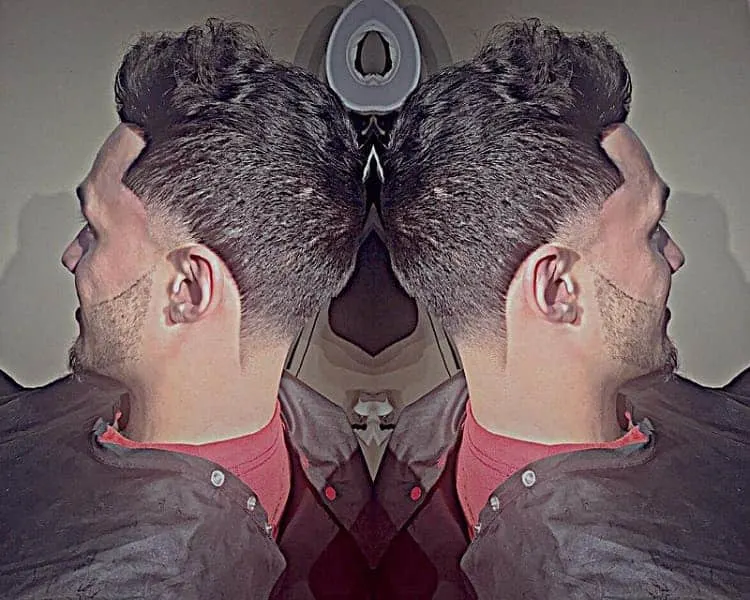 An impeccable choice for those guys who have short wavy hair. However, the top of the head is kept a tad bit longer from the front so you can shape it into messy waves to make it resemble brushed up hairstyle. Faded beard will give guys manly feature.
10. Soft Dense Curls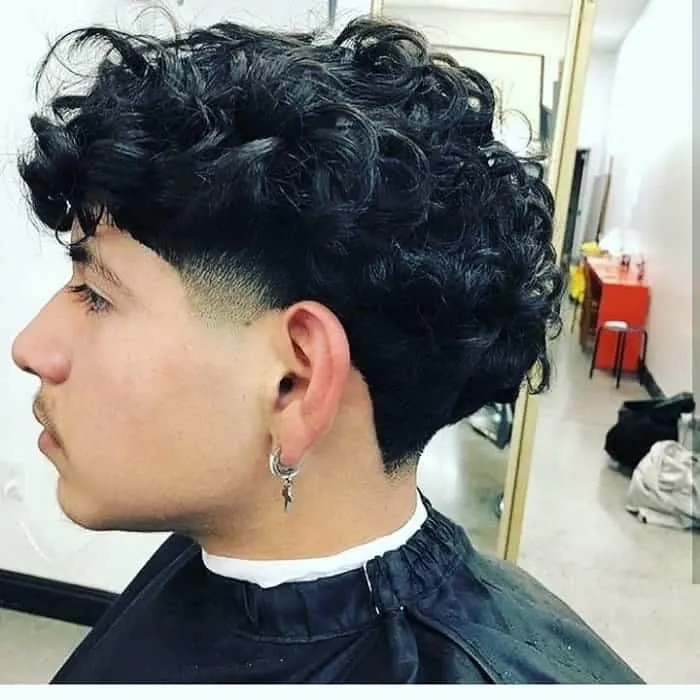 Guys with loose curly hair texture can make their curls more prominent through a slight touch of taper fade around the ear and neck nape. Apply a good quality pomade to make curls glossy.
11. Taper Fade with Waves and Thick Back
You may have seen the 360 wave hairstyle with many variations, but this one might appear a new and unusual combo to you. 360 Waves with taper fade sides of the head, thick neck nape hair and chin strap goatee can make you stand out in the crowd. Keep the neck nape hair a bit rounder in shape for a denser look.
12. Hard Part Wavy Hair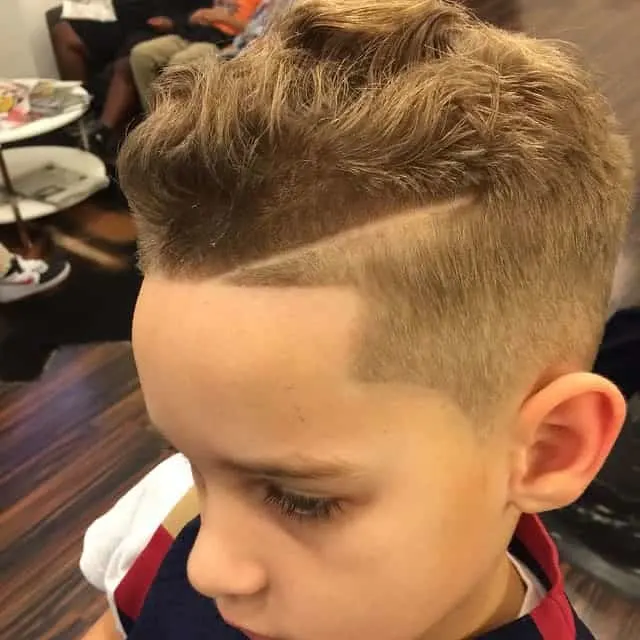 A style that is equally voguish for kids as it is for young guys. You can achieve this look by combining hard part, tapered sides, and back of the head, and wavy hair on the top. A good quality gel is enough to hold the waves in place.
13. Low Taper Fade with Curls
The ultra-low taper fade at the nape of the neck along with thick, dense curls create a unique combination that is perfect for those guys who do not want to have an edgy cut, but simple and mature look with a trivial touch of panache.
14. Hair Tattoo with Curls
Hair tattoo has the charisma that can make any hairstyle appealing to eyes then, why not to give this charm to your natural afro curls for a bewitching personality. Keep the top denser, sides and back of head shorter through taper faded haircut. Further, adorn the look with hair tattoo at the back.
15. Taper Fade on Afro Hair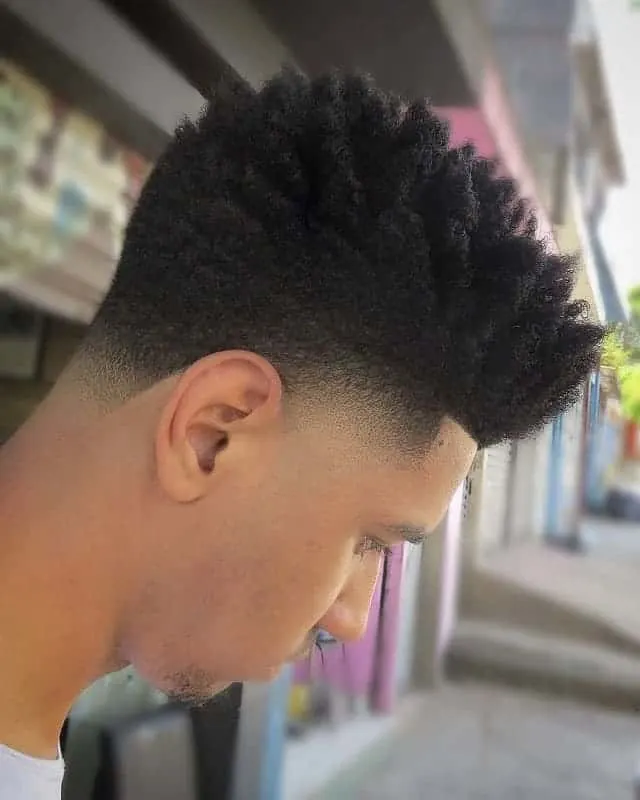 High afro curls when combined with low taper fade haircut, it provides a slimming effect to guy's face. The side and back of the head are taper fade softly with fine details. Give a finishing touch to the hairstyle by shaping up the hairline.
16. S Curls with Taper Fade
"S curls" is the trendiest way amongst afro people to loosen up their tight curly hair texture to make the hair curls soft and bulbous. S curls make a dramatic contrast when accompany with taper fade sides, line up hairline and faded beard. Add more definition with the razor lines on both sides of the head.
17. Blonde Curly Taper Fade+ Hair Tattoo
It is quite a bold style and requires guts to carry because of its super edgy appearance, bold blonde, and complex hair tattoo. The sides and back of the head look high taper fade. The top of the head has separated from the side through the short hard part. Platinum blonde curls make the whole look ultra-modish.
18. Curly Mohawk
Give your curly Mohawk hairstyle a trendy twist by accompanying it with taper fade sides. The taper fade haircut will even out the edgy look of Mohawk.
19. Wavy Comb-over+ Taper Fade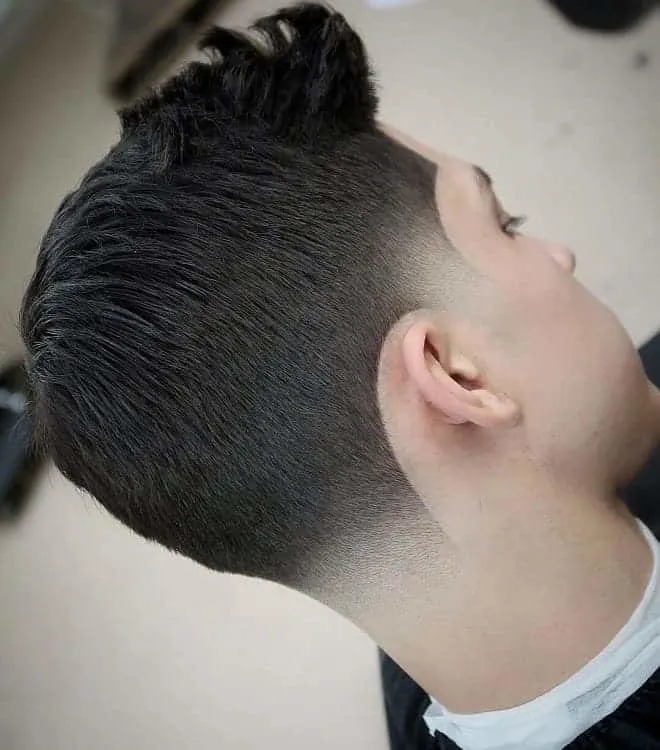 When we hear about a comb-over, a guy with neatly combed hair appears in our imagination. But, the above image has given a whole new definition to this style, proving that when a comb-over hairstyle is styled into a slightly wavy shape accompanying with perfectly executed taper fade haircut, it makes the guy's personality even more interesting.
20. Textured Waves with Taper Fade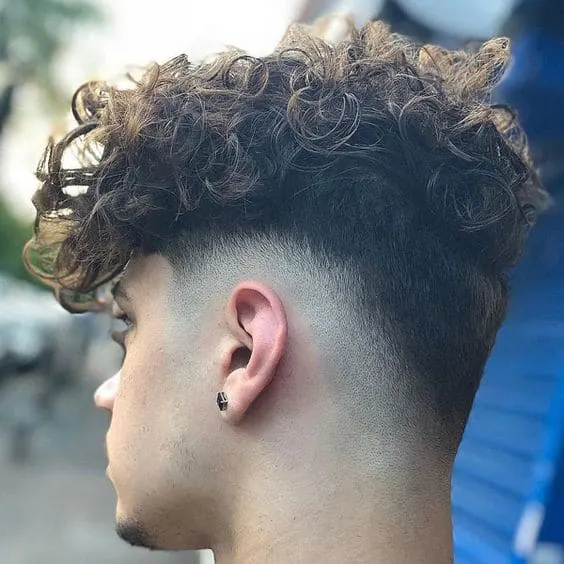 Guys with such kind of hair texture can opt for this particular tape fade haircut for an impressive look. The top of the head contains dense waves or loose curls that have swept at the front as a fringe hairstyle.
21. Medium Curly Hair
The main advantage of having medium length curls is that you can style your hair with enormous variations along with a taper fade haircut. You can keep hair untidy by leaving the side fringe at the front for an edgy look, or you can tie your hair into man bun or topknot for a classy appearance.
We are sure that these taper fades with curls and waves will help you make a decision about what to do with your unruly hair. Don't like your locks? Hide them! Like them? Flaunt them! Try any one of these hairstyles and you will love the way you look.