A mohawk is a great hairstyle all on its own but it might seem a little too outrageous to some men. That's why stylists do a mix of taper fades with mohawks that seems to be much more appealing to most of the male population.
If you've always wanted a mohawk but were afraid to try it, a mixed haircut can become your favorite choice. Before saying an absolute "No" to the hairstyle of which the name starts with a mohawk, take a look at how neat and stunning these haircuts can look. Don't overlook the obvious hairstyle decisions. Give one of these options a try!
Modern Taper Fades with a Mohawk
If you have a simple taper fade, you must feel as if you are getting a little bored. If you think that the time has come to have a makeover but are not ready for drastic changes, consider taper fade combined with a mohawk and it will definitely make your day. Many men all over the planet are trying these mixed haircuts. There is absolutely no reason why you shouldn't.
We come up with a short list of taper fades with mohawks for you to browse and enjoy.
1. High taper fade
A very high taper fade is a great base for your mixed haircut. Shave most of the hair on the sides of the head and leave just one or two inches below your hairline. Style the long top as you wish.
2. Comb over Mohawk
This simple taper fade with a mohawk will look especially good on men with straight hair. You will need to style it daily for this hairstyle to keep its shape and look its absolute best.
Taper Vs Fade: The Differences
3. Low taper fade with a beard
A low taper fade looks especially well if you have a beard to serve as the extension of the hairstyle. The top part of the hair is left to be about 3 inches long and can be styled in accordance with your wishes.
4. Outstanding mohawk
This mohawk requires careful tapering on the sides which looks pretty much the same length. The trick is to make the sides look shaved while there is actually about half an inch of hair on them.
Taper Fade Hairstyles With Beard
5. High and mighty
A simple short taper fade with a mohawk will look great if you use your imagination when styling the top part. Comb your hair upwards and style the ends inwards. The result will be stunning.
6. Curly taper fade
Doing a taper fade on curly hair is not an easy task. Mohawks don't look too good on curly locks either unless you don't allow too much length. Don't make the top part longer than 2 inches.
When you are going for a hairstyle that involves some shaving, don't forget about hair designs. Doing some simple art on the back of the head will make any hairstyle look special.
Stupendous Mohawk Styles for Men
8. Spike it up
This is a light version of the taper fade with a mohawk. You can create it by tapering just part of the sides that are over your ears. The rest of the hair can stay long and you can make a mohawk appearance by spiking it up.
9. Fast and easy
This is a popular way of creating a simple taper fade by contrasting the high top hair with the short sides. The hair on the sides is slightly tapered and the top is spiked up to make the sides look shorter.
10. Wet taper fade and mohawk look
A smart way to make your taper fade look special is to spike up the top part of the hair with plenty of hair gel. You will get a sexy look if you let a couple of strands fall down on your forehead.
11. Afro Mohawk with Tapered Sides
A classic Mohawk style with an afro touches beautifully done with tapered sides. Low taper fades and goatee beard will be the best combination with this haircut. It suits teenage boys and men who are in their 30s. tThis is a popular hairstyle among the black men. It gives a casual and comfortable look.
12. Short Mohawk with Taper Fade
If you love the idea of getting a Mohawk taper fade style but not so sure about it then try short Mohawk with taper fade at first to see the overall look. This is a Mohawk shaped trimmed hair with high tapered sides design. It makes your face look cheeky. A clean shaved look will suit this hairstyle. It is perfect for personal and professional settings.
13. Medium Afro Mohawk with Hard Lines
Love your afro look? But looking for something more modern, then stop looking. This is the perfect choice for a medium length afro hairstyle. A Mohawk styled out of the afro cut and sides tapered with clear visible hard razor lines. This is a very cool and unique option for men looking for something new to completely change their look.
14. Long Curly Mohawk with Taper Fade
If you have curly hair, still you can get a Mohawk hairstyle. All the curls go back from the top to the back end. The curls are well-sorted and styled in a very precise manner. The sides are medium tapered. A light French beard will look good with this haircut.
15. Shaggy Mohawk with Tapered Sides
This is a typical messy Mohawk style with modern taper fade style. The subtle curls are styled beautifully in a form of Mohawk from the top and going back to the end. On the sides, there are fine razor blades margins giving a very neat and tidy look with low tapered fades. This is a really hot hairstyle.
16. Undercut Mohawk with Taper Fade
Spikes can often go out of fashion and come back. Indeed, spikes are the part of fashion in every season. Well, this year spikes are combined with the iconic undercut Mohawk with taper fade haircuts to introduce a unique hairstyle. This hairstyle carries a very artistic and cool look. Boys from all around the world love this style. It really suits teenage boys.
17. Curved Mohawk with Designed Back
The taper fade Mohawk styles have become so common that barbers try to bring some innovation in this haircut. This is a curved Mohawk style in which the Mohawk is curved inwards from the sides. It is further made stylish by sides fades and a really cool design made on the backside. You can personalize this hairstyle by choosing any of your favorite design.
18. Fiery Mohawk with Taper Faded Sides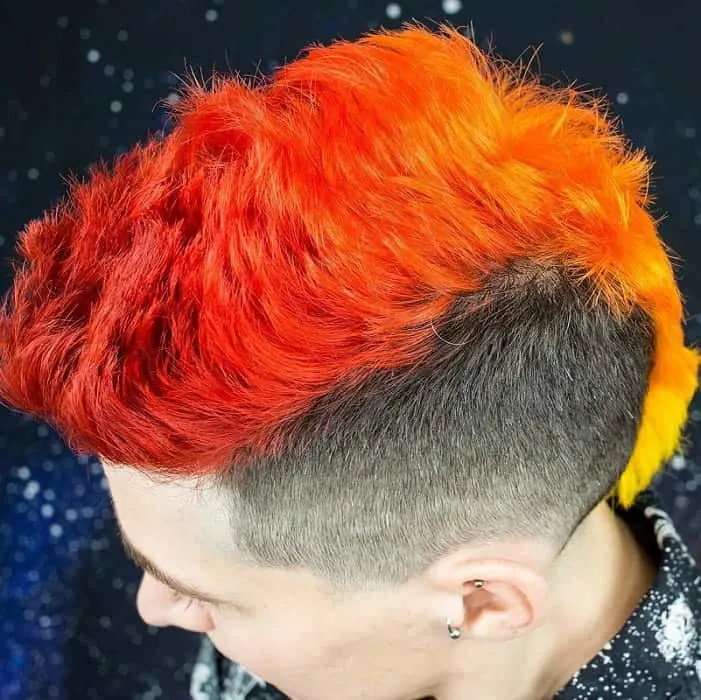 If you love colors and looking for a funky hairstyle, then this one is for you. It is a double shade dyed Mohawk with black tapered sides. This is a very spectacular look if you are an artist or likes to stay ahead of the crowd. It gives a very tidy appearance with medium taper fades on the side. The clean shaved look goes perfect with it.
19. Short Mohawk with Design and Taper Fade
Go for a short Mohawk look with a unique change. Try an amazing design on the sides of the tapered fade. Taper fade Mohawk hairstyles are very common nowadays but you can still look different from others by adding a style statement.
These taper fades with a mohawk can become your styles of choice for the upcoming year. Allow yourself to try whatever you like best and never be afraid of hair experiments. Good luck!