Low taper fade haircuts need no introduction. This taper fade involves a short trim that goes above the ear and helps create a transition between the shorter hair and the longer top. It is a great way to emphasize the longer crown that can be styled in numerous ways. For example, you can combine a tapered low fade with the side part, a comb-over, a faux hawk, a pompadour, and many more.
If you're considering getting a low taper fade haircut, follow the instructions below and check the examples in this article. Happy scrolling! Let us know in the comment section which one you'd love to get next time you're going for a trim!
Trendy Low Taper Fades
Below are some trendy men's hairstyles with low tapered fades.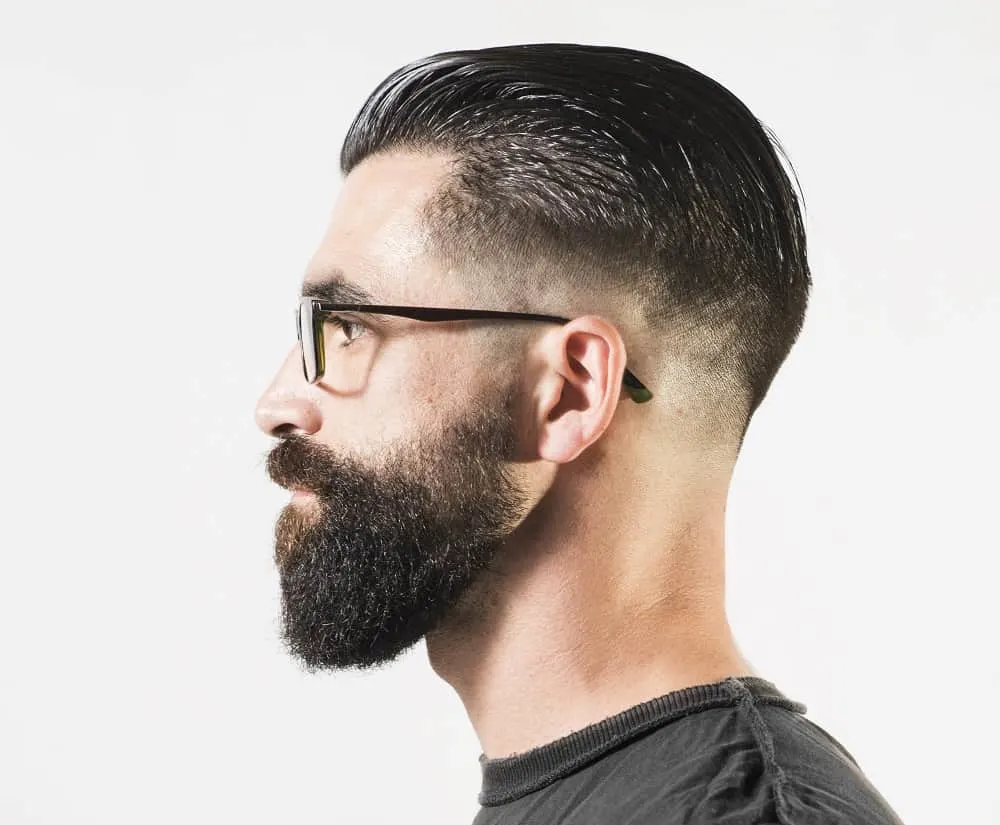 Low taper fades that transit into a longer top is such a great pair for a sleek comb-over. Your hair will gain that wet texture by using a large amount of hair gel that coats your strands. Then, use a regular comb to flip your hair to the back.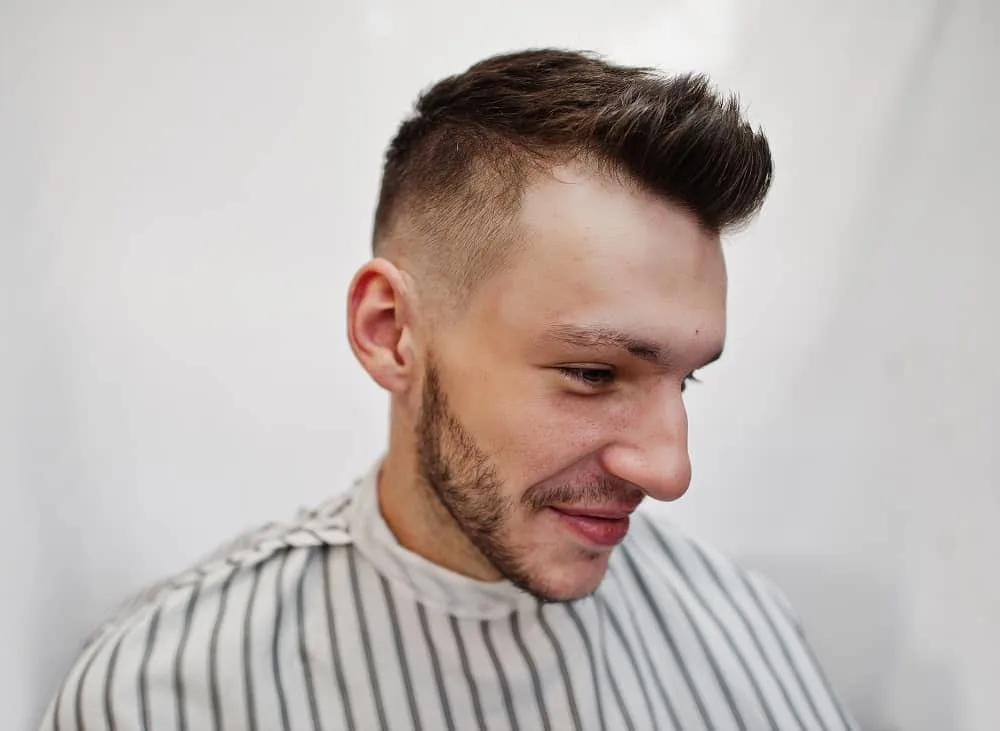 This low-maintenance hairstyle requires everyday styling. However, you must apply pomade on your hands and use your fingers to lift up the fringe. You will get a fresh quiff that it's suitable for everyday activities.
3. Fade with Design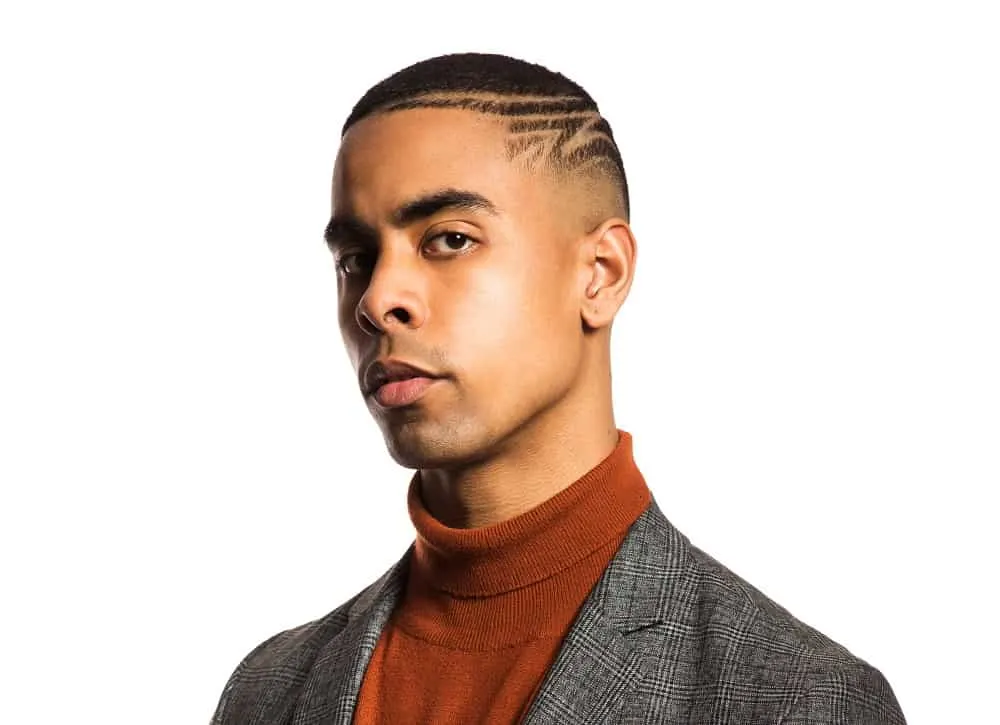 If you want to capture the sass, go for a low taper fade hairstyle with the razored designs. Create abstract lines for each side and continue them towards the forehead line. Keep a clean, shaved face to highlight the hairstyle.
4. Gray Curls with Fade
You will love this tapered low fade haircut with a messy curly top if you're not afraid to bleach your hair. Create layers for your curls and choose a silver-grey platinum blonde color. Lift the top to gain more dimension and height.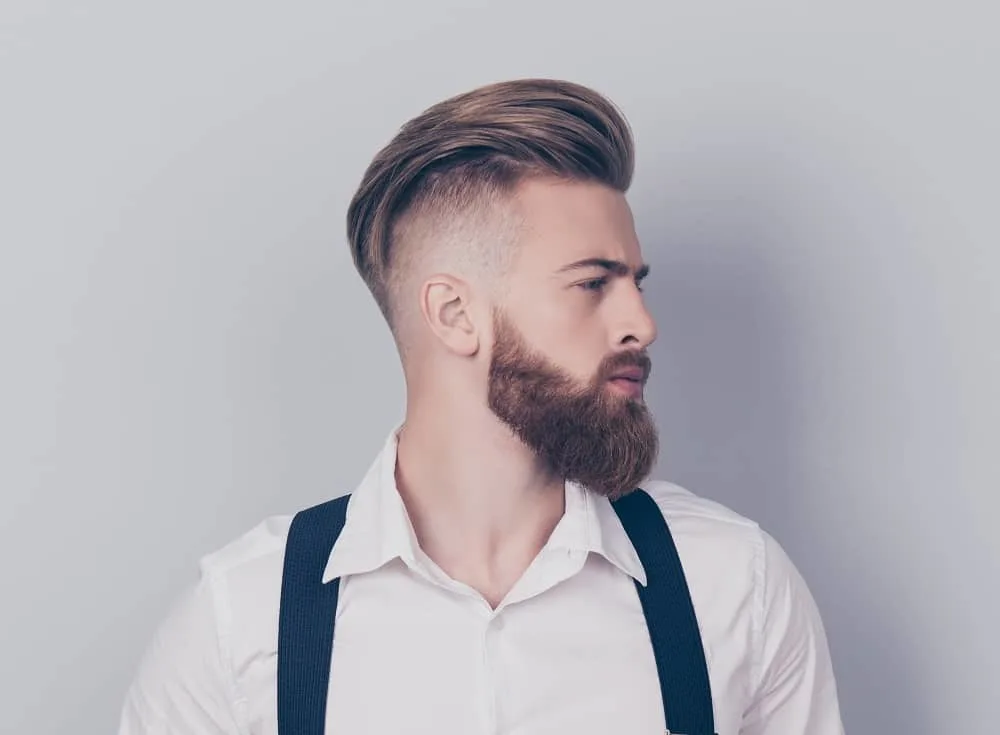 Every man should try at least once a pompadour hairstyle. Choose a tapered low fade for the sides and use a blow dryer and a rounded brush to gain that top volume and height. Use strong holding products that will maintain the appearance for the whole day.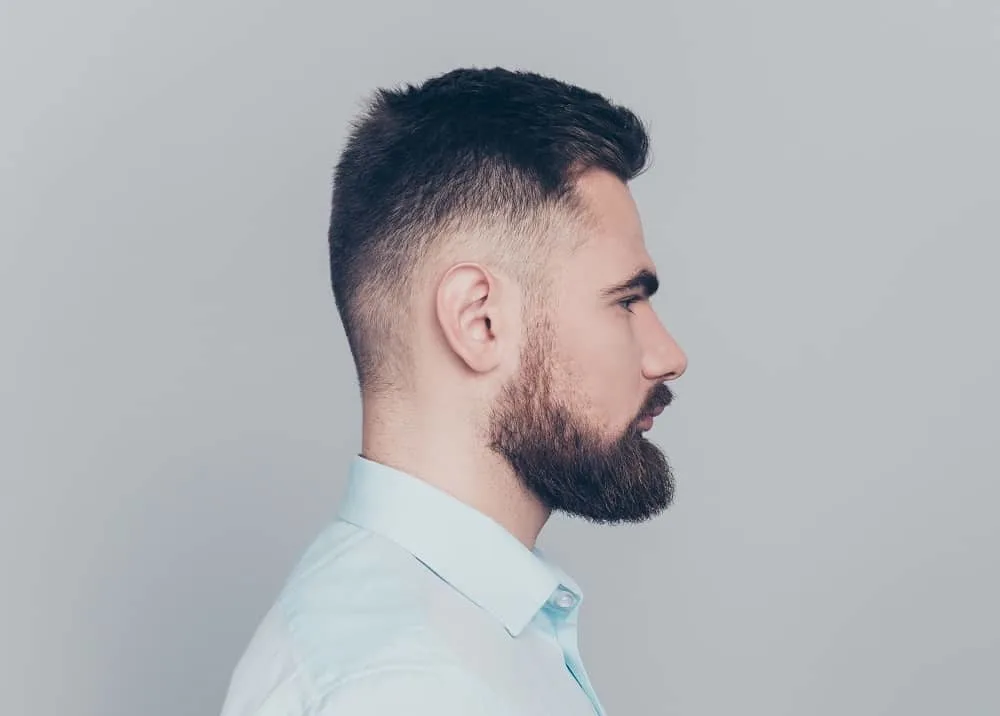 This crew cut uses a low fade for the sides and back, building a stunning transition to the slightly longer crown hair. Also, the tapered fade will create a disconnection between the beard and the hairdo.
7. Taper Fade for Teens
Teenagers love stylish looks and always want to sport their best hairdo at school. So if your kid likes to be fashionable every time he leaves the house, this quiff with a low fade will suit his tastes. We are sure he won't mind the required styling every now and then.
8. Business Fade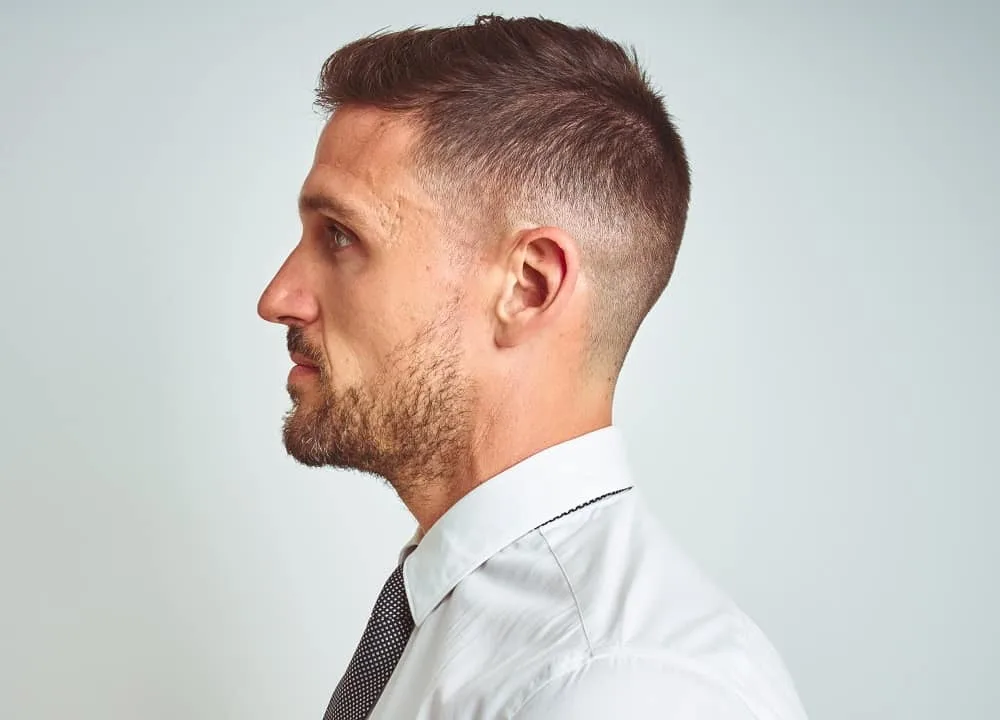 Business haircuts should be simple but not at all dull. And this is probably the best example! The haircut will suit you even if you have a white-collar job but love casual looks when you're going out with your friends or on a date.
9. Disconnected Fade

This hairstyle has several centerpieces that grab the eye. First of all, that perfect top is worth being admired. The disconnection between the beard and the low fade also adds a cool vibe. And let's not ignore the inexistent transition between the fade and the upper side because it's quite dramatic and extraordinary!
10. Long Hair Fade
You can style numerous designs for the lower back strands if you love wearing your curly hair pinned in a top bun. Also, don't ignore the hair above the forehead or the temple section. Use a trimming machine without any clippers added and shave these areas.
11. Student Fade
As a student, you need a low-maintenance wash-and-go hairstyle that allows you to style it in a fancy way whenever you have the time. Therefore, combine a taper fade for the sides and go for a layered quiff. You'll be ready in no time!
12. Low Fade for Older Men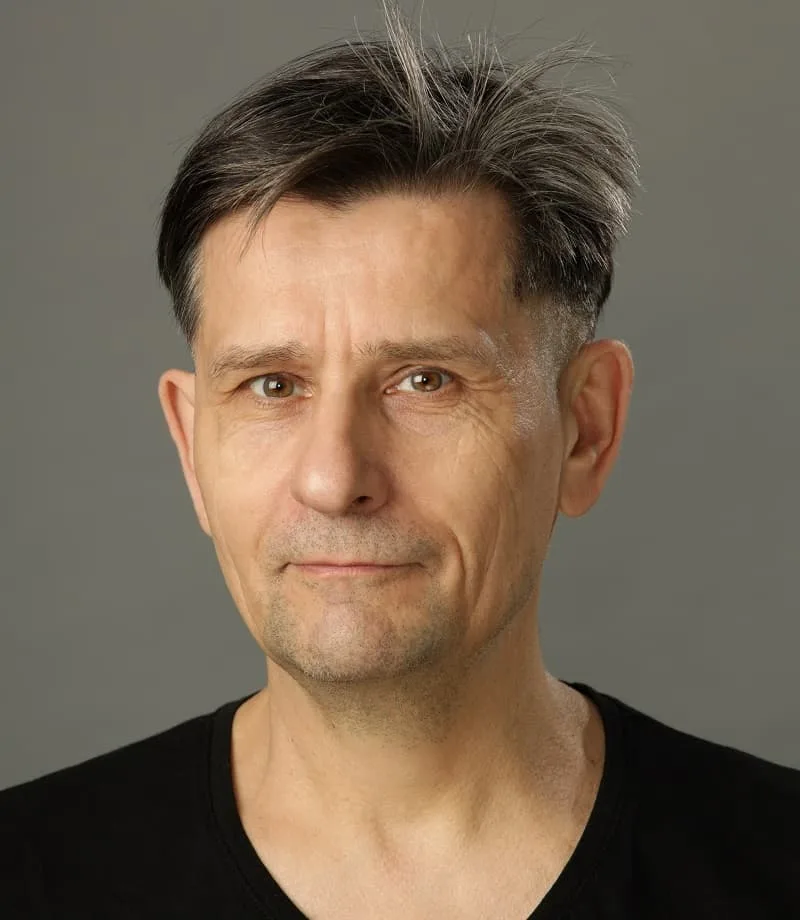 Tapered low fade hairstyles with more volume on top are ideal for older men who want a fresh, modern look. This hairstyle will make you look younger, especially if you keep a clean face or a one-day stubble beard.
13. Fade and Cornrows
Combining cornrows braids with the low taper fade will certainly draw all the attention to your hairstyle. And why wouldn't it? And it's practical too! It is a low-maintenance hairdo that you can keep for weeks. If your hair grows fast, you can shave the sides at home using a regular trimming machine.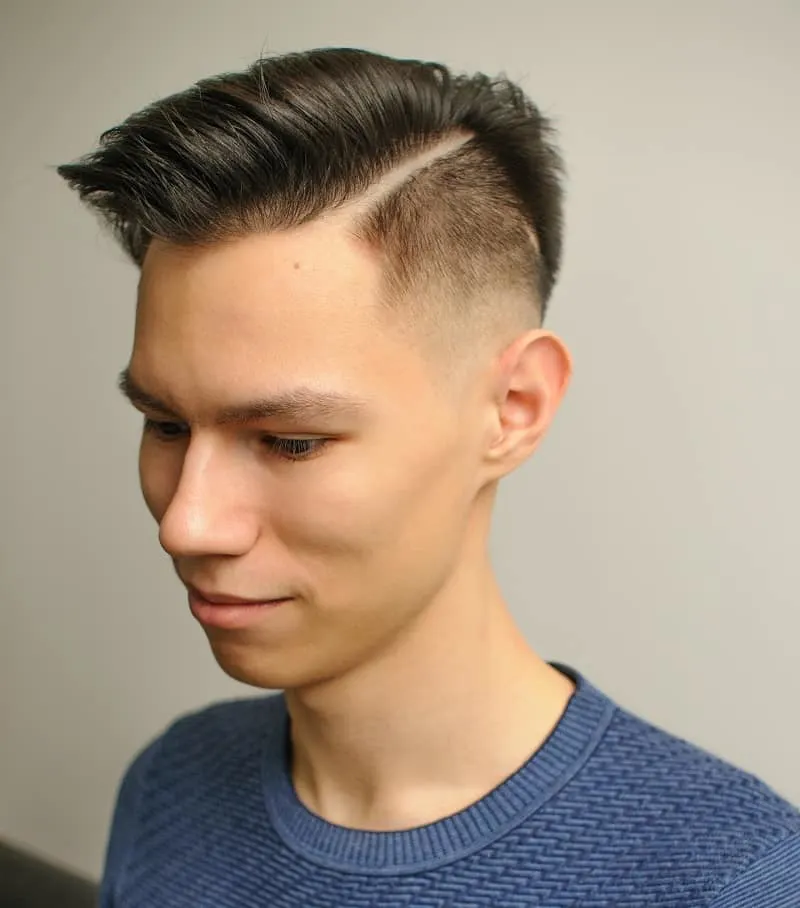 Even if it looks regular, this hairstyle grabs all the attention with that hidden hard part. Instead of just flipping your hair to the side, define the part with a razor.
15. Ombre with Fade
This low taper fade hairstyle with medium-long crown hair it's the pitch-perfect choice, especially when you want to frame your face. Use a razor to define the contour and extend the sideburns into a beard that highlights the jawline.
16. Gelled Look
This is certainly an option if you want to impress with your hairstyle. First of all, you need to grow your hair longer than usual. This way, you can create a contrast between the side and those sleek mane. Next, use e razor to define the hairline around the temples and behind the ears.
Best Mid & Bald Taper Fades for Men
17. Low Taper Fade for Black Men
A low taper fade perfectly works for black guys. Use jam to define your curls, or use the sponge when you need to style your ringlets easily. You can place the conditioner on your hair or the sponge before using it.
A taper fade makes real magic when highlighting men's top hair. You can either wear it loose or create braids using Jumo hair. Then, complete the look with a medium beard.
19. Low Fade With Line Design
To recreate this fantastic look, get a low taper fade for the sides and a bald fade in the back. Then, create a double line design over the ear and use plenty of jam to give your coils texture and form.
20. Taper Fade with Rolled Coils
Low tapered fades can be an awesome low-maintenance hairstyle for men with coarse hair. Keep the sides short and for the top, create twisted braids. Before starting the twists, apply some moisturizer or leave-in conditioner to make your coils easy to work with.
A low taper fade will gorgeously highlight your top hair. In addition, you can create dreadlocks that you can wear free or pinned in a ponytail. The look is ideal for young black guys who need a low-maintenance hairdo.
22. Line Design
When you want a fresh look that is ideal for formal occasions and can also be an excellent choice for casual outfits or parties, a buzz cut with a taper fade on the sides and a double hard part is a perfect option.
23. Low Fade with Pompadour
Guys looking professional can opt for a high top with a fade on the sides. Then, style the longer hair in a Pompadour shape by lifting it and slightly combing it back. You can even add a pair of glasses.
24. Temple Fade for Guys
A temple fade will maintain the hair around your ears short, while your top and sides get a lot of volume. If you have Afro hair, you can use jam to define your coils and get a fresh look.
25. High Top Fade with Blonde Tips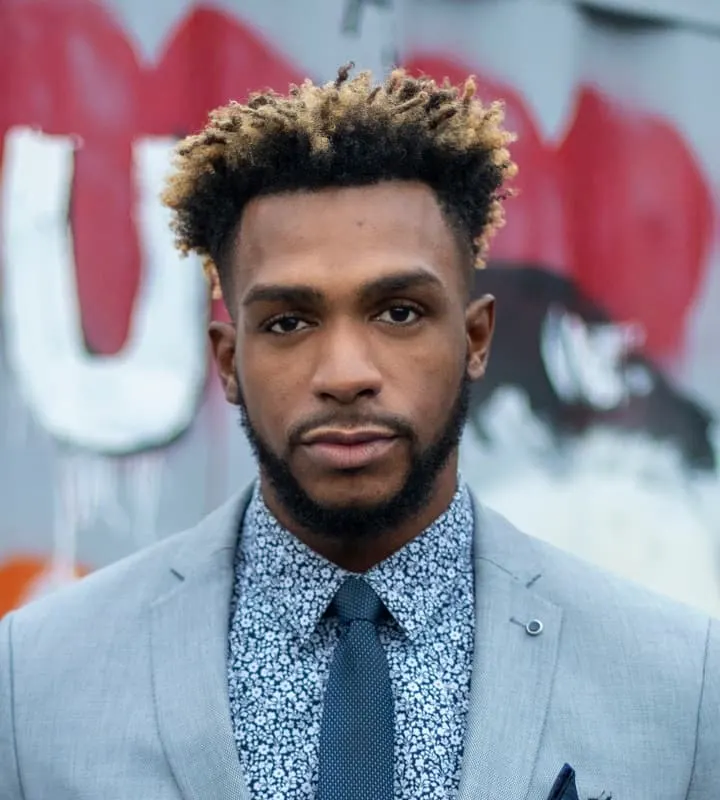 A high top with fade will accentuate the rich top, distributing all the attention to your coils. Finally, bleach only the tips of your hair and dye them in bright blonde color so the contrast will be eye-popping.
26. Low Fade With Afro Texture On Top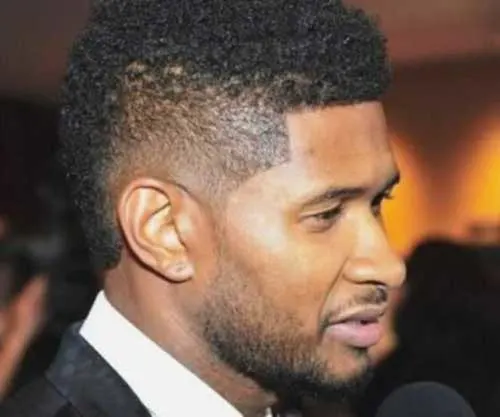 This fade cut gives a soft and decent look. This haircut provides neat and clean sides and back with the Afro texture on top and the side edges. This haircut is easy to carry both at the party and the work.
27. Groovy High Top And Fades
The guys with curly hair can opt for this haircut because it lets the natural hair demonstrate its texture with an edgy finish. In addition, you can try different styles on your back hair, such as a shaved back or a fading hairline.
28. A Wavy Low Fade Haircut
You can give your simple fade haircut a perfect finishing touch with a wavy line on the side of the head. This wave moves from the crown area to the back and circles the middle head area. Again, you can try different designs to style this line.
29. Curly Classic Fade
This tapered low fade starts from the very beginning of the forehead and ends till the neck. As a result, the front hair length is lesser than the hair at the back of the head. This is something that makes this haircut different than the rest.
30. Wavy Low Fade
Just like the previous haircut, this haircut also emphasizes your front side. The sides are not shaved and the volume of the back hair is not muddled as well. The hair from the forehead area and the back of the neck are trimmed to give a neat look.
31. Backwash Fade
This one is another tricky fade haircut for men with various waves. However, this haircut can be the best substitute for a complete bald. This haircut gives you a tough but trend-setting look.
32. Round Fade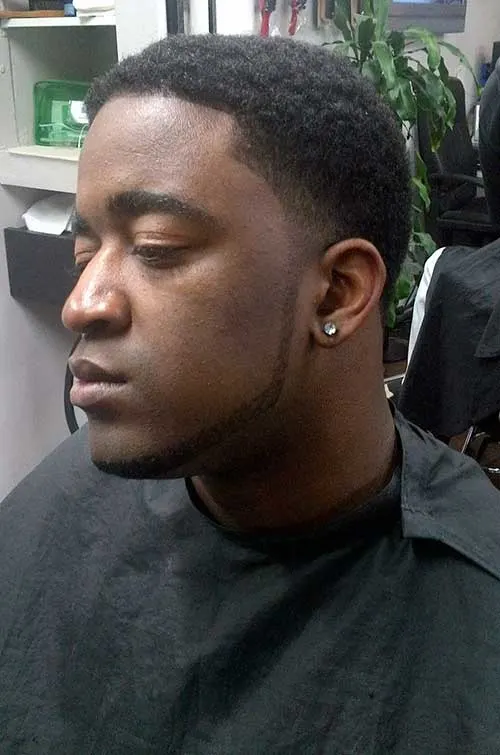 This stylish haircut is especially for teens as it gives a soft look. The hair is trimmed almost equally from the top head to the neck. You can pair your haircut with a well-trimmed beard for a classy look.
33. Taper Fade with Ocean Waves
Ocean waves have been famous for almost a century, and they are becoming more and more stylish. The hair length for this hairstyle must be pretty short. Hair gel is applied, and the waves are made with a special comb. The result is fantastic!
34. Edgy Fade Haircut With Beard
This haircut is equally suitable for formal and informal looks. The side hair is shaved to make them fade at the temples. The beard and mustache are well-trimmed, giving a look classy enough for the office.
35. Trimmed Low Fade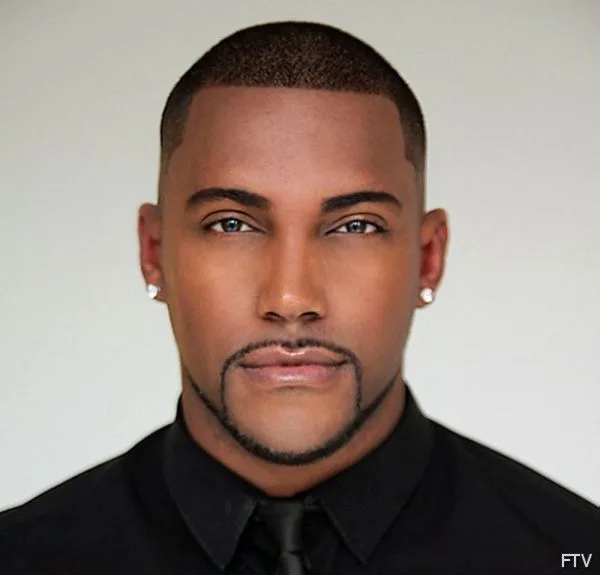 This haircut takes in neatly trimmed middle and low tapered side hair. The fades start from the temples and end before the ear. The beard is well-trimmed, making a perfect combination for this haircut.
This African style low taper fade with a high top lets the naturally curly hair show off its texture. This black men's hairstyle gives a cool look to your face and personality and is equally suitable for teens and older.
37. Short Fade With Tapered Temples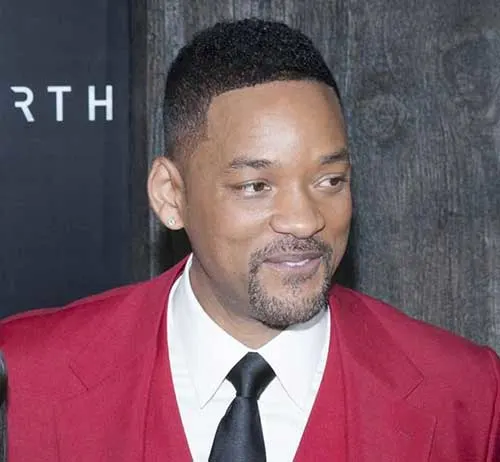 This haircut is one of the most conservative haircuts for guys. The short fade and tapered temples are an upgrade for everyone's favorite haircut. A French beard can be a decent pair with this haircut.
38. Classic Short Fade Haircut
The classic short fade with barely visible tapered temples gives a neat and stylish look. This haircut is paired with a square forehead line. The simplicity of the shapes and lines of this haircut ad points to your style.
39. Shaped up Taper Fade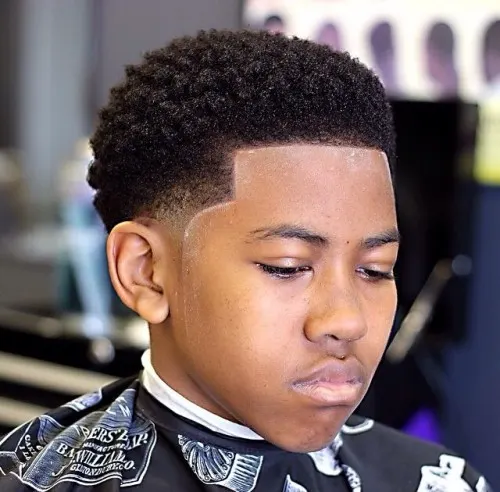 Shaping the hairline is very important for creating a neat taper fade haircut. Ask your stylist for a shape-up to outline your great low fade. Outline the facial hair to get a stylish look, which will make you stand out from the crowd.
40. Taper Fade for Straight Hair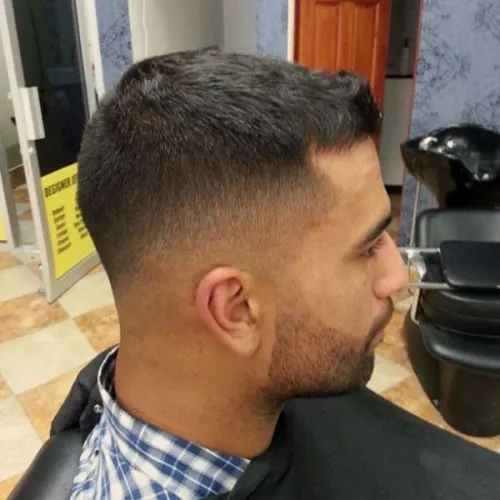 Taper fades look very neat on straight hair. All you'll need to do is shave the bottom part and make the fade on the top visible. Leave the hair on top long enough to create short bangs. Such style needs no special maintenance, except for regular barbershop visits.
High Taper Fade: The Most Popular Ideas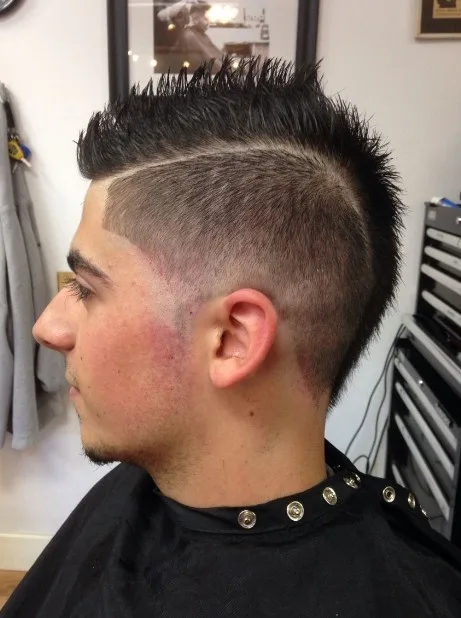 Low taper fades are pretty diverse. So, if you want to go wild, opt for special styling, such as a mohawk. Make a regular taper fade while leaving enough hair in the middle for a spiky style. You'll need a lot of hair gel to keep it in place.
42. Neat Taper Fade
This neat taper fade haircut can also be considered classical. The top hair is trimmed very short, which allows you to avoid any maintenance. This haircut will look great when you get out of bed or right after you wash it. A great choice!
43. Creative Fade
Are you tired of the classics? Turn your taper fade into an absolute masterpiece. This creative hairstyle is hard to make at home, but any professional stylist will be able to assist you. This style is easy to manage and makes a great impression.
44. Low Taper Fade Art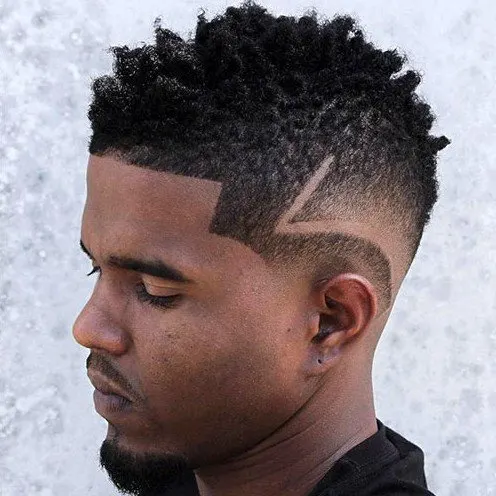 Whenever there is shaving, there is always room for art. Since shaving of the sides is often a compulsory part of a taper fade hairstyle, some art can be in order. Get creative lines or geometrical shapes to make a unique statement.
45. Fade with a Cowlick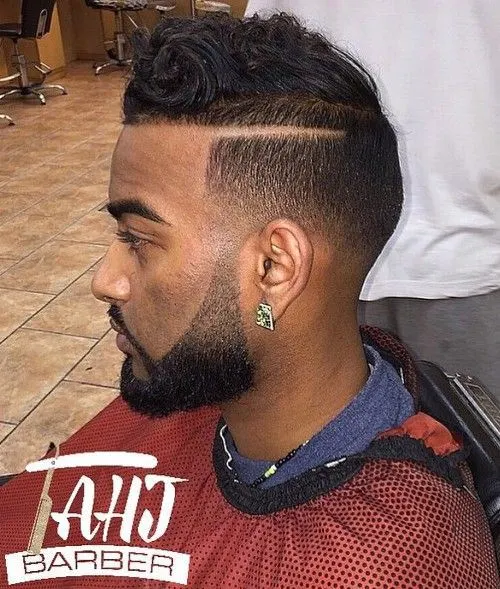 This is one of the unique hairstyles for men. Cowlicks are always fun and look great on many men. Make a creative tapered low fade hairstyle by leaving the bangs long enough to be styled into a cowlick. It is pretty easy to do at home with the help of a flat iron and some hair gel.
46. Outlined Hairstyle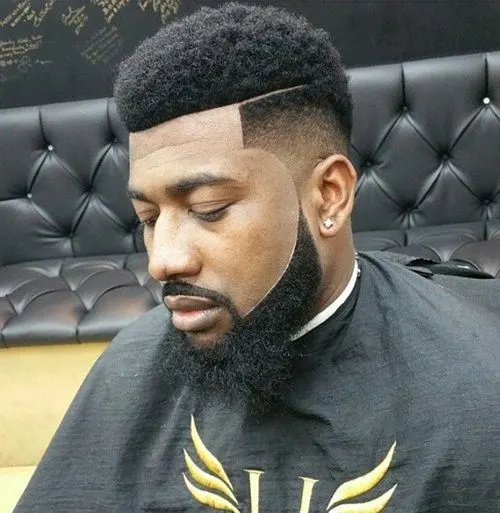 Want your taper fade to be very noticeable? Strict outlining will do the job. Not enough? Add some interesting designs to the shaved part and you will keep some pretty heads turning your way.
47. Waves
The taper fade is usually a very sharp hairstyle, so make it a little softer with some exciting designs. If you don't want to be too outrageous, go for some nice waves to make your taper fade look unique and fabulous.
48. Messy Taper Fade
This is an excellent option for men who don't like regular barbershop visits. Let your taper fade grow however it wishes. However, make sure not to overdo it. Otherwise, the "cute and messy" can turn into a complete disaster.
49. Fade with Thin Whiskers
Thin whiskers look very adorable on any man's face. They will also help elongate the face shape, just like the taper fade does. Mix them, and you will get a stylish look for a square or a round face shape.
50. Upper Designs
Taper fade doesn't just look great with temple art. Go for upper designs to make your look even more special. Straight lines or creative waves will make you stand out from the crowd. Make sure to keep the designs updated.
51. Will Smith's Low Taper Fade
Will Smith is a big taper fade fan. So, learning how to make his hairstyles is a great idea. Choose the Will Smith's low fade you like best and go for it. Most of them are appropriate for any face shape and hair type.
52. Fade with Tramlines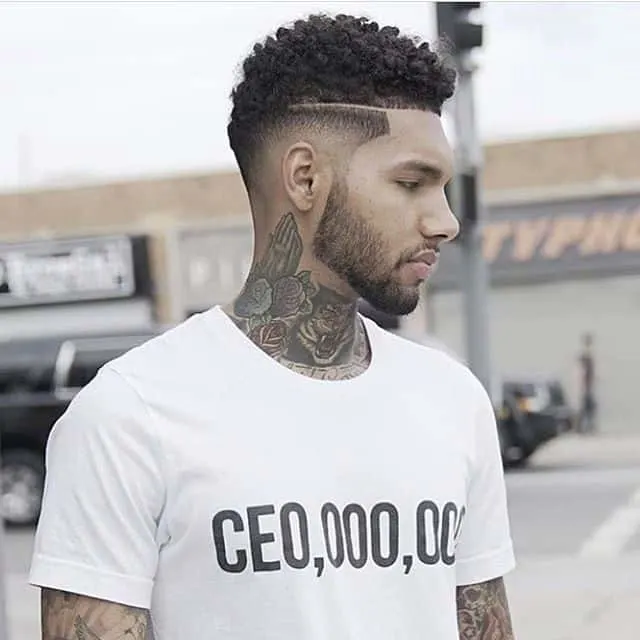 Create a clear border between your hairline and your fade with a straight tramline. The crisp divide helps to keep things looking fresh and neat.
53. Teddy Boy
Style your fade haircut with a retro look by fluffing your hair into a quiff. This works best on hair that has been chemically softened to relax it.
54. Curved Tramline
Cutting a curved tramline into a fade haircut is a great way to change your look. A curved line creates an optical illusion that changes the shape of the face and bone structure.
Spiked-up hair looks cool on guys with low taper fade haircuts. The fade sections help to accentuate the different spiked-up levels of the hair. Use gel to keep spikes in place or leave things soft and natural.
Hope you have liked our collection of low tapered fade haircuts & hairstyles and get the idea for yours. The naturally locked hair with African texture can give a fab look in these fade haircuts.
We have shown you various ways to diversify your fade haircut. Just pick your favorite one and show the picture to your hairstylist. And don't forget to share your experience with us about your haircut.