Mushroom hairstyles might seem a thing of the past to you, but in reality, they are proudly conquering the women's hairstyle trend with creative styles. In the 21st century, mushroom hairstyles got a complete do-over. Movie stars and other celebrities are proudly sporting the new and improved 'bowls' and 'mushrooms'".
If you hated these haircuts when you were a kid, you need to rethink your values and start keeping up with the times. These amazing hairstyles are exactly what you need to give your image a breath of fresh air. Therefore, the next time you see someone sporting one of these haircuts, think about the way it will look on you.
Amazing Mushroom Haircuts and Hairstyles
Women's mushroom haircuts vary greatly. Depending on the type of hair you have, you can either get a very short bowl or a long, curly, and messy mushroom cap. Whether you like long or medium-length hairstyles, there is a bowl out there for you. Most people have a very limited vision about these hairstyles.
In order to allow you to take in all the wonders of this haircut, we have collected 60 different styles. Take a close look at each one and we guarantee that you will find the one appealing hairstyle you're looking for!
This mushroom hairstyle is a great choice for women with thin and straight hair. The stacked part in the back creates an appearance of volume and the blunt bangs do the same job. The haircut is easy to style.
2. Modern and exquisite
This modern mushroom hairstyle for women can make you look like a real queen. The strands are asymmetrical all over the mushroom cap and some hair is left behind the ears. This is far from the classics but looks fantastic.
3. Curly cap
Women with wavy and curly hair have too much trouble creating a classical mushroom haircut. There is no need to straighten your locks. Leave them as natural as you can and you'll get a stunning messy style.
4. Eye-reaching classic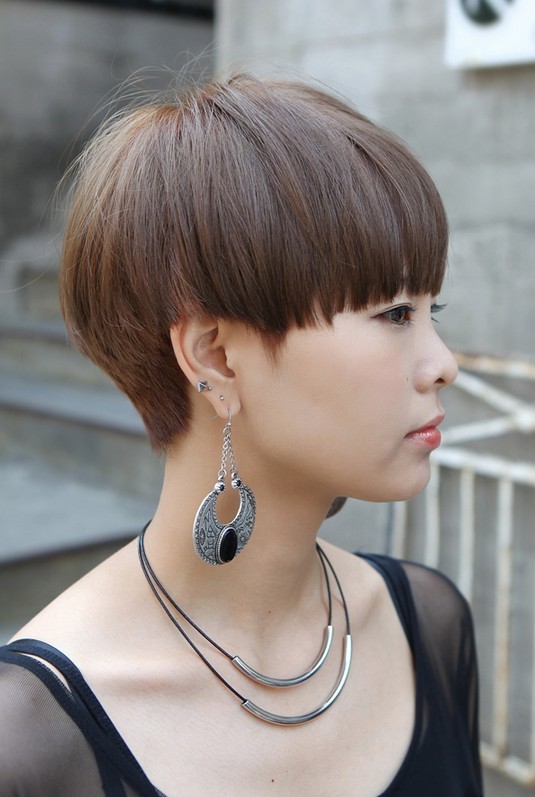 This appealing mushroom hairstyle for women is exactly what you need if your hair is thin and brittle. The long eye-reaching bangs create a sexy appearance while some hair down the neck gives an impression of length.
Best Short Hairstyles for Teenager Girls
5. Rihanna's mushroom haircut
One of the reasons for the mushroom hairstyle popularity is the recent Rihanna haircut. She sports a stylish bowl with a stacked part behind and long blunt bangs in front. A great choice for thick hair!