Women love to change. While long hair is quite popular, the shorter haircuts like short pixie are gaining momentum in the modern world. Long hair might be beautiful and catches a lot of attention, but it needs a lot of time and maintenance. That is why many women choose to cut their long manes and go for short pixie hairstyles.
There are many who think that it's not much you can do with short hair while this is completely wrong! You have so many different ways to create a pixie, that it is easy to get lost. So, if you want to get rid of the annoying hair and try a modern hairstyle, then the time has come to look at some pixie cuts!
Short Pixie Haircuts
Pixies have one great feature. They suit almost everyone. When you browse short pixie hairstyles we have prepared for you, you will definitely find one to suit your tastes. Short pixies are easy to take care of. They need almost no maintenance. Some women dream of cutting down on hair products and time spent in front of the mirror.
Pixie will let them do both. There is a lot to play around with a pixie. The length, the style, the color – all is up to you. So, take a look at some stunning short pixie haircuts to help you make the right choice. You can also check pixie cuts & styles of various lengths here.
1. Highlights
Any stylist will tell you that properly chosen highlights are 90 % of the job. So, if you are going for a short pixie, take a look at the photo and see how one color transitions into another. Choose two colors and show them to your stylist.
2. Short bangs
Usually, women, who go for pixies, try to make long bangs to somehow compensate for the short hairstyle. No need to do that. Short pixies with short bangs look amazing. They are very neat and require almost no maintenance.
Long length pixie haircut ideas
3. Silver pixie
Silver is trendy. But be very careful when choosing it. Not every woman will look good with a silver pixie. If you really want one, use one of the apps, which will fit such hairstyle on your head. You might not like it at all. But if you do, you will surely look amazing.
4. Straight pixie with side swept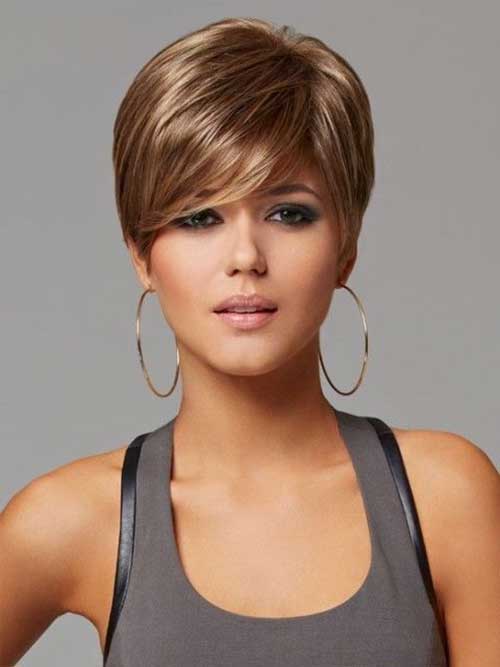 This not-so-short pixie haircut still has all the features of short hairstyles. You can make the hair longer on the sides and in front in order to create side swept bangs. You must remember that the longer the hair is, the more maintenance it requires.
5. Short and textured
This type of textured pixie is one of the most popular hairstyles for women who don't like to bother with hair dryers in the morning. All you will need to do with this haircut is to apply some hair gel on your fingers and run them through your hair any way you like.
6. Blond with asymmetrical bangs
Blond pixies always look fantastic. So, if your face type allows it, go for it! Make the bangs asymmetrical and the look will get a very stylish zest. Asymmetrical bangs outline the eyes, so make sure to use the right makeup.
7. The simpler, the better
Short pixie haircuts are popular for their simplicity. So, no need to overdo it. If you want to outline your eyes, lips and other facial features, you can go for the simpler pixie. It will not just make your face look brighter, it will save you some maintenance time in the morning.
8. Short pixie with eye covering bangs
Bangs are usually what makes pixies different from each other. Grow your bangs long enough, so they can cover one eye when side swept and you will get a very sexy look, which will make owners of long manes really envious.
9. Obvious roots
When you are contemplating a blond pixie, go for a textured one. It will allow you to skip a couple of stylist appointments since the dark roots will look like part of the style. This is just another great short pixie hairstyle option for "lazy" girls.
10. Natural pixie
If you like your natural auburn hair, this pixie is a great choice for you. It requires absolutely no maintenance, except for some brushing. Short bangs don't get into your eyes and need no hair gel. Be natural!
11. Creative volume
Most women go for short haircuts to increase some volume on top. Pixies are absolutely perfect for volume creation. This particular style is achieved by leaving a lot of hair on top and styling it upwards with hair gel.
12. Blond and beyond
If you know how to choose the right color, your pixie will surely look amazing. This more or less classical look is achieved by growing long and asymmetrical bangs and brushing them to the side. The right hair color does the trick of making the classics look even more amazing.
We hope that now you can easily choose the right short pixie haircut to suit your tastes. The variety is amazing. You can take your time picking the style, which will really keep some heads turning your way. Don't be afraid to experiment!