Women love to change. While long hair is quite popular, the shorter haircuts like short pixie are gaining momentum in the modern world. Long hair might be beautiful and catches a lot of attention, but it needs a lot of time and maintenance. That is why many women choose to cut their long manes and go for short pixie hairstyles.
There are many who think that it's not much you can do with short hair while this is completely wrong! You have so many different ways to create a pixie, that it is easy to get lost. So, if you want to get rid of the annoying hair and try a modern hairstyle, then the time has come to look at some pixie cuts!
Short Pixie Haircuts
Pixies have one great feature. They suit almost everyone. When you browse short pixie hairstyles we have prepared for you, you will definitely find one to suit your tastes. Short pixies are easy to take care of. They need almost no maintenance. Some women dream of cutting down on hair products and time spent in front of the mirror.
Pixie will let them do both. There is a lot to play around with a pixie. The length, the style, the color – all is up to you. So, take a look at some stunning short pixie haircuts to help you make the right choice. You can also check pixie cuts & styles of various lengths here.
1. Highlights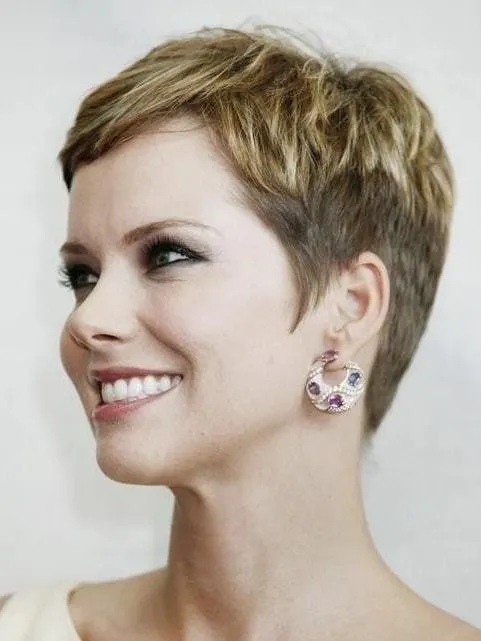 Any stylist will tell you that properly chosen highlights are 90 % of the job. So, if you are going for a short pixie, take a look at the photo and see how one color transitions into another. Choose two colors and show them to your stylist.
2. Short bangs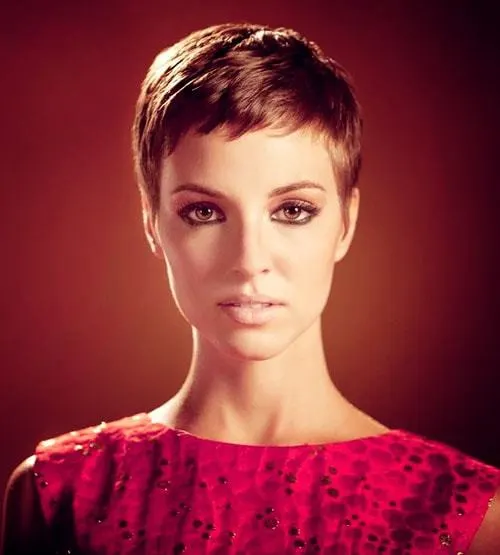 Usually, women, who go for pixies, try to make long bangs to somehow compensate for the short hairstyle. No need to do that. Short pixies with short bangs look amazing. They are very neat and require almost no maintenance.
Long length pixie haircut ideas
3. Silver pixie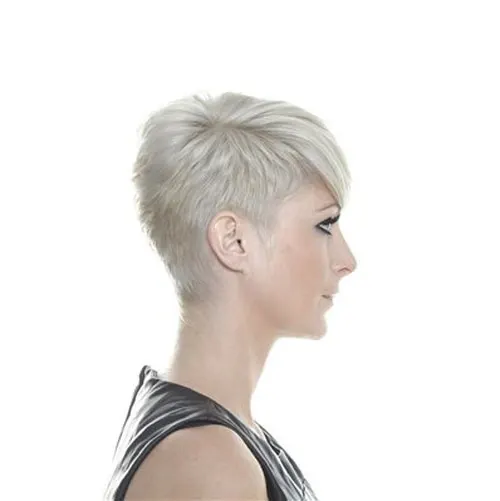 Silver is trendy. But be very careful when choosing it. Not every woman will look good with a silver pixie. If you really want one, use one of the apps, which will fit such hairstyle on your head. You might not like it at all. But if you do, you will surely look amazing.
4. Straight pixie with side swept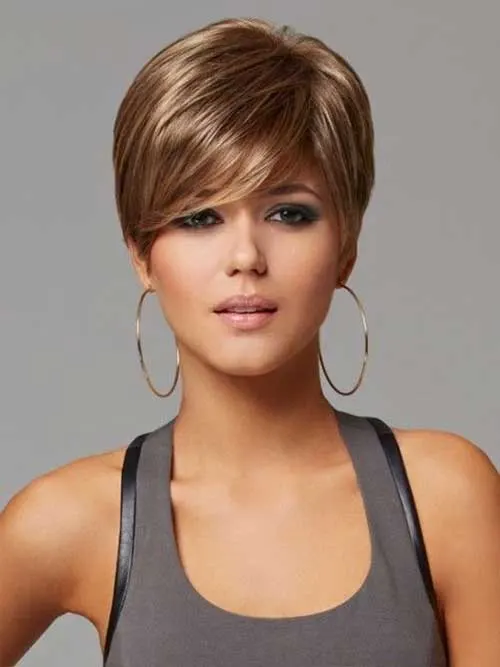 This not-so-short pixie haircut still has all the features of short hairstyles. You can make the hair longer on the sides and in front in order to create side swept bangs. You must remember that the longer the hair is, the more maintenance it requires.
5. Short and textured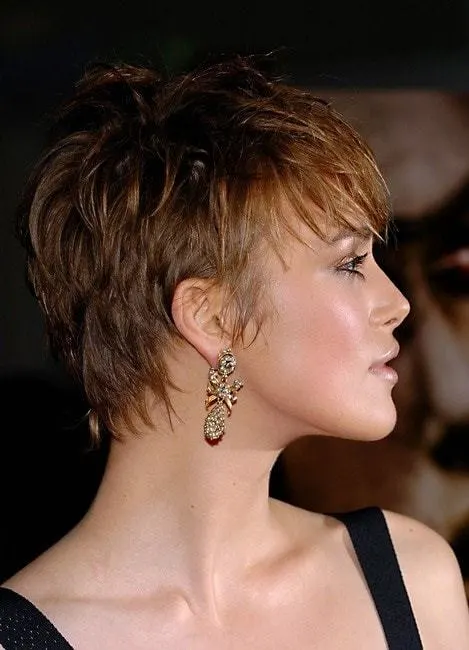 This type of textured pixie is one of the most popular hairstyles for women who don't like to bother with hair dryers in the morning. All you will need to do with this haircut is to apply some hair gel on your fingers and run them through your hair any way you like.
6. Curly Top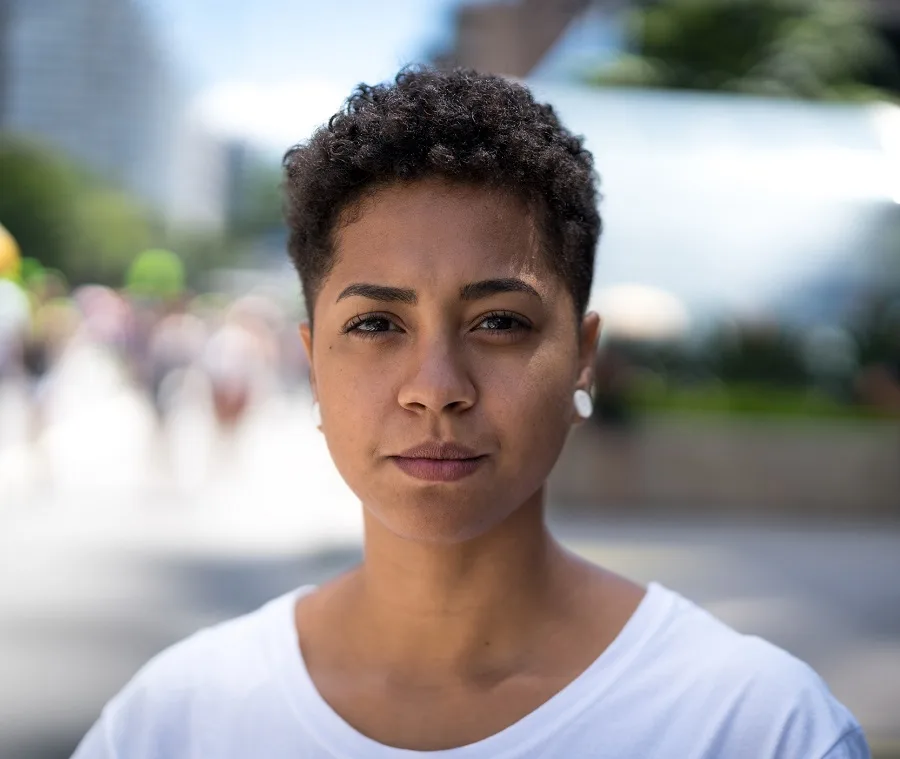 African-American women with fluffy curls that are difficult to style can tame them with a short haircut like this for a change. The sides are tapered with a slightly longer top for a neat appeal. This look requires almost no maintenance. A hand-tousle and there you go.
7. Silver Vixen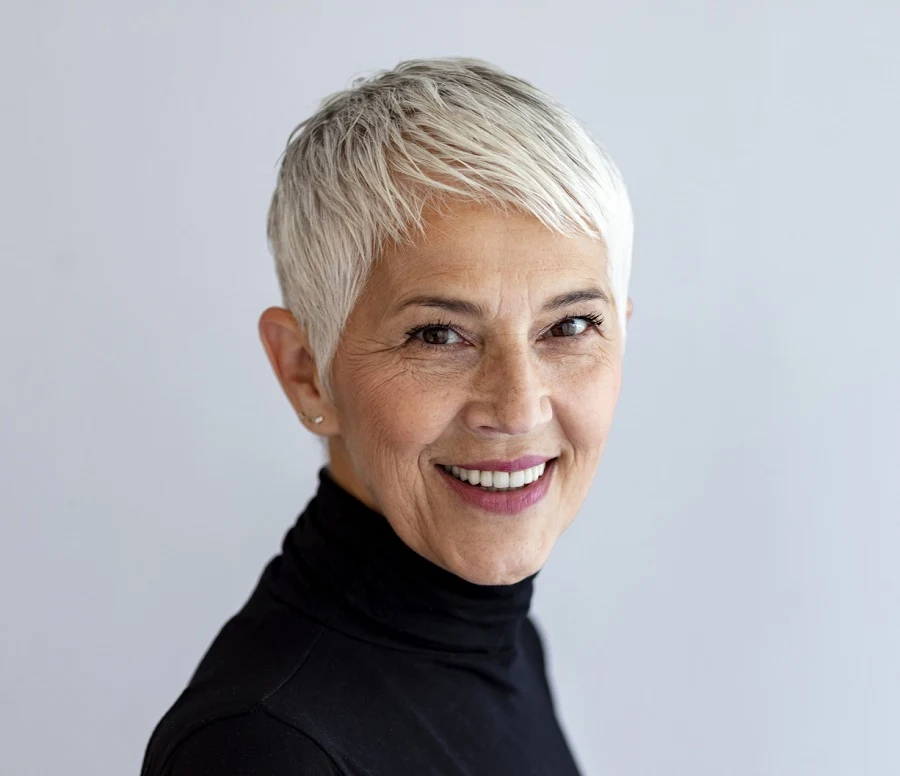 The shorter the hair is the easier it is to manage for women over 50. Ask for a short pixie with angled layers on the top. The sides are slicked down while the remaining strands are swept forward and slightly to one side for a chic finish.
8. Retro Finger Waves
The best way to flaunt retro finger waves is with a short pixie haircut. Use an ample amount of hair mousse and a tail comb to create those S-shaped waves on the head. Spice up the look further with colorful jumbo-size hairpins. Voila!
9. Salt and Pepper Moment
Thinking of embracing your greys? Start fresh with a short boyish haircut and add highlights matching your natural greying strands standing against the dark base for a gorgeous salt and pepper moment. The ruffled waves falling all over the head create a carefree appeal.
10. Pink Buzz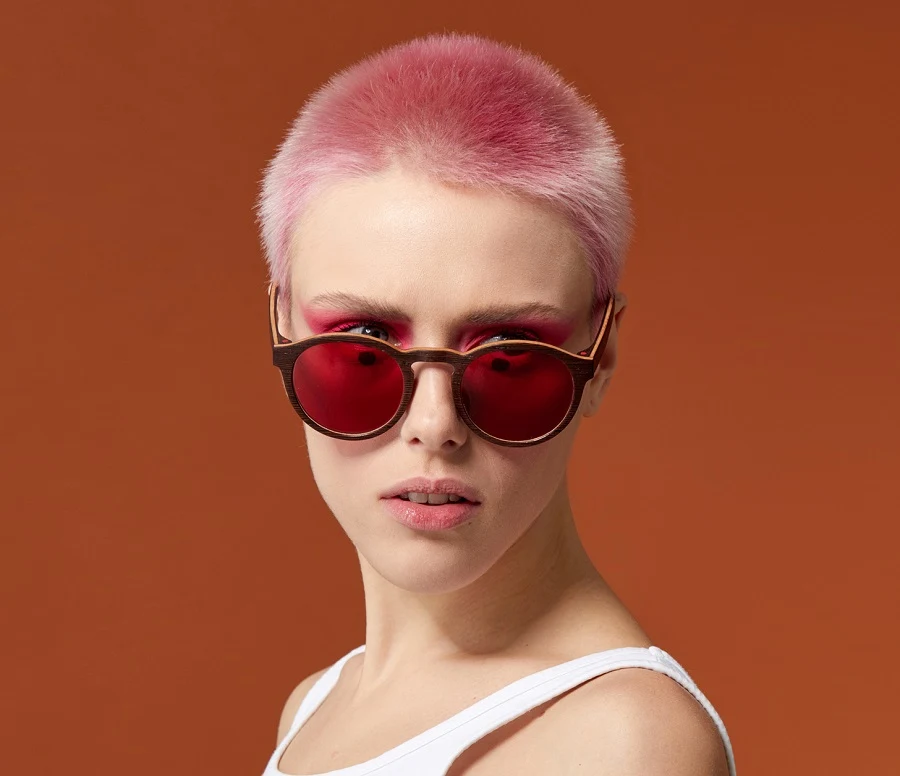 This look is more of an outgrown buzz cut. The hair is of uniform length all over the head and stands up naturally creating a spiky look. Dye the strands in a bright bubblegum pink hue to turn around some heads and keep the dye vibrant by touching it up every few weeks.
11. Mushroom Head
Resembling with a mushroom head, this style is not for the weak-hearted. The micro bangs cut straight across the forehead extend back with an undercut along the sides. Enhance the look further with choppy layers making it perfect for the modern young women of today.
12. Extra Short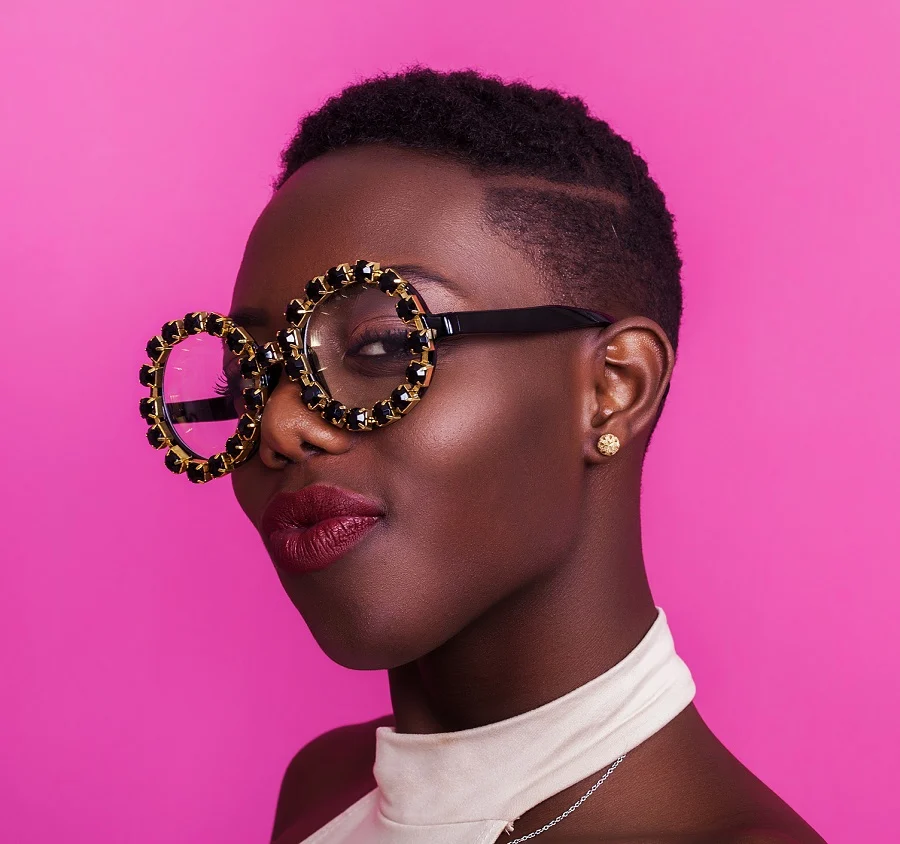 Curls whether short or long look equally gorgeous. Black ladies can ask the hairstylist to use two different-sized hair clippers on their heads to let the magic happen. The sides are buzzed with a barely long top while the shaved slits give a disconnected feel. This style does not even need regular combing.
13. Natural Waves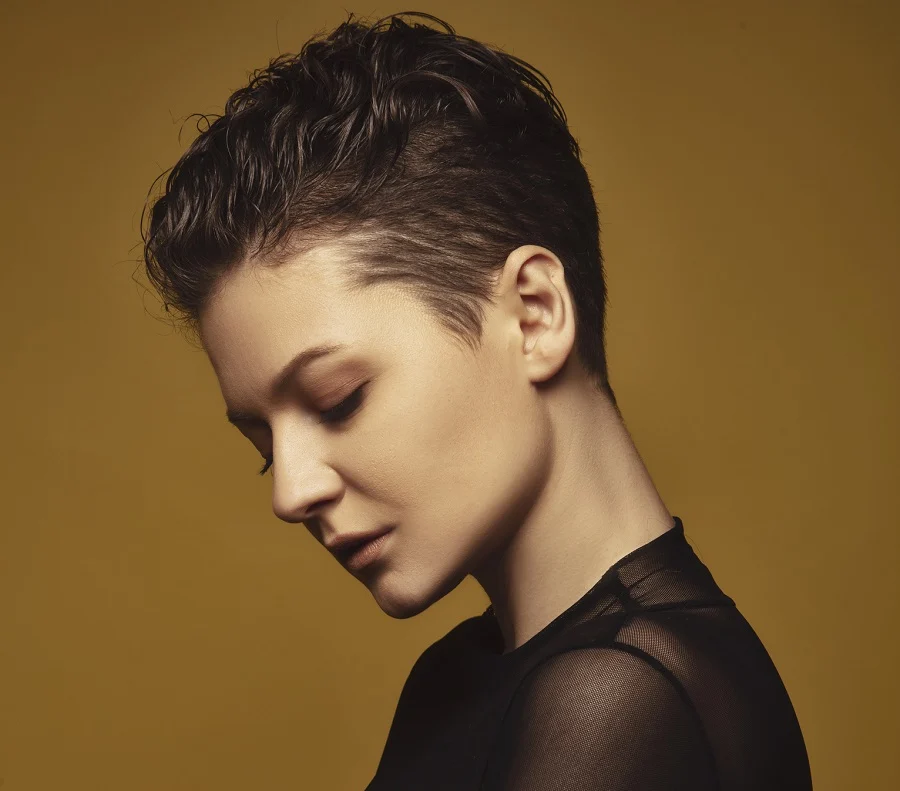 Pixies are not only limited to straight or curly locks. They look gorgeous with natural waves too. Keep the top long enough to be tousled back with fingers while the sides are clipped precisely. Use some pomade or gel to create a wet look trending these days.
14. Blue Beauty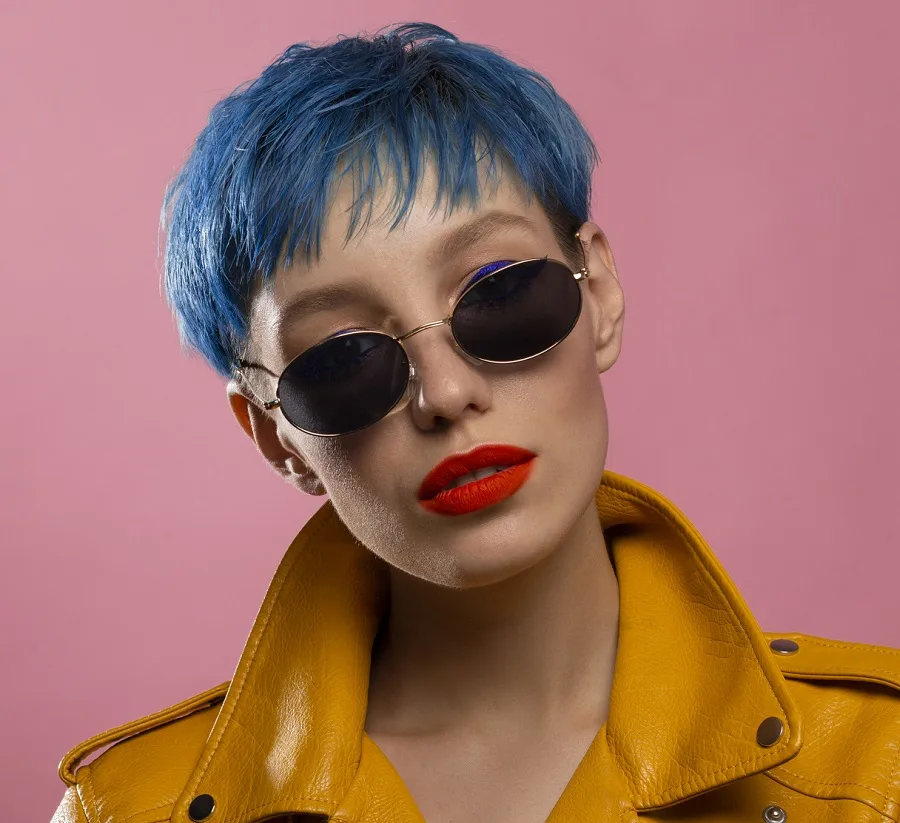 Express your bold side by combining a sassy haircut with a vibrant hair color. The sides are trimmed for the top to fall over them giving bowl cut vibes with choppy layers creating some movement in the hair. Dye the top in a bright electric blue hue and the style is complete.
15. Braided Headband
Recreate this hairstyle for weddings and other formal events defined by short sides and a long back with chic side-swept bangs at the front separated from the remaining strands with a braided headband. Plaiting short hair requires professional help. Use a synthetic braided hairband as an easy alternative.
16. Subtle Fauxhawk
The precise styling of the hair is what makes this look different from others. The strands are dyed in a silvery grey hue with a low fade on the sides. Use some styling product to gather the hair on the top center while falling forward on the forehead creating a subtle fauxhawk silhouette.
17. Disconnected Undercut
Play with different hair lengths to create a disconnected hairstyle. The undercut extends from the nape to the temples and contrasts sharply with the long top consisting of natural curly coils falling in all directions. Laid-back black ladies can opt for this look to avoid the hassle of styling their mane daily.
18. Indigo Streaks
This short pixie cut will surely set you apart from others. The top has a load full of textured layers with tapered sides. Spice up the look with fine yet bright streaks of indigo blue contrasting against the dark base while the straight strands stand up naturally creating spikes.
19. Platinum Look
Keep it simple yet effortlessly chic by going for an extra short haircut and dying the head in a cool platinum blonde hue. Doesn't look feminine enough? The trick is simple. Add a cute girly appeal to it by sporting hair accessories like hairbands and hairpins.
20. Highlighted Front
Middle-aged women can tackle a receding hairline and hair loss issue by chopping their mane short with a long top shortening towards the sides and back. Sweep the strands on one side to cover the forehead while the highlighted front adds a youthful look to the overall style.
21. Side Design
Pair a low skin fade with a long top for a punk look. Take the style to another level by selecting whatever design you like and asking the hairstylist to carve it along the sides. Brush back the top using your fingers and pomade and you are ready to rock.
22. Short Layers
Dark-skinned ladies can consider this short pixie before their next visit to the hair salon. The natural waves are accentuated with short layers creating a lot of depth and dimension in the hair. Just comb the strands forward and the style is done.
23. Burgundy Spikes
Make jaws drop wherever you go with this hair idea. It is ideal for ladies with straight hair to achieve a similar texture. Buzz the sides with choppy layers on the top and a comparatively long front fringe. Dye the strands in a burgundy shade and finish off with spikes.
24. Baby Bangs
Edgy and cute! Nothing more to ask for! Make a chic style statement by rocking blunt baby bangs just along the hairline with a super short haircut. The layers add a lot of texture to the head. Top off by dying the head in an icy platinum blonde tinge.
25. Classic Pompadour
It just requires a bit of confidence for women to sport a pompadour as good as men. Opt for a short pixie with a long top that fades seamlessly into the skin while reaching the nape and sides. Use a hairdryer and a round brush to slick back the top creating the classic hairstyle.
26. Side-Tousled
Give off rock star vibes by trimming the sides with scissors keeping the top long enough to reach the ears and dyeing it in a blonde hue. Braid one side for the remaining strands to be tousled in the opposite direction. Finish off with chic hair rings.
27. Ravishing Red
Here is another short pixie cut you need to see. What's the hype about? Well, the long ruffled layers that are dyed in a bright red shade and are disheveled for an undone appeal. A neat undercut sets off this two-toned look that is however high maintenance.
28. Blond with asymmetrical bangs
Blond pixies always look fantastic. So, if your face type allows it, go for it! Make the bangs asymmetrical and the look will get a very stylish zest. Asymmetrical bangs outline the eyes, so make sure to use the right makeup.
29. The simpler, the better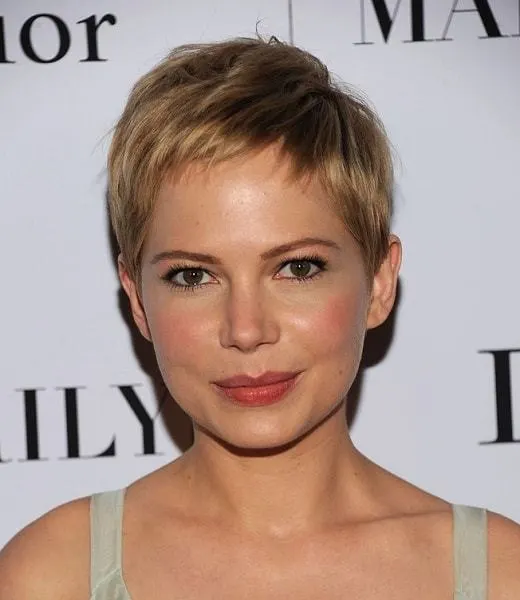 Short pixie haircuts are popular for their simplicity. So, no need to overdo it. If you want to outline your eyes, lips and other facial features, you can go for the simpler pixie. It will not just make your face look brighter, it will save you some maintenance time in the morning.
30. Short pixie with eye covering bangs
Bangs are usually what makes pixies different from each other. Grow your bangs long enough, so they can cover one eye when side swept and you will get a very sexy look, which will make owners of long manes really envious.
31. Obvious roots
When you are contemplating a blond pixie, go for a textured one. It will allow you to skip a couple of stylist appointments since the dark roots will look like part of the style. This is just another great short pixie hairstyle option for "lazy" girls.
32. Natural pixie
If you like your natural auburn hair, this pixie is a great choice for you. It requires absolutely no maintenance, except for some brushing. Short bangs don't get into your eyes and need no hair gel. Be natural!
33. Creative volume
Most women go for short haircuts to increase some volume on top. Pixies are absolutely perfect for volume creation. This particular style is achieved by leaving a lot of hair on top and styling it upwards with hair gel.
34. Blond and beyond
If you know how to choose the right color, your pixie will surely look amazing. This more or less classical look is achieved by growing long and asymmetrical bangs and brushing them to the side. The right hair color does the trick of making the classics look even more amazing.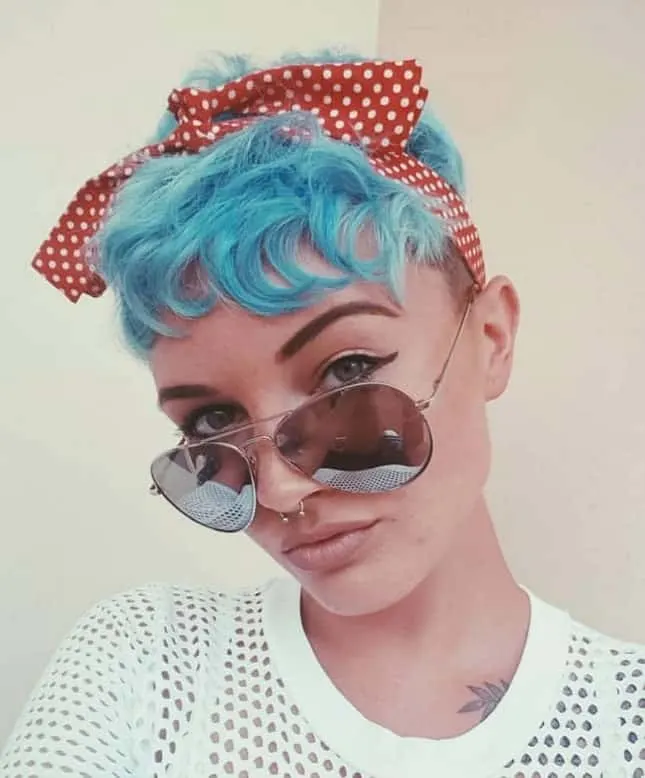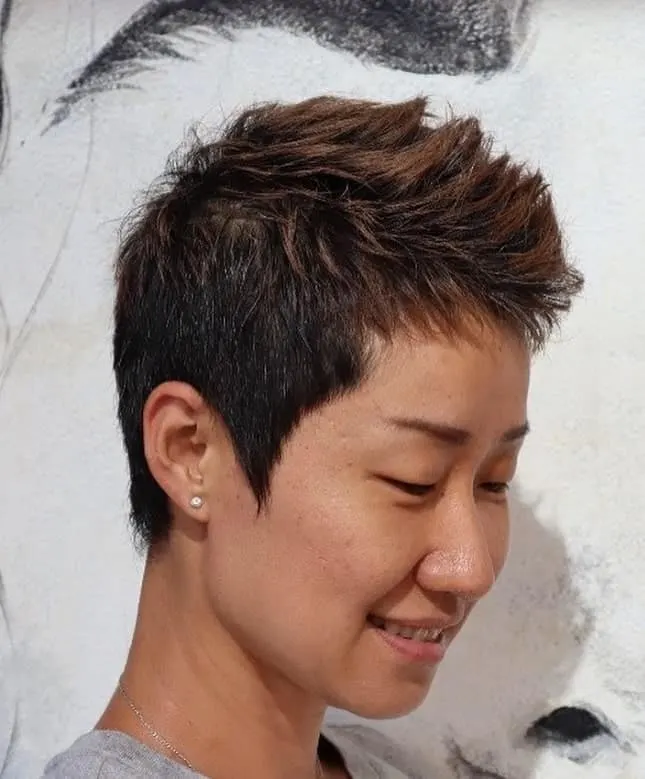 We hope that now you can easily choose the right short pixie haircut to suit your tastes. The variety is amazing. You can take your time picking the style, which will really keep some heads turning your way. Don't be afraid to experiment!