Short strawberry blonde hair is a beautiful type of hair color for women. It is a cross between red and blonde hair, so women with this hair color can enjoy the best of both worlds.
Some strawberry blonde hair colors are full of fiery red passion, whereas others have just a tiny hint of red. Look at our list of short strawberry blonde hair ideas to see some great examples of the color.
Styling Short Strawberry Blonde Locks: Ideas and Inspiration
To give your hair color real intensity, you must make sure that you keep it sleek and smooth. This helps to give the hair more shine and vibrancy. To tone down the color, choose a tousled or choppy look.
Alternatively, you can add highlights and lowlights to change the way your style looks. Highlights and lowlights help to create the illusion of texture and depth in any woman's haircut, making them ideal for enhancing a short haircut.
Short strawberry blonde hair can be a great way to show off your short hair in this situation.
Strawberry Blonde Bob with Curtain Bangs
Don't know what to do with your thin and short hair? You can transform it into this chic and bold hairstyle with a gorgeous strawberry blonde color and perfectly arranged curtain bangs.
Short and Sassy
If short and sassy is your thing, then use this beautiful short blonde hair as your inspiration. With its voluminous backcombed hair, perfect length, and unique shade, it's definitely the cheeky hair inspo you've been looking for!
Medium Wavy Hair + Moneypiece Highlights
Who says older women can't have highlights? Moneypiece highlights give the hair a multi-dimensional summery look that can brighten up your face.
To achieve that fresh sunkissed look, go for a highlight color one shade lighter than strawberry blonde and that's no other than sandy blonde.
Wavy Shag
Step away from the dull and boring and enter into the wonderful world of women wearing wavy shags. This simple shag haircut is packed with lots of layers and volume, so it's the perfect hairstyle for women who wish to boost their hair's texture and shape.
Face-framing Blonde Highlights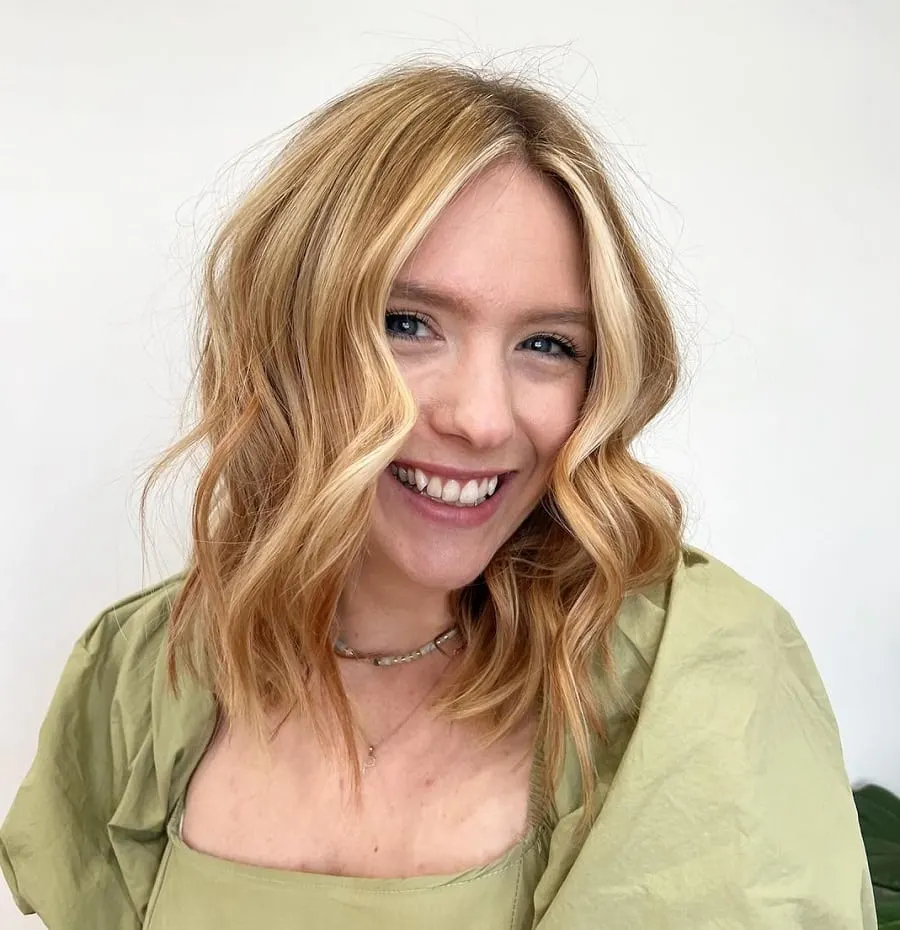 A middle parting is designed to elongate your face and make it look slimmer. But if you want to soften your features and brighten your complexion, the face-framing blonde highlights are your best friend!
As if that's not enough, it also perfectly complements your strawberry-blonde hair pretty well.
Wavy Bob
Keep your bob fancy and interesting by adding textures and waves to it. However, what will make it stand out is a gorgeous and eye-catching shade like strawberry.
Shades of Blonde
Why go for one shade of blonde when you can get three in one hairstyle? For more depth, texture, and dimension, cop this look which features three blonde shades– strawberry, platinum, and golden blonde.
The icy blondes perfectly complement your cool skin tone, while the golden blonde gives it the warmth it needs.
Messy Bob + Parted Bangs
Messy hair don't care? We won't care, too if your messy bob will look as gorgeous as this one. The center-parted bangs will conceal your forehead in the sexiest way possible.
On the other hand, the beautiful strawberry blonde will make your rosy cheeks pop and add color to your pale complexion.
Chignon hairstyles are vintage and very elegant at the same time. A strawberry blonde hue for your locks will beautifully make the hairstyle shine, and it will look simply delicious.
Classy Short Blonde Haircuts and Hairstyles
Strawberry blonde hair color features a very light shade of red, and the dye marvelously coats each thread. If you previously had an ash blonde color, this brilliant hue will work like a charm on you and gorgeous strands.
Chin Length Strawberry blonde with a Light Wave
Strawberry blonde color is one of the shades you won't get enough! It is a perfect choice for women who got bored with the well known blonde Barbie locks. If you aim for something more glamorous with a pinch of color, a short strawberry haircut is perfect for you.
Blunt Crop and Side Parting
A strawberry blonde color is an excellent choice for Asian girls with bob haircuts. You will obtain not only a stunning frame for your face but also a glorious shade that will suit your white skin like a glove.
Curtain Cut and Blunt Bangs
Baby bangs are not for anyone. You need to have an oval-shaped jawline and the courage to pull them off. Pair them with a very short blunt bob and go for a ginger strawberry blonde color.
Style a choppy asymmetrical bob haircut and stun everybody around you with a beautiful strawberry blonde shade. Wear the bangs on one side and style the ends to obtain that funky look.
Captivating Inverted Bob Hairstyles
Tousled Punky Crop Hairstyle
Keira Knightley killed it with a short punk strawberry blonde hair and she is totally fabulous. Recreate her look by giving your hair texture and hight and build a messy tousled hairdo.
Long Pixie Crop with Highlights and Lowlights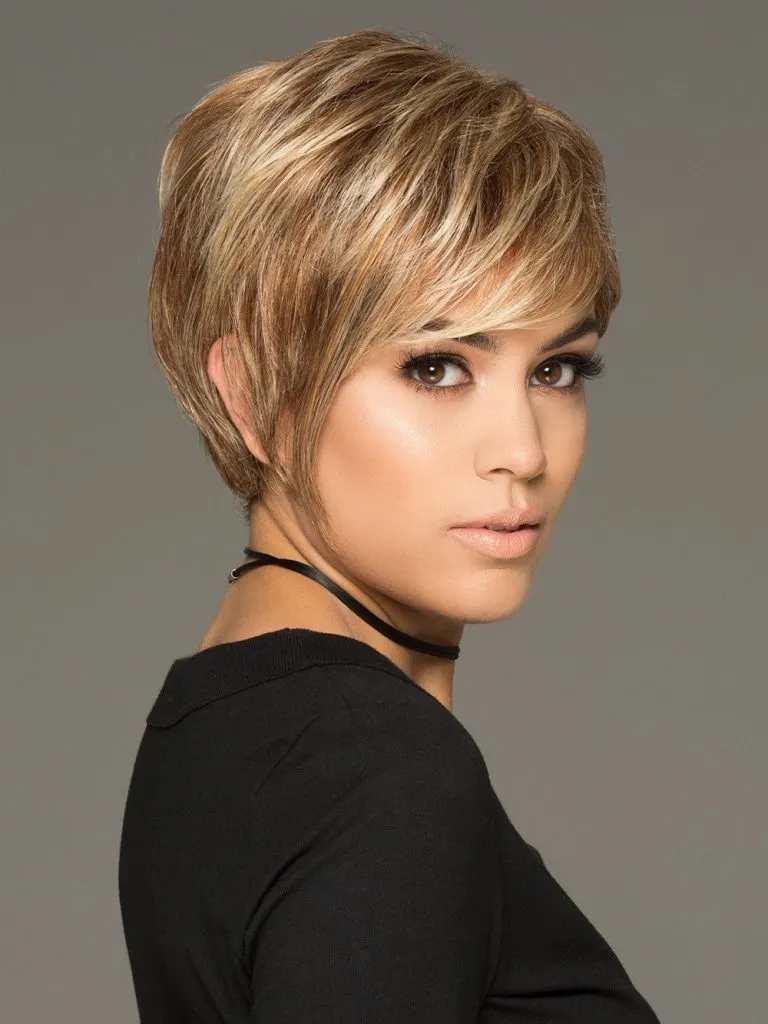 Gain an impressive texture by creating blonde highlights on a strawberry blonde base. You can even blend some dark blonde lowlights that will make the brighter tones stand out even more. Get a pixie haircut, and you'll see how easy it will boost your confidence.
Intense Curly Crop
Pull off a short strawberry blonde hair and take thin strands from your hair to curl them with a wand. You'll get movement and bounce and will look like the next cover of Vogue.
Short strawberry blonde hair is a great color type for women all over the world. The wonderful color looks perfect with short and cropped haircuts.