Thanks to Disney, we too often think of red when we picture mermaid hair colors. Everyone's favorite ginger princess is kind of boring, though. Today's mermaids are bold, vibrant, and in love with vivid colors. They're confident, unique, and they're no longer content to hide under-the-sea where no one can see their striking tresses. If you've always dreamed of living that mermaid life with long green, teal, or turquoise hair, it's your time to shine.
Most Popular Mermaid Hair Colors for Women
Eager to make a splash? The next time you hit up the hair salon, tell your stylist that you're ready for a mermaid hair color. The best news is that there's no limit to that descriptor. Mermaids wear their hair in a rainbow of colors. From pink and purple to gray and blue, you'll find an all-over color or an eye-popping combination that's perfect for you.
1. Oceanic Shades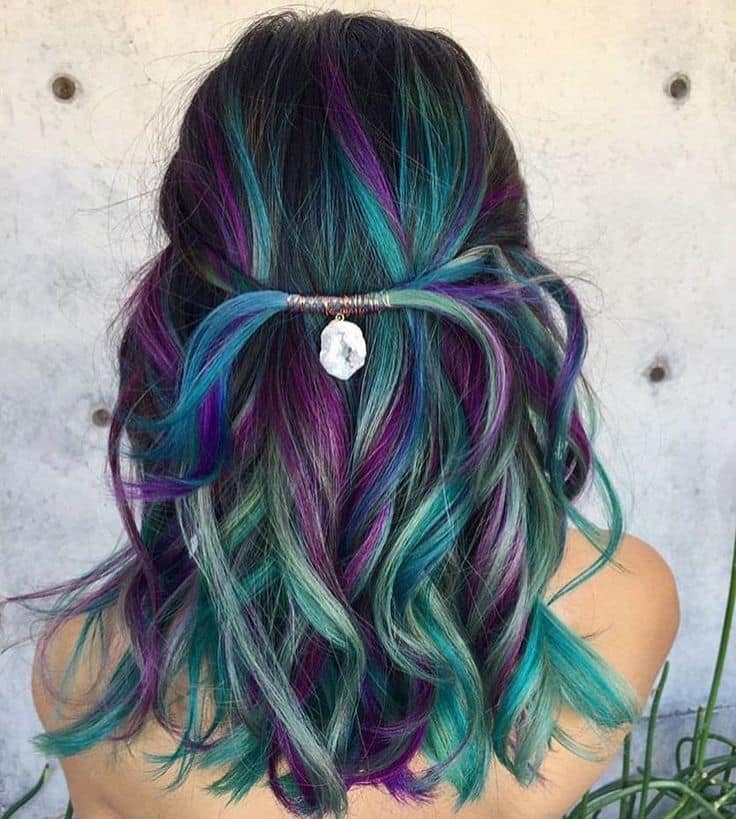 There's no single mermaid hair color, you know. To truly look like a mermaid, your hair must hold all the secrets of the sea. Shades of green, blue, purple, teal, and turquoise blend to create a flawless mermaid coif.
2. Pastel and Pale
Check out the pale baby blue mixed with pastel purple. What kind of mermaid has hair like this? Where would she live? Somewhere tropical and hot, perhaps, where the flowers grow in similar pastel shades.
3. A Hint of Mermaid
You don't have to go bold and bright to release your inner mermaid. Let her peek through subtly colored sections of hair. For this 'do, you want the platinum to show more than anything. Everything else is just a hint.
4. Mermaid Drama
Each combination of mermaid hair colors inspires a different aesthetic. Here, the colors are darker and more subdued. The base is dark blue, and none of the streaks are too bright. This mermaid gives off a dramatic vibe. She's a mystery.
Medium Length Layered Hairstyles
5. Sunkissed
How bright are these pastels? This mermaid has hair that's brighter than the sun. Look close. Do you see the stand-out detail? Each chunk of hair has different colors running down the length.