Thanks to Disney, we too often think of red when we picture mermaid hair colors. Everyone's favorite ginger princess is kind of boring, though.
Today's mermaids are bold, vibrant, and in love with vivid colors. They're confident, unique, and they're no longer content to hide under-the-sea where no one can see their striking tresses. If you've always dreamed of living that mermaid life with long green, teal, or turquoise hair, it's your time to shine.
Most Popular Mermaid Hair Colors for Women
Eager to make a splash? The next time you hit up the hair salon, tell your stylist that you're ready for a mermaid hair color.
The best news is that there's no limit to that descriptor. Mermaids wear their hair in a rainbow of colors. From pink and purple to gray and blue, you'll find an all-over color or an eye-popping mermaid hair color combinations that's perfect for you.
1. Oceanic Shades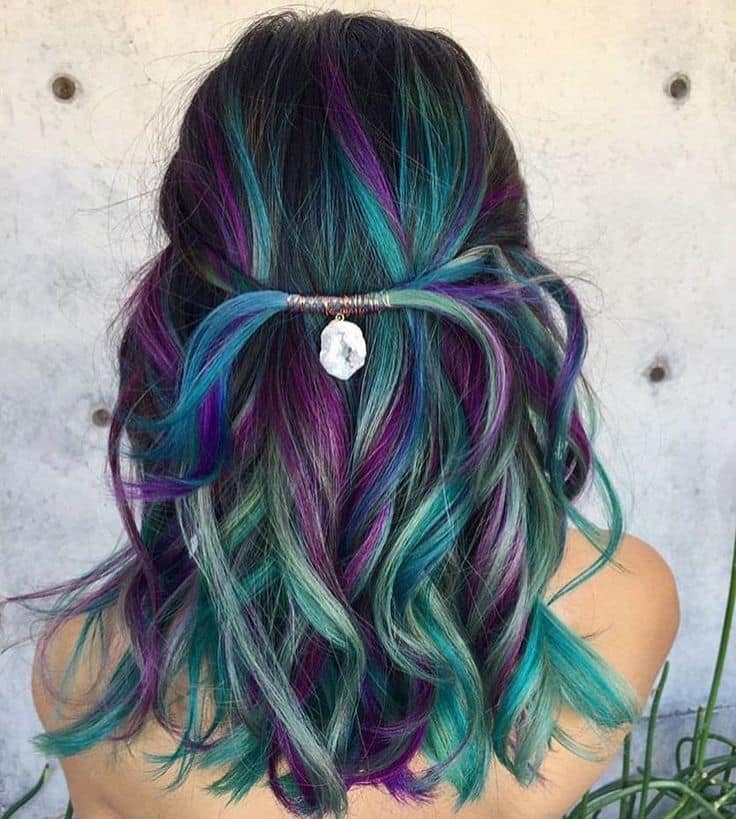 There's no single mermaid hair color, you know. To truly look like a mermaid, your hair must hold all the secrets of the sea. Shades of green, blue, purple, teal, and turquoise blend to create a flawless mermaid coif.
2. Pastel and Pale
Check out the pale baby blue mixed with pastel purple. What kind of mermaid has hair like this? Where would she live? Somewhere tropical and hot, perhaps, where the flowers grow in similar pastel shades.
3. A Hint of Mermaid
You don't have to go bold and bright to release your inner mermaid. Let her peek through subtly colored sections of hair. For this 'do, you want the platinum to show more than anything. Everything else is just a hint.
4. Mermaid Drama
Each combination of mermaid hair colors inspires a different aesthetic. Here, the colors are darker and more subdued. The base is dark blue, and none of the streaks are too bright. This mermaid gives off a dramatic vibe. She's a mystery.
Medium Length Layered Hairstyles
5. Sunkissed
How bright are these pastels? This mermaid has hair that's brighter than the sun. Look close. Do you see the stand-out detail? Each chunk of hair has different colors running down the length.
6. All That Aqua
Shades of blue are ideal for mermaid-inspired hair. The combination pictured here includes aqua, turquoise, royal blue, and even some indigo. Always go for indigo, by the way—it doesn't get nearly the attention it deserves.
7. Top to Bottom Teal
This bright teal shade is almost electric. Although it's darker at the roots and lighter at the tips, it's not quite an ombre. It's subtle than that, which actually makes the variations pop that much more.
7 Best Light Brown Highlights on Dark Brown Hair
8. Unreal Teal
As you can see, teal is a popular color for mermaid locks. This is a darker take on the shade, and it's vivid all over. It's almost matte, but there are faint highlights that give it more dimension.
9. Ice Ice Baby
This, clearly, is a mermaid from an icy see. She's cool and glacial, so it's only befitting that her hair is a stunning icy blue/lilac hue. You have to deal with a lot of bleach to get a color this light, but the prestige of being a cool mermaid is worth it.
10. Just the Ends
There's no need to get an all-over mermaid hair color. Dip dyeing exists for a reason, you know. Here, the tips are mostly blue, with subtle sections of green and yellow. Imagine how at home this hair looks underwater.
11. The Warmest Green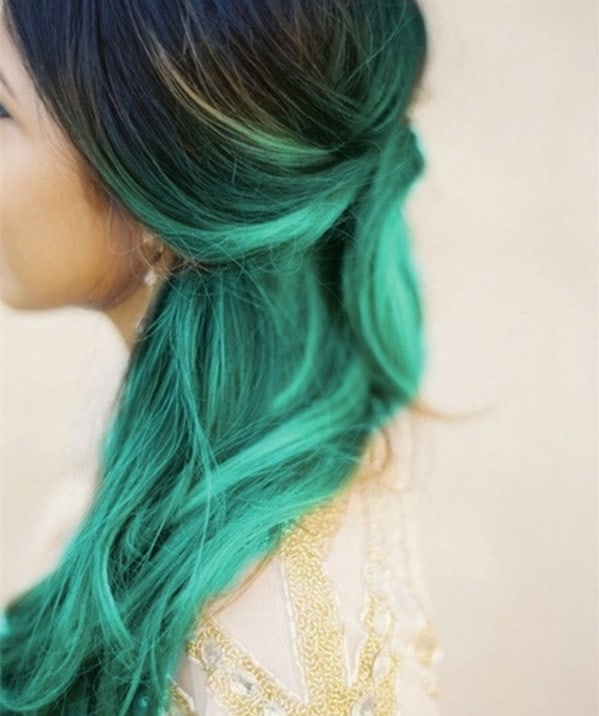 The green pictured here is a signature mermaid green. It's not too bright, and while there's a slight ombre effect happening at the roots, the length is primarily the same rich shade.
12. Cotton Candy Mermaid
No rule insists that mermaid tresses have to be blue, green, or yellow. To achieve mermaid perfection, get inspired by sweet cotton candy colors that look like underwater flora.
50 Boldest Short Curly Hairstyles for Black Women
13. Rainbow Swirl
It's hard to say what's better about this look. The pale primary colors are on-point, but the spiraled curls show off the streaks to their best effect. Notice how the roots are darker. Gorgeous, isn't it?
14. Baby Gray
This shade of gray is a newer mermaid hair color, perhaps inspired by the flux of dark Gothic frappes and ice cream cones popping up as an answer to the current unicorn mania. It's a little blue, a little lavender, and all spectacular.
15. Teal and Purple
Long hair is not necessary to rock your stuff like a mermaid, darlings. You can do it with a pixie crop, too. Short hair can take dramatic colors, though, so don't be afraid to get something as rich and deep as this teal and purple combo.
16. Blue Meets Purple
The blending on this hair is sublime. Blue turns into purple, and somewhere in the middle, it creates a splash of indigo. Just don't forget to invest in a deep conditioning treatment if you go for two-toned hair.
Nearly any fantasy hue qualifies as a mermaid hair color, provided you rock a mermaid attitude to match. This ombre begins with dark raspberry, transitions into a rich strawberry pink, then fades into a soft icy shade.
18. Electric Mermaid
Streaks of electric blue stand out against sizzling teal and shades of turquoise. Hair this wild has to belong to a mermaid. The combination of colors is honestly astounding—her hair looks almost natural.
19. Golden Blue
Have you ever seen this kind of pastel? Ice blue to pale yellow to the lightest green—from the hair to the braids, this entire coiffure is perfection.
20. Deep Teal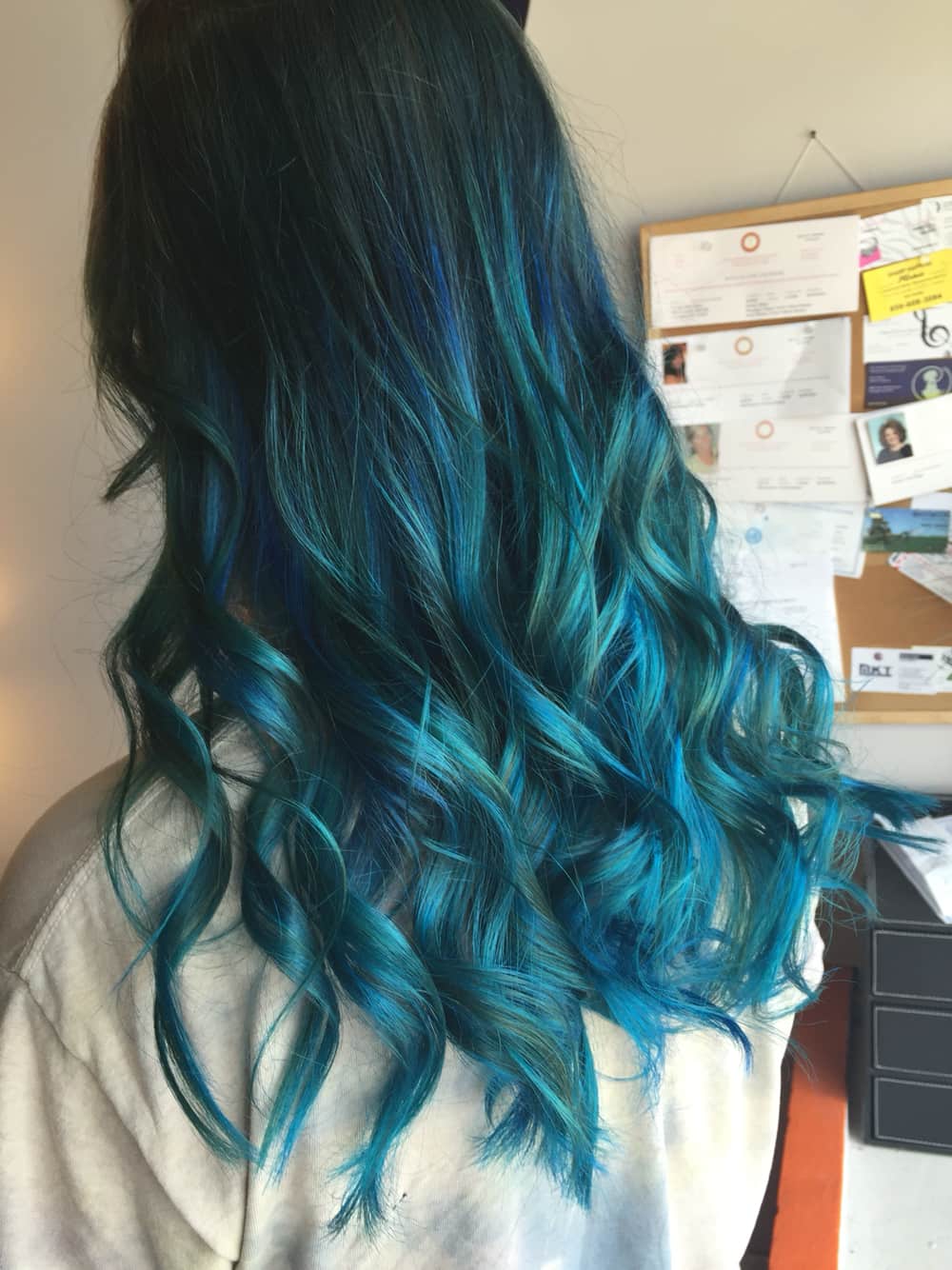 Teal and turquoise are two of the most popular mermaid hair colors for a good reason. Her hair belongs underwater, mixing in with plant life and gorgeous sea creatures.
21. Pastel Rainbow
It doesn't get sweeter than this. See how the gradient occurs down the length of her hair? That takes talent and patience.
22. A Little Glitter
Glitter is just what you need to take your mermaid locks to the next level. Glitter at the hairline also helps to hide your roots, just FYI.
23. The Mermaid
No matter what mermaid hair color you have, this is the look you're going for. Get out in the water and practice your Ariel hair flip.
49 Delightful Short Hairstyles for Teen Girls
What hair colors make you think of mermaids? We're partial to teal, blue, and turquoise with a little green thrown in for good measure.