Thanks to Twiggy and many other women after her, pixie cut with bangs is one of the most popular styles ever. Maybe the secret lies in the versatility or practicality of this hairstyle, and maybe it is just in its beauty. Perfect for both day and night, the pixie cut is utterly chic and stylish.
If you don't like your morning to start with detangling your long hair or you don't like to wash it every day to make it look pretty and voluminous, then pixie is definitely for you.
How to Style Pixie with Bangs
There are many ways to make your pixie look amazing. It can depend on your personal style, the shape of your face, and the occasion where you want to wear it. If you want to look bold, then check out these ideas we have prepared for you.
For an extra smooth finish, use your flat iron. If you like your hairstyle to straight then work with the iron on the side bangs and at the hair end. Depending on your hair length and thickness you can maneuver with the straightener and tuck your hair under or leave your ends spiky.
For all those elegant occasions, opt for a healthy-looking smooth hairstyle. With good products eliminate the frizz so you can get that perfect silky pixie cut. If you have fine hair, use a dry shampoo to protect it from being extra fluffy. Pixie with bangs that is completely smooth is perfect for oval-shaped faces.
The slicked pixie cut is one of the most elegant hairstyles that you can make. Slick everything back, including your bangs. You can decide which way you want your hair to go. For a glamorous look slick it back. However, for tomboy style slick it on one side.
Asymmetrical pixie might be reserved for cool girls. But no kidding, this is one of the most famous variations of the pixie cut. Even if it does add a dose of femininity to your looks, asymmetrical is cool and modern. These cuts are usually long on one side and short on another. They look the best when combined with long side bangs.
The best way to achieve a gorgeous voluminous pixie style is to add a bit of mousse to your roots and ends. Volume can be lost when pixie starts to grow and this is the easiest way to get it back. This hairstyle is great for all special events when you are dressed in your most elegant attire.
If your bangs are hard for you to style, there is an excellent solution. Always have some nice and decorative hairpins around you. This is perfect for everyday wear – your bangs will stay fresh for more than two days if you get them off your face.
Perfect Bangs with Pixie for Different Face Shapes
Pixie with bangs is one of those hairstyles that can suit everybody. However, you can choose the length of your bangs according to your face shape or affinities. From classy side bangs a la Twiggy to the micro ones, worn by Audrey Hepburn – you can try them all!
Classic side bangs might be the most worn bangs ever. Not only with pixie but with all possible hairstyles. They earned their popularity because of their versatility! Side bangs are suitable for heart-shaped faces. They should have the cut angle from the eyebrow to the top of your cheekbone.
If you have long face and high forehead, go for longer side braids that can be choppy at the ends. They should softly fall on the side, making your face look shorter. There is a thing to remember here – don't opt for baby bangs if you have long face. They will just elongate it even more.
Thick side swept bangs are perfect for both round oval-shaped faces. Thick bangs with strong angled cut are perfect for all kinds of pixie styles. They won't make your face wider or longer.
Short bangs that are barely even there are perfect for the girls that have oval-shaped faces. You are pretty happy if your face is oval – you can wear all these bangs with your pixie cut. They suit you all! Piecey bangs are pretty chopped, but still, they are on your forehead, making your pixie with bangs look chic and casual.
How to Style Pixie with Bangs and Shaved Sides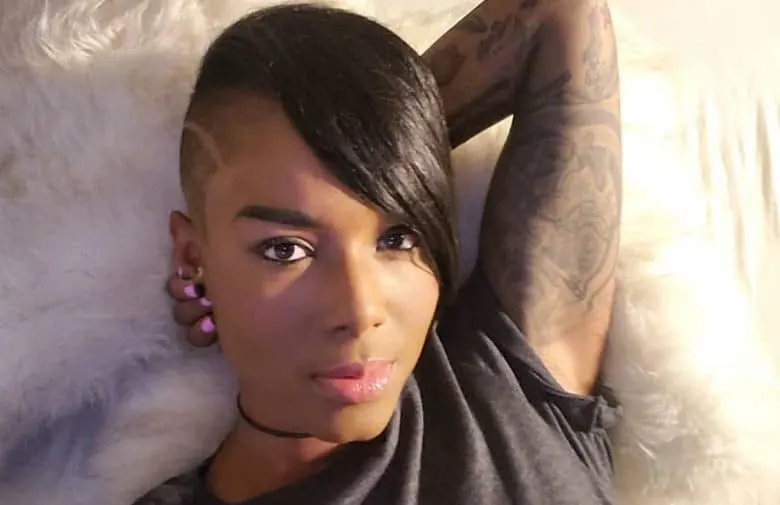 Pixie with bangs haircut can be even more interesting if the sides are shaved. If you are into these hairstyles, no problem! They are great for women of all ages.
However, they are mostly seen on girls and young women. Half shaved head hairstyle carries that certain punk, a rebellious vibe that was connected with the age.
You will need a hair trimmer for both sides of your hair. If you are not sure how to this, always consult with the pro!
If you have long hair and you want to do a pixie with shaved sides and bangs, slick a part of your hair forward for bangs and leave the hair on the top of your head. You can both wear it smooth or messy.
Coolest Pixie Cuts with Bangs
If you have decided which bangs you will choose for your brand new pixie, now it is the time to pick the haircut!
From long to shaved pixie cuts – they are all gorgeous and versatile. Let's find out how you can style your pixie with bangs.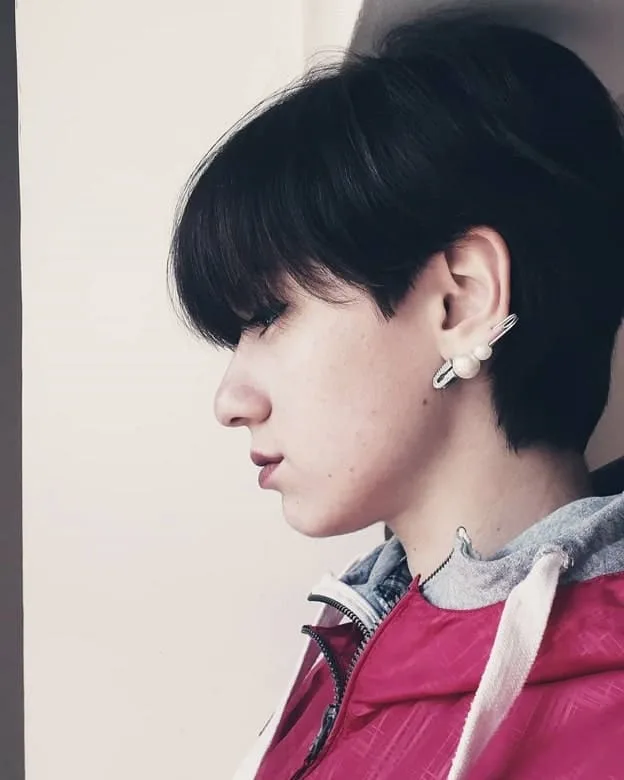 Before cutting your pixie really short, you can opt for a longer version of it. It looks equally stylish, while the bangs are covering your forehead. Long pixie with bangs is perfect for everyday wear.
A class pixie haircut with bangs style option. Sometimes, all you want is classic. We all know that classic front bangs are timeless. Why don't you try them with your pixie cut?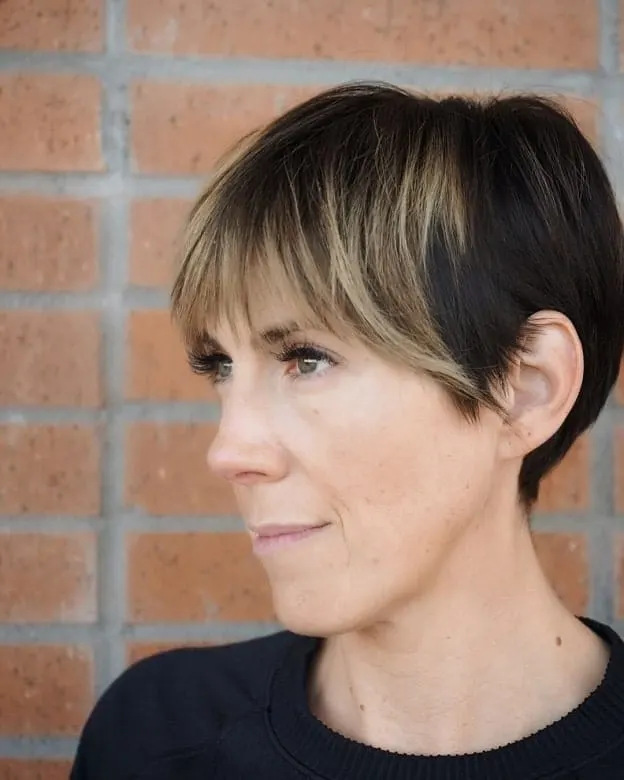 If you are not brave enough to dye all your hair in any color, rather than your natural, then try dipping your ends only. With a messy pixie and long bangs, this will be right hairstyle for everyday wear.
4. Blonde Pixie with Headband
Two words describing this look are: bold and empowering. Blonde hair and pixie cut with bangs will surely make you the chicest girl wherever you go.
These bangs are great for all heart-shaped or oval shaped faces. They are long and falling right above your cheekbone. Polished pixie with lovely side bangs will be your favorite everyday hairstyle.
The perfect thing about the pixie cut is that women of all ages can wear it. No matter if you are a businesswoman or a freelancer – pixie is appropriate for both home and company offices.
7. Chopped Bangs
Chopped bangs with pixie look trendy, interesting, and very chic! These are perfect for all girls that like low-maintenance when it comes to hairstyle.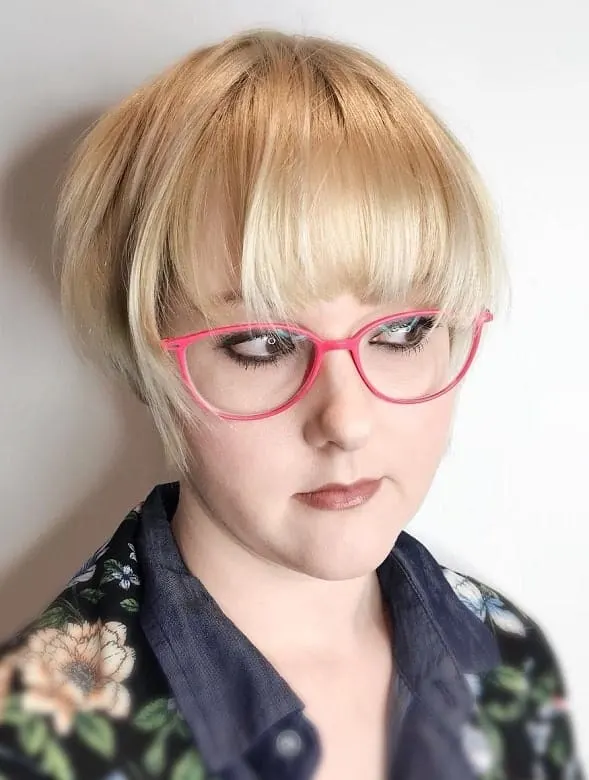 For all those business women out there – you can wear this polished edgy pixie style with bangs for work, meetings, and all your daily activities, without even worrying about how you look.
Blunt and choppy hairstyles are great for highlighting your cheekbones. This chopped pixie with bangs is more than appropriate for daily wear, as well as your working hours.
10. Red Pixie with Wavy Bangs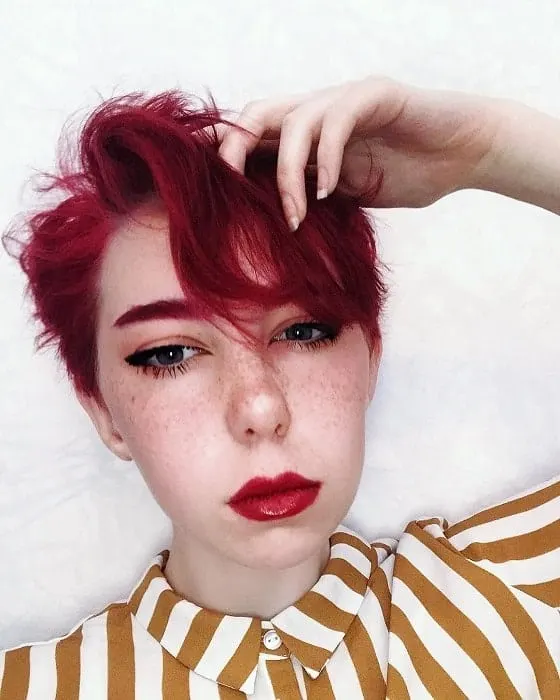 Messy hairstyle with a lot of layers – this pixie with long bangs is timeless and it has it all. You can pin your bangs, or leave them loose. Don't forget to apply foam or mousse before drying it.
10 Bold and Vibrant Red and Pink Pixie Hairstyles for Women
11. Pink Pixie with Long Bangs
For brave girls only – dye your hair in pink and cut it to be pixie short. If you want to make a dramatic entrance to the party, this is the right way to do pixie cut with bangs!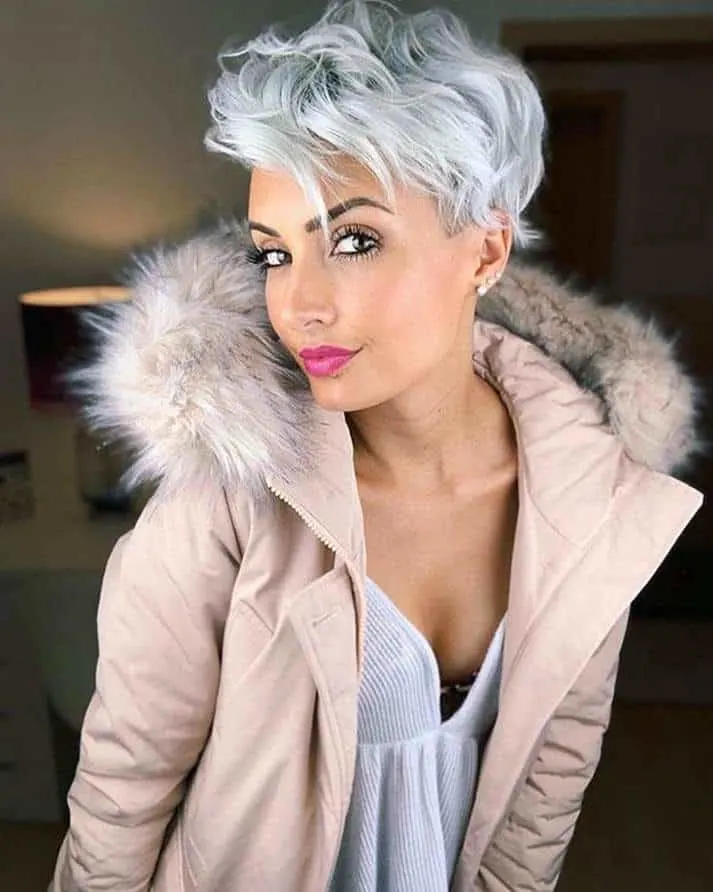 Right after you have dried your hair, use your curling iron to make these lovely waves. Go all the way down to the bangs. This wavy bangs on pixie style is great for both workwear and black-tie events.
13. Brushed Forward Pixie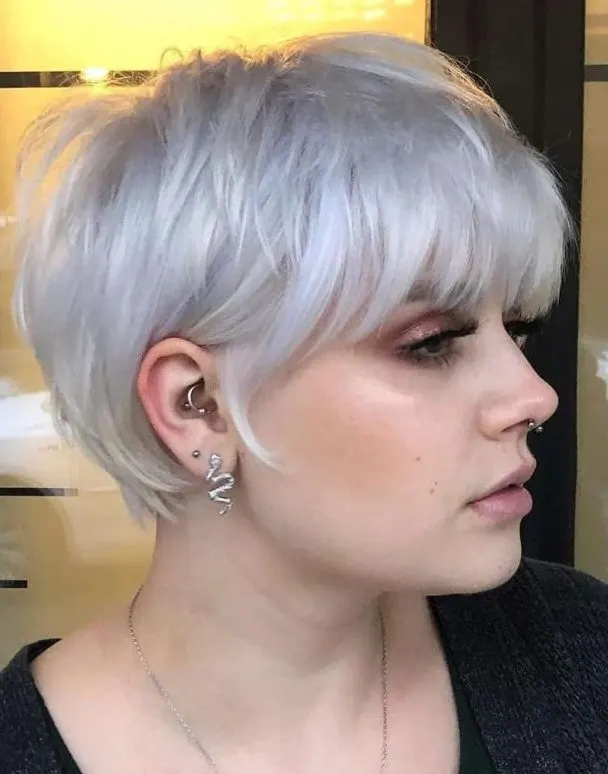 For super polished yet a bit of casual pixie with bangs look, use your brush and pull all your hair forward. The trick is in dye though. Leave your roots dark and your ends highlighted for an eye-catching moment. This is a perfect pixie for women with round face.
14. Tapered Pixie with Side Cuts
While you have a lot of volume and texture on the top of your head, both sides of your head are shaved. This pixie with face-framing bangs is perfect to flaunt face structure. And if your hair color is black – prepare for a lot of comments!
15. Wavy Fringes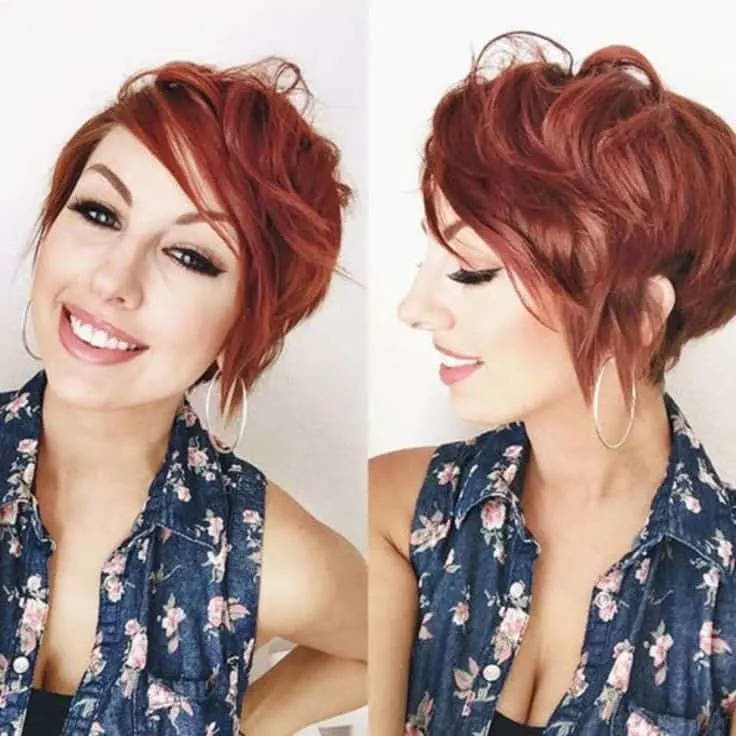 Every pixie looks perfect with long side bangs. If they are curled and styled – even better! You can rock this hairstyle for both day and night events.
16. Messy Pixie with Asymmetrical Fringes
Long side fringe is perfect for all those girls who prefer their pixie to be more messy than polished. It appears that this pixie cut with bangs hairdo will be perfect for all lazy morning persons.
17. Pixie with Bandana
Longer pixie cuts with bangs can be upgraded with a bandana. You can wear it in summer (imagine long days at the beach). A classic short hairstyle with a bandana for women.
18. Balayage Pixie Cut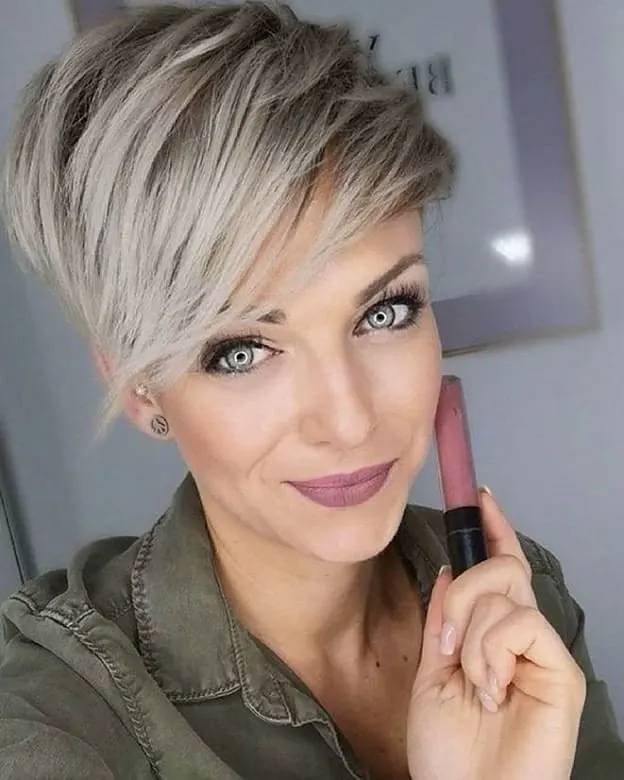 Balayage on short pixie with bangs haircut can look even more eye-catching. Your ends are a lighter grey, while roots are left in your natural dark shade. This hairstyle is a great way to spice up your daily outfits.
Rose gold is a highly popular dye that will make any haircut look wonderful. This pixie with bangs is perfect for young girls because they can wear it to school as well.
Purple pixie cut truly shows why this style of hair is perfect for women with fine and thin hair. This a great way of creating an illusion of having luscious hair. Enhance the long bangs with layers and you're ready to go.
21. Retro 60's Short Pixie with Voluminous Bangs
Nothing screams "confidence" more than a well-put-together style. If you enjoy hairstyles like these it's very likely that you love having a well-organized life. This translates to your pixie hairstyle with long bangs as well because it takes some time and skill to have such sleek hair.
This short pixie cut with bangs hairstyle is for women who love to break all the rules. Nobody can tell them what to look like or what to wear. Pushing the hair on one side will create an illusion of having more volume for women with fine hair.
We all need more simplicity in our lives. When it comes to hairstyles, sometimes less is more. Pixie cuts for fine hair can sometimes be too complicated to style, so it's good to change it up. A simple pixie with bangs hairstyle may be the way to go.
Mint green is not only beautiful on clothes, but on hair as well! You just need to try this lovely pixie with ultimately short bangs. It is great for everyday wear.
While the platinum blonde color for short hair gives thick texture and bit of volume, choppy and asymmetrical bangs give this pixie look the wow effect. It suits perfectly to girls with fair skin complexion and heart-shaped face.
Best Pixie Cuts with Long Bangs
If you've already tried pixie and want to see how to style long bangs, this article will show you how to make it happen easily. Pixie cut with long bangs suits everyone, check it out.
26. Pixie with Long Side Swept Bangs
Simple and minimalistic hairstyle oozes confidence but with a gentle side. Pixie haircut with long bangs achieves that style easily.
Girls with glasses will find that this particular haircut frames their face which is particularly important if we bear in mind that many girls and women with glasses tend to struggle to find an ideal hairstyle. Try out this one, and you won't regret it.
27. Voluminous Pixie
So your hair is thick, with a lot of density, and you think pixie cut won't work for you? Wrong!
Actually, this haircut is perfect for you because it allows you to have big and voluminous bangs that you can style any way you want such as sweeping them to sides, parting them in the middle, you name it.
As seen above, this is a great haircut to rock especially if you have an oval face.
28. Messy Pixie for Fine Hair
Pixie cut with long bangs adds more volume to your fine hair. This look is elegant and sophisticated, making you fit for even the most formal events and occasions. If you're looking for a style that you can rock with different outfits, then this is the one for sure.
29. Pixie with Curly Bangs
Curly hair symbolizes freedom, and we love it. Girls and women with curls are incredibly cute, but they often feel deprived of different hairstyles because their hair is difficult to tame. You don't have to tame it, though.
Let your curls be free through a cute pixie haircut with long bangs. In fact, apply some mousse to give your curls a lovely shape, and just let them be adorable.
30. Undercut Pixie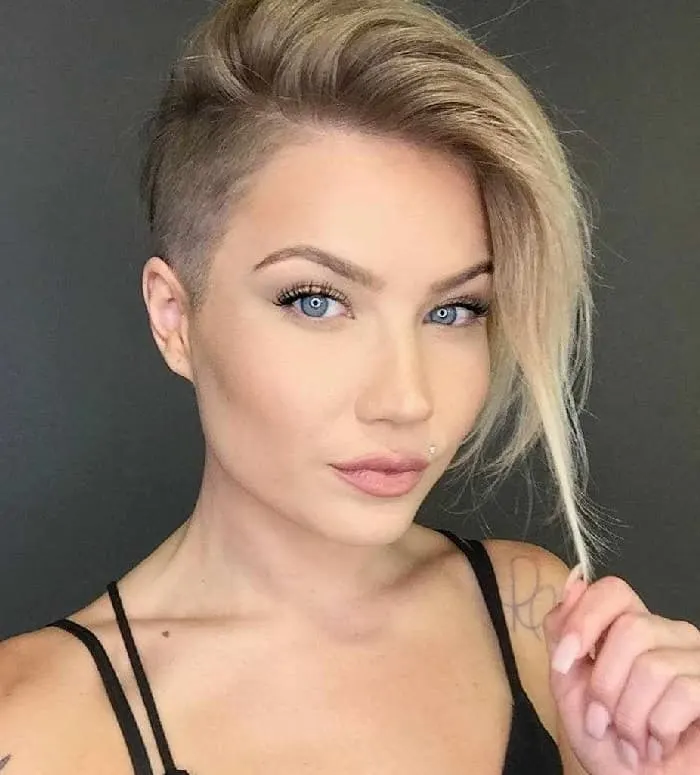 There comes a time in our life when we want to start a new chapter and change something. We usually start with our hair. Somehow making a change or two in our hairstyle makes it official that we're ready to move on and start a new endeavor.
What better way to do something new than a pixie with long bangs and an undercut? Not only edgy, but this hairstyle is also feminine too.
31. Shaven Side Pixie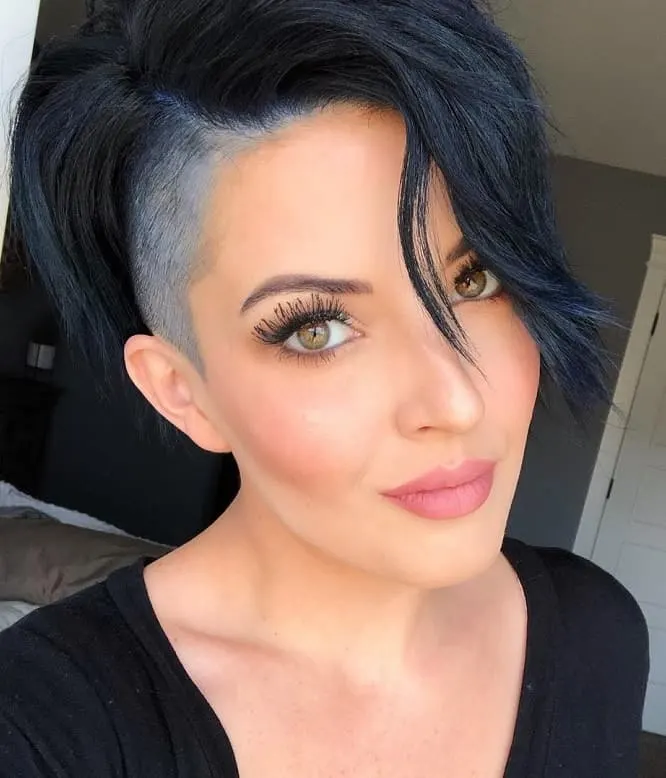 Girls who love wild hairstyles may want to try a pixie cut with a half-shaven head. When you add long bangs into the combination, you get a dramatic cut that allows you to stand out and get all the attention you want.
32. Asymmetrical Pixie for Round Face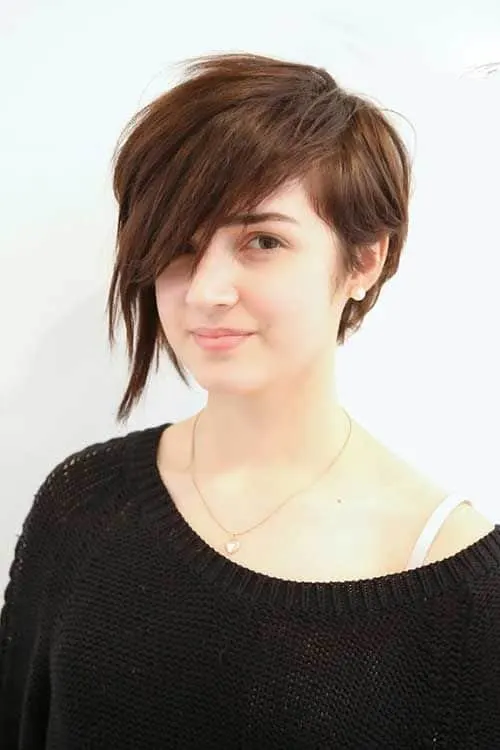 Pixie cut looks great on every face shape, and this is the perfect evidence. If you have a round face, long bangs and a pixie cut add a slimming effect thanks to the asymmetrical look. Sweep your bangs to the side, and you're ready to go.
33. Sexy Glasses Style
Glasses don't have to be an obstacle to rocking any style you want. As mentioned above, pixie cuts are ideal for girls and women with glasses, especially if you also have long bangs.
This bangs style frames your face and puts your eyes on the display. Elegant, chic, and romantic – this hairstyle is truly one of the best choices you can make.
Here's a perfect hairstyle for girls who love experimenting with different colors. Instead of opting for one hair color only you may want to try getting pixie in pink and red, and yellow. So wild, yet so cute.
35. Pixie with Bangs for Square Face
Girls with square faces have a clearly defined jawline. While you want to accentuate your jaw a little bit, you don't want to over-emphasize it.
A pixie with longer bangs can help with that. While it softens the look, this cut still accentuates the jaw just enough to give you a sensual look.
36. Short Hair with Bandana
Short hair doesn't eliminate the beauty of hair accessories that allow us to switch things up a little bit. For instance, you can use a bandana, scarf, headpiece, and many other accessories to turn your pixie cut with long bangs into a whole new look.
FAQs
What face shape suits pixie cut the best?
The pixie cut is great for all face shapes, but it suits the best for oval and heart-shaped faces. However, it is not the pixie that determines if it suits or not.

It is important to choose the right bangs actually! To choose the right bangs for your face, just scroll right up where you will find our tricks.
Can I try pixie on thin hair?
Of course! Even though women rather run away from pixie cut because they think their thin hair will not be the right fit, it is actually more than achievable.

You will just need more texture to make an illusion of having more hair. Always keep volume booster, moose or foam around you. Put it on your roots and on your hair ends for the great messy hairstyle.
Textured and edgy pixie cut: are they same?
With more texture comes the edgy look. You can get more texture by adding more layers to your hairstyle. Instead of letting it smooth, make the texture be voluminous and messy.
Pixie cut with bangs is simply timeless hairstyle. You can wear it long or extremely short, with layers or shaved sides. It suits most women, whether they have round or heart-shaped faces. It is also loved among many actresses, Hollywood A-listers, and supermodels.