While some women may believe that tousled hair seems untidy, the fashion world knows otherwise. What can be better than a slightly disheveled look that doesn't require too much maintenance?
Some girls can easily get a great tousled hair look by doing absolutely nothing. While others need to put in some serious effort to look fabulous.
Achieve the best tousled hairstyles with the following methods any time you feel like making a statement.
How to Get Tousled Hair
Here are 5 popular ways to get tousled hair.
1. Overnight Braids
Overnight braids are usually used to make curls. But if you are not planning to use any hair cosmetics, you can turn these curls into an amazing tousled look. All you have to do is make around 10 braids using 10 strands of your hair around your head and go to sleep with them. Unbraid them in the morning, run your fingers through them and voila! The messy style is ready to be flaunted.
2. Salt water and Comb
The key to the tousled hair is messiness and volume. Put some salt water into a spritzing bottle. Take a simple fine tooth comb. Separate the hair into several strands. Take one strand, spritz it with salt water and start teasing the hair. The more you tease, the longer the effect will last. Repeat the same process with the rest of the strands.
Make sure to fight the urge to brush the locks. They might look overly messy at first but in an hour or so you'll get a perfect tousled appearance.
3. No Brushing Method
Wash your hair as usual. Dry it with a towel. Make a towel turban on top of your head that holds all the hair together and go to sleep. Sleeping might seem uncomfortable at first, but you'll get used to it. Consider sleeping on your stomach.
In the morning, unravel the turban and let your hair down. Separate the strands with your fingers to get the shape you were looking for. You can use salt water to keep the hair voluminous throughout the day. Resist the urge to use even the widest tooth comb!
4. Twisted Mini Buns
Wash your hair as usual and towel-dry it. Separate the hair into at least 10 sections. Take each section and twist it. Take the twisted strand and shape it into a small bun. Pin the bun to the top part of your head. Proceed to repeat the process with the rest of the sections.
Use a hairdryer to dry the hair. It may take longer than usual since the hair is twisted. Once you are sure it's dry, remove the bobby pins and let the hair fall down. Use salt water to spritz the strands. You can carefully separate them with your fingers if the appearance seems too disheveled.
5. Curling Iron Simplicity
The fastest way to get tousled hair is to use a curling iron. Wash and dry your hair. You can use a leave-in conditioner. Take a small strand of your locks, wrap it around the curling iron, hold for a few seconds and let go. Repeat the process until you are done with all of the hair. You won't get curls since you'll be holding the hair on the iron for just a few seconds. Instead, you'll get slightly disheveled ways.
49 Delightful Short Hairstyles for Teen Girls
The Hottest Tousled Hairstyles
You can enjoy these magnificent tousled hairstyles any time you feel a need for a change.
1. Blonde and Tousled
These blonde locks have been professionally tousled with a curling iron and hair gel. If you want to get a tousled hairstyle, don't hesitate to ask your hairdresser. Such hairstyles can last all day or even longer.
2. Tousled Highlights
When you are tousling highlighted locks, you need to keep in mind that messy hair can hide the beautiful colors. So when you separate your hair into strands to use any of the above-mentioned methods, make sure each strand contains only one color.
3. Curly Tousle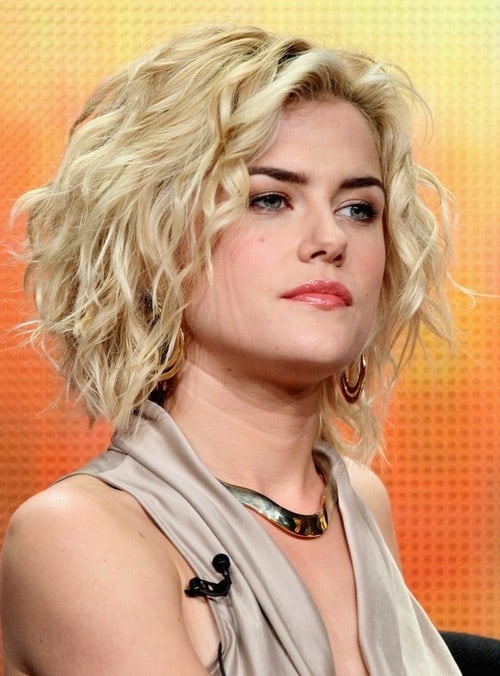 This tousled hair is a result of some serious work. In fact, the mix of curls and disheveled locks is priceless. You'll need to use a curling iron with hair gel to create perfect curls on top and do some messy work on the bottom.
Best Medium Curly Hairstyles to Try Next
4. The real deal
Such tousled hairstyle is great for girls with fine and straight hair. You get the real windblown style without any hair sprays or overly long barber sessions. You can make this natural tousle in the comfort of your own home
5. Slight tousle
When it comes to tousled hair, you don't have to work on the whole length. You can either create a tousled effect on the bottom or on the sides. The overall appearance will be slightly softer but just as effective.
Now that you know how to get tousled hair without too much effort, you can start creating real masterpieces. Your hair is the canvas for new styles. Take advantage of whatever you have and make it better today!